Hoogwater Cottage is only 110km from Cape Town and is nestled under the majestic Witzenberg Mountains. The luxurious open plan cottage is on a working fruit farm and is fully equipped with all you need for an unforgettable stay.
There is a cosy fireplace with a basket of wood for cold winter evenings. The cottage also has a private plunge pool / wood fire hot tub.
What a lovely stay at Hoogwater. The wood fired hot tub was such a treat, such a peaceful beautiful surrounding and a very cosy cottage.
Bonnie
2016-05-09T00:00:00Z
Great escape from the city, nice and private, amazing wood burning hot tub, fireplace inside, definitely coming back for the chilly season. The owner has just installed misters on the patio to cool you off in winter. Bring bug repellent though as it is on a working fruit farm.
Guy
2016-03-04T00:00:00Z
Lovely lovely lovely!Amazing views. Beautiful cottage-simply decorated in great taste. Bed is wonderful-lovely touches like electric blankets on the bed,Nomu Hot chocolate,juice,water and milk in the fridge. Great location-not too far from Cape Town (but off the beaten track).The hot water tub is fantastic. Madri is super helpful and friendly. We will definitely be back (but maybe without our children!)Perfect for couples.
Janieke
2016-07-10T00:00:00Z
Had an amazing stay on Hoogwater farm, thanks to Madri and family for providing extraordinary accommodation and making us feel right at home. The perfect place to break away from a busy life and relax and enjoy nature at its best. The cottage has got everything you need for an unforgetable stay. The hot tub was an absolute gamechanger, and the views all around is spectacular. Hoogwater farm will definitely see us again!
Niel
2016-09-25T00:00:00Z
Thank you for a wonderful stay, loved the hot tub & being out in the country.
karien
2016-07-25T00:00:00Z
We had such a relaxing, peaceful time at Hoogwater Cottage. The cottage is cozy and beautifully appointed. We loved the in-door fire place and especially enjoyed the wood fired jacuzzi! There is so much to see and do in the surrounding area including horse riding, zip lining, and plenty of fantastic dining options. Or, like us, you could just spend your time relaxing on the stoop, taking in the mountain views, and strolling through the vineyards. Madri was an excellent host even left us a bottle of their own wine as a parting gesture! We will definitely be back!
Nicholas
2016-05-26T00:00:00Z
The experience at Hoogwater was excellent. The cottage was well described online, easy to book. We arrived with keys there, and did not need to interact too much with the hosts. A single and relatively minor concern raised on day 2 was immediately attended to. The cottage is beautiful, the farm is beautiful, the experience is recommended. Thank you
Kristian
2016-05-02T00:00:00Z
Madri was very informative and our stay was easy and super ! I recommend for a nice get-away week end !
Antoine
2016-08-29T00:00:00Z
Wolseley, Western Cape, 南アフリカ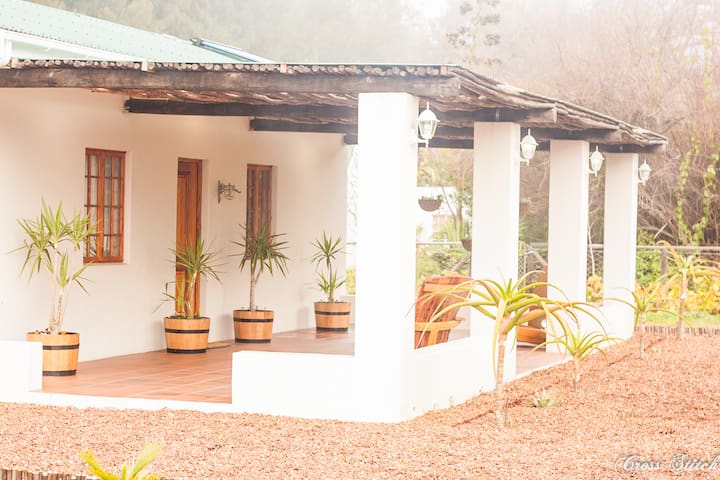 Escape to luxury in the rural countryside. Enjoy creature comforts in absolute privacy, surrounded by the tranquility of pear orchards, and the company of the Bree River. 4 double rooms with 2 full bathrooms, large open plan living space. Wifi incl
Idyllic nature retreat, with high end luxurious finishes, fine linen and unique pieces of furniture. Enjoy amazing sunsets, without compromising on creature comforts. The Bree River does unfortunately not flow during peak summer months due to the current drought.
Wolseley has real rustic rural charm. A fruit farming area, Riverstone is situated near the foot of a mountain along the Bree River on a working blueberry farm
Everything about this house was absolutely amazing and Candice is a very helpful and accommodating host. We thoroughly enjoyed our stay - peaceful, beautiful inside-out, and the perfect getaway from the city. Loved swimming in the dam, and the deck with its gorgeous view was the perfect setting for our friends' breakaway. Thanks a million for the great stay in your lovely farmhouse.
Ryno
2016-12-20T00:00:00Z
Great house fantastic host Highly recommended for a quiet relaxing holiday Good location for wine routes, cycling and hiking.
Christine
2017-02-14T00:00:00Z
Si vous aimez le luxe, la tranquillité, et la campagne ce lieu vous ira. Cachée au milieu de vergers de poires et au bord d'un petit ruisseau, vous passerez dans cette grande maison moderne de 4 chambres et avec un salon cuisine de presque 200 m2, un moment paisible en pleine nature. Candice veille à votre séjour avec beaucoup d'attention et de discrétion.
Marc
2017-03-12T00:00:00Z
Staying at the Riverstone house was a pleasure from the beginning to the end, in fact we felt very sad to leave. Walking in you are met with an immaculate kitchen,beautiful open plan living area with high ceilings and exposed beams and it all leads out onto a fantastic veranda where you are forced to while away your time with a book on the couch, listening to the wind in the trees next to the river. The kitchen even inspired me to bake a cake and I'm NO baker. Surrounded by nature it's a joy to wake up here - views for days! I'll be back soon. It's beautiful and great for mountaineering, swimming and chilling :) Thanks to the awesome staff for friendly service and great maintenance!
Minki
2017-01-08T00:00:00Z
The Riverstone House was truly amazing. Everything was as promised and Candice was only a text away. The small thought through things like little emergency kits in the bathrooms with paracetamol, toothbrush, toothpaste, allergy meds etc I have not experienced before and just shows how welcome the host wants the guests to feel. Even details of local vets shared came in handy later on for our dog! We will def return.
Jaco
2017-01-04T00:00:00Z
Wolseley, Western Cape, 南アフリカ
日付を入力すると合計金額が表示されます(税・サービス料別)。