In modern Yoga, "retreat" is often used to advertise a recreational holiday. In this context retreat means to leave everyday business behind. The goal is to let go of daily stress and problems, or as those kids say, "chill".
A space unique as it is lovely. This is a beautiful, newly built, free-standing studio in the mega popular Richmond District of Southeast Portland that features an open floor plan, a spa ambience, and a ladder leading to a sweet, little sleeping loft so cozy you could just melt. The European-style shower was built with a floor made of rocks that we hand-pulled from a little trivet out of our own Clackamas river --in proper Portland sustainability form-- and are meant be used to engage all of the reflexology points along your feet. The good vibes that emanate around this place are compliments of the house! Accommodates 2 guests comfortably or up to 3 guests quite cozily (double-sized "click-klack" futon on main floor)
We are located smack-dab in the center of one of Portland's trendiest and most sought-after neighborhoods between SE Hawthorne and Division (not just one but TWO Portlandia locations film in our neighborhood regularly). There is no lack of things to do and foods to eat from sunrise to, well, the next sunrise! All within a leisurely walk - or stumbling distance, respectively - away. A perfect day would begin with popping in to Stumptown Coffee (the original Stumptown, mind you) on your way up to Mt Tabor, hike to the top to get a view of our whole city and gather your bearings. You'll work up a bit of an appetite so you'll enjoy stopping at any one of the gazillion amazing restaurants for brunch on your walk back home (ask us for rec's according to your mood). If the clouds are in, you'll love taking in a matinee at the historic McMenamins Bagdad theater just 5 blocks away (did you know that Portland blocks are some of the smallest in the nation? It's like a block a minute by foot!) a Terminator Stout or Hammerhead IPA will make any movie brilliant (all microbrews, obviously ;). Shop around at the cutest little boutiques you've ever seen! Maybe you'd like a little happy hour or three? Happy hours are one of the greatest ways to experience multiple cuisines in a single excursion, a culinary journey if you will! Maybe catch a show (loads of amazing bands right over at the Hawthorne Theater). Or, just hunker down with a movie on your laptop, a good book, a board game, master your yoga practice or learn Chi Kung… Listen to the rain tapping on the roof or feel the sunshine beaming across the room (weather depending on the minute), and just be. But at least get to a food cart, if nothing else.
The host canceled this reservation 6 days before arrival. This is an automated posting.
Emily
2016-08-21T00:00:00Z
My wife and I had a great time staying here on our honeymoon. The Urban Zen Retreat is very spacious and relaxing. It's also located in a great neighborhood where everything you need is in walking distance. Parking is very easy as well which was a huge plus. We highly recommend Christina's place if you want a unique stay in Portland. Thank you again Christina!
Glenn
2014-06-09T00:00:00Z
Christina made us feel super welcome. She had incense lit for us to greet us into the gate, and she her family were very warm and accommodating. The space was so great, well curated and relaxing. Great place to stay and take in Portland for a day or two. Christina is also really fun to talk to about where to go/what to see. Great vibe. Thank you!
Corigan
2016-07-03T00:00:00Z
Very Friendly warm host! Cute little retreat in Chris' backyard! I fell in love with this little neighborhood and the shops and cafes surrounding it. Very relaxing space with a great bathroom. The host did a great job and paying attention to the details of creating an inviting space. Great vibes :)
Destiny
2016-08-05T00:00:00Z
The apartment was great and we really enjoyed our stay. After a long day of exploring Portland and sightseeing the retreat was a perfect way to end our day. Thanks again!
Erick
2014-05-24T00:00:00Z
We had a wonderful time staying with Christina. The zen retreat is a charming space behind Christina's main house that was super cozy and relaxing. The bed is up in a loft that you access by climbing up this cool welded ladder and the bathroom walls are painted with chalkboard paint, covered with messages from Christina's massage clients. The furry carpets, candles, and decor give the whole thing a funky spa vibe that was ideal for a weekend getaway. Christina was an amazing host. She left us a bowl with fresh fruit and snacks, a welcome card and note, and even a box of mints on a pillow. She was extremely responsive and communicative the whole time we were there and gave us great recommendations for stuff to do. The Airbnb is located between Hawthorne and Division in SE Portland. The neighborhood has so many bars, restaurants, and music venues, and so her recommendations of where to go were greatly appreciated. All in all one of our best Airbnb experiences yet! Highly recommended.
Cullen & Bekah
2014-05-05T00:00:00Z
I loved staying at the Urban Zen Retreat. Chris was an amazing host who was extremely responsive and helpful. The place was so great and I felt very comfortable staying there. There are so many charming details (the welcome note with my name on the chalkboard was so sweet!) and the location is amazing. Chris was great to let me drop my bag off prior to check in to I could explore Portland. The neighborhood is great with lots of coffee shops and restaurants within walking distance. I would recommend the Urban Zen Retreat to anyone visiting Portland! Thanks again for the great experience Chris!
Megan
2016-07-19T00:00:00Z
Absolute perfection. Location is perfect. Homeowners perfect. Place is beautiful. Stay here.
Adam
2016-07-21T00:00:00Z
ポートランド, オレゴン州, アメリカ
Welcome to my Villa! Your ENTIRE SPACE is 100% PRIVATE!...Bathroom too! ★Wi-Fi ★FREE Parking ★QUEEN Pillow Top Mattress —Private Outdoor Entrance ★Flat 1080i TV + Cable —Veranda Table & Chairs ★MiniKitchenette: Refrigerator/Freezer/Microwave/Toaster —Blow Dryer —Iron ★Rain Head Shower —Tropical Gardens —> ★ 24 Hour CHECK-IN with a Key Lockbox ----> ★ Late night Check-In, Great! ----> ★ Same Day Check-In, no problem!
This villa has a comfy LARGE QUEEN BED in a SMALLER sized, nice room! —Wi-Fi is STREAMING FAST! —Private Outdoor Entrance —Free Parking —Veranda Table & Chairs —Tropical Gardens —TV w/Cable —Free Coffee & Tea —Blow Dryer —Iron —Laundry service —RainHead Natural Stone Shower —Granite MiniKitchenette:Refrigerator/Freezer/Microwave/Toaster ★ QUEEN SIZE LUXURY PILLOW TOP MATTRESS ★ A VARIETY OF PILLOWS TO SATISFY ANY SLEEPER ★ CENTRALLY LOCATED IN ONE OF PDX'S BEST NEIGHBORHOODS ★ FREE: PARKING, FAST WiFi, COFFEE & TEA ★ THE SHOWER! (TRUST ME, read the reviews!) ★ LED FLATSCREEN TV + CABLE ----> 24 hour Check-In with a Key Lockbox! ----> Late night Check-In, Great! ----> Same Day Check-In, no problem! (URL HIDDEN)FEATURE(URL HIDDEN)Your villa has it's own unique private entrance from the main entry piazza. The Chateau is beautiful cozy suite. Walk through the tropical foliage of palm trees, banana plants and lush bamboo to arrive at your very own private villa door. This suite is furnished with a very comfortable pillow top Queen Bed, dining table with 2 chairs and stylish decor! Stunning french windows allow light inside your luxurious villa. The feel is like lounging in a comfy large bed in a smaller sized room. The MiniKitchenette includes a mini Refrigerator/Freezer combo, microwave oven, toaster, wine glasses+bottle opener and nominal kitchenware/glassware/dishware for two. The luxurious bathroom is layered with natural travertine tile. A ceiling mounted RainHead shower compliments the spa-like experience, complete with a foot massaging pebble floor! Enjoy the Veranda outdoor cafe table and chairs which overlook the Tropical Gardens and Koi Pond! WiFi covers outdoor spaces! This is a 100% PRIVATE space, bathrooms too! NO OTHER PEOPLE WILL SHARE YOUR SPACE! The room is equipped with a Thermostat(which YOU CAN CONTROL) electric heater. The rooms also feature central heat and central AC! Free Parking is available onsite & street(plentiful). Space onsite is limited. Washer & dryer (laundry service) is available for a fee. This villa is on the main floor and there is no second floor above.(yeah! no noisy ceilings ;) Please ask all questions prior to making a reservation. ----> Clean sheets and towels are of course provided MT TABOR NEIGHBORHOO(URL HIDDEN)SE PORTLAND Our Villa is located in an extremely friendly part of SE Portland. The Villa sits up and off the street in a very nice and safe part of Portland. Stroll through our carefully landscaped Tropical Gardens! View numerous palm trees, banana plants and 5 varieties of gorgeous bamboo. The Stark family have been sharing The VILLA with tenants and guests for over 20 years, and we enjoy every minute of it! Being able to share our home with so many friendly faces is a true blessing that we cherish everyday! Explore Mt Tabor Park within walking distance! ***Read more about Mt Tabor Park below. The Villa is one block from a designated bike path that leads to downtown. Places to visit and people to meet: The host is an avid hiker and happy to suggest great locations for exploring the beautiful environments around Portland. If it's food and beverages you seek, a list of culinary delight awaits you! DIRECTION(URL HIDDEN)NEARBY SHOPS The VILLA is located about 8 minutes from both the Airport & Downtown. Tri-Met Bus stop #20 to Downtown is directly in front of The VILLA! MAX Rail stop NE 60th is walking distance, accessing Airport & Downtown. Seven Virtues cafe Starbucks Coffee Biddy McGraws Irish Pub Tabor Tavern QFC Fred Meyer grocery 7/11 and Plaid Pantry Montavilla Farmers market (seasonal) Montavilla shops, pubs, movie theater and restaurants Whole Foods, 5 minutes away driving ***Portland is one of three cities in the United States to have an extinct volcano (Mount Tabor) within its boundaries. Mt Tabor Park boasts gently curving parkways, native plants, water reservoir, long flights of stairs, numerous walking trails, and a nursery garden! MAIN ATTRACTIONS OMSI Oregon Museum of Science and Industry Washington Park Lan Su Chinese Garden Oregon Zoo Pittock Mansion Pioneer Courthouse Square Portland Japanese Garden Forest Park Tom McCall Waterfront Park Oregon Historical Society Museum Oregon Convention Center Portland Art Museum World Forestry Center Hoyt Arboretum Providence Park Portland Timbers Rose Quarter Portland Blazers Portland International Raceway Keller Auditorium PSU Portland State University Visitor Information Center NEIGHBORHOODS Downtown Portland Old Town Chinatown Entertainment District / Nightlife Pearl District South Park Blocks Lloyd District Northwest Portland Nob Hill Eastside Mississippi / Williams Alberta Arts District Division / Clinton Hawthorne Belmont Sellwood / Moreland Airport PDX Jantzen Beach DAY TRIPS St Johns Bridge Oaks Bottom Wildlife Refuge Columbia River Gorge Mount Hood Oregon Coast Wine Country Central Oregon / Bend Crater Lake PLACES TO VISIT Portland Saturday Market Portland Farmers Market Voodoo Doughnut Powell's City of Books / Powell's Books Crystal Ballroom Portland sign Powell Butte Nature Park Tax-Free Shopping Tours FOOD & DRINK Beer Micro Brews Cocktails & Craft Spirits Voodoo Doughnut Wineries Organic Restaurants Food Carts Portland Marathon Shakespeare in the Park APRIL Bridge to Brews Portland Women's Expo Soul'd Out Music Festival Design Week Portland TechfestNW MAY Portland Farmers Market Cinco de Mayo Fiesta Bridgetown Comedy Festival Taste of the Nation Portland Crafty Wonderland Super Colossal Sale Memorial Weekend in Wine Country JUNE Portland Rose Festival Grand Floral Parade World Naked Bike Ride Portland Pride Portland International Beer Festival Portland Vegan Food and Beer Festival JULY Waterfront Blues Festival / 4th of July Chamber Music Northwest Oregon Brewers Festival Cathedral Park Jazz Festival PDX Pop Now! The Big Float Portland Highland Games Flicks on the Bricks AUGUST Pickathon Indie Roots Music Festival MusicfestNW North American Organic Brewers Festival PDX Adult Soapbox Derby (ON MT TABOR) The Bite of Oregon Bridge Pedal Hood to Coast Relay SEPTEMBER Time-Based Art (TBA) Festival PICA Feast Portland Art in the Pearl Portland Film Festival The most important part of what I offer is a clean, beautiful and friendly refuge while you are visiting this great city! :) Children & Pet Policy +More: All children are welcome and charged the same as adults. Well behaved and approved pets are welcome! Pet fee is $10 per night, per pet when paid PRIOR to arrival. Pet fee paid on arrival is $20 per night, per pet. UNDECLARED PET FEE is $150 and is strictly enforced. Pets must be leashed outside of the room. Pets cannot be left unattended inside the room, except in a secure kennel. No aggressive appearing breeds are allowed, e.g., pit bull, rottweiler etc. Please ask all questions prior to making a reservation. Your villa is on the main floor & 3 steps are required to enter your villa. Breakfast is not include. My home fully licensed and insured, permit #:(PHONE NUMBER HIDDEN)
located in the Mt Tabor Neighborhood These are nearby as Portland is a smaller city: Downtown Portland Old Town Chinatown Entertainment District / Nightlife Pearl District South Park Blocks Lloyd District Northwest Portland Nob Hill Eastside Mississippi / Williams Alberta Arts District Division / Clinton Hawthorne Belmont Sellwood / Moreland Airport PDX Jantzen Beach
The place was really cute and clean. Shane made sure we had everything we needed. Would definitely stay here again. It was a perfect location.
Roger
2016-06-13T00:00:00Z
Our guests really enjoyed staying in your place! Thanks again for making the arrangements.
Matthew
2016-05-31T00:00:00Z
Shane had great communication. I booked his place very last minute and he was quick on the messages to get me booked and checked in. Very comfortable room! It's a little studio apartment, cozy and super comfortable. The neighborhood is gorgeous too.
Geoffrey
2016-07-01T00:00:00Z
Great place, great location. Thanks again.
John
2015-10-20T00:00:00Z
Awesome place and a great host! Very accommodating to our needs. We had a nice time staying at The Villa for the evening. It is cozy, so I wouldn't recommend it for more than two people or those needing a full kitchen. Overall, a beautiful property and location. I would definitely refer my friends and family here.
Petra
2015-04-09T00:00:00Z
The room was exactly what we needed: a place to stay for the night after attending a show up the street. The space was decent size with a well equipped kitchen. We enjoyed the overhead shower also. The neighborhood was clean, safe, and quiet. We had no trouble finding parking and were easily able to catch a bus to and from the show.
John
2015-02-19T00:00:00Z
The apt. was clean, kitchen was nice, good shower. It was quieter than I thought it would be considering the street. Nice neighborhood, house is well back and up from street level. I think the bed is too small for a couple but was comfortable for single person. Need to put extra blankets in room in case its needed.
Kelly
2015-02-10T00:00:00Z
DO NOT RENT FROM THE OWNER. 1st. I booked the room in the afternoon, had him ask my expected arrival time. I said sometime after dinner this evening. I was harassed 3 times within a couple hours about me arriving, saying he knocked on the door? When the ad clearly states this is supposed to be PRIVATE 2nd. The room we were put in was not the room we booked. 3rd. The room has dirty towels and a moldly shower curtain. 4th. When I messaged the host to ask how we could resolve these issues, they responded they would leave some clean linens outside the door in a message, but when they came to the door knocked once, then forcefully entered before we were able to even get dressed, began aggressively harassing us and threatening us to sign a document we hadnt even read or leave. We were forced after less than 30 mins there, at 1130 pm to pack everything and run out of the house, calling the police for assistance. He avoided contact from the police when we sent an officer to the door. When I called to request a refund the next day he hung up on me and said we would not be receiving one. I filed a complaint with Airbnb, and hopefully this predator will be shut down. The scariest part was that I am a female, and he was unaware I had another person with me, and I feel like something really bad would have happened if my partner wasn't there. This person needs to be stopped and I would advice avoiding him until Airbnb reviews the case. We have video evidence and all of the messages.
Meow
2015-10-08T00:00:00Z
ポートランド, オレゴン州, アメリカ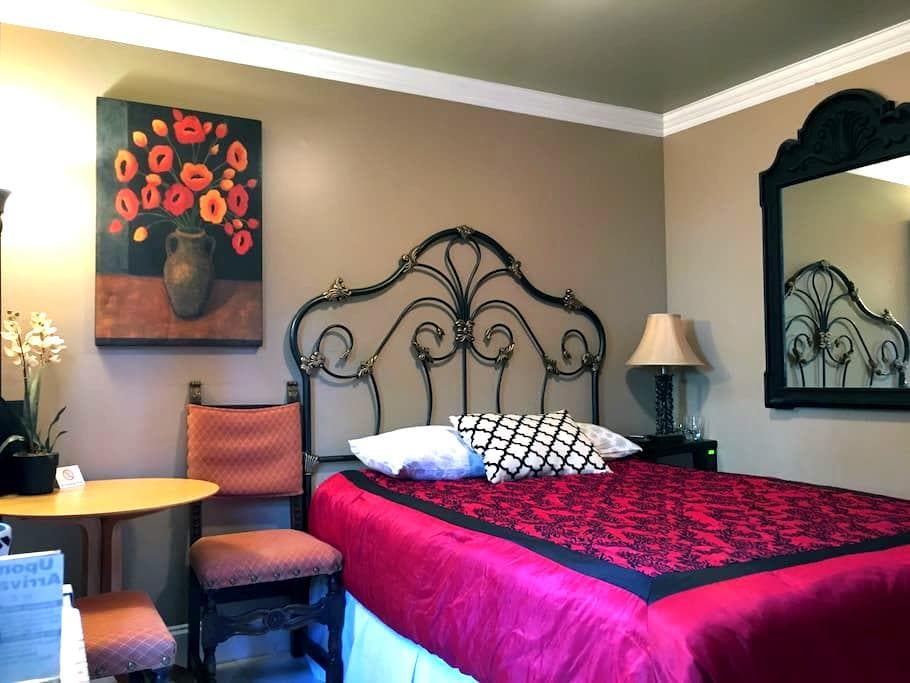 ポートランドのウォーターフロントに直接私たちのウィラメットリバーフロントシャトーのプライベートペントハウススイートで3BR / 2BAをお楽しみください。巨大なドック、水辺の座席、Wi-Fi、無料駐車場、室内洗濯機/乾燥機、簡易キッチン、壮大な景色を望む専用スイート。
ウィラメット川沿いに右にとどまります。 8.5マイルポートランドのダウンタウンの中心部から、我々はこの豪華な3BR / 2BAのウォーターフロントペントハウススイートを提供しています。 PDXアンカーハウスシャトーでのペントハウススイートで、独自のリビングルーム、キッチン、ラナイ(バルコニー)デッキ付き専用3BR / 2BAスイートをお楽しみください。贅沢は無線LAN、ネットフリックス、室内洗濯機/乾燥機、エアコン、花崗岩のカウンタートップ、固体の桜の床、カスタムの桜のキャビネットが含まれています。 ペントハウススイートは快適に6名様を収容します。 •真鍮キングベッド付マスターB / R、リバーフロント(2名様)。バスタブ/シャワー付きの専用浴室を添付。 •真鍮キングベッド(2名様)とのベッドルーム#2。バスタブ/シャワー付きのバスルーム#2は、廊下を横切っています。 •2真鍮フルベッド(2名様)とのベッドルーム#3。浴室の#2は8フィート廊下です。 一台の車のための便利な敷地内の駐車場が含まれています。複数の車のための駐車場を必要とする場合、詳細はお問い合わせください。
デッドエンドストリートに静かな小さな飛び地に位置し、我々はポートランドの中心部から数分です。ここでは、その著しく安らか:私たちは夏に開いているウィンドウと一緒に寝やアヒルやガチョウは最も騒々しい住民になる傾向があります。
The penthouse has spacious rooms, beautiful views of the Willamette River, and everything is clean and well organized. My mother and I greatly enjoyed our stay.
Heather
2014-07-20T00:00:00Z
We loved the new, fresh feeling of this rental -- super clean, organized, lots of space to put things away, lots of floor space. Beds and bedrooms are extremely comfortable. Bathrooms are spacious. Beautiful location on the river, peaceful views, honking geese, a squawking heron, ducks galore, and osprey. The hosts are superb, helpful and welcoming. We had no trouble finding places to eat out nearby, finding the grocery store, and the drugstore. Just what we needed for a home base during a week of World Disc Golf Championships.
Kelly
2014-08-18T00:00:00Z
The lovely home is comfortable for six and the setting was very scenic. Our hosts were accommodating with our arrival and departure time and were not bothered by our questions. They checked in to make sure we were fine and were friendly and helpful during our stay. Thanks for a wonderful weekend!
Peggy
2016-05-31T00:00:00Z
Amazing expirience in an amazing place! I stayed 5 days with my colleagues and we all had great time. We were in Portland for business and this place is amazing for relaxing and recover from the intense day meetings.
Vitor
2016-05-02T00:00:00Z
The house is lovely and clean. The beds were extremely comfortable! We had a great time staying here and would definitely stay here again.
Sarah
2016-05-25T00:00:00Z
ポートランド, オレゴン州, アメリカ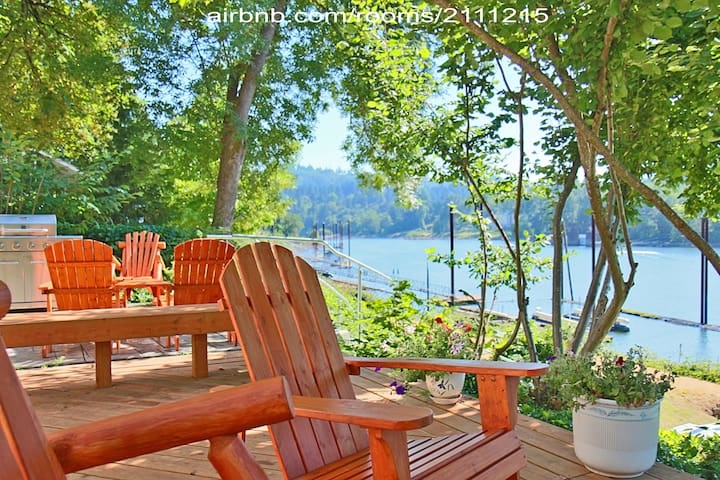 Enjoy 3BR/2BA in the private Ground Floor Suite of our Willamette Riverfront Chateau directly on the Portland waterfront. Private Suite with huge dock, waterside seating, WiFi, free parking, in-room Washer/Dryer, kitchen, easy access and river views.
Stay right on the Willamette riverfront. Located 8.5 miles from the center of downtown Portland, we offer this luxurious 3BR/2BA waterfront Ground Floor Suite. Enjoy a private living room, full kitchen and dining in the Ground Floor Suite at the PDX Anchor House Chateau. Luxuries include WiFi, NetFlix, in-room Washer/Dryer, air conditioning, granite countertops, solid cherry floors and custom cherry cabinets. The Ground Floor Suite will comfortably accommodate 6 guests: • Master B/R with Queen Bed (2 guests). Attached Master bath with tub/shower. This bathroom includes 2nd door to living area. • Bedroom #2 with Queen Bed (2 guests). Attached Bathroom #2 with tub/shower is private to this bedroom. • Bedroom #3 with two Log Twin Beds (2 guests). Convenient on-site parking for one car included. Please ask for details if you need parking for more than one car.
Located in a quiet little enclave on a dead end street, we are minutes from the heart of Portland. Its remarkably restful here: we sleep with the windows open during the summer and the ducks and geese tend to be the loudest residents.
Kelly and King were great hosts. The place was clean and well maintained. I would recommend the place to any family.
Mark
2015-02-26T00:00:00Z
ポートランド, オレゴン州, アメリカ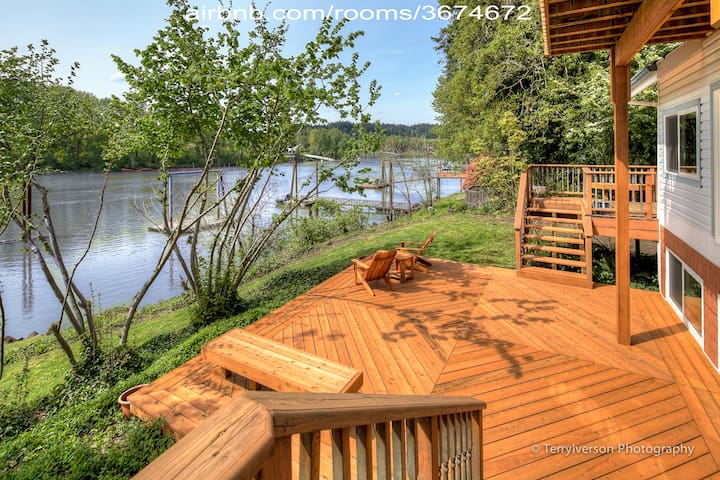 ウェストリン - Airbnb
:
平均星

4.55

つ/

5

つ星・ゲストレビュー

120

件