Our apartment is located between Nice and Niers in the lower Rhine, in the natural park Maas-Schwalm-Nette. The apartment is the ideal starting point for leisure activities of all kinds. It is a fully renovated apartment!
Features a fully renovated 72sqm apartment with the most modern equipment available: 2 TVs, WiFi, safe, kitchen with dishwasher, washing machine, dryer, fitness equipment. Important: The 3rd bed is a sofa bed in the living room.
We really enjoyed our time in this lovely and quiet vacation house! It is equipped with everything you could image! Complete kitchen with all equipment and tools, bathrooms with all accessoires one could think of, even slippers! Everything was extremely clean and well maintained. The bed was super comfortable with high quality pillows and sheets. Fast Wifi connection. Plenty of tourist information with maps and tips for good restaurants. It was the Easter weekend so we were welcomed with a house full of chocolate eggs and Eater bunnies! We had a really warm welcome by the lady who lives next door and who was in charge of the keys. It made our stay special :)
Claudia Andrea
2016-03-31T00:00:00Z
The host canceled this reservation 5 days before arrival. This is an automated posting.
Patricia
2015-11-12T00:00:00Z
Ein sehr schönes, ruhiges, gut organisiertes Landhaus.. Es hat uns sehr gut gefallen. Wir wollen gerne wieder kommen. Herzlichen Dank Bernd
Bernd
2015-12-27T00:00:00Z
部屋タイプ
まるまる貸切
---
建物タイプ
アパート
---
定員
2
---
寝室
Nettetal, Nordrhein-Westfalen, ドイツ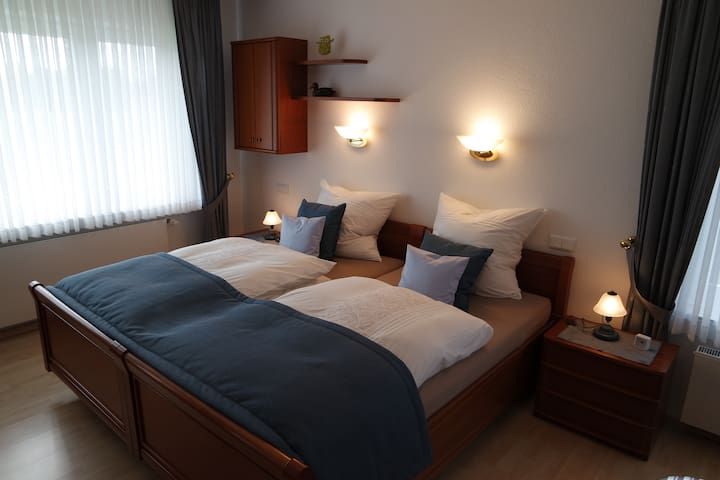 Your oasis in close proximity to the Dutch border! In your own 4 walls you will feel at home!
The accommodation Welcome to the Lower Rhine! Welcome to Nettetal! Located in Hinsbeck District, you feel with us in a family atmosphere in a quiet residential home. Your environment: Just a few kilometers from the Dutch border is Nettetal with the district Hinsbeck. Hinsbeck and neighboring Leuth train Nettetal a state recognized leisure area. It is the centerpiece of the International Natural Park Maas-Schwalm-Nette. You can expect a typical Lower Rhine landscape with 12 lakes, 70 km cycling and 145 km of paths. In lovingly tended conservation bodies, the landscape typical, original flora and fauna be admired. Supermarket and bakery are within walking distance. The highway 61 is reached in about 8 km. The Kaldenkirchen station is approximately 7 km away. From there you can go directly on the Dutch border Venlo and also in the other direction in a direct way to Dusseldorf. Your home: The 1st floor of our house is your personal oasis for the period of your stay. Since the summer of 2001 we received with joy our guests who comprise of the family with children, about nature lovers through to assembly workers each who is drawn to Nettetal and surroundings. Our apartment offers approximately 60 m² space for up to 4 people in 2 separate double rooms. Equipment: 2 living dormitories, kitchen, bath / shower, cable TV, radio, Internet / wireless, microwave, sheets and towels included, children-friendly, Non smoking apartment, locked bicycle garaging, Use of garden, barbecue, large free car park opposite the house; Families with children are also welcome guests as your pet. We ask this in advance information in brief. Price per person: from 28,00 € Price starting a week on request. You might wonder about the ratings in the pictures. Since my previous advertisement was not displayed in the search, I have re-created and chosen this path, to let my reviews anyway incorporated into the new ad can.
Anne is a very nice host, answered all questions very clearly and has waited long time extra for our later check-in. The room is big, quiet and very clean. There war enough parking places bevor the door. A big kitchen is available as well, so I have found everything that I need. All in all I am satisfied and very happy with the time by Anne.
Tong
2016-02-17T00:00:00Z
Anne was perfect to my arrive, very friendly and helpful in explaining the house. The apartment is wonderful, very neat and tidy. The kitchen is complete of all necessary things and the bathroom has a very big shower! All was perfect! Thank you again very much!!
alessandro
2015-10-25T00:00:00Z
We had a short stay, but it was a very nice place to be. Very much privacy, big room for ourselves! Great bathroom And kitchen.
Helen
2016-05-06T00:00:00Z
Die Unterkunft ist nahe der Fußgängerzone und trotzdem sehr ruhig gelegen.
Lisa
2016-10-27T00:00:00Z
Wir haben uns total wohl gefühlt. Die Wohnung ist groß, sauber und toll gestaltet. Anne hat uns sehr lieb und freundlich empfangen eine t sehr nette Gastgeberin!!! Wir würden jederzeit wieder bei Ihnen übernachten. Liebe Grüße
Janine
2015-08-16T00:00:00Z
Herzlicher Empfang. Wunderschöne Räumlichkeiten und bezaubernde Landschaft. Schade das wir nur eine Nacht verweilen konnten. A & U Willuhn
Ulrich
2016-05-22T00:00:00Z
Anne was amazing,really friendly and carrefull. Has a beautifull place with a loveley garden ,suitable for pets and children. Really quite place and nice area. You should try it!
Maria
2017-02-15T00:00:00Z
Anne ist eine sehr offene und liebenswürdige Gastgeberin. Wir haben uns bei ihr mit den Hunden sehr wohl gefühlt. Die Absprachen haben alle super funktioniert und wir würden immer wieder zu ihr fahren :):)
Linda
2016-01-05T00:00:00Z
部屋タイプ
まるまる貸切
---
建物タイプ
アパート
---
定員
4
---
寝室
Nettetal, North Rhine-Westphalia, ドイツ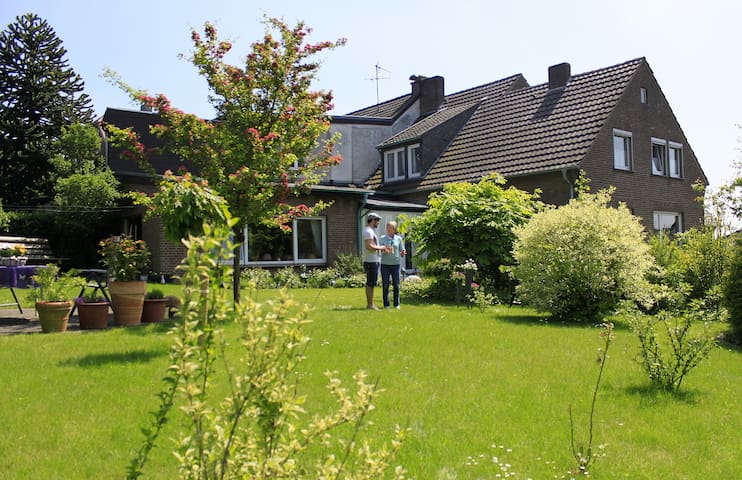 Zentru(SENSITIVE CONTENTS HIDDEN)ahe und trotzdem ruhig gelegene Whg. in Nettetal, im Naturpark Schwalm - Nette, ca. 8km bis zur niederl. Grenze. 75qm, 2 Schlafzi. mit Einzelbetten, Wohnzi. mit Radio und TV, Küche voll ausgestattet, Diele, Bad, Balkon mit Sitzmöglichkeit. Wlan, Parkmöglichkeiten. Zentrum ca. 600 mtr., Einkauftsmöglichkeiten Passage- u.a. Supermarkt Günstige Anbindung an die Autobahnen A61 ca. 3km u. A40 ca. 10km.
部屋タイプ
まるまる貸切
---
建物タイプ
アパート
---
定員
4
---
寝室
Nettetal, Nordrhein-Westfalen, ドイツ
Das Doppelzimmer liegt an der ruhigeren Gartenseite des Hauses mit Blick in den Garten. Es wurde 2014/2015 saniert - mit teils neuer Enrichtung und ein eigenes Badezimmer mit Dusche und WC. Es steht eine Miniküche zur gemeinsamen Nutzung mit den zwei andern Gästezimmern zur Verfügung. Unser Haus ist eine ehemalige Dorf-Schule (Bj. (PHONE NUMBER HIDDEN) komplett saniert) mit großem Garten. Düsseldorf ca. 25 km, zum Bahnhof ca. 3 km
We spent 3nights at his place, and it is really great place to rest. I think he is the perfect host. Very generouse and easy-going , I'm sure he is a nice person. Actually we been through a lot lately and moreover having a long trip from Milano to Germany for my father's business, but here we could relax and rest very quitely. Loved the garden view and birds sound effect really made us feel good. Everything is new(rest room is verryyy clean and modern) and he kept trying to know what we needed more. Very thankful for him& his family.
jene
2016-06-06T00:00:00Z
Ich habe eine Nacht bei Thias und seiner Familie verbracht. Das Zimmer liegt in seinem Seminarhaus, alles ist in Top-Zustand und wohl erst vor kurzem renoviert. Kommunikation war immer sehr schnell und sehr effizient. Besonders gut hat mir die Ruhe gefallen, der schöne Blick in den Garten und das unglaublich positive Flair ! Ich komme ganz bestimmt wieder !
Dagmar
2016-06-10T00:00:00Z
Viersen, Nordrhein-Westfalen, ドイツ
Surrounded by green fields and an integral nature reserve you find this lovely furnished apartment in Viersen. Supermarkets are only ten minutes of walking. Viersen station is only ten minutes away by bike. This lovely furnished apartment has already convinced people from Australia, Argentina and Greece with its coziness and harmonic atmosphere. Stay a while at the Niederrhein and enjoy the silence wether you look outside and see the green fields or read a book on the balcony.
The apartment is a special place to feel at home. Your apartment can be cleaned from our cleaning service. You do not have to take care of your laundry. You can make great walks through the beautiful landscape of the Niederrhein or benefit from the perfect infrastructure to reach big cities such as Cologne or Duesseldorf.
There are there other apartments in the house. Inside are living people from different countries, so you benefit from a multicultural neighborhood. The neighbors of the house are very silent.
部屋タイプ
まるまる貸切
---
建物タイプ
アパート
---
定員
1
---
寝室
Viersen, Nordrhein-Westfalen, ドイツ
Das Zimmer liegt in einer separaten kleinen Wohnung (55 qm) in einem Wohn-/Seminarhaus. Unser kleines Seminarhaus ist eine ehemalige Dorf-Schule (Bj. 1873) mit großem Garten mit vielen Blumen Blumen. Es gibt ingesamt zwei Doppelzimmer und zwei kleine Einzelzimmer. Alle Zimmer wurden 2014/2015 renoviert und mit teils neuer Enrichtung ausgestattet. Es gibt einen gemeinsamen Flur und 2 neue gestaltete hochwertige Badezimmer. Kostenlose öffentl. Parkplätze. Düsseldorf 25 km, Bahnhof Viersen 3 km.
Das Apartment ist im Jahr 2014/2015 komplett neu saniert worden und überwiegend mit neuen Möbeln ausgestattet worden. Die Zimmer gehören zu unserem kleinen Seminarhaus (Rainbow-Coaching-School) und unserem Privathaus. Jedes Apartment hat ein Doppelzimmer und ein kleines Mini-Einzelzimmer mit insgesamt 3 Betten. Es gehört ein eigenes Duschbad mit WC dazu. Es stehen zwei Apartments zur Verfügung, die verbunden werden können.
Unser Haus liegt in einer Stadtrandzone mit dörflichen Elementen. In wenigen Minuten erreicht man zu Fuß die Felder und Waldstücke der Umgebung. Hier kann man schöne Spaziergänge machen. Nicht weit entfernt ist ein Park mit einem Bachlauf und einem Teich. Es gibt in Laufweite zwei Pizzerien und zwei Imbiss - Pommesbude und den leckersten Döner der Stadt (alles ca. 400-800 Meter zu Fuß). Ein Kiosk liegt an der Straße in ca. 400 m Entfernung. Der nächste Supermarkt (Kaisers - 7 bis 22 Uhr Mo-Sa - und Rossmann) ist ca. 900m von uns weg. Ein Aldi etwas 1200m. In ca. 1.5 km beginnt die Viersener Innenstadt mit zahllosen Geschäften und Restaurants/Gastronomie-Betrieben. Ein McDonalds ist in ca. 1,8 km Entfernung. Wer richtig gut Essen gehen möchte hat es in Viersen incht leicht, dennoch ist im Stadtteil Süchteln ein italienisches Restaurant "Hindenburg - da Piero" und mit der "Villa Ling" auch ein Restaurant mit (ehemaligem) Sterne-Niveau. In Mönchengladbach bieten sich zahllose weitere Möglichkeiten von Sushi bis Steak und französischer bis hin zu brasilianischer Küche. Von Vegan bis zum argentinischen Steak ist sicher vieles dabei.
Ich war auf Geschäftsreise in Düsseldorf. Thias Empfehlung "Roberts Bistro" war ein super Tipp.
Moritz
2016-11-17T00:00:00Z
Der kurze Besuch war genau das was ich erhofft und erwartet habe. Zuvorkommende Kommunikation, sehr unkompliziert. Außerdem ist die Unterkunft wirklich hübsch eingerichtet. Danke sehr!
Berthold
2016-10-10T00:00:00Z
Alles mehr als super! Sehr saubere Wohnung. Thias und seine Frau sind sehr nette Menschen, hilfsbereit und immer für ein nettes Gespräch zu haben :) komme jederzeit gerne wieder.
Alina
2017-03-10T00:00:00Z
Sehr gepflegte und gemütliche Unterkunft. Ich komme gern wieder!
Alexander
2017-01-17T00:00:00Z
Thias was a really friendly person who welcomed us at the Airbnb. The room was clean and very light. The bathroom was also really nice and had everything we needed.
Amy
2017-01-22T00:00:00Z
An excellent place characterized by calm and hospitality
Ahmed
2016-09-23T00:00:00Z
Thias est un hôte tres gentil et a l'ecoute . Le logement correspond tout a fait a l'annonce . Tres propre de la chambre a la salle de bain , je recommande sans hésiter ce logement . Allez y les yeux fermés !
Thomas
2016-10-14T00:00:00Z
Diese Unterkunft ist sehr zu empfehlen, sehr sauber und gute Betten. Wir haben sehr gut geschlafen. Die Kommunikation war optimal. Gerne Wieder!!
jochen
2016-12-30T00:00:00Z
Viersen, Nordrhein-Westfalen, ドイツ
2 Gemütliche Zimmer in Viersen mit super Aussicht in ruhiger Lage in der Nähe von Viersens Zentrum und mit guter Anbindung nach DüsseldorfMönchengladbach u. Venlo. Meine Unterkunft ist gut für Paare, Alleinreisend, Abenteurer und Geschäftsreisende. Wir teilen uns das Bad und die Küche, einen Kaffee oder Tee am Morgen spendiere ich Euch, für das Essen sorgt ihr selber, Platz im Kühlschrank ist vorhanden. Ich bitte um 50 € Kaution für den Schlüssel, diese bekommt ihr bei Rückgabe natürlich zurück.
Wenn ihr zu zweit kommt, biete ich euch Platz in meinem Schlafzimmer an, das Bett ist 1,80 X 2,00 m groß. Für Alleinreisende biete ich mein Gästezimmer an, da ist das Bett 1,00 X 2,00m groß.
Jederzeit würde ich bei Dir wieder übernachten, liebe Birgit. Ich hatte viel Spaß mit Dir, interessante Gespräche, tolle Verköstigung (-:)). Du bist total unkompliziert und sehr herzlich!!!! Wohnung ist sehr groß, SPITZENSAUBER, sehr ruhig gelegen, lässt also auch keine Wünsche offen!!! Dann vllt. wieder im nächsten Jahr??? LG, Vanessa
Vanessa
2016-09-18T00:00:00Z
Top Unterkunft, freie Parkplätze direkt vorm Haus, ganz liebe und nette Gastgeber - kurzum ich habe mich sehr sehr wohl gefühlt. Vielen Dank nochmal liebe Birgit
Markus
2016-10-28T00:00:00Z
Sehr empfehlenswert! Gastgeberin ist super flexibel und sehr freundlich!
Lena
2017-03-08T00:00:00Z
Birgit ist super nett und unkompliziert. Die Wohnung war immer sehr sauber. Parkplätze waren immer in der Nähe frei. Hab mich wirklich wohl gefühlt.
Cheyenne
2016-12-09T00:00:00Z
war alles wie erwartet, dazu sehr angenehm in der Kommunikation und Organisation, gerne wieder, vielen Dank
Stephan
2017-02-25T00:00:00Z
Absprechen liefen super. Es war sauber, ordentlich und gemütlich. Wir waren sehr zufrieden. :)
Melanie
2017-02-11T00:00:00Z
Viersen, Nordrhein-Westfalen, ドイツ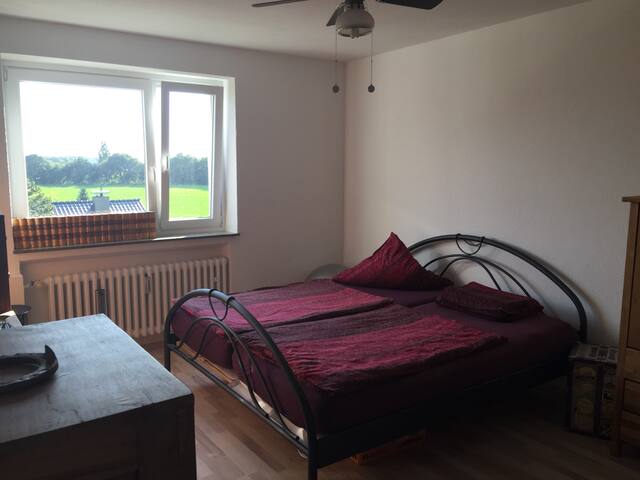 Our large light-filled and tastefully decorated guest apartment on North Park (near the football stadium and Savings Park) offers plenty of space for two people. If necessary, two more guests can stay at the cozy couch on (sleep). The appropriate business apartment has a workspace with a desk and free Wi-Fi.
The decor in light colors and the bright spacious rooms with their green accents act soothing and relaxing. The mural in the living room is a personal feeling of understated manner. Large windows provide an insight into the garden.
The apartment is near the North Park in a quiet residential area and is well connected to the transport network. The Borussia Stadium and Savings Bank Park can be reached on foot in 15 minutes. In just 1300 meters (10 - 15 minutes by foot, 5 minutes by car), there are four well-stocked supermarkets and an open round the clock service station. The downtown Moenchengladbach and Central Station are 5 km away and reachable by bus and car in about 15 minutes.
Unser Aufenthalt bei Birgit war super, das Appartement ist super sauber, ausgestattet mit allem was man braucht und man ist in zehn Minuten am Stadion. Birgit und ihr Mann sind sehr freundliche und entspannte Gastgeber.
Theresa
2015-03-01T00:00:00Z
Der Aufenthalt bei Birgit war hervorragend, das Haus ist wie auf den Bildern wunderschön eingerichtet, das Wlan funktioniert ohne Probleme, und die Ausstattung lässt nichts zu wünschen übrig. Birgit hat uns äußerst gastfreundlich empfangen und wir hatten eine sehr schöne Zeit. Falls wir noch einmal nach Mönchengladbach fahren, dann garantiert zu Birgit!
David
2016-07-23T00:00:00Z
Alles war Top .In echt ist es noch schöner als auf den Bildern.Unsere Erwartungen wurden deutlich übertroffen.Gastgeber nett ,hilfsbereit und zuvorkommend.Das Appartment bietet alles was man braucht zum wohlfühlen.
Inanc
2016-01-01T00:00:00Z
Einfach nur Klasse. Die Wohnung ist sehr hochwertig und sauber. Preisleistung unschlagbar. Lage perfekt. Direkt an der Autobahn und trotzdem ruhige Wohngegend. Kontakt unkompliziert. Parken kein Problem.
Daniel
2015-11-08T00:00:00Z
It was our second stay at Birgit's place. It was once again a perfect stay. The place is very very well designed, comfortable and clean. The location is perfectly quite and close to all necessary amenities. Three different supermarkets are in walking distance and the kitchen is well equipped to prepare the meals. Birgit added a desk in the living room which is ideal for work. This was a flawless stay and I can recommend the place whole heatedly.
Christian
2016-07-30T00:00:00Z
I had an excellent experience in Birgit's apartment. Everything was perfect and Birgit was very nice and helped me giving right advice, organizing the transfer to the station in the night e being ready and careful for my needs. The apartment is very clean and comfortable and it is even better than it looks in the pictures. It is situated in a nice residential area, served by public transports and really close to Borussia Park Stadium.
Fabrizio
2015-11-04T00:00:00Z
BEST AIRBNB EVER. Not 5, but 6* in EVERY way. An apartment obviously designed and built with love, and top quality furnishings thruout. Larger and more beautiful than the photos. Birgit and husband could not be more warm, welcoming and wonderful hosts. Quiet, private and ideal for a short stay or a long one. If you have a car, the main road and motorways to everything are 2 minutes away. NOT a thing missing here. JUST FABULOUS. HIGHLY Recommended.
Ck
2015-06-15T00:00:00Z
Viel Liebe inDetails...Alles bestens.
Marco
2016-10-29T00:00:00Z
部屋タイプ
まるまる貸切
---
建物タイプ
アパート
---
定員
4
---
寝室
Mönchengladbach, North Rhine-Westphalia, ドイツ
Excellent living place for travelers. Bus stoppage is just 2 min away. Rheydt Train Station- 1.2 Km (3 min) Hochschule Niederrhein University- 3 Km (7 min) Mönchengladbach train station- 4.7 Km ( 15 min) Stadium shuttle buses are available from Rheydt train station. Perfect for football crazy fans, new students, solo travelers and business travelers. Super shops like Aldi, Penny, Netto and Real are very nearby. Very quite and friendly neighbourhood.
Calm environment
Serenity is everywhere. There are some German families living around and in the same building.
Sehr sauberes Zimmer! Und der Gastgeber ist sehr nett und gastfreundlich! In der Nähe von der Mitte, auch eine gute Lage. Very nice to meet such a good host.
Han
2017-03-19T00:00:00Z
主人非常热情,待人友好,位置离Rheydt火车站只有10分钟步行。
Han
2017-03-30T00:00:00Z
It is my first time to join the Airbnb and it is a good one! The couple are so nice, friendly and helpful! The Room is beautiful and everything is wonderful! The room is clean! And the location is just nearby the bus station.
Patrick
2017-03-20T00:00:00Z
Mönchengladbach, Nordrhein-Westfalen, ドイツ
Your newly refurbished accommodation in MG-Holt! Quiet location and still garden within minutes on the A61, in the Borussia Park, in downtown or at the Colorful! If you still have questions, simply we melden- looking forward to you!
Comfortable, clean and centrally
Der Aufenthalt bei Steffi war spitze! Sie war super zu erreichen und hat uns freundlich empfangen. Weiterhin hat sie uns auch gleich alle wichtigen Tipps zu Unternehmungen in der Umgebung gegeben. Die Wohnung war ruhig gelegen und in unmittelbarer nähe zum Stadion und mit Anbindung in die Stadt. Die neu renovierte Wohnung war sauber und hatte alles, was man braucht. Ich würde jederzeit wieder dort bleiben und werde dies auch sicher tun. Vielen Dank nochmal, Steffi!
Stefan
2017-03-17T00:00:00Z
We stayed with 2 small children and Steffi's place. Steffi gave us a wonderful overview concerning all needed places (food, shops, transport) near her appartment. The kitchen was full of needed goods for cooking. Bed and sofa very comfortable. We advice Steffi's place to everyone else!
Igor
2017-03-22T00:00:00Z
部屋タイプ
まるまる貸切
---
建物タイプ
アパート
---
定員
3
---
寝室
Mönchengladbach, NRW, ドイツ
Our cozy apartment offers a relaxing stay with a wonderful wellness area where you can relax your soul. It is centrally located and just 5 minutes from City. Dusseldorf is 20 KM.
Sehr nette Gastgeber mit guten Tipps. Es ist alles vorhanden, was man zum bequemen Übernachten und Frühstücken braucht. Vielleicht ein bisschen überdekoriert, aber das ist Geschmackssache. Highlight ist das Bad, im Sommer wohl auch der liebevoll gestaltete Garten. Wir hatten in Rheidt zu tun, von daher war die Lage ideal. Und Wlan funktionierte tadellos.
Annette
2016-01-05T00:00:00Z
Super nette Gastgeber mit einzigartigem Einrichtungsstil und einem tollen Whirlpool!
Michael
2016-03-07T00:00:00Z
Um es kurz zu machen: Perfekt. Bilder und Realität stimmen 1:1 überein. Sehr engagierte Gastgeber. Nach 1 Minute fühlt man sich in der Wohnung wohl. Ein Kleinod in Mönchengladbach.
Sven
2016-01-22T00:00:00Z
We had a wonderful time with Roberto and Brigitte. They are very friendly, helpful and made us delicious breakfast. the appartement was great, especially the bathroom with jacuzzi. Nice place to stay for a couple of days!
Vera
2015-12-30T00:00:00Z
Es hat alles bestens gepasst, es war beindruckend wie liebevoll die Wohnung bis in die kleinsten Details eingerichtet ist, ich kann Brigitte und Roberto als hervorragende Gastgeber weiterempfehlen. Vielen Dank. Günter Kube
Günter
2016-01-18T00:00:00Z
Brigitte und Roberto haben mich sehr offen und herzlich begrüßt. Sie sind sehr bemüht und kümmern sich sofort, falls man noch einen Wunsch hat. Ich habe mich sehr wohl gefühlt und würde bei meinem nächsten Aufenthalt gerne wiederkommen.
Janina
2016-03-11T00:00:00Z
Die Wohnung ist sehr sauber und komfortabel, wie beschrieben. Meine Eltern liebten es, dort zu bleiben.
Ece
2016-11-30T00:00:00Z
Es war großartig. Meine Freundin und ich konnten die Tage in vollen Zügen bei Roberto und Brigitte genießen. Die Wohnung ein Traum in dem man auch so schnell nicht mehr weg möchte. Alles liebevoll eingerichtet bis ins kleinste Detail. Auch wenn wir eine Frage hatten, waren die beiden jederzeit für uns da und standen uns zur Seite. Der Whirlpool und das ganze Badezimmer ist ein Highlight für sich, was man nicht vergessen wird! Die Wohnung ist super zu erreichen und geht nach hinten hin ins Grüne. Auch der Garten mit dem Teich und der Sitzgelegenheit ist ein Highlight für sich. Ich kann es nur jedem empfehlen und auch wir werden mit Sicherheit noch einmal zurück kommen. Viele liebe Grüße und danke für die Zeit. Sascha
Sascha
2016-05-17T00:00:00Z
部屋タイプ
まるまる貸切
---
建物タイプ
アパート
---
定員
2
---
寝室
Mönchengladbach , Nordrhein-Westfalen, ドイツ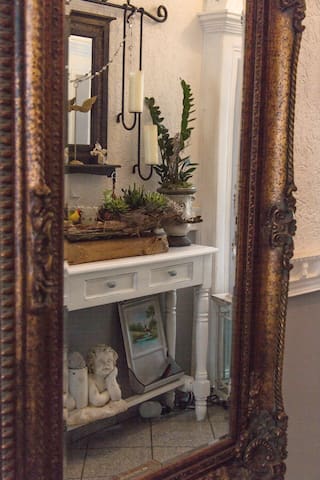 This particular property is also a home theater with a 4m wide screen and is located in the basement of a 2-family house. The quiet location, a private entrance, access to the terrace and its own bath create a cozy and intimate atmosphere. BORUSSIA Stadium is just 2 km away. The highway is in 1 - reached 2 minutes. A bus stop is within 1 - 2 mins walking distance. "Rheydt Hbf." Is by bus in about 20 minutes (taxi about 10 min.).
The accommodation comprises a Separate Guest with combined living and sleeping room and private bathroom (bath with rain shower, towel warmer, hair dryer, etc.) The apartment is separated from the rest of the house and has a private entrance. The room has a folding sofa with proper mattress ((PHONE NUMBER HIDDEN) comfortable armchairs and a coffee table. In a third guest is a folding bed (with proper mattress and slatted frame) provided thereto. The guest room can be used in consultation with the host as a home theater. Besides 4x2,20m big screen is a 3D projector with a 7.1 sound system. Of course it is also possible to use the space as a pure guestroom. Despite the dark wall color large windows provide (with shutters), and many, partly indirect light sources for a cozy ambience. The room is overlooking the garden and can be completely darkened. The room is a Non smoking accommodation. Smokers have a covered seating area on the terrace.
Genhülsen is a quiet neighborhood in Mönchengladbach. In the immediate area there are several restaurants. The new Borussia stadium is 30 foot-minutes (about 2 km), the center of MG-Rheydt, and also within Dusseldorf.
Die Unterkunft ist sehr sauber und es war eine sehr schöne Zeit dort.
Visar
2017-03-02T00:00:00Z
Sehr guter Gastgeber
torsten
2017-03-10T00:00:00Z
Sascha is the perfect host we loved the apartment quiet and private lovely neighbourhood Sascha provided possibly everything you needed and more. The drinks bar was generously stocked free of charge snacks coffee tea toiletries etc. Nothing was too much trouble Sascha very generously took us to the train station a few times then we discovered the no 4 bus that took us right into town. I couldn't recommend Sascha highly enough great host, if I ever travel to monchengladbach Again I definitely would stay here again thank you Sascha for everything! You made our stay very special!
Ellen
2016-11-03T00:00:00Z
Sascha ist definitiv ein sehr netter und hilfsbereiter Gastgeber. Das Haus in dem die Wohnung ist, ist in einer sehr ruhigen Gegend. Der Raum ist aber bestens ausgestattet und eine super Anlage hat es auch. Perfekt für einen schönen gemütlichen filmeabend.
Hasan Hüseyin
2016-12-22T00:00:00Z
Nice, neat and comfortable place near the highway, many parking spaces too. I love the room it got all the extras what you would expect from a hotel and especially the huge Beamer Sascha is really helpful and social he even helped me to hook up my PlayStation on the big screen so I had some sleepless nights I will definitely come back again!
Ender
2016-12-15T00:00:00Z
Die Kommunikation mit Sascha verlief sehr gut! Der Check-In war wie vorab geplant und wir wurden persönlich empfangen. Die Wohnung ist wie beschrieben und wir haben sehr gut geschlafen, keinerlei störende Geräusche. Nach einer Nacht, einem kurzen Frühstück und einem Kaffee sind wir zeitig und zufrieden abgereist. Wir würden wieder dort übernachten und können die Wohnung von Sascha wärmstens empfehlen.
Christoph
2016-11-27T00:00:00Z
Wir hatten einen tollen Abend bei Sascha! Er ist sehr nett und ein toller Gastgeber! Ein unvergesslicher Abend & ich freue mich schon auf das nächste mal! Top 5 Sterne :)
Göksu
2017-01-30T00:00:00Z
Sehr netter Gastgeber. Alles so vorgefunden wie beschrieben
torsten
2017-01-27T00:00:00Z
部屋タイプ
まるまる貸切
---
建物タイプ
アパート
---
定員
3
---
寝室
Mönchengladbach, Nordrhein-Westfalen, ドイツ
Nice and Simple bedroom suitable for comfortable night-stay. Whether you are coming for business-trip, football match, university registration or just for holiday, this nice little room will fill you up with warmth. Centrally-located. Bus stoppage is just 2 min away. Rheydt Hbf: 1.2 Km (3 min) HS Niederrhein- 3 Km (7 min) Mönchengladbach Hbf- 4.7 Km ( 15 min) Aldi, Penny, Netto and Real- within walking distance. Burger King-One stoppage ahead! ;) For other info. just send an sms! :v
Nette und unkomplizierte Übernachtungsmöglichkeit. Die Luftmatratze macht ein bisschen Lärm, wen das nicht stört, ist hier genau richtig :) Nette und liebe Gastgeber!
Nico
2017-04-01T00:00:00Z
Anika & Syed... Both of them were so hospitable and thoughtful. We enjoyed our stay!!!
Aimy
2017-03-31T00:00:00Z
Mönchengladbach, Nordrhein-Westfalen, ドイツ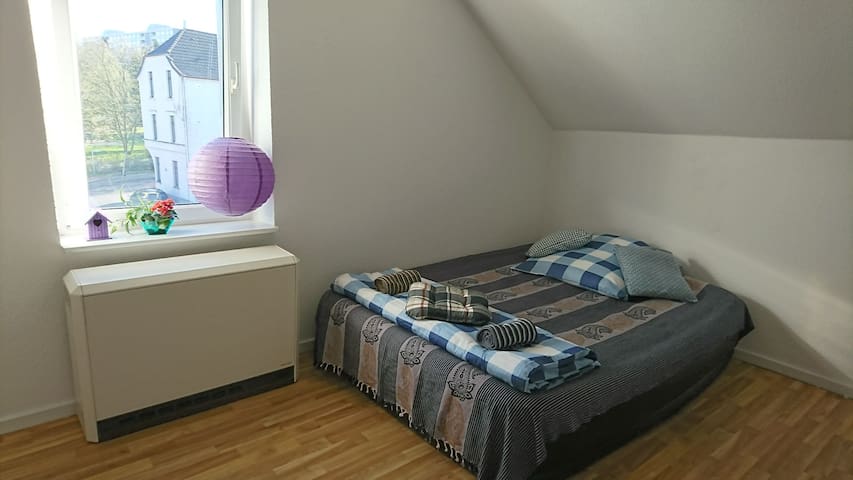 Located near the Borussia stadium and the Sparkasse Parks (Openair concerts), which can be reached on foot. It is conveniently well connected. The highway is just minutes away, as far as Schloss Wickrath there are 2 departures (7 min.) The bus stop is only a few minutes walk. You will sleep wonderfully in your accommodation as the room opens onto the garden. The sole use of the bath is you like safely.
Unique to your property is within easy walking proximity to the football stadium (25 minutes) and to the open air concerts (Sparkasse Park). The shuttle bus stops at football matches at our bus stop. Even otherwise, many destinations are within easy reach. eg by car: Mönchengladbach city center about 5 minutes Downtown Moenchengladbach Rheydt about 10 minutes Borussia Park about 5 minutes Schloss Wickrath 7 minutes Dusseldorf Media Harbor about 20 minutes Düsseldorf city center about 25 minutes Messe Dusseldorf / Dusseldorf Airport about 30 minutes Neuss city center about 15 minutes
Our neighbors are all friendly people who have to get up early in the morning, however, to go to work. (Therefore, the request with the night's rest)
Das Zimmer war super und genauso wie beschrieben! Sauber ordentlich und die Gastgeber sehr zuvorkommend und herzlich! Sehr zu empfehlen und gerne wieder!!:)
Marko
2017-02-26T00:00:00Z
Very clean and cozy room. The host is very nice and helpful.
Filippo
2017-02-17T00:00:00Z
Es war alles super. Xenia hat mich, nach einer unkomplizierten Kommunikation, herzlich begrüßt und mein Domizil gezeigt. Das Zimmer ist einladend gestaltet und sauber. Für mich war es genau das Richtige.
Julia
2017-02-07T00:00:00Z
Meine erste Erfahrung mit Airbnb war ein voller Erfolg. Die Unterkunft war wie beschrieben ausgestattet, sauber, geräumig, top! Xenia hat mich per SMS mit Anreisetips versehen, total nett! Im beschaulichen Garten gabs dann bei angenehmen Gesprächen ein Begrüßungsbier. Solch freundliche Gastgeber kann ich nur weiterempfehlen! Die Adresse ist übrigens in fußläufigem Abstand zum Borussiapark!
Brigitte
2016-09-02T00:00:00Z
Wir waren zum erstenmal in Mönchengladbach bei Xenia und ihrem Mann untergebracht und es hat uns sehr gut dort gefallen. Die meiste Zeit waren wir unterwegs und nur zum Übernachten dort. (wird ja den meisten so gehen) Wir wurden sehr freundlich von Xenias Mann empfangen, der uns sofort alles nötige gezeigt hat und bei Nachfragen sofort zur Verfügung stand. Das Zimmer ist genauso wie es auf dem Bild zu sehen ist, sauber, genauso wie das Badezimmer. Am Abend nach dem Spiel unserer Borussia konnten wir auch Xenia kennen lernen, die uns ebenfalls nett und sehr freundlich begrüßte. Am darauffolgenden Morgen wurden wir nochmal in ihre Wohnung gebeten und wir wurden mit Äpfeln aus dem eigenem Garten versorgt. Wir bedanken uns hiermit nochmal bei den beiden und freuen uns schon auf das nächste mal, dass wir bereits bei der ersten Buchung mit Reserviert haben. Viele Grüße aus der Südpfalz von Ulrike und Karsten
Karsten
2016-08-29T00:00:00Z
The room was nice, in a nice and chill area. The hosts are friendly and nice people. Only stayed there over night, but it was overall a good night.
Dōng
2016-10-27T00:00:00Z
Die Unterkunft hat mir sehr gut gefallen. Sie liegt in einer ruhigen Wohngegend und bietet einem alles was man braucht. Es es ist sehr sauber und gepflegt bei Xenia und ihrem Mann. Auch die Kommunikation lief reibungslos ab, sodass ich mich rundum wohl gefühlt habe. Ich kann xenia und ihre Unterkunft nur weiter empfehlen!
Dustin
2016-10-01T00:00:00Z
Sehr liebevoller und unkomplizierter Empfang! Bei Bernd und Xenia kann man sich nur wohlfühlen! Das Zimmer mit Bad sind sehr sauber und völlig ausreichend für einen angenehmen Aufenthalt! Überall im Haus findet man beeindruckende Kunstwerke von Xenia! Bernd und Xenia haben viel von ihren Reisen und Projekten zu erzählen, was mir einen sehr vergnüglichen Abend beschert hat! Vielen Dank!
Almut
2017-02-14T00:00:00Z
Mönchengladbach, Nordrhein-Westfalen, ドイツ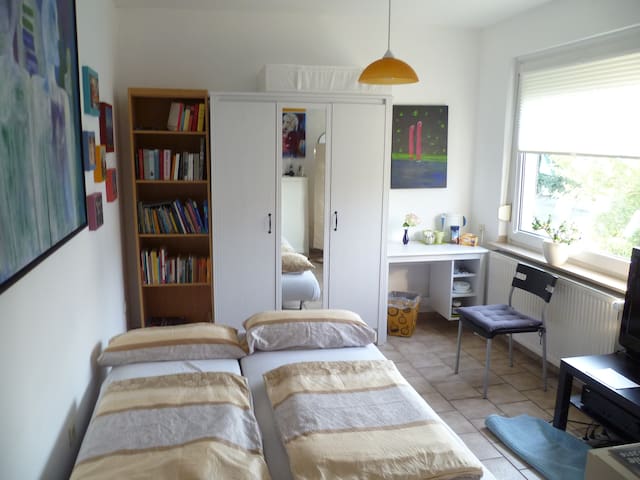 L'alloggio si trova a 500 metri dalla zona centrale di Gladbach, facilmente raggiungibile a piedi. Lì trovate numerosi bar, ristoranti, pub, negozi e una farmacia. Discount Netto: 350 metri. DUSSELDORF: 25 minuti in treno. Basilica St. Vitus e museo Abteiberg: 500 metri. Centro commerciale Minto: 900 metri. Stazione ferroviaria centrale di Gladbach: 1,5 km. HOCHSCHULE: 2 km. Sotto casa: parcheggio gratuito, 2 fermate autobus. Di fronte alla casa: parco verde con laghetto e parco giochi.
La camera si affaccia sulla parte posteriore della casa, dove è presente un giardino con attorno edifici. La camera è molto silenziosa perché su quel lato non ci sono strade e quindi di giorno e di notte non c'è rumore. La camera è dotata di un divano letto matrimoniale, armadio con grucce, sedia con scrittoio, bilancia pesapersone, termosifone con temperatura regolabile e un asse con ferro da stiro (molto utile per chi viaggia, dato che spesso i vestiti in valigia si sgualciscono). Il bagno è dotato di asciugacapelli. La porta della stanza è dotata di chiave. L'appartamento è al primo piano. Saranno fornite le lenzuola, l'asciugamano per il bagno e i prodotti per la pulizia del corpo (shampoo e bagnoschiuma). Nella cucina potete utilizzare tutte le attrezzature. Avrete uno scompartimento nel mobile per riporre il vostro cibo. Per qualsiasi altra informazione basta scrivermi! :) ATTENZIONE: per il terzo ospite sarà fornito un materasso a terra.
Mönchengladbach, Nordrhein-Westfalen, ドイツ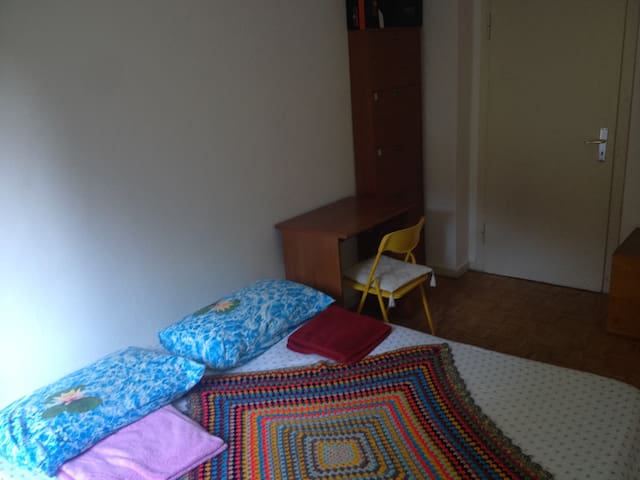 The apartment has 50 sqm 2 BR, K, D, Bad. Super location. Museum, Old Market, Park Colorful Garden, Minto, HBF all 5 min. Soccer Stadium by bus 10 minutes. DUS about 25 km, Cologne 50 km Holland about 20 km and 35 km Venlo Roermond.Toller day trip!
It is modern, barrier-free, bright, clean, mordenesierter old building with high ceilings. In the middle of the city, yet quiet location in a side street.
All the options that are offered one. Center.
Nice, confortable and clean house near the city center
Enrique
2016-09-29T00:00:00Z
Good location, quiet, please have in mind that it is suitable for smokers
Alexey
2016-10-16T00:00:00Z
The host canceled this reservation 10 days before arrival. This is an automated posting.
Fatma
2017-02-28T00:00:00Z
spacious well equipped appartment very well situated close to centre
william
2016-11-25T00:00:00Z
Alles Top, netter Empfang, gerne wieder
Gerhard
2017-03-20T00:00:00Z
L'appartamento è molto carino e attrezzato. È stata una toccata e fuga visto che siamo stati meno di un giorno ma ci siamo trovati molto bene per la posizione centrale, i mezzi pubblici vicino, il quartiere tranquillo. Comodissimo per due persone, eravamo in quattro e ci siamo accomodati senza problemi sul divano e un materasso aggiuntivo. Un saluto
Lorenzo
2017-02-17T00:00:00Z
Great location, great value, boost gave good communication throughout. Would recommend.
Alistair
2017-04-06T00:00:00Z
Séjour agréable. Appartement sympathique et proche des commodités. Accueil agréable. A recommander.
Jean Francois
2016-10-24T00:00:00Z
部屋タイプ
まるまる貸切
---
建物タイプ
アパート
---
定員
4
---
寝室
Mönchengladbach, Nordrhein-Westfalen, ドイツ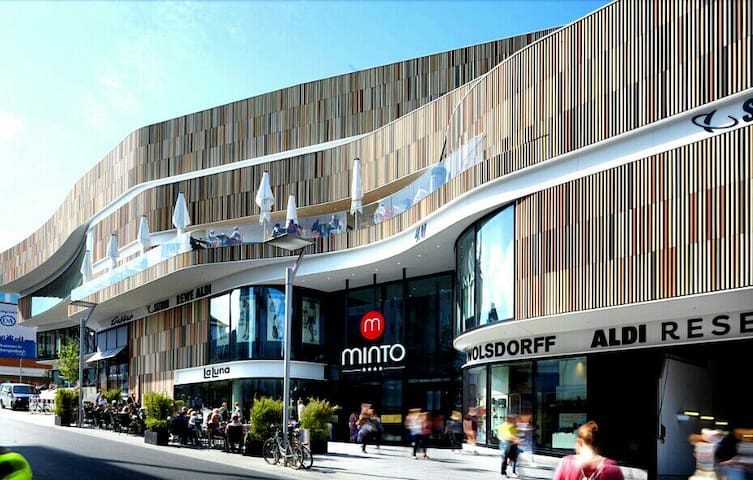 The small "big city at the gates of the largest economic region in Europe offers Urban atmosphere at moderate prices. The Ruhr, Dusseldorf and Cologne, the cities Venlo, Roermond and Eindhoven as well as three international airports via the motorways A61, A52 and A44 within easy reach. From the nearby main station they connect nationwide on the North Rhine-Westphalia S-Bahn network with ICE connections from Dusseldorf. The apartment is centrally located and well equipped.
Top apartment with all amenities. Attention! a cleaning fee in the amount of EUR 55.00 will be charged per rental.
Super Wohnung, super Kontakt, einfach klasse! Mein Freund und ich haben schon mit Marco und Sigrun verabredet, dass wir uns melden dürfen, wenn wir wieder Unterkunft brauchen - wir waren SEHR zufrieden! ☺
Sarah
2017-01-29T00:00:00Z
Very good - We recommend!
Sarah
2017-02-28T00:00:00Z
部屋タイプ
まるまる貸切
---
建物タイプ
アパート
---
定員
2
---
寝室
Mönchengladbach, Nordrhein-Westfalen, ドイツ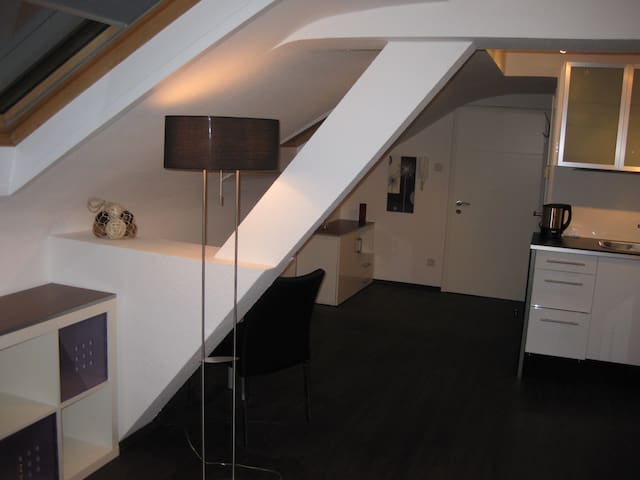 Kleine Wohnung (ca. 70 m²) mit moderner Einrichtung im Süden von MG mit großer Dachterrasse zu vermieten. In der Nähe sind Einkaufsmöglichkeiten, Restaurants, Naherholung (Schloss Rheydt, Volkspark). Hauptbahnhof ca. 4 km, Bushaltestelle vor dem Haus.
部屋タイプ
まるまる貸切
---
建物タイプ
アパート
---
定員
2
---
寝室
Mönchengladbach, Nordrhein-Westfalen, ドイツ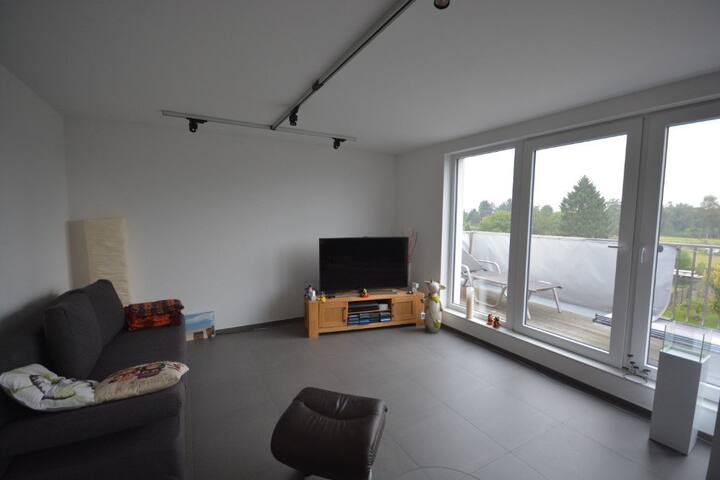 日付を入力すると合計金額が表示されます(税・サービス料別)。