A welcoming, newly-built home situated on the doorstep of the picturesque Swan Valley region where an abundance of wineries, restaurants, tourist attractions and shops await you.
Please note: Guest facilities include two comfortable bedrooms, each with a double bed. You will have the use of your own private bathroom and separate toilet. The area is closed off with a sliding door.
The great location of this property means that Perth Airport, Perth CBD and the beaches on the north Perth coast are approximately 30 minutes drive away. Guildford train station is only 25 minutes away and there are nearby convenient bus services to Perth City.
Fran is just very friendly and helpful! She have a lovely and beautiful houses, we have enjoyed a lot like home in Fran's house with great privacy as well! It is much more better than our expectation, the rooms, the house, the living rooms, the kitchen...are looks better than what in the photos!!
Cecy
2016-09-14T00:00:00Z
Spotless and comfortable. Great host as always. Highly recommended.
Keith
2017-03-26T00:00:00Z
Our host,Fran was most welcoming! We felt like friends immediately. She showed us very comfortable bedroom and spotlessly clean bathroom and toilet. She even had a lovely soft gown available and plenty of warm doonas. Everything was perfect! We spoke every night and became friends. Fran Is a most generous, warm and loving person. We would be happy to recommend her home as well as use it again and again ourselves.
Kim
2016-07-21T00:00:00Z
Fran is a warm and approachable host! She has a provided an extremely clean environment for our stay and is available to ensure that we had a great time in Perth. Her home is beautiful and lovely - suitable for anyone who would like to have a feel of living in the residential areas of Swan Valley. Close to the wineries, chocolate factories, farms and wildlife parks, it is definitely an ideal location for those visiting Perth. Will come back to visit someday!
Tivona
2016-09-11T00:00:00Z
Fran is the best host I've met so far among all of my Airbnb stays. If I could, would rate more than 5 stars for her great hospitality and lovely place. Her house is beautiful and clean, and she is really nice. Is sad we only spent a night, I would love to come back one day. I highly recommend to stay at her place if you're visiting swan valley, is just 2-5 minutes drive away. Thanks Fran for the great experience! Hope we will meet again someday :)
Seline
2016-08-20T00:00:00Z
I felt like I was back at home. Fran was a very friendly and helpful host. The house is very clean, new and spacious. Strategically located near to Swan Valley. We loved the house and the host so much and would definitely go back again on our next visit!
Hui Woon
2016-12-12T00:00:00Z
'Twas under the cover of darkness that I arrived and left, but Fran's place left me with these three superlatives in mind: First Class; Top Shelf; and, 5-Star. Everything appeared to be brand new, and the bed was akin to sleeping on a cloud. I think, if you have your own transport, and want to spend some time in the Swan Valley (who doesn't), you can't really go past Fran's place!
jack
2016-06-05T00:00:00Z
Frans makes us feel like home and she is a great host. Her house is so lovely with a scene of vanilla.. We got an affordable price for such a great rooms..I highly recommended frans and her house for anyone who want to stay near perth city and swan valley
Iqyn
2017-03-31T00:00:00Z
Aveley, Western Australia, オーストラリア
My place is close to The vines where The Novotel Resort is located and wineries. . You'll love my place because of the comfy bed, the kitchen, the views and fantastic neighborhood. My place is good for couples, solo adventurers, and business travellers.
Located 5 munutes drive to vines resort club house, access to restaurants, bars, swimming pools, gym, squash and tennis courts, golf course, 5 mins drive to Ellenbrook shops. located on quiet street.
Mona was very friendly and lovely host. Her home was clean and nice. Best airbnb accommodation where I have been. I would definitely stay again!
Satu
2017-03-19T00:00:00Z
It was a great experience. Mona was very friendly, accommodating and easy going. The location was perfect for events in the Swan Valley region. I would definitely stay there again.
Ash
2017-04-02T00:00:00Z
Aveley, Western Australia, オーストラリア
This brand townhouse is located 2 minutes from Perth's famous Swan Valley wineries. With balconies and outdoor area overlooking parks and water you can enjoy a glass of wine and a BBQ in beautiful modern surroundings.
Hay bastante razones porque debiera escoger nuestro propiedad. Es ubicado muy cerca a la vinas
La casa esta ubicado en el nuevo barrio de Aveley, dos minutos en coche desde los vineyards del Swan Valley.
Six friends stayed here and found the Swan Valley Townhouse just superb for our reunion last weeekend. The house was in a perfect, quiet location beside a very attractive lake and gardens and just across the road from an IGA and excellent cafes. The house itself was just as described, fresh and very clean, with modern decor and all facilities. Claire, the property manager, was there to welcome us (air-con already on for us) and show us around on our arrival, and was readily available if we needed anything. I would thoroughly recommend this listing, being at a very affordable price in such a lovely, peaceful area as the Swan Valley. Thank you, Janet, for a wonderful stay.
Mary Anne
2016-04-04T00:00:00Z
Smooth check in process, thank you for accommodating to my needs and the late check in time! Really enjoyed the stay and loved waking up to an amazing view. House was super nice, wish we could stay longer!
Chia
2016-09-29T00:00:00Z
Our flight into Perth was going to be a late one in, and being my first AIRBNB experience, I was a little apprehensive. However, Janet was quick with the assurance by installing a key lock box prior to our arrival and keeping the lights on when we arrived for a smooth check-in. The late night nibbles of the Cheese plate, crackers and bottles of water and milk in the fridge was very much appreciated as well. The property is new, spotlessly clean and contemporary the way I would have designed my own home. She has provided every possible cooking, eating and cleaning amenity you will ever need during your stay. There are lush gardens,man made lakes an playgrounds right outside which made for memorable walks and playtime for the children every morning before we set off for our day's adventure. If you are feeling nippy, there is also an IGN, cafes and bakeries right next door! I could not have imagined a nicer or better located property in the Swan Valley Area to have stay in. Our family always looked forward to coming home each day to the most comfortable accommodations and I will certainly come round again if Janet will have us on our future holidays to Perth.
Michael
2016-06-08T00:00:00Z
No, host was not present.
Lily
2016-10-16T00:00:00Z
We used the townhouse as the base for a wedding we attended in the Swan Valley. The home was spotless and very comfortable. Having the small shopping Centre over the road was so handy. Checkin and checkout was easy. I would definitely recommend the townhouse to others.
Jo
2016-04-18T00:00:00Z
First of all Claire who looks after the property was lovely. Claire welcomed us to the property and took us through the facilities. The house is exactly as described and just across the road from an IGA, a couple of restaurants and takeaways. Can recommend if you are being lazy the Chinese which is Gluten and MSG free. The property was lovely and a great place to end our holiday. Can't recommend this enough. It is close to Ellen Brook shops (about 10 mins) and also to Caversham Wildlife park (15 mins) which has an excellent farm show for children. All in all excellent property and a good location with a professional and warm welcome from Claire.
Andrew
2016-05-14T00:00:00Z
Beautiful property in a superb location. It's everything you'd expect and more. The kids loved the park just behind the house, and my wife and I got to enjoy some wine on the balcony after the kids slept. The view was spectacular. Quiet and serene neighbourhood but with everything you would need just across the road at Vale town centre. My family totally enjoyed our stay.
Paul
2016-04-30T00:00:00Z
We were very comfortable for our short winter stay. Lovely space for our adult family and access to Foxsports on the tv was appreciated. Close to wineries and other attractions and shopping centre handy.
Helen
2016-07-26T00:00:00Z
Aveley, Western Australia, オーストラリア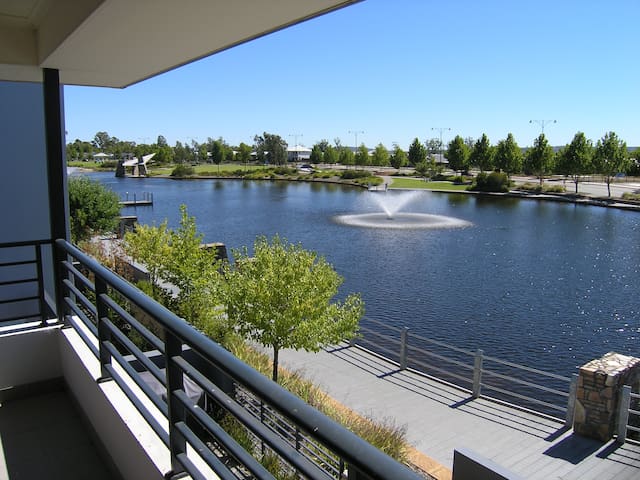 Gorgeous 10 acre property in Western Australia's Swan Valley wine region. Enjoy views of the hills and vineyard from this cosy 3x2 home. Completely self contained with private pool, ample parking and pet goats and sheep.
Poplars Farmstay is situated in the gorgeous Swan Valley, Western Australia. The self contained house is located on a 10 acre property in the semi rural suburb of Belhus. Poplars Farmstay offers the best of both worlds. A spacious property close to many local attractions. It is only 15 minutes from Midland, 20 minutes from the airport and 35 minutes from the city. The property is a working vineyard and has been growing wine grapes for over 25 years. You may experience harvesting, pruning and general farm work during your stay. Poplars Farmstay is also home to pet sheep and goats which can be fed during your stay. Kangaroos and emus are often seen from the farm, and have been known to make their way onto the property. You'll also enjoy visits from birds, in particular the cheeky kookaburras. The accommodation includes beds for 6, but can sleep up to 8 if necessary. The master bedroom has a king bed and futon, the second bedroom has a king bed and the third bedroom has two king single beds. There is a study / sitting room with another futon, also available for an additional person. The kitchen, dining and living is open plan and contains all you'll need for your stay. Poplars Farmstay has beautiful views of the surrounding hills and vineyards. There's a large patio and entertaining area with a below ground pool. The property is perfect for families with small children and also great for small groups. There is ample parking and transport can be arranged if required. Please note this is not a party house. Poplars Farmstay is located close to wineries, cafes, restaurants and other attractions including Walyunga National Park, Whiteman Park, The Cuddly Animal Farm and Whistlers Chocolate just to name a few. Come for a relaxing stay at our beautiful property and enjoy all that the Swan Valley has to offer.
Semi rural location yet close to local attractions and amenities.
The place is very family friendly. It was well stocked with plastic plates, bowls, cups and spoons. Not something that I expected. There were some toys and children dvd that kept my girl entertained! Very suited for families! Glad I chose to stay with poplars!
Emma
2016-10-09T00:00:00Z
Karina is super warm host , kind and friendly . Location in middle swan valley easy to access to everywhere . House is big and clean , everything you need can find in house . Even have coffee and tea as well . karina prepare some toys and kids dvd that's made my kids so happy . Oh there have 2 goat and 2 baby goat , kids feed them during our stay great experience for city kids . Will come back again when we visit Perth again . Thanks dear
Winnie Wong
2016-10-27T00:00:00Z
An awesome, very homely property which is well stocked, well located within swan valley. Amenities are plenty around the property - big supermarkets is just a couple of miles away, eateries/restaurants are aplenty. More importantly, karina's property is beautiful, clean and we felt so at home. A few pet goats and sheep can keppel little ones entertained as well. We will definitely recommend this place to our friends and anyone who wish to experience a farmstay holiday.
Steven
2016-12-01T00:00:00Z
Karina's house was perfect for our family vacation with 6 adults and 4 children. There were plenty of facilities for children, such as portable cot, high chair, toys and swimming pool! The kitchen was fully equipped for making big meals. There is also an electric grill for grilling out! Karina went above and beyond by getting us groceries before we arrived because we were getting in late. She stayed in touch with me the whole time. The scenery was amazing and the setting of the farmhouse was idyllic. I am very pleased with the farmhouse and would totally recommend it to anyone looking for a stress-free vacation in Swan Valley.
Pingchien
2017-03-07T00:00:00Z
We had such a lovely overall experience. Beautiful house with everything you need. Views were amazing and we all feel very refreshed just after 2 nights! Felt like we were miles away from the hustle & bustle of Perth. Thank you Karina for going above and beyond to make our stay as good as it was!
Hazel
2016-10-17T00:00:00Z
Fabulous location,beautiful house and well kitted out. Great place for the children, they loved feeding the animals. We hope to be back.
Robert
2016-09-27T00:00:00Z
Excellent stay at a great, quiet location in the Swan Valley. Beautiful place with very comfortable beds and a well equipped kitchen. Karina was a brilliant host, very flexible and accommodating with our needs. Recommend!
Monica
2016-09-12T00:00:00Z
Poplars Farmstay was even better than expected. It is ideally situated in the heart of the swan valley, very close to many wineries and restaurants. The house is very comfortable, with near new furnishings and complete with everything you need, including a fully kitted out kitchen. Our little girl loved spending time with the sheep and goats, as well as exploring the vineyard. We really appreciated the high chair and kids toy box too. It was a relaxing and enjoyable stay.
Marion
2016-11-13T00:00:00Z
Belhus, Western Australia, オーストラリア
Situated close to 2 international golf courses and the Swan Valley wineries, breweries, restaurants and family friendly activities.. You'll love my place because of the friendly and relaxing atmosphere with access to many sporting and cultural activities.. My place is good for couples, solo adventurers, and business travellers.
You will have private areas, however if you wish, we can have meals together and socialise. We are experienced travellers and speak a few languages.
First time using Airbnb and it was an absolute pleasure staying with Geraldine in her beautiful home. Everything was perfect and clean and even more so felt well at home and welcome! Exactly what I was looking for! Thanks you once again for opening your home to us. All the best.
Paulie
2016-12-11T00:00:00Z
Wonderful friendly Hospitality, very nice family, beautiful home and a great location in the Swan Valley winery region and a game of golf at the vines.
Stephen
2017-01-29T00:00:00Z
Myself and my son spent New Year at Geraldine's place. The house itself is lovely, with a great pool and lovely gardens. We couldn't have been made to feel more welcome. Geraldine and her family are wonderful company. Interestung, itellegent and a lot of fun. For me this is exactly what Airbnb should be all about. Taking in great places and making new friends.
Marcus
2017-01-02T00:00:00Z
Geraldine ist eine sehr fröhliche Person und wir wurden sehr herzlich von der ganzen Familie aufgenommen. Speziell die interessanten Gespräche während dem Essen haben wir sehr genossen. Durch ihre frühere Arbeit im Tourismusbereich haben wir sehr fundierte Informationen erhalten und konnten eine private Weintour unter ihrer Führung durchs Swan Valley geniessen. Das Haus sehr sauber, geräumig und modern. Im schönen Garten gibt es verschiedene Ort um die Seele baumeln zu lassen sowie ein Swimmingpool. Auf Wunsch kann man auch gegen Aufpreis Mittag- und Abendessen buchen. Wir können dieses Bed & Breakfast sehr empfehlen.
Martina
2016-12-08T00:00:00Z
パース, Western Australia, オーストラリア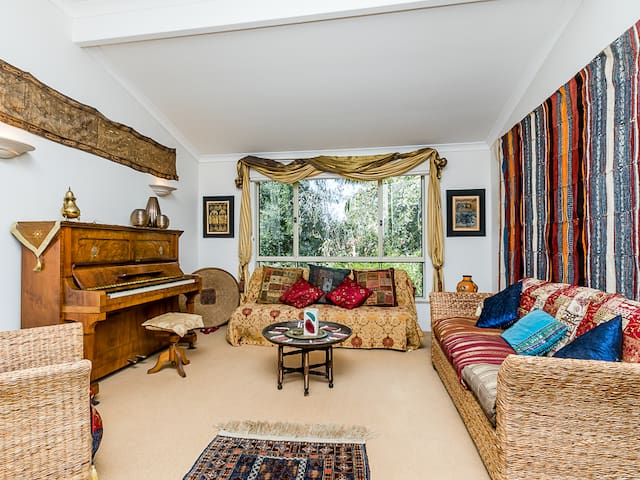 A relaxing modern home just 5 mins from The Swan Valley has 2 lounges and a games room with pool table. Seperate toilet and bathroom featuring bath and shower. Outdoor area featuring spa pool and bbq and outdoor lounge. Koi pond and fishtanks.
Aveley, Western Australia, オーストラリア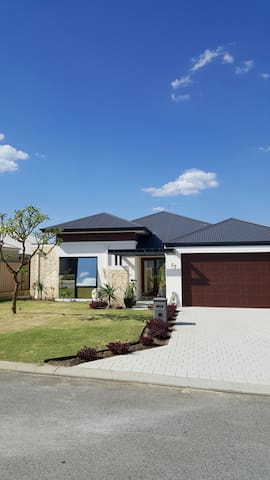 Brigadoon is close to the stunning Swan Valley, State Equestrian Centre, Whiteman Park, Caversham wild life park, Bells Rapids and the award winning Feral Brewery. International and domestic airports are within a convenient 30 minutes drive and it is only 40 minutes drive to Perth city centre. The property is located on the top of the hill overlooking the Swan Valley with its numerous vineyards and has uninterrupted views through to Perth.
The house is divided into two completely independent living areas each with their own private entrance. The guest area comprises of three large bedrooms all with robes, a spacious bathroom with shower (no bath), lounge area, meals area and modern kitchen. There is an outdoor setting on the patio overlooking the swimming pool (for which you will have exclusive use ) and enjoys sweeping views across the Swan Valley right through to Perth city. The house sits on 7 acres, is totally fenced and has electronic gates at the street entrance.
Brigadoon is a rural area with the majority of homes set on several acres. It is a quiet area which attracts cyclists and horse riders. It is ideal for long bush walks. The property backs onto state forest and an equestrian trail. Care needs to be taken when driving ( especially at dawn and dusk) as kangaroos are abundant and mobs are often found grazing on the sides of the roads.
Brigadoon, Western Australia, オーストラリア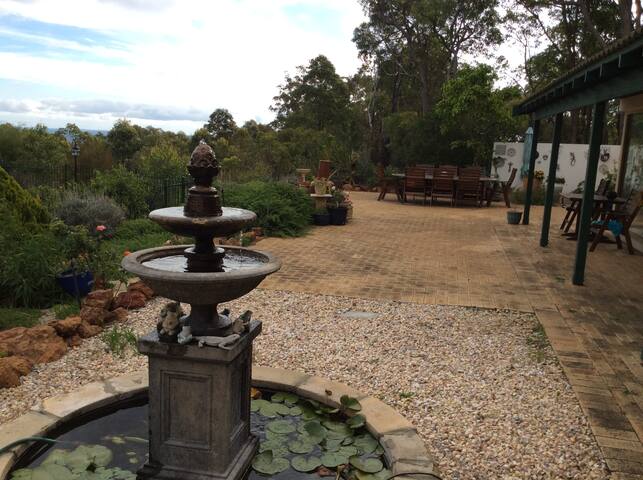 A clean, new British style 3 by 2 home in Ellenbrook: farming & vineyard country. 1 spacious room available w/ built in cupboard. Outdoor area. Seperate bath & toilet. Local shop 2 min walk. Shops, lakelands, skate park, gym & ovals nearby.
~4x4m. Double bed, side table, fan, reading lamps, built in robe, roller shutter windows, private entrance to patio and hypoallergenic flooring in the house. Bathroom has large shower head (pressures bit low) bath, shampoo and conditioners etc. There's a separate toilet.
Local parks, farms, vineyards, paddocks, ovals and playgrounds. Very quaint nature around here. Gym and Ellenbrook Shopping Centre down the main street.
Very clean house, sweet and tidy. Good localisation in a lovely little town. Matt and Ella are very welcoming and easy going. Don't hesitate a single minute.
DARRYL
2016-07-14T00:00:00Z
Matt and Ella are very down to earth approachable hosts. When I stayed with them it was a very relaxed and friendly place to be. I became unwell and Ella ministered to me with the appropriate bucket and cold drinks. Thanks Ella !!
Rosemary
2016-10-25T00:00:00Z
Ellenbrook, Western Australia, オーストラリア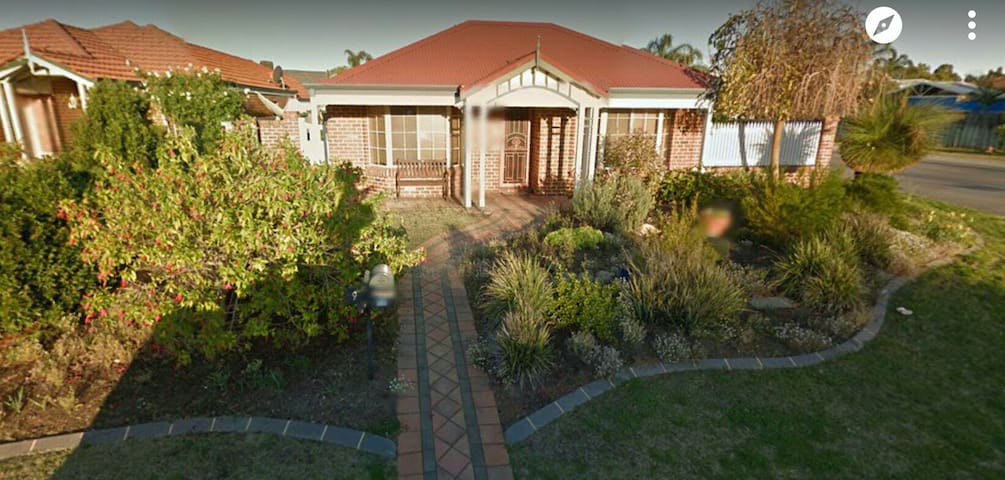 Welcome to the picturesque Swan Valley. This accommodation places you within walking distances to wineries, cafes and everything that the Swan Valley can offer you. The room is air-conditioned, with fans and private bathroom. 30 minutes from Airport. There is also an option available of leasing a car from the hostess as well. Please ask hostess for more details.
The bedroom has a comfortable double bed with beautiful linen. A large mirrored, in-built wardrobe, set of drawers and your own large private bathroom.
The Swan Valley offers many attractions, including outstanding wineries, breweries, chocolate and coffee factories, olives, honey, fresh produce and many more. Maps and discount offers will be provided to guests on request. Within walking distance are gourmet cafes and takeaway outlets.
My reservation with Rae was last minute due to a previous booking cancelling on me and from the very start the communication and instructions were very easy and for the short notice very much appreciated. The property was very clean and the room and adjoining private bathroom of an excellent standard. Rae was a great hostess and very friendly. I spent a. Wry pleasant evening chatting with her and her partner. The property is well located for anyone wishing to explore Swan Valley and the information and local knowledge that Rae was able to share with me was invaluable. Overall a great experience and great hospitality.
Barry
2016-05-06T00:00:00Z
Raewyn is a fantastic host, well organised and extremely hospitable. The house sits right in the middle of the Swan valley and is nested in a new residential area with plenty of green and amenities. The bedroom was comfortable and well furnished with private bathroom and toilet. She was very friendly and we had the opportunity to tour the Swan valley and enjoy great wine without worries at all. Thanks for the hospitality.
Federico
2016-06-05T00:00:00Z
Raewyn greeted me with a happy and welcoming smile and cheery hello, which made me feel relaxed and right at home. The house was beautifully appointed and spotless clean. Raewyn did everything to make my stay a pleasant and comfort. It would be a pleasure to stay with Raewyn again
Pauline
2016-09-12T00:00:00Z
My husband and I stayed for three nights in Raewyn's lovely home to attend a wedding in the Swan Valley. The house is perfectly located for anyone wanting to experience this beautiful area including the wineries, breweries and chocolate factories (definitely recommend Mondo's Nougat - yum). Raewyn was a great hostess, allowing us full use of her home and making us feel very welcome. We hope to stay again next time we come to Perth.
Vaurian
2016-10-04T00:00:00Z
Rae was a wonderful host. Nothing was too much trouble. She was very welcoming, room was lovely as was the adjoining private bathroom. The property is well located if you wish to explore the beautiful Swan Valley. Rae was very helpful and knowledgeable when recommending place to eat. All in all a wonderful place to stay. Would highly recommend Rae to anyone.
Katrina
2016-06-07T00:00:00Z
The host canceled this reservation 40 days before arrival. This is an automated posting.
Chiawli
2016-09-04T00:00:00Z
Aveley, Western Australia, オーストラリア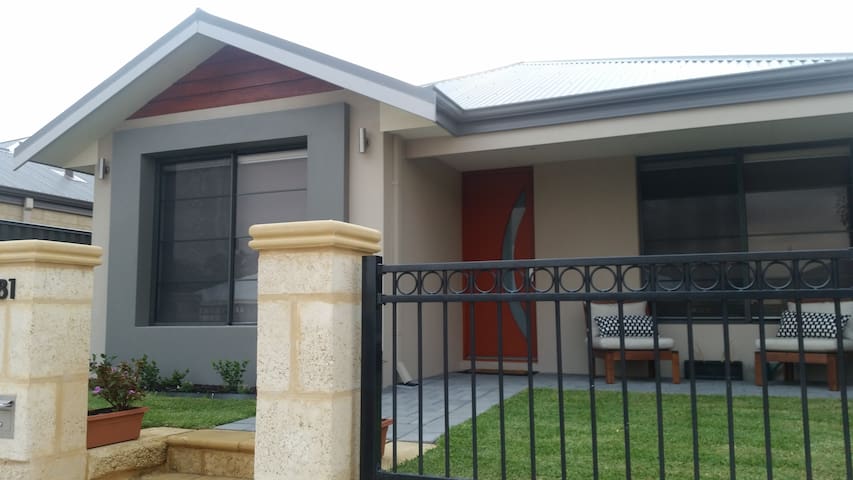 Apartment includes lounge, dining areas with partial kitchen facilities. All apartments have an ensuite and a second bathroom. For extended stays, a full service occurs every five days.
Our initial start to the day was poor as we were charged $400 for the room with a cash bond of $200 = $600 total , this was paid by our invited guests who arrived just before we got there, this payment was insisted on even though I had paid thru Airbnb on the 5th of November 2015, 3 plus weeks before we were staying there, for what ever reason Novatel were unaware of this and embarrassed us by getting our guests to pay , on that the rate we were charged on the arrival day was significantly cheaper than we had paid online , Airbnb charged us a $54 booking fee with a $450 per night charge for the accommodation, but at the counter at Novatel we were charge only $400 for the night , a discrepancy that has still not been explained to me.
Micheal
2015-11-23T00:00:00Z
The Vines, Western Australia, オーストラリア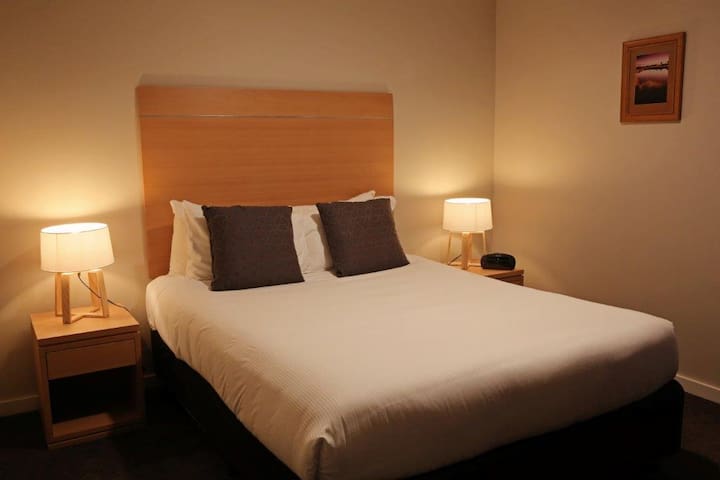 I Have a stunning 4x2 home for hire. The home comes with all essential items fo living and isplaced on the vines golf course making it a perfect location for the golf enthusiast, being located 15 minutes from the swan valley winerys it can make the perfect place for a weekend away to escape the city. Please call or email me for more info or images
Beautiful apartment. Sam's really responsive and certainly goes his way out to assure that my family and I are happy and comfortable with the place. Thank you for amazing place!
Terrecia
2017-03-30T00:00:00Z
The Vines, Western Australia, オーストラリア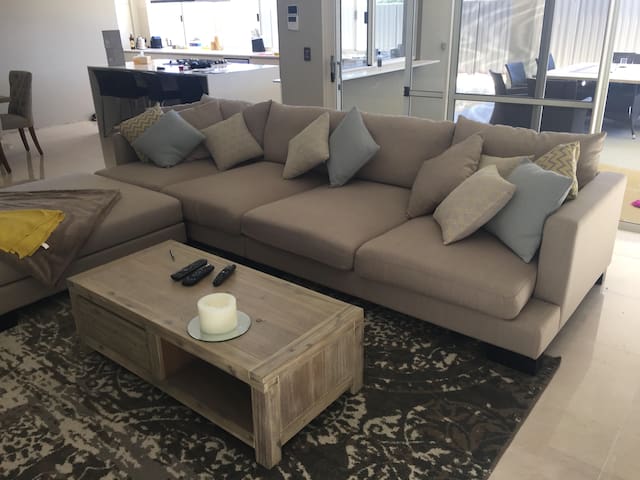 Just minutes away from the Ellenbrook shopping and restaurant precinct and with The Vines golf course on your doorstep as well as being a short drive from the wineries, restaurants, ice creamies and chocolatiers of the Swan Valley, this is a perfect spot to wind down for a week or so. With everthing you would expect, you will be completely comfortable in this home away from home.
Enjoy a break by exploring the lovely Swan Valley Wine Region to the east of Perth, or play golf at the the nearby Vines resort. Peaceful complete brand new home away from home. Two well appointed bedrooms, single modern bathroom. Sunny central courtyard all only 20 minutes from Perth Domestic Airport. Fully equipped with flat screen TV, free wifi, dishwasher, washing machine and dryer. Secure lock up garage. Fresh, clean linen awaits you. You can feel comfy and relaxed and ready to enjoy the cafes, pubs, restaurants and shopping less than five minutes from your door by car. Or why not venture a little further afield and check out the nearby Swan Valley attractions like Mondo Nougat, Margaret River Chocolate Factory, the Whistler's Chocolate Factory, art galleries, breweries, cheese and wine tastings as well as loads of other foodie destinations. Perfect for a weekend away from the everyday rush. Take in the scenery and feel well looked after. Breakfast fixings provided, including home made jam and lemon curd. With contempory furnishings, a reverse cycle airconditioner, and a lovely outdoor central and very private courtyard you will feel comfortable and relaxed, inside or out.
pleasant surprise to find things like glad wrap, baking paper etc. in the very well equipped kitchen
sharon
2017-03-18T00:00:00Z
The host canceled this reservation 3 days before arrival. This is an automated posting.
Kylie & Clayton
2016-10-17T00:00:00Z
This is a great location for exploring the Swan Valley vineyards and playing golf at nearby Vines international standard course. The house is 5 minutes from a sophisticated shopping complex.
Geoff
2017-01-25T00:00:00Z
Tenina is a great host, she even waited for us because we arrived late. Her apartment unit is what we call "HOME". You will have all you need from checkin to checkout. This is totally a place for great vacation and relaxation. I highly recommend Tenina unit.
Japheth
2016-03-06T00:00:00Z
The Vines, Western Australia, オーストラリア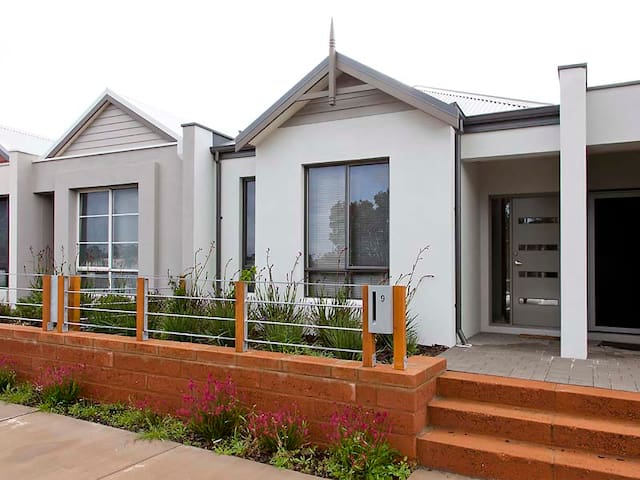 Set on 5 acres in the rolling hills above the Swan Valley. Airport just 20 mins. Idyllic location surrounded by walks, wildlife, a national park and includes a huge lagoon style swimming pool, BBQ area and 'chill zone' A unique location.
We have 2 double rooms available on the ground floor of the house. The owners have a separate bedroom area on the first floor. Both rooms have comfortable double beds and are of course spotlessly clean and tidy.
Brigadoon is a wonderful area with most homes set on 5 and 10 acre blocks - so space is a key feature. There are many wonderful walks with sensational views across the Swan valley to the city of Perth in the distance. For those using the State Equestrian Centre, it is only 5 minutes away. The famous Feral Brewery is just at the bottom of the hill and our local favourite, The Mandoon Estate is only 10 minutes away.
This is a perfect getaway, a place to relax and explore if you feel energetic. Nick and Karen are excellent hosts and nothing is too much trouble as we were made to feel a part of the family. Nick has a great sense of humour and and it is easy to settle in and feel at home in this great part of Western Australia. Our room was comfortable and we slept extremely well on the very nice bed, with views of the natural bushland setting through the window. Their home and garden is set on a large quiet bushland block with a huge resort style pool, which would be awesome in the summer (the weather was still too cool for swimming at the time of our visit). The house is lovely and invites you to sink into the soft and comfy lounge to read, watch TV or just listen to the birds which are in abundance. We chose to walk around the property and also take a relaxing walk along the nearby Avon River, our stay was always about relaxing and we did just that. Nick was very flexible about breakfast and we ate delicious cooked breakfasts with freshly squeezed orange juice every morning, and we also enjoyed Karens awesome dinners with the family. Overall a thoroughly enjoyable and relaxing experience for us both, one which we are happy to recommend and suited to the adult traveller and couples.
David
2015-09-25T00:00:00Z
We found Nick and Karen very welcoming, friendly and easy to talk to. The house and surrounds were very quiet and relaxing and central to the Swan Valley tourist precinct. We recommend this listing to those wanting to get away from the hectic life for a while.
Bob
2016-03-12T00:00:00Z
Brigadoon, Western Australia, オーストラリア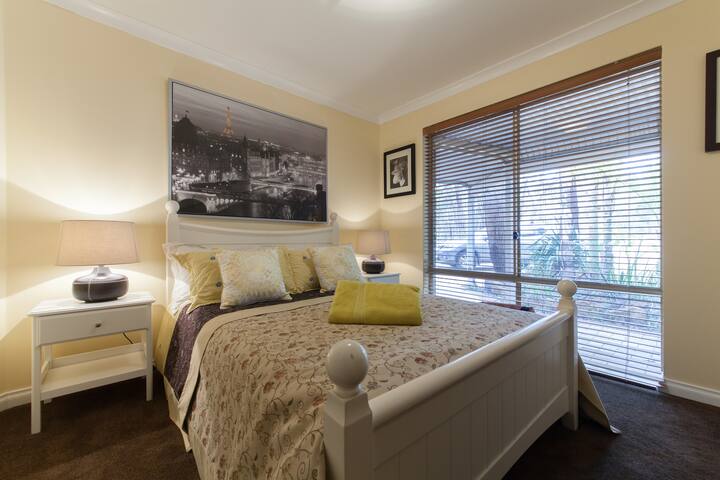 Mill House Cottage is situated in a quiet corner of the Swan Valley overlooking Ellen Brook. It has spectacular views across the valley to the Darling Range and of the neighbouring historic millhouse built in 1834. We offer a quiet rural retreat.
The cottage is located in the North end of the Swan Valley. This is an area noted for its wine making, grape growing and touristic features. The cottage overlooks the historic Ellen's Brook and is adjacent to the original manor house and the restored mill that gives its name to the cottage. The location is rural and peaceful with lots of native wildlife.
The Swan Valley offers lots of interesting places to visit, ranging from wineries to restaurants plus the famous Chocolate Factory and Mondo Nougat. The Vines Resort is close by with golf and dining options. A large shopping centre and restaurants are a five to ten minutes drive.
Absolutely stunning venue that fit perfectly with the needs of a marketing retreat that I ran this past weekend. The group of attendees felt rejuvenated and revived by the space and the owners who lived next door were incredibly helpful and respectful in giving us the space needed. Thank you again Lyn for providing such a wonderful space. Will definitely use again in future.
Ming
2016-02-28T00:00:00Z
Belhus, Western Australia, オーストラリア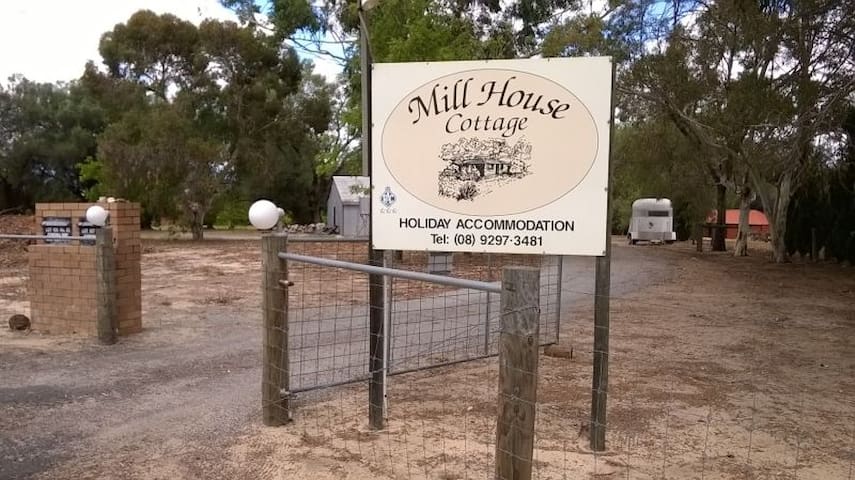 Sunny comfortable room with all modern facilities.
The host canceled this reservation 2 days before arrival. This is an automated posting.
Amanda
2017-03-01T00:00:00Z
Nice house and host. Definitely worth the money.
Nadhirah
2016-09-12T00:00:00Z
Aveley, Western Australia, オーストラリア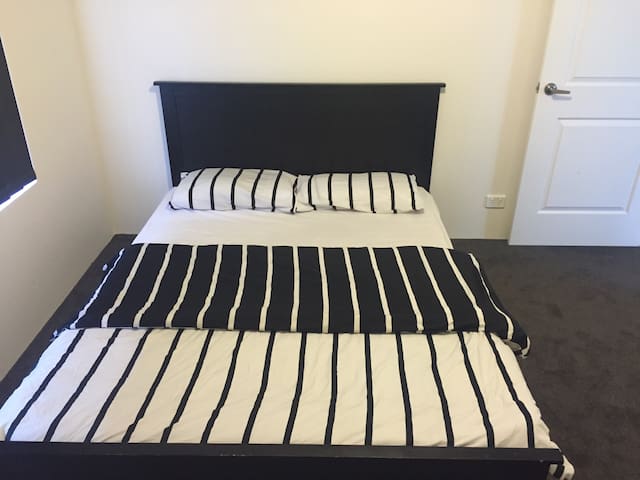 Me Casa es su Casa!! Are you looking for a warm and friendly place to stay in Perth? A place that will feel just like home, with all your familiar comforts? We would love to welcome you to our humble abode!! Share a lovely 4X2, open plan
The Room The room is carpeted and fully furnished with chest draws, bedside table, in-built robe with mirror slider (some coat hangers provided), private handset, double bed and linen. All kitchen utilities are available for your use including 900mm oven with an impressive array of features, massive French-door fridge, microwave, blender, jug, toaster, toasties machine, cutlery, pots, pans, crockery etc with a massive walk in pantry.
Thank you very much for the great and lovely stay! We had a awesome time and we are pretty happy, that we met this nice family. We got nice evenings with Will, Becks and Kate and also really nice food :-) our room was really tidy and we got towels for the shower. It is a really new and nice house and you can get everything you need. Will and Becks are so friendly, caring and helpful people. We would highly recommend to stay there!
Hannah
2016-10-11T00:00:00Z
Ellenbrook, Western Australia, オーストラリア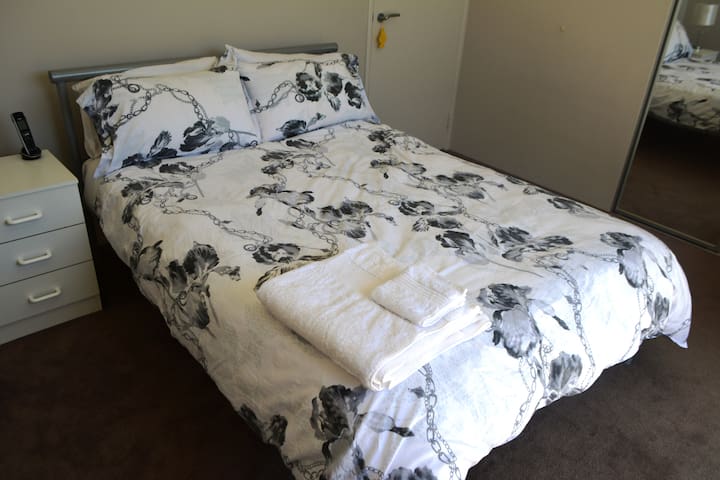 Beautiful newly build home on 4 acres over looking the Avon River and on the edge of Walyunga National Park. Just 5 mins drive from WA famous wine and food region of Sawn Valley and The Vines international golf and leisure resorts.
The whole accommodation is new and fresh. Parking to double garge and lots of off road parking for 4 cars.
Great country walks and views and lots and lots of space.
The host canceled this reservation 12 days before arrival. This is an automated posting.
Helen
2017-04-03T00:00:00Z
Brigadoon, Western Australia, オーストラリア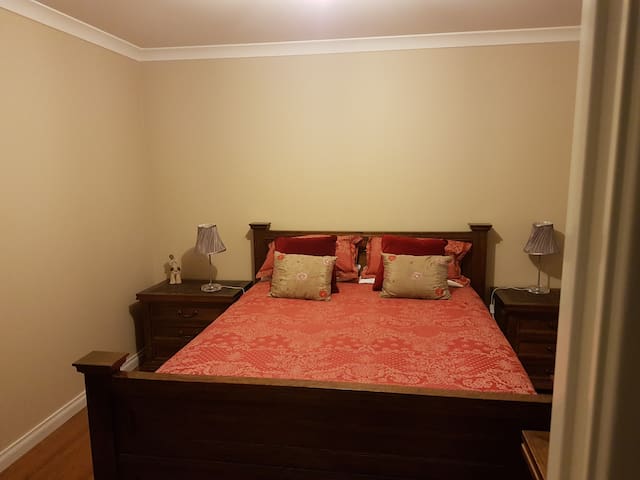 I have a new 3 x 2 home located in Brabham, a short distance from Whiteman park. The room for rent has a private bathroom and you're welcome to use the kitchen, laundry and air con/heating as well. The house is next to a cute cafe and opposite a park. I live there with my boyfriend, we are both very relaxed and would enjoy hosting for visitors. If you're friendly and respectful and this sounds like somewhere you would like to stay please send me a message! Thanks.
The space for rent is quite private, it is at the front of the house which is mostly unused. There is a lounge area, bathroom and bedroom which over looks a lovely park.
The neighborhood is very friendly, there are a lot of young families around. There are parks everywhere and a new little cafe!
The area is a new settlement, so the house itself is brand new. The room, a small living area and the toilet can be kept separated from the rest of the house by a door and you may as well never access that part but to use the kitchen or the laundry. Only 20 minutes drive from the airport or the CBD, 5 minutes from the big, well stocked shopping centre in Ellenbrook. Emma is a wonderful host, helpful and understanding, she let me in at 2 o'clock in the morning, an awful time to wake up just to open your door to a stranger. I couldn't have had more luck with my choice.
Pierfrancesco
2016-09-24T00:00:00Z
Emma was great with communication and was friendly when we arrived and cooked. The place was clean and tidy and towels and spare blankets on the bed. The bathroom was essentially just for our use and Emma was great with letting us use the washing machine and dryer.
Harriet
2016-08-04T00:00:00Z
Brabham, Western Australia, オーストラリア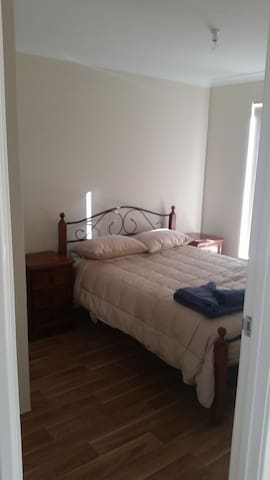 Upper Swan - Airbnb
:
平均星

4.31

つ/

5

つ星・ゲストレビュー

85

件
日付を入力すると合計金額が表示されます(税・サービス料別)。