Unsere 800 Jahre alte Anwesen ist Grempoli, eingebettet in den schönen Hügeln der Toskana, nur 30 km nordöstlich von Florenz. Dieser Bereich wird nur selten von Touristen besucht und so behält es noch seinen traditionellen ruhigen Charme der Toskana.
Verfügbar für Miete ist eine kleine in sich geschlossene und private Hütte, die von einem ursprünglichen Bauernhof Scheune umgewandelt wurde kürzlich. Es verfügt über ein Schlafzimmer mit Doppelbett sowie ein Mezzanin Einzelbett über dem Hauptraum. Ein Paar, plus ein Freund, kann sehr leicht und bequem untergebracht werden. Es gibt eine einfache obwohl voll funktionsfähige Küche und das Haupt großes Wohnzimmer einen Holzofen im Falle hat, sollte es kalt in der Nacht. Es gibt schöne Aussicht über die Hügel der Toskana durch viele der großen Fenster.
Dieser Bereich wird nur selten von Touristen besucht und so behält es noch seinen traditionellen ruhigen Charme der Toskana, mit allen fast Dörfern Wochenmärkte und vielen mit kleinen authentischen Restaurants Hosting. Es gibt wunderbare Spaziergänge hinter dem Hof in die Wälder auf, für diejenigen, die mehr Abenteuer und energisch sein wollen, ohne im Auto springen zu müssen.
Warm welcome by our host Prem. Beautiful nature - Toscany at its´ best. Rustic house, very clean and decorated tastefully. The simplicity and the authenticity of the place creats a peaceful atmosphere. Prem was an available host, she is so kind, generous and respectful. We would love to come back!
Jesper
2015-07-19T00:00:00Z
Accueil très chaleureux. Endroit magnifique, calme et ressourçant. Paysages splendides. Logement très agréable.
Audrey
2015-09-15T00:00:00Z
We loved our stay at Grempoli and would not hesitate to recommend it to others. Prem is a wonderful host, providing everything we would need for our stay and even gave us a welcome pack of a bottle of wine, flowers and fruit upon arrival! If you are after a peaceful break in the heart of the Italian countryside, then you can do no better. Would certainly return.
Kris
2015-09-24T00:00:00Z
Merci pour toutes les bonnes informations, pour l'accueil impeccable, pour la chaleur de notre rencontre. Pour nous, ce fut un petit paradis en Toscane.
Luc
2016-09-11T00:00:00Z
We are trying to find enough words to describe Prem- the extraordinary person she is, and her heavenly place. This would be our best experience, not only in Airbnb, but ever. We stayed here for a whole month. Prem is SO welcoming, caring and thoughtful. From the very beginning, communication with her was amazing. She wrote us carefuly all the details we could possibly need to arrive at her place, offering us help with everything we might need. She met us and showed us where is everything. We arrived at the place shocked. As if it cannot be real. A house in the middle of heaven. Surrounded with beautiful green trees and mountains. The place was soooo clean and tidy. Prem left many goods for us. Fresh fruit, homemade yogurt (yummmm), granola, and many more things. The bedroom is so cozy and beautiful with large windows to the mountains. Kitchen is so great and aqquiped. It was amazing cooking all these meals there. We really felt like friends with Prem. Her generosity and happiness are so special. The garden is full of vegtables and fruits that you can pick whenever you want. Prem makes you feel as if it is your own. There's a firplace we enjoyed so much using. This place is full of great energy and unique atmosphere, and you have everything you need. Prem gives you privacy and is very sensitive for giving you space, But also, she is right there for you anytime. Prem, we feel like you are our friend, and getting to know your special spirit was a real pleasure for us. You are just an extraordinary host and we can't thank you enough for everything you did for us. (There is plenty more, it's hard to write everything here). We recommand this place more than any place we ever did. You won't be able to leave... Thank you thank you thank you Prem!
Sivan
2015-10-01T00:00:00Z
The most wonderful Airbnb experience even...Incredible house surrounded by intact nature with a beautiful view over Tuscany Hills. Prem' sur hospitality has no limit and besides giving us many tops about what could be discovered in the surroundings she greeted us with a so michan fresh products of her property...We Will back for sure!!!! Thank you again Prem!!
Anis
2016-05-17T00:00:00Z
Was a nice experience? Premarpan is a great host. When we arrived she had everything set for us including a fresh baked bread. The house is clean and she is near all the time if you need a help. We will recommend to friends. If we have a chance we'll come back in the future.
Veronica
2015-11-04T00:00:00Z
Grempoli is just the most gorgeous place to relax and spend time away from the madness of everyday life. Prem is just the most beautiful host. We arrived very late having missed our train earlier in the day and Prem wanted to come down the meet us in the dark. She also provided us home made tomato sauce and ravioli - yum - so we could have something to eat. The animals were friendly and the fresh produce from the garden was lovely. I can't speak highly enough of our experience here. It is a special place for special people prepared to make the trip up the mountain and along dirt tracks.... But the effort is more than worth it. In some ways I don't want to tell anyone about Grempoli as it should remain a secret to those who have found it !!! Thank you so much Prem! Hope you make it back to Australia one day where we can catch up !! Trish and Robert x
Trish
2015-09-05T00:00:00Z
ポンタシエーヴェ, Toscana, イタリア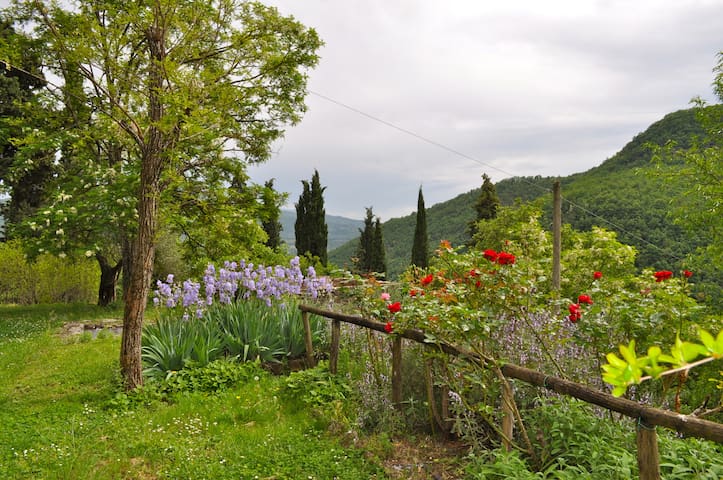 A comfortable double bedroom in which, upon request, you can add a third bed. Furnished with taste and attention to detail, it offers panoramic views of the surrounding landscape. Equipped with private bathroom, minibar, and free WI-FI.
Double room with pool view, possibility third bed, private bathroom Il Pezzatino is a converted farmhouse, in the countryside around Florence. It offers both guest rooms and apartments, plus a swimming pool with a view of the hills. Free parking and free Wi-Fi access are available at Il Pezzatino. The farmhouse is surrounded by vineyards and olive groves. Rufina Train Station is one mile away and has free parking. Here you can catch the train into the historic center of Florence. The Mall shopping outlet is a 15-minute drive away. Double room with private bath, minibar, TV, wi-fi, pool, parking - with breakfast. The large hall and the tasting cellar are ready to welcome anyone who desires to taste our own products, such as our extra virgin oil and our Chianti Rufina wine. We organize typically Tuscan cookery courses. Typically Tuscany dinner, and light lunches ,using typically Tuscan products. PLEASE CONSIDER THAT WE HAVE 6 ROOMS AVAILABLE FOR OUR GUESTS ( 3 rooms and 3 suite/apartament) AND AIRBNB CALENDAR REFERS TO ONE ROOM ONLY, SO PLEASE CONTACT US EVEN IF YOU SEE THAT FOR THE PERIOD REQUESTED THE ROOM IS NOT AVAILABLE. THANKS
You can reach Florence in about 30 minutes by car; car is the best way to explore the surrounding area but, if you prefer, the train station is 2km from us and you will able to reach Florence in just 20 minutes, avoiding traffic congestion and problems about parking your car.
Fantastic room, beautiful garden (pool!) and very charming host. We'll come back. Thanks for the very nice service.
Johann-Baptist
2016-07-15T00:00:00Z
Dear, dear Alessandra, Thank you for a fantastic stay with you. From the moment we met you, we felt a genuine personal involvement from your side. You where there for us but also always respecting our privacy. The Farmhouse has a personal touch expressing your love for your business. Your cooking is simply amazing - we are still drooling over your oven baked pork and "verdure fritti"! To us you represent Italy as we picture it; local, genuine, caring, open and involving. We can truly recommend you and your B&B to anyone!
Catharina
2016-07-05T00:00:00Z
Alessandra is a wonderful hostess! We really enjoyed our stay in her lovely Tuscan farmhouse, delicious meal and beautiful scenery. Thank you for your hospitality Alessandra!
Michelle
2015-05-21T00:00:00Z
Our stay with Alessandra in the farmhouse was one of the best experiences of our two weeks in Italy. The farmhouse is set on beautiful property with vineyards, fruit trees, and a beautiful view of the countryside. My husband and I stayed in one of the regular bedrooms and it was just as pictured. Warm wooden floors, amazing views, and an exposed beam ceiling. The bathroom was small by American standards (but it wasn't any problem for us) and spotless. If Alessandra offers to cook dinner for you, say YES. This was the BEST meal we had in Italy. She served us 4 home cooked courses on a 5 meter wooden table with wine made right from her property. We came at the right time of year for her figs that must have been sent from heaven. They were divine, like nothing we have ever had in the US. We will never forget our stay with Alessandra and Pepe!
Andrea
2015-09-14T00:00:00Z
It's was a pleasure to stay here! Beautiful place, nice pool, delicious wine and the food Alessandra made for us was also very good! The combination of relaxing and a visit to the beautiful city Florence was nice to spend our three days. We would absolutely recommend this to other people who want to visit Florence, but also want to stay in the rest of the countryside.
Myrthe
2016-09-14T00:00:00Z
This was a wonderful place to stay for a nice weekend in Tuscany. We were easily able to drive to Pisa, Lucca, and Florence and still make it back for some relaxation by the pool. If you are looking for a place away from the city with a wonderful host, I highly recommend this spot.
Kevin
2016-08-02T00:00:00Z
This stay gave us the authentic Tuscany experience even if just for one night. The host prepared breakfast for us & provided us with a ride to dinner/the train station which was greatly appreciated.
Erin
2016-09-04T00:00:00Z
Alessandra was a wonderful host, inviting us into her incredible piece of Tuscany. The room was exactly as shown and described, with fantastic views and close proximity to Firenze and countless other towns to visit. Alessandra helped us to identify some of the best local spots for food, all of which were fantastic. We will be back!
Vanessa
2015-05-12T00:00:00Z
部屋タイプ
個室
---
建物タイプ
B&B/民宿/ペンション
---
定員
3
---
寝室
Rufina, トスカーナ, イタリア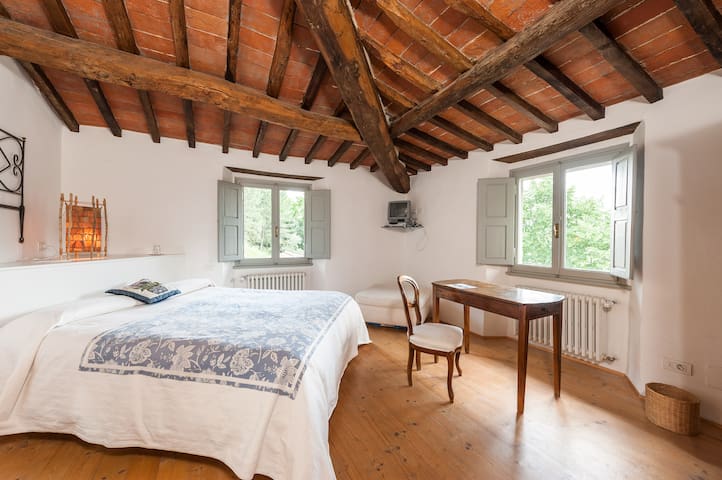 Villa "La Pace" is located just 45 minutes driving from Florence, in the woods between the Mugello and the Casentino area, at 600 metres above sea level, not far from the Arno River springs. Surrounded by a 1000 sq mt (11000 sq ft) gated garden, the one floor Villa is composed of a large tuscan hall with fireplace, an airy kitchen, 3 double bedrooms, 2 full bathrooms, a small study and a panoramic terrace overlooking the mountains. A parking area is available in the garden.
The Villa lies in a tranquil area (north-west of Florence) and it's surrounded by a beautiful garden sprinkled with olive trees, cypresses, firs, chestnuts and vines. The cool air make this the ideal place to rest during the hot tuscan summers: a corner of Paradise at just 45 minutes from the city.
The area is ideal for long walks and trekking in the forests. If you don't mind to drive for a while, the magnificence of Florence is just 45 minutes away. Shopping at "The Mall" in just half an hour. Reach the Vallmbrosa forest and abbey in 50 mins. Arezzo 1 hour and 15 mins.
Metropolitan City of Florence, トスカーナ, イタリア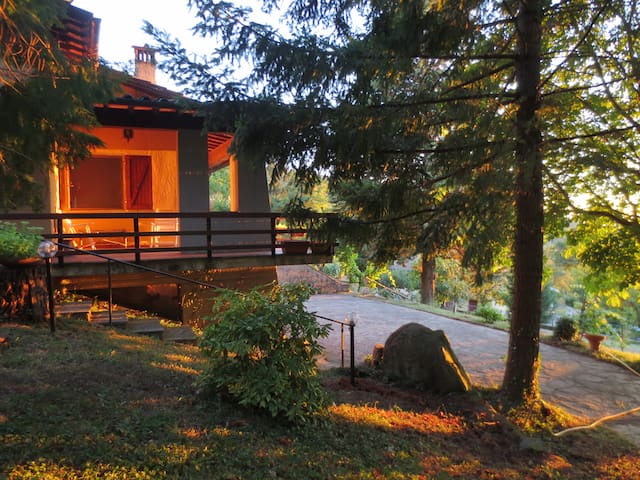 Casa Conti is an old farmhouse located in the Chianti Rufina area, in the locality of Petrognano. Surrounded by Tuscany hills, in panoramic location, just 5 km from Rufina City and about 26 kilometers from Florence. The farmhouse has been completely renovated, respecting the original form and in accordance with modern criteria of ecological design and energy saving. The property has approximately 7,000 square meters of private olive groves and a solarium with heated swimming pool.
The apartment "Noce" (Walnut) is spread over 2 levels and consists of large living room, kitchen, bathroom service with washing machine dryer, two double bedrooms, two bathrooms with shower, as well as an attic loft with single bed. The kitchen is equipped with everything needed for cooking, and has fridge, freezer, dishwasher and espresso coffee machine. From the apartment, you have direct access to the garden and heated pool. The private swimming pool is heated, and equipped with a solarium and solar hot shower area. The area around the swimming pool is completely fenced to ensure safety. The pool water is slightly salty and chlorine free. The size is 8 meters x 4 meters with depths of 1.30 mt. Number of fixed beds places: 4 (2 measuring 180cm x200cm double beds, divisible into two single beds on request). Number of additional/extra beds places: 1 (single bed 80cm x 190 cm). Included services: WI-FI, sheets and bedspreads, pillows and cover pillow, towels (shower, washbasin, bidet), hair dryer, iron, liquid soap for shower and sink.
"Casa Conti Apartment Resort" has the character of the countryside, surrounded by valleys overlooked by other old farmhouses. It offers the chance to walk on country lanes, to drink good wine Chianti Rufina, to savor typical Tuscan dishes of the area, and relax having a bath of sun in the private pool heated olive. The interior of the house offer ancient rural atmosphere with high ceilings and antique parquet and terracotta floors, stylish furniture, large lounge with TV, and wi-fi. Enjoy the views, the location, the atmosphere, the stars and the cool temperatures during summer nights. "Casa Conti Apartment Resort" is close to Florence, to the Bilancino Lake, to the National Park of Casentino, the Passo della Consuma, the Frescobaldi Castello di Pomino and Nipozzano, The Mall Outlet, and at the Mugello circuit.
部屋タイプ
まるまる貸切
---
建物タイプ
アパート
---
定員
5
---
寝室
Rufina, Toscana, イタリア
Il mio alloggio è vicino a arte e cultura, splendide viste panoramiche e ristoranti. Ti piacerà il mio alloggio per questi motivi: l'intimità, i panorami e la posizione. Il mio alloggio è adatto a coppie, famiglie (con bambini), grandi gruppi e amici pelosi (animali domestici).
部屋タイプ
まるまる貸切
---
建物タイプ
アパート
---
定員
1
---
寝室
Londa, Toscana, イタリア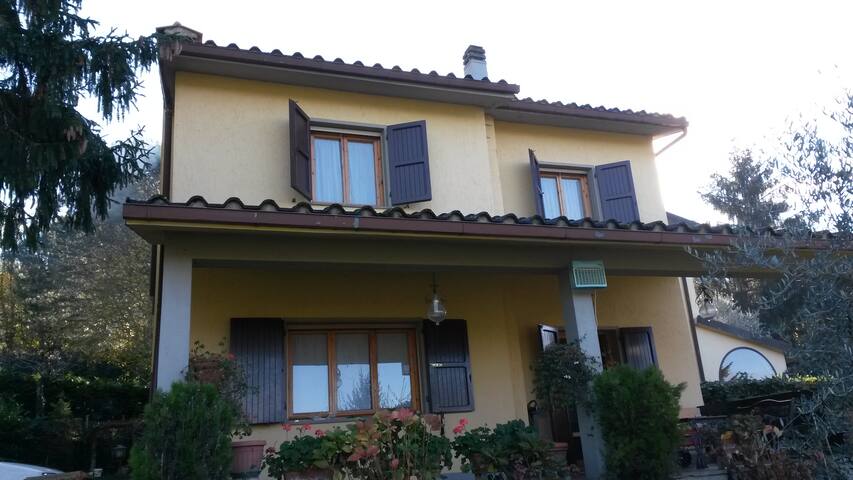 Appartamento all'interno di Villa Ginori con una confortevole cucina e due bagni. Pavimento in cotto toscano, le camere sono ampie, con i soffitti a cassettone, soggiorno di trenta metri quadri e salotto dotato di caminetto. Incantevole giardino.
Un luogo di relax e di bellezza per cinque persone a trenta chilometri da Firenze. Vicino al lago di Londa e al lago di Bilancino.
Il piccolo borgo in cui si trova la villa è abitato da persone amichevoli che amano la natura.
Londa, Toscana, イタリア
Arco is an attractive ancient oil-mill , recently renovated maintaining its special features. Its walls are in the typical Tuscan sandstone . It is nestled on top of a hill enjoying wonderful valley views and sunsets, just 45 mins From Florence
Arco is on two floors: downstairs thereis the livingroom area with a cooking and dining corner. Sofa and armchairs around the fireplace. This large room looks on a patio on one side and on a little private garden on the other, both with tables and chairs for dining alfresco and sunbeds to lie in the sun. Upstairs there's a spacious bedroom and the bathroom with shower
Our area is famous for being very green. We are on the hedge of aNatural Park, Parco delle Foreste Casentinesi, whose fir -trees in the Middlle Ages provided the woodden beams for the ceilings of the most beautiful Florentine churches. We are surrounded by olive groves and woodland which make the air healthy and pure.
MariaLuisa and her family were very welcoming. The house was old and charming and the surroundings beautiful. Recommended!
Sune
2016-07-08T00:00:00Z
Wonderful old mill with nice view and absolutely perfect pool! Nice and helpful people with italian charme who made our stay brilliant. Thanks to seven days out of stress and telefone ringing!
Ursula
2016-07-15T00:00:00Z
Arco war der zweite Teil unserer Toscana Reise. Wir wurden sehr herzlich empfangen und die Komunikation war sehr gut. Wir haben uns in der alten Olivenmühle gleich sehr wohl gefühlt. Die Ruhe und entspannung haben wir sowohl in unserer Unterkunft sowie auch am Pool und der Landschaft geniesen können. Alles war so wie wir es uns vorgestellt haben.
Peter
2016-09-30T00:00:00Z
Это великолепное место! Дом полностью соответствует фото, но фото не могут передать поющих за окном птиц и приветливости местных жителей. Хозяева - чудесные, оставили несколько полезных подарков и свежесрезанные цветы во всех комнатах, всегда были рады объяснить, как куда проехать. Очень красивая деревня Лонда, маленькая и живописная. Дому хотя и почти 400 лет, в нем все работает как должно. Удобная большая кровать, новая сантехника, много посуды. Мы реально отдохнули от людей и московской серости за эти 6 дней. Совершенно определенно вернемся :) P.S.: Обязательно нужно иметь небольшой автомобиль - от Лонды до дома 6 км по крутому серпантину (на большой машине может быть сложно разминуться со встречкой), а до ближайшей жд станции и того больше.
Evgeniya
2016-06-20T00:00:00Z
Marialuisa hat uns einen wunderbaren Empfang bereit und alles war genau so, wie sie es beschrieben hatte. Wir hatten eine wunderbare, romantische Zeit in dieser idyllischen ehemaligen Ölmühle und werde noch lange an die schöne Zeit zurück denken. Die Umgebung war traumhaft und der Pool immer sehr sauber. Wir können dieses Angebot ohne Probleme weiter empfehlen und werden bestimmt noch mal wieder kommen.
Dorothé
2016-07-30T00:00:00Z
Londa, FIrenze Toscana, イタリア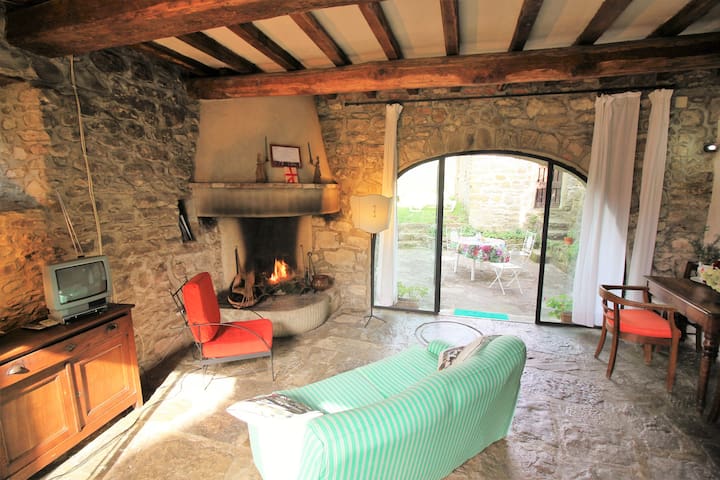 Appartamento in Colonica ristrutturata al primo piano. Vista sulla valle bellissima. L'appartamento ha caratteristiche di costruzione antiche e necessita di molta cura, cosi come l'arredamento in stile. Possibilità di fotografare animali selvatici
La colonica è immersa nella campagna toscana in vicinanza della Fattoria Frescobaldi di Pomino, famosa in tutto il mondo. La mobilità è garantita da mezzi pubblici, da Bus che passa dalla Provinciale, e arriva alla stazione di Rufina, da dove si può raggiungere in meno di 30' Firenze.
La colonica si trova a Rufina, Località Castello ((SENSITIVE CONTENTS HIDDEN) Map) nella provincia di Firenze. E come si evince dalla località, la colonica fà parte di un borgo antico, con un castello.
Great place, great people. I would like to go back there. The apartment is located in the buildings of the castle. It features a huge living room, three large bedrooms and a large kitchen. One bathroom accessible from the living room, the other in one bedroom. The only inconvenience is access by a country road - refunded a hundred times by views from the windows. During our visit Luca was unfortunately absent. We were welcomed very warmly and sincerely by his family. They are very nice and friendly people. I highly recommend to anyone.
Paweł
2016-08-23T00:00:00Z
部屋タイプ
まるまる貸切
---
建物タイプ
一軒家
---
定員
12
---
寝室
Rufina, Toscana, イタリア
Absolutely unique place to stay for a vacation in the beautiful Tuscany. Guests will enjoy peace, nature and a feeling of total relax; you will get access to the pool area in the estate along with the tennis court. The "Villa" has a gorgeous view on the valley and a huge panoramic terrace. Make a BBQ in the garden or eat at our restaurant ( 10 minutes by foot )
An elegant apartment on the ground floor with independent access through the garden. It also has a large terrace with wonderful views. The apartment has a large living room with an antique fireplace, dining room with a small kitchen, two bedrooms (one with two twin beds and one with queen-size bed), bathroom with shower and a small entrance hall. It is decorated tastefully with valuable antiques. Guests have access to the garden which sorrounds the "Villa" and the huge panoramic terrace from where anyone can enjoy the beauty of the Tuscan hills. It is possible to eat in the garden. The pool area with the tennis court is in a walking distance ( 5 min by foot) and is accessible to our guests. (The swimming-pool will be open from 01/06 to 15/09) Nearby the pool area, there is The Locanda of Praticino ,a restaurant and a meeting point for everyone living in the farm. It offers a relaxing ambient where wonderful Tuscan dishes can be tasted among friends and family. In summer time dinner is served outside. There is a comfortable living room with television and free WIFI for all the guests. You can receive every kind of information and suggests to visit the area.
"La Villa" is beautifully located in the Tuscan countryside. The main attraction is obviously Florence ( 45 minutes' drive away). Other places to visit nearby the apartment are the Abbazia Vallombrosa, Castello Sanmezzano, Poppi and Casentino Park. For the shopping lovers, there is OUTLET THE MALL that is 30 minutes away by car where you find the most important luxury brands such as Gucci, Prada, Burberry, Armani, Ferragamo, Cavalli, Tods and many more. There is also Outlet Barberino Mugello which is a 50 minutes drive.
La vue de la terrasse est tout simplement fantastique. Nous y avons régulièrement été pour prendre l'apéro, pour regarder le coucher de soleil. La maison datant de plusieurs siècles est impressionnante par son histoire. L'appartement "la Villa" est une des parties les plus anciennes de la maison et est un musée en soi, par son architecture, par certains meubles et décorations de diverses époques. Olimpia et Lucia ont été chaleureuses, accueillantes et généreusement disponibles pour nos besoins et questions, et les bassets de la famille, Tappo, Peppe et Pulce faisaient partie du comité d'accueil. À la Locanda, Alessandra et le chef Stefano ont aussi été très sympathiques, et nous avons vraiment très bien mangé à coût très raisonnable. C'est un lieu où nous espérons pouvoir revenir, celui que nous avons le plus apprécié de notre voyage en Italie.
Jean-Francois
2016-06-23T00:00:00Z
A truly relaxing stay at a beautiful apartment in the most stunning setting. What a relaxing weeks holiday! We sat for hours soaking up the amazing views and were wonderfully looked after by our charming host. Could not recommend more highly. Thank you from the Gibb family.
Annabel And Michael
2016-07-31T00:00:00Z
My two friends and I stopped here for our first four days in Italy and it could not have been more perfetto! Edoardo's Mother, Olimpia, helped us find our villa and greeted us very warmly on our welcome. She was very knowledgeable and helpful with any questions we had about the area and activities - she was available the whole time and was SO sweet! She made reservations for us at the Restaruant on the property the night we came in and it was amazing!! The food was not only delicious and fresh, but such a reasonable price! We also enjoyed the wine from Olimpia's Husband's vineyard very much. I have no complaints about this place, the view is absolutely breathtaking and the space is larger than we expected and felt so homey. We also very much enjoyed a night by the fire in the beautiful fireplace with the firewood they provided for a great price. I never wanted to leave, but now we are enjoying Roma. I already miss the peaceful serenity from this beautiful Villa. If I can ever afford to come back to Italia, this is where I will stay!! Thank you SO MUCH for our amazing time! A truly authentic Tuscana experience!
Sarah
2016-09-22T00:00:00Z
Location molto bella, di grandissima tranquillità e respiro. Appartamento grande e articolato in casale toscano, camere e cucina ampie e grande salone con camino. Grandissima disponibilità, solerzia e cortesia dell'host. E molto piacevole la colazione all'esterno.
renato
2016-05-21T00:00:00Z
What a place to stay and enjoy the kindness, the hospitality of Olimpia, Eduoardo and the grand mother! The place, simply a dream with breathtaking views (at any time of the day), the air full of flower/herb scents and a real "country side" atmosphere. Inside the house, the furniture and the feeling is authentic, with many many beautiful original features which have been restaurated. In the evening, we chose to eat on different terraces and enjoy the stars with fireflies magically illuminating the surrounding. We went also several times for a dinner at La Locanda (kindly organized by Olimpia), a restaurant located 5-10 minutes walk from the apartement - the chef Stefano is a real artist in choosing high quality local ingredients and preparing amazing /creative dishes for an unbeatable price. Our 2 boys (10 & 12 years old) are still speaking about! During the day, we visited the region and were very happy (especially the children) to come back a bit earlier to enjoy the large and well maintained pool. Discovering part of Tuscani under these conditions is a real privilege. A big thank you to Olimpia and Edoardo for opening their magnificent house and sharing their love of the region - we dream already to come back.
Yves
2016-07-02T00:00:00Z
Olimpia, Edoardo's mum welcomed us with her big smile and animated conversation. She is super kind and we loved chatting with her. It was a stormy wet evening and it was great to arrive to the fantastic villa. Olympia had arranged everything ... we could even use the fireplace which made us feel warm and cozy immediately. She showed us our apartment, a ground floor roomy apartment, beautifully decorated, including fresh roses... the rooms are gorgeous and the beds comfy... we loved the place from the very beginning. Olimpia let us know that nonna Cecilia, who lives there, could help in case we need anything. Olimpia was very attentive and we could reach her at any time, she even booked our dinner at La Locanda, the great restaurant where Stefano, the chef, makes everyone feel happy with delicious dishes... you must try it! The location guarantees a deep contact with nature and absolute serenity, though the 20 minutes ride from Rufina to the villa. The villa is huge a soooo beautiful... the nature landscape is awesome, you just hear the birds singing and at night you can see fireflies all around... magical!! The stars and the quietness of the evenings make this wonderful villa a must if you are looking for beauty, tranquility and breathtaking views. We could not have hoped for more. So if you are still wondering whether this is the right place to be I tell you: yes, it is! Thank you Olympia, Cecilia and Edoardo for having us here!
Aida
2016-06-14T00:00:00Z
Our stay with Edoardo and his mum Olympia was absolutely lovely. The house and the grounds around with beautiful views over the rolling hills all contributed to the most authentic and gorgeous Tuscan experience.
Ksenia
2016-09-10T00:00:00Z
部屋タイプ
まるまる貸切
---
建物タイプ
アパート
---
定員
4
---
寝室
Rufina, Toscana, イタリア
Il mio alloggio è vicino al paese ma nella natura piu' bella. Ti piacerà il mio alloggio per questi motivi: l'atmosfera, gli spazi esterni, la luce, la comodità del letto,tranquillo nel verde ma vicino ai servizio pubblici 30 minuti da Firenze.
In stile Toscano con grande doccia splendido panorama dalla finestra. Se con te c'e' un ospite puo'usufruire del divano letto e di tutta la struttura con la maggiorazione di 20 euro il giorno.
La comodita'e la praticita' di un ottima fattura toscana.
部屋タイプ
まるまる貸切
---
建物タイプ
アパート
---
定員
3
---
寝室
Rufina, Toscana, イタリア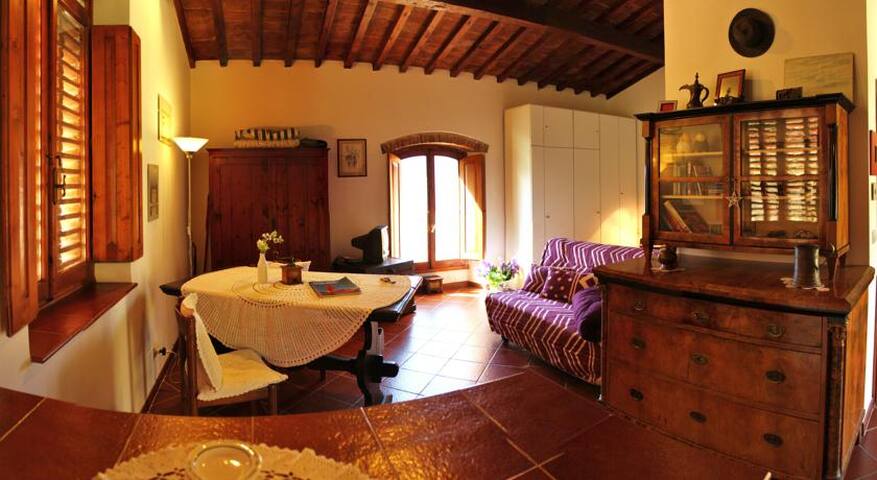 The room is inside a mansion of the 18th century, located near the village of Rufina, in the Sieve Valley, an area for centuries dedicated to the production of grapes and olives, about 60 kilometers far from Florence.
High hill landscapes tenuta is the ideal place for all those who are looking for a relaxing place to spend quiet days in contact with nature and perfect to experience the "tuscan slow pace". The farmhouse in fact, surrounded by forests of chestnut, pine and fir trees, is a place ecologically clean, perfect for those who enjoy discovering beautiful places and unspoiled. In the pasture of the estate, there is a wild breeding of Haflinger horses and Cinta Senese pigs. Squirrels and hares are at home and, over the hedges, pheasants and forest animals live peacefully as an area of faunal repopulation. The altitude of 485 meters gives the place a pleasant climate, especially in summer. The kitchen of the inn uses almost exclusively the products of the farm (olive oil, wine, vin santo, vegetables, herbs, meats). Guests can expect seven bright rooms with private facilities, all with views, furnished with taste and simplicity.
An ideal destination for lovers of wine tourism: nearby you can visit wineries and vineyards and wine tastings. For lovers of hiking, there are many paths that wind around the farm, some paths are also mountain biking. Among the most scenic routes is that of Santa Brigida, but also The Crags and the Forest of St. Anthony. The fishing enthusiasts can easily reach a lake, about 10 km away, where you can fish.
Nagyon kedves volt, már utazásunk előtt megküldte a pontos útleírást részünkre, útbaigazító tájékoztatással. Érkezésünkkor azonnal átadta a szobánkat, amely várakozáson felüli volt! Az egész épületen látszott a gondos gazda törődése, szépen berendezett, de a múlt szellemét teljesen megőrző gazdasági épületet alakított át szálláshellyé! Az ételek a vendéglátás kitűnő vaolt, a reggeli gazdag, minden kívánságunkat teljesítette Laura! A környék csendes, igazi pihenést nyújtó volt. Régen pihentünk ekkora csendben! Nagyon jól éreztük magunkat, ajánljuk minden ismerősünknek, barátunknak!
Albert
2015-09-18T00:00:00Z
Nous avons passé une semaine super, l'endroit est magnifique, le service irréprochable et la table excellente!
Anaïs
2016-08-22T00:00:00Z
Posto meraviglioso e accogliente Vista mozzafiato. Abbiamo anche avuto la fortuna di assistere per caso ad un concerto di pianoforte la sera sotto le stelle ! Unico punto è la piscina aperta agli non ospiti e quindi con un po' troppo gente e confusione Abbiamo anche cenato e pranzato qua con grande piacere Ci siamo trovati molto bene e torneremo sicuramente
Laurent
2015-07-27T00:00:00Z
This B&B is only about 40 min outside of Florence but it is in the most glorious countryside, with no traffic noise. The B&B is absolutely beautifully done; simple, Tuscan, unadorned. The rooms were spotless (try and make sure you ask for a room at the front of the house so you get the view- we didn't- we could still still the church but the front view is the breathtaking one). The pool is pristine, with glorious views. Don't bother eating anywhere else! The four course Tuscan meal we had every night was absolutely delicious. Make sure you tell the hosts early in the day if you want to eat there. The hosts spoke no English at all, and we spoke no Italian (our bad) but we managed fine. We managed to overhear snippets of the history of the house from other guests and it was really interesting. Not much to do in the immediate area but we drove through the National Park (which was breathtaking) to Umbria and did some wild river swimming. But really, the place is so perfect you could just sit by the pool with a good book and an aperol spritz. You would definitely get more out of this if you spoke Italian as i'm sure the hosts had so much great local info which we were unable to access.
Tim
2015-08-27T00:00:00Z
Lovely location, excellent food and good value for money!
Frederik
2016-08-06T00:00:00Z
部屋タイプ
個室
---
建物タイプ
B&B/民宿/ペンション
---
定員
3
---
寝室
Rufina, Toscana, イタリア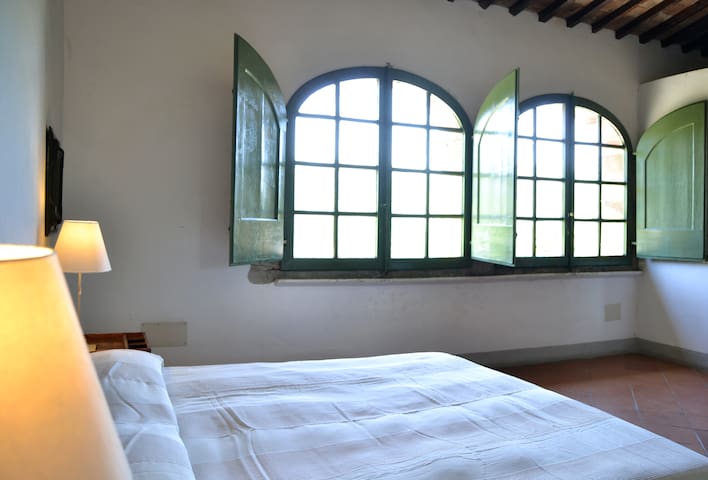 Wonderful valley view, Frescobaldi wineyards few minutes away. If you look for physical activity great walks will take you to the woods filled with wildlife. You can go horse back riding. A bowling field is in the garden
Wonderful valley view, Frescobaldi wineyards few minutes away. If you look for physical activity great walks will take you to the woods filled with wildlife. You can go horse back riding. A bowling field is in the garden The house is placed at almost 700 m on the side of a hill with covered with pine trees and chestnuts. The large living room has a wide fireplace and there is a lot of wood to burn stacked in the back of the garden. An outdoor barbeque is available as a ping pong table. There are several horse rental places and a small lake for fishing in the vicinity. The little church for Sunday services is just 10 minutes away. The train station is in Contea, 3 km downhill and frequent trains get you to the center of Florence in 50 minutes
There are several horse rental places and a small lake for fishing in the vicinity. The little church for Sunday services is just 10 minutes away.
Soy el marido de Maria Lia y he compartido la estadía en casa de Riccardo. Nuestra experiencia en la casa de Riccardo ha sido muy positiva. Es muy amplia y cómoda, bien presentada y equipada, con un entorno maravilloso y unas vistas espectaculares. Hay que disponer de auto para llegar a ella, por un camino asfaltado de montaña, al que pronto se le toma la mano y cuyas dificultades son compensadas por el encanto de vivir en lo alto de las hermosas montañas toscanas. Hay un amplio parque que dió espacio para que los chicos jugaran. Los cuatro dormitorios y dos baños permitieron acomodar a siete personas muy satisfactoriamente. Una casa muy agradable y adecuada para un veraneo en la Toscana, con temperaturas más moderadas que las que se soportan en Florencia. Riccardo fue un anfitrión amabilísimo, que nos prestó una ayuda inapreciable para superar algunas dificultades que tuvimos a nuestra llegada, por cierto ajenas a la casa y a su responsabilidad.
María Lía
2014-08-26T00:00:00Z
Londa, トスカーナ, イタリア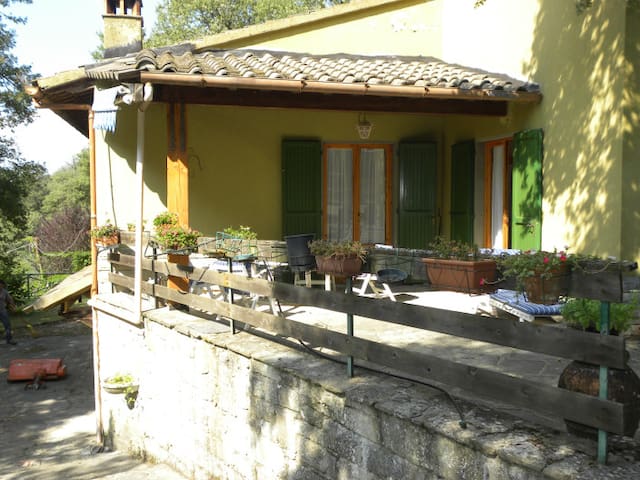 Il mio alloggio è vicino a splendide viste panoramiche, arte e cultura, ristoranti e attività per la famiglia. Ti piacerà il mio alloggio per questi motivi: la posizione, l'atmosfera e gli spazi esterni. Il mio alloggio è adatto a coppie e famiglie (con bambini). Il riscaldamento e l'elettricità sono esclusi dal prezzo esposto e da pagare a consumo.
L'allogio è una villa indipendente accanto alla villa dei proprietari c
La villa è circondata da ulivi e vigneti
Rufina, Toscana, イタリア
Cosy apartment part of an authentic old farmhouse on the peaceful hills near Florence, ideal for a relaxing escape in the country, but still only one hour of train/car if you opt for a tour at the Uffizi Museum. The farmhouse has two apartments, one for the guests and one for my family. The apartment for the guests is composed by one kitchen, three bedrooms (two twins and one single), one living room with double sofa-bed, one large dining room and two toilets. Can host up to 6 people. Fully equipped with dishwasher, washer, oven, microwave, small tv. No internet or telephone connection (your country escape from work has to be a proper one!). Huge garden with olive trees and shared swimming-pool with amazing view, ping-pong and bbq. Car essential! Please note that since the first part of the road to the house is quite narrow and unpaved, cars larger than usual are not suitable. We speak English, French, German and Portuguese. Overall, expect a quiet, romantic (astonishing sunsets!) and wild (possibility to spot some deer and wild-boars) place, with local shops and restaurants 10-15 min away by car. And if you like hiking, there is plenty of trekking paths around! Please send us a message to check for availability before booking!
We had a fantastic time at Martino and Nadia's farm house. The views are incredible and it's the best place to relax and recharge. They were super friendly and welcoming and we'd love to go back.
Will
2016-07-05T00:00:00Z
Caldine Calamai was everything we were hoping for, and a wonderful start to our first family holiday in Italy. It was a little hard to find, but much harder to leave! Martino and Nadia were the perfect hosts - many thanks for sharing your beautiful home with us x
Kate
2015-08-16T00:00:00Z
I've stayed at some pretty incredible hotels in my lifetime... among them, the Atlantis Hotel and Mina A'Salam in Dubai, the Ritz Carlton in Sydney Harbour, the Sun City Hotel in Sun City (S.A.) and Cheeca Lodge and Spa in Islamorada (Florida, USA). But never, and I mean NEVER, have I had an experience like this. It's not that Caldine Calamai is luxurious, and getting there in itself is a bit of an adventure. But the views, OH! The views!!! Caldine Calamai became our home for a week. The hosts became our family. They laughed with us, cried with us, and made sure we were safe and well cared for. They taught us how to cook, told us what we must visit, and went above and beyond (in every sense of the expression!) to make us feel comfortable. I could write a book about our 1-week stay at Caldine Calamai, but until that time, let me say this:  Go. Stay. Experience Tuscany like a native. Taste the olive oil and fresh Thymian, Basil, Rosemary. Be adventurous. Live a little. Learn how to honk at every tight curve, like a true Italian. Buy fresh tomatoes from the neighbors. Swim in the pool overlooking the Tuscan countryside. Swing in the hammock, sandwiched between the walnut and olive trees. Let your kids play with lizards, catch crabs, and watch snakes in fascination. Go hiking to old, abandoned villas. See deer and the giant mud holes dug by wild boar. But most of all, treasure this farm, and the incredible Calamai family, as they share their home, their Tuscany, their Italy. You'll fall in love with this place, it's people, it's passion. I know I did.  If they have us, we'll be back to Caldine Calamai... every, single year. Thank you, Calamai family. You have a very special place in our hearts!!!
Liz
2013-09-04T00:00:00Z
We arrived from London, tired from city-life. Caldine Calamai was the perfect antidote. The house is set in a spectacularly beautiful area, which is very peaceful; with stunning views of the Tuscan countryside. The house had absolutely everything we could have needed, and there is plenty to do in the local area, with Florence being less than an hour's drive away. Perhaps the best part of the trip, besides the beautiful house and countryside, was the warmth of our hosts Nadia, Martino, Guido and Charlotte. They did everything they could to make us feel comfortable and at home. We were so sad to leave.
Janosch
2014-06-16T00:00:00Z
This house is one the best we have stayed in ! It's absolutely gorgeous and the view is astonishing. From there you can hide from the crowd and allow yourself to rest in one of the most quiet place you can get in Tuscany. Howewer, you are not far away from Florence and the small villages around. The barbecue, the table tennis set, the pool and other facilities are perfect. In addition, we had the luck to be welcomed by Martino and his family. We felt instantly at home. This is a place we will definitely recommend to our friends and family.
jonathan
2015-08-30T00:00:00Z
Martino and Nadia were extremely hospitable and kind. They went out of their way to make us feel totally at home and felt more like friends then hosts! We were sad to say goodbye to them, their beautiful home (and swimming pool) and the unbelievable landscapes. We recommend Nadia's delicious cheese dough balls, lemon cake and their home grown delicacies that appear unannounced throughout the day. Without a doubt this holiday was our best yet as a family, and has set the bar extremely high for next year! We hope to stay at Nadia and Martino's again in the future, as the views are hard to beat. Thank you both for sharing your slice of heaven with us. Please let us return the favour one day!
Bridget
2014-09-01T00:00:00Z
Si vous rechercher le calme et la nature Toscane, c'est l'endroit idéal! La vue au bord de la piscine est imprenable sur la vallée. Martino, Nadia et leur famille sont des personnes extrêmement chaleureuses et disponibles. Nous reviendrons avec plaisir et recommandons vivement cette destination.
marie
2016-08-24T00:00:00Z
Where to start! We were at family of six people in the ages 24-67 who stayed at Martinos place for one week in july. It have been the nicest holiday location ever. This place located in a fantastic area, with the most beautiful view. The place has a incredibly atmosphere, with a lot of nice spots. The family who owns the place are SO nice, friendly and helpfull. We can't recommend this place enough! Hopefully we will come back soon :)
Isabella
2016-07-20T00:00:00Z
部屋タイプ
まるまる貸切
---
建物タイプ
アパート
---
定員
6
---
寝室
Turicchi, トスカーナ, イタリア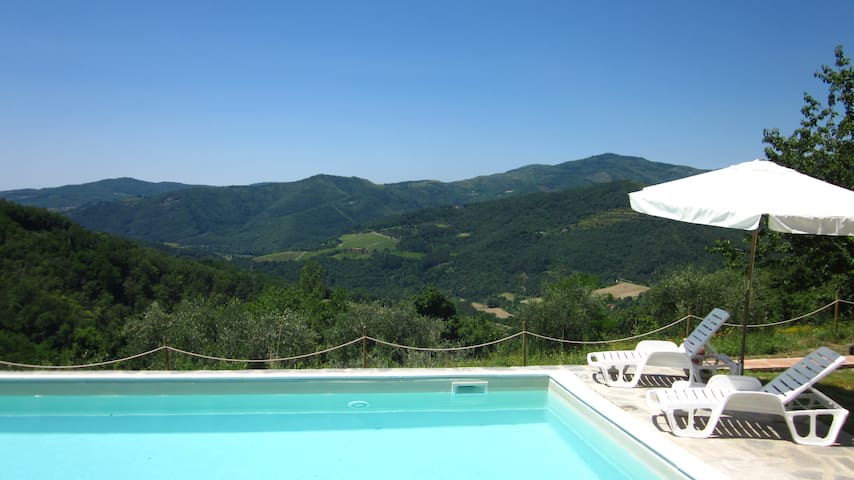 Die Lage ist ruhig inmitten einer herrlichen Landschaft, umgeben von Weinbergen und Olivenhainen. Das Haus liegt 5 km. vom Ort Rufina entfernt auf einem grossen Privatgrundstueck (6 Hct.) mit Zufahrt ueber eine Privatstrasse.
Das Haus wurde gerade ausgebaut und enthaelt: - Wohn- /Esszimmer mit kamin (Holzfrei) + Couch fuer 2 Pers. - 2 Doppelschlafzimmer (fuer 4 pers.) - Kueche mit Essplatz, Spuelmaschine ist vorhanden - Duschbad mit Bidet und WC - Terrasse -Barbecue
in einem 70 mtr. entfernten Gehege sind viele Tiere wie Huehner, Tauben, Hasen, Enten, Truthaene und Ziegen.  
Scopeti, Toscana, イタリア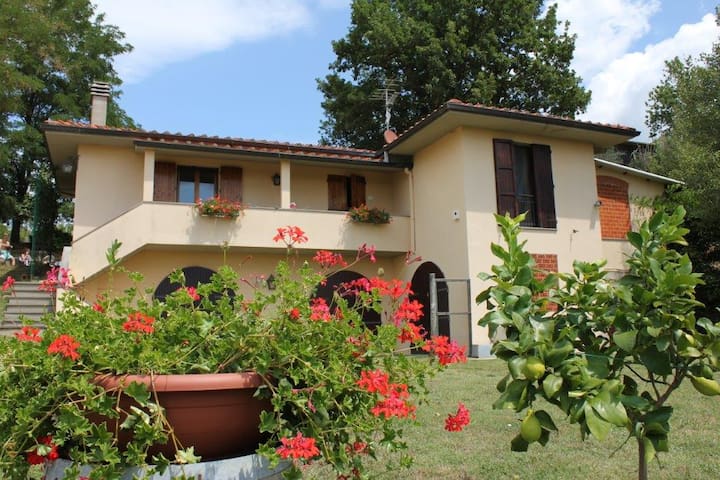 Immerso nel verde delle colline della Rufina, 35 Km da Firenze, affittiamo fienile completamente ristrutturato, in cui gli spazi notte/giorno sono distinti da un grazioso soppalco a vista. Panoramici e vari spazi esterni da godere. L'alloggio è vicino a zone di escursione e degustazione e a luoghi d'arte. Ti piacerà il mio alloggio per questi motivi: i soffitti alti, i panorami, la gente e l'atmosfera. Il mio alloggio è adatto a coppie, avventurieri solitari e amici pelosi (animali domestici).
L'alloggio è un accogliente loft ricavato da un fienile ristrutturato. Al piano terra troviamo il bagno con doccia, una cucina attrezzata con ampia zona pranzo e spazioso soggiorno con divano-letto, poltrona, TV e stufa a legna per scaldare le giornate invernali. Una scala a giorno in legno conduce alla zona notte con letto matrimoniale e la possibilità di aggiungere un letto singolo.
Pace e riposo nella natura, accoglienza e calore dell'alloggio.
Nonostante il nostro arrivo sia stato un po' difficoltoso a causa della scarsa conoscenza della zona, Ronald ci ha fornito ogni tipo di supporto finché a tarda notte non abbiamo raggiunto la sua bella cascina. Il fienile destinato agli ospiti è uno spazio estremamente confortevole, spazioso e pulito, rifinito con semplicità e buon senso. La zona, benché isolata, è animata dall'allegra compagnia dei vicini di casa, che formano un'unica grande famiglia, molto accogliente e disponibile. La scarsa disponibilità di tempo non ci ha permesso di sfruttare il paesaggio circostante, che però offre luoghi per escursioni e piacevoli passeggiate nella natura aperta e verso il fiume. Inoltre Ronald mette a disposizione tutte le aree comuni del suo terreno, compresi un ping pong, una griglia, una piscina di acqua di fonte e diversi pergolati. Vivamente consigliato, possibilmente per diversi giorni, in modo tale da non dover andar via con il rimorso di non averne potuto godere abbastanza.
marta
2016-07-25T00:00:00Z
Wunderschöne Unterkunft in phantastischem Ambiente , einfache und nette Kommunikation mit Ronald, unbedingt zu empfehlen.
Imke
2016-09-06T00:00:00Z
The loft has been designed and built by Ronald and it looks amazing. The location in the Tuscany hills is breathtaking as are the views from the shaded terrace. The loft is very spacious and has all the amenities you will need. Ronald and his family are very friendly, we were welcomed with Ronalds award-winning olive oil. Florence is circa 30 minutes away, and there are many supermarkets in the villages closer to the apartment. We would certainly recommend this loft and we hope to return one day.
Chi-Yim
2016-07-31T00:00:00Z
Lieber Ronald, uns hat die Zeit bei dir sehr gut gefallen. Wir hatten eine wunderbare Zeit auf deinem Bio-Olivenhof und bedauern sehr, dass wir uns nur drei Tage Zeit genommen hatten. Die Unterkunft war sehr komfortabel und die Landschaft atemberaubend! Vielen Dank für die netten Gespräche und deine guten Tipps und bestimmt bis bald. Falk und Ellen
Falk
2016-07-18T00:00:00Z
Ronald is a really good host. He is helpful and really easy to communicate with since he speaks many languages. He made us to feel comfortable. He was always around when we needed his help. He makes excellent olive oil! His place is cosy, clean and we really enjoyed our stay. The location is remote, surrounded by beautiful Tuscan hills where you can have your relaxing holiday. You can leave behind your everyday stress among the olive trees and the scent of the rosemary bushes. You can reach many attractions in half-one hour drive. If you'd rather meet real Tuscany than crowded touristic places Ronald and his place is the best choice!
norbert
2016-08-11T00:00:00Z
Rufina, Toscana, イタリア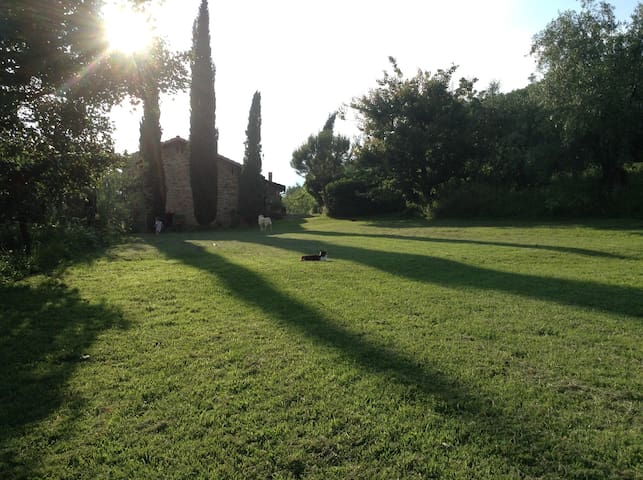 An elegant independent peaceful panoramic rustic residence nestled amidts the scenic and gently rolling hills in Tuscany . This beautiful property is the ideal destination for those who want to experience and enjoy true Italian country living. From May 2017 PRIVATE SWIMMING POOL available for our guests!
An elegant independent peaceful panoramic rustic residence nestled amidst the scenic and gently rolling hills in Tuscany (Castello, with Florence a mere 30 minute train journey away). This beautiful property is the ideal destination for those who want to experience and enjoy true Italian country living. The castello is located 350 metres above sea-level with amazing views of the whole valley. This romantic villa is embraced in its luscious green surroundings in the heart of Tuscany within the walls of the Castiglioni Castle . It is huddled in the hills amongst olive trees and vineyards belonging to the Frescobaldi family and the Nipozzano Castle, the two main wine producers of Chianti Rufina and Pomino areas. The structure, arranged on two levels, has been recently renovated to a very high standard with taste and elegance. The rustic residence is beautifully decorated and completely furnished with great Italian period pieces. Guests have access to a private gated garden where you can dine in style while relaxing and enjoying the panoramic views. It is a beautiful outdoor space with sun chairs for lounging, a large dining area where you can eat 'al fresco', a hydromassage bath where you can appreciate the magical and peaceful views of the surrounding hills filled with green fields and fruit trees. It is an ideal place for a relaxing holiday and cultural stay. Outside of the gated garden you can explore the wonderful trails on foot or on bicycle and meander through the olive groves and fields.
This ancient -but- recently renovated house is located inside the small Borgo Medievale di Castello, 350 meters above-sea level, with breathtaking views of the whole valley. Antica dimora appena ristrutturata inserita nel piccolo Borgo Medievale di Castello, situato a 350 mslm, dal quale si gode un panorama mozzafiato su tutta la vallata.
部屋タイプ
まるまる貸切
---
建物タイプ
一軒家
---
定員
10
---
寝室
Rufina, Toscana, イタリア
Turicchi - Airbnb
:
平均星

4.67

つ/

5

つ星・ゲストレビュー

126

件