小さくて静かな湖のコミュニティの静かな逃走。デッキとプレイカードの上に座ります。内部または外に火を持っています。リラックスして、/ネットフリックスの映画を見ます。ドックから夕日を眺めます。行を削除し、湖Tawakoniは、テキサス州のナマズの首都であるとして、あなたの運を試してみてください。
Un barrio muy agradable y tranquilo. La casa blanca al lado de la cabina está vacante (que nos gusta de esa manera) y los vecinos son amables y miramos el uno al otro.
A perfect little getaway. We had such a great time. It's really quiet and beautiful. We absolutely loved it and will definitely be coming back!
Christopher
2017-03-17T00:00:00Z
Book it you will not regret it!
Gary
2017-03-24T00:00:00Z
A cute little cabin with a gorgeous view over Lake Tawakoni. The perfect place for a relaxing weekend away from your hectic life and with great hosts.
Christiane
2017-04-02T00:00:00Z
The place was very cozy and warm. Felt real homey and I was even welcomed with some cookies. I brought all my utensils and cooking ware and I didn't even need to. Anything you need they got it. This place was perfect for a relaxing few days. Just the thing my boyfriend and I needed. Our puppy loved the backyard and he was having fun jumping into the lake. So glad it wasn't windy and the weather was perfect for fishing. We're already talking about coming back. I didn't want to leave. Thanks for your hospitality. We had an awesome time.
Ashley
2017-03-14T00:00:00Z
Our weekend stay was great! The cabin was cozy, comfy and the lake was right out the front door with a pier. This was a birthday weekend for my husband and I. We were surprised with a nice cake and some little gifts. Amy & Kirk really added a personal touch to our stay. Our stay was awesome and private. We will be back soon!
Kathy
2017-03-26T00:00:00Z
The host canceled this reservation 24 days before arrival. This is an automated posting.
Logan
2017-03-02T00:00:00Z
Absolutely wonderful place and had everything we needed! Definitely will be returning :)
Kathryn
2016-12-29T00:00:00Z
This place was so great! My boyfriend just moved away to start a new job and so we met in the middle at this wonderful little place to spend some much needed time together. It was cute and clean and right on the lake. Amy was incredibly helpful answering any questions I had and suggesting places to eat. We had a wonderful time here!
Rebecca
2017-01-22T00:00:00Z
部屋タイプ
まるまる貸切
---
建物タイプ
キャビン
---
定員
2
---
寝室
West Tawakoni, テキサス州, アメリカ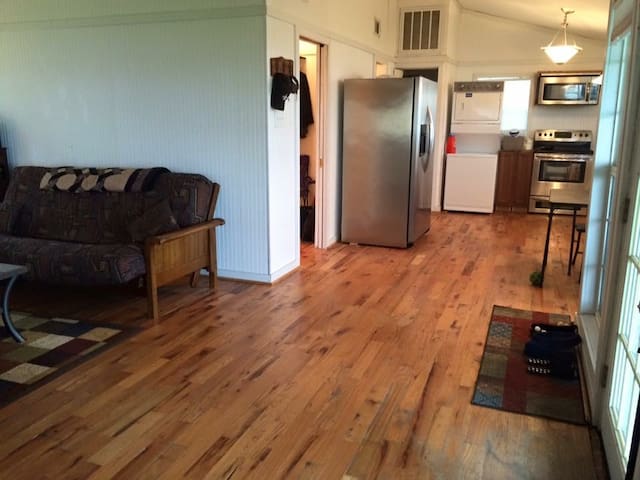 Quiet and relaxing. The home provided all the things we would need for preparing foods; bathrooms were so clean; huge living room area for playing games and watching videos, etc. But the best was the back of the home. Wonderful very large backyard...big deck with many quality made swing and chairs and round table with chairs for eating...leading out to a fantastic play area for children....grilling area as well as place to have a fire at night for smores and more. The back of the property leads to the end of the lake to walk to. I can't begin to describe the awesome trees in the yard which soar in heights and listening to the birds in the most quiet place away from the city.
Sandra
2017-04-08T00:00:00Z
Quinlan, Texas, US, テキサス州, アメリカ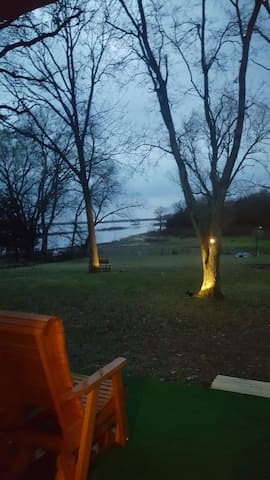 My place has great views of pasture, pond, & lake. You'll love my place because of the back deck, covered side porch, the comfy bed, the kitchen, the walk to the pond & lake is great bird watching & wildflower photos. Great fishing in the Spring months, there are a variety of shells to be found on the beach. My place is good for couples, solo adventurers, families (with kids), big groups, and furry friends (pets).
Lots of space for everyone, two living areas, breakfast bar, large dining table, nice bar-top for visiting while a meal is being prepared, two porches/decks to take in the views.
walk to lake, feed fish in pond, wildlife & wild flower sight seeing, fireworks, campfire...
We traveled to Quinlan to visit family. We were excited to find this rental. Dave was very accommodating and flexible with our arrival time. The house was perfect to fit our needs - plenty of room and well equipped. The price was great, really enjoyed our stay.
traci
2016-09-27T00:00:00Z
Perfect place for a lake getaway, the pond is great for having fun with the family catching perch, shad, crappie and bass. The shoreline was great for bluecats whick is what lake Tawakoni is famous for. It's the full package if you are looking for a great place to spend a fishing getaway with your family. We will be visiting again.
Dustin
2017-03-18T00:00:00Z
Loved the welcome sign at the door. This house made my whole family fill like we were at home. Very cozy. I really loved this house. My kids had great fun.
Bru
2017-01-01T00:00:00Z
A quiet place for a family getaway
Susanne
2016-11-25T00:00:00Z
Quinlan, テキサス州, アメリカ