Immersed in the park but close to the city of Kaposvár 3 km, horseback riding or walking, relaxation, thermal baths 4 km, hunting and fishing.
Kaposújlak, Somogy County, ハンガリー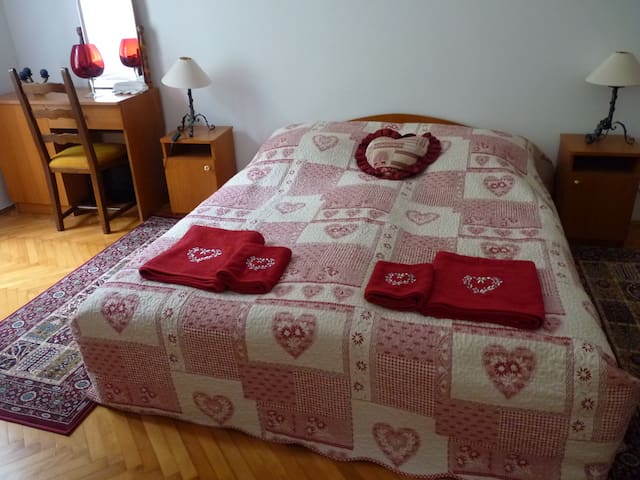 Tämä romanttinen talo sijaitsee keskeisellä paikalla kaunis "Toscanan kukkuloilla Unkari. Vuodesta kuisti voit nauttia upea näköala. Se on lähellä kylpylää ja uima-allas Igal ja hiljainen Deseda järven. Tämä loma-asunto on ihanteellinen pariskunnille, taiteilijoille tai perheille pieniä lapsia.
Tämä on ainutlaatuinen, "tuntuu hyvältä" talo sijaitsee rehevä luonto. Se tarjoaa rentouttavan, mieleenpainuva kokemus luovia yksilöitä (esim tekijöiden, taiteilijoiden), parit ja lapsiperheet. Jokainen huone talossa on oma "teema".
Talo sijaitsee keskeisellä paikalla Unkari. Tämä tekee talon ihanteellinen paikka vierailla paikoissa kuten Kaposvár, Balaton, Pécs ja Budapest. Se on hyvin lähellä Thermal Bath Igal. Se on 30 minuutin päässä Balaton. (Balatonszemes ja Balatonlelle ovat lähinnä paikkoja. Yksi suosikeistani on Balatonföldvár. Coca Cola ranta Siofok on mukavaa ja kiireinen, mutta hieman pidemmälle). Se on 15 minuutin päässä kuin matkailukäyttöön järven Deseda hieman leikkipaikka, jalkapallokenttä, veneen ja polkupyörän vuokraus, museo ja baareissa, joissa voit syödä jotain yksinkertaista (In Toponar on merkki "Camping Deseda". Tällä Deseda Pension on oikea). House on vain 20 minuutin päässä mukava kaupunki Kaposvár, ja monet supermarketit (Tescon, Lidl, Match, H & M), kauppoja ja orgaaninen ruokakaupassa gluteenia ja laktoositon ruokaa). Kaposvár on todella iso ja mukava uima-allas (Virágfürdö) mukavia dioja ja kylpylää. Sekä aikuiset että lapset rakastavat sitä! Lasten kanssa voit viettää koko päivän "Katica Tanya" in Patca. Tai "Kalandpark" Zamárdi.
Being grown up in a bucolic environment myself, I really enjoyed our staying at Villa Lorena. Peaceful and relaxing I think are the best adjectives to describe it. The kitchen was super-equipped, and so was the garden, including summer chairs, hammock, etc. (alas the weather was rainy most of the days of our staying so we could enjoy it less than we'd like to) Also our cat Moody loved the huge garden, he was able to run around and climb trees with no danger whatsoever as the neighbor dog is super sweet and very few cars pass by in the road next to it (plus of course there's a fence) As we agreed beforehand, we found the house open upon our arrival in the evening, and the heating was already on. Lorraine was very quick in replying to all our doubts and questions. Definitely recommended for people looking for a relaxing vacation surrounded by nature and a quiet environment, or as Lorraine mentioned in the description for people looking for a peaceful stay to focus on personal projects (I myself work though the Internet and I've been very productive thanks to the quiet atmosphere)
Pier
2015-10-18T00:00:00Z
De advertentie klopt met de werkelijkheid. De ontvangst was zoals afgesproken. Het zwembad was heerlijk!
Wilco
2015-08-02T00:00:00Z
Probably not entirely the host's fault, but we had a pretty bad experience. I don't want to go into many details, the key problems were heating not working in one of the rooms, and a sewage issue that required calling a maintenance person. Lorraine was reachable and communicative via AirBnB, but not speaking Hungarian and living abroad made her somewhat helpless. The house is not bad if you like the rustic old mood, but we expected more for the price.
Péter
2015-10-26T00:00:00Z
Although I haven't met Lorraine personally we kept in touch through mails. She is a most attentive, helpful and kind person you could came across. The house was absolutely prepared for our arrival.
mónika
2015-08-24T00:00:00Z
Lorraine very kindly answered within a few hours to all of our questions. However she was not present during our stay, she smoothly organized everything and helped us a lot. The pictures are very realistic and the house is fully equipped. We missed only three things from the kitchen: a bottle opener, cheese grater and a good sharp knife for the meat. The country side is really nice in the neighbourhood however we could not enjoy it due to bad weather. Still our stay was very good, peaceful and convenient.
Anikó
2014-10-26T00:00:00Z
My son and I have just had a fantastic week at this fun house. The sun shone and the wind rustled through the trees, creating a wonderful atmosphere at this lovely house. As described it has an air of tranquility and creativity that would worked superbly for us both, but it would be an equally fun spot as a group. The many local and regional attractions provide a variety of activities from the picturesque southern shores of Lake Balaton to the quiet and beautiful Lake Desede. Lorraine Vesterink is a most helpful and accommodating hostess, full of ideas for local distractions and day trips, and was brilliant at doing everything possible to make our stay an absolute pleasure.
AXEL
2014-08-27T00:00:00Z
Szentgáloskér, Somogy County, ハンガリー