Stylishly designed, well equipped and spacious property offering a family friendly accommodation, but also a great choice for romantic getaways too. Car rental at a special rate is also available. PLEASE CONTACT FOR AVAILABILITY BEFORE SUBMITTING YOUR RESERVATION REQUEST. THANK YOU.
Spacious, stylishly designed, hillside property with amazing views , featuring 130 square meters (1400 sq. feet) of space, in a quiet, romantic street of Szentendre. Free wifi, cable TV, fully equipped kitchen, sauna, fireplace, free parking Spacious, stylishly designed hillside house with amazing views of Budapest, Szentendre and the mountains. Located right above the heritage park in a quiet, romantic street. - Budapest can be reached in 15 minutes by car. - Szentendre's historic old town and the Danube takes a 3 minute drive. - Leányfalu Hot Spring: 5 mins - Visegrád castle: 15 mins The main level has a large living area, dining area, kitchen, 2 bedrooms and 2 bathrooms. The living area is connected to a large den, where a sleeping are is also made available. The entire main level has direct connection to the garden patio. Ford Focus 1.6 available for rent during your stay only for 10 Euros per day. Navigation device included. - Free wireless internet - Free coffee - Cable television - Sauna - Well equipped kitchen with base cooking needs (spices, etc) - Garage - Bicycles upon request - 24 hours availability provided via phone, (SENSITIVE CONTENTS HIDDEN) and Viber. Pets are welcome, this is a pet friendly vacation rental accommodation in Szentendre, Hungary. Children are also welcome, baby bed, baby chair are available.
Peter was so nice and helpful to us. Before arrival he responded on my messages immediately so we could easily discuss all the details. He also proposed transfer what was very kind of him. When we arrived he was so polite and hospitable so we felt comfortable from the first second of our communication. 2 words about villa. The photos are absolutely real. One of the bedrooms had a door to terrace with a wonderful view on Budapest which marvelously blinked and sparkled at night. Guest room is also fantastic ideal for evening talks with friends while drinking wine. 2 bathrooms saved us. Because in the morning one of them was full time occupied by girls. The house is in a very peaceful place we enjoyed every minute of our two days there. Totally recommend!
Dmitry
2015-04-19T00:00:00Z
Had a lovely stay in a beautiful place in a tranquil location. Waking up to the panoramic views of the surrounding countryside was fantastic. The house is a large size although only the first floor is currently in use. The basement had the garage and utilities room etc. in it. The location is reasonably far out from town so a car is a must for getting around. But the benefit of the is peace and quiet. Peter was very pleasant and always helpful.
Tom
2016-05-08T00:00:00Z
Peter was available, before and during the journey : really nice and helpful! The house is great, the bike so appreciable : the area (and weather) so fine, we have only one regret : only one night! :) We could have stayed there far far more! I definetely recommend!
Caroline
2016-04-18T00:00:00Z
Péter tökéletes házigazda. Pontos, korrekt és a ház pontosan olyan tökéletes, mint az a hirdetésben látszik.
Viktor
2016-01-30T00:00:00Z
We thank Peter and Shophie for the oppurtunity to be in this great house. The check in was accurate, sophie has waited for us and gave us all the needed explanations regarding close change, good supermarket and other services around. Peter was very helpfull by sharing with us nearby sites, attractions, local hungarian restaurants and tips for our family. The house is fantastic! Big! Clean! Well equiped! All is new and with good taste! Free WIFI! Free parking! 3 big bedrooms, big livingroom with big TV and lots of channels, 2 big bathrooms, big dinning area, big kitchen with stove, oven, microwave, refrigirator, coffee machine, dishwasher and lots of supportive tools. There is a big garden outside the house which we used with the great weather to have all had all meals, and there are bicycle in the garage you can use freely. It is 5 minutes drive from szetandre old city and 30 min drive from all the attractions we had around. Great house. Great hosts. Great location. Best value for money. We will come back for sure
Oded
2017-04-03T00:00:00Z
Peter was an excellent and knowledgeable host. Flexible and friendly.
Amelia
2015-08-29T00:00:00Z
From booking till chekout Péter was a real gentle host. The reaction times of mailings was very short. I got answers all of my questions within 2 hrs. We arrived late afternoon and Péter waited for us patiently. The flat is wonderful. Warm colors, big areas, beautiful view to the city. It's far from the noise of the city so it's the best place to chill out. For parking there is a garage what is a real advantage. We was there with 2 children and they also enjoyed our stay. Thank you!
Vince
2016-03-05T00:00:00Z
very beatifull home in a increcible beatifull location. the house was more then complete and Peter was very friendly and made sure we had an amazing time.
maarten
2015-07-18T00:00:00Z
Szentendre, Pest County, ハンガリー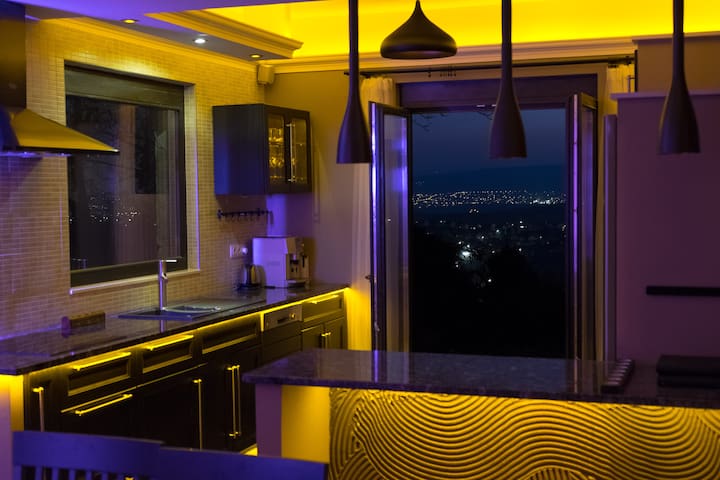 Our villa has 2 floors 320 square meter, and a 1500 square meter garden. We have an all year indoor swimming pool overlooking the garden and sauna. We have 4 bedrooms, and 2 of them are large bedrooms. One has 35 square meters with 2 balconies, and the other one has 45 square meters with a balcony. Another highlight of our villa is our beautiful sunroom. Our living room is fully equipped with fridge, microwave, oven, stove, coffee machine, dish washer, and table ware. We have a large terrace.
The Villa is located next to Danube river, and it is on a small hill. Guests could enjoy a very nice view and fresh air.
Szentendre, ハンガリー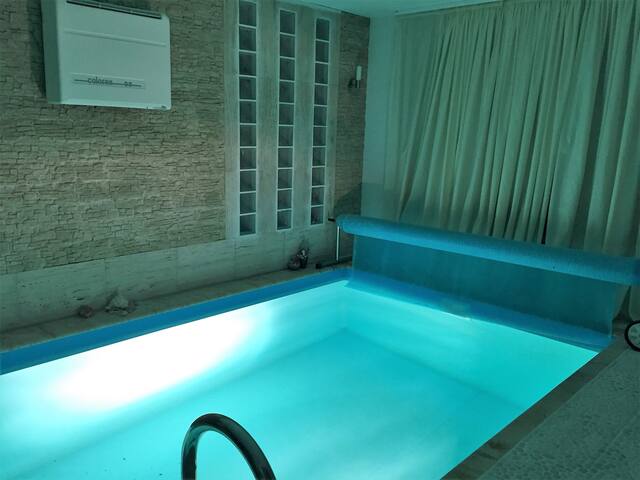 A helyem a következők közelében található: parkok, nagyszerű kilátás és éttermek és étkezési lehetőségek. Emiatt fog tetszeni neked a helyem: a látvány, az elhelyezkedés, a légkör, a külső tér.
This quiet and freshly renovated house offers a swimming pool, suburban charm, fantastic hiking and mountain biking trails with amazing views of the city.
Quiet and suburban. Far from the hustle and bustle of the inner city but great access to it. Nearby fantastic hiking trails to the Buda hills, with great views of Northern Budapest.
The host canceled this reservation 133 days before arrival. This is an automated posting.
Sanne
2017-03-29T00:00:00Z
ブダペスト, ブダペスト, ハンガリー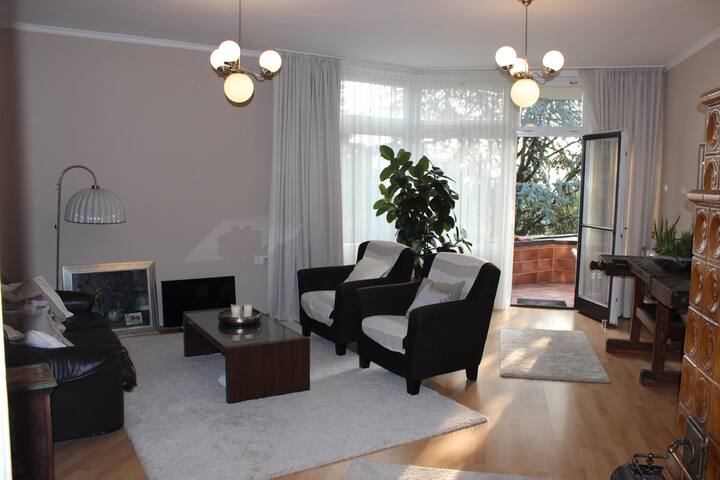 The Bauhaus studio, at Hermina street, is located near to the city centre, just in the neighborhood of the City Park. The green area and the cozy room are so relaxing. My accommodation is suitable for 2 adults + children. Pets are also welcomed.
The house was built in Bauhaus style. It is located in a special part of the city, because of the neighborhood of the City Park (not only famous landmarks, but often events are there). I think it is also unique, that you can easily get to the amazing Széchenyi Thermal Bath and Swimming Pool.
Landmarks in the near: Heroes' Square, Budapest Zoo & Botanical Garden, Capital Circus of Budapest, the famous Gundel Restaurant, Széchenyi Thermal Bath and Swimming Pool, Kunsthalle (museum of contemporary fine art), Andrássy street, Vajdahunyad Castle, Boating Lake. + playgrounds, sports fields, pubs and restaurants
Gabriella is a welcoming and helpful host. Her cozy and nice house is right next to the bus stop. The room is tidy, spacious and comfortable. The shower with strong water pressure is sooo amazing!!! Highly recommended to everyone!
Martin
2016-07-17T00:00:00Z
Gabi is een prima gastvrouw. Erg geïnteresseerd in de reden van ons verblijf in Hongarije. Het huis ligt niet direct in het centrum van Boedapest, maar is uitstekend bereikbaar per openbaar vervoer. Mocht je met de auto komen, dan kun je die in de voortuin (achter het af te sluiten hek) kwijt. Behalve de grote slaapkamer, ruime badkamer en kleine pantry, kun je ook de keuken van het huis gebruiken. Als we daar behoefte aan hadden, konden we ook de mooie zitkamer (die met de ronde gevel op de foto) gebruiken. Er komt binnenkort Wi-Fi. Wij konden het (zwakke) signaal van het naastgelegen ziekenhuisje gebruiken. Wij kunnen dit mooie verblijf van harte aanbevelen!
Els
2016-09-28T00:00:00Z
We had a great time during our short stay in Budapest! Gabriella was very helpful and provided us with many useful information. The house is lovely and in a great location, close to the park, a bath, heroes square and with different options to get to the city center by public transport (it takes about 10 min. by metro to the city). As we arrived by car we really appreciated the parking space in the garden in front of the house.
Katarzyna
2016-09-24T00:00:00Z
The location is great - on the doorstep of the big park, and so close to the thermal baths. Gaby was great - she provided great information on how to get to the place from the airport, was very approachable and generous - offering me lunch when I arrived and the use of her bike (which I used to explore the city)! The room was great - large and spacious, comfortable bed, and a large bathroom with powerful shower! The only thing lacking was strong internet - you can connect to the nearby hospital, but connection is intermittent and slow. But I loved the place and would recommend to anyone!
Erfan
2016-08-30T00:00:00Z
Gaby is amazing and the room was great, spacious and comfortable. From your room you have direct acces to the bathroom. It is on a great location near to a park and close to a metrostation and bus. Gaby is very friendly and helpfull. Her services go far beyond expectations. This is a big recommendation if you want to have a good stay in Budapest.
Maaike
2016-08-22T00:00:00Z
We really enjoyed our stay with Gabi in her beautiful house. From the first moment on we felt very welcomed by her and her little dog Bobo. The apartment itself is great, spacious and clean, all we needed for our stay. We liked the location as well, as the neighborhood was quiet but in walking distance from several public transport possibilities and a nice park. Gabi was a great host and helped us out a lot with all our questions. Recommended!
Karijn
2016-08-02T00:00:00Z
Dear people looking for a place in Budapest. Are you looking for a room in a Nice and quite neighborhood? A big room with everything you would need? A good connection with the downtown center? Stop looking, cause now you found it. And its not just the room that is perfect. Gabriella is an amazing host. She welcomed us to the house and showed us around, we could use the bikes to get into the city (highly recommended) and we kept in contact even when she left for work. We liked it so much that we wanted to stay a bit longer :)
Barbara
2016-07-27T00:00:00Z
Very very good acommodation! Great communication, clean, cool furniture!
Adam
2017-04-06T00:00:00Z
ブダペスト, ブダペスト, ハンガリー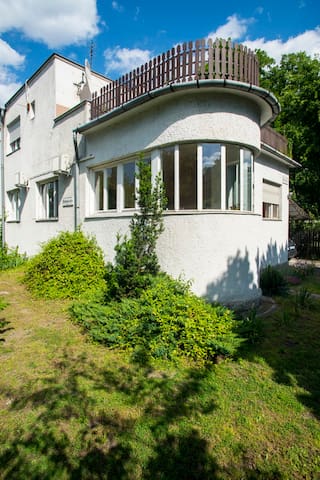 1800-as években épült, teljesen felújított, belső liftes villaépület első emeletén luxus fürdőszobás, szaunás apartman a Budai Vár alatt. Magas fokú kényelem és biztonság a tökéletes kikapcsolódáshoz!
Az apartmant egy gyönyörű, 2 szintes villaépület első emeletén találod. Amerikai konyhás nappalival, kényelmes, nagy méretű kihúzható sarokkanapéval, és luxus fürdőszobával rendelkezik. A fürdőszobában dupla kézmosó, esőztetős zuhanykabin, szauna, valamint sarokkád található. A fürdőszoba kiemelendő különlegessége, hogy a sarokkád felett üvegmennyezet található, mely hozzásegít egy kellemes esti fürdőzésre a csillagos égbolt alatt.
Turisztikai szempontból Buda legjobb részén, az I.kerületben, a Dunától egy perc sétára található az apartman. A Budai Várba az épület mellől vezet fel a lépcső, 10-15 perces kényelmes sétával máris Budapest egyik fő látványosságánál találjuk magunkat. Kilépve a kapun, 200 métert haladva, máris a Duna parton sétálhatunk. A Lánchíd, a Budavári Sikló 3 percnyi, a Budai Várbazár 8 percnyi sétával elérhető. Kitűnő magyaros, és nemzetközi éttermek találhatóak a környéken. A legjobb kiindulási pont a kellemes, városnéző napok eltöltéséhez!
Gabor is an amazing host and he provides an absolutely beautiful apartment. The apartment was clean, quiet and roomy with a private water closet and a separate, very fashionable spa that includes a sauna! The apartment is in a convenient location. We were able to walk everywhere we wanted go - sightseeing, shopping, restaurants. Gabor helped arrange a guide for us. He also arranged for us to be picked up at the train station.
Ronnie
2015-08-08T00:00:00Z
I can recommend everybody to book an accommodation with Gabor. The flat is brilliantly located, well equipped, modern and clean. Gabor is a great host. He organized us a private cap to the airport and we could leave our luggage at his place even after our check-out. Thanks again for a great weekend, Gabor.
Kathrin
2016-02-08T00:00:00Z
Gabor and Dora were very friendly, welcoming hosts. Communication was quick and simple. The apartment is lovely and the photos do not do it justice! Great location- about a 5 min walk to the chain bridge. Couldn't have asked for a better first Airbnb experience.
Emma
2017-02-16T00:00:00Z
The appartement is lovely. After a cold day it is wonderful to relax in the jacuzzi and sauna. The appartement is big enough to relax in. Great location as well. Gabor is very friendly and helpfull.
Elsa
2017-01-16T00:00:00Z
Amazing location! Right next to Buda castle and just a walk away from the chain bridge and the tourist hotspots. Dora was very welcoming and helpful, the apartment was perfect and clean. Bathroom with the sauna and bathtub was a real treat! Thank you for the lovely stay :)
Urvah
2016-09-10T00:00:00Z
This was truly a beautiful and very safe place to stay. This was my first trip to Hungary and I stayed here for two weeks. The place was extremely well cleaned when I arrived. The host made sure someone was there to give me a set of keys and explain the basics despite my late arrival. The decor is as pictured. The kitchen was stocked with basics but lacked an oven. If I wanted anything cleaned all I had to do was ask and it was done promptly. The shower and sauna were amazing and I used both almost everyday. The hot water would occasionally not be available at night for some reason. I tried to use the big bath tub several times but couldn't get enough hot water to fill it up even halfway, but I only tried using it at night. Overall a great establishment very close to everything with great hosts. I highly recommend this place to anyone.
Justin
2016-01-29T00:00:00Z
Die Wohnung war sehr schön, frisch renoviert und sauber. Außerdem liegt sie in einem wunderbaren historischen, sehr gepflegten Gebäude. Es ist auch eine Tiefgarage vorhanden. Auch die Lage ist prima. Gabor war sehr freundlich und hilfsbereit. Er hat uns sogar zu einer Party im Haus eingeladen und für die Gäste selbst gekocht. Deshalb kann ich die Wohnung sehr herzlich empfehlen!
Aurelian
2015-08-30T00:00:00Z
I stayed at Gabor's with my partner and we both loved the place. It is a gorgeous apartment, very luminous and clean. It has a well equipped kitchen and the sauna and bathtub were a real treat. Also, the location was super convenient and we could walk everywhere. About Gabor, our host, we can only say big thank you!! He was incredibly helpful and friendly, we will never forget his hospitality.
Geo
2015-08-16T00:00:00Z
ブダペスト, ブダペスト, ハンガリー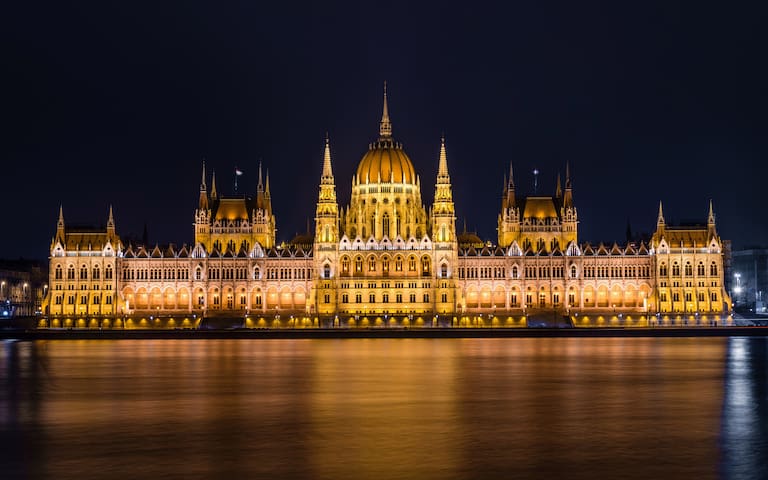 A historic villa with beautiful view in the city centre close to all the famous landmarks, a nice nature park, baths and spas nearby, easy access to public transport lines, free street parking, safest, calm and quiet area. Former Swedish Embassy.
A cosy private apartment in the Villa of the historic figure Raoul Wallenberg and former building of the Swedish Embassy, placed in the city centre with easy acces to public transport lines and close to the famous landmarks. With beautiful garden, and calm, quiet and safe area on the Gellert hill right next to a nice park. Free street parking.
Amazing rich neighborhood on the Gellert hill right next to a beautiful park which is perfect for romantic walks or taking a little trip to the famous Citadella and Liberty Statue above the city with breathtaking view. Fantastic landmarks all around: the Great Hungarian Market for fresh and healthy food, souvenirs or trying homestyle Hungarian cuisine, best baths and spa centres nearby, the famous Váci street for shopping and for fashion lovers and these are just a few of the greatest places close to the apartment
Melinda was very kind and communicated quickly. The flat was in a nice location, but up a very steep hill and inside a seemed to be vacated building. The building was old and not very well kept. Our booking was slightly last minute, but the flat was not up to standard with cleaning, especially the bathroom. Melinda was very flexible with check out and personable. The cleaning situation could have been due to the last minute booking, but for what we paid, it was sub par.
Lulu
2016-09-25T00:00:00Z
What an excellent place for exploring Budapest! Located in a quiet hilltop neighborhood, about a 15 minute walk from the city's main market. This studio apartment is simple, bury cozy with a gas fireplace and lots of light.
Jessica
2016-11-13T00:00:00Z
Our host was extremely helpful and the flat was great. She was easy to communicate with in case of any problem. The flat is in a perfect location near a beautiful park and situated in a lovely house. It is really quiet so one can sleep really well.
Katie
2016-08-20T00:00:00Z
Great location with special atmosphere and tranquillity. Everything was proper, well equipped apartment. The host is kind, helpful and flexible. Thank you, Melinda! ;)
Viktor
2016-08-21T00:00:00Z
Great flat in a really amazing building. Location is perfect for city centre fun and it's quiet too. You can walk to the top of the citadella in 5 mins and the view from the room is great. Melinda was a most accommodating host and I would recommend this place to anyone wanting to enjoy the city and feel like a local.
Laurent
2016-09-27T00:00:00Z
Melinda was very helpful and kind ! She made sure I was ok in the appartment and the city during my whole stay (1 month), and provided information when I asked, furnitures (fresh sheets...) when needed. The appartment is located in a quiet and beautiful (uphill) district, a short walk from convenience (stores and transports). Clean and spacious.
Léa
2016-09-24T00:00:00Z
Very Cousy flat in Budapest. Melinda is really kind and always ready to help you. The house is beautiful and very Hungarian, great experience in Budapest.
Hernan
2016-10-31T00:00:00Z
Nice place, very close from the Center. Melinda is quick and helpfull :-)
Gabriela
2016-12-25T00:00:00Z
ブダペスト, ブダペスト, ハンガリー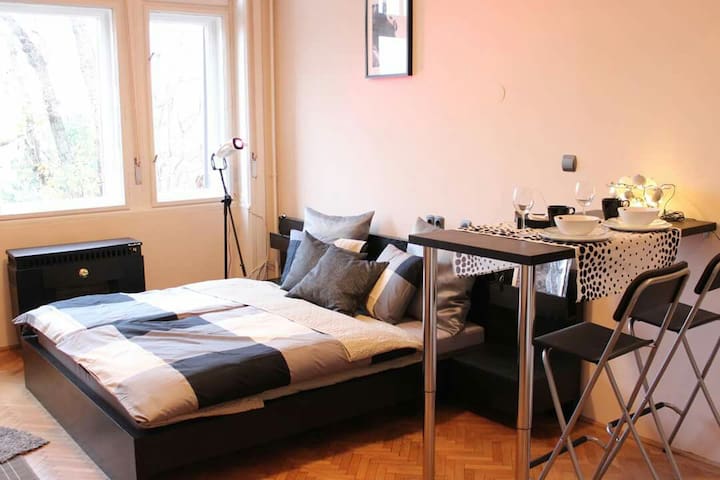 The 3 floors 300㎡ villa with a beautiful garden is located in the Pest region. BBQ equipments can be used freely in the garden. One of the highlights of the villa is the cozy bar, and we also provide Hungarian wine tasting service for the guests. The kitchen equipments fulfill all cooking needs such as fridge, freezer, cooker, oven, microwave, toaster, coffee machine, dish washer. The living room has comfortable sofa set, TV, DVD player. Free WiFi! Free Parking! Free coffee, Tea!
Service Provided Wine Tasting: 5 different Hungarian wines, 10 euro per person Oven or / and Stove Usage: Free!
Quiet and beautiful surroundings allow you to enjoy your relaxed and pleasant holidays at our villa. At the same time, our villa is also easily to reach to the city center.
The house is very spacious, clean - all around really comfortable and great looking. I'd strongly recommend it to groups or family's looking for a cozy private house to rent. Location was great, in a quiet, nice environment but still good for reaching city center (tram stop was just a few meters away + drive with car was also easy). Hosts were very friendly, responsive and forthcoming. Helped us out a lot with some hints in the area and things to see and do. A special bonus for us was the bar in the basement for ourselves to make cocktails and relax, we even had a wine tasting by the host! Overall it was a great experience and great value for this place. Highly recommend it and will come again!!
William
2017-01-24T00:00:00Z
"Such a lovely house!! The hosts are super nice!! The house is very spacious! The hosts were very responsive to our messages, and the house is very well equipped. Great communication with the the hosts. The hosts gave us a lot of Tipps for traveling in Budapest. The house is not far from the city center, and it is very convenient with car or public transportation. 10 minutes to city center by car. The bus station is just in front of the house. It is also very handy that there is a supermarket nearby, and it is only 1 min by walking from the house. The house is very clean, and the garden is beautiful. We felt like at home. Bed cover and beddings are new, and also tableware like folks, knifes are new. The private bar at basement is awesome! We had a great experience , and the value is very high! We highly recommend this house(URL HIDDEN) 房东非常热情的接待我们。 别墅漂亮又干净,而且特别的大。 交通方便,门口就是公交车站。别墅对面就是一家超市,走过去只要1分钟。床单被褥都是新的, 厨具也是新的。别墅地下室有个私人酒吧,可以自己调鸡尾酒喝。房东还给我们提供了品酒服务。总的来说,性价比非常高! 非常推荐大家来!"
勇
2017-02-03T00:00:00Z
ブダペスト, ブダペスト, ハンガリー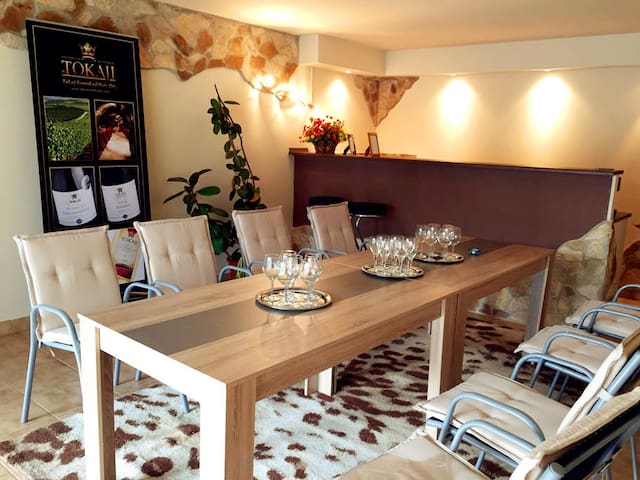 Budapest történelmi várnegyedében, ugyanakkor néhány perc sétára a belvárostól, 300 éves teljesen felújított villaépületben lévő luxus lakás.
1800-as években épült, teljesen felújított villaépület második emeletén, modern, fiatalos kialakítású apartman. A Duna és a Lánchíd 2 perc sétára található. A Budai Várba gyalogosan, az épület mellől induló lépcsőn 15 perc alatt fel lehet sétálni. Buda nevezetességei gyalogosan is könnyen elérhetőek. A közelben helyi specialitásokkal rendelkező éttermek, kávézók. Az éjszakai szórakozásra vágyók is könnyű helyzetben vannak, hiszen a főváros bulinegyede mind gyalogosan, mind tömegközlekedéssel 10-15 perc alatt megközelíthető.
(URL HIDDEN)
If you're thinking about a trip to Budapest, you should definitely check out Gabor's apartment. I recently stayed there and could not have asked for a better place. Close to Buda Castle and Fisherman's Bastion on the Buda side and a short walk across the lovely Chain Bridge to the Pest side. Could not ask for a better location. The apartment was in a lovely old building, but with completely modern touches. What you see in the pictures is what you get, a nice cozy apartment, with nice modern furnishings. Gabor was very accommodating with arrival time and check out time and is a wonderful host. I would definitely stay here again!
Rob
2015-10-27T00:00:00Z
Excelente anfitriao, muito gentil e atencioso. Tudo de acordo conforme anunciado. Recomendo.
Soraya
2015-08-25T00:00:00Z
Апартаменты расположены на третьем этаже особняка, который находится в распоряжении одного владельца: на первом этаже офис, второй и третий - жилые. Поэтому, в случае каких либо вопросов, связаться с хозяином не проблема практически в любой момент - поможет или сам или кто-то из персонала. Есть лифт. Атмосфера дружелюбная, фотографии дают точное представление о квартире. На этаже две квартиры, которые сдаются и терраса, о которой упоминается в описании, общая для них - каждая из квартир имеет свою дверь, выходящую туда.
Stanislav
2015-09-14T00:00:00Z
We really enjoyed staying in Gabor's apartment in Budapest. His apartment is very neat, airy & comes with a nice terrace/balcony. The apartment is very close to the chain bridge & most of the places to see are walkable. Gabor is a nice person who ensures that all guests remain safe & gets everything they needed. I must recommend Gabor & will definitely stay there again!
Trishul
2016-09-29T00:00:00Z
From the minute we arrived in Budapest Gábor showed us nothing but hospitality, he sent one of his employees to pick us up and brought us back to what can only be described as beautiful accommodation. Freshly renovated rooms in an amazing building and a fantastic location. I can honestly say Gábor was the best host we have ever stayed with and we can now call him our friend, he was extremely helpful making bookings for us and took time out of his busy day to make sure we had everything we needed he went above and beyond what was required of him. If we come back to Budapest there is no one else I would stay with. Staying with Gábor truly transformed our experience in Hungary into what has been the highlight of our trip so far. I hope to see you in Melbourne my friend!
Birkan
2015-07-10T00:00:00Z
The location is superb and all is brand new. We felt great!
Eva
2016-07-23T00:00:00Z
Gabor arranged to pick us up at the airport as well as take us for a 630 am flight out of Budapest. This helped take the stress out of our stay. Apartment was extremely clean and well kept. Laundry service there for you to use as well. Gabor answered all of our question while we were theremright away. Location was great to everything.
ray
2016-06-05T00:00:00Z
My boyfriend and I really enjoyed our stay with Gabor. He was really helpful and accommodating, going out of his way to ensure we were ok and organising taxis etc for us. The apartment was great, clean, spacious and modern, also in a great location. We would highly recommend this apartment and definitely stay again should be return to Budapest.
Jess
2016-01-05T00:00:00Z
ブダペスト, ブダペスト, ハンガリー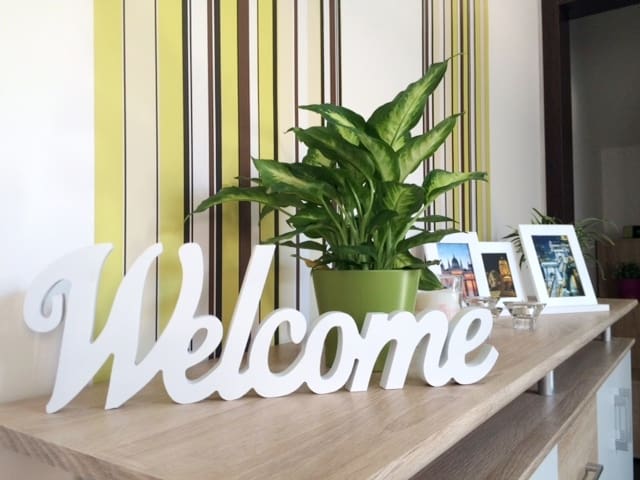 Cozy and quiet place, easy to reach all kinds of transportation. Free Wi-Fi, Free parking, 24 hours nice and warm shower We also offer free bicycle for our guesses. Functional kitchen with a huge fridge. rooms with Beautiful Garden view.
ブダペスト, ハンガリー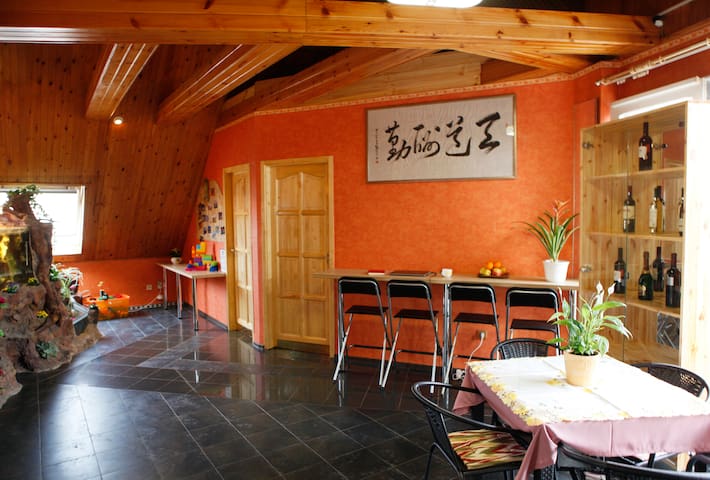 The flat is located at an imposing surrounding of Budapest. Mányoki street is one of the most impressive cottage quarter of Gellért Hill, Liberty statue is 10 minutes walk, Móricz Zsigmond circus is only 3 minutes, one of the best termal bath of Bu
The flat is located at an imposing surrounding of Budapest. Mányoki street is one of the most impressive cottage quarter of Gellért Hill, Liberty statue is 10 minutes walk, Móricz Zsigmond circus is only 3 minutes, one of the best termal bath of Budapest is in Hotel Gellért and it is only 5 minutes walk from here, so as Freedom Bridge. Experience the ambivalent lifestyle: living in the center of Buda and spending your time like in the forest. The most amazing advantage of the flat its big and beautiful garden and the terrace where you may sit down and drink a bottle of wine when the weather is warm enough. Ideal for couples and it is suitable only for 2 persons.
Hotel Gellért ist eine der erstaunlichsten Spa von Budapest, und es ist am Ende der Flach der Straße. Sie können die Ansicht von Budapest von der Spitze des Gellért Hill überprüfen, von hier aus sind es 10 Minuten zu Fuß. In der Umgebung mehr und mehr Cafés und Garten places've öffnete die Tür heute, ziehe ich eine Karte von ihnen und in der Küche gehängt.
Cute apartment, with everything you need (well equipped kitchen, nice bathroom, etc). The location is great, quiet street but you can get to the center fast. There are some nice cafes around. We were there in the winter but I'm sure the garden is a great extra in the summer. (Heating was great too, which is really important in winter.) We met only a friend of Barbara but she was really helpful and everything went smoothly.
Eszter
2016-01-05T00:00:00Z
Lovely apartment in a perfect location. The welcome bottle of wine wascmuch appreciated. Barbara ensured I was warmly welcomed and also she was very helpful in allowing me to leave my luggage until 4 PM.
Geoff
2016-04-15T00:00:00Z
Lived there for 5 days and everything was great! The check in went smooth, the flat is the same as on photos, so we had no surprises. We had everything we need, even there's a washing machine, hair dryer, towels, all bath and kitchen accessories. The wifi connection is stable and fast. The flat is very nice, modern and cozy. We loved the terrace and whole house. The neighbourhood is fantastic, very quiet and green. There's only 5 minutes to go to the Móricz Zsigmond metro station and different grocery stores. Also, in the end of the street the Gellert hotel is located with its famous spa and thermal bathes. Barbara is very nice person, helped us a lot and we're very thankful for the opportunity to live in her beautiful flat.
Svetlana
2015-07-21T00:00:00Z
Barbara is the perfect host. Perfect communication before traveling. Perfect arrival. The house is located just close to everything in a stunning bulding. Barbara has everything you will need: washing machine, hair dryer, coffee maker, plenty of towels and blanquets. And the place is beautiful! The garden too. Perfect location to go to Gellert baths because is just 5 min far. If you have a walk around the neighborhood you will be amazed with the beautiful buildings. Near the house you will find subways, buses and streetcars.
Natalia
2016-10-16T00:00:00Z
My stay was great at Barbara's place. I had everything I needed plus little extras like an umbrella and slippers for the room. The hammock was the highlight of my relaxation routine - tip: you'll need a chair to stand on to get in it!
Hannah
2016-08-27T00:00:00Z
Great and quiet place to stay, near the centre of Budapest. We loved the house and the garden, and had everything we needed to enjoy our stay!
Lisa
2016-09-06T00:00:00Z
Super flat! A loved to be there, especially the garden! Close to the metro at Gellert square. And Barbara was really helpful and flexible host!
Schvéger
2015-08-30T00:00:00Z
Отличная квартира! Встретили, все показали и рассказали! Расположение шикарное, Дунай в 3 минут ходьбы. До всех достопримечательностей можно дойти пешком! Термальные источники Gellert в 2 минутах ходьбы (на него стоит потратить один день в Будапеште). Парковка прям во дворе дома, за три дня с авто ничего не случилось, район очень тихий. Рядом много кафе и магазинов. Всем советую!!!
Алексей
2016-11-06T00:00:00Z
ブダペスト, ハンガリー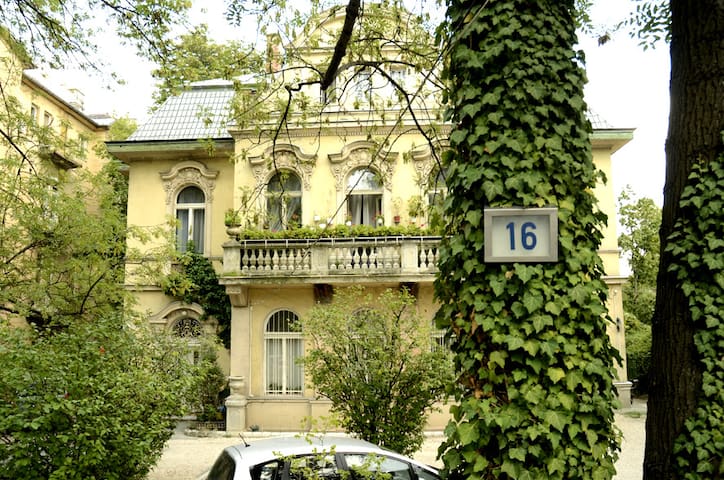 Hello nature and animal lovers! Centrally located Scandinavian style, design apartment in a unique and romantic Villa-house with peaceful, green environment right on the Gellért-Hill is just waiting for you! Thermal baths, bars, cafés, shopping malls just 5 minutes away. A piece of green-heaven, 2 minutes walk away from the busy central.
Centrally located modern, Scandinavian-style apartment in a peaceful and green environment on the Gellért-Hill. The unique, newly renovated villa-house is over hundred years old and stands in a huge rose garden with fig, cherry, quince, nut, hazel trees and has a huge terrace where you will have free access as well. Perfect for relaxing and chilling after a busy day spent in the city. The apartment has 2 pull-out IKEA beds which suits for up to 4 people. The apartment has a floor and wall heating, plus wi-fi. The small kitchen features hotplates for cooking, basic cook-wares and machines (fridge, blender, toaster, water-boiler, orange squeezer, juicer). The bathroom has a bath-tube, toilet, bidet and a washing-machine. Towels, bed linen are provided also a hair-dryer and iron available.
The area is surrounded with elegant, historical villas, ancient trees, hip bars, cafés and restaurants. The famous A38 standing boat on the River Danube with great concert hall/bar/restaurant is 5 min away by tram. With only 5 min walk you can reach every important public transportation and the city bike share system (bubi): Bus: (PHONE NUMBER HIDDEN), Tram: (PHONE NUMBER HIDDEN) and Metro Line 4. Famous sightseeing spots and must sees like the Citadel with the Liberty Statue or the Gellért/Rudas Thermal Baths just 10 min walk away. Nearby you can find a luxury fitness and wellness complex, the Allee Shopping Mall and the local Market Hall.
ブダペスト, ハンガリー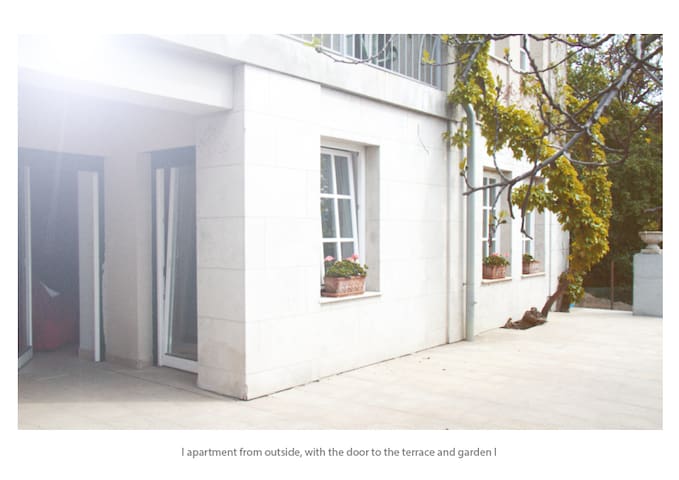 House at a peaceful place with fresh air, unrestricted WIFI, BARBEQUE possibility, in the nature nevertheless near to the city centre. Rent time at least 1day!!
The house is in the nature .Parking is just a short walk to the house.
Nice view , birds singing
Szabolcs greeted us with a warm welcome after a long drive and after arriving late. The house was clean and there was plenty of food in the fridge. There is wifi in this house which is always useful. The drive up the hill to the accommodation was a little scary as there is a very steep hill, you also need to be quite physically fit as there are a few steps to get to the property. Nevertheless I would stay here again.
Eva-Maria
2016-08-15T00:00:00Z
The host was very welcoming! The house was clean, organized, and had a beautiful view. It was very spacious and just a short drive to downtown Budapest. It does not have wireless internet like advertised, but a small thing.. That we overlooked because everything else was nice. The host went above and beyond what we expected. He had food available for us after our long drive to Hungary, and brought wood for the furnace daily to keep the house warm. We had an amazing time and definitely recommend this house to others as well as Budapest. If we visit again, we will definitely try and stay here! Thank you!
Erik
2016-01-03T00:00:00Z
The host canceled this reservation 23 days before arrival. This is an automated posting.
Adam
2016-08-10T00:00:00Z
在布达山上的这间屋子有点奇特,穿过蜿蜒的山路才能到达,随后还要走一段静谧隐蔽的阶梯和林中小路才能找到。屋内热水供应不是太稳定。屋内的阶梯小巧简易,不太适合带孩子的家庭。我觉得更适合具有探险精神的情侣或者背包客。房东很热情很有耐心,为我们准备了必须的食物,由于当天到得有点晚,房东也一直为我们服务到很晚。由于我们是家庭旅行团,到来时,一个孩子生病了,住在山上不太方便,所以虽然订了两晚,但最后只住了一天便离开了。到现在依然不知道该如何拿回部分房租。
anna
2016-08-10T00:00:00Z
Our holiday in Budapest was great thanks to Szabolcs and his apartment. The house is big, comfortable and very beautiful. The area is quiet and located in a beautiful hill. A bit far from the city but with busses you can easily move during the day! Totally recommended. Thanks again!
Andrea
2017-01-01T00:00:00Z
ブダペスト, ブダペスト, ハンガリー
Special accommodation, special program options. Big renovation in March 2017.
Would you like to drink champaigne in a jacuzzi at your own baclony, or maybe you would like to swim and take a sauna right after you woke up? The rest is guaranteed in our regeneration. Just 5km far away from Budapest, right by the foot fo the Budai-mountain in Budaörs we are offering a 500 square meter exclusive minimal design villa with south-asian elements. On the ground floor you can find an 80 square meter wellnes area connected directly to the garden. Here we have an inside swimming-pool, jacuzzi for 8 peaople, sauna, weight becnh, bar, shower and a toilette. Also on this floor we have a garage for 2 vehicles. On the first floor there is a huge teracce connected to the living-room, diner, kitchen with modern machines, 2 bedrooms with double bed ((PHONE NUMBER HIDDEN)) and a bathroom with shower. The top floor is separated into two living parts. Here you can find the best part of the house, the fully separated 80 square meter apartment which we are offering for families. On the king size bed (300x200) even four people can fit with own tub, bathroom, and a gardrobe. This apartment has its own balcony with furniture from where you can have a fantastic view to the garden and the city lights by night. Here on this floor you can find a living area with an openable couch (140x200) where the kids can have fun and also we are offering for the adults some options too like: air hockey, billiad, darts, game machine etc. From this living area opens a double bed (140x200) guest room with bathroom and gardrobe. On the gallery there is also 2 double bed (140x200). On the roof we have a jacuzzi for four people with furnitures with a brilliant view. ( this jacuzzi can used between may-october ). In the garden we are offering a small pool (summer), a resting house, sand box with the taste like beach and a grilling area. We are offering a real luxury villa for you and for your family and friends or even for company events. The price is for 10 people but the maximum capacity is 16-18 people. For little children we are not charging any fee (0-6 year old – sleeping bed, sheets, hihg chair-) As required we can offer breakfast, daily cleaning, party service, airport transfer and limusin rented. Organizing different programs : paintball , shooting , tank driving ,bar/club/restaurant visiting, sightseeing tour by bus or boat, beerbike. We have masseur, dj, mixer,chef they can come to the house. We can help organise all things to the party in the house etc . If you have any questions please don't hesitate to contact us.
In the area you can also find gokart court, bob court, tennis court, paintball and bowling. The villa is 3 minutes far away from the motorway which leads into the city under 10 minutes. Velence (swimming area) is 30 minutes far away and the Balaton is 45 minutes.
Our stay was incredibly disappointing. I was hoping for what was described on Airbnb but what we found was very different. Most of the major appliances did not work. There were only 2 fridges plugged in for 16 people to start with, the main fridge in the kitchen was broken this issue was not resolved during our stay and resulted in us throwing away spoiled food. The coffee machine was not working and instead we were given a plastic percolator despite me emailing before we arrived to make sure there was a high quality coffee machine. After complaining we were given an espresso machine to use which also did not work. The blinds in the master bedroom wouldn't close. The hot tub by the pool was Luke warm and the jets did not work. We were told we were not allowed to use the rooftop hot tub even tho I had requested it upon booking and followed it up several times. The dishwasher doesn't drain so couldn't be used. All the garden furniture had been packed away despite me still paying summer rates. Again this was something I had emailed about previously. The garden was a mess with things stored everywhere. There was a neglected seating area at the bottom of the garden with a couple of dirty cushions left on it. The couch in the living room is covered in cigarette burns. There are several smashed doors, glass floors that need repair. I had booked a private chef through Susie to cook for my 30th birthday meal and had to cancel it as there was no where to seat 16 people, there was no table, no chairs, not enough cutlery and no wine glasses of any kind as apparently people had broken them previously and they had not been replaced. When we arrived the house was set for 12 people not the 16 I had booked for. There was not enough towels for even one each and no more for the swimming pool. We were given 1 tea towel for a 5 day stay and were not allowed to use the washing machine. I was told I could go and make more beds up myself if I needed to. This house is ok as somewhere to sleep but it is definitely not luxury and I should never have been charged summer rates to arrive at a house that had been completely packed away. I told Susie about all of these issues but she showed very little interest and just kept telling me that it was not her house. I felt with all the things wrong I should have been previously warned what bad condition the house was in and that I wouldn't be able to use half the things I paid for.
Robyn
2016-11-01T00:00:00Z
I booked this villa as part of my hen party plans for y best friend, we went early May bank holiday 2016 for 3 nights. All I can say is WOW. Villa is FANTASTIC. Clean throughout, with everything you could need. Ivett even went out of her way to get a list of shopping we needed so it was all there on our arrival. When we had difficulties booking a taxi she booked them for us and all it took was a quick text to her and she did it straight away. The villa is 25 minutes from the city centre and costs on average 5000HUF for a single journey for a car of 4-6, which is about £11 so really great. It is also only 30 minutes away from the airport. The villa has 3 hot tubs (one in the garden wasn't with water as we weren't in the summer season), and there is a pool inside also. Kitchen has everything! Rooms are: 4 X double rooms 1 X 4 person bed (was amazing and slept 5 of us easy!) 3 X guest beds which can be easy moved on wheels around the house 1 X sofa bed which could easily sleep 3 I can't recommend this villa enough/ absolutely fantastic value!! And a great host! Thank you for letting us stay- it made our weekend!!
Habiba
2016-05-03T00:00:00Z
Our 4 days at Ivetts villa was amazing!! The pictures really don't do it enough justice. Suzie was on hand to welcome us and even sorted out our dinner and taxis on the first day/night to help whilst we settled in. We then spend the next few days either at the villa enjoying the pool and hot tub or out and about in the city. We can't thank Ivett and Suzie enough for all there help and looking after us. We would certainly recommend it to anyone who is looking for a luxury villa which is easily accessible from the city.
Jade
2016-02-13T00:00:00Z
The villa is a beautiful place, in a beautiful village. Perfect for large groups who want to spend time in Budapest. Ivett and her team have been very kind and helpful.
Séverine
2016-09-27T00:00:00Z
We had an excellent time at the Villa! Incredible furnishings and no expense spared. We were very well looked after and the hosts sorted our transfers and gave us guides to the city and taxi numbers. A truly brilliant house with unbeatable views. 5 stars!
Ed
2015-10-07T00:00:00Z
Where to begin first of all we had the best Stag Do that was because of this house and Zsuzsa ( Ivett friend who helps manage the property)! They organised everything from airport transfer, food & beers delivered to the house, private chef, massages in the house just to start! The house is even better than pictures they don't even show the outside pool, great Sony speaker, poker table!! The views are amazing and rooms are massive balcony for everyone. The service is. Amazing we had one issue with jacuzzi and it was fixed in a day, any issues dealt with so quickly! This is an essay but they deserve it because it's my bet AIRBNB, actually Holiday for a while! If you see his house availed book immediately!!!
Tunde
2016-06-21T00:00:00Z
The house is fantastic and it is exactly like the pictures. Indeed live it is even better! We lived four days and four nights in 14 people comfortably and without space problems. very nice rooms and wonderful the two jacuzzi, sauna and indoor pool. A true well-being. Get to the center is easy: you can call the city-taxi at any hour and you'll reach Budapest in 10 minutes at the reasonable price of (PHONE NUMBER HIDDEN) HUF - about € 12. Ivette was very kind and helpful throughout the duration of the stay, provided us with all the necessary information and she also greeted us with a welcome gift. Definitely a villa in which we all would like to come back as soon as possible! De livello!!!
Lorenzo
2015-08-24T00:00:00Z
Overall it was a really good stay at the villa. Picked up via transfers and dropped at the villa with shopping we had ordered online already waiting for us. The pictures dont do the villa justice for its views and size. There are a few issues with wear and tear of fixtures and fittings but nothing that wouldnt be expected of a villa that is getting rented out. The jacuzzi and pool couldnt maintain temperature, but the sauna worked fine. Transfers into the city centre were easy to arrange and no hassle. Would definetly stay again.
mark
2017-01-04T00:00:00Z
ブダペスト, ブダペスト, ハンガリー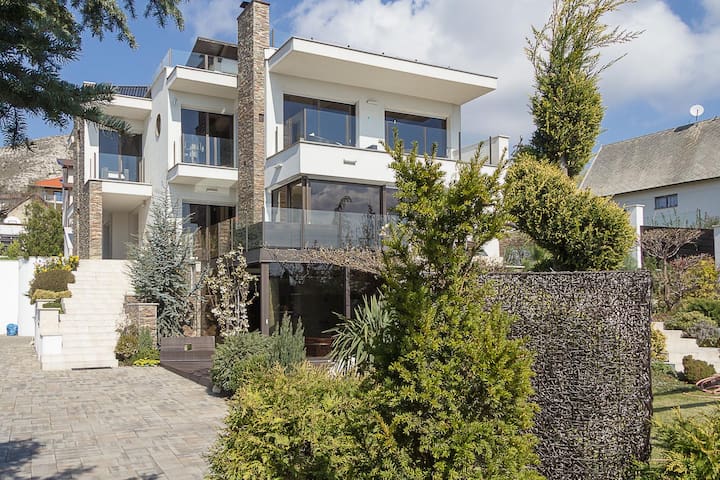 ...
El apartamento superó las expectativas! Lo recomendaría! !!
Diana
2016-08-12T00:00:00Z
Gabor is a great host with whom communication was very swift. The apartment is great! It is greatly positioned, particularly if your visit is for whatever purposes focused on Buda (we had a conference there). It is very close to the Chain Bridge though, so you'll be in the city centre in a, say, 10-15 min by foot. I would definitely recommend this apartment to all those visiting in a bigger company!
Miodrag
2016-04-25T00:00:00Z
Gabor is the perfect host! He is welcoming, helpful, gentle and his team too, is really available and funny. The place is serene, peaceful confortable and well furnished. We really enjoyed and loved be accommodate in his apartment. For each difficulties we had, in the house or outside, he helps us to solve it. In addition, 20 meters from the house there is the change shop, for the money, and a small grocery store open 24 h per day.
Marco
2015-11-05T00:00:00Z
ブダペスト, ブダペスト, ハンガリー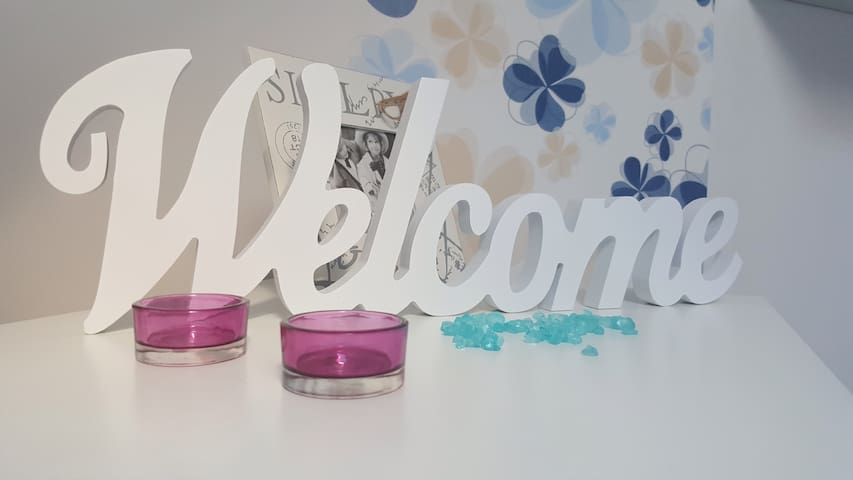 Cozy and quiet place, easy to reach all kinds of transportation. Free Wi-Fi, Free parking, 24 hours nice and warm shower We also offer free bicycle for our guesses. Functional kitchen with a huge fridge. rooms with Beautiful Garden view.
ブダペスト, ハンガリー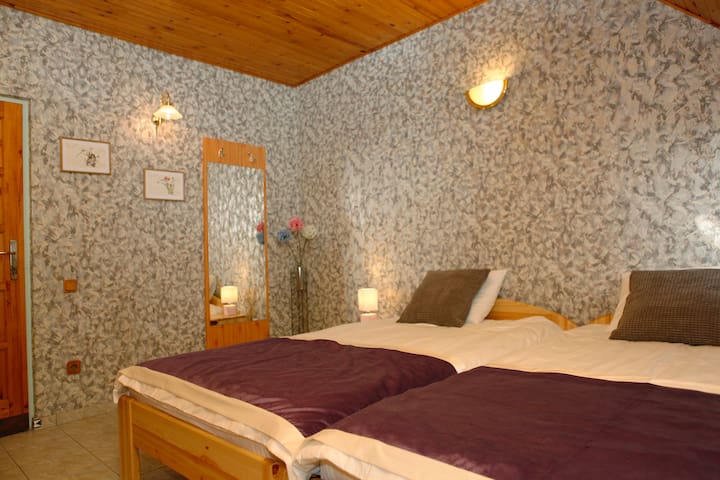 Cozy and quiet place, easy to reach all kinds of transportation. Free Wi-Fi, Free parking, 24 hours nice and warm shower We also offer free bicycle for our guesses. Functional kitchen with a huge fridge. rooms with Beautiful Garden view.
ブダペスト, ハンガリー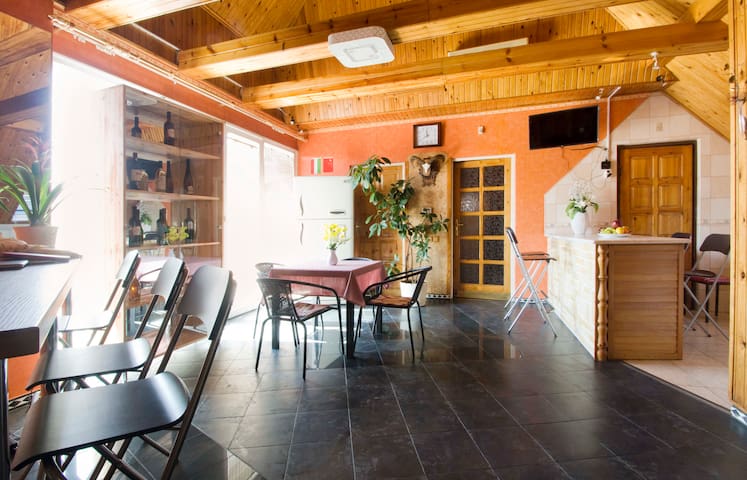 ブダペストローズヒルの独立したヴィラは、完全に12人のために装備されています。客室には、適切には、バスルーム2室、3トイレ、設備の整ったキッチン、ダイニング/リビングルーム、ガレージを完備しています。松の木、市街の美しい景色を望むバルコニー付きのとても素敵な庭園。
ヴィラには、いくつかの大使館、外国企業が近くに位置しているので、地域で最大のセキュリティを持っています。
ブダにあるドナウ川の右岸に位置し、ブダペストの最も美しい部分、ローズヒル、。ブダペストの周りの別荘エリア。大使館やその他の重要な政府の建物が近くにあります。
ブダペスト, ブダペスト, ハンガリー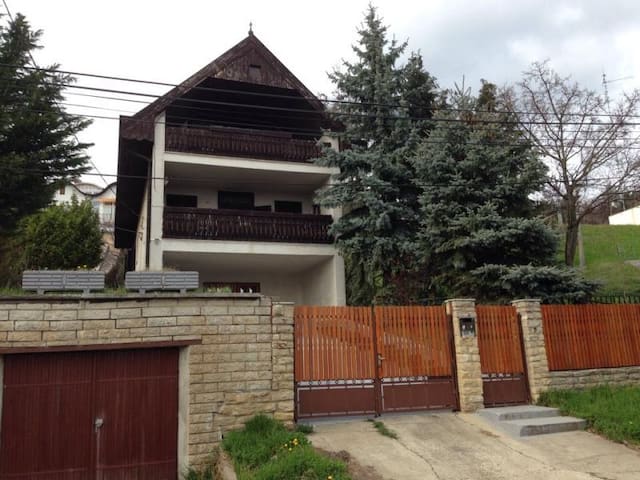 Kitünő szálláshely a városba látogatóknak. Igényes szobák,jó közlekedés a közösségi eszközökkel:METRO,villamos,busz,troli Városliget kapujában a Hősöktere,a a Széchenyi fürdő,állatkert, nagycirkusz,Gundel,V ajdahunyad. A metróval 14 perc a Váci
ブダペスト, ブダペスト, ハンガリー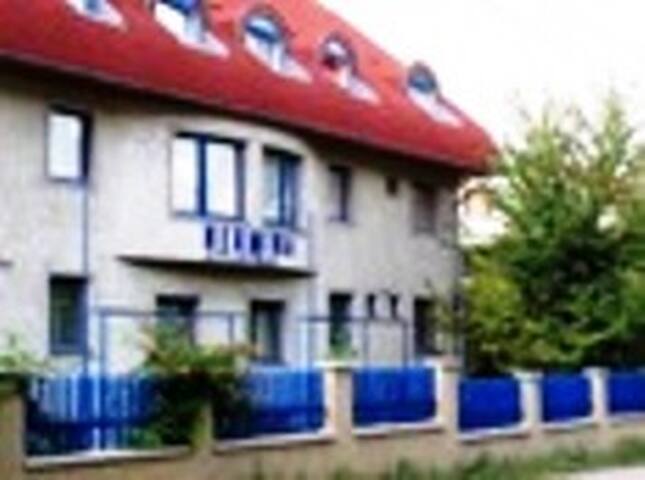 Szentendre - Airbnb
:
平均星

4.79

つ/

5

つ星・ゲストレビュー

197

件
日付を入力すると合計金額が表示されます(税・サービス料別)。