south Sydney. train line one hour into city, or 25 minute drive to fantastic beaches. Fill our empty nest. Dawn chorus of Kookaburras likely. Bush walks from front door. Double bed and ensuite, or single rooms and bathroom. Good location for visiting the Royal National Park.
Was made feel most welcome, did not want for anything. Was on a work trip stay was just perfect, would highly recommend and definitely be back if working close by again. Thanks Heather
Kath
2016-10-10T00:00:00Z
Great space in a quiet area. Heather was a great host with a very helpful and kind personality.
Catherine
2017-01-29T00:00:00Z
Heather was a lovely host and made our quick stay a very memorable one! The ensuite was clean and spacious and also had an antique piano to boot! The house was beautiful and the breakfast was delicious. Thank you for the hospitality Heather! Highly recommended.
Belinda
2016-10-02T00:00:00Z
Very convenient position and made to feel very welcome for our stay of 4 nights
Denise
2016-08-20T00:00:00Z
Heather was a very gracious and accommodating host and provided a fantastic breakfast. The room was beautiful and immaculate. Great location. Would definitely recommend.
Lauren
2016-11-11T00:00:00Z
Highly recommended. Beautifully presented. All I needed was a place to put my head for the night and was happy to just have a coffee available in the morning, but Heather left me a place set at the table with a choice of treats for breakfast. I wish I'd taken a photo but my phone was flat. Thank you.
Peta
2016-12-18T00:00:00Z
Heather has a beautiful home and was a very gracious host. The room was very spacious with large windows that looked out to the garden. Ensuite was clean and well presented. Heather served a beautiful breakfast and were very helpful with our days plans around the royal national park. We would highly recommend Heather and Davids home and hospitality. Thank you very much.
Rochelle
2016-10-29T00:00:00Z
Heather was very accommodating and flexible with our late arrival time, which was very helpful to us. The room was spacious, tidy, and very comfortable, with leafy views from floor to ceiling windows. Breakfast was easy and beautifully presented, and greatly appreciated!
Saxon
2016-10-30T00:00:00Z
部屋タイプ
個室
---
建物タイプ
B&B/民宿/ペンション
---
定員
2
---
寝室
Heathcote, ニューサウスウェールズ, オーストラリア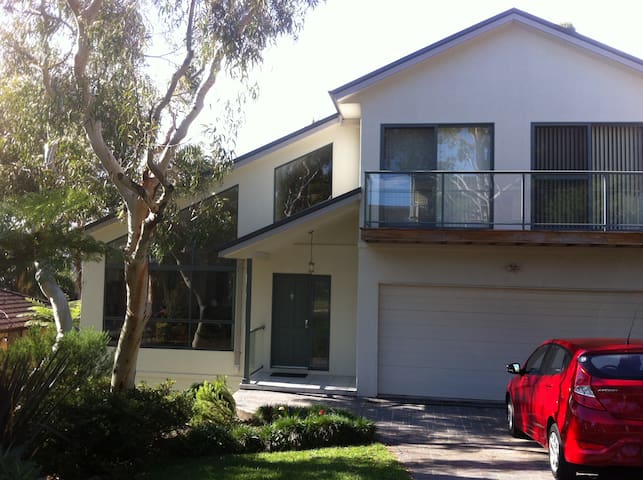 Light, airy, large studio with full kitchen and living area looking over deck and grassy area to a National Park. Outdoor fire pit and seating. We are adjacent to the Royal National and Heathcote National Parks and 15 min walk to Waterfall train station. A 20 minute drive will take you to the beach.
部屋タイプ
まるまる貸切
---
建物タイプ
B&B/民宿/ペンション
---
定員
3
---
寝室
Waterfall, ニューサウスウェールズ, オーストラリア
Waterfall in Sutherland Shire, Royal National Park , a small community on the edge of Greater Sydney. Great stopover on your way to a more distant destination. You have your own Toilet and bathroom. We accept one night stays and welcome people from all backgrounds and walks of life. Driving distance to wonderful beaches and picnic spots and bush sightseeing such as Figure 8 Pool, Eagle Rock on the Coastal Track and the Wedding Cake Rock. We will consider longer stays.
The room comfortably sleeps 2 people in a Queen Size bed. There is a double mirrored wardrobe with lots of hanging space and drawers. Night tables with reading lamps. Should you have a 3rd person, we can rig up a bed in the lounge room.
Waterfall is a small community, 42 km from Sydney CBD - nestled in Royal National Park but within easy reach of shopping and only 55 mins from city. It has only a few streets but enough for a small morning walk. If you like walking in the bush, this is a very handy place. Nearby is a primary school, the fire brigade and one shop! - a fish and chips shop.The train station is 150 m away. Within driving distance you can find several beaches going north to Cronulla and south towards Woolongong.
We very much enjoyed our stay with Anni & Bob. They were the perfect hosts-welcoming, friendly & with plenty of information about the surrounding area. As they are both into fitness, they were also able to advise us on several decent runs in the area & we also used Anni's mini gym! The room was very clean & quiet. Thank you, Jess & Jim
Jim and Jessica
2015-03-30T00:00:00Z
We made a booking just before a hasty departure, and were lucky that Anni responded straight away with a friendly welcome. We chose the location as an easy stopover, not far off the highway, allowing us to avoid city-bound traffic as we continued south the next morning. The house and garden looked inviting, comfortable and colourful. Anni and Bob were easy-going, companionable hosts who had a drink and chat with us as we had our own late dinner. Our bedroom and bathroom were attractive, clean and very comfy; our breakfast was lovely too. We had handy undercover parking. So even though we couldn't enjoy the bush, surf or nearby train, it was the perfect stopover for us and we'd happily stay there again.
Lesley
2014-10-13T00:00:00Z
Anni & Bob are great to stay with. Welcoming, accommodating, and with interesting conversations to have. Happy to chat over coffee or a meal, and just as happy to leave you to yourself. The room and bathroom were super-clean & comfortable. It really felt like staying with family. The location is very convenient. The train station is only a few minutes walk away, and you can be in the middle of Sydney in an hour. Not bad for an area which is also very quiet & relaxing. I couldn't recommend them highly enough.
Ivan
2014-10-31T00:00:00Z
Anni our host was very welcoming, considerate and helpful. The rooms were comfortable and clean. We enjoyed our first AirBnb experience. The Train station was conveniently situated but not so close as to disturb. Good location. Beautiful vista from the lounge room Thank you
Marita
2015-10-31T00:00:00Z
Anni and Bob were amazing hosts. Our drive to their home was delayed due to weather and Anni stayed up late to great us with a smile! Their home is so cute and comfortable. We loved the retro style. Breakfast was yummy and Bob's stories of his running Marathon's were inspiring. We would definitely stay again. Thank you for making us feel so welcome Anni and Bob! Take care!
Celine and Ken
2016-01-23T00:00:00Z
Staying with Anni and Bob was a delight. We felt very welcome the whole time. We enjoyed everything about our one night stay. The location was perfect for our visit to the Royal National Park, and Anni's communication and understanding beforehand made our stay very smooth. We were off very early in the morning, so Anni organised a delicious breakfast for us which she prepared the night before. It was also so great to meet Bob, and hear about his legendary marathon accomplishments! Comfortable clean bed, a spotless bathroom, bottled water and very well kept house. Definitely recommend! :)
Leah
2016-01-16T00:00:00Z
Anni's place was superb, and Anni was the perfect host!
Hilton
2015-09-20T00:00:00Z
Anni and Bob were wonderful hosts. She kindly had a wonderful homemade pumpkin soup ready for us. We had a great visit with them. The room and bath were great, nice and clean. They had good info in getting to the Sydney airport. We would definitely stay with them again. Easy drive to the airport, even during morning rush hour. Lovely home.
Jeri
2014-11-25T00:00:00Z
Waterfall, ニューサウスウェールズ, オーストラリア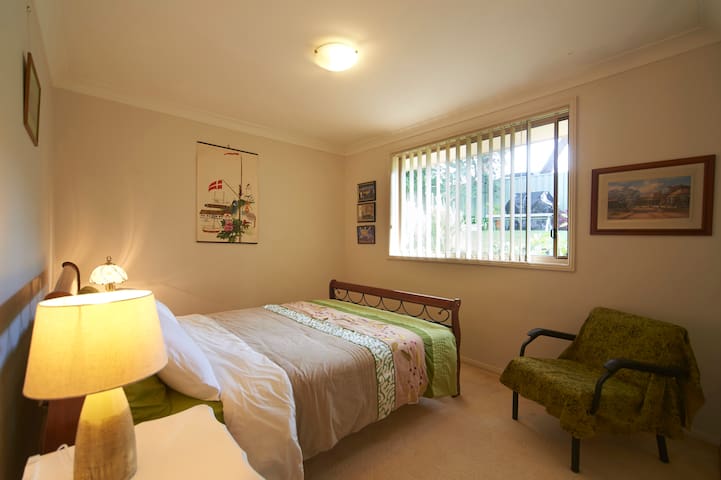 My place is close to beaches, National Parks, and train to city. You'll love my place because of bushwalks from front door, quiet street, 12 minute walk to train. Two single rooms and large bathroom.
Lovely home, welcoming guests. I stayed for ten days and Heather and David made me feel welcome the entire time, including inviting me out to Saturday night dinner with friends. Heathcote is a great location for seeing royal national park. With no shortage of hiking trails. The restaurants in town were not numerous, but we're all excellent: Thai, Chinese, fish chips.
Clifford
2016-11-17T00:00:00Z
Great place. Central but quiet. Breakfast included. Very friendly hosts.
Anthony
2016-12-30T00:00:00Z
Lovely stay if you don't mind not being in the family home with no private entrance. Super breakfast which I didn't realize was included. Heather is lovely and very accommodating and clearly proud of her lovely home.
Dee
2017-03-19T00:00:00Z
Absolutely great! Quiet location, nice spacious room, lovely hosts. And Heather's breakfast gonna make your day! Thank you Heather and David!
Martin
2016-11-05T00:00:00Z
Heather is a great host and offered us a very clean and comfortable home. We had a great time at the national park since Heather and David recommended just the right hiking trails for us. Thanks for making our stay so comfortable!
Andrea
2016-11-19T00:00:00Z
Heather was the perfect host. Made to feel very welcome and to feel at home. Accommodation was great. Easy to find and lovely quiet street. Definitely recommend staying with Heather.
Lorraine
2016-10-01T00:00:00Z
Heathcote, ニューサウスウェールズ, オーストラリア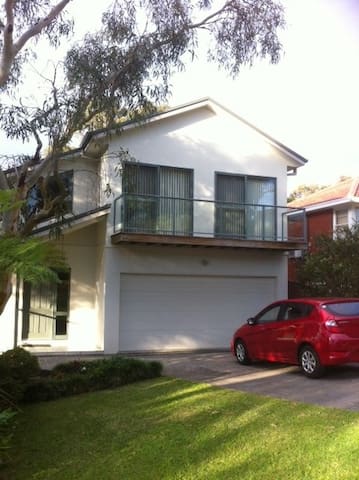 Our place is surrounded by the stunning national parks, beaches, family-friendly activities, nightlife, public transport, and the airport. You'll love my place because of the neighbourhood, the light, the comfy bed, the kitchen, and the cosiness. My place is good for couples, solo adventurers, and families (with kids).
Very homely with great airflow in summer and cozy feel at night and in winter. Great views and beautiful surrounding bush land and valleys.
Quiet, friendly, close to amenities and parks.
The host canceled this reservation 133 days before arrival. This is an automated posting.
Franc
2016-10-24T00:00:00Z
Heathcote, ニューサウスウェールズ, オーストラリア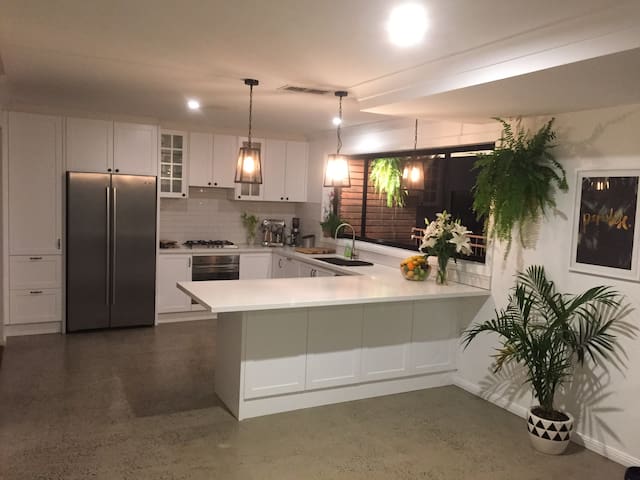 Royal National Park - Airbnb
:
平均星

4.88

つ/

5

つ星・ゲストレビュー

80

件
日付を入力すると合計金額が表示されます(税・サービス料別)。