Rosemount Farm sits 7 klms from Maroochydore Plaza, 10 minutes from Maroochydore Airport, 10 minutes from the Highway and the sunshine motor way with just as quick access to to the beach. The property is located on the rural backdrop of Rosemount for the serenity and laidback surroundings. Attached to the property is GURU life restaurant and coffee shop with open air dining situated over the properties Dam surrounded by a picturesque wildlife setting
The open plan room is designed to feel free when you're in it. Large areas of glass with reflective tinting(you can see out they can't see in) surround the wet area/bathroom so no matter where you are in the room you feel like you're outside. THe room is airconditioned as well as plenty of fresh air through the louvers/windows and doors. It has all the modern technology for sound and visual with 55in screen, SONOS sound and Bose speaker dock. There is a fridge for all your cooling needs. The wet area has a large bath with a view and an open shower if you're in a hurry. The property was set up for the sports minded and has 2 x 6"6 mini mals available for use as well as 2 x road racers and 2 x cross country bikes(supply your own helmut). The GYM is fully equipped for all levels of gym users. We are all about stress free and healthy lifestyle. The property is full of wildlife, the cafe has the great food and the coffee to match so you don't need to go far when you get that craving. Everything is close but not too close, country living with city needs
Rosemount, クインズランド, オーストラリア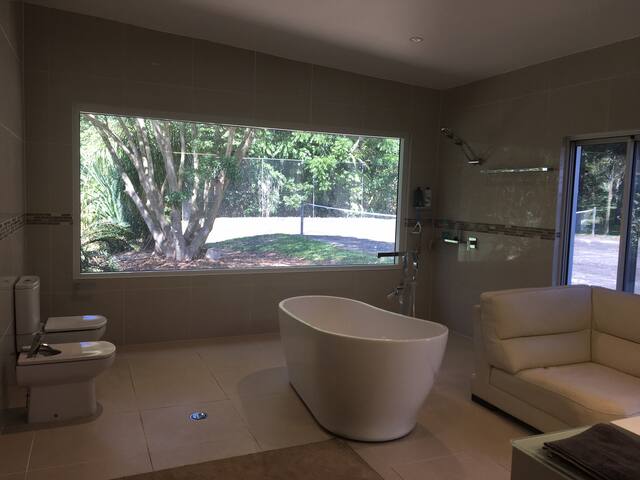 Let bird songs transport you in this 2bdr, 1bath self-contained, attached granny flat. Nestled on our tropical 1 1/2 acres in the quiet suburb of Rosemount, you will have access to our pool, winding garden paths, and outdoor areas with BBQ and fire pit. Your perfect weekend getaway.
Our 2 bedroom, 1 bathroom granny flat is attached to the far end of our main home. You will be able to enjoy your own private kitchen, indoor dining area, lounge, and sleeping/ bathing space, while still having your hosts close by for advice or just a chat about your travels. This property is perfect for lovers of flora and fauna, with daily visits from local bird life, possums, flying foxes, lizards and the occasional echidna! Enjoy a stroll though our winding garden paths, featuring our collection of bromeliads, orchids, azaleas and palms. In the warmers months, take a dip in our in-ground pool or soak up the sun on the deck. In the winter, snuggling up by the fire pit with a glass of wine or hot coco. Bliss!
When you wake up to the birds and rustling palm trees in Rosemount, you would never believe you are only 5 mins to Nambour and 15 mins to Maroochydore. Enjoy busy day trips to Mooloolaba and Noosa and then slip back into your cosy flat in time for sunset over the hills.
The host was very personable and helpful. The unit was roomy, very attractive, very clean and tidy, comfortable and well stocked with supplies. It is in a lovely setting. Above our expectations and was a very pleasant stay. Would highly recommend Shari and Tom's place to everyone
Janice
2016-10-08T00:00:00Z
Shari was a lovely host and very friendly. Check in was very easy. Her place is beautiful to stay at, great gardens, pool and house. Would stay here again. Thanks again Shari
Penny
2017-03-19T00:00:00Z
We loved our stay at Shari and Tom's place. We have two young children and thought after the drive up from Brisbane they would appreciate being settled, as we arrived early Shari arranged for easy entry to the apartment. We were pleasantly surprised at how spacious the apartment was. After a few days of take-away it was fantastic to be able to cook our own meals in the well appointed kitchen. The pool was absolutely lovely and my Melbournian partner and kids jumped in for a dip! There is a great cafe/coffee roaster nearby (GURU life) and my partner brought home some coffee and raves about how delicious the coffee is. The surrounds are fantastic and it feels really secluded with the comforts of 'civilisation' nearby. We wished we stayed for longer than 2 nights and if we are in the area again we would definitely stay at Shari and Tom's again.
Janya
2016-09-20T00:00:00Z
It was a good place for our holidays ! Quiet and beautiful !
Marie
2017-04-04T00:00:00Z
Shari is a lovely host. She made us feel like family. The location is so beautiful and quiet. It's like having your very own piece of paradise. The apartment is very well set up and Shari has thought of everything you would possibly need.
Christine
2016-09-26T00:00:00Z
We loved our stay. The flat is very spacious & comfortable & clean. The bed was soo comfy with really nice linen, had a great sleep.
Teagan
2016-07-31T00:00:00Z
Shari and Tom made us feel very welcome in their amazing home. The rooms are spacious and comfy, the garden and pool area are beautiful, we just wish we could have stayed longer!
Juliette
2016-10-30T00:00:00Z
Thanks for a relaxing place to stay whilst I was working locally. All the comforts needed were there with plenty of space and a great bed. I will stay again.
James
2016-08-26T00:00:00Z
Rosemount, クインズランド, オーストラリア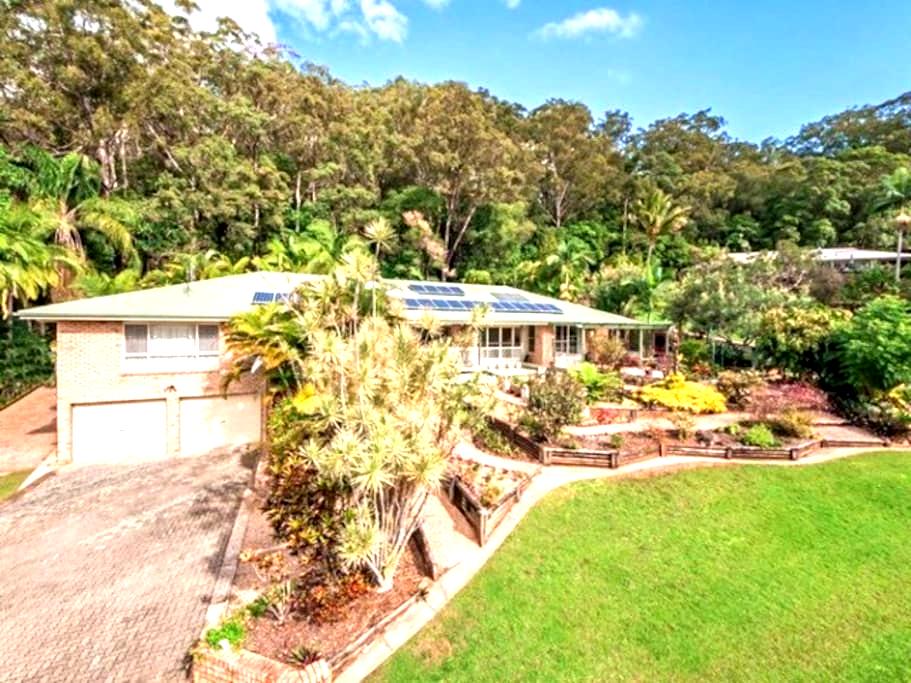 Spacious, self-contained accommodation with open plan living & outdoor bbq space; 2 bed; 1 bath and a kitchenette. Insulated, modern & comfortable. Located close enough to hosts for local knowledge but far enough if the aim is to chill. A great base for sporting events or an escape for couples or small groups. 15 mins to airport, beaches, Ocean St restaurants/shops and 5 mins to quality coffee/cafe, fruit and veg. Suitable for guests with their own transport.
Set back from the road, our property feels like an escape from the moment you turn off the street and wind your way through the trees to the accommodation. By day you see the wide green valley and by night, a big sky, most often full of stars. The 2 bed, 1 bathroom + kitchenette accommodation allows for a largely self-sufficient stay (although hand wash laundry only). It is a large, light and comfortable space. We provide the essentials: linen, towels, basic cooking supplies (salt, pepper, oil); and breakfast basics.
This is a safe rural-residential suburb, situated between the coast and the hinterland. Lovely expansive, green valley views and sparse housing yet the neighbourhood has one of the Coast's best coffee roasters/cafes as well as the freshest fruit and veg market. During the day explore the beautiful beaches and rivers, local markets, hinterland drives and shops. At night our place is best enjoyed by cooking on the BBQ, piping some music through the outside speakers, playing one of the many board games, telling tall tales by the campfire or star gazing. Great restaurants, music venues and cinemas are all 15mins by car - for the not so stay-at-homers.
Had a nice and comfortable stay at the shed :) Fresh bread, fruits and clean environment put us at ease instantly. So relaxing after a long tiring drive. Wonderful scenery around and spacious well planned interiors - could not have asked for more! The best part is your wonderful smile! You reach out to the people in a friendly manner. Would love to visit this place again and again! I would definitely recommend to our friends who come this way. Thank you so much... The words fail us to express our gratitude.
Abhijit
2016-12-25T00:00:00Z
Loved the place, was cosy and a great place to use as a base for multiple activities.
Peter
2017-01-15T00:00:00Z
Aneeta and her husband were there to greet us right when we arrived. The place is very spacious. We were given wonderful bread, juice, coffee, tea, and a lot of fresh fruit for the weekend. We would definitely stay again.
Bennett Devere
2016-10-03T00:00:00Z
My family and I attended a venue just down the road from Neet"s place so the convenience for us was all too easy. We were made feel very welcome upon our arrival and the accommodation was modern, spacious and extremely clean with some thoughtful personal touches and essentials provided. Neet's property has wonderful rural views and I would highly recommend staying here. Archer and family
Archer
2016-10-29T00:00:00Z
Neet provided us with a clean, easy access home for my groomsmen to stay at. We loved the view and enjoyed relaxing to the cool breezes. Thank you!
Mathew
2017-03-31T00:00:00Z
Neet left locally made bread and milk, along with fruit and juice in the kitchen for us. She gave us hints and tips for local resturants and cafes. She let us check in a little late, which was so nice. We loved staying there, it was convenient to all the places we wanted to explore. We had a tiny baby with us, so it was important that we find a nice clean and quite place for our stay, and Neet definatly checked all the boxes.
Katrina
2017-01-07T00:00:00Z
Such a perfect place to stay for our night at the Big Pineapple. Neet was an awesome host and the house was immaculate.
Nadia
2017-01-21T00:00:00Z
Really relaxing and comfortable place to stay - we were made to feel very welcome.
Elizabeth
2017-03-25T00:00:00Z
Rosemount, クインズランド, オーストラリア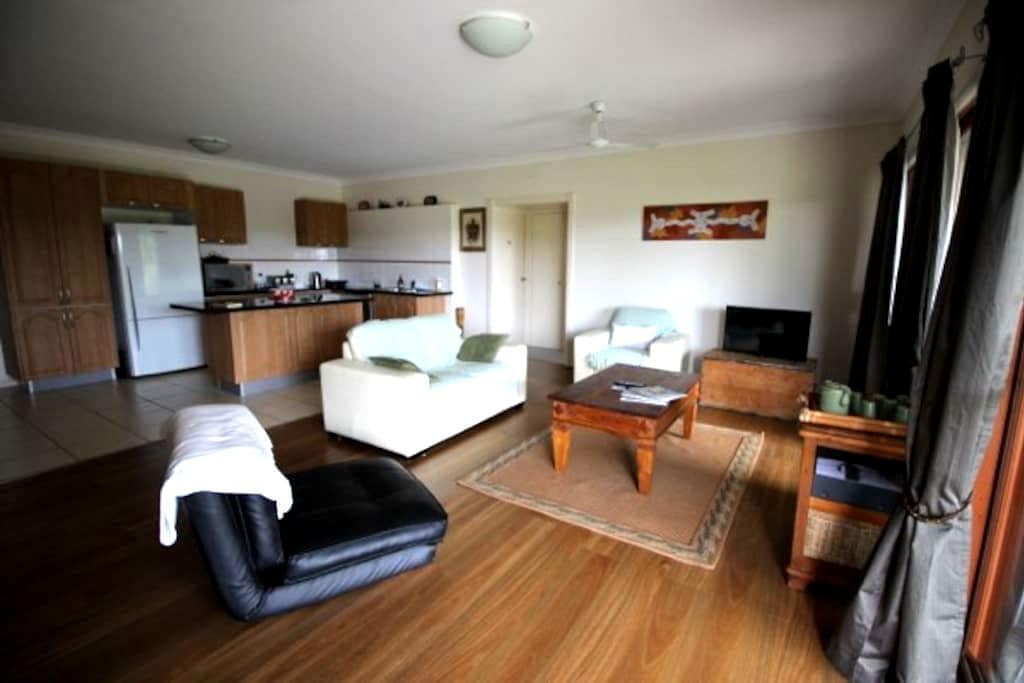 Relaxing bush setting away from the hustle and bustle but close enough to All amenities, Five mins to Nambour. train & buses, 20 to 25 mins to Mooloolabah and close to Montville, Mapelton and Maleny. close to Sunshine Coast University and Tafe.
2 Double rooms to rent with me on large acreage, 20 mins from all the best beaches in the world. rent the room , share the home and enjoy your stay, free internet. swimming pool and glorious acreage views. property has a swimming hole and waterfall as well and you can wander in bushland by freshwater creeks or head off to the beaches has own bathroom with bath and shower and toilet and dressing area
Peace and quiet , tranquility as we are on 23 acres
Great place to stay. I'm in Nambour one night a week for work at the moment and I stay here every time. It's always clean, comfortable and spacious. Kevin's a great host too - very friendly and helpful.
Kelley
2016-06-22T00:00:00Z
Kevin's place was great! Luxurious room with a super comfortable double bed (too comfortable - I just kept sleeping), warm bath for a weary traveller and more. Definitely recommended.
Emily
2016-07-18T00:00:00Z
I made a reservation for a friend, who stayed one night. I was there for check-in and also visited briefly later. The host, Kevin, made us very welcome. The house was immaculately clean and tidy, and the room and ensuite were well set up and very comfortable. My friend enjoyed his stay.
Naomi
2016-06-29T00:00:00Z
Lovely stay as always. I had to cancel at the last minute a few weeks ago and Kevin kindly gave me a complimentary night. So I stayed two nights this week for the price of one. Thanks Kevin!
Kelley
2016-08-10T00:00:00Z
Kevin's place is impeccable and very homely. Nestled in the outskirts of Nambour the location is abundant with wildlife and the rolling hills surrounding the property are stunning scenery. A day trip from Kevin's place consists of an easy drive through the hinterlands (Mapleton, Flaxton and Monteville) where there is plenty of choice for tourists and locals to enjoy. The beautiful Sunshine Coast beaches are also very handy. We really enjoyed the peace and serenity. Kevin is a diligent host who is very attentive to guests - we were very comfortable. Highly recommended.
Margi
2016-07-11T00:00:00Z
Kevin was great to stay with, very welcoming. I enjoyed having a nice bedroom and my own bathroom. Other notable positives were wifi, tv in room, was able to do a load of washing. Will stay again next time I'm in the area.
James
2016-04-12T00:00:00Z
Great place to stay, as always.
Kelley
2016-07-22T00:00:00Z
Always a great place to stay. Kevin was away this week but made arrangements for me to get into the house and contacted me to make sure I got there okay. Such a great host!
Kelley
2016-08-02T00:00:00Z
Perwillowen, クインズランド, オーストラリア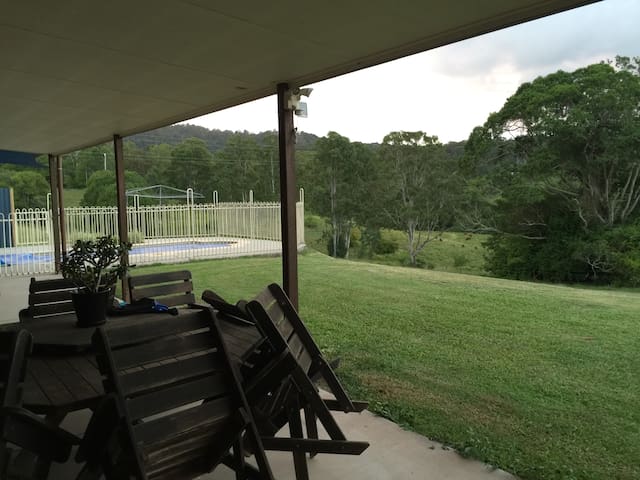 The single room is facing North which means morning sunlight. it has sunblock curtain. It faces the street and front garden, there is very little noise during night time but be aware that morning is bird wake up time! NEW: carpet has been removed all over the first storey and has been replaced with amazing timber floor.
At the heart of the Sunshine Coast in a small quiet town. The house is spacious, clean in a beautiful garden. We like to remind you that it is a house not a motel and we live here as well, please do not expect the same service as an hotel . We anticipate that you clean after yourself and look after your room like it is yours, we do the general maintenance but do not clean after you. Same for the bathroom, please clean after you. Thanks. We are closed to buses, 7 mn from Mudjimba beach, 15 mn by bus from Sunshine coast Plaza (Mall). I can pick you up from sunshine coast airport and I can book a shuttle for you from Brisbane airport. We now have bikes to lend with helmet. Each room has ceiling fan, real comfortable bed with linen and towels included. Bathroom is to be shared, toilet is separated. The house is now without any carpet, all first floor is timber and we ask our guest to take off their shoes and do not roll their suitcase please. Internet broadband via wi-fi , TV room with heaps of movies, Large kitchen and dinning room downstairs, possibility to take breakfast in garden. Parking for car available in front the house. We are a welcoming family non invasive! We like our privacy and respect yours. We have pets: 3 cats and 2 small dogs (pugs) and chicken in garden so fresh eggs! We welcome your pet if well behaved! Our price is per bedroom, one accommodate a single or a couple, the other room is only for a single. It includes fresh linen and bath towels (not for the beach). I have now put two separates booking for each room! this one is for the single room with single bed. We are used to host people since 7 years from all over the world, we love meeting new faces and share our life. The house is on the middle of the garden which reduces noises exept the large amount of birds and cicadas in summer!!! We are happy to cook if you need, and prices for dinner can be discussed, we provide teas and water and a basket of fruit is there to indulge. For longer stay, it is negotiable according to your needs....
Bli Bli is a family place, very safe. It is very green, houses looks lovely and it is a charming place to live. My neighbours are extremely quiet people but sometimes teens can have party around on the weekend and it is not predictable. we are walking distance from shopping centre with shops and restaurants. I'm happy to lend my bicycles if you are very careful with them.
Sophie was an exceptional host! It was definitely the best Air B&B experience I've had thus far. She has a beautiful home and you truly feel like it is yours while you are there. She was extremely accommodating, helpful, and had excellent advice about the area. She even let me share her meal with her. I look forward to seeing Sophie again and am thankful that I met her.
Danae
2015-10-12T00:00:00Z
Great home in a nice area. Sophie is very nice and the stay was pleasant and drama free. I would recommend to someone looking for a place in the area.
Kevin
2016-11-01T00:00:00Z
Sophie was a lovely host, and I enjoyed very much staying in her home. Right from the start I felt welcome in her home. She was very helpfull with figuring out the public transport in Bli Bli and furthermore very helpfull with sharing ideas to what to do and see in the area. The room was perfect for a short stay with a comfortable bed, a desk and closet.
Petrine
2016-07-22T00:00:00Z
This was my first airbnb experience and I am impressed. Sophie made me feel most welcome and opened her house to me. She explained the do's and don'ts, which I really appreciated. I had full access to kitchen facilities and could even use it at odd times. Due to the reasons for my visit, I was up early and home late and it was no problem for Sophie. She is a gracious and very friendly host and I recommend her place to anyone wishing to visit this area. It is close to everything and situated on a quiet street.
John
2015-06-12T00:00:00Z
Not to do any of my previous airbnb hosts any injustice, but Sophie was by far the most hospitable and welcoming of all! The house is very nice and feels a lot more like visiting friends or family at home than staying at someone's house - in my view a major difference. Not sure it needs any more description - easy going, well arranged and welcoming in a true sense.
Petar
2016-02-13T00:00:00Z
Sophie was a great host, she is super friendly and Made sure I felt at home the moment I arrived. The house is beautiful and it has lots of character, you'll wake up to kookaburras and other birds singing in the morning. I will definitely be staying with her again.
Madison
2015-08-22T00:00:00Z
Sophie was a lovely host. She had a beautiful home with lots of cats and a very adorable pug. She was understanding of me coming at going at random times of the day and night. The room was a little dusty but had such a lovely atmosphere, the bed very comfy. Thanks for a lovely stay.
Beth
2016-07-22T00:00:00Z
Thanks Sophie for sharing your home and making me feel at home.
David
2016-07-26T00:00:00Z
Bli Bli, クインズランド, オーストラリア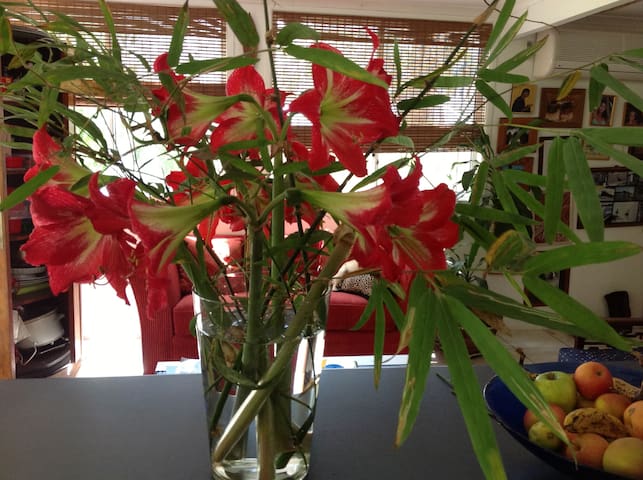 Our house is open, air conditioned and highset, overlooking the Coast from a peaceful acre of land. We are less than 10 minutes from the airport, highway and motorway, within 15 minutes of the beach or the beautiful Glasshouse Range, and no more than 30 minutes from anywhere else on the Coast (Noosa, Caloundra, Australia Zoo, etc). We are surrounded by bird life and walking and mountain bike trails, with a pool and a deck, in a peaceful, beautiful part of the Coast. Separate granny flat occupied
Ducted air conditioning throughout, highset catching sea breezes and an inground pool make this a comfortable family summer home. Separate areas throughout make it ideal for a large family or even two! The king and queen rooms are located on the first floor and the two single rooms are located on the second. Underneath the home is a separate entry granny flat that is occupied.
Great place and great host. Huge family home which comfortably provided a holiday destination for 4 adults and 4 young kids. The home is fantastic and there is heaps to do in the area. We loved the view and collecting eggs from the chickens and cooking them up for breakfast. Highly recommend.
Claire
2016-12-31T00:00:00Z
Beautiful home in a peaceful location. An easy drive to attractions and restaurants. A great experience would definitely come back.
Amber
2016-12-27T00:00:00Z
Bli Bli, クインズランド, オーストラリア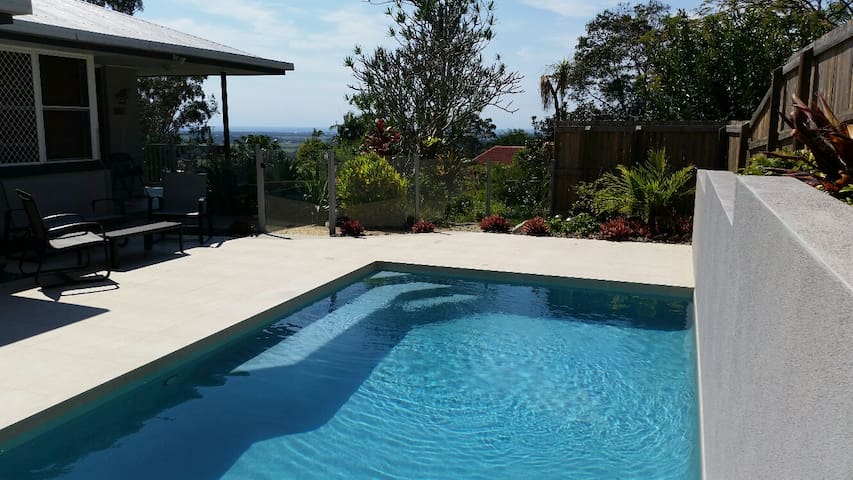 Our home is a stylish modern Queenslander. Just a few years old and in a peaceful residential location. Guests can enjoy sole use of 2 bedrooms, and their own downstairs open-plan living & kitchen area, deck, and bathroom/w.c.
Ideal for two couples with two large bedrooms available or maybe a couple of friends travelling together who want some extra space and privacy. Set up like a modern downstairs 'apartment' with guest lounge dining and kitchenette area, guest's own bathroom and WC (not shared by hosts.) Rooms are cool with high ceilings, large opening windows (with screens & blinds) and ceiling fans. There is a lovely big deck outside. Both bedrooms have comfy queen size beds and large built-in robes. The bathroom has a large shower, vanity unit, and a separate laundry tub in cupboard. Separate WC. (Washing machine upstairs, laundry on request.) The kitchenette features a new fridge freezer, compact microwave, crockery cutlery glassware, hotplate, etc for you to use. On the deck is a new gas BBQ. There's a decent shopping area just three minutes drive away to stock up the fridge. Our home is modern and clean and with stylish solid wood furniture. Most electrical equipment provided is new or less than three years old. Located in a quiet elevated position with bushland close by, we catch cooling breezes, and you can wake up to hear beautiful native birdsong, away from busy traffic and noise pollution. See lovely sunsets across the ridges. See glittering stars in clear night skies away from light pollution. We invite you to just relax and unwind here.
Bli Bli is a developing area popular with families, we are located in a great spot, in a lovely quiet residential street with bushland surrounding and abundant bird life to enjoy. It is just a ten minute drive to the nearest Beach Mudjimba. Same distance from the airport too. Coolum, Yaroomba, Marcoola, North Shore, Mudjimba, Maroochydore, Alex Heads, Mooloolaba all are an easy drive. Midway between the Sunshine Motorway to drive up to Noosa or down to Caloundra or the M1 Motorway from Brisbane or northern cities. Locally are walks and tracks for nature lovers, and a little coffee shop / take-away, and bottleshop both within easy walking distance. The main IGA 'River Markets' shopping area is just three minutes drive away, with very good local everyday shopping facilities. There is the Maroochy river for water activities (boating and fishing) the wetlands nature reserve, stunning beaches and coastline from Noosa to Caloundra within easy reach. Get a 'retail therapy' fix in shopping and dining and cinema Sunshine Plaza / Ocean Street at Maroochydore approx 12 minutes drive. Noosa is approx 30 minutes drive north, Caloundra approx 30 minutes drive south. Excellent new Golf course here at Bli Bli, also one at Twin Waters, and at Coolum. Popular artisan markets are at Eumundi, each Weds and Sat, and the creative and picturesque hinterland towns of Maleny, Montville & Mapleton are an easy drive away. Bli Bli is central on the coast and a great spot to base yourself in to explore this region.
If you stay here, you will not regret it! 5 star accommodation - spacious bathroom, excellent kitchen and very comfortable beds!
Gabriel
2017-02-18T00:00:00Z
Fantastic stay - clean, spacious, tasteful, hosts were welcoming Perfect base to explore the beaches and hinterlands. Close to shops and restaurants Will be happy to come again
Robyn
2017-03-26T00:00:00Z
I can highly recommend this place! The house was lovely, spotlessly clean and there was so much room. Everything you needed was there. Fabulous Bbq area and a large living/kitchen area. The bed was really comfortable too! Such a beautiful and peaceful location. The hosts were so accommodating and hospitable. I was made to feel so welcome and nothing was too much trouble. I also had total privacy, with an occasional visit from their lovely shy dog Fred. The location was perfect, plenty of shops, cafés and restaurants nearby and only a short scenic drive to Noosa and surrounding areas. I can't wait to go back next time. Perfect place to relax!
Vicky
2017-03-11T00:00:00Z
The place is extremely clean and comfortable. Mark and David were wonderful and kind. We enjoyed everything there and definitely will visit again when we go there.
Tiffany
2017-02-24T00:00:00Z
We had a fantastic stay at Mark and Davids place! They were both so welcoming and friendly and thought of all the little things to make our stay comfortable & luxurious. Mark really went to extra mile and left us bacon and eggs for breakfast which we cooked on a fantastic BBQ! You have the entire lower floor to your self with kitchen & bathroom which was amazing like a 2 bed apartment! The place is so clean and beautiful! Thanks for having us guys we would recommend to anybody and would have loved to stay longer! Also great location close to the town and beach!
Joseph
2017-02-16T00:00:00Z
Bli Bli, クインズランド, オーストラリア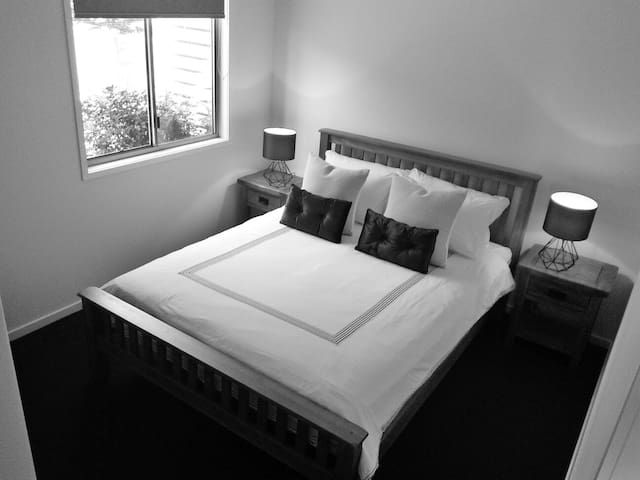 Wake to birds singing. Treetop outlook house with 3 rooms that open on to peaceful veranda. Beautiful wooden floors throughout house. Friendly and inviting home. 10 min drive to the beach, approx 30 mins drive to Noosa.
The bedroom with the queen-size bed opens on to the veranda and has a very restful view of green trees. The sound of the rustling leaves and chimes is very soothing. The veranda has an egg-chair and daybed to chill out in. There is also a couple of tables and chairs to sit and enjoy your meals and snacks. The smaller bedroom has a single bed and the room has a window that has an outlook of trees. There are plenty of books to read. Each room has a ceiling fan.
Bli Bli shopping centre is about 3mins drive from my house. There is a supermaket, Pharmacy, Doctor Surgery, Dental Surgery, Thai Restaurant, Pizzeria, 2 cafes, Sushibar, Post Office and other assorted shops. Maroochy Golf Club and course is also nearby. Eumundi where the famous markets are held is only about 20mins away. There are also the Yandina produce markets not too far away. Beautiful countryside surrounds Bli Bli. Nambour Hospital is about 20mins away. Mudjimba Beach is about 10mins away and Marcoola Beach pretty much the same. I am close to 2 motorways. Noosa Beach, Maroochydore and Mooloolaba have some great restaurants, cafes and nightspots.
Faye Marie is a lovely, caring person and made us feel very welcome. We loved staying there and hope to be back next year! We loved Henda the dog and Rudey the cat and cant wait to see them again!
carolyn
2016-07-14T00:00:00Z
Both Faye and her very friendly staffy gave us a very enthusiastic welcome. We were given a thorough introduction to the house and made to feel at home, shown spaces to keep groceries etc. The neighbourhood was nice and quiet, and we enjoyed sitting out on the deck during the evenings, for a bit of quiet and refreshing night air. Otherwise we were mostly out of the house enjoying the Sunshine Coast despite the overcast whether. Make sure you bring anti-histamines if you have any cat or dog allergies!
Sarah
2016-02-15T00:00:00Z
We had a wonderful stay with Faye Marie, everything was as we expected and more. Our room was light and airy, the bed really comfortable and bathroom facilities were really clean. Kitchen facilities were great too and we spent our time in the evenings watching tv and having quite a few laughs along the way. Would highly recommend Faye Marie´s to anyone wanting to stay in or around the Bli Bli area.
Sandi
2016-08-05T00:00:00Z
We had two great nights at Faye Marie's place. She made us feel very welcome from the first minute we met her and showed us everything in her really tidy and comfortable house. She even cooked a delicious dinner for us on both evenings, thank you again! Faye Marie is a lovely host and her dog and the cat an absolute delight :) We would highly recommend staying with her!
Sabrina
2016-02-22T00:00:00Z
We had a fantastic time at Faye's house. Her dog Kenda and Rudy the cat were very friendly! Faye was a very lovely host, we had very interesting talks sometimes with coffee, smoothie or strudel! She also gave us advice about places to visit. Staying with her is highly recommended! Thanks for everything, Faye!
Vanessa
2016-10-06T00:00:00Z
the apartment was amazing marie was really friendly
Lisa
2017-03-19T00:00:00Z
ohhhh...i missed Faye and the babies ( cat and dog ) already. i had a lovely time with Faye, who is a really nice person with positive attitudes, especially the nice life style. we had nice communications during my stay, like an pair of old friends. travel from Noosa, not actually far away to Faye's house, so will go back again if i can and her house is vacant. Haha! Eleven~~~~~
Lingyang
2017-01-06T00:00:00Z
Faye is a super friendly, easy going and welcoming host. She is always helpful if you have some questions. The House and the room are very clean. And if you want to see a dog with cat-like behavior this is the place to be ;-). I really liked all the bird and animal sounds in my room when sleeping with a open window (if you want), which happens due to the fact that her home is surrounded by many trees. Her place is marvelous, I enjoyed my stay and would visit her again.
Kai
2016-12-21T00:00:00Z
Bli Bli, クインズランド, オーストラリア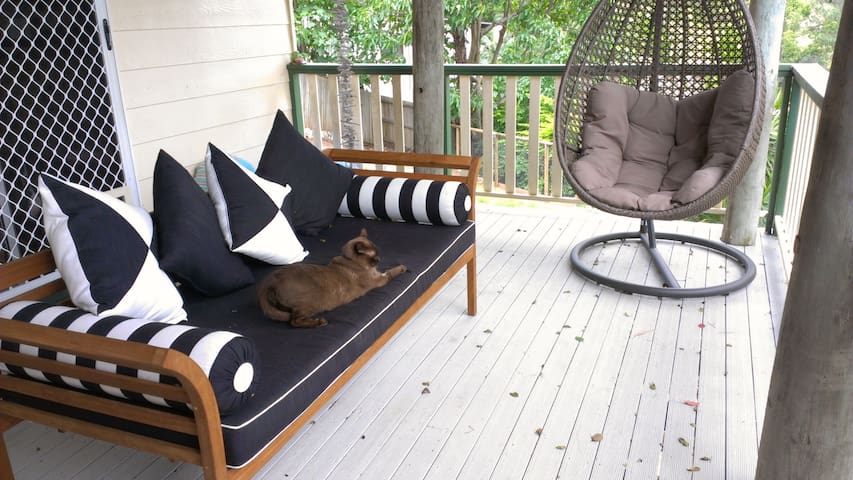 Our relaxing private studio apartment comfortably sleeps 2 adults and up to 2 children on a queen bed and sofa bed set up. It is situated in an extremely quiet neighbourhood with all properties set on 5 acres. Stunning hinterland views give the studio a coastal yet country feel. The property is abundant with bird life and native plants.
Both country and coastal feel. Relaxing private space to spend a few days or a week. The studio is cozy and has been decorated with modern interior. It is located below our family home so has own private access to guests. Guests also have their own deck which catches ocean breezes from the east. This is a great area which includes comfy outdoor couch, table and chairs and BBQ. It is fully self contained with queen bed and a sofa bed available for children. We also can set up a cot if needed for young children. There are a large amount of native birds attracted to the property. Lovely gardens to enjoy and explore . We want to share the beauty of this area and property to travellers who are here for work or recreation.
Quiet country and coastal feel. Convenient drive to beaches, shopping and only 10 minutes to airport. Mudjimba is our local beach and just 10 minutes drive away. Noosa Heads 30minutes, Mooloolaba 20 minutes. Very central to all Sunshine Coast attractions. Spectacular sunsets and sunrises for you to enjoy from this self contained studio.
Everything was wonderful. Beautiful property with a wonderful host. Thanks a lot for a local's insight into the area :-)
Michelle
2016-12-01T00:00:00Z
Great spot, nice room and awesome hosts. Our kids loved the space and its only a short drive to the beach. We would highly recommend it.
Angus
2016-11-06T00:00:00Z
We had a lovely stay at Alex and Elliot's place. The space is just like the pictures; very cosy, spacious and clean. We arrived early evening after a tour on Fraser Island so the late check out (4pm) was perfect for us, it meant we could enjoy the space (the bed is super comfy) and relax. We enjoyed breakfast outside on the terrace and chatted to Elliot who was doing some work around the grounds - which is beautiful and so peaceful. We also had a swim after breakfast in their pool. It's like a retreat here. We wish we could of stayed longer!
Adam
2016-11-04T00:00:00Z
A beautiful spot to stay with a very welcoming family. Private and relaxing. Highly recommended :-)
Michelle
2017-02-23T00:00:00Z
A+, highly recommended!
Jessica
2016-10-30T00:00:00Z
The host was very welcoming. On arrival they introduced us with Disel the dog, the chickens, the landscape, the swimming pool. The hosts were very friendly. We had barbecue together looking over the mountains and Sunshine Coast shoreline. We all loved to be there.
Newaz Khoshbu
2016-12-04T00:00:00Z
Alex's place in a word is awesome. Close to the Sunshine Coast airport if you need it, well appointed unit that has everything you need including Internet. The views to the ocean are amazing, great sunrises and sunsets and incredible bird life. The two dogs are super friendly, especially the staffy, Luna. You need a car, but if you've got one you have access to everything on the Sunshine Coast. Finally, Alex and Elliot go out of their way to be great hosts.
Roger
2017-01-27T00:00:00Z
Alex and Elliot were lovely hosts for my week long stay. It was a pleasure staying in their studio space which has a comfortable bed, good kitchen facilities and ensuite. My daughters and I liked having use of the pool and exploring the acreage. Close to the shops at Bli Bli and airport and only a short drive to Maroochydore and a number of beaches. Great value and would highly recommend Alex and Elliot's place to stay.
Glenn
2016-12-16T00:00:00Z
Bli Bli, クインズランド, オーストラリア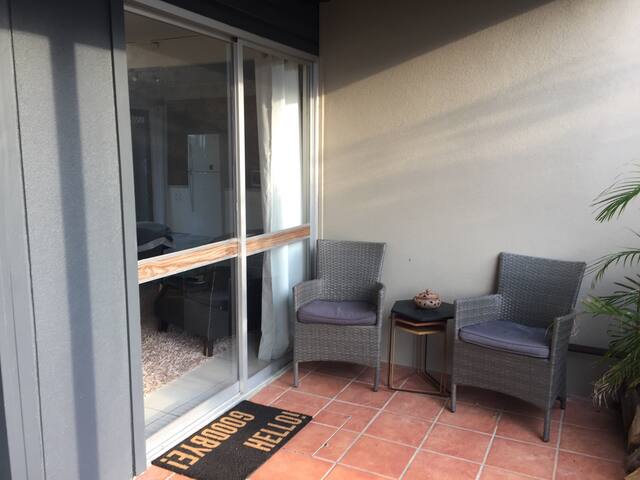 Netflix and chill here, this beautiful spacious private room in a new home with a pool is for you. You'll have your own bathroom, toilet and use of the kitchen facilities at your own leisure. We are close to the beautiful Mudjimba beach, and a short drive to plaza.
Bedroom is at the end of the house so plenty of space for privacy. Has TV with Netflix set up, full use of pool that over looks bushland as well.
It's new and there is a wetlands walk across the road, close to soccer fields and a basketball hoop in the park across the road. Central to Coolum, Maroochydore, Yandina, Mudjimba. Very close to the beach, bus stops, bli bli water park. Bottle shop 5 minute walk away, so many places to go and see as our place is very central to everywhere.
This is a fantastic place to stay! Nic and Jamie are very friendly and easy going wonderful hosts. I felt right at home there and would highly recommend it to anyone. I will definitely be staying there again. Thanks for a great night. 10/10
Griffin
2017-03-28T00:00:00Z
Lovely quiet location central Sunshine Coast yet just minutes away from Maroochydore, Mooloolaba, Coolum and Airport. Nic and Jamie were terrific hosts and went out of their way to ensure that we enjoyed our stay.
Bill
2016-11-26T00:00:00Z
Bli Bli, クインズランド, オーストラリア
Bli Bli is excellently placed for access to all parts of the Sunshine Coast and Brisbane is only a short drive away. My home is accommodation for guests from all backgrounds.
Bli Bli, クインズランド, オーストラリア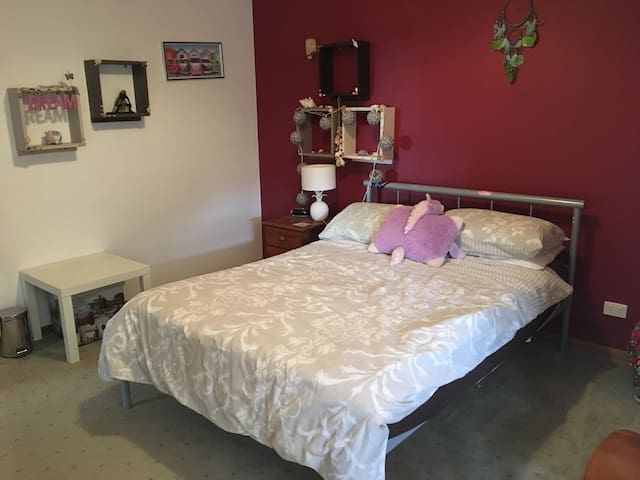 The top floor of our home is available with a shared front entry. Barry and Stefi live downstairs and will be home. We back onto a canal and are minutes away from the beach, airport, and new boat launch ramp. The bed sitter has a balcony overlooking the canal with a bar fridge, microwave and kettle. Available downstairs upon request is a laundry, kitchen, pool, pool table and BBQ. Small dogs welcome. Two additional private queen bedrooms upstairs. WiFi and ethernet internet.
Our space is well suited for families or couples. The street will easily park a few cars or trailers etc. One of the great benefits is it is an ideal location for dog lovers, the pathways over and around the canals and the dog friendly beach make it a holiday for them as well. The new Nojoor road boat ramp enables easy access to the Maroochy river and of course you can fish from our deck if you wish. The local beach has cafes and a surf club, with a tavern closeby. We have some adult bicycles available on application; the pathways extend to Coolum beach and over the river south to Maroochydore. You can bring your kayak/stand up paddle board for perfect flatwater paddling; direct access from the house.
Large open spaces with walking paths along canals and over the lagoon. The homes were established 20 years ago on large blocks with parks and open spaces. The kids can play soccer across the road.
Twin Waters, クインズランド, オーストラリア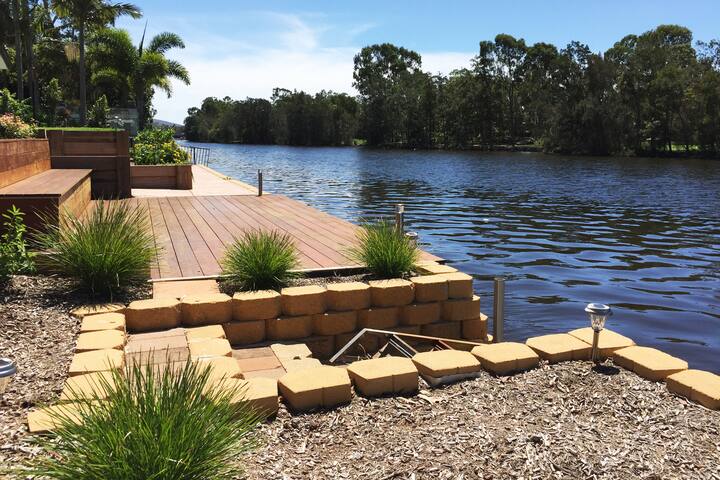 Stay in one or two beautiful bedrooms in a brand new home only metres from the beach. The home has a pool. Continental breakfast will be provided if required. Restaurants are within walking distance.
The private rooms are at the other end of the house to the hosts. So privacy is a premium. The two bedrooms have their own bathroom, bath and shower and beside it is the toilet which has a hand basin. More......
A beautiful, quiet neighbourhood, yet close to everything needed for your holiday. The Sunshine Plaza is only 12 mins away. As you sleep you can hear the lovely sound of the waves in the distance.
We loved the place as well as the hosts ! Thank you for having us:)
Daria
2016-10-10T00:00:00Z
Sehr schönes großes komfortables Haus. Nette und familienfreundliche Gastgeber. Danke!!
Maria
2017-03-13T00:00:00Z
Chris and family were amazing hosts, paid attention to detail and made us feel very welcome, in their beautiful new home on the Sunshine Coast. The room was very clean and tidy, and the facilities were amazing! The location is perfect, close to Mt Coolum, and the beaches, and 5 mins drive to all of the shops for anything you could need. They also had a large entertainment area - we chose to stay cosy in the room and watch a DVD for Valentines weekend. Thank you so much!
Sam
2016-02-14T00:00:00Z
Quiet and restful stay in immaculate accommodation. Great pool to cool off in. Highly recommended!
Karl
2017-02-11T00:00:00Z
Extremely clean house, located a very short walk from a magnificent beach. Hosts were very welcoming and kind. I would definitely recommend staying here.
Jilska
2016-09-27T00:00:00Z
Christine and Steve made us feel so very welcome right from the onset of our stay.We were disappointed that we couldnt take advantage of the second night stay, however , we hope to return again some time in the future.Your home is so lovely, very clean and fresh and we very much enjoyed the lovely breakfast prepared for us. I would thoroughly recommend Christine and Steve's property to anyone travelling to the Coolum area.Thankyou so very much!
HELEN and BRENT
2016-10-23T00:00:00Z
Christine and Steve are the nicest, most accommodating hosts you are ever likely to meet. We instantly felt welcome in their stunning new home; and that pool- awesome!! With only a two minute walk to the beach and local shops, it was the perfect locale for the quiet, relaxing getaway we were after. Their local knowledge of the Sunshine Coast and the hinterland was indispensable for things to see and do and our occasional evening chats were great for planning activities for the following day. If, however, you are looking for a more private experience we found Christine and Steve to be very discreet and you aren't left with a feeling that you are intruding on each other's space. Mount Coolum is the ideal place to explore the 'sunny' coast; 20 minutes from Noosa, 10 minutes from Maroochydore, 5 minutes from the airport, it's quiet yet close enough for that occasional shopping 'fix'. Our only regret is that we couldn't stay longer.
Adam
2016-03-17T00:00:00Z
Accommodation was great, Christine was really helpful and pleasant. Lovely location and the swim was #1
Aden
2016-09-25T00:00:00Z
Mount Coolum, クインズランド, オーストラリア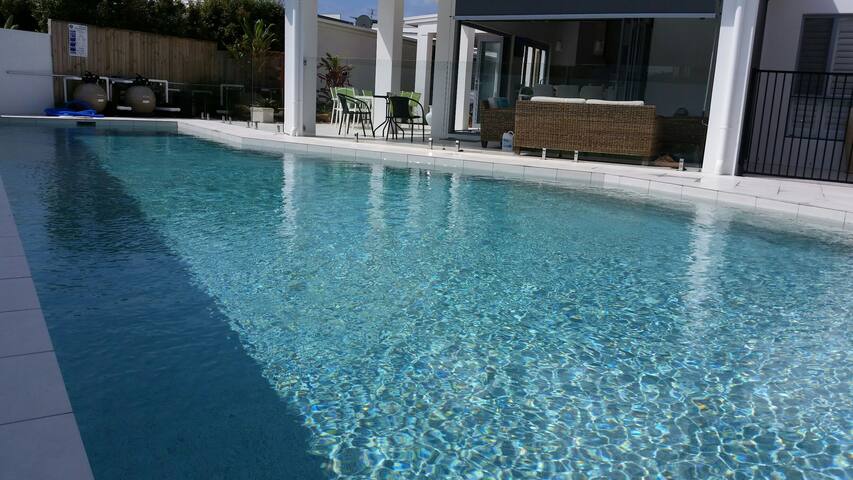 After a peaceful night sleep in a very comfortable king size bed, you wake to the sound of the waves lapping on the shore. Make yourself a morning coffee, head out the front door, down the tree shaded boardwalk and 60 seconds later you're standing on the deck overlooking a pristine white sand beach and views forever. Come, enjoy a relaxing beach holiday!
PLEASE NOTE: OUR NIGHTLY RATE IS INCLUSIVE FOR UP TO FOUR GUEST AT ABSOLUTELY NO EXTRA COST... Our property is located in the prestigious Boardwalk Estate, close to local cafe's, restaurants, and just a short 60 second stroll to one the most pristine white sand beaches on the Sunshine Coast. Hi my name is Katie, and along with my husband Darren, our teenage daughter Chloe, and very friendly toy poodle Jazz, we would like to say a special thank you for considering Boardwalk Beach Stay for your holiday. Boardwalk Beach Stay is great place for singles, couples, groups of four people or less, and small families just wanting to get away for a beach holiday without having to pay the sometimes outrageous local hotel and resort rates. We offer a modern 2 bedroom hotel/appartment style space on the upper level of our large beach front home that allows guests complete privacy! (See Photos) The space includes two bedrooms, two bathrooms, and two toilets which are all conveniently connected to a large private living room area. The living room area offers the following: Large Flatscreen TV. DVD Player. iPad with Netflix that can be chromecast to the main TV. A good selection of DVD movies. Bluetooth Music System. Microwave. Bar Fridge with complimentary refreshments and bottles of filtered water. Tea, Coffee, and Toast station for your convenience. You will also be provided with a complementary loaf of fresh bread from our local bakery, along with selection of yummy spreads such as Vegemite, Jam, and Honey for your enjoyment on your first morning. Nothing beats a good nights sleep after a long day swimming and soaking up the sun at the beach, so let me tell you about the bedrooms. Bedroom 1 - contains a very comfortable king size bed with superior quality linens, ensuite bathroom with a shower and walk in wardrobe. Bedroom 2 - contains a very comfortable queen size bed with superior quality linens, separate bathroom with a shower, separate bath tub and separate toilet. All essentials such as bath towels, complimentary shampoo, conditioner, and body soap are provided for your convenience. Complementary use of: Boogie Boards. Beach Bag. Beach Umbrella. Beach Chairs. Beach Towels. Football. Frisbee. Children's Beach Toys. Cooler Bag/Esky. We even offer a BBQ kit complete with utensils, plates, and cups etc just in case you feel like relaxing with a cold afternoon drink as you cook up some juicy steaks on the BBQ in the nearby park, while the kids enjoy the playground. Need the Internet? No worries! You'll have unlimited access to our High Speed WiFi network. Enjoy a good movie or two? We also offer good selection of classic DVD's as well as an iPad with Netflix which can be chromecast to the main TV for your entertainment if you simply feel like having a night in with a nice bottle of red and platter of fine cheeses. Air Conditioning? During the hotter months of the year, we quite often like to run the central air conditioning throughout the entire home, however we understand that not everyone likes air conditioning, so at your request we will be happy to turn off vents and exclude the air conditioning from your private space and bedrooms if you would prefer. If you have any questions prior to making your booking, please feel free to message us... Come and enjoy a memorable escape. You'll have fun! We Promise!
Super close to the beach where you can swim, surf or just relax. Our home borders the local park which has a large green space, modern children's playground, free electric barbecues and under cover picnic tables. Stroll across the park and enjoy the delights of local cafe's and restaurants. No visit to the area is complete without a hike up Mount Coolum where you can enjoy breathtaking views up and down the coastline, and west to the hinterland.
Great location, very clean, great value for money. Didn't realise there were no cooking facilities but we had access to a kettle with plenty of complimentary tea/coffee etc and a microwave.
Rhiannon
2016-11-14T00:00:00Z
Great location - so close to the beach. . We shared the house with both Katie and Darren who are very friendly and considerate hosts.
Cassie
2016-11-27T00:00:00Z
Such a stunningly, beautiful stay. It is evident Katie and Darren put a lot of thought and effort into ensuring guests have an enjoyable and comfortable stay. The place is clean, spacious and very welcoming. They definitely go above and beyond by including little things here and there such as a loaf of bread with condiments, tea and coffee, information book and beach equipment readily available. Just as the info says, it literally a 60 second walk to the beach and what a beautiful beach it is! It is also close to shops and restaurants... Some walking distance away. I would 100% recommend this place to stay at. Katie and Darren definitely deserve this - and future positive ratings! We look forward to staying there again.
Lana
2016-11-13T00:00:00Z
Superb and cruisy fresh escape. Family friendly touches. Loved the array of beach accessories and scooter. Comfy and private. So close to the beach and park. Cafe 2min walk also super handy! A very central place to stay on the Sunshine Coast- Noosa only a short drive north. Perfect!
Phill
2017-01-07T00:00:00Z
This is a perfect place to spend your summer near the beach. Boogie board, beach chairs, towels are fully equipped and you don't have to worry much. Great stay with our two adult sons. Lovely Jazz always come to greet you when the host is at home.
Belinda
2016-12-13T00:00:00Z
Excellent accommodation and location is second to none with such an easy walk to the beach. Darren and Katie were fabulous hosts providing us with privacy and all of the little extras that make all the difference. Highly recommended for a weekend away!
Sam
2017-02-04T00:00:00Z
Katie and Darren, thank you for an amazing stay - we will be back again and again, for sure! We can't thank you enough for a fabulous and highly memorable holiday! You honestly went above and beyond for us. Your place was immaculate and clean and my husband reckons the generously sized beds were the most comfortable he has ever slept on! Your furnishings are beautiful (loved the quirky alarm clocks!) and you have thought of everything to make one's stay as fabulous and comfortable as possible. - we wanted for nothing more! Thank you too for the bread, condiments, the cool drinks in the fridge and the beautiful chocolates. It was great not having to dash to the shops after we had checked in. The accommodation was both private and spacious and we LOVED the airconditioning in the heat - thank you for keeping it on for us! You also have a great collection of books and good guides for the area - thank you, we were not short of ideas or things to do! What a privilege for us to be able to share in your little community, from the little restaurants within walking distance, the great coffee shop down the road, the beautiful parklands next door to you and of course living on the beach! 60 seconds to the beach - it doesn't get much better than that! It was like having our own private beach! Loved that we could use the beach chairs, umbrella, beach balls, eski, beach bag and scooter. You have honestly thought of EVERYTHING to ensure that your guests are able to make the most of their stay. Your BBQ box is so clever - it had absolutely everything that we could've thought of... even a light! Seeing the New Year in at the beach and watching the fireworks in Mooloolaba from a distance was also a highlight! Thank you for sharing your piece of paradise with us! Thank you for being the best hosts EVER - Airbnb should be very proud of having people like you host under the banner of their brand. Know that we will see you guys again soon! Many thanks and best wishes for a happy, healthy and successful 2017. Meg & the gang!
Megan
2017-01-01T00:00:00Z
This place is fantastic!. It is so close to the beach that you can actually hear the waves! It is basically at the beach access. The apartment is great, very modern and super clean. Although it doesn't have a kitchen, there are great takeaway restaurants around. The host are very kind and friendly. Thanks.
Jorge Patricio
2017-03-27T00:00:00Z
Mount Coolum, クインズランド, オーストラリア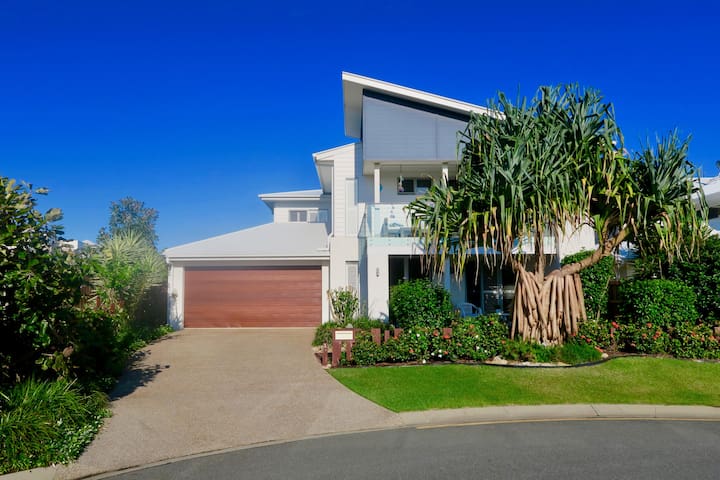 私たちのブランドの新しい小さな家は、サンシャインコーストのすべての最良の部分の中心です。ムールーラバビーチや近くの観光スポット(エスプラネード、ナイトライフ、公園)まで約10分。 家は完全に自己完結型、家具とあなたの休暇のために装備です。 (アップルTV付き)大画面テレビと高速NBNインターネットが含まれています。 潮風を楽しんで、冷たいドリンクを飲みながらリラックスするのに大型の屋外リビングエリア。カップル(と子供を持つもの)、ソロ冒険者に最適です。
私たちの宿泊施設による戦略的に大型の屋外エリアを許可するように配置し、両側フェンシング追加するには非常にプライベートです。 エントリー廊下のセキュリティ照明は夜間の入口と出口のための便利で慰めです。
緑豊かな公園/自然観察の散歩を通じて静かな散歩に希望される方のために、私たちはマウンテンクリークの両側に沿って素晴らしいウォーキングコースに恵まれています。 (マップ上の場所の概要は、洞察力を与える)、緑斜線部分は、水路に沿って舗装された、レベル、並木トレイルと自然保護区です。 また、これは離れてトラフィックから、地元のお店に安全、迅速な方法を提供します。
really nice hosts, very clean place, recommended :)
Isabel
2017-02-18T00:00:00Z
Our stay was great! House is very clean, brand new. Looks even better than in pictures. 4 mins by car from the beach, not far from Australian zoo and Noosa. Hosts are very welcoming and helpful! I am absolutely recommending this place!
Ania
2017-03-06T00:00:00Z
Vivi and Herb are the most kind and generous people that you could ever be fortunate enough to meet. Their response time was so quick and informative, everything was explained easily. Their accommodation was 5 star luxury, absolutely beautiful in every way. Nothing was too much trouble, and they have provided everything that you could possibly want or need - and more! We went to visit friends, so the location was perfect for us, but you would probably need a car to get around. Not sure how far public transport was, as we didn't need it, but it was only a 5 minute drive to shops, beach, restaurants, and the motorway. Even though you were close to roads, there was no noise at all at night, and very little during the day. The lovely covered and very private outdoor area was a real bonus. We would highly recommend this place to all, we loved it and will be back again... If its not fully booked!
Julie
2017-02-15T00:00:00Z
We had a wonderful stay at Vivi and Herb's place. Their house is clean, new, comfortable and has everything you need. The location is very convenient as it is close to all main beaches and the neighborhood is lovely. Vivi and Herb are excellent hosts and made us feel at home all the time. We look forward to coming back and staying with them again.
Gaston
2017-03-26T00:00:00Z
We were warmly greeted by Vivi and Herb upon arrival and made to feel welcome in their beautiful, newly built accommodation. The location was great for us with a secure place to store our bicycles and an easy peddle to the beach. The accommodation has everything you could possibly desire including privacy, off street parking, air conditioning, kitchen with all you need to cook up a storm, storage spaces, couch, huge TV and outdoor eating area. Vivi kindly gave us some fresh herbs from her garden. Did I mention it's brand spanking new? Any time we needed something, Vivi and Herb were graciously helpful. Thanks for the great stay!
Alan
2017-02-07T00:00:00Z
Vivi and Herby are the best hosts! I am moving to Australia with a child, so I needed heaps of help and they couldn't have been more supported. They even baby sitted for me! The house is the cuttest and is brand new, it has everything a traveller may need, besides being clean and cozy. I bet this is the best Airbnb accommodation at Sunshine Coast!!
Laura
2017-02-13T00:00:00Z
Mountain Creek, クインズランド, オーストラリア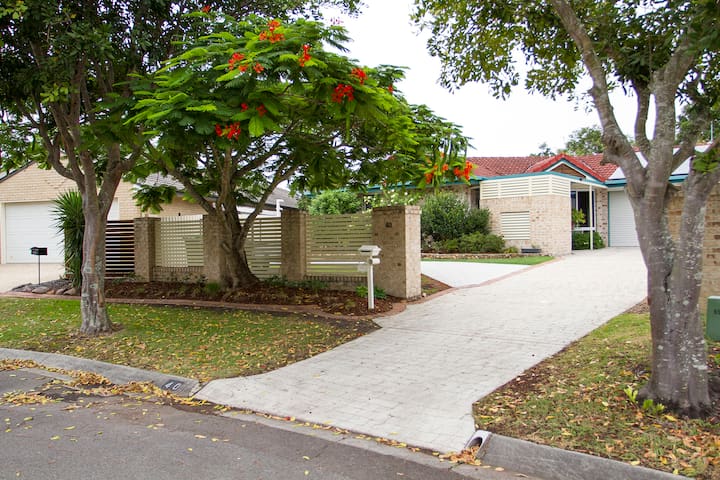 クイーンベッド、専用バスルーム&トイレ二階に、無線LAN。オープンキッチンで設定ヤシの庭のデッキとプール。 400メートルは、ムールーラバビーチ、カフェ、レストランに歩いてください。
この静かな、居心地の良い空間についての最もよい事は、リラックスするのに最適です大きな日当たりの良い木材デッキ、です。ヤシの木に囲まれ、スイミングプールは美しいトロピカルな感じを持っています。この豪華なオーストラリアのビーチハウスは、木材の床、白い壁と美しい伝統的な芸術を提供しています。それは離れて週末にくつろぐのに最適な空間ですが、あなたはムールーラバある賑やかな境内に没頭したい場合はショップ、カフェ、ナイトライフに近接しています。ゲストの寝室は二階にあり、快適なクイーンサイズのベッドを備えています。
静かな隣人、安全でフレンドリーな近所。
We spent two days at Anne's lovely home at Mooloolaba. Anne and Maurice made us feel very welcome and answered any questions we had. Our bed was very comfortable with the bathroom just across the passage. We loved the beautiful, rear, outdoor entertaining area. Many thanks Anne and Maurice.
Anne
2016-08-05T00:00:00Z
Anne was a great host and her home is in a perfect location! We could walk to the local strip of restaurants and the beach. They were very welcoming and always up for a bit of a chat. Thank you Anne :)
Tessa
2015-10-06T00:00:00Z
Anne und Maurice waren die perfekte Gastgeber! Die Location ist super, in der Nähe vom Strand, von Shops und Cafés. Das Haus ist wunderschön und das Zimmer sehr bequem; alles sehr sauber. Auf jeden fall zu empfehlen!
Denise
2016-08-19T00:00:00Z
Our hosts Maurice and Anne were very welcoming we were made to feel part of their family instantly. Fantastic location and excellent property and faculties
Belinda
2015-10-01T00:00:00Z
My boyfriend and I had a great time staying with Anne and Maurice in their absolute lovely home. Anne and Maurice are both very helpfull and welcoming. We will definitely be back :)
Mille
2016-03-16T00:00:00Z
Maurice and Anne are super nice! The backyard is a beautiful relaxing outdoor space that is so warm and welcoming. We loved sitting out in the afternoon having a beer and snacks in the undercover area and meeting the pet lizard who made a brief appearance. Maurice joined us for a beer which was great company- Anne had some work to do upstairs. The bed was comfortable and the bathroom had all the necessary amenities. A great place for our one night stay!
Janis
2016-11-11T00:00:00Z
Anne & Maurice were great hosts, they were accommodating to our needs from the first time we made enquiries about staying with them. Their house had ample room & it was a pleasure getting to know them over the course of our one week stay. They assisted in recommending local restaurants to eat at and were generous with the use of their facilities & time to make us feel welcome. A beautiful house, just a short stroll to the main shopping area and beaches. Very comfortable room and so lovely to wake up to the sound of kookaburras daily. We would recommend them to anyone considering a stay in Mooloolaba!
Rachael
2016-10-15T00:00:00Z
Excellent position, close to all our needs and Anne and Maurice couldnt have been more helpful.
Peter
2016-08-25T00:00:00Z
Mooloolaba, クインズランド, オーストラリア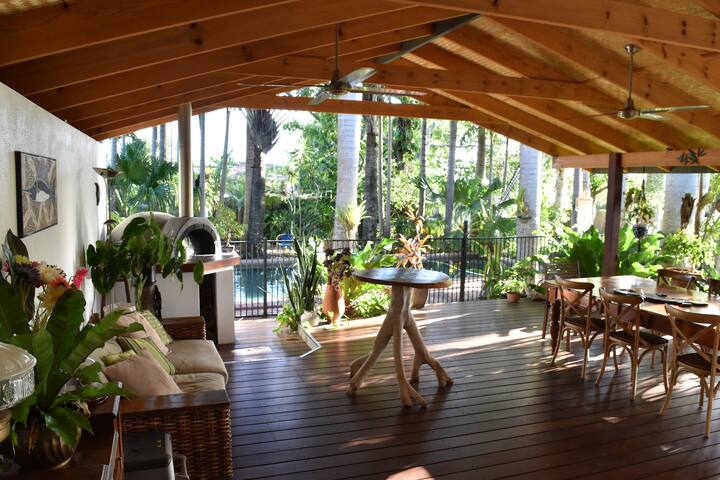 This Family & Pet friendly house is located in heart of Coolum Beach just 5 min. drive or 15 min. walk (1.8km) to beautiful sandy beaches, restaurants, shops and just 5 min. walk to supermarket plaza shops. It is spacious 4 bedroom and 2 bathroom house, fully fenced with one undercover parking space located in quiet cul de sac street. In backyard is beautiful tropical garden, patio, BBQ and table tennis. We are offering 5 bikes, Bodyboard, Netflix, Xbox and WiiU to use for free.
We are offering 4x adults bikes, 1x 10y.old bike, Bodyboard, Netflix, Xbox, WiiU and table tennis free to use.
クーラムビーチ, クインズランド, オーストラリア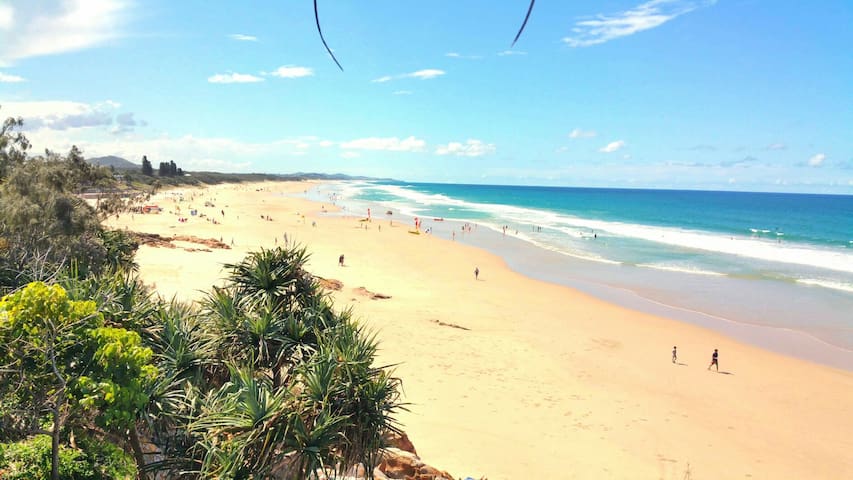 5 bedroom house, with pool, on the Sunshine Coast of Queensland, just north of Brisbane. All beach amenities catered for in a true natural environment in a village community. Surf, fish, bike, hike, gourmet experiences all within walking distance.
This is large house which can cater for up to 10 guests. The space has multiple entertainment areas to ensure separation for guests; pool area, media room and upstairs family room all add to make for a very comfortable holiday. There is a secure double garage as well as access for a boat or caravan.
Marcoola Beach is centrally located on the Sunshine Coast and around 1.5 hours north of Brisbane, the capital of Queensland. It is a quiet beachside location with a small boutique shopping area with cafes and restaurants. The Marcoola Surf Club provides a safe patrolled beach. The beach is less than 100 metres walk across the road. It is a great surfing beach with good fishing. The coastal area has renowned beaches and shopping within a 20 minute drive. Checkout the local guide on (URL HIDDEN) Sunshine guaranteed all year!
Very flexible and easy-going host! This home was perfect for our group- spacious with room for several families without getting in eachother's business. Quiet street in a very chill little town with charm. Would for sure encourage others to book here. Great value.
Jessica
2015-09-10T00:00:00Z
Communication with Craig was easy and fast. The house was spacious and comfortable. Kitchen was well stocked with crockery and cutlery etc. Private pool was perfect for our family with 2 primary children & a baby, but the ocean was only minutes away too. Nice touches with throw rugs and board games and magazines. The airport did have a noise impact with jet traffic, but mostly light aircraft which was fine, plus no night flight (whilst we stayed in any case). Grocery & bakery shopping was handy via car, and good playground via boardwalk. Overall great property to stay put and enjoy the amenities provided.
Lesley
2014-12-05T00:00:00Z
Craig was friendly and welcoming. He was quick to respond to messages and was flexible with arrival time etc.
Mishael
2016-07-16T00:00:00Z
The perfect holiday house and location for two couples with two toddlers! The pool was loved by everyone and the location across from the beach and around the corner from cafes was just what we needed! Great big house with lots of space for everyone!
Kate
2016-09-25T00:00:00Z
Great weekend with 9 other work colleagues. The location was very convenient to the beach. The facilities offered by Craigs house were clean, plentiful and comfortable. All guests were thrilled with our accommodation.
Sue
2015-08-23T00:00:00Z
Beautiful house which was as pictured online. Great location for the beach and a few delightful local cafes. Craig made the check in process hassle free. I would highly recommend.
Esther
2016-02-22T00:00:00Z
Craig's Marcoola home is an absolute delight. Everything that we could possibly need was there to make us feel at home and welcome. Craig was great at getting back to me as soon as I had a question in the booking process and the whole process was very smooth. At the villa, each room is designed and furnished in a warm and inviting style with plenty enough space that the 9 of us that stayed never felt like we got under each others feet. The pool and outside eating area is great, again with plenty of space and perfect for relaxation in the Sunshine Coast heat. It is also perfect for young children, we had a nearly 2 yr old in our party and the safety fence around the outside lounge area was peace of mind. The little garden is good for a kick about and the garage, although we didn't really use it as we were in and out on trips out so much is very spacious. The kitchen and lounge again had everything we could need with a very handy pantry to the right of the kitchen for extra storage space. The laundry room gave us the opportunity to do some washing when we needed to. The upstairs rooms were all decorated again with a welcoming and quality finish. The main bathroom, ensuite and downstairs WC meant that we were never fighting for a loo or shower etc. The aircon was a god send on the hotter evenings and easy to use. The property has very large windows meaning all the rooms are light and airy with good quality blinds so that you get a very decent night's sleep. The house is situated on a quiet street off the main Esplanade just a minute from the beach. Marcoola is a quiet town intself but has a few very nice places to eat and a decent amount of amenities and shops with larger shops and supermarkets in nearby Mount Coolum, Maroochydore and Coolum all of which are within a 15 minute drive along the coast. We wouldn't hesitate in recommemding Craig's place. We had the holiday of a lifetime and a great base to come back to and enjoy everyday.
Louise
2015-04-24T00:00:00Z
We had good communication prior to our stay. From the moment you park in the driveway you know this will be a great long weekend. House has so much room, with a group of eight we always were able to find a quiet spot to relax. House is equipped with everything you will need for your stay. The family will be back to stay here again.
Damian
2015-06-08T00:00:00Z
部屋タイプ
まるまる貸切
---
建物タイプ
一軒家
---
定員
10
---
寝室
Marcoola / Sunshine Coast, クインズランド, オーストラリア