日付を入力すると合計金額が表示されます(税・サービス料別)。
この7月と8月は、あらゆる価格帯の高評価物件100件の中から物件をお試しいただき、ソノマのローカル目線を体験いただけます。24時間対応チェックイン、今すぐ予約、ローカルワインとおつまみでくつろいでご旅行をお楽しみください。
Lovely nature in the most beautiful area of the Ardennes. Lovely house on the banks of the river the Semois. The house is new installated in countrystyle with eye for detail. Everything you need for a relaxing holiday...
Lovely countrystyle 5 bethrooms and two bathrooms. (One upstairs and the other downstairs) Prachtige landelijke stijl. 5 slaapkamers en 2 badkamers waarvan 1 op het gelijkvloers.
The most beautiful area of the Ardennes. You find everything to have a wonderfull vacation. Beautiful nature, nice restaurants, sportaccomodations (kajak, mountainbike, mini-golf, fishing....) You can visit some nice markets on saturday and sunday (Bouillon, Sedan) Within one hour driving you arrive in the Champagne region (Reims) Let op! Geen handdoeken en bedlinnen aanwezig! Donsdekens en hoofdkussens wel Attention! Pillows and featherblankets availelable. Covers and towels you need to bring allong.
Contact met Charlotte verliep zeer vlot, het huis zelf was ruim genoeg, zeer rustig gelegen, goed voorziene keuken, slaapkamers met zachte bedden.
Michiel
August 2016
Nous avons passé un séjour très agréable. La maison est fidèle aux photos, joliment décorée et bien équipée. Idéalement située, très belle vue sur la Semois (possibilité de nombreuses randonnées, canoé), calme. Seul petit bémol: nous aurions apprécié que les informations liées au logement et aux alentours à disposition dans la maison soient en anglais et/ou français.
Morgane
July 2016
We had a wonderful stay! The house is spaceous and provided plenty of room for our group of 8 adults and 2 kids. Regardless of its size, the house is cozy and comfortably decorated. Everything one could want is present. We especially enjoyed the fireplace when coming home from a long walk. The house is perfectly situated. It gives you a great view of the river, offers privacy and is nearby multiple villages for grabbing a Belgian beer, doing groceries or walking trails. Regarding the latter: in case you are a fit and adventurous group, you must do the trail near Rochehaut called "les Echelles de Rochehout! Not for the vaint hearted but absolutely beautiful and fun!
Remco
October 2016
Topweekend achter de rug in een heel gezellige ruime woning. Prachtig zicht op de Semois. Mooi ingerichte keuken en heel ruime kamers ideaal voor een familieweekend. Mooie wandelingen vanuit het huis mogelijk. Met mooie dorpjes zoals Rochehaut, Corbion en Bouillon in de buurt alvast veel bezienswaardigheden. Topper!
Kristof
December 2016
A recommander tout était parfait. la maison correspond bien aux photos. Excellente literie !Très cosy, bien chauffé et chouette décoration avec beaucoup de goût. Nous y retournerons sûrement!!
Anne
November 2016
Superbe maison très bien située à proximité de la Semois et dans un magnifique village. . La deco intérieure est magnifique et la maison est très fonctionnelle. Point négatif : l'évacuation d'eau du bac de douche à l'étage était bouchée, les finitions extérieures de la maison pas terminées (blocs de béton en brique de façade). Point positif : Moniqua, la concierge qui est disponible à 200% et très aimable.
Delphine
November 2016
Ruime en nette woning. Fijne keuken en schoon sanitair. Winkels, etc op loopafstand. Mooie wandelroutes in de buurt. Perfekte uitvalbasis voor een vakantie in de ardennen!!
Marcel
October 2016
Ruim een week voor vertrek werden we door de verhuurder ruimschoots, goed en volledig geïnformeerd over de woning, de omgeving en de activiteiten. Zeer zorgvuldig en goed. Op vragen die we vooraf hadden, werd meteen gereageerd. Niets dan lof over de voorbereiding. Bij aankomst bleken we echt een zeer ruime woning tot onze beschikking te hebben met alle faciliteiten die maar denkbaar zijn. We hebben genoten van de woning, de omgeving en de activiteiten. Het was een vakantie die helemaal naar onze wens was. Zonder meer voor herhaling vatbaar. Het enige wat niet altijd naar wens was, was het weer maar zelfs in dat geval was het geen straf om in de woning gezellig samen te blijven en was het nog genieten! Met vriendelijke groet, Kees van Gestel
Kees
June 2016
部屋タイプ
まるまる貸切
---
建物タイプ
---
収容人数
10
---
寝室
5
Vresse-sur-Semois
Accès facile de la villa, très grand jardin aves court de tennis, endroit calme
We had a great time. A proper introduction with a kind family and the owner.
Sander
August 2016
The host canceled this reservation 97 days before arrival. This is an automated posting.
Winnie
部屋タイプ
まるまる貸切
---
建物タイプ
---
収容人数
10
---
寝室
3
Vresse-sur-Semois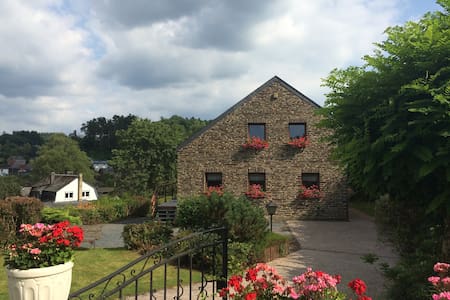 We had a really good time at her house. Jacqueline is a very great host, she even showed us some places near her house. The room was cleaned. Highly recommended!
Ágoston Attila
April 2016
Excellent séjour, super accueil, on se retrouve rapidement comme en famille. Repas et petits-déjeuners sont copieux et excellents. La maison, remarquablement tenue, est située dans un petit lotissement très calme, vous pourrez vous y reposer dans un très grand et large lit. Jacqueline est aux petits soins pour ses hôtes. Nous avons également partagé des moments de convivialité en sa compagnie sur la terrasse comme si nous nous connaissions depuis toujours. Merci Jacqueline et Florent, vous avez un coeur "gros comme ça", nous reviendrons cela est certain. En conclusion, séjour PARFAIT.
LOUIS
August 2015
All was as described. Nice place. Big and clean room. Just a very steep stair to access the room. It didn't give us any problem anyway. Jacqueline is a beautiful person and her family is also supernice. We staid there just two night but it was a real pleasure.
Antonio
September 2015
Chambre très agréable avec un vaste lit. Petit déjeuner excellent, avec une hôte accueillante et sympathique. Merci !
Monique
April 2016
Jacqueline est une personne très agréable soucieuse du bien etre de ses hotes. Nous avons apprécié le grand lit et le calme de l'endroit. Un petit déjeuner aux aurores très abondant et servi avec le sourire. Un endroit à recommander à tout prix aux personnes de passage aux environs de Charleroi.
DUBOIS
August 2016
Spent 3 nights at Jacqueline's house. She was lovely, kind & very, very helpful to us on our stay. House is very clean & as described on posting. Nice friendly dog (Alma). Jacqueline is a gem. Highly recommended.
Iain
June 2016
Due to the road repairing, our navigator works very bad. It takes us almost two hours in a wrong direction. So we arrivaled a little late. We couldn't communicate with English very well, so we make some mistakes for breakfast. The bed is comfortable, but the steep stairs should be careful. The host is nice.
Zhi
September 2015
Très bon accueil de Jacqueline, qui est très sympathique et qui fait tout pour que nous soyons à notre aise. Petit déjeuner très copieux avec des produits faits maison. Super !
François
November 2016
Somzée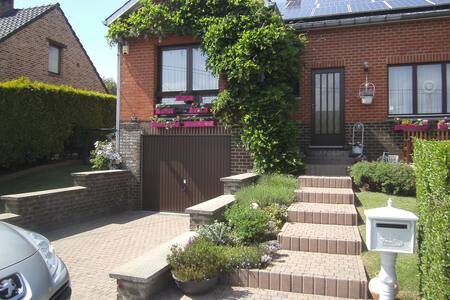 Topweekend gehad in dit huis.. Alles goed uitgelegd en uitgeschreven hoe het werkt. Voldoende ruimte voor mensen, spullen en eten voor 23 mensen. Rustig gelegen met mooi uitzicht en relatief dicht bij leuke activiteiten in de buurt. Bedankt!
Tomas
October 2016
GEWELDIG We hebben een weekendje met een groep van 15 motorrijders door de Ardennen getoerd en het huisje als onze uitval basis gehad. In een woord, Geweldig. Het huis, ruim, comfortabel alle voorzieningen aanwezig, perfect voor een grote groep alle ruimte voor wat privacy maar belangrijkste geweldig voor alle samen. We hebben een super bbq avond gedaan op het terras. En nog na geborreld in de living dat erg ruim is. De gastvrouw en gastheer hebben ons ook zeer goed geholpen met tips en tricks over de omgeving en zij hebben een heel gastvrije en professionele aanpak van hoe zij dit "runnen " maar vooral gastvrij. Het huis ligt aan een bekende motor route (route du maquis) gaat letterlijk de voordeur langs en het huis bied ruim voldoende parkeergelegenheid om alle motoren kwijt te kunnen. Tegen over het huis is een super leuk restaurant\taverne waar we ook heerlijk gegeten hebben en ook ons ontbijt gedaan hebben, alles voor een zeer schappelijke prijzen. (10 euro pp voor het ontbijt) Het huis ligt in een geweldig motortour gebied maar ook voor mensen met andere interesse, wandelaars, wielrenners, natuurliefhebbers en avonturiers natuurlijk het is de Ardennen. Voor ons is het zeker niet ons laatste bezoek, alles was perfect voor ons, locatie, omgeving, gastvrijheid het weer (zelf meenemen) en huis, dat is ideaal een echte aanrader.
Ronald
June 2015
The host canceled this reservation 29 days before arrival. This is an automated posting.
Koen
Spacious and clean house. Would Recommend!
Olivier
January 2017
Het huis is precies zoals beschreven. Een supergezellige woonkamer, een goeie keuken met ruim fornuis en oven en héél rustig gelegen. Je kan mooie wandelingen starten op enkele 100m van de voordeur. Peter is ook heel behulpzaam bij het boeken en dergelijke. Zeker een aanrader!
Yara
October 2016
Bij onze aankomst heeft hij ons uitgebreid rondgeleid en geinstrueerd over hoe alles werkt. Vooral bij zo'n groot pand, is dat vaak nog wel handig. Erg fijn was dat. Het huis is geweldig gelegen midden in een schitterende omgeving. Elke ochtend wakker worden was een feestje met een ontbijtje en een koffietje op het recent uitgebreide terras.
Jair
August 2015
部屋タイプ
まるまる貸切
---
建物タイプ
---
収容人数
16
---
寝室
6
Vresse-sur-Semois
I spent 4 really nice days at Villa Haulmé with a small group of friends. The house looks really recent and modern. The view on the valley is great. The area is really quiet. It's a great place for nature lovers. The sauna and the hot-tub are heated by a wood fire which gives some charm to the place. I can only recommend it.
Christophe
November 2016
We spent a week in Haulmé with the whole family and had a very pleasant time. Everything was perfect!
Philipp
April 2016
Great house, great location. It is ideal for kids (plenty of games, nice garden) and for adults who want to relax a few days amidst the trees. Margot is a great hostess, answering inmediately to any question.
Juan Marcos
September 2015
Thank you very much Margot to offer us such a nice house and that you was always and immediately answering!Also for the informations.... It`s a great view over the small village, very quite!!The landscape was beautiful, but you need always a car to buy baguette, food and something else. The kitchen is fabulous, it`s a pleasure to cook there(URL HIDDEN)
Simone
May 2016
Haulmé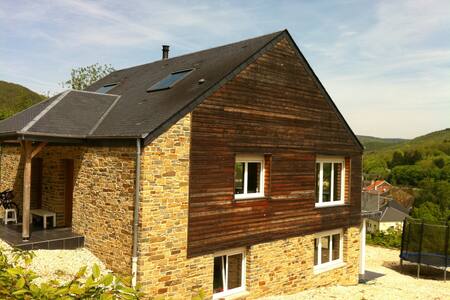 The host canceled this reservation 52 days before arrival. This is an automated posting.
Fabian
Momignies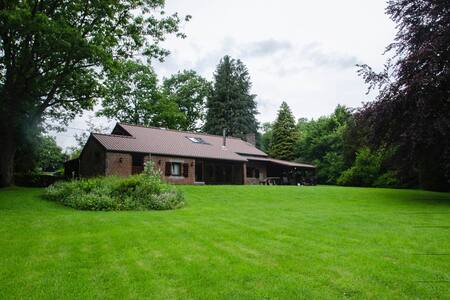 Myself & 3 friends stayed just one night in the Splendid Palace. We stayed in a big room with 1 double bunk and 3 single beds, which looked exactly like the picture. The room had a wonderful view of the river and the town. All areas of the hotel were very clean, our room, the showers and toilets and general areas. Our host was very hospitable and flexible with our check in, spoke good English and helped with directions around town. Also letting us leave luggage for the day while we explored around the town. Breakfast was basic, but adequate. Location was excellent, short walk from train station and the centre of the local sites. I would happily recommend this accommodation, good value for price paid.
Cindy
June 2015
Dinant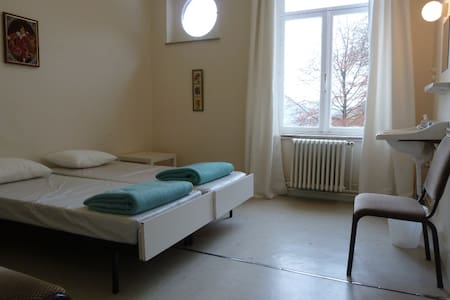 Travelers need to know that this is more of a youth hostel type of accommodation. If one knows that and expects it, one can have a very pleasant stay. We are grateful for the warm welcome we received.
Miriam
August 2015
A wonderfully charming place with a tangeable, glorious past... Like the Magic Mountain. A sunflooded room with the most remarkable view ever. And a very warm welcome. Merci beaucoup!
Clara-Bernadette
July 2015
Friendly, good location with excellent views if you get a room at the front. Clean but basic with frugal breakfast. Definitely more of a hostel than a hotel. Pricey for what it is but accommodation is limited in Dinant.
James
August 2016
Splendid Palace is located close to the railway station and it offers beautiful views of the river and town. We were greeted immediately and were provided with everything we needed. The venue is very unique and worth a visit. As a tip - approach Splendid Palace from the northern part of the hill. It's quicker and less steep!
Elizabeth
May 2016
Ontvangst was vriendelijk, met uitleg van de omgeving. Kamer was kuis, maar zeer mager in verhouding tot wat we voor deze kamer betaald hebben. Daarnaast viel het ons zeer tegen dat we zelf de bedden op moesten maken en afhalen. Bedden waren zeer smal, met een oud en slecht matras. Het uitzicht vanaf de kamer maakte veel goed. Geen ontbijt, wel de mogelijkheid zelf koffie en/of thee te zetten. Er was een mogelijkheid tot douchen, maar er werd geen shampoo of zeep geleverd...
Willem
May 2016
Dinant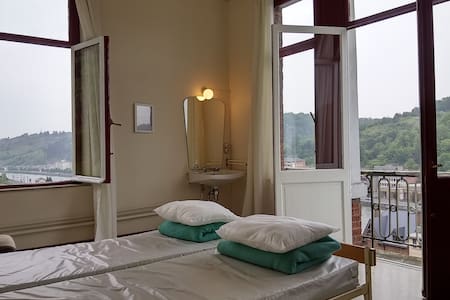 Jean is a very friendly host, our communication was helpful and easy. He was kind enough to accept my late night check-in that allowed me to have nice weekends in Dinant. Splendid Palace is really splendid place =) Old building located in quiet place above the town it gives you stunning view over whole Dinant. Rooms are clean, spacious and very bright. Perfect for weekends trip. Will definitely stay there again if in Dinant!
Denis
August 2015
Un accueil chaleureux et sympathique, une part de gâteau, une grande écoute et des échanges extrêmement sympathique. C'est pour les rencontres que je choisis Airbnb, j'y ai trouvé mon bonheur.
Laurent
August 2015
Good place to stay, 10 minutes walk from the bridge. Good price en nice breakfast. A little bit hard to find the right way to the hotel.
Isolde
July 2015
Splendid Palace, a rather basic 'palace' with a touch of the past and very nice situated near to the railway station with view over the city and river. The welcome was warm and personal.
Cees
July 2015
Dinant