Renovated Barn modernized 2001, 3 miles from Lambertville, NJ. and New Hope, PA. The perfect property for lodging for your wedding- guests or weekend get-away. Close to the Bucks County Theater, The Farm Cooking School, farm to table restaurants, vineyards and antiques/galleries. Our magical space will allow for an unforgettable moment in time. Hot tub, blue birds and tea will change your prospective on life... Our newest garden bedroom has been a tremendous addition.
The Barn House is nestled 1800' from the road. Looking at our photos can't give you the actual experience of what it feels like until you walk through the front door. It's only at that moment that you will have trouble catching your breath....and saying to yourself....O my God, this space is exquisite!!
The Stockton Farmers market and wonderful small shops and restaurants have high quality food and charm
Dealing with Paul and Joe was an absolute pleasure. They were easily accessible and provided accurate information and looked to go out of their way to accommodate the requests of our group of 8. The house itself is in excellent condition, especially the master bedroom, which is the most comfortable room I have ever rented on Airbnb. The bed is remarkably soft and comfortable and the steam shower was easy to use, and exceptionally luxurious. That Paul and Joe provided towels and linens was an added touch that really made the weekend much less stressful for all of us. Other features that I truly loved about the house was the wood burning fireplace in the center of the common area, and a kitchen that was as nice as it gets. Two ovens, a sink that you could fit a St. Bernard in, and plenty of counter space made it a perfect option for those who want to prepare a feast for their group. For our group, we were looking forward to a quiet weekend away from technology, but the WiFi works great, and there is a medium sized TV in a separate room for those that just need to space out. The short drive into New Hope was a breeze, and the town is lovely. Coming back to a secluded house was a wonderful departure from the hustle and bustle of city life. The quiet offered time for reflection and relaxation that is sometimes hard to achieve. I would recommend this house to a group of people looking to spend time with each other. Meals, board games, and lots of laughter made this a weekend not to forget. Looking forward to coming back.
Jason
2016-01-06T00:00:00Z
Spent a wonderful weekend at the house in late June. From the moment we drove up the long gravel driveway we were taken in by the serene atmosphere and the beauty of the property. The drive up along Lower Creek road was through lush woods, where we took several nice walks. The grounds are beautiful, with plenty of shade to enjoy meals outside, and we spent many hours lulling in the hammock. Kitchen was spacious, and the bedrooms are beautiful and comfortable. A perfect getaway - we never left the house to go into town, since we enjoyed the peace and quiet so much.
Borbala
2016-06-28T00:00:00Z
We had such a wonderful time staying in Stockton for the weekend. Paul was immediately responsive to any of our questions prior to booking and kept in touch to make sure things were going smoothly throughout the weekend. If you can believe it, the house and property are even more beautiful than the pictures! I would highly recommend it for anyone looking for a peaceful weekend getaway.
Rebecca
2016-06-14T00:00:00Z
Paul's property is absolutely stunning. If you are looking for the perfect mix of a rural sanctuary and urban luxury - look no further!
Megan
2016-08-22T00:00:00Z
Fantastic Bucks getaway! This house could not have been more adorable, well stocked, and welcoming. The pictures don't do it justice - enormous property, charming bedrooms, dining room, and living room. We had a large group stay here over a weekend and it was just wonderful. Paul was really great to work with and even gave me a great price to put flower arrangements in each room. :)
Liz
2016-08-03T00:00:00Z
We had a girl's getaway weekend at Paul's home and had a fantastic time. The house and the grounds were absolutely breathtaking. Paul was extremely responsive and accommodating. He was accessible through text and calls throughout our entire stay. His friends from Poor Farm Food came over the second night and cooked us a lovely fall themed three course meal. The food was excellent and Robin and her husband Doug really took care of us. We couldn't have asked for a better weekend getaway and will recommend Paul's home and Poor Farm Food to friends in the future.
Dominique
2016-10-02T00:00:00Z
The house was very comfortable and charming in a beautiful location. Paul was an amazing host, always making sure we were having a wonderful stay. He was very responsive and flexible. I highly recommend staying here.
Sefina
2016-08-08T00:00:00Z
This house is beautiful and looked exactly how the pictures portrayed. You feel like you're in your own little garden oasis when in this house and on the property. It was the perfect location for our low key girls weekend/bachelorette party and the host was very helpful and accessible. I would definitely recommend this rental.
Julie
2016-05-23T00:00:00Z
部屋タイプ
まるまる貸切
---
建物タイプ
別荘
---
収容人数
10
---
寝室
ストックトン, ニュージャージー州 08559, アメリカ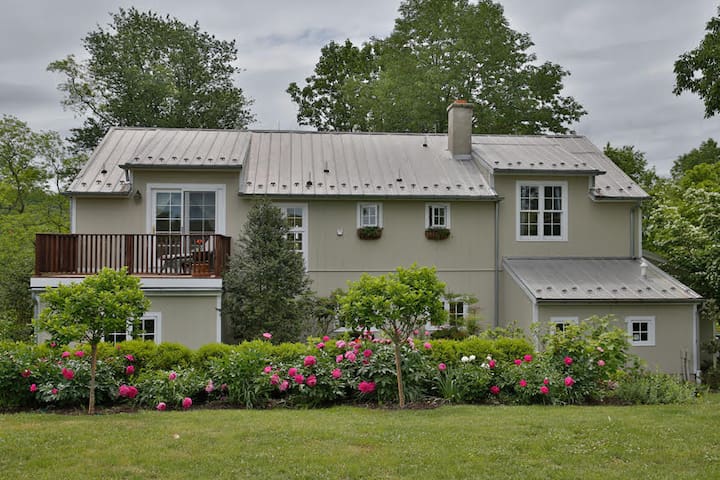 We are renting out our Indonesian Gazebo which can fit up to 50 people and our backyard with almost 2 acres of size for parties, events, etc. Hot tub, deck and BBQ Grill are available for use- extra pricing of $500 all. NO BEDROOMS OR BATHROOMS!
モントゴメリー, ニュージャージー州 08558, アメリカ