Chambre lit double et salle de bain privée en rez de jardin. Maison calme, pleine campagne, à 10 km du centre d'Amiens. Ligne de bus dans le village.
Très belle maison au calme de la campagne environnante. Chambre et salle de bain attenante en rez-de-chaussée. Parking privé.
Maison de campagne à l'extérieur du village.
Séjour bref mais très agréable. J'ai adoré l'intérieur rénové de la maison et regrette de n'avoir pas pu échanger plus avec nos hôtes par manque de temps de notre part. Y reviendrais avec plaisir.
valérie
2015-12-14T00:00:00Z
Great modern and stylish farm in a very quiet town. Proper room with a good bed and all you need nearby in the house. Véronique is very friendly and trustworthy and speaks English which helped our communication a lot. Also very close to the beautiful city of Amiens.
Reinier
2016-09-19T00:00:00Z
Très court séjour chez Véronique mais celui à été parfait! Maison,cadre reposant! Si vous devez faire une pause à Amiens allez chez Véronique !
Patrick
2016-04-15T00:00:00Z
Veronique's house is located in a beautiful countryside setting, with large yard including chickens and two entertaining ponies! The house and facilities are modern. We found it a good base to explore the sites around Amiens.
John
2016-11-04T00:00:00Z
Although it was only a night, I really felt at Vero's place like home. Their house is amazing, with a big garden to be relaxed after your trip to Amiens and with a superb decoration. Everything was clean and tidy, even you can play with their nice and amazing cats! Thank you girls for your hospitality, I wish we can meet again in the future!
Rubén
2016-09-09T00:00:00Z
Ce petit séjour chez Véronique s'est passé merveilleusement bien, un excellent accueil et un cadre superbe!
Léa
2017-04-01T00:00:00Z
Petite chambre propre, salle de bain à part, au calme. Belle salle de bain.
Mélanie
2016-09-06T00:00:00Z
Bon logement sur une étape sur la ville. Très calme. petite attention sympathique pour le petit déjeuner
Xavier
2016-09-26T00:00:00Z
Vers-sur-Selles, Picardie, フランス
Hedendaagse Jules Verne, charmant huis gerenoveerd in mooie omgeving 12 minuten van het centrum met de auto. Geniet van mijn accommodatie voor de 1900 decor, comfortabel bed, rustig, modern Italiaanse douche, warmte. Ofwel: een kamer met de oude dubbel bed, een bed, een bureau en een open haard, grote moderne of kamer op de tweede verdieping (speelzaal, die niet zal worden gebruikt als je het kiezen) met een slaapbank, twee eenpersoonsbedden en een zeer mooi uitzicht !!
Laat u verrassen door een luxe villa!
Fiets kan rijden langs het pad Hauling (lening borg), vele parken om te joggen (Kasteelpark Montières), dicht bij het wakeboarden en waterskiën, kleine winkels slager, bakker,
Lise et sa famille possèdent une très belle maison où il fait bon passer une nuit. Très agréable lise m'a accueillie avec le sourire.
Célia
2017-01-06T00:00:00Z
Séjour très agréable ! Je recommande
Marine
2017-03-24T00:00:00Z
Chambre très propre et salle de bain très pratique
Michael
2017-02-03T00:00:00Z
Loved Lise and her family, lovely home, very nice people , very warm and comfortable - highly recommended :-)
Lawrence
2016-11-13T00:00:00Z
Very welcoming atmosphere, charming house. I would definetely recommend everyone to stay there. Elise et son mari sont très accueillant et serviables. La maison est plus belle que sur les photos. Je recommande vivement !!
Anis
2017-02-22T00:00:00Z
A great stopover point for Calais ( 2 hours) and visiting the war graves around the Somme area. A very unique and interesting house staying with a French family. Lots of nice restaurants a short drive away in the pretty centre of Amiens. Breakfast included which was nice. Comfortable room in a family home. Wifi available.
Bruce
2017-01-23T00:00:00Z
Bon accueil, chambre confortable, très propre et jolie maison ancienne. Intermarché et tabac à 2 pas
Anne
2017-01-19T00:00:00Z
On a passé un bon séjour chez Lise et sa familles ,son mari est intéressant et cultivé et ses enfants sont adorables . Un grand merci et à bientôt peut être.
Alireza
2016-11-15T00:00:00Z
アミアン, Nord-Pas-de-Calais Picardie, フランス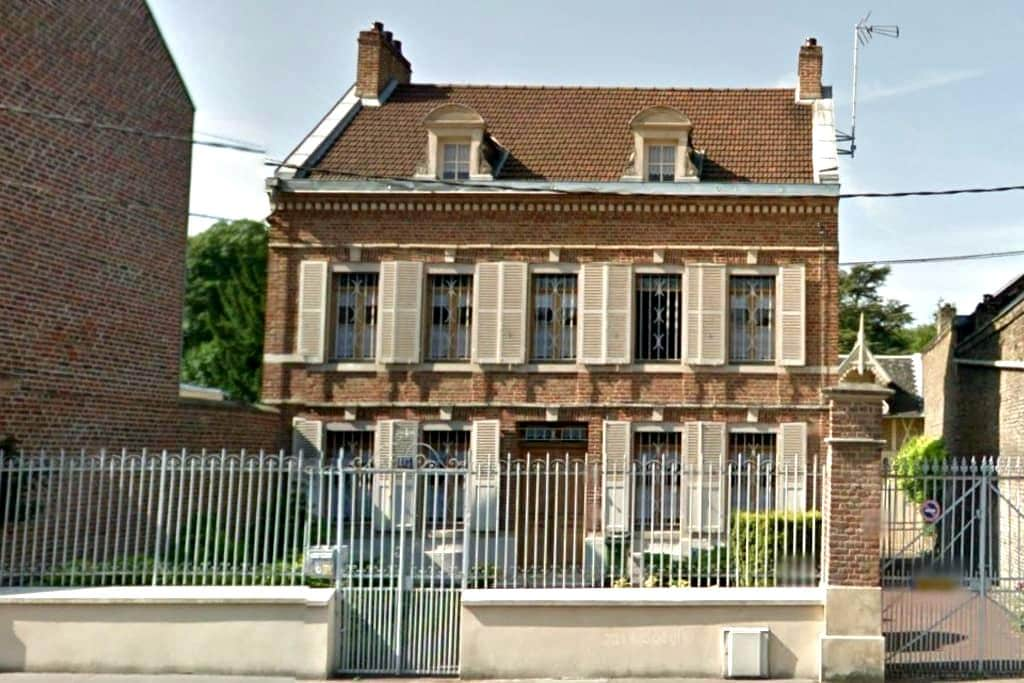 House spacious, cozy, original and warm. Blow of assured heart. Located in a small quiet rural village of Oise, in Pays de Picardie on the edge of Normandie, this charming property is surrounded by landscapes of hills and valleys, hedgerows and streams, woods and meadows. This old Victorian house, "elegant old lady" from the mid-nineteenth century, will welcome you for a weekend or a week with family or friends. ".
Its location is ideal for exploring many natural sites and rich heritage: the Somme, exceptional natural site labeled "Grand Site de France" (80 km), Le Tréport and its highest chalk cliffs of Europe (60km), Gerberoy (20 km) and Lyons-la-Forêt (53 km) both labeled "most beautiful villages of France". Not to mention its proximity to Paris (110 km) and Beauvais, famous for its Gothic cathedral, the Beauvais-Tille Airport (40 km) and famous Casino and Golf de Forges-les-Eaux (20 km). Covering an area of 380 m2, completely restored and there are several years by a renowned Parisian decorator, home - even if some ceilings and walls have cracks and some flooring have some "experience" - has preserved some comfort, while preserving its charm, character and an important part of authenticity. Covered with clapboard (wood strips), it contrasts with the traditional, austere style of Picardy brick houses. Situated in an enclosed park with trees (5000 m2), closed a high gate and hidden behind its old wall, the house enjoys a quiet and very quiet significant. A peaceful ambience enhanced by the presence of a beautiful little church next to the house (office 2 times a year ... no way). In the garden, a small bridge, in the spirit rock overlooking some rocks and a small cave, originally an old icehouse, yet add a note of charm to the property. Furthermore, breakthrough many windows and a bay window at the entrance, the house is very bright and sunny (when the weather permits!). A long canopy, very nice, short on the front exterior of the house and used to take air out of the wind and rain.
Nearby (2 km), all kinds of shops and services (bakery, deli / butcher, pharmacy, doctor, tobacco / press, bank, post office ....), Two supermarkets and a pleasant municipal pool with slide, ideal for children .
Nous avons passé un excellent séjour dans la maison de Sonia qui est magnifique et vraiment confortable. Tout y est prévu pour pouvoir passer un moment agréable, loin de l'agitation de la ville. Ça a été un véritable plaisir de passer un week end entre amis près de la cheminée : nous reviendrons !
Camille
2017-03-05T00:00:00Z
We - 12 friends - rented Sonia and Laurent's house for 5 nights to have a small winter vacation and celebrate new year's eve. We actually couldn't believe our eyes when we arrived. The garden looked like a winter wonder land and the house is very very beautiful, cozy and atmospheric. The contact with Sonia before our departure was very helpfull, she speaks english very well and is very nice and easy going. Of course there are some rules for this house, but that is perfectely understandable and also not disturbing. We did our groceries in a very big grocerie store in Formerie (5 minutes drive), cooked lovely dinners - (more than) everything you need is present in the kitchen - watched movies through our laptops (Netflix) and some of the dvd's from their collection. We were most happy about the fire place, we enjoyed it every day and night. At new years eve we had a perfect little party, there is a music room with a piano and a very good music system that's kind of dolby sourround through the living rooms. When we arrived Sonia and Laurent were on vacation so a french neighbour called Nadine let us in. She only speaks french so you need some one in your group that speaks some words in french! Also all bedrooms are perfect. There are 4 toilets in the house and enough showers, and 2 bathtubs. And we enjoyed very much the (bit broken) ping-pong table. As you can see we have nothing but enthousiastic words for this "incroyable" house. Thank you so much for the stay!!
Ilke
2017-01-03T00:00:00Z
Bouvresse, Nord-Pas-de-Calais Picardie, フランス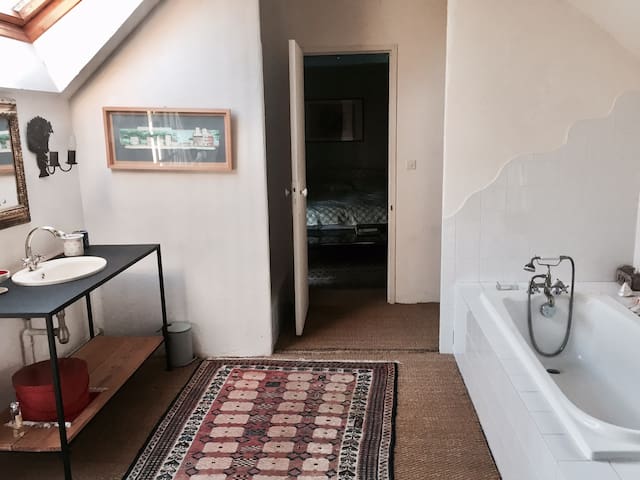 Mon logement est proche de les activités adaptées aux familles et la vue exceptionnelle. Vous apprécierez mon logement pour la vue, l'emplacement et le confort. Mon logement est parfait pour les couples, les familles (avec enfants) et les compagnons à quatre pattes.
Le cadre est fort agréable, la nature environnante très belle. Nous avons passé un agréable séjour entre amis au coin du feu de cheminé au top ! Rudy est très sympa et nous a bien guidé pour trouver le lieu A refaire !
Tiffany
2017-01-01T00:00:00Z
Pont-Remy, Nord-Pas-de-Calais Picardie, フランス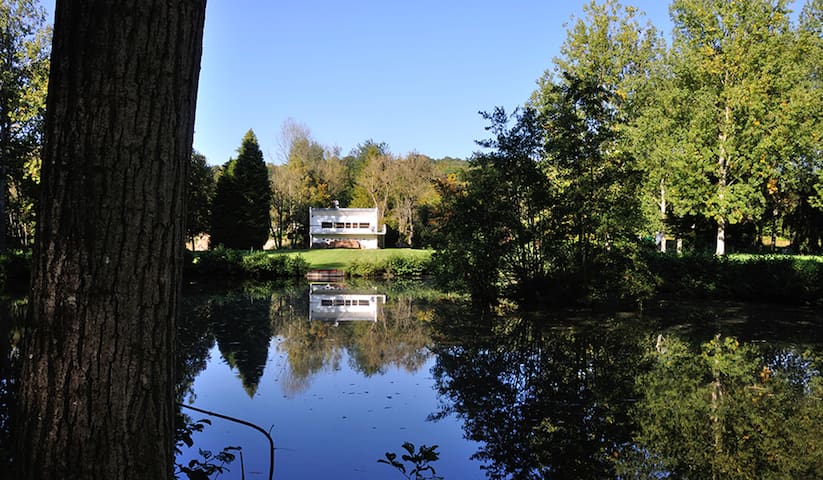 Un accueil très sympathique une maison chaleureuse et agréable. Excellent souvenir de ce séjour qui a tenu toutes ses promesses! !
Catherine
2016-02-02T00:00:00Z
Logement très confortable, très spacieux et très bien équipé (équipement de qualité!) Philippe nous a très bien accueilli et a été disponible durant notre séjour.
Guillaume
2016-11-13T00:00:00Z
Grange très bien réaménagée, décorée, équipée et très confortable. Philippe a su très gentillement s'adapter à nos contraintes horaires. Grand plus pour nous, lit parapluie et chaise haute à disposition pour notre bébé. Nous y reviendrons avec plaisir.
Karine
2017-02-20T00:00:00Z
Très beau logement, décoré avec goût et parfaitement équipé ! À l'extérieur, nous avons pu pleinement profiter de la terrasse, de ses transats et de son barbecue. À l'intérieur, rien ne manque, tout est pensé pour le confort des visiteurs : cuisine équipée, salon avec feu de bois, chambres très confortables. La Villa est située au calme, au coeur d'un magnifique petit village. À recommander sans hésiter !
Emeline
2015-07-12T00:00:00Z
Jusque là, la plus belle maison dans laquelle nous avons séjourné. Je n'ai pas été déçu, les photos correspondent amplement à la réalité. La maison est complète et fournie avec TOUS les équipements (batterie de cuisine, épices, cafés en dosette, bbq d'extérieur au gaz, jacuzzi...). Rien ne manque, on s'y sent vraiment bien et comme à la maison. Et on est loin des locations gérés par des agences où la décoration est froide, minimaliste, empreinte de blanc pour que tout le monde s'y projette. Ici, on est dans une maison familiale avec du cachet, des poutres apparentes, des ouvertures de lumière, du parquet... Génial, on reviendra !
David
2016-07-18T00:00:00Z
Philippe nous a accueilli chaleureusement et s'est montré à l'écoute durant notre séjour. La maison correspondait parfaitement à nos attentes et était très fidèle aux photos et descriptif. Nous avons passé un très bon weekend dans cette demeure, sa localisation nous a permis de jolies promenades en Baie de Somme.
Adeline
2016-02-29T00:00:00Z
Merci pour l'accueil de Phillipe, très arrangeant sur les horaires. Un gâteau local nous attendait. La maison est très bien tenue ( de plus le linge de lit et de toilette est fourni ). A proximité de la mer, nous avons passé un excellent week-end.
Céline
2016-03-29T00:00:00Z
Philippe,a été très disponible pour nous accueillir en soirée. La maison est magnifique et décorée avec beaucoup de gout. Nous y avons trouvé tout le matériel nécessaire pour un WE réussi (draps, serviettes, ustensiles de cuisine, barbecue au gaz ...). Nous recommandons cette villa.
Sarah & Charles
2016-06-20T00:00:00Z
Miannay, Picardie, フランス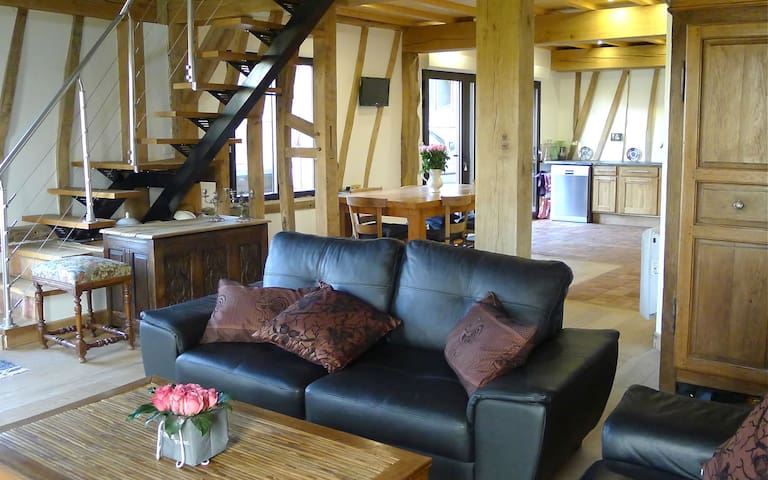 Poix-de-Picardie - Airbnb
:
平均星

4.43

つ/

5

つ星・ゲストレビュー

80

件
日付を入力すると合計金額が表示されます(税・サービス料別)。