PER CHI AMA LA TRANQUILLITA', LE PASSEGGIATE E IL RISVEGLIO AL CANTO DEGLI UCCELLI, PROPONIAMO UNA VILLA TRA VITI E ULIVETI, SITA TRA UN BORGO ANTICO, COMUNE DI ROCCAGLORIOSA, E LE SPIAGGE DEL CILENTO, TRA PALINURO E SAPRI. IDEALE PER FAMIGLIE O GRUPPI DI AMICI.
La villa è immersa nel verde del parco naturale e ha a disposizione 4 ettari di terreno privato, coltivato a orto, vigna e uliveto.
Roccagloriosa, Campania, イタリア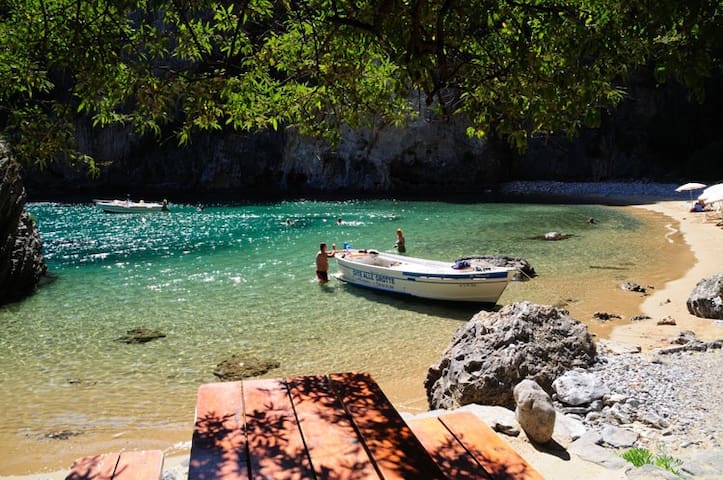 Villa Rita is located in the National Park of Cilento and Vallo di Diano, UNESCO Heritage. Scario is a few minutes drive away and lPalinuro and Marina di Camerota 15 km away. In an hour's drive you can reach the Certosa di Padula, the Caves Petrosa and Maratea. Acquavena is a small resort ideal for holidays with family or in groups. The three-level house has two annexes and includes a large garden with lawn, a pool of 60 m2, a barbecue for barbecues.
Made internally in local stone in 1880, Dimora Villa Rita is a short walk from the historic center of Acquavena. Ideal for families, groups of friends and for all those who wish to take a break from the daily routine of the city and unwind in an intimate atmosphere, high standard of comfort, privacy and total relaxation.
A town in the province of Salerno at the foot of Mount Bulgheria (height mt. 1225), in the middle of the Cilento National Park. This town is part of the municipality Roccagloriosa, and has about 800 inhabitants (in the summer, however, the number of inhabitants is growing by several thousand). The city's name comes from the numerous springs in the area. Acquavena is now one of the few places in Italy where you can still admire the beauty of nature.
Acquavena, Campania, イタリア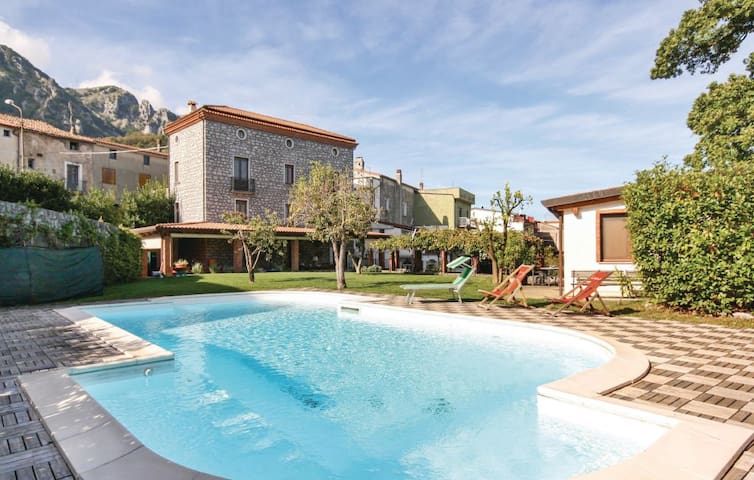 panoramic cottage with large terrace with outside services and distant from the sea (Marina di Camerota and Palinuro) only 10 minutes by car. Cottage located in the Cilento National Park in the green with pleasant temperatures during the day and cool at night.
The green and a large garden
Angela's place in Poderia is in a wonderful spot, high in the hills and away from the crowds and hustle and bustle. Sitting on the side of a hill, it is a lovely country home with beautiful vistas of the valley below and the hills to the east and west. South facing, it has the sun to the rear of the property all day and on the terrace for most of it. It is a little hard to spot, when the gate is closed, as it is almost hidden from the road, excepting a wall, gate and house number plate. The outside shower is excellent after a hot day out (there is a shower inside too, but it's less fun!) If you go in the height of summer, go prepared with mosquito/insect repellent sprays and deterrents, so you can sleep with the windows wide open and let in the cool mountain air. It is a stunning area of Italy, and a smashing little adventure home to stay in.
Patrick
2016-08-04T00:00:00Z
Poderia, Campania, イタリア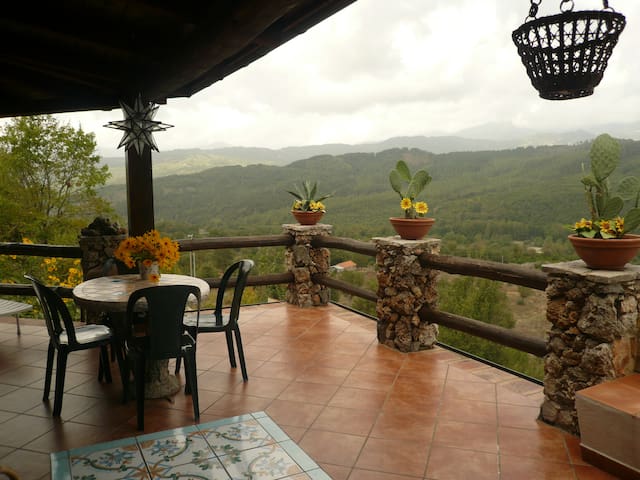 The beautiful outbuilding we offer is complete with all the comforts to spend a beautiful, peaceful and enjoyable holiday just 2 min from the sea in the area fresh and beautiful vista.Adiacente a huge garden and in the surroundings of the beautiful woods.
For those who love nature and the sea you have found the perfect place!
Un'accoglienza davvero calorosa per un posto incantevole. Lucia e Antonio e Francesca sono davvero una famiglia come poche se ne incontrano, semplice e affettuosa. La casa è in una posizione panoramica e fresca, a poca distanza dal paesino di mare di Scario e dai paesi di montagna. Si può scegliere se stare al fresco in mezzo ai boschi e a vedute mozzafiato o nelle calette della costa degli Infreschi, se andare nelle zone archeologiche o nelle oasi del parco del Cilento, se fare un salto a Maratea o a Palinuro. Insomma un posto strategico dove oltretutto si può assaporare l'ottima cucina di carne e pesce di Lucia. Conto di tornarci il prima possibile. È sicuramente un posto che è bello anche fuori stagione. Un oasi di pace e natura.
Camilla
2014-08-20T00:00:00Z
Ho indicato la mia esperienza con 5 stelle solo perché non potevo metterne di più...Antonino e la sua famiglia sono degli ospiti fantastici e molto simpatici, l'accoglienza è calorosa e l'impressione che si ha è di conoscerli da sempre, sono sempre presenti e pronti a tutte le tue richieste ma nel contempo sono estremamente discreti!! Come dice Antonino "in questa casa si entra come ospiti e si esce da amici" ...ed è assolutamente VERO. La fattoria, immersa nella campagna cilentana, gode di una posizione superba, con una vista mozzafiato sul golfo di policastro. La depandance offre tutte le comodità ed è davvero carina e confortevole. Devo consigliare inoltre di approfittare dell'ottima cucina di Lucia, che prepara con l'aiuto di Melissa e Francesca degli ottimi e genuini piatti cilentani da leccarsi i baffi...Abbiamo trascorso una piacevolissima serata in compagnia di tutta la famiglia assaporando una deliziosa cena a base di pesce e chiacchierando come vecchi amici! insomma una esperienza che consiglio a tutti e che sicuramente mi sono ripromesso di ripetere!!
Giuseppe
2016-06-06T00:00:00Z
We liked the place, the garden, the surroundings and of course the whole family very much. Thanks for the nice holiday!
Sebastian
2016-09-12T00:00:00Z
Antonino e la sua famiglia sono stati a dir poco splendidi: gentili, accoglienti e con una particolare attenzione e tenerezza nei confronti dei nostri bambini. Il posto è incantevole: una piccola fattoria molto curata con vista sul magnifico golfo. Ottimo!!
katia
2016-07-18T00:00:00Z
I nostri host sono stati favolosi quattro persone splendide e molto ospitali. la bella sensazione che abbiamo provato è stata di sentirci a casa, sicuri e tranquilli. Una bella famigliola calda in un posto bellissimo che anche con il tempo inclemente ci ha accolte e reso il notro soggiorno gradevolissimo.
annamaria
2014-07-26T00:00:00Z
Dopo una settimana in Cilento, accolti nella casa di Antonino e Lucia, siamo ancora estasiati! La casa di Antonino è un piccolo angolo di paradiso, bella, curata in ogni particolare e con un panorama sul golfo di Policastro mozzafiato. Situata in una posizione strategica, in collina, poco sopra Scario offre la possibilità di spostarsi facilmente per visitare tutto il Cilento, la costa e l'interno e il golfo di Policastro. La depandance ha tutto l'occorrente per passare un periodo di relax, lontano dal trambusto e nella quiete dalla campagna. Antonino e Lucia sono padroni di casa perfetti, attenti, disponibili, mai invadenti e pronti a soddisfare qualsiasi richiesta o curiosità. Persone genuine, di cuore e sopratutto allegre! Assolutamente da provare la cucina di Lucia, cuoca sopraffina! Abbiamo lasciato un lasciato un pezzo di cuore in Cilento, e più precisamente a casa di Antonino! Da tornare prima possibile!
Artur
2016-08-15T00:00:00Z
Mi e piaciuto molto il tempo al casa Antonio. Espessialemente la casetta per rimanere pui in natura e fare la doccia fuori. La casetta era pulito e comodo. Molto tranquillo, stupendo vista e una famiglia molto gentile. Tutte le due figlie sono molto dolce. Anche tutte le 3 cani. La città centro e 2km lungo dal casa. Per avere una periode molto tranquillo posso raccomandare qua. Anche Lucia e una molta brava cuoca. Cibo delizioso della fattoria proprio. Per 15,- potevo mangiare (e bere) con la famiglia. Era delizioso ma per pranzo e cena anche un poco costoso di me. Sopratutto dico: esperienze questo posto proprio!! I stayed here just for 1 night because I was travelling from Naples to Sicilia. But I wish I could stay here a bit longer to enjoy the relaxed and beautiful atmosphere. The garden house is a great place to stay in, clean, cosy and the real nature feeling. The view is amazing. The house lies 2km from the city center and gives rest to your mind. Also can I reccomend to try the house made food. Lucia can cook great pastas. You pay 15,- each meal. It was worth it (comparing a restaurant), but for lunch and dinner it was for me a bit to much actually. Anyhow go to this place, meet the family with the 2 sweet daughters (include the three dogs) and have a life time experience.
Gideon
2014-05-26T00:00:00Z
Appena trascorsa la vacanza a Scario, non rimane che un piacevolissimo ricordo della bella famiglia di Antonino e della casa che ci ha ospitati. La dipandance è poco distante dal paese, circondata da un bellissimo e curatissimo giardino. La comunicazione è stata fin da subito perfetta. Un saluto a tutti voi!!!
ALICE
2016-09-06T00:00:00Z
Scario, Campania, イタリア
Indipendent villa just 4 km from the sea of Marina di Camerota, with swimming pool and surrounded by nature. The location can accommodates 4 people + 1.
This cozy holiday home is the perfect getaway for families and couples, nestled in the heart of the characteristic countryside of Cilento.
Distance to: • Salerno: 130km, • nearest shop: 1km • nearest bar/restaurant: 1km • swimming pool: on-site • the beach: 4km • weekly market: on Friday in Marina di Camerota • Naples airport: 190km • Pisciotta / Palinuro station: 20Km • Sapri station: 40km
Posto bellissimo situato in un paesino caratteristico. All'arrivo, i proprietari ci hanno accolto calorosamente e anche durante il soggiorno si sono sempre dimostrati gentili e disponibili. L'appartamento è una vera chicca immersa nel verde e dotata di tutti i confort necessari. Lo consiglio vivamente e se dovessi ricapitare in quella zona non esiterei a pernottarci ancora.
Martina
2016-08-07T00:00:00Z
This is a private little house with a nice outside area, close to the great swimming pool. Giada and her family live on the same grounds. The family is very kind. The house is not too big, but comfortable and cool. The views from your terrace are wonderful. It is only a short walk to the town where you can get everything you need for a meal. And a short drive from the beaches. It's a perfect place for a relaxing week with children.
Gerben
2015-08-01T00:00:00Z
Accoglienza ottima dei proprietari, molto gentili competenti e puntuali. Il posto è veramente molto bello, a due passi dal piccolo centro di Lentiscosa, immerso tra uliveti e alberi di limoni. Il giardino, la piccola ma graziosa piscina e tutta la proprietà sono molto curati e ben tenuti. Marina di Camerota si raggiunge in 10 minuti di auto.
Antonio
2015-08-29T00:00:00Z
Nous avons passé une excellente vacance chez Giada et sa famille. Nous voulions la tranquillité et l'avons trouvé à Lentiscosa. Les jours de farniente au tour de la piscine, relax.
Craig
2015-08-15T00:00:00Z
Posto splendido, immerso nel verde a pochi chilometri da Marina di Camerota. Appartamento fresco e molto accogliente. Padroni di casa molto gentili e disponibili
Lorenzo
2016-08-27T00:00:00Z
Alloggio ancora più bello della descrizione, curato in tutti i dettagli in un posto silenzioso, fresco, accogliente e riposante. Rosa e Gerardo ci hanno accolto con generosa e sempre discreta ospitalità. Assolutamente da non perdere
Iury
2016-08-14T00:00:00Z
Il posto è forse ancora più bello di quanto descritto dall'annuncio. L'appartamento è immerso nel verde, tra limoni ed ulivi secolari, accogliente e funzionale, pulitissimo e fornito di quanto occorre per il soggiorno, con uno spazio esterno adatto per il relax. La piscina è fantastica. Siamo stati accolti dai genitori di Giada, persone disponibilissime e gentili che ci hanno assistito per consigli e quant'altro per la durata della vacanza. Consigliato.
Grazia
2016-09-09T00:00:00Z
CAMEROTA, Campania, イタリア
Villa in peaceful, panoramic apartments with terrace. New and comfortable, the apartments have fully equipped kitchen with dishes, double bedrooms, full bathroom with shower, satellite TV., Mosquito nets. Outside is a large terrace with awning, table and chairs for outdoor dining, washing machine, barbecue and outdoor shower, parking. Among the services on request, the complete supply of linens. For information (PHONE NUMBER HIDDEN)
The Villa is situated in a quiet location in the hills and 3 km away from the center of Marina di Camerota. The great outdoors, nestled among olive trees, fruit trees and Mediterranean plants invite you to relax, adding to the low altitude, giving a strategic location which offers a cool breeze even in the hottest months, making the stay even more enjoyable. The machine is recommended for better mobility on site.
The center of Marina di Camerota is 3 km, 10 minutes by car. The beaches in Marina di Camerota are numerous and with parking. The Lentiscelle beach, settled and with parking. And 'it recommended the car, despite numerous line shuttles that connect the center with the structure. The village of Lentiscosa is 1 km away, reachable on foot.
Casa fantastica, host disponibilissima !
Rocco
2016-08-26T00:00:00Z
Emilia's place is a gorgeous apartment attached to a villa, in charming surrounds. She was a great host, and left some complimentary cold drinks for us, and met us in town and took us to the apartment and showed us around. You will need a car, as the apartment is about 15 minutes' drive from Marina Di Camerota, and involves some pretty challenging driving (hairpin turns). A day trip to Camerota is highly recommended.
Bianca
2016-07-19T00:00:00Z
La settimana appena trascorsa a casa della signora Emilia non poteva essere più piacevole e rilassante di così. L'appartamento dove alloggiavamo noi era pulitissimo, moderno e molto spazioso con una fantastica terrazza vista mare in lontananza. Circondato dagli ulivi, ad una giusta distanza dal centro di Marina di Camerota, la sera c'è sempre un venticello fresco e il silenzio che si può godere lassù la notte rende il tutto ancora più perfetto se ci si vuole riposare dopo una giornata di mare o una serata di balli in spiaggia. Cosa dire poi della signora Emilia? Mai incontrato un host così disponibile, paziente e gentile, ci ha fatto sentire veramente a casa, con tanti piccoli accorgimenti e attenzioni, sempre col sorriso sulle labbra. Unica cosa che davvero consiglio a chi desidera soggiornare qui è di avere un mezzo proprio per spostarsi poichè il tragitto casa-mare-centro città è difficilmente percorribile altrimenti. In definitiva casa vacanze assolutamente raccomandata!
veronica
2016-08-01T00:00:00Z
L'accoglienza dell' host è stata di grande cortesia e disponibilità. la casa era molto bella in un posto tranquillo. Eccezionale il giardino, una vera e propria tenuta. La casa è molto bella,ben arredata in tutte le stanze e dotata di tutto ciò che serve, in una posizione ideale per chi ogni giorno vuole vedere poti diversi. La signora Emilia è un host affidabile che instaura un clima di cordialità e fiducia.
Giuseppe
2016-09-04T00:00:00Z
マリーナディカメロータ, Campania, イタリア
The villa "Le Due Querce" is immersed in the incredible scenery of the Park of Cilento, Scario resorts. It has a swimming pool 12 x 3 and autonomous annexe. Fantastic view of the Gulf of Policastro. Particularly suitable for lovers of the sea and the countryside.
Indoor and outdoor kitchen cooking. Large size both internal and external. Wood oven and Braciera. Indoor and outdoor showers. Saltwater pool.
Quiet and private neighborhood.
Grazie per l'ospitalità, la casa ed il giardino sono molto curati, piacevolissima la piscina, gentile l'accoglienza. Abbiamo mangiato ottimi gelsi bianchi e more, colti dagli alberi di cui è ricco il giardino. Il mare è distante (necessaria l'auto), ma nei dintorni ci sono splendide spiagge e paesaggi. Siamo stati benissimo e la consigliamo!!
adriana
2016-06-06T00:00:00Z
Roberto si è mostrato molto disponibile e accogliente, la casa è bellissima ed è esattamente come appare nelle foto, comoda e ben attrezzata di tutto l'occorrente. La piscina è favolosa e il giardino molto ampio e ben curato. Unica pecca la distanza dal mare per cui è necessaria la macchina. Complessivamente un bellissimo soggiorno, consigliatissimo!
benedetta
2016-07-04T00:00:00Z
San Giovanni A Piro, Campania, イタリア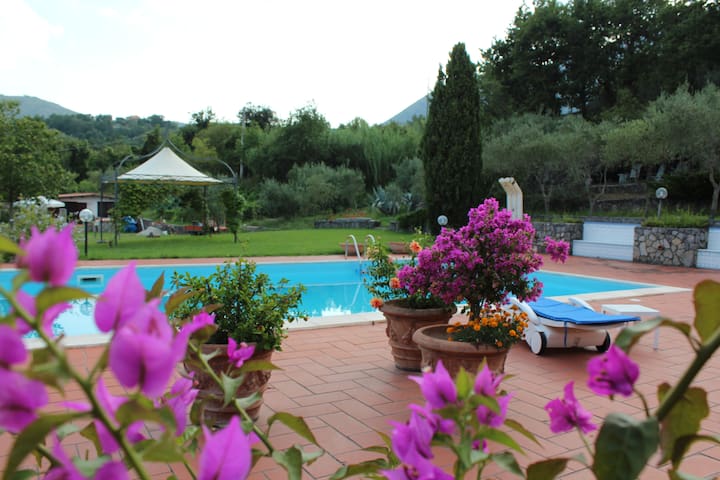 In einer grünen Oase mit alten Olivenbäumen doch nur wenige Minuten von der Innenstadt und vom Meer, geeignet für Familien mit Kindern und Haustieren. Mit allem Komfort. Garten mit Grillplatz, Tisch mit Steinsitzmöbel, Dusche, Parkplatz.
Ein kurzer Spaziergang vom Zentrum von Palinuro, aber in einer Oase der Ruhe Ruhe sorgt Frieden und Ruhe auch in der Hochsaison.
Das Haus befindet sich in einer ländlichen Gegend und Olivenbäumen, aber man kann das Zentrum mit einem angenehmen Spaziergang von wenigen Minuten zu erreichen.
Casa grande, comoda e ben tenuta. Si trova in campagna ad un paio di chilometri dal parse e dalle spiagge.
Angelo
2016-07-25T00:00:00Z
Casa carinissima, molto grande e spaziosa, perfetta per un gruppo di amici, giardino spazioso con un tavolo fuori perfetto per le cene (anche il barbecue). Bagni e cucina perfettamente dotati di tutto il ncessario, il proprietario ci ha anche fatto trovare delle cose da mangiare e per Cucinare al nostro arrivo. Neanche 10 minuti in macchina dal mare. Il proprietario è stato assolutamente a disposizione per ogni questione.
Lavinia
2016-08-05T00:00:00Z
パリヌーロ, Campania, イタリア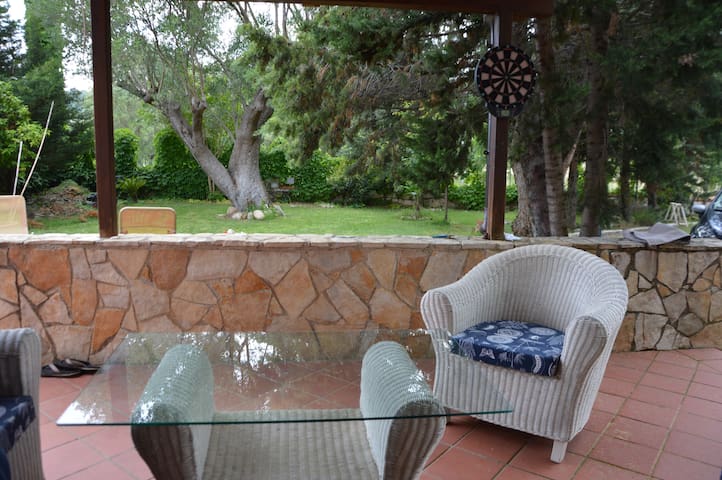 Two apartments in villa sleeps upstairs with two bedrooms kitchen bathroom and living room surrounded by olive groves natural arch area 350 meters from the sea with garden and parking space for families looking for a quiet and relaxing holiday you will find yourself at home!
Surrounded by olive groves outside space with tables and chairs large garden parking
Near all services
パリヌーロ, Campania, イタリア
Højdepunktet i denne villa, beliggende i et fredeligt sted mellem bjergene og Scario bay, er dens storslåede have med en flot swimmingpool, en afslappende område ved siden af swimmingpoolen og grill plads til mange venner og familie
Smuk villa, der er opdelt i 2 uafhængige etager, der bortskaffer hver af 3 soveværelser (1 med dobbeltseng i toppen, og 2 enkeltsenge i hver af de andre værelser), balkon og for det op appartment hav og bjergudsigt. Det ville har en stor swimmingpool (13m x 16m), en meget stor grill Aera hvor du kan nyde enten grillet madlavning eller pizzaer og kan passe så meget som 20 mennesker. Der er også en parkeringsplads, hvor mindst 4 biler jakkesæt og en køkkenhave. At have en bil er et must, så du kan nå Scario havn i 5 minutter ride og derfra kan du få adgang til smukke strande (i Scario strandene er med sten og Crystal Waters) gennem små både, der tager dig der hvert 20. minut. At ankomme den er togstationen i Sapri, der er placeret kun 30 minutters kørsel (mere eller mindre 1h20 fra Napoli og 1h tur fra den fantastiske Amalfikysten). Du kan finde et par typiske små byer som San Giovanni a Piro, Maratea, Palinuro (der er sandstrande), Villamare, med kun 30 minutters kørsel og opdage den sydlige italiensk kultur. Hvis du er naturelskere, du kan også gøre ridning, trekkings, kano, vandsport (windsurfing, sejlads, osv). Det er det ideelle sted for familier, naturelskere, slappe af eller endda venner mødes! Hver uge i løbet af sommeren er der masser af typiske lokale festivaler (f.eks de traditionelle sagre var du kan smage de traditionnal lokale produkter og receipes, danse de traditionelle musikkens). Du kan enten leje hele huset enten kun toppen eller ned. Huset er et velkendt hus og vil ikke blive udlejet til fremmede, hvis du beslutter kun at leje en af de 2 etager. Swimmingpoolen er tilgængelig fra juni til september inkluderet. Villaen er også tilgængelig om vinteren med pejs i begge etager og el mobil varme.
Meget helt og fredeligt kvarter. Green, med udsigt mod bjergene og havet
From the first contact Elena made us feel special and that she would do everything to accommodate our needs - always communicated promptly answering all my questions! In fact we now know the whole family is so kind and friendly - during our stay Emilio was on hand to help with anything and his father provided us with fresh produce and wine! The house was stocked up with bread, juice and fruit when we arrived plus a gift of wine! Everything beautifully clean and well prepared. The house is wonderful with great views across the bay, the pool is amazing and huge - our teenage kids could jump and swim all day without getting bored! All in a lovely quiet wooded setting. The terrace at the back of the apartment was perfect for meals and overlooked the pool. All three bedrooms worked out well with everything you need and in addition to the main bathroom a separate toilet/shower in the basement was really useful from the pool area. There was a huge BBQ and covered eating area and outdoor kitchen too! The area is spectacular - Scario a real Jewel and perfect to visit after a day in the sun - lovely restaurants etc all in a beautiful bay. We rented a boat to spend a day visiting little beaches and bays which was fabulous! A visit to Maratea is a also a must with a spectacular drive and beautiful town and port below. I can't recommned this experience highly enough - very special people and rental! My only sadness is that we would love to have stayed longer! Mille Grazie!
carla
2016-07-24T00:00:00Z
The host canceled this reservation 36 days before arrival. This is an automated posting.
Harald
2016-01-22T00:00:00Z
Scario, Campania, イタリア
Beautiful stone villa with wooden terrace on the Gulf of Policastro just 20 minutes from the famous resort of Palinuro and Camerota. The villa is located at 'inside of a park dedicated in part handling and for the rest to garden, which you can taste the products. perfect place to experience the 'stuffiness of the sea by day, the quiet peace ela cool of the evening hill
Nestled at the foot of the foothills southeast of the Gelbison (also known as Monte Sacro, whose highest peak touches the 1,705 m above sea level), in the natural environment of the Cilento National Park, the small town of Montano Antilia oversees the southern Tyrrhenian Sea and its coastline . As through a kaleidoscope, in the incredible wealth of sights, you can have an uninterrupted view from the east, where stands the summit of Mount Pollino (2248 m, the site of another important National Park), to the west, compass point marked by lighthouse of Palinuro, just 3 km away as the crow flies and whose flicker seems to want to remember that time flows, even in a place so dominated by silence. The town, mentioned since the sixteenth century under the name Mountain, owes its name to being the "highest" City of Cilento (766 m) and its name (from the Latin "ante elios", before the sun) to wonderful southern exposure, on the Lambro and Mingardo rivers downstream. The old town is small, but not lacking in points of interest include the Mother Church offers a taste of the skills of local artists of the eighteenth century, while Monforte Palace, the Palace of Monica and the San Nicola Piazzetta belfry are examples of an architecture preserved and guarded, as it has to be preserved and visit the Scala Santa, just returned to the public after restoration. To complete the picture there are the chapels of St. Anne, St. Anthony and St. Sebstiano, together with evocative rural church of the Madonna of Loreto. In this context, the same alleys of the village take on the appearance of a solid and intricate monument, August 18 to 21 wearing the clothes of the festival, at which it is evident that Montano Antilia not make an exception in the South Italy in terms of reception , hospitality, fun and good food!
Montano Antilia, Campania, イタリア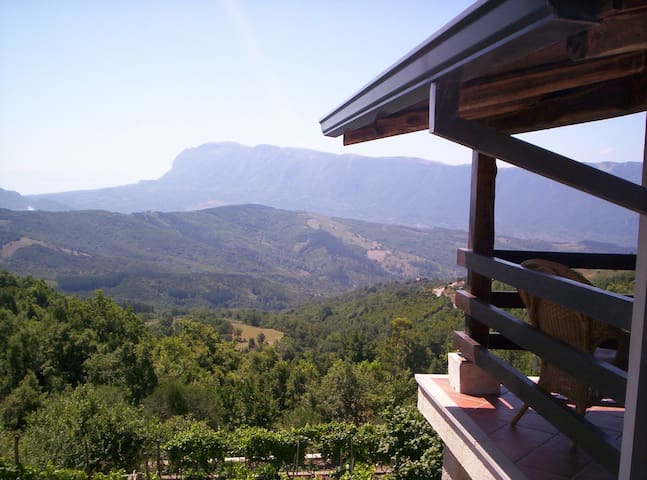 Villa con piscina situata a 2 km dal centro abitato di Marina di Camerota, composta da: 2 camere da letto, servizi, cucina-salotto, veranda. La piscina all'aperto è a uso esclusivo dei proprietari e inquilini, la zona è ideale per un soggiorno al mare ma allo stesso tempo all'insegna della tranquillità
Annapaola was the perfect host, very friendly and helpful. She attended to all matters promptly and professionally. She knows the local area and amenities very well and even helped book restaurants and boat trips for us. Our villa was quite small but the outside verandah space was private with a view of the sea and the pool was amazing. Our children had a great time in the pool - the photos really don't do it justice. Sharing with the other house on site wasn't a problem as there are separate areas with sun loungers for each property, lots of space for everyone. The area is varied and there is plenty to explore, we had a lovely week.
Catherine
2016-08-29T00:00:00Z
The host canceled this reservation 147 days before arrival. This is an automated posting.
Alexander
2017-02-09T00:00:00Z
Annapaola a toujours été disponible et réactive, souriante, et avec une maîtrise parfaite du français. L'adresse est juste ce qu'il faut â l'écart du centre ville pour être au calme, mais pour s'y rendre rapidement. La voiture reste indispensable, mais nous avons effectué beaucoup de trajets à pied. La piscine est vraiment très, très agréable ! La petite maison que nous occupions est la deuxième location du site, mais l'organisation des locaux et la taille du terrain ( jusqu'à l'accès à la piscine ) permettent un réelle séparation entre les deux séjours. Nous avons passé 10 jours très agréables et sans mauvaises surprises. Nous recommandons cette adresse sans réserve.
Rachel
2016-08-21T00:00:00Z
3 semaines passées à Marina Di Camerota, superbe séjour. Une piscine de rêve, une mer d'un bleu turquoise avec des falaises qui plongent dedans. Annapaola et ses parents sont très sympathiques et ils ont vraiment tout fait pour que notre séjour chez eux soit le plus agréable possible.
Fabrice
2013-09-01T00:00:00Z
This place in Marina di Camerota was for us, the best we could get. The location consist of a big swimming-pool, large olive garden and one house next to the swimming-pool, and one house just 30 meters from the swimming pool. We had this separate house. The house itself is sufficient to sleep, wash and cook and has a nice terrace with a beautiful view over the olive garden and the (top of) the sea. The swimming-pool is the best that our kids ever had experienced (kids 4 and 8 years). It has waterfalls and jacuzzi and a place to jump from just 1 meter into the water :) There is for each house a nice separate location for a parasol and good sun beds at the swimming-pool. From the location you are in just 5 minutes in Marina di Camerota. This is a tourist city. The beaches in the area are nice, beautiful bays and clear sea water. The host Annapaola is very nice and really wants it to be a good holiday for you. We received good tips to go to. And responses to questions are done in minutes! We would recommend this beautiful place!
Robert
2015-07-25T00:00:00Z
3 settimane volate in un solo attimo in questo splendido posto! La casa e` fatta giusta per 4 persone provvisa di tutto che serve nella vita di ogni giorno, pulita e ordinata bene con il patio con la splendida vista al mare. quando nella cittadina sotto fa tanto caldo qui e` sempre un leggero venticello e si respira proprio bene. la piscina e` da urlo, e`un`opera d`arte! Cascate, hidromassaggio, stupendo!!! Un grazie vorremmo dedicare anche ai padroni di casa: le persone di cuore e di comportamenti nobili, pronti ad aiutare ogni momento della giornarta! Cosa dire: questa casa, questa gente, questo mare ci son rimasti nel cuore e coglieremo ogni possibilita` per poter tornarci di nuovo!
natalia
2014-07-20T00:00:00Z
Super place où rester! Nous cherchions une petite maison caché, un coin tranquille pour nous reposer et une place à proximité de la mer et des activités balnéaire. Je recommande fortement la location à cette villetta, un vrai bijoux. proche de tout (en voiture bien entendu) et un coin du pays à découvrir. Merci encore pour votre accueil et pour tout!
chloe
2015-08-31T00:00:00Z
We are a Family of four (2 adults, 2 kids 6 yrs and 8 yrs) who stayed at the larger house right by the pool for two weeks early in July 2015. The house is beautiful and the pool is fabulous! We can recommend this house to anyone. It is perfect for families with 2-3 kids. The host Annapaola is very helpful and kind. She speaks excellent English (and French and her native Italian of course :-) ). The house is very well equipped. The kitchen is spacious and has all you need to cook a proper meal. The bedrooms are very nice, where one has its own bathroom (toilet). The main bathroom is also nice and clean. Both bedrooms have air conditioning, and there is also a separate air conditioning in the living room. The pool and the surrounding area is really great. From the pool and the outdoor sitting area there is a nice sea view . The pool is deep in one end (approx 2,1 m) and fun for kids (and grown-ups) to jump in from the decorative rock-like installations around the water. In the other end it is safe for small children (under constant adult supervision, of course). The house is on a hill a 5 min drive from the centre of Marina di Camerota and the port, in the southern part of Campania. It is a nice village with lots of beaches and boat trips offered daily to caves and quieter beaches. Fresh fish is served in the restaurants. If you are staying here we will in fact recommend the restaurant which is in walking distance from Annapaola's house (although we recommend driving the 2 minutes as the road gets really dark in the evening). The restaurant is family driven and is called La Tramontana and serves excellent food. It seemed popular by the locals, and despite my poor Italian we ended up with many great meals :-). We had a rental car and did our fair share of excursions, including day trips to Pompeii, Napoli city, Vesuv, Capri (ferry from Sorrento) and Positano (Ferry from Salerno). Some may regard the driving time to Naples as quite long, as the drive is approx 2,5 hours one way.
Sigrid
2015-07-18T00:00:00Z
マリーナディカメロータ, Campania, イタリア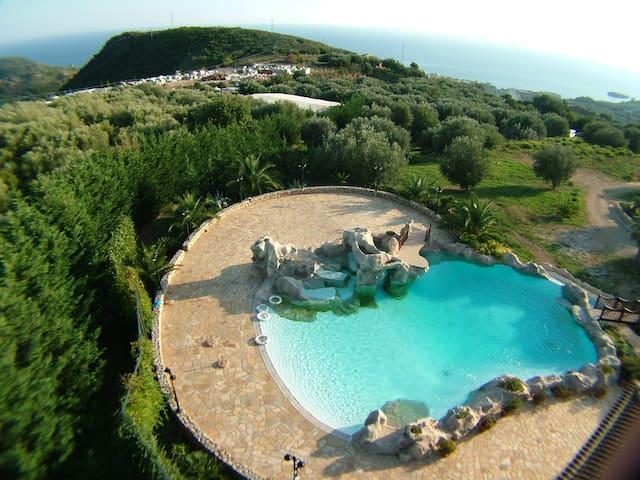 Appartamento in villa, tra mare e macchia mediterranea... con terrazzo panoramicissimo, doccia esterna calda, barbecue, agrumeto, posti auto e altri comfort. A 5 minuti da Scario.
Appartamento autonomo posto al piano terra di una villa su due livelli. Siamo in collina, a circa 200 metri sul livello del mare, nell'area protetta del parco nazionale del Cilento, a metà strada (2 chilometri, 5 minuti esatti d'auto) tra il mare di Scario e l'antico borgo di San Giovanni a Piro. L'appartamento è immerso nel verde e ha un ampio terrazzo panoramicissimo sul Golfo di Policastro. Al centro del terrazzo, un bel corbezzolo crea piacevoli zone d'ombra per leggere o riposare nelle ore più assolate. Sempre all'esterno, all'ingresso dell'appartamento, una grande tenda avvolgibile consente di utilizzare il terrazzo anche di sera, ad esempio, per cenare all'aperto. Altri comfort "esterni" sono il barbecue in mattoni, una doccia calda tra gli alberi e un piccolo agrumeto che offre limoni tutto l'anno. All'interno, l'appartamento ha un living ben attrezzato: divano, tavolo con 6 sedie, stereo, cucina a 4 fuochi, forno, frigo, freezer, lavatrice, pentole e stoviglie in quantità, ecc. Le due camere da letto sono piccole ma entrambe affacciano nel verde e sono dotate di comodini e armadio. La matrimoniale ha anche una cassettiera con specchio. Il riscaldamento è autonomo, con termosifoni in tutte le stanze, incluso il bagno, dove è collocato un radiatore verticale scaldasalviette. L'auto si può parcheggiare all'interno, protetta da un pergolato. Cani e gatti (ma anche tartarughe, pesci rossi e animali in genere) sono più che graditi.
Una casa molto bella, in una posizione meravigliosa a metà strada tra il mare è la montagna. La vista che si gode dal terrazzino è incantevole e Gabriella e Franco sono davvero due ospiti deliziosi, disponibili e attenti. La casa è esattamente come descritta, molto pulita e confortevole. Il giardino molto curato con ulivi, magnolie e limoni è un piacevole valore aggiunto ad una cornice incantevole. Complimenti, Gabriella e Franco!
antonio
2015-06-22T00:00:00Z
Uns hat es sehr gut gefallen bei gabriella und franko. Die beiden sind sehr bemüht und es ist so schön, wie es auf den fotos aussieht. Da das haus oben auf dem berg liegt, braucht man wirklich ein auto und die anfahrt ist sehr steil. Das haus liegt sehr idyllisch und wir hatten eine ruhige und entspannte zeit. Im umland kann man sich ein paar sachen anschauen und beiden geben gute tipps. Wir haben uns mit unserer 6jährigen tochter dort sehr wohl gefühlt.
Eva-Maria
2016-04-19T00:00:00Z
Posto spettacolare e ospiti gentilissimi! Altamente consigliato. Torneremo con piacere. Grazie di cuore.
Adriano
2016-07-13T00:00:00Z
Tanto la casa como el anfitrión han sido excelentes. Estamos muy contentos y agradecidos por el trato amable y los detalles mostrados por el anfitrión.
Laura
2014-12-09T00:00:00Z
We really enjoyed our stay at Franco and Gabriella's, we felt home in such a peaceful and beautiful place. The view is stunning and Franco sorted everything to make our stay perfect, he took time to suggest us places to visit or local restaurants and make sure everything was fine on our side. Thank you Franco, we did really appreciate The flat and the terrace were both perfect, everything was clean and tidy. Scario is a lovely village (5 - 10 minutes by car) with a unique view on Policastro Bay. Thank you very much for your warm welcome, highly recommend this place :)
Maelle
2015-10-12T00:00:00Z
Fantastic place, beautiful view and perfect hosts. A great option close to Scario. Couldn't be better :)
Oliver
2016-09-15T00:00:00Z
Wir wurden vom fantastischen Francesco im Ort abgeholt, da die Unterkunft ziemlich schwer zu finden ist. Es geht etwa zwei Kilometer den Berg hoch (also wohl am besten nur mit Auto). Die Unterkunft ist genial, die Aussicht wie auf dem Foto - wunderschön. Francesco gab uns viele wertvolle Tipps zu dem Städtchen Scario, Stränden und Ausflugszielen und kümmerte auch sonst sehr um uns. Alles in allem ein Traum für Familien.
Wilhelm
2015-06-06T00:00:00Z
L'accoglienza è stata calorosa. Gabriella, Franco e Daniela sono persone gentili, disponibili e molto interessanti. Scambiare due chiacchere con loro è stato un vero piacere per me. La casa non ha disatteso l'annuncio ma anzi, ha un grande terrazzo su uno stupendo panorama e circondato da un un verde meraviglioso che dalle foto non si evince. Inotre la casa è collocata all'interno di una villetta realizzata con semplicità ed eleganza. Il quartiere si colloca in collina fra villette simili sparse nel verde a cinque minuti dal mare in auto.
massimo
2015-07-26T00:00:00Z
San Giovanni A Piro, Campania, イタリア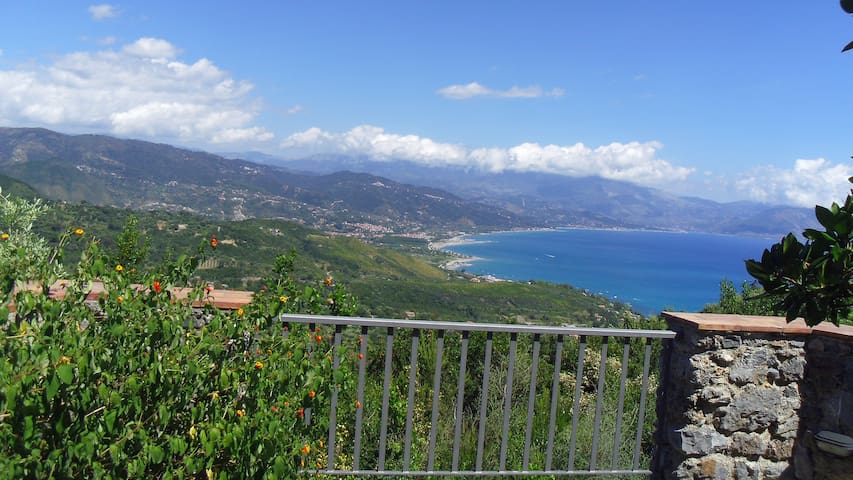 Casa grande e spaziosaper due. All'interno c'è il minimo,ma tutto sommato la posizione è comoda per spostarsi ovunque nei dintorni disponendo ovviamente di una macchina. Accoglienza discreta da parte del proprietario. Unico suggerimento che darei a Giustino e suo figlio é di specificare per tempo tutto ciò che manca in casa così da provvedere prima di partire (es. Mancava perfino la carta igienica).
Eugenia
2016-08-14T00:00:00Z
L'appartamento è molto fresco, arieggiato e luminoso, è silenzioso perchè è in campagna ma anche molto vicino ad uno splendido mare (5 min in macchina). I proprietari molto cortesi e disponibili.
Susanna
2016-08-29T00:00:00Z
Centola, Campania, イタリア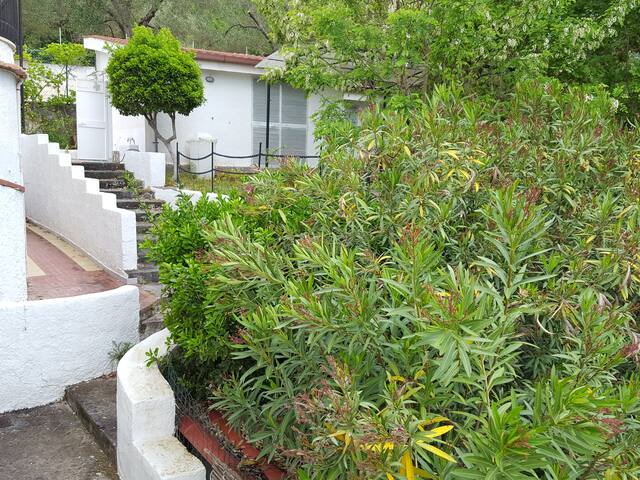 grandes espacios para la familia y amigos en una villa de colorido en la costa de una de las Italias sur parques nacionales más bellos!
En la costa exuberante del Parque Nacional del Cilento, esta amplia villa cuenta con impresionantes vistas de las playas del sur de Italia. Dentro de 15 minutos a pie de la playa escondida de Spiaggia Marinella, encontrará un hogar para hasta 10 personas. La villa tiene 4 dormitorios, tres de las cuales con camas tamaño queen, uno con dos pares de camas individuales. Las vistas desde la sala de estar, terraza y dormitorio principal ofrecen el mismo soplo de toma de vista de playas de arena blanca de coral contra el mar azul profundo y verde verde de las colinas. La villa es ideal para un grupo de amigos o una familia en busca de un hogar espacioso para unas vacaciones inmerso en la hermosa naturaleza del Parque Nacional, con la playa a pocos pasos.
El centro del pueblo de Palinuro se puede llegar con un corto paseo y cerca hay muchas pequeñas ciudades costeras pintorescas a ser explorados, especialmente Marina di Camerota, a 10 minutos en coche.
パリヌーロ, Campania, イタリア
Villa Caruso is an enchanting villa situated on a hill of the Scario village, in Cilento, the wonderful land of southern Italy between Campania and Basilicata. The villa is structured on two floors, full immersed in the green, and offer a splendid view of the policastro gulf. It is equipped with chimney,oven,a large terrace, a 1000 sm garden where you can breathe the fresh air of this awesome place, and all the comforts that a house can give. Ideally suited to accommodate 6 people, The house is about 1 km far from the center where there are shops,markets,restaurants,bars, and the port ,where you can get the boats who take people to the best beaches of the Cilento coast. *Car is needed.* Service: -fully equipped kitchen -tv -parking included -washing machine -fireplace Cilento is an Italian geographical region of Campania in the central and southern part of the Province of Salerno and an important tourist area of southern (URL HIDDEN) the 1990s it was proposed to make Cilento a new province of Campania . This proposal has never come near to implementation; in particular there was the difficulty of choosing an administrative centre. The four candidates were Vallo della Lucania (in the most central position), Agropoli (the largest town, situated in the north), Sala Consilina (the most populous town of Vallo di Diano) and Sapri (in the centre of southern Cilento, with the most important railway station). Another more recent proposal was to move Cilento from Campania to Basilicata, as a third province together with the existing provinces of Potenza and Matera.
Il soggiorno a Scario é stato assai piacevole, sia per la bellezza dei luoghi, sia per la comodità della casa. In particolare abbiamo molto apprezzato il giardino della casa che ha un bellissimo terrazzamento ombreggiato e fresco. Inoltre l'accesso anche da scala esterna al piano superiore consente di avere una buona privacy anche a chi dorme nel divano letto del piano inferiore, dove si trova il secondo, e comodo, bagno.
Eloisa
2016-09-04T00:00:00Z
We thoroughly enjoyed our stay at Villa Caruso, which is even better IRL than in the pictures. Great welcome by Marco's sister-in-law and husband - with lit candles and everything in perfect order. The house is located in the hills above the charming village of Scario - we would definitely recommend this to families similar to our own. Our three kids, 11-16, enjoyed the house and the surroundings, too!
Ann
2014-07-28T00:00:00Z
Bellissima casa immersa nel verde, Marco e la sua famiglia sono stati molto ospitali e disponibili
Filippo
2016-08-20T00:00:00Z
Villa Caruso is situated about 1 km up a very steep chill above the beautiful fishing village of Scario. Despite being part of a duplex development, it was very private, quiet and a welcoming "home".The garden is lovely, with a nice big patio; the furnishings comfortable with the exception of the queen size bed which sagged in places, and the kitchen fine for most things. Marco and his parents, who met us in Scario, were helpful and welcoming landlords, had clearly cleaned the apartment/half house well before we arrived and followed up with offers of help while we were there. The area is lovely, the beaches in particular, and a nice change of pace after a hectic week in Amalfi.
John
2015-10-14T00:00:00Z
L'accoglienza è stata ottima, abbiamo concordato insieme arrivo e partenza e abbiamo trovato molta disponibilità. La villa è in un posto molto fresco e rilassante, immersa nel verde di un bosco privato. La terrazza permette di vivere all'esterno (dotati però di anti-zanzare!!!!) e di godersi in pieno relax la propria vacanza. Il porto è facilmente raggiungibile e il mare delle calette è fantastico!
Lucia
2014-08-25T00:00:00Z
San Giovanni a Piro, Campania, イタリア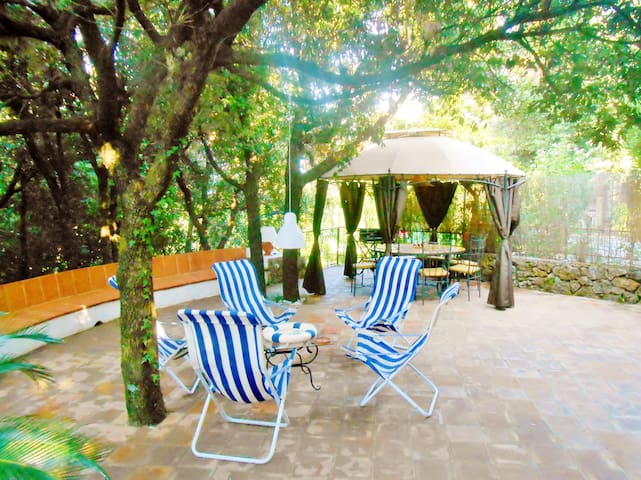 Surrounded by greenery and only 200 m. from the seaside in Scario (SA), there is this beautiful detached villa consists of three apartments with different entrances. At the center of the country but in a private location, overlooking the beautiful Gulf of Policastro, no parking problems ... a great location !. You will like my accommodation for these reasons: the views. My accommodation is suitable for couples, families with children
Gaspare's house is a typical Italian nonna's house full of charm. The best thing about this apartment is definitely the terrace with a beautiful garden and a view to the coast. The apartment is ideally situated just few minute's from the city center - so you can leave your car at the apartment's parking which is a real plus! We had a few misunderstandings at the beginning due to fact that this was their first location through airbnb but the overall experience was really good. We can recommend this location.
Gianmarco
2016-07-26T00:00:00Z
Scario, Campania, イタリア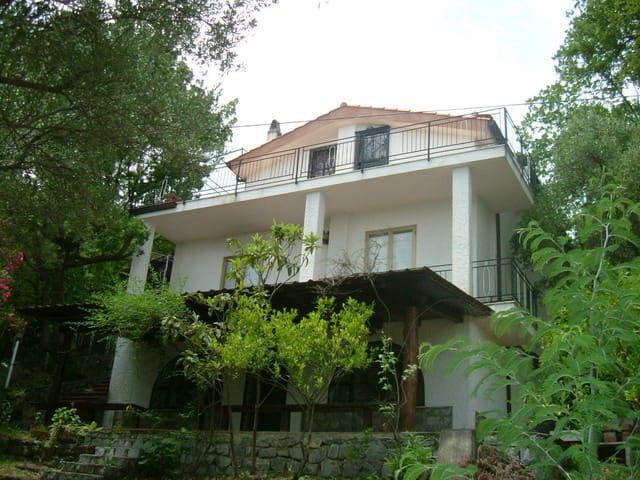 Poderia - Airbnb
:
平均星

4.22

つ/

5

つ星・ゲストレビュー

67

件