Nabízím k ubytování byt o velikosti 1 + 1, který se nachází v centru města Karlových Varů. Jedná se o slunný byt, zařízený. Je umístěn ve čtvrtém patře bez výtahu. Bezplatné parkování je možné ve dvorním traktu domu.
部屋タイプ
まるまる貸切
---
建物タイプ
アパート
---
定員
2
---
寝室
カルロヴィ・ヴァリ, cz, チェコ共和国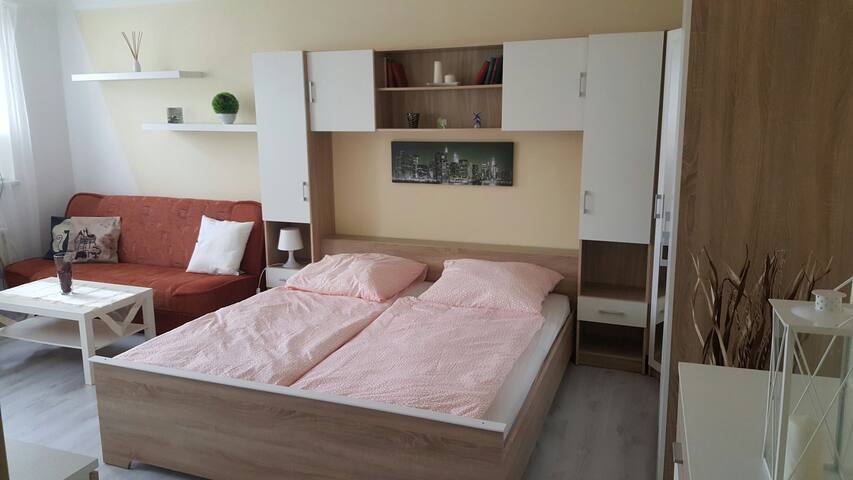 Cozy apartment in a family house with spacious garden close to the city center. Útulný apartmán v rodinném domě se zahradou v docházkové vzdálenosti od lázeňského centra.
Нам все очень понравилось!!! Яна забрала нас со станции и говорит по Русский! Квартира уютная, далековато, зато в тихом месте, без туристов. Спасибо большое! It was amazing, Jana and her family met us at the train station and gave us a pass for the house. It was really funny and easy, because they could speak different languages. We met Vaclav as we arrived. They are all nice and welcome person. We stayed in our flat as on the pictures. We found lots of informations for seeing the Carlsbad, two bus tickets and a map. A bed was comfortable and we feeled us very good. So we had to use busses, because it is pretty long way to the hot springs, about half an hour, inkl. 4 stops with a bus. But it wasn't matter for us, because it is not expensive to use a bus. One time we took a wrong bus a stayed outside the town, so Jana was pleasure and picked us from the wrong station. Thank you for that! We liked really Carlsbad , hot springs, architecture, fresh air, nature and our stay, which wasn't in the center, but in quite place with nice hosts and terraces.
Vera
2016-01-03T00:00:00Z
Все очень понравилось! Все соответствует описанию, квартира очень удобная! Свежий воздух, много гуляла!
Ирина
2017-02-25T00:00:00Z
Ubytovani se mi libilo, prostorny pokoj, velka kuchyn a skvely vyhled
Filip
2016-04-03T00:00:00Z
The apartment was very clean and comfortable. We appreciated the snacks and water that Jana left for us. She was home to let us in when we arrived and she explained how to get downtown using the bus or walking. Since they didn't have guests arriving the day we checked out, Jana let us stay as late as we needed, which was nice because our bus left at 7pm. Although the apartment is somewhat far from the center of town, there are two buses that are very easy to use. If you arrive to Karlovy Vary at the Trznice station, you can take the 5 or 17 to Orlov. Across the street there are stairs which take you right up to the apartment. I'm sharing this because Jana didn't explain this in email and we struggled to reach the apartment initially.
maytal
2016-08-23T00:00:00Z
I would be there but because of wrong time schedule ,I didn't .it was so pitiful for us,I wish to go there the next time.
大狒
2016-10-04T00:00:00Z
Great apartment
Dasha
2016-08-20T00:00:00Z
Výborné ubytování. Mile mě překvapila láhev matonni a 2x lístek na autobus
Petr
2016-07-04T00:00:00Z
Skvělí lidé, skvělé a velmi prostorné ubytování s nádherným výhledem. Rád se budu vracet
Filip
2016-09-27T00:00:00Z
部屋タイプ
まるまる貸切
---
建物タイプ
アパート
---
定員
2
---
寝室
カルロヴィ・ヴァリ, Karlovy Vary Region, チェコ共和国
Un accogliente bilocale a metà strada - 5 minuti dall'inizio della foresta, a 10 minuti dal colonnato. Tranquillo appartamento in un ambiente pulito, ma vicino al centro di tutte le azioni. Godetevi il lusso della città termale ad un prezzo accessibile!
Grazioso appartamento di 45 mq in una casa a basso piani situato nel quartiere tranquillo, a 10 minuti a piedi dal famoso colonnato! Si tratta di un appartamento con una spaziosa cucina, un accogliente soggiorno e una grande camera da letto, un balcone privato con ingresso indipendente è disponibile per i fumatori. L'appartamento è completamente attrezzata - cucina con elettrodomestici, frigorifero, lavatrice, sedie regolabili, mobili, armadi, TV con canali ceco e tedesco, set-top box in grado di riprodurre film, grande letto matrimoniale, scrivania, connessione ad internet dal computer, biancheria da letto, asciugamani, stoviglie, bollitore, asciugacapelli ecc Abbiamo un letto matrimoniale e un materasso in più (non letto), che si può mettere sul pavimento, se ne avete bisogno. Un ferro da stiro o di altre cose possono essere forniti su richiesta. E 'possibile ospitare più di due persone se sono d'accordo a dormire sul pavimento. Non c'è nessun problema con gli animali domestici. L'unica regola è che l'appartamento è per non fumatori. Dal momento che i proprietari vivono in una città diversa la pulizia non è previsto, ma è possibile organizzare in caso di soggiorno di lunga durata. L'appartamento si trova proprio accanto al parco con vista sul verde. Allo stesso tempo, si trova a 10 minuti a piedi dal centro. Il bus vi porterà al centro pure.
My girlfriend and I stayed at Veronika's for two nights.. It was a very clean and comfortable apartment with all facilities needed to relax and feel at home, bus stop was 3 minutes away and only took about 5 or so minutes on the bus to get to the centre of town to check everything out. There was a tiny supermarket about 2-3 minutes from the apartment with everything you needed as well. Very affordable as well for a couple backpackers, the apartment definitely made our stay in Karlovy Vary an awesome experience :) We didn't actually get to meet Veronika in person but her house keeper was easy-going and nice. Only issue was a bit of miscommunication upon arrival, we were meant to get there to be let into the apartment at 3pm but our bus was delayed by 45 minutes, we let Veronika know through message on Air BnB a few hours prior but she was in a class at school and she didn't manage to read it so we had to wait about 2 or so hours outside the apartment for her housekeeper to return to let us in. Not a big deal at all since it was both parties fault, just make sure to contact Veronika directly on her mobile and not on Air BnB :) All in all, would definitely recommend staying at Veronika's apartment!
Kristopher
2015-09-23T00:00:00Z
We had a great experience at Apartmán Alma! Everything was described exactly as it is. Veronika was great to work with, and the whole process of checking in and out was simple and effective. The apartment is beautiful and super clean, and really feels like home. It has all the amenities you could want, including a full kitchen, TV, and even a computer. It is a little far from the old town, which is clear from the listing, but if you don't like walking 20 minutes each way, keep that in mind. All-in-all, this was a great place to stay, and we really enjoyed our weekend there. If we ever come back to Karlovy Vary, we'll definitely stay here again. Thanks again Veronika!
Zak
2015-07-26T00:00:00Z
Super Wohnung! Großzügig und völlig ausreichend für zwei Personen und eine ruhige, angenehme Wohngegend. Der Check-In war reibungslos und die Haushälterin nett. Preis-Leistungs Verhältnis stimmt! Wir werden auf jeden Fall wieder hierher kommen! Thank you Veronika for this awesome stay!!
Chantal
2017-02-04T00:00:00Z
nice apartment, happy stay : )
Li
2016-02-12T00:00:00Z
The apartment was tidy and everything was perfect to stay for one night. The location is 25min walking distance from the center and there was a bus stop nearby. I would like recommend people to take this apartment.
Jake
2016-07-18T00:00:00Z
Děkujeme za příjemné ubytování v útulném a čistém bytě.
Roman
2015-11-20T00:00:00Z
The appartement was tidy and as described. Veronika was very nice and helpful. We had a nice stay.
Rebecca
2015-08-12T00:00:00Z
Veronika arranged for somebody to meet us earlier than the official check in time, which we really appreciate it. The apartment is really cute and it has everything you need. The only thing missing was a fan, which would have been nice (it was 36C outside that day!) to cool down after being outside for a few hours.
Diana
2015-07-04T00:00:00Z
部屋タイプ
まるまる貸切
---
建物タイプ
アパート
---
定員
3
---
寝室
Carlsbad, Karlovy Vary Region, チェコ共和国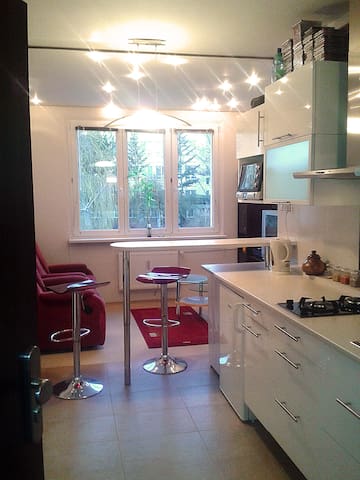 I can offer you a cosy room in the city centre of Karlovy Vary. Bus stop Praha-K.Vary 3 min. by walk. City bus stop in front of the house ( line n°2) , Penny supermarket, Raciopek Bakery, Hotel Thermal- 7 minutes by walk. Right in the city centre!
The price includes breakfast. Free wifi. Apartment is about 3 minutes walk from the bus station Prague - Karlovy Vary and train station K.Vary - Marianske Lazne, close to the apartment are excellent restaurants, pizzerias, cafes, shops, Jan Becher Museum ... Parking is available directly in front Apartment, or in guarded underground garage, about 4 minutes walk. Train station Cheb - Karlovy Vary, Prague - Karlovy Vary is about 15 minutes walk or a bus station 50 m from apartment.
50 m from the apartment of the spa forests, which are wonderful walks to vantage points on K.Vary. Restaurant with delicious food and drink, outdoor terrace at the forest is about 3 minutes walk from the apartment.
This accommodation is very nicely priced for KV during the festival (or in general). For festival-goers: it is about 15 minutes by foot to the Hotel Thermal, in a more residential section of KV. This means that it is quieter at night.
Tamah
2016-07-10T00:00:00Z
Michaela je skvělý hostitel. Byt odpovídá popisu, čistý a útulný. Doporučuji.
Jiri
2016-07-06T00:00:00Z
Michaela is a kind person, she's like a mother to us. We had a lovely stay in her home. Spacious room, neat and tidy. The breakfast was excellent, location was great, she provided all the information we needed. We wish to stay longer:)
WAI YING
2016-07-18T00:00:00Z
Michaela byla velmi příjemná, přátelská, ve všem nám vyšla vstříc. Byt byl čistý a pokoj pro hosty útulný. Pobyly jsme opravdu krátce, ale pro delší pobyt doporučuji především z hlediska umístění bytu, klidné místo blízko lesa, skvělý výchozí bod pro procházky, restaurace a centrum města s obchody v dosahu pěšky příjemnou čtvrtí, nádraží pár minut. Ideální místo na dovolenou.
Vladislava
2016-05-31T00:00:00Z
Michaela is very nice person, very carefull, respective, quiet, she was prepared perfectly for our arrival, at the beginning she explained us where to go, what to visit, even more than we were able to make. Flat was ok, nice and clean, everything at our disposal. In the morning there were really really rich breakfast awaiting, all for our comfort. Flat is quite close to the center, less than 10 minutes walk. If you don't mind accomodation in private room (not private flat), I highly reccomend Michaela's flat.
Daniel
2016-06-08T00:00:00Z
The room I stayed in was really clean and nice, provided with bed sheets and a towel. A big breakfast was waiting for me when I woke up. The area was indeed easy to get by with public transport but even walking it wasn't far from the city center. The whole family gave me all the information I needed to make my stay pleasant and worthy. Thank you to you all for the friendly and nice stay. Would absolutly recommend this place!
Esther
2016-05-29T00:00:00Z
Very good host and the flat location
Yi-Lun
2016-08-08T00:00:00Z
Cozy and clean flat quite near to the center with great restaurant "Ventura pub" in 2 minutes. Good space for spend a good time.
Marina
2016-08-04T00:00:00Z
カルロヴィ・ヴァリ, Karlovarský kraj, チェコ共和国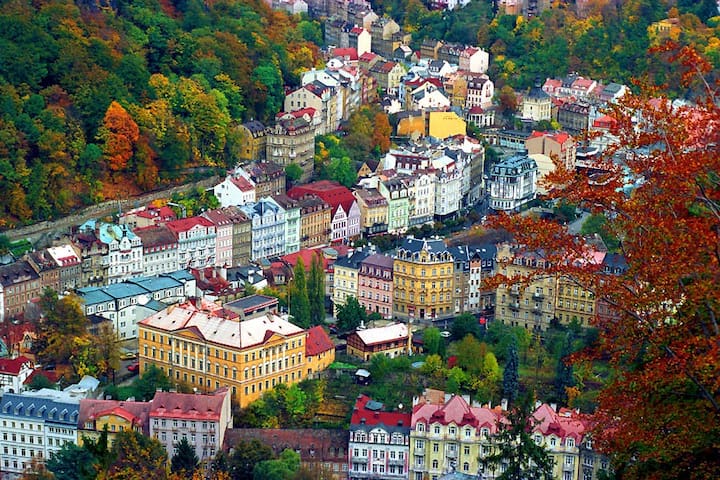 Byt 1+1 včetně sociálního zařízení v centru lázeňského města Karlovy Vary. V bytovém domě na pěší zóně 100 metrů od gejzíru "Vřídlo" a dalších léčivých pramenů a kolonád. Nachází se v nejoblíbenější a turisticky nejatraktivnější části města. Historický dům, kde bydlel i J. W. Goethe je naproti městskému divadlu, v okolí restaurace a kavárny, butiky, za domem začínají vycházkové a turistické stezky. Nedaleko u GH Pupp možnost využití lanové dráhy.
Ložnice pro pohodlí 2 dospělých lidí + možnost třetí osoby 1,5 rozkládacího lůžka. Vybavená kuchyň: lednice, mikrovlnka, sklokeramická varná deska. Sociální zařízení: sprchový kout + WC. Byt se nachází v I.patře (II.NP). Úložné prostory.
Restaurant "Švejk" s tradiční českou kuchyní, historická kavárna Elefant, historický hotel Pupp. Vřídelní a Mlýnská kolonáda, barokní kostel...
部屋タイプ
まるまる貸切
---
建物タイプ
アパート
---
定員
2
---
寝室
カルロヴィ・ヴァリ, チェコ共和国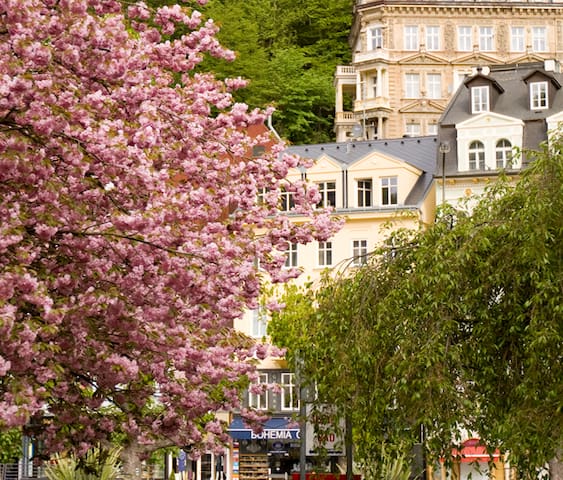 Freie separaten Raum 19 m2 mit der Möglichkeit der Verwendung ganze Wohnung 150 m2. 2x Badezimmer mit WC + Dampfkasten, Küche, Wohnzimmer. Spa Zentrum 5 Minuten zu Fuß. Ruhig und sauberen Bereich in der Nähe von Spa-Center und Unterhaltung. Bett 140 cm breit. Angebot für perfekte Entspannung.
Zentrum in der Nähe SPA-Bereich, Handel, Wald. Das Zimmer ist nach Osten ausgerichtet. Komfortables Bett 140 cm breit. Das Angebot ist nur für eine Person. FAQ: 1) Haben Sie in der Wohnung leben, auch? Ja, wir leben hier. 2) Verwenden Sie die gleiche Küche und Bad? Ja, wir sie verwenden.
Alles in 5 min. Zu Fuß. Geschäfte, Wald, Wellness, Unterhaltung, Restaurants.
Только положительные впечатления. Прекрасная квартира в старинном доме. Удобное расположение. В квартире есть все необходимое для краткосрочного пребывания. Мартин был дружелюбен и ненавязчив. А если еще добавить к этому чрезвычайно низкую цену на проживание, то получите практически идеальный вариант для коротких поездок в Карловы Вары. Рекомендую.
Александр
2015-10-04T00:00:00Z
Everything in the photographs is correct: the bedroom is so nice - lots of natural light, high ceilings & a feeling of lots of space. Also very nice is that the bathroom is near the bedroom so it almost feels like you have your own private area. The bathroom is really excellent: Martin & Eva take a lot of pride in having perfect cleanliness & excellent quality & design - everything was immaculate: very very clean, and a lovely sense of harmony - this links well with Martin's yoga business I feel. Everywhere was incredibly clean: amazing. I also like the fact that they have a water filter in the kitchen: even though Czech tap water is safe to drink, this is an extra filtration to increase quality. Martin & Eva are naturally calm & quiet people: so this is good for people like me who get over-excited & need to slow down sometimes! They will also be pleased to help you with any questions you have & provide suggestions. Martin showed me some very nice guide books & leaflets which were in the bedroom for me to use. Martin also lent me an umbrella which was kind as it was pouring with rain! Eva was able to give me an extra pillow which was perfect. Many thanks for a very nice stay, Martin & Eva. Location is excellent: close to railway stations (note: there are 2 railway stations (20 minute walk from the main station [trains from Cheb/Praha/direction Dresden]; 5 minutes from the dolní nadraži station [trains from Mariánské Láznē]), and the buildings all around are very attractive. It feels totally safe: you are close to nice cafés, bars, restaurants, & walking into the spa part of the town is very easy: you are also very close to the public Spa5: I tried a relaxing lemongrass herbal bath which was great. If I had had more time, I would have tried Martin & Eva's steam bath as I am sure that would be a good experience as they have high standards. Other little tips: the shower is amazing - turn the top tap to the left for the small shower (you may need to press the green button as you turn); turn the top tap to the right for the overhead rainshower; on the bottom tap hot is left, cold is to the right. The only other thing I would say is that you should not expect a dark bedroom: the blinds are reed roller blinds & let a lot of light in in the morning - it is better to go to bed early & get up early which is not difficult in Karlovy Vary as it is quite a sleepy town.
Justin
2016-09-17T00:00:00Z
Super clean apartment at peaceful and quiet neighborhood. Martin and Eva is friendly and give me information to make my pleasant stay. The sunny room is spacious and cozy. I just love it.
Jessica
2016-05-12T00:00:00Z
3-5mins walking distance to the centre as well as the bus station. Great location and safe area. Also nice restaurant named B something (sorry o can't remember )near by. Martin is very helpful with the trip and he is also easygoing. Recommend to live in.
XUAN
2015-06-15T00:00:00Z
Very welcoming couple and a lovely apartment really close to everything I needed.
George
2016-08-29T00:00:00Z
This was one of the best stays I have ever had. The flat is spacious, very light and clean in a wonderful location. You have everything necessary (including some restaurants supermarkets, Becherovka museum, and music bars), but you are outside the touristic area) so you get good prices and wonderful quality. The bus station is 5 minutes on foot. And the price is more than attractive for such a nice place). Martin is an amazing host) - very attentive and communicative. He creates great atmosphere for you) and it feels like visiting a friend. I was ill for several days) and he helped me and supported me like a friend. Very very pleasant experience! Highly recommended!
Daria
2016-04-04T00:00:00Z
굉장한 집이었습니다. 깔끔하고 단정됨은 물론이고 주인분들은 너무나도 착했습니다. 2박3일동안 감사했습니다!
형주
2016-11-09T00:00:00Z
This apartment is absolutely beautiful! The location is ideal, just a short walk to anything you'd like to see. The room is comfy and clean with lots of natural light. Martin and Eva are very friendly and helpful. They were even kind enough to show me around town one night! I highly recommend this location and will stay again when I am back in Karlovy Vary.
Alecia
2016-07-10T00:00:00Z
Carlsbad, Karlovy Vary Region, チェコ共和国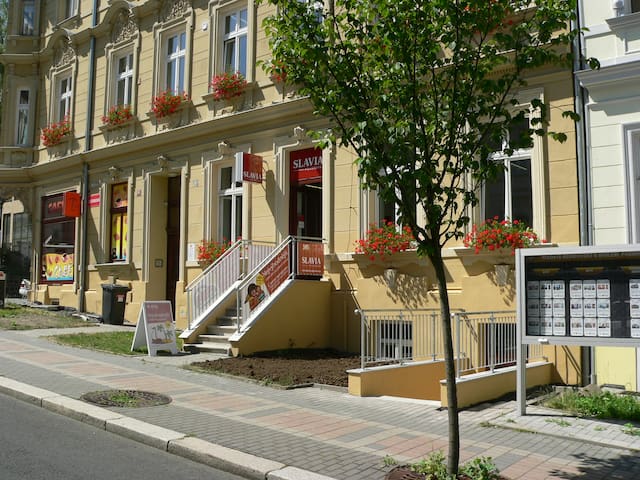 Útulný apartmán s 1 ložnicí a plně vybavenou kuchyní + WC a sprchový kout. Nachází se v 1NP v zrekonstruované prvorepublikové vile ve stylu Art Deco v těsné blízkosti lázeňských lesů. Pět minut chůze od centra města. Parkování před domem.
:)
Filip
2017-02-14T00:00:00Z
Prijemny apartman, prijemni hostilele Dekujia tesim se na dalsi navstevu Filip
Filip
2017-02-24T00:00:00Z
As soon as you meet him, you will notice that Radim is a wonderful man. His apartment is just like him. He is not doing business with guests. He like to meet people from the whole of the world and have a real warm & generous heart! This place provides not only relaxing & sweet home but also professional hotel suite touch! I stayed here more than one week and Radim's apartment has been one of my favorite place so far! I had absolutely everything I needed. Kitchen and bathroom are clean. Bedroom is spacious and bed is comfy. Apartment is on the first floor but it catches sun very well. If you like to be private, you can close the window with thick screens. This apartment was beautifully renovated recently. All facilities are new and clean. There were shopping street if I walk down just 5min. His place is on the residential area which is on the low hill. Actually "The house on the hill" is my personal taste. I really enjoy to walk up & down. Villa supermarket, DM, etc plenty of shops! All that made everything so convenient! I would love to come back often and stay at Radim's place again! He even made an appointment with me in his busy time and showed Karlovy Vary. He explained the history of Karlovy Vary. It was my first visiting to Czech, his favor helped me to have a deep impression on this country and made my journey much more meaningful. Karlovy Vary is much beautiful than any movies, surrounded by forest and full of incredibly beautiful architectures!
su
2017-02-02T00:00:00Z
Pěkné ubytování, Příjemný hostitel, doporučuji
Filip
2017-03-15T00:00:00Z
Overall it was a great experience. The room is in a perfect location, with many restaurants within walking distance. Also, Radim is extremely helpful and even suggested a great restaurant nearby.
Foster
2017-03-03T00:00:00Z
Highly recommend
Filip
2017-03-22T00:00:00Z
Второй раз останавливаемся у Радима. Всё как и прежде очень хорошо, удобно, близко и не дорого. Уверен в том, что обращусь ещё не раз.
Roman
2015-12-31T00:00:00Z
hezky apartman s loznici a obyvacim pokojem s kuchynskym koutem. Do centra nekoklik minut pesky.
Filip
2017-03-17T00:00:00Z
部屋タイプ
まるまる貸切
---
建物タイプ
アパート
---
定員
2
---
寝室
カルロヴィ・ヴァリ, Karlovy Vary Region, チェコ共和国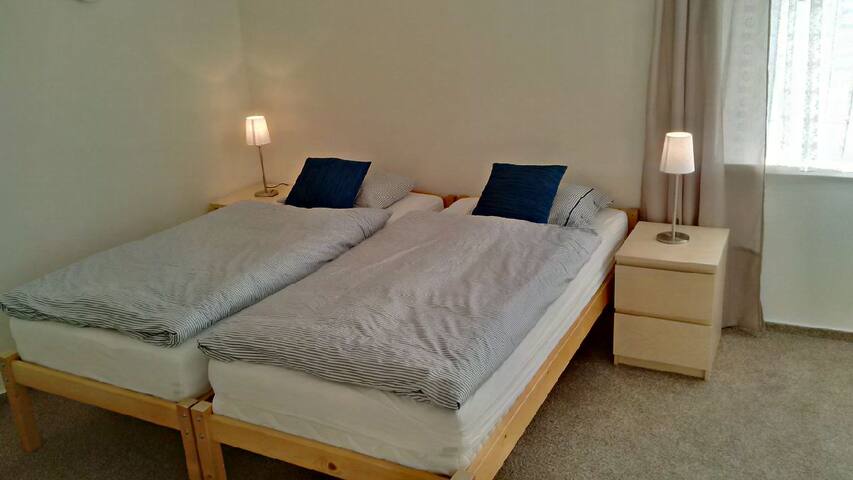 Schöne Lage in dem ruhigen Stadtteil mit dem wundervolle Einblick in die Bergen und die Stadt !!! 10-12 Minuten Fußweg vom Zentrum !!!
部屋タイプ
まるまる貸切
---
建物タイプ
アパート
---
定員
4
---
寝室
カルロヴィ・ヴァリ, チェコ共和国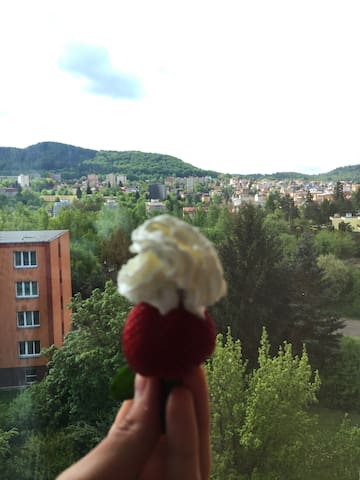 Quiet, sunny, fully equipped apartment in the center of K.Vary. Available complete kitchen, coffeemaker, wifi, plasma TV, Xbox 360 kinect and big beautiful balcony. Suitable for 3 people- one big bed and smaller bed. The apartment is located 5 minutes of Thermal hotel and 3 minutes of bus station Trznice.
Great location in the heart of Karlovy Vary, comfortably for 3 people. Skvělá lokalita v srdci Karlových Varu, pohodlné pro 3 lidi.
The aprartment is quiet, yet it is in the center, nice and quiet neigbors. Apartman je velmi klidný, přesto, že je v centru. Mám zde tiché a milé sousedy.
Všechno bylo super, Martina je velmí příjemná a vstřičná. Byt je krásný, má nádherný výhled z balkonu a hlavně v něm je všechno. Jsme spokoný a určitě bych se vrátili.
Lisa
2016-12-04T00:00:00Z
Dům je krásný, skvělá je možnost posezení na balkóně i blízkost nádraží. Byt odpovídá fotkám. Majitelka je moc milá a nebyl problém se s ní domluvit.
Kateřina
2016-08-07T00:00:00Z
Martina byla velmi milá a nápomocná. Byt byl moc pěkný, i když ve 4. patře bez výtahu :-), skvělá lokalita, zejména na festival, k Termálu je to asi 5 minut. Jen pozor pro alergiky na psí srst, bydlí tam normálně pejsek a je to dost cítit..
Edita
2016-06-13T00:00:00Z
A wonderful apartment near the center of the city. If you are a Depeche Mode fan you will enjoy it even more. The balcony is a highlight. Especially when the sun comes out. A nice view over the streets at the 5th floor. Martina, was very kind and helpful. She gave us advices where to park the car without getting in trouble. Her hint for a nice local pub was also very much appreciated. We can recommend this place without any doubts. Mockrát děkuji! Martina :-)
Matz
2016-10-17T00:00:00Z
Martina has a nice apartment in a great location. It is just a few steps from great eating places and few more minutes into the city. We really enjoyed staying there.
Bing
2017-02-24T00:00:00Z
Martina was very friendly and helpful host. She gave us info about parking place and also a restaurant, which we very much enjoyed. Her apartment is clean, cozy and well located, only 5 min from the city center. I truly recommend staying at her place!
Taynã
2016-11-24T00:00:00Z
Really lovely apartment very close to the centre of Karlovy Vary. Martina was very nice and helpful with a great restaurant trip. Thoroughly recommend...
David
2017-01-06T00:00:00Z
Appartement impeccable, spacieux et propre. Exactement comme sur les photos. Idéalement situé. On peut garer sa voiture sur un parking gratuit et sécurisé juste en bas et tout visiter à pied.
Elodie
2016-11-12T00:00:00Z
部屋タイプ
まるまる貸切
---
建物タイプ
アパート
---
定員
3
---
寝室
カルロヴィ・ヴァリ, Karlovarský kraj, チェコ共和国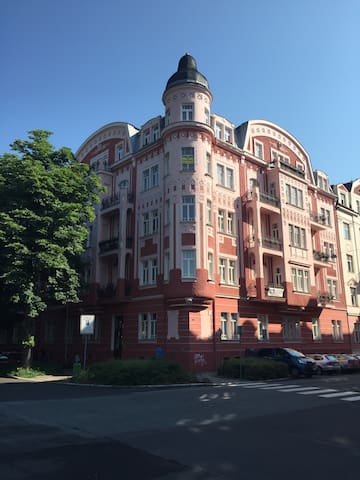 Z útulného podkrovního bytečku (celý k dispozici), je to blízko ke všemu, co stojí za vidění a vyzkoušení. Je v centru a přesto s výhledem do zeleně. Mé ubytování je skvělé pro páry, sólové cestovatele a služební cesty. Bez Wi-Fi.
A really nice room, llona and her family are very friendly, they help us a lot, we like the experience.
wenna
2017-01-29T00:00:00Z
Útulný byt, poblíž centra, v klidném prostředí. Rychlá domluva s hostiteli. Pro nás byla hlavně super flexibilní doba příjezdu a odjezdu :)...
Markéta
2017-03-26T00:00:00Z
llona is a really great host. The room is comfortable and fully equipped. And the location is vary convenient. We have very nice memory in Karlove Vary.
Yu-jou
2016-12-31T00:00:00Z
A perfect place for a low-cost traveller, appartement was cleaned and well furnished, owner was kind and helpful, I truly recommend.
Sona
2016-12-20T00:00:00Z
Krásně situované, blízko nádraží i centra. Skvělá cena. Pěkné prostředí. Výborná komunikace.
Zdenka
2017-03-19T00:00:00Z
We were really welcomed at Ilona's place. She helped us in preparing our sty and gave us lots of infos to visit the city. Tha appartment is very nice and confortable. Thank you very much
Ana
2017-02-12T00:00:00Z
Rychlá domluva, ochota, vstřícnost. Kousek od centra (v dochozí vzdálenosti)
Jan
2016-10-16T00:00:00Z
Čisté ubytování za dobrou cenu v centru města. Paní Ilona byla milá, komunikace probíhala po celou dobu bez sebemenších problémů. Za nás určitě doporučujeme :)
Edita
2017-01-02T00:00:00Z
部屋タイプ
まるまる貸切
---
建物タイプ
アパート
---
定員
2
---
寝室
カルロヴィ・ヴァリ, Karlovy Vary Region, チェコ共和国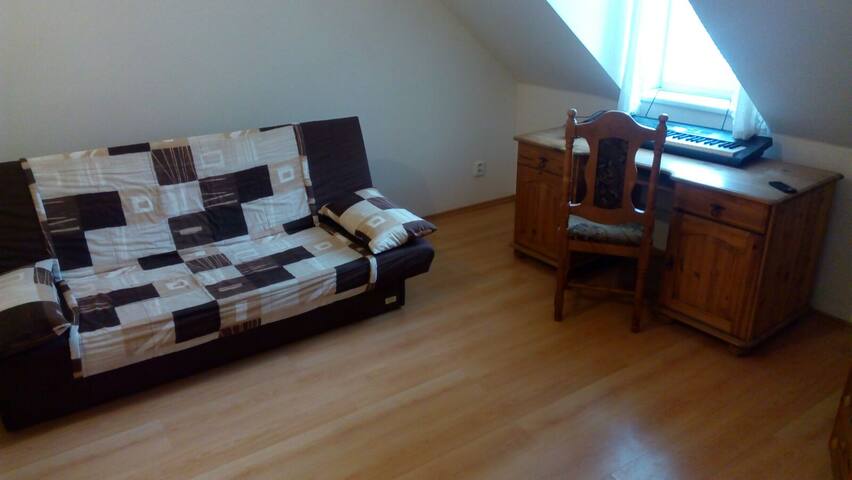 Byt se nachází v centru Karlových Varů, 200 metrů od kolonády s horkými prameny. Nabízí apartmány s kuchyní, bezplatné Wi-Fi a výhledem na město.
Мы оставались в данной студии на новогодние праздники в 2017 году. Квартира отлично расположена, до ближайшей колоннады три минуты, до всех остальных чуть-чуть пройтись, совершенно не напрягает. Единственное, что необходимо отметить, это что для того чтобы попасть к дому нужно преодолеть довольно крутую и длинную лестницу. Для нас это не было проблемой, но в случае противопоказаний это следует иметь в виду. Студия небольшая, но чистая, недавно отремонтированная. Есть вся необходимая кухонная техника, минимум посуды, стиральная машина. Девушки, внимание: НЕТ ФЕНА, надо брать с собой. Мы к этому не были готовы, если честно. Также для тех, кто поедет в холодное время года, надо отметить, что квартира находится на почти цокольном этаже, поэтому очень холодный пол и в принципе в квартире не жарко, даже включение отопления на максимум не спасает полностью. Станислав хороший и приветливый хозяин, встретил нас от автобусной остановки Тржнице, все рассказал и показал, спасибо ему большое. Подводя итог: хорошая небольшая студия, отличный ремонт и великолепное расположение. Рекомендую!
Valentina
2017-01-11T00:00:00Z
部屋タイプ
まるまる貸切
---
建物タイプ
アパート
---
定員
2
---
寝室
カルロヴィ・ヴァリ, Karlovarský kraj, チェコ共和国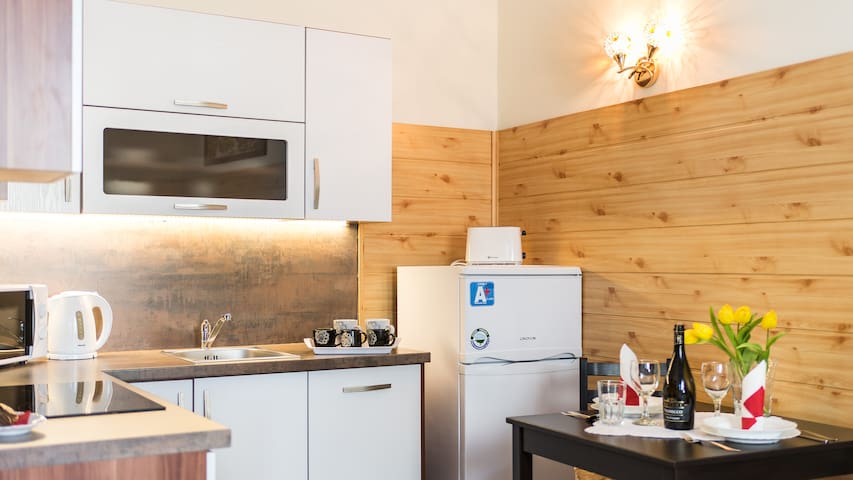 Рядом с моим жильем общественный транспорт, центр города, искусство и культура и парки. Вам понравится, ведь в моем жилье есть пространство у дома, район, атмосферность, удобная кровать и свет. Мое жилье подходит для этого: пары, деловые путешественники и семьи (с детьми).
Рядом Народный Театр, выход прямо на источники, рестораны
Центр старого города.
Дастан отличный хозяин, встретил в удобное время, показал парковку( бесплатную), сделал все отлично. Квартира большая и тёплая, находится в самом центральном месте, хорошая кухня и спальные места. Есть даже лифт и нам с ребёнком это очень понравилось! Пока он не перестал работать, примерно через неделю, оставшуюся неделю мы жили без лифта, что с коляской и ребёнком предельно неудобно, учитывая, что этаж почти самый верхний. На просьбу решить эту проблему хозяин говорил, что есть какие-то проблемы и что нужно разбираться или не мог или не захотел, так что если вас нужен лифт - уточняйте у хозяина рабочий ли он. Так что в конце путешествия омрачил этот факт. Поднимать коляску каждый день столько этажей не входило в наши планы на это путешествие.
Elena
2017-01-26T00:00:00Z
Great location, right at the main thermal spring, close to the shops and restaurants. Be careful if you have mobility problems, the elevator in the building might not be in operation.
Svetlana
2017-03-05T00:00:00Z
部屋タイプ
まるまる貸切
---
建物タイプ
アパート
---
定員
4
---
寝室
カルロヴィ・ヴァリ, Karlovy Vary Region, チェコ共和国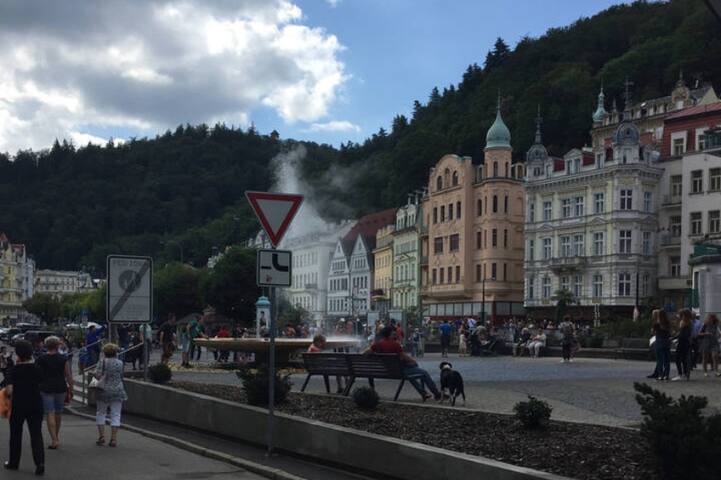 Apartment Premium (4 apartments) are located in the heart of Karlovy Vary on one of the most prestigious streets - Sadová, not far from the Orthodox Cathedral of St.. Peter and Paul, 5 minutes walk from the thermal springs. The main benefit of Sadová
3-bedroom apartment of 134 m2 large living room, balcony which overlooks the main street Sadová. With a large LCD TV and satellite TV (Russian, Ukrainian, German channels) It is possible to instruct the maids to wash things. The apartments are cleaned daily. There is a swimming pool, jacuzzi, sauna, recreation room, terrace. The house has a modern elevator, WI-FI, parking in front of the house (by request). At the request of the guest and expert advice, we organize additional procedures necessary for health in the spa center of Karlovy Vary, with whom we contract.
Apartment Premium (4 apartments) are located in the heart of Karlovy Vary on one of the most prestigious streets - Sadová, not far from the Orthodox Cathedral of St.. Peter and Paul, 5 minutes walk from the thermal springs. The main benefit of Sadová Street (except for her beauty) - peace and quiet. They are very comfortable for rest and treatment for the most demanding guests, and for families with children.
Beauriful apartment :)
Aeri
2017-04-03T00:00:00Z
Nataliya was very friendly and responsive. The location of the apartment was perfect and we particularly enjoyed the indoor pool. Thank you for a memorable stay!
Waranya
2016-12-29T00:00:00Z
Спасибо за хороший отдых. Большой плюс - Никакой бюрократии.
Sergej
2016-11-23T00:00:00Z
Først og fremmest: Nataliya er en fantastisk værtinde! Meget professionel og hjælpsom. Natalyia er sådan en værtinde, man kan regne med i en krisesituation - det er så trygt at vide. Det beviste hun især den sidste dag. Vores bil ville ikke starte, da vi skulle afsted - men takket være Nataliya, kom hendes egen, private autoservice og klarede det for os, og vi kom afsted. Hun blev der under hele forløbet og vi følte os trygge. Hun lod os blive i lejligheden indtil det hele var i orden. Lejligheden er ren luksus: virkelig rummelig, højt til loftet med stuk, alt er så dejlig rent, at det virker som nyt - stor ros til rengøringspersonalet! Lækre senge med tilbehør, behagelige møbler i alle rum, store vinduer, hvor der kommer lys ind i rummene. Ren velvære at opholde sig dér. Vi havde ikke behov for at opsøge termal bade eller andet wellness i byen - vi havde den dejligste pool og jacuzzi for os selv - da vi var de eneste lejere i de fire dage, vi var der :-) Det er et fantastisk rum - romersk i stilen. Meget romantisk. Lejlighed og pool med jacuzzi er en luksus! Og så kan man vælge bølger i poolen ;-)) Det giver megen morskab. Vi kan varmt anbefale den skønne velholdte ejendom med de lækre lejligheder til mennesker i alle aldre! Ejendommen ligger tæt på butikker, restauranter og seværdigheder i et roligt kvarter. Vi vender helt sikkert tilbage - og glæder os allerede!
Lissi
2017-01-07T00:00:00Z
What a lovely place! Thank you for hosting us in your nice appartment. We really enjoyed the stay. The only thing we missed was a dish washer - but the amazing whirlpool/wellness area made completely up for this ;). We will definitely recommend Natalyia's place and come again!
Sonja
2017-02-10T00:00:00Z
Great stay, loved the pool and jacuzzi. Big apartment on a good location! Host was friendly and easy to communicate.
Mark
2016-11-18T00:00:00Z
This was incredible, folks! Really exclusive location. Everything you'll need is in the place. Kitchen stuff, linens, wc everything is high end. Plus the pool for free with jakuzzi (whirlpool), and sauna for good price. The city is itself is very quiet. After 6 pm everything is closed, several groceries open untill 10 pm. Host Nataliya is very patient and really hospitable! Thank you so much, Nataliya, and say hello to your little boy and husband! Thay helpedus to find a restaurant that fits to our requirments such as price and quality. And they foud for us a guide who did a great job - in 40 min or less revealed all important details of the history of KV. Highly recomend this place. We were 4 adult men and we stayed comfortably. By the way sleep only with wide open windows the air is amazing!
Merkhan
2016-05-14T00:00:00Z
Sehr gute, gepflegte und sehr saubere Unterkunft. Sehr freundliche und zuvorkommende Gastgeberin.
Lubov
2016-08-21T00:00:00Z
部屋タイプ
まるまる貸切
---
建物タイプ
アパート
---
定員
5
---
寝室
カルロヴィ・ヴァリ, Karlovy Vary Region, チェコ共和国
- 4.patro bez výtahu je odměněno množstvím světla 4-th floor but a lot of light - zastávka městské dopravy před domem bus shelter in front of the house - 5minut od domu centrální přestupní zastávka městské dopravy bus station 5-th minutes from the house - k dispozici pračka+žehlička - k dispozici podložka na cvičení mat for physical training
- strategická poloha na rozhraní lázeňské a obchodní/nákupní části města strategical location between spa and busines part of the town
- sklárna Moser = glass factory Moser - likérka Becherovka = ligueur factory/comp. Becher - kolonády + 12teplých pramenů = colonnades + 12 hot springs - festival hotel Thermal - parky, lesy vyhlídky = a lot of parks, forests and views - hrad Loket = castle Loket ( about 15km ) - zámek s parkem Ostrov = palace Ostrov ( about 15km ) - zámek a hrad Bečov = palace and castle Bečov ( about 30km )
Nice host, confortable place, super location, excellent city! Don't miss to visit Karlovy Vary and enjoy Zdenka's place!
Martial
2017-01-02T00:00:00Z
カルロヴィ・ヴァリ, チェコ共和国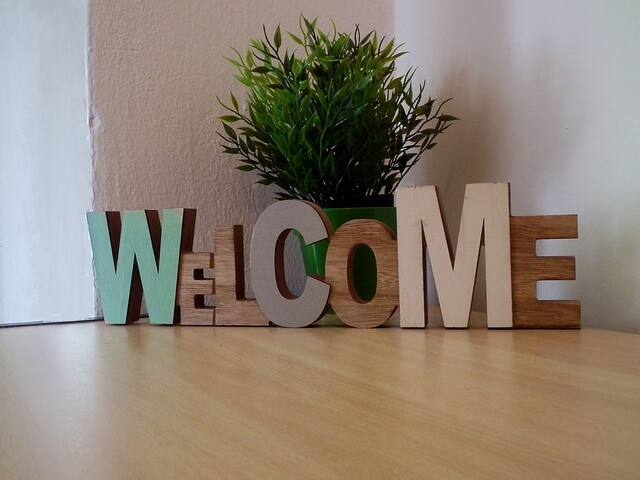 Newly renovated apartment (65 m2) with equipped new kitchen and dining table, new bathroom, living room and bedroom. Located in the heart of Karlovy Vary, 150 meters from the spa zone with healing thermal springs. Very quiet and sunny apartment in a historic house overlooking the river Tepla and SPA-5 park. In close proximity, there is shopping mall and food store as well as central bus station (within and outside city connections). Sony TV and free Wifi. Parking 100m from the house.
Luxusně zrekonstruovaný apartmán (65 m2) s plně vybavenou novou kuchyní a jídelním stolem, novou koupelnou s vanou, obývacím pokojem a ložnicí. Apartmán je situován v srdci Karlových Varů, 150 metrů od začátku lázeňské zóny s léčivými termálními prameny. Velmi tichý a slunný apartmán v historickém domě s výhledem na řeku Teplá a park SPA-5. V bezprostřední blízkosti je obchodní středisko pro běžný nákup, v blízkém okolí pak centrální autobusové nádraží pro městskou i meziměstskou dopravu. Televize Sony, Wifi zdarma. Parkoviště 100m od domu.
部屋タイプ
まるまる貸切
---
建物タイプ
アパート
---
定員
4
---
寝室
カルロヴィ・ヴァリ, チェコ共和国
With a terrace overlooking the city, Karlovy Vary's Apartman Karel situated on the 1st floor, a 7-minute walk from the spa colonnade and Marie Magdalena Church.
Apartmán Karel s balkonem nad kolonádou
The flat is located upslope on the eastern side of Karlovy Vary with great view over the centre and its colonnades. The colonnades can be reached by a 10 minutes walk down from Villa Rosa along a promenade with additional great scenery over the center. The flat is large enough for 4 people and well equipped including satellite TV and washing machine. Free car parkung is also available along the road outside the house. We found this place clean and quiet and would be happy to return here on our next visit.
Florian
2016-07-14T00:00:00Z
Вацлав - отличный хозяин! Встретил нас с мужем на машине, довез до апартаментов, даже шампанское презентовал, что очень приятно! Вацлав прекрасно говорит на русском. Когда мы обращались с вопросами, все нам подробно рассказывал, помогал. Сами апартаменты просторные, чистые, расположены в удивительном месте! Прямо над колоннадой. Вид потрясающий. Вокруг тихо, поют птицы, воздух чистейший! Рядом с домом автобусная остановка. В шаговой доступности продуктовый магазин. Есть тропинки и лестницы для комфортного спуска/подъема на верх. Впечатления от поездки незабываемые и очень теплые. Спасибо, Вацлав!
Ekaterina
2017-03-13T00:00:00Z
This apartment must be the best you can find around here! Owner very nice and polite to us and he was easy to get in touch with. I would totally recommend this place and the view!
Jan
2016-12-30T00:00:00Z
Все было отлично! Мы бронировали жилье в последний момент, но квартира была чистой, было включено отопление, были необходимые мелочи. Вид из окна потрясающий. Рядом остановка автобуса, до автовокзала 10 минут. Пешком в центр к источникам также 10 минут. Недалеко находится продуктовый магазин. Если соберемся в Карловы Вары, то обязательно остановимся здесь еще раз.
Olga
2016-03-09T00:00:00Z
部屋タイプ
まるまる貸切
---
建物タイプ
アパート
---
定員
5
---
寝室
カルロヴィ・ヴァリ, Karlovy Vary Region, チェコ共和国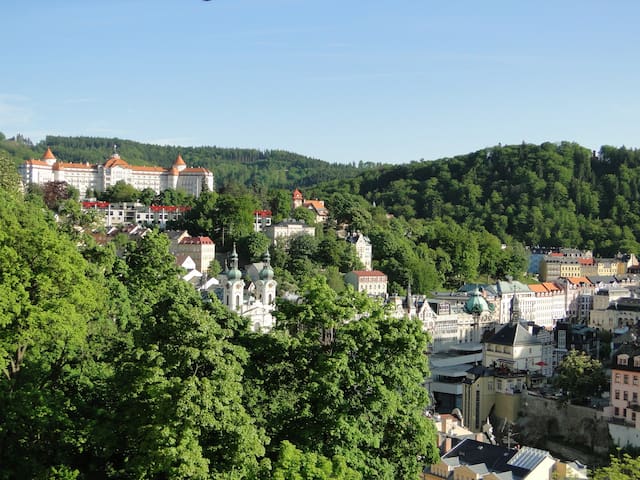 Zwei-Zimmer-Apartments für vier Personen: Doppelbett mit orthopädischen Matratzen in einem isolierten Schlafzimmer und Zweisitzer-Sofa-Bett im Wohnzimmer (mit Küche kombiniert). Die Wohnungen befinden sich im Zentrum der Stadt entfernt. Geeignet für Menschen mit Behinderungen.
Zwei-Zimmer-Apartments für vier Personen: Doppelbett mit orthopädischen Matratzen in einem isolierten Schlafzimmer und Zweisitzer-Sofa-Bett im Wohnzimmer (mit Küche kombiniert). Die Wohnungen befinden sich im Zentrum der Stadt an der Jugoslavska Straße, in der Nähe der Elizavetiny Lazne SPA (Lazne V), in der Nähe der Mündung der Ohře und Teplá Flüsse. Vierter Stock des fünfstöckigen Backsteingebäude mit einem elevator.There sind zwei Supermärkte, verschiedene Banken und Geschäften, gebührenpflichtige Parkplätze und die zentrale Busstation zu Fuß erreichbar. Berühmte heißen und kalten Quellen auch innerhalb von 10 Minuten zu Fuß. Die Wohnungen sind in sehr gutem Zustand, nur mit neuen Möbeln renoviert. Es gibt städtische Heizung und Wasserversorgung.
We enjoyed our stay! Lovely hosts!
Tex
2016-01-22T00:00:00Z
Pobyt v apartmánu byl velmi příjemný i proto, že je skvěle vybavený, prostorný a čistý. Vše odpovídalo prezentaci. Velkou výhodou byla možnost parkování v místě a dostupnost centra Karlových Varů. Komunikace byla příjemná a rychlá.
Jana
2016-07-09T00:00:00Z
WE LOVED IT!!! We enjoyed every moment and didn't want to leave! The apartment is nice, clean and warm! The host Valeriy was very helpful, he kindly answered all our questions, shows us around, and told us what we should do in Karlovy Vary! the apartment is right in the end of the center, everything we needed is reached by foot! Highly recommended!
Valeriya
2014-11-02T00:00:00Z
Marine house is nice & comfortable, I'm happy to stay there during the trip
Tsim
2015-09-12T00:00:00Z
I'm highly recommend the Elizaveta Apartment in the heart of Karlovy Vary! You will have everything you need to spend your holidays in comfortable conditions. Thank you Marina, for your hospitality!
Uliyana
2016-05-05T00:00:00Z
Nice flat furnished with style and very clean. Great shower and good location. We felt very well and safe. Thank you Marina and son.
Reto
2016-08-18T00:00:00Z
Очень просторная и светлая квартира! Все как на фотографиях + есть 2 больших балкона. Рядом магазины и автовокзал, с которого ездят автобусы по всему городу, очень удобно добираться до дальних лечебниц. До источников: 7-10 минут пешком не спешным шагом. Все очень близко и удобно расположено. Хозяева были очень гостеприимны, оперативно решали любые сложности. Надеюсь вернуться сюда еще не раз) Спасибо Рене и Марина!
Elizabeth
2014-04-15T00:00:00Z
Very nice and clean place. Very well equipped and close to the center and promenade.
Dalibor
2017-02-19T00:00:00Z
部屋タイプ
まるまる貸切
---
建物タイプ
アパート
---
定員
4
---
寝室
Carlsbad, Karlovy Vary Region, チェコ共和国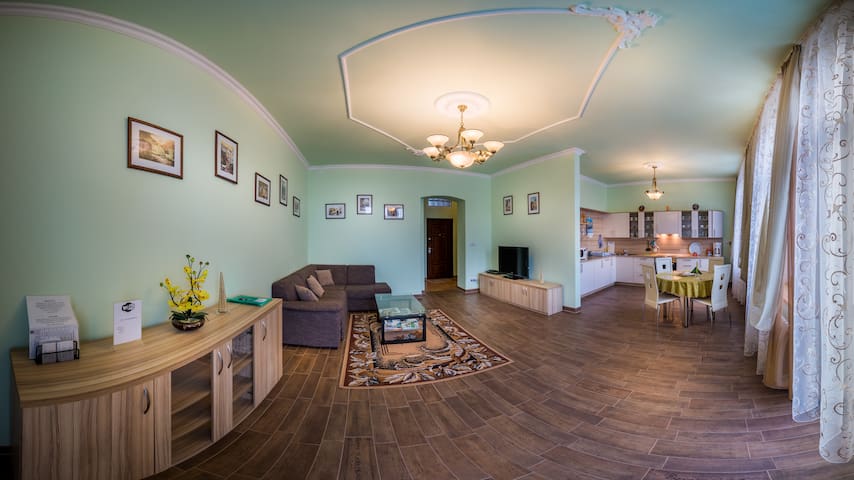 日付を入力すると合計金額が表示されます(税・サービス料別)。