日付を入力すると合計金額が表示されます(税・サービス料別)。
この7月と8月は、あらゆる価格帯の高評価物件100件の中から物件をお試しいただき、ソノマのローカル目線を体験いただけます。24時間対応チェックイン、今すぐ予約、ローカルワインとおつまみでくつろいでご旅行をお楽しみください。
Enjoy a relaxing holiday by the fire place in snowy Pontresina. The spacious house offers three bedrooms, each with a double bed, on-suite bathroom and balcony, an open plan living area with a modern kitchen as well as a work area and large terrace. The spacious house offers three bedrooms, each with a double bed, on-suite bathroom and balcony, an open plan living area with a modern kitchen as well as a work area and large terrace. The house includes two apartments. The larger upstairs apartment is available to you. You will also have access to the ski-room in the cellar (accessible through the garage) for your ski equipment and use of the double garage and washing room. Pontresina is a beautiful village near St. Moritz with lots of character and great restaurants. It offers everything you may need including a supermarket, cafés, a cinema, ski-hire and ice rink. The local ski slope is great fun and the swimmingpool has been recently renovated to include a spa area, water slide and relaxing outdoor pool. Outside parking is available to you. The bus stop is just a 5 minute walk and the train station a 5 minute drive from the house. The kitchen contains all basics such as olive oil, salt and spices. Towels and bed linen are available to you.
Wir haben zwei tolle Wochen in dieser wunderbaren Unterkunft verbracht und kommen jederzeit gerne wieder! Die Unterkunft ist noch viel schöner und eindrücklicher als auf den Fotos! Grosszügige Wohnfläche, sehr hell mit riesengrossen Fenstern, Sicht auf die wunderschöne Bergwelt, sehr stilvoll & mit allem Komfort eingerichtet. Hervorzuheben ist auch die perfekte technische Ausstattung (Internet, Swisscom T(PHONE NUMBER HIDDEN)ele DVDs etc.). Wanderwege und Biketrails direkt vor der Haustür, das Hallenbad in Gehdistanz - ein absolutes Paradies für uns Sportler. Wir haben das Auto kaum je gebraucht u.v.m. Nathalie war eine sehr zuvorkommende Gastgeberin, die uns persönlich willkommen geheissen hat und in allen Badezimmern kleine Aufmerksamkeiten - Duschgels etc. - zur Verfügung gestellt hat. Sie war während unserem Aufenthalt nicht vor Ort, aber wir hätten sie bei Fragen jederzeit kontaktieren können. Da aber im Haus alles so gut vorbereitet und eingerichtet ist, gab es überhaupt keine Fragen :-) Für uns war es sehr nützlich, die, mit den im unteren Stock wohnhaften Nachbarn geteilte, Waschmaschine und den Tumbler nutzen zu können. Auch die grosse und umfassend eingerichtete Küche war für uns genial, da wir immer alle Mahlzeiten selber gekocht haben.
Nadja
July 2016
This house is simple gorgeous and the host was very friendly. Would recommend this to anyone!
Christopher
June 2016
The house is very comfortable, spacious and clean. It is modernly furnished with tasteful simplicity and attention to details and materials. The well thought-out layout of the house contributes to its beauty and enjoyability. Many windows, most of them full height, fill the house with light and allow 360 degrees views of the enchanting mountains and romantic Walther Palace nearby from virtually all the rooms (and bathrooms!). The house comes with all the amenities one would need and more: a design, fully accessorized kitchen, modern en-suite bathrooms, a luxurious master bathroom, a great flat screen TV, a state of the arts garage with direct access to the house and ski room, a basement laundry room, a wide terrace. We were worried having three kids that the house given its lovely views and peaceful surroundings would be a bit isolated and difficult to reach but such was not the case as one can walk to Pontresina main street with its shops and cafés in a couple of minutes, indeed a very convenient and clever location. Finally we must say a word of praise for our kind hostess who filled the house with games for adults and children, great dvds for all ages and three adorable stuffed animals for our kids to cuddle and take home. Thank you Nathalie! The kitchen pantry too was generously provider for. Very conveniently bottled water, wood for the fireplace, bathroom toiletries and house cleaning products were also at hand to ease our arrival. Just one detail comes to my mind: we were not able to find a second set of bathroom towels, which would have been welcomed for a long stay like ours (but this could be our fault). It would have been a very different vacation if it were not for the great memories and comfort of this house which we highly recommend.
Mau
March 2016
A beautiful, modern and clean apartment. I really couldn't have wished for something better; literally everything was impeccable ( accommodation and hosts ) . Highly recommended. Natalie, thank you for a wonderful stay!
Maria
March 2016
thanks a lot Natalie, it was a wonderful stay, the house is beautiful with an amazing view and all the confort of a luxury house.
Beatrice
April 2016
Pontresina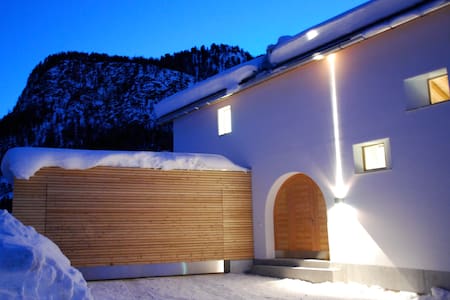 Attic 90 sqm , Livigno center , pedestrian area , near the ski slopes , with parking and garage . Large kitchen with dishwasher , oven and microwave , bathroom with shower and Jacuzzi , Wi - Fi . , Ideal for families . No pets . No smoking .
It is an attic of 90 square meters on the 3rd floor . The apartment is located in the center of Livigno in the pedestrian shopping area . At 50 meters there are ski - lifts . At 100 meters there is bus station. Parking is outside the house , and if you prefer to have the garage at a cost of 50 Euros per week . The owner of the apartment lives on the first floor and is always available for every need.
The apartment is located in the center of Livigno in the pedestrian shopping area . At 50 meters there are ski - lifts . At 100 meters there is bus station. Required the signature of the contract at the Check-in
Великолепные апартаменты! Очень уютно, как дома! Полностью соответствует своей цене.
Pavel
January 2016
Appartamento molto bello confortevole e perfetto per una vacanza. Come da descrizione e locatore disponibilissimo.
Marcello
July 2016
Everything was great. Great location, easy to find. Apartment was spacious, clean and well equipped. We appreciated the possibility of underground parking. Landlord was very attentive.
Milan
January 2016
This apartment is extremely comfortable and spacious with 2 comfortable bed rooms and a full size kitchen containing basic kitchen equipment. Our host Sabrina and her family were very friendly and accommodating. We had a lovely view of the mountains and the main town street which was very entertaining. It is very central to shops, restersunts and supermarkets. We loved our summer visit and extended our stay. We hope to visit again soon. I would highly recommend Sabrina's apartment
Gavin
September 2016
Appartamento in pozione ottimale, in zona centro, ma si gode una grande tranquillità e pace. Sabrina si è dimostrata molto disponibile e attenta, creando un clima di familiarità. L'appartamento presenta ampi spazi ed è arredato in modo completo e dotata di ogni comfort. Il bagno presenta una vasca iacuzzi. Ideale per famiglie. Ci ritorneremo volentieri, anche in inverno. Fantastico.
Rosella
August 2016
Vacation in Livigno was amazing! Even though there was no snow, the place was fabulous! Sabrina's apartment is located in the center of all attractions,stores,bars and restaurants. So, everything needed was right next to it. Additionally, ski lifts were behind the house about 15meters away which was also super convenient. Talking about the apartment itself, it was so clean and new. What we recognized and liked is that there were TV in each room, free Wi-Fi, bath and bath cabin, many different furniture and all kitchen equipments for cooking. Furthermore, there was free deposit ski box right next to the house and lifts where our skis were located. Overall, location and apartment itself were amazing! Hosts are very nice and helpful. I do really recommend this place to you all! I will stay with them again for my next trip to Livigno! Thank you to Sabrina and her Family for the great vacation experience!
Alla
December 2015
Замечательные аппартаменты в самом центре на центральной улице города. В апартаментах есть все необходимое в соответствии с заявленным описанием. Вся техника и обстановка современная и в отличном состоянии. Хозяева оказали очень гостеприимный приём , помогали при возникновении любых вопросов. Очень рекомендую это место для отдыха и катания на лыжах!
Victoria
February 2016
Excellent séjour à Livigno. L'appartement est tel qu'il est décrit. Il est très spacieux, fonctionnel, idéalement situé (quartier animé mais pas bruyant, toutes commodités sur place et vue magnifique).
Olivier
July 2016
Livigno
The well-known youthful villa is located in the center of Chur. Inspired by Amsterdam, the famous artist Piroska Szönye opens the first art gallery with a private guest room. The artist lives and works in the gallery, which she calls Villa Fairytale. The trained interior designer has created an exciting combination of art and design and an exclusive living atmosphere. The accommodation is located 5 minutes from the railway station, the center and the old town.
The guest room is a mixture of art / design and history. Through a private entrance you have a personal atmosphere with your own bathroom and small private entrance to the room. The apartment is newly renovated and belongs to the artist herself. It has an exciting furnishing and high standard. It has a touch of international flair. Very suitable also for businessmen who are looking for an appropriate ambience. You can also book additional rooms for seminars or meetings. Shared use of kitchen you can inquire. Parking in underground garage available on request. The apartment is on the first floor and the guest room is easily accessible. There is a private entrance to the guest room, which has a private bathroom with shower / WC and double toilet.
La casa di Piroska è bellissima, nuova, arredata con grande gusto in ogni dettaglio, molto confortevole, a pochi metri dal centro storico. Piroska ci ha dato tutte le indicazioni per avere il migliore soggiorno a Chur e ci ha ospitato offrendoci il meglio; è stata molto premurosa, ci ha preparato un'ottima colazione, ha reso la nostra vacanza a Chur davvero speciale. Torneremo a trovarla per conoscere meglio anche i tesori della sua casa (una biblioteca di arte e design, e le sue opere d'arte). Assolutamente consigliato!
monica
December 2016
Chur
Luxuriöses und modernes Chalet am St. Moritzersee (vor dem Badrutt's Palace Hotel). Das Chalet erstreckt sich über 3 Etagen und umfasst 320 Quadratmetern. Es verfügt über ein grosses Wohnzimmer mit Kamin und vier Schlafzimmern mit en-suite Badezimmern und eigenem Jacuzzi.
Im obersten Stock befindet sich ein TV-Raum, welcher mit einer modernen Bang & Olufsen Anlage ausgerüstet ist. Im mittleren Geschoss befindet sich das Wohnzimmer mit fantastischem Blick auf dem St. Moritzersee und Terrasse. Das Wohnzimmer ist mit einem Cheminée, einer gemütlichen Couchecke und einem Esstisch ausgetsattet. Weiter finden Sie eine moderne und komplett eingerichtete Küche. Im mittleren Geschoss hat es zudem ein Schlafzimmer (Doppelbett) mit eigenem Badezimmer (grosse Badewanne sowie Dusche). Ferner finden Sie ein Gäste WC sowie einen Spielraum mit Pool-Tisch und einem weiteren Badezimmer und einer Waschküche. Im unteren Geschoss befinden sich drei Schlafzimmer (alle mit Doppelbett), jeweils mit eigenem Badezimmer. Zum MAster Schlafzimmer gehört ein besonders grosses Badezimmer mit Dusche und Jacuzzi. Weiter steht Ihnen ein Wellness- sowie Fitnessbereich, welcher mit den anderen zwei Häusern geteilt wird. In der Garage stehen Ihnen während dem gesamten Aufenthalt 3 Parkplätze zur Verfügung Während Ihres gesamten Aufenthaltes stehe ich Ihnen rund um die Uhr zur Verfügung.
Die Lage des Chalets ist einmalig, direkt am St. Moritzersee und wenige Gehminuten von der Rolltreppe die ins Dorf führt entfernt. Wir können Ihnen tägliche Reinigungen sowie einen Concierge Service bieten.
Great place that we got. Sven was extremely responsive and very helpful in changing our reservation as we needed as well as finding us a second apartment in the same day requested. The apartment was great and located in the lake and next to the lift that takes you up to the stores next to Badrutt Palace
Ahmed
July 2016
The host was quick and everything went smooth. I will use Sven again. He was available on (SENSITIVE CONTENTS HIDDEN) all the time in case we needed help. I am 100% satisfied.
Alessandra
January 2016
Sankt Moritz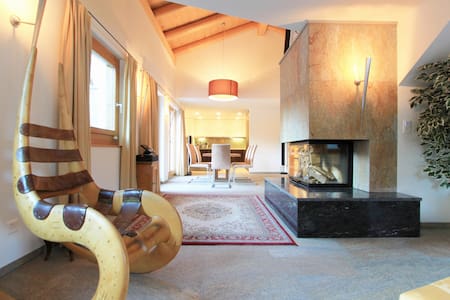 Brand new contemporary independent apartment ideally located in the center of Madesimo spread over 2 levels. Spacious dining/living room with annexed full kitchen and bathroom in the lower floor and 2 bedrooms and anther bathroom in the upper floor.
The apartment was really nice and clean. We arrived at 10pm and there was no trouble with getting in touch with Stefano. It was bit tricky to find the place since Madesimo has all those small roads that not all are in (SENSITIVE CONTENTS HIDDEN) Maps, but we called him and he came for us to show us the way to get to the apartment. I can recommend this place, it is very close to the lifts, market and city center. We really liked it. Thanks!
Vladimir
March 2016
Abbiamo passato una bella settimana nella casa di Stefano che si è rivelato un perfetto host, molto gentile e disponibile. L' appartamento è situato in pieno centro di madesimo quindi supermercati, ristoranti ed impianti sono raggiungibili in pochi minuti a piedi. Benché sia centrale, la casa è immersa nella quiete. L'appartamento e nuovo, pulitissimo e fornito di tutto. Consiglio questa casa a famiglie di 3/4 persone .
muriel
January 2016
Madesimo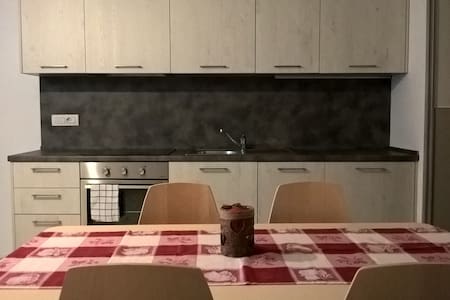 Brand new independent apartment ideally located in the center of Madesimo spread over 2 levels. Spacious dining/living room with annexed full kitchen and bathroom in the lower floor and 2 bedrooms and anther bathroom in the upper floor. Use of a com
The apartment is nicely located in the center, everything on walking distance (skiing slopes, shops, bar and restaurants. The apartment is cosy, clean, new and very comfortable for a family. Communication with Bruna and Stefano was fast and clear, they were very helpful and flexible.
Walter
March 2016
Ottima accoglienza,massima disponibilità negli orari d'arrivo e partenza.Casa di nuova costruzione,eccellente pulizia come essere a casa propria.Indipendente,comodissima perchè in centro e vicino agli impianti di risalita.Ottima soluzione anche per chi ha animali domestici. Tutto ciò ha reso il nostro soggiorno semplicemente fantastico,rilassante,con la promessa di ritornarci al più presto.
vanessa
February 2016
Abbiamo alloggiato (eravamo in 5) presso l'appartamento di Bruna per le vacanze di Pasqua. Ci siamo trovati benissimo: la casa è a pochi passi dal centro subito fuori dalla zona pedonale, vicino quindi sia a supermercati, ristoranti e, per chi scia, agli impianti, raggiungibili a piedi. Non c'è un parcheggio privato, ma vicino ci sono molti parcheggi dove si puó lasciare l'auto. L'appartamento è nuovissimo e pulitissimo. La cucina è attrezzata e c'è anche una piccola lavastoviglie che ci è stata utilissima. Secondo la nostra esperienza il numero ideale di ospiti è di 4, anche se l'annuncio dice 5, perchè il divano letto presente in soggiorno non è comodissimo da fare e disfare (noi lo abbiamo lasciato sempre aperto), ma in ogni caso esperienza super positiva! Noi abbiamo avuto contatti con Flavia, la figlia di Bruna, che alloggiava sopra di noi ed è stata gentilissima e disponibile. Insomma, esperienza super positiva!
Benedetta
April 2016
Madesimo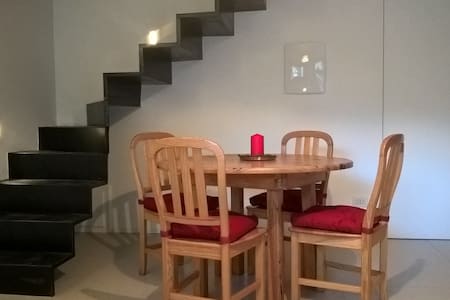 A wonderful free standing chalet in La Punt, with amazing views towards Madulain and Zuoz. Built in 2008 with natural materials such as wood and local slate, it has been decorated with exquisite taste, with fine fabrics and luxury details.
The Chalet is divided on several floors and has been designed very intelligent. The property has 4 bedrooms with en-suite bathrooms and on the top floor a very large living room with fantastic views. The fully equipped kitchen and a dining room with a large table are on the ground floor. The house also has a wellness area; Pool with jet stream, sauna, steam room and showers. There is as well a fitness room with Technogym equipment. Another highlight is a party room with a large wooden table and home cinema.
4 double rooms with kingsize beds 4 en-suite bathrooms Living room with fireplace, sofa corber, tv corner, working space Dining room facing the patio and the garden Fully equipped kitchen Spa Area; pool with jet stream, sauna, steam room, shower Party room with large, wooden table seating 14 guests Home Cinema with large flat screen TV, DVD, Playstation Wine Cellar Fully equipped fitness room with Technogym equipment, TV, DVD, music system Guest bathroom Laundry room Extra bedroom with bunk bed and en-suite bathroom for domestic personnel Garage parking and outdoor parking Private Garden Ski room
部屋タイプ
まるまる貸切
---
建物タイプ
---
収容人数
10
---
寝室
5
La Punt-Chamues-ch