日付を入力すると合計金額が表示されます(税・サービス料別)。
貸別荘ヴィラ3件
· Mountain Ranch
貸別荘ヴィラ3件
· Mountain Ranch
この7月と8月は、あらゆる価格帯の高評価物件100件の中から物件をお試しいただき、ソノマのローカル目線を体験いただけます。24時間対応チェックイン、今すぐ予約、ローカルワインとおつまみでくつろいでご旅行をお楽しみください。
The Villa is next to our winery and 25 other tasting rooms within walking distance. It is located close to lakes, Big Trees Park, Skiing in winter, Fishing, walk to fine dining. It's sits on 5 acres of pasture and vineyard. I. Quiet... yet walking distance to town. A true Gourmet Kitchen with 8 burner stove, fireplace, vaulted ceiling and the pool and hot tub.. The Villa is good for couples, families (with kids), big groups, and furry friends (pets) for exra $20/day
The villa is family/kid friendly in avery spacious and un-uncombered house. The Villa has a lot of outdoor space for your enjoyment including pool, hot tub and basket ball court. It is a great spot for events. The entire house and outdoor Need help... be sure to stop next door at the winery.
Walk to town is one of the favorite aspect of the villa
HIGHLY RECOMMENDED! "The Villa" of this winery property is a gem of a spot is easy walking distance to Main street Murphys, CA. Many delightful restaurants and wine tasting spots from which to choose. The house is spacious and perfect for gatherings that comply with the maximum occupancy the owners note. The large dining table perfect for meals, crafty art sessions and board games alike. The gorgeous gas fireplace (enamel design from France?) is easily operated by a switch; no messy wood or tending needed. The entire house warms nicely. Speaking of warm, the hot tub was perfect during our winter stay! The unheated pool is securely gated (unused by us) and probably better for summer guests. I regret we did not take more photos to show the many lovely sitting areas outside. The kitchen is very well appointed; there was nothing we needed we couldn't find. High quality appliances throughout. Grocery shopping a short drive away. We used this Murphys house (at ~(PHONE NUMBER HIDDEN) ft) as our staging area for trip up to the December Holiday 2016 snow line at Arnold (~4,000 ft; ~ 30 minute drive) for sledding. We checked in at the tasting room after we arrived and were warmly greeted by the staff and very tame, supervising cat that tolerated the attentions of my young children like a champ. All communications were prompt and accurate. Our thanks to Jeannine and Jonathon for this place where we were able to make great memories for our family!
lori
December 2016
Murphys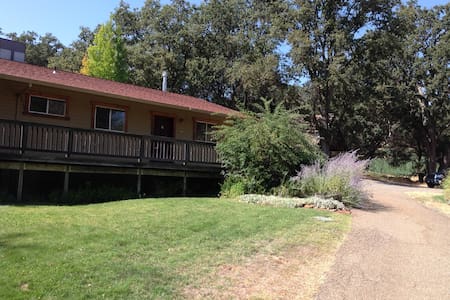 New custom built 3800 sq ft home in the foothills of Calaveras County on 21 acres filled with trails. Spend the day hiking, biking, wine tasting, exploring caverns, skiing, boating and much more! This place is perfect for a family or friends retreat.
The upstairs loft is equipped with a 50" plasma. Plenty of movies and games for the kids young and old. It has 3 beds and 5 air beds. You are welcome to use anything in the house. I ask that you stay out of the garage. I can be reached by phone if you have any questions.
All the homes in the BarXX subdivision are on 20 acres. Plenty of space to let loose. Property is located 7 mile off HYW4. The is no internet or house phone. Cell phones work great ATT & Verizon. Cell phone hot spot can be use for internet.
Our stay at the house was wonderful and I think everyone in our group of 7 would agree that they felt very at home. The house has been very thoughtfully designed and situated to provide both privacy and breathtaking views simultaneously. The kitchen was easy to navigate and everyone was comfortable and reported having slept well in their respective rooms (although everyone *was* also jealous of the master bathroom ;P). My brother-in-law even commented that this was the nicest AirBnb he's stayed in yet. We spent most of our day out at Columbia State Park but it was nice to have tv/movies and games available at the house too. We all enjoyed watching the birds in the eaves by the kitchen fly in and out of their nests too. Henry was a great host, responding quickly to any questions I asked, and also offering suggestions of things to do in the area. His rules/house manual were very reasonable and easy to understand which I think helped us to feel welcome. I would definitely recommend booking this amazing property whether you're housing a large group or just looking for a secluded retreat. Just don't forget anything at the store cuz it is NOT a short drive back.
Anna
May 2016
We had a great experience staying at Henry's spacious and comfortable home with beautiful views of rolling hills and a distant lake. While the house is a bit far from the main road, the remote location and spectacular perch make for a stunning setting. The house itself has well-appointed bedrooms, bathrooms and kitchens, and all the creature comforts you need for a great stay: pots and pans, dishes, towels, etc. Our children loved the play structure outside and we took a number of walks around the large grounds. Henry was in touch with details about the house, and we contacted him periodically with questions. He provided helpful responses and made us feel welcome. I'd love to stay here again sometime.
Shruti
February 2016
The views we captivating from the comfort of the living room & dining room. We could see expansive view of the lake, mountains, and open fields with plenty of vegetation for miles. Kids loved exploring outside. This was the perfect area for the kids (ranging from our 2yr to 12 yr olds) to free range and explore the area, leaving us parents to feel 100% comfortable & safe. There were plenty of games, movies, and all the cooking utensils that we needed to cook home-made meals with. Our 12 yr old boy, who is addicted to his iPad, did NOT complain about the lack of wi-fi for the WHOLE weekend… which really indicates how amazing the area was and the wealth of fun activities there were around to entertain the kids. I highly recommend bringing bikes for your kids. 30 acres of land and ATV "race" tracks to go explore. The favorite memory of the kids was the awesomely large loft with 4 private dormers to call their own. It was an easy trip to Angel's camp (15 min) and to Moaning caverns (25 mins). Also, the owner Henry was incredibly responsive, helpful, and friendly. This was one of the best memories we've had in a long, long time.
Stephanie
March 2016
We've had most wonderful vacation in Henry's house! Have reserved for 2 nights and then decided to stay for an additional one, because it was hard to leave this place! The house is gorgeous by itself, but when combined with the surrounding nature and views - it is absolutely perfect! We have been a pretty big group- several families with kids and there was plenty of space for everyone to relax and for the kids to play - inside as well as outside. The house is well designed, in a perfect new condition and is very well equipped. The location is great too - just 2 hours from the San Francisco East Bay area (compared to 4 hours to Tahoe or Yosemite) and 1 hour to the Bear Valley Ski Resort in the heart of the Stanislaus Forest. The resort is very nice, resembles the Tahoe X-Country (the staff believes Bear Valley is even bigger) and had a lot of snow. There are also enough trails around the house, in the beautiful surrounding hills, covered with grass and oak forest. Henry was a wonderful host - very welcoming, caring and promptly responding to any question we had. Overall is was one of the best vacation rentals we've been in CA and our stay there was most relaxing and pleasant. Thank you, Henry!
Polina
January 2016
My second visit to the house. Loved it as much as the first time. Will definitely be back again and for a longer visit. There's a lot to explore in the area. Thanks Henry!
Gohar
May 2016
Our week long vacation turned into a family retreat as we didn't feel like leaving Henry's property at all. Everything was great! The communication with the host was effortless, and the house was in great condition. This is a true place to RELAX, and I mean it. Away from everything, literally. The house has Mediterranean feel and is fully equipped with everything you'll need. The forests and the surrounding mountains were mesmerizing. You will have the most amazing view from your bedroom or with your morning coffee as the fog slowly unfolds the landscape and New Melones Reservoir. The wood-burning fireplace was a great touch and the family gathering spot, especially during the chilly evenings. The towns nearby have a few interesting things to see. Stories in Stone in Angels Camp downtown was a cool find, if you're interested in shells, semi-precious stones, fossils. There's also a French Bakery/Cafe next to the store. Alchemy market and cafe in Murphys has great food and wine selection. Also, would recommend the 45 minute long hike to natural bridge near Murphys. Big Trees in winter time is breathtaking (make sure you have chains). Overall, we enjoyed our stay and would definitely be back!
Gohar
December 2015
The place was amazing. Pictures do not do justice to this place. We wanted a weekend away from all the hustle and bustle, and we were able to get that in this place.
Yug
June 2016
Attention people out there who are looking for a great place to stay with a great view, THIS IS IT! I will give you one more reason to stay here, this place is full of "POSITIVE ENERGY". I think this statement speaks for itself. I HIGHLY RECOMMEND this place. This place is gorgeous and very peaceful. The house is located on a hill surrounded by trees and with a water front view. The interior of the house is beautiful and every room is very spacious. The attic is the coolest room in the house. Its big and has 5 beds, along with a huge area in the middle where you can play, sit and chat, basically just relax and have fun with your family and friends. The owner was thoughtful enough to keep a cupboard full of board games to play. It had every game you can imagine. We enjoyed playing with a few of them in the attic room. Likewise, the kitchen was fully loaded. All the essentials for cooking were available. It was kept neat and clean. Last but not the least, I will say that during our stay we have made so many amazing memories and moments that we will cherish forever and this house was a very important part of it. Everyone in my family absolutely loved this place and enjoyed thoroughly. We are planning to visit this place again in the near future. P.S:- The owner, Henry seems to be a very nice and easy to work with kind of person. Thumbs up to Henry. Thank you again for the wonderful stay.
Darshana
June 2016
部屋タイプ
まるまる貸切
---
建物タイプ
---
収容人数
12
---
寝室
5
Angels Camp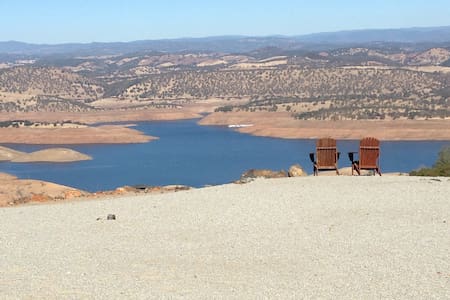 Stunning Villa in the Sierras - Dodge Ridge Skiing, Pinecrest Lake, Gold Country. 4 BR/3 BA, Mountain Views, Hot Tub, Pool Table, Family Friendly, Dog Friendly. My place is good for families (with kids), big groups, and furry friends (dogs).
Your unforgettable getaway starts here, at a Mediterranean-style villa with amazing mountain views, only a 2.5 hour drive from the Bay area, and 30 minutes from Dodge Ridge Ski Resort. With four bedrooms and three full baths, this 2800 sq ft. vacation home sleeps 10 people easily, and more upon request. Enjoy an active or relaxing vacation, with tons of outdoor activities nearby, plus hot tub, pool table, movies, games and grill when you want to stay in. It's the perfect place for family gatherings, ski weekend with friends, anniversary, or special celebrations. The Home: Gorgeous, impeccably maintained and professionally cleaned non-smoking home on private 5 acres. Watch the sun rise over the mountains from the expansive deck. Great room with vaulted ceilings and pool table, formal dining room, heated floors. Fully equipped chef's kitchen with all cookware, dining ware, appliances, plus sugar, spices, condiments, coffee and tea. This is a newly furnished vacation rental, with all furniture, mattresses, linens, kitchenware and diningware purchased in 2016. Guests have use of the entire house, except the garage and one locked storage closet in the master bedroom. Let us know if you'd like to arrange a mid-stay cleaning service for longer stays. Our handyman can come out if necessary during your visit.
Quiet neighborhood of homes and horse ranches. View of the lower Sierras mountains and Stanislaus National Forest from the deck, which wraps around 3 sides of the house. Activities: At 3,800 feet elevation, the Villa is a base for year-round vacation fun. Dodge Ridge Ski Resort is the closest Sierra ski resort to San Francisco or San Jose. Great skiing with less driving, fewer hassles, no crowds, and lower lift-ticket costs than Tahoe resorts. • 30 min to Dodge Ridge Ski Resort (summit 8,200 ft, base 6,600 ft) • 35 min to Leland Snow Park (snow tubing) • 25 min to Pinecrest Lake (swimming, fishing, boating, free access) • 5 min drive (15 min bike ride) to Twain Harte village for dining, shopping, entertainment • Minutes from many beautiful hiking and biking trails • 15 to 30 min to historic Gold Country towns of Sonora, Jamestown, and Columbia for sightseeing, shopping, antique stores, dining, museums, gold panning, and entertainment in historic Gold Rush towns • 1 hr 10 min to the Sonora Pass and Pacific Crest Trail hiking at 10,000 feet • 1 hr 45 min to Yosemite National Park Entertainment: Samsung 40" screen with internet access to movies. Netflix movie subscription is provided to watch movies at no charge. Please note there is no 'regular' TV or cable. Stereo with Bluetooth connection to play music from your phone Free wifi Pool table Fireplace Hot tub Outdoor gas grill Outdoor seating
Very good communication from the host with no unpleasant surprises. Nice views and location, large comfortable house.
Wayne
October 2016
We had a great time. Very nice and spacious property. Plenty of sleeping spots. Well heated. Very good kitchen. Pool Table for entertainment. Large hot tub for relaxation. Pet friendly place with a fenced back yard. We were a little disappointed to not have snow in the middle of December. But the weather was nice enough for us to have breakfast on the deck, under the sun, with a nice view. The host was great and very easy to communicate with. I would definitely recommend this place to others.
Alex
December 2016
部屋タイプ
まるまる貸切
---
建物タイプ
---
収容人数
10
---
寝室
4
Twain Harte