日付を入力すると合計金額が表示されます(税・サービス料別)。
この7月と8月は、あらゆる価格帯の高評価物件100件の中から物件をお試しいただき、ソノマのローカル目線を体験いただけます。24時間対応チェックイン、今すぐ予約、ローカルワインとおつまみでくつろいでご旅行をお楽しみください。
This Thatched Mushroom House is world famous, and staying here is a true experience! The house was recently reimagined with luxurious upgrades, but the history of Earl Young and his boulder legacy still remains in the house to this day! This is the GRAND MASTER SUITE in the Charlevoix Thatch house, overlooking Charlevoix sunrises with a private master bathroom with tub and amazing stone shower. Sitting area overlooks Lake Michigan beach, light house, and just 2 blocks from downtown and shopping!
This upstairs GRAND MASTER KING suite is the largest room overlooking Charlevoix Sunrises, with a huge bathroom that has a wonderful tub, stone spa shower and space galore! The closet is TO DIE FOR and could fit any amount of shopping bags you happen to acquire on your trip! When renting the Grand Master Suite, you have access to the upper level common areas- a sitting area overlooking Lake Michigan with a TV that has netflix and Apple TV. There's a stone fireplace and cozy sitting room. You also have access to the main floor Kitchen and Dining/Living room. When I am in town, I would love to meet my guests and discuss the house if you have questions about the renovation process. For all other house needs, my experience coordinator is a Charlevoix Local and can answer any questions and assist with all your travel needs.
We are in the middle of the Park Avenue District of Earl Young Houses that over look Lake Michigan. It's quiet, peaceful, and some nights, other than crickets, you can hear a pin drop after 10pm. For being this close to the "downtown" we are very quaint and relaxing, with historical houses surrounding us and beauty across the street! You do NOT need a car, but it's nice to have because many day trips Jennifer could direct you to, many are within an hour drive from Charlevoix. We have a couple local taxi's or gem car shuttles, FREE BIKE RENTAL in town when available and rental bikes at Revolution Bike downtown, and besides that, pretty much everything is within 1-2 mile walking distance. We are steps from the beach, shopping, activities, and Castle Farms is just a short 4 mile drive away. We are a FAMOUS MUSHROOM HOUSE and there will be people who walk/drive/bike by who want to take pictures of the house. Feel famous, own it... enjoy it... but we do have privacy curtains so you can enjoy your stay and they can take their pictures!
Charlevoix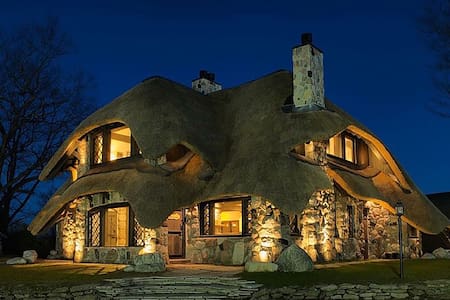 Rent this 1,854 square foot, 3 bedroom villa for your March break! Mountain Run at Boyne, Michigan provides easy access to 50 ski trails and 14 lifts for the skiers in your group. Snowboarders can slide and jump their way through the terrain park.
Great stay at Boyne Mountain...everything was as described; we also got a unit that we could ski in and out, as requested. Thanks, Anita! The staff at Mountain Run was very helpful and kind.
Mike
April 2016
部屋タイプ
まるまる貸切
---
建物タイプ
---
収容人数
10
---
寝室
3
Boyne Falls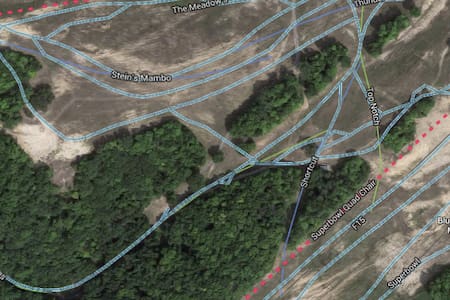 This room is the main floor master suite of The Thatch House on Park Avenue, a home in the Earl Young Legacy of famous stone homes. We are 1 block from the water, 2 blocks from downtown shopping, dining, and events, and 4 miles from Castle Farms for those attending weddings in town. This is just one room, we have 6! Contact Jen for big groups and special events!- Michael
This Charlevoix Mushroom House, known as The Thatch House, rose from the original stone walls set by Earl Young. Originally built as his first home in 1918, the original house did not encompass Young's developing unique hobbit-home style, but today, in a dramatic re-imagining, The Thatch House exemplifies the storybook magic of the Earl Young mushroom houses. The Earl Young Master Suite suites him, as it overlooks the Lighthouse at Lake Michigan Beach. The new "mushroom house design", conceived on a napkin by the new owner, took nearly 2 years to finalize. Specialized timber work, beautifully erected with every beam layer, is unique and bold. The beautiful flowing roof is crafted from the finest natural thatch hand-reaped in Europe and shipped to the USA. During one of the coldest winters, a master thatcher painstakingly worked under daunting conditions, so that symbolically the new creation was ready to greet the new spring with new life. As a surprised observer said, "Wow, that home looks like a giant mushroom!" Mission accomplished. A luxurious Charlevoix Mushroom House to host family retreats, wedding parties, and events of all kinds. We look forward to helping you plan your Mushroom House Experience. When renting the Earl Young Master Suite you have rented the entire main floor. This includes 2 fireplaces, a TV with Netflix and AppleTV, WiFi, a family open concept kitchen complete with cooking utensils and spices. We also have a gorgeous family dining room. Any other bedrooms used and needing to be cleaned will be extra cleaning fees. We do not serve meals, but you are welcome to cook or we have wonderful restaurants we could have brought to you for meals. We'd love to make your stay storybook like... let us know! When I am is in town he will be staying in Applecore Cottage and interacting with guests as they desire. When he is away on business, his Mushroom House Experience Coordinator, Jennifer, will be available during your entire stay, sometimes on site as needed. Always available by phone at 231-335-1102
We are situated in the middle of Earl Young's Park Avenue district of homes across from Lake Michigan. Our neighbors are "The Half House" on one side, which Earl reportedly built for his daughter as a "Honeymoon Cottage" and "The Onoway House" on the other side which Earl built for his family after his career had taken off. You can see the much different styles that Earl had throughout the years just by peeking out our windows! The whole town is walking distance, maybe 5 miles at most if you go from outskirts to Castle Farms. We have local bike rental and FREE BIKE RENTAL in town (when it's not taken... very popular activity!) We also have a couple taxi services, a limo winery tour, and a city bus, but really-- we are situated 2 blocks from downtown shopping and restaurants, and 1 block from the Michigan Beach, so a car is NOT necessary. However, Northern Michigan is BEAUTIFUL all year around and having a vehicle gives you access to numerous day trips Jennifer could send you on... This is a famous house. You will feel like a celebrity as the passers by stop to wonder what the roof is, how it's made, and take pictures to prove they saw it! We do have privacy shades throughout, so that you don't feel put on display. Celebrities enjoy privacy! It's a historical house, with a magical feel... We love the attention it brings our beautiful Charlevoix!
Charlevoix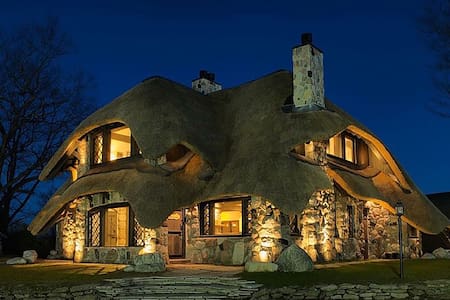 This Thatched Mushroom House is across from Lake Michigan and this Stone Master Suite is the lower level bedroom with a beautiful private bath. This Charlevoix Mushroom House, known as The Thatch House, rose from the original stone walls set by Earl Young. Originally built as his first home in 1918, the original house did not encompass Young's developing unique hobbit-home style, but today, in a dramatic re-imagining, The Thatch House exemplifies the storybook magic of the Earl Young Legacy.
The Thatch is the most unique feature. The bedroom is hobbit-like being on the lower level, and with the shades drawn, it's our darkest bedroom for sleeping! You have the best garden views (in summertime) and a unique view of Earl Young's Half House that most don't get to see! Renting the Stone Master Suite gives you access to the Kitchen and Dining room on the Main Level, as well as the common areas on the Lower Level, including the Theater Room and a sitting room off the garden entrance. Renting a single room, please only use that bedroom and your allotted common areas. Any further cleaning will be an additional cleaning charge. When I am in town, I stay at Applecore Cottage and can be available to discuss the house details. For all stay related questions, and when I am not in town, my Mushroom House Experience Coordinator, Jennifer, is available and local to Charlevoix for all your needs while you're visiting.
This house is situated in the heart of the Earl Young Park Avenue district of Mushroom Houses. Our neighbors are the "Half House" which Earl reportedly built as a honeymoon cottage for his daughter's wedding present. And the "Onaway Stone House" to the left that Earl built after he had achieved status in his career, and moved out of our current house. The houses surrounding, whether part of the Earl Young Mushroom House collection or not, are beautiful! Our town is small and quaint, and we are 2 blocks from where everything happens. A car is not necessary, but you might enjoy some of the gorgeous day trips that Jennifer can send you on, as Northern Michigan is one of the most beautiful scenes in the country. Biking around town is also fun, and in the warm months, we have FREE bike rental in town when available and Bike Rentals at Revolution Bike in town.
Charlevoix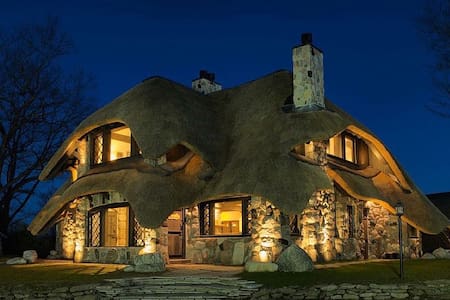 The Thatch House is the ultimate vacation get-away! Three stories with a Master bedroom on each floor. There are 6 bedrooms, 5 1/2 baths as well as a media room in this one-of-a-kind thatch house with views of Charlevoix, and short walk to beach! Enjoy your vacation in an Earl Young Legacy house uniquely designed for families in mind. We do not rent to student groups.
The Thatch House is a fantastic space for all your vacation and retreat needs. Built with families in mind, there's space to gather, and space to be private. Very open and entertainment oriented with the beautiful and iconic views of Charlevoix made to be put on display the way the house was built. Whole House is rented, you have access to all but the supply closets! When I am in town, I stay at Applecore Cottage and can be available to discuss the construction details of the house...
The views, the neighboring houses have great history, and the town!! We are situated in the middle of the Park Avenue District of the Earl Young Legacy of Mushroom Houses and have beautiful architecture surrounds us. A car is not necessary, but beautiful day trips are available . All you need in Charlevoix is within walking distance. We have local taxi, shuttles, and bus transportation, but in the winter months you may want a vehicle, just in case. This is a world famous house, and there will be passersby taking pictures.
部屋タイプ
まるまる貸切
---
建物タイプ
---
収容人数
12
---
寝室
6
Charlevoix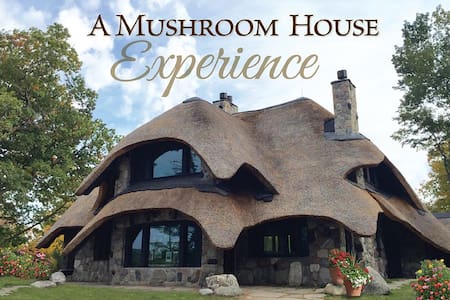 Golfer's Dream Come True: Rustic Elegance At It's FINEST-Overlooking The 12th Hole Of Beautiful Fountains Golf Course. 4 Bdrms, 3 1/2 Bthrms, 3,100+ Sq Ft, Private Outdoor Hot Tub & Indoor Whirlpool Bathtub. Gas FP, 2 Mstr Bdrms/Bthrms, & more!
Rustic Country Charm, Ambience & Elegance At It's FINEST! Gas FP, HWF, Stainless Steel Appliances, Granite Countertops, TV In Every Bdrm, Finished Walkout Bsmnt With Pool Table, Wet Bar, Bthrm & Sliding Door To Your Own Private Brick-Paver Patio With Awesome Private Hot Tub! Gas Grill, Complete High-End Kitchen, Laundry Room & Much More! Many Awesome Nearby Lakes Great For Swimming, Fishing, Boating, & ice fishing in the Winter season. Cross country skiing rentals in the Winter, also. Formal & Informal Dining At Garland Lodge And Many Other Local Restaurants/Bars Nearby! Great Hunting & Fishing Very Nearby. If You Have Any Questions Or Concerns, You May Contact Us At Your Convenience.
One Of Northern Michigan's Premier Golf Resort/Lodges Offering You Luxurious Accommodations, Amenities & Features. Four 18-Hole Championship Professional Golf Courses... Fountains, Monarch, Swampfire & Reflections. Private Runway For Aircraft. Can Do As Much As You Desire Or Total "R & R" If That Is More To Your Liking. ENJOY!!! Requires Your Own Vehicle To Go Into Town. Abundance Of Recreational Activities, Food, Beverages, Etc... Right At The Resort If You Prefer Not To Visit In Town. Ample Free Parking. Cleaning Fee Of $150.
Ray provided a great space for 8 of us to have a relaxing wknd. We couldn't have asked for better accommodations, as well as Ray making us feel welcome w his outstanding exuberance and knowledge of the surrounding area. We hope to be able to come back in the future and do business w Ray again!
G R
July 2016
We enjoyed our stay and would recommend it highly! Ray is prompt and helpful on any questions we had.
Sudhakar
July 2016
Clean, great location, and excellent communication from Ray. Highly Recommend!
Leighanne
August 2016
Very nice condo. Ray is very helpful.
Steven
July 2015
Beautiful place and location. It definitely exceeded everyone's expectations!
Andrew
August 2015
Raymond provided ample amount of information regarding check in and check out procedure. He was really helpful replying to my questions about parking at a late hour--I really appreciated that!!
Earl
February 2016
The house was beautiful and just what we were looking for. Plenty of room for my husband and I and our 5 adult children. Ray was very easy to work with quick to respond to any request.
Phyllis
January 2015
From the moment I made my contact with AirBNB, Ray was outstanding. He contacted me in a very efficient manner even though he was traveling at the time. After we arrived at the Villa, he called on the land line to see if we had any questions, or if he could be of assistance in any way. The facilities were outstanding. They were even nicer than the descriptions. We found everything clean and orderly. The furnishings were not only aesthetically pleasing, but were very comfortable and inviting. Everything in this Villa is first class right down to the Calphalon cookware. I would give this rental the highest rating.
Nora
August 2015
部屋タイプ
まるまる貸切
---
建物タイプ
---
収容人数
10
---
寝室
4
ルイストン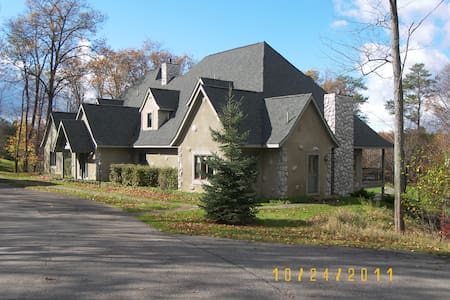 Our place is near to MIS raceway, great views, family-friendly activities. You'll love our place because of the views of the vineyard and surrounding 200 acres of countryside. You will have access next door to an indoor heated 20' x 40' swimming pool and a lighted tennis court with outdoor kitchen. The Villa is good for couples, business travelers, and families (with kids). Satellite TV.
Our hosts made us feel right at home. He was there to greet us and showed us the whole house and the pool/grill area. It was really, really nice to have all the towels, washcloths and all the toiletries provided for us. The host even provided coffee, bagels, etc. for us. Very gracious hosts! I cannot say how well this house is kept and all the amenities that are included. The upper deck was fabulous! We spent a lot of time out there. The home is very spacious and the pictures do not do the home justice! It is a gorgeous home and very well kept. We had plenty of room for all of us It was a PERFECT weekend.
Pam
September 2016
This place is amazing. As a person who uses Airbnb regularly, this has to be the nicest house, and host I've come across. The house is in the country, and is very private. Everything is exactly what they say it will be. Ron was there to help with anything that is needed. I will be back. Thanks Ron!
Chris
July 2016
部屋タイプ
まるまる貸切
---
建物タイプ
---
収容人数
10
---
寝室
3
ピッツフォード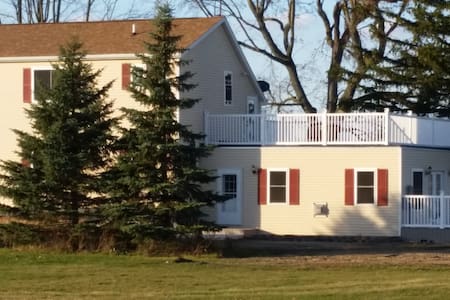 Old, wooden cottage with a 2-storey picture-window overlooking a beautiful lake and its private deck & dock in a remote woodsy setting on a dirt road. June-Aug: all meals prepared in family-oriented Dining Hall w/ private, reserved table. Kid-heaven
4-Bedroom, 2.5-Bath, full-Kitchen, cathedral-ceiling cottage. IMPORTANT: Price: $370 / DAY, during high-season [late Jun. - late Aug.] The cottage has a SIX-night minimum rental period. All guests must pay separately for meals in the nearby Dining Hall [about $33/day-adults; less for kids] while staying in cottage. Meal charges are usually paid by check directly to the Dining Hall at the end of your stay. Please inquire for more information. This beautiful, old, renovated stick-style cottage is at the end of a long, private driveway off a one-lane, private dirt-road winding through old-growth forest. There's nothing but woods and private trails behind it. It overlooks clear and sandy Higgins Lake, rated "the Sixth Most Beautiful Lake in the World". It's 82 feet of lake-frontage includes a private dock and lido on the lake, down from an overlooking deck, steps away from the large front-porch. The cottage is part of a private Association of twenty cottages, which provides meals at a table reserved for your family in a common Dining Hall -a five-minute walk through the woods. It's perfect for families, as all cooking and clean-up [except Weds. dinners] is provided from June 21 to Aug. 25, so staying here is a true vacation for EVERYONE in the family. [Note: Association rules require that residents MUST pay for all meals in the buffet-style Dining Hall between June 21 and Aug. 25. Rates are $31/day for adults, less for kids under 13 and free under 5.] The lake is clear and, on this side, shallow with great water for swimming, canoeing, sailing and all water sports. Features of Higgins Lake include an island, drop-offs, springs, sunken islands, a swimming raft [owned by the cottage Association], and the mysterious "square anchor". Not far around the shore is a marina, where you can rent motorboats, windsurfers, tubes, kayaks, and all sorts of water toys. With no traffic, kids run free [supervised near the lake, please] and quickly make friends with lake-side neighbors they meet eating in the Dining Hall. The cottage features a beautiful, two-story Living Room [the heart of the cottage] with a rustic staircase, a balcony, and a lakestone-lined fireplace and large Screen Porch, both facing the lake. The view is even better from a large, two-level Private Deck right over the lake on a bluff, a few steps from the Screen Porch. A long stairway down from the deck leads to a private sunbathing area [the Lido] and a private dock where you can swim, nap, and attach boats. [Boats should be moored at anchors off the dock when not in use.] A yard next to the cottage has a fire-pit, many Adirondack chairs, and a pad for the outdoor ping-pong table. A renovated Kitchen with granite counters and new dishes, coffee-equipment, kitchen-tools, and appliances including a dishwasher is open to one side of the Living Room, although you won't cook much, as you'll enjoy the great food in the Dining Hall [from June through August]. Three Bedrooms are on the first floor: [1] a Master Suite with king-size bed and a private Bath with shower and two sinks in granite counters; [2] a Bedroom with two queen beds and a sink; and [3] a small Bedroom with a queen bed and a separate entrance to the Porch. A second Bathroom with a claw-foot tub, a shower and two sinks in granite is off the first floor hall, as is a laundry closet with a new washer and dryer. The second floor is reached from an indoor balcony overlooking the Living Room [and the lake]. Its glass door leads to a knotty-pine Bunk Room with four built-in bunks, which appeal to teenagers and smaller kids [but are short for all but the smallest adults]. In addition to the buffet meals and a swimming raft, the twenty-cottage Association has a tennis court you can use for free and extensive bird-watching and mountain-biking trails, which you can ride through the endless woods, if you bring or rent bikes. This cottage does not have a land-line phone [Recent guests have used their cell phones.] TV or wifi yet, but cable access is available if you bring a TV or router. Nearby activities off the lake include fishing, canoe and tube trips on the calm and beautiful Au Sable River [Rentals available at liveries, or bring your own craft.] and spectacular golf at Forest Dunes, Golf Magazine's No. 2 Public-Access Course in Michigan. Shrink the location map on this Airbnb page, and switch to an aerial photograph to see Higgins Lake in its splendor. The cottage is on the north shore [not So. Main St.], the least developed and most secluded part of the lake. See the photos. Private dock, waterfront, deck overlooking the lake, yard with fire-pit and ping-pong table, and cottage [see photos]. Common Dining Hall with buffet-service meals three times/day and private table, reserved for your cottage. We have a local greeter, who will show guests around and provide a key. She will be reachable by phone. Owners are available by phone, 415-533-0131, and email, cottage@geupel.org to di...
Lakefront; clear water; view; deep woods at the end of a long, quiet, private road. It's not like home. You'll need a car to arrive and shop [not too much, since meals are taken at the Dining Hall], but otherwise you walk on pine-needle paths. You can bring mountain bikes to ride in the woods [but not on the main path along the lake, in front of the cottages.] There is a very nice firepit for campfires [no bonfires] and smores and a beautiful fireplace inside if it's chilly in the evenings. If you want to use these, you'll need firewood, hardwood only indoors. We are very paranoid about fires [A nearby cottage burned down a few years ago.] and require complete and thorough extinguishment, by hose and stirring, of all campfires and their embers before leaving the yard or going to bed.
We had a wonderful time at this lovely lakefront cottage! From the neighbors, to the dining hall experience and food, to the accommodations, everything was fabulous. (We couldn't have asked for better weather either during our week there.) The home is beautifully decorated and is so charming. LOVED not cooking and just showing up for the delicious, healthy meals. All the people we met were friendly and helpful. We will definately come back again!
Lynda
August 2014
部屋タイプ
まるまる貸切
---
建物タイプ
---
収容人数
10
---
寝室
4
ロスコモン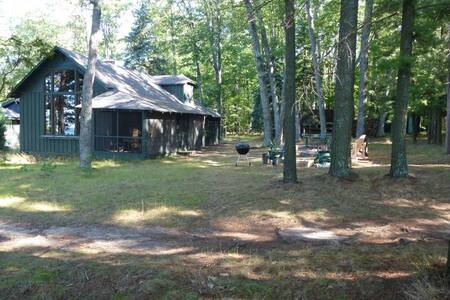 5,000 sq ft, sleeps 15 with 4 bedrooms and loft and 2.5 bathrooms. The grounds feature beautiful flower gardens and private dock. 375' of lake frontage with numerous decks, patios and soft seating areas. 1.4 million dollar dream home for as low as $500 a night!
Steeped in history and lavished with innovative updates, this exquisite Gun Lake Estate boasts 125' of all-sport lake frontage and 5,000 square feet of living space. Built originally in 1886, renovated in 2013. Resort amenities on beautiful 2,680 acre Gun Lake. Whether you're arriving for business, escape or an event, you'll find amenities that make our property a destination with the complete guest experience. Full service Terrace Grille restaurant Bay Pointe Inn has been ranked one of Michigan's top resorts for ten consecutive years (GR Business Journal), and its Terrace Grille is an important part of that success. The Terrace Grille opens at 4:00 daily for exceptional dining that comes complete with spectacular panoramic views of Gun Lake. Passionate about farm-to-table freshness, the talented chef team creatively crafts seasonally inspired, innovative dishes that utilize the freshest locally farmed ingredients. A full-service bar includes handcrafted cocktails and a wide variety of wines available by the glass or bottle. We offer knowledgeable, friendly and approachable staff that is dedicated to providing guests with outstanding service in an upbeat, coastal casual atmosphere. Sunsets included. Situated in the heart of the 20,000 acre Yankee Springs Recreation Area… From tranquil rooms to coastal living areas our Inn's luxurious accommodations feature: An expansive 375′ of lakefront enjoyment with rolling hillside and lovely island views Intimate outdoor sitting areas among the glorious gardens Lakeside sunbathing patio and lawn Indoor swimming pool, hot tub and fitness room Marina with Guest Docking Deluxe Bay Pointe Breakfast for Lodging Guests, 2 complimentary vouchers per room Complimentary local calls and Wi-Fi property wide Suites feature whirlpool tubs, sitting areas and fireplaces Fresh ground coffee, hot teas, cocoa, home baked cookies, and apples are available in the lobby all day In-room massage therapist are able to ease your cares away: $85 per hour, couples massage available Fresh Rose Petals Scattered throughout your guestroom: $17.50 A bottle of Champagne placed in your room prior to arrival: $27.00 Chocolate Covered Strawberries: $2.00/each Fresh Cut Flowers: market price A bottle of Wine & Cheese Tray: market price We love our guests! Personal, friendly service consistent with that of a high end resort.
On the shores of Gun Lake, MI. BEAUTIFUL views surronded by 22,000 acres of recreational area and State game land. There are no transportation services on the lake, though we can recommend taxi services out of Grand Rapids and Kalamazoo upon request. BoatHouse Villa has 3 floors. The game room boasts a vintage shuffleboard table, pool table and bar.
Perfect getaway place for a big group
Jaeho
December 2016
部屋タイプ
まるまる貸切
---
建物タイプ
---
収容人数
15
---
寝室
5
Shelbyville
Willow Villa at Harbor Cove is a beautiful, comfortable private home. As the only stand-alone villa within Harbor Cove it offers a unique experience at this sought after resort. A full renovation from top to bottom was completed in 2015.
Pools, hot tub, sauna, beach house, tennis courts, nearly a mile of sandy Lake Michigan shore line, woodland walking trails and many local activities. A representative of Edwards Leasehold will meet guests upon their arrival. We are available 24 hours a day to address any questions or concerns.
The Harbor Cove Association is truly unique. With amenities like an indoor pool, hot tub, sauna, outdoor pool, tennis & nearly a mile of private Lake Michigan shore line...this place is one of a kind. Very convenient to both Harbor Springs and Petoskey for shopping & exploring. A vehicle is necessary, but well maintained roads make this property accessible all year for ski and sun.
Best experience in rental. Our family reunion was perfect. The house is what pics showed plus MUCH, MUCH more. Sleeping for 10 people, no in sofa cama, only real beds! Decoration is awesome, house well equipped from linens to kitchen stuff. Parking, location are perfect. We want to return if available next summer.
Martha
September 2016
The host canceled this reservation 41 days before arrival. This is an automated posting.
Chad
The Harbor Cove Villa was pretty amazing! We couldn't have ask for better accommodations. This was my first experience with Airbnb and he helped me through the reservation process and was patient with my questions. We had reserved the Villa for a multi-generational reunion. GLFlis was very accommodating, even when my parents arrived before us. Just a quick phone call to him and he was ready to meet them and introduce them to his place. The Willow Villa was immaculate and the surroundings are beautiful! It is even better in person than in the pictures; there are so many little details that you do not see in the pictures. There are movies and games, there are little boxes and books to explore; Our family totally enjoyed all of these. He has thought of everything in providing for what you would need in a home, as well as the surroundings. I brought items to use in preparing meals only to find them already stocked in the kitchen. There are umbrellas in the front closet. There are even beach towels and baskets to use for going to the beach or the swimming pool. It's these little details that made his place so welcoming. I would definitely recommend GLFlis and the Willow Villa. I hope to use this property again in the future. Thank you GLFlis!
Penelope
October 2015
部屋タイプ
まるまる貸切
---
建物タイプ
---
収容人数
10
---
寝室
5
ハーバー・スプリングス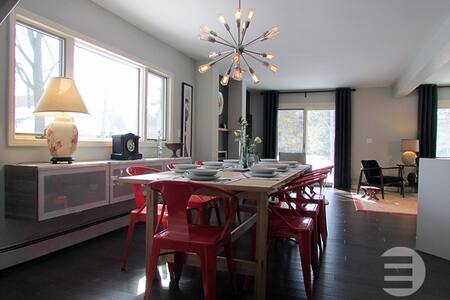 Spacious 2400+ sq/ft condo located on Hanley Lake in Northern lower part of Michigan. Located in between Traverse City and Charlevoix. Tons of outdoor activities to do locally.
Our basic rental "timeslot consists of 6 overnights with check-in Saturday (10:00 a.m.) and check-out the following Friday (4:00 p.m.) to allow for in between rental groups cleaning. ( We do offer some flexibility, so please inquire) We guarantee our place will be SPOTLESS for each new incoming group. Guests have access to the condo association pool located right across from our unit. We have a two person kayak which we make available to guests for use on all of the interconnecting Chain-O-Lakes. The BBQ on our upper deck and firepit on lower level are also available for guest use. Our guests are free to enjoy our place within the bounds of guidelines we set under a Rental Agreement and Introductory letter which is required for each rental group.
You will not beat the view from our deck day or night during any season!!
Gary's place was clean and in a wonderful location! We really enjoyed our time there. It was nicely furnished and well equipped. Pool access and lake in the back with available kayak were great features.
Neha
June 2016
We had plenty of room to spread out in the house. The whole family enjoyed time on the lower level putting puzzles together, listening to music, and playing games. It was quite nice to all be in the same space together as a family! The view is wonderful and my husband enjoyed time on the lake in the kayak almost every day. The pool was a favorite of the kids, of course.
Denise
August 2016
Gary's was an excellent communicator and was very thorough in his documentation and ensuring that your stay is pleasant. This villa is large, well stocked and in excellent condition. For this area in Northern Michigan, it is difficult finding a newer condo that is in such good condition. The condo is very large and worked perfectly for my family of 4. It is in a good location with easy access to local cities like Traverse City, Charlevoix and Bellaire. The local city of Central Lake is within walking distance. It is small, but has a few restaurants, grocery and ice cream! You can get to the major attractions like Sleeping Bear Dunes, Traverse City and Mackinac Island within 90 minutes. One of our favorite trips was renting a boat on the gorgeous Torch Lake and eating at Dockside. I plan to bring my family back to beautiful Northern Michigan very soon!
Andre
July 2016
We felt very welcomed! The neighborhood was lovely, quaint, and safe! Gary provided everything we could have possibly needed. The pool was clean and beautiful. The lake provided fun kayaking. We were so close to many fun towns and attractions.
Libby
August 2016
Gary was very easy to work with, very communicative and thorough. We had a slight issue and he worked with us which we appreciate very much. House was extremely clean!
Susi
January 2017
The place was very clean when we arrived. The space was great for 2 small families. He went out of his way to accomdate us when I asked for stuff to do within the city and adjoining areas. When and If we needed anything he was quick to respond. The early check-in was wonderful for us and the later check-out didn't make us feel rushed. We enjoyed his home very much and would highly recommend it to family & friends and anyone who needs some R &R.
Yvette
August 2016
Gary was terrific with communication both before and during our stay at Hanley Lake Cove. The condo was a great value and appointed with everything we needed. Very clean, spacious and comfortable. A beautiful space for a quiet respite. Many levels in the condo could be an issue for families with young children and seniors. To get to the lake was prohibitive for our mother but she enjoyed view from the main deck. This was a quiet location less than a ten minute walk to town and central to towns on the north (Charlevoix and Petosky), or nearby Torch Lake. If you are looking for loads of options for lake activity Torch Lake is a better option, otherwise you will be quite comfortable here.
Carol
September 2016
Our first trip to Michigan and what can I say other than we will definitely be back! It was definitely worth the 6.5 hour drive. Central lake community is very friendly and welcoming. We met several neighbors all who were very friendly and full of helpful information! We Loved walking into town to shop, whether it was for food, ice cream or novelties. This place is perfect to just relax and go nowhere or get in the car and travel all over as we did. We went to Sleeping bear dunes, Traverse City, Torch Lake, Ellsworth, East Jordan, Charlevoix (2xs), and ended the week at Boyne city with Stroll the Streets lots of shopping and little bands at every corner! The house is VERY CLEAN and we used the pool and kayak constantly. We made a swan friend named "Juliet". Kids loved fishing off of the docks. Gary was quick to respond if we needed something and he was very helpful! Hopefully we will be able to return someday to the BEAUTIFUL State of Michigan!!!!!!
Kristin
September 2015
Central Lake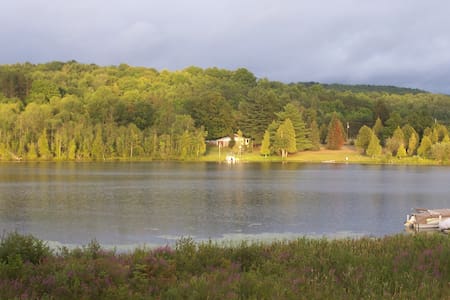 Year-Round fun at this vacation condo -- Golf, Ski, Bike, Hike, Boat, Swim. 2 Bedroom, 2 bathroom with ski hill at the front door and peaceful pond in back. We call our condo the "Verbin Villa".
We call our condo the "Verbin Villa". We are honored that you have chosen the Verbin Villa as your vacation home base! From here, you can venture out to do so many things. We are still discovering all of the fun activities that this area has to offer. When you come back to the Villa, after your day of Verbin (golfing, skiing, hiking, boating – to name a few), please enjoy a complimentary bottle of wine and be sure to take home the Verbin Villa koozies as our souvenir gift to you. We hope you have a GREAT vacation! The Villa has a full kitchen, dining area, family room with fireplace and an open layout. There are 3 door walls on the main floor that bring the outdoors in. The first floor also has a private master suite that includes the bedroom with a king bed, bathroom, vanity, and laundry. Upstairs, there is a loft with 2 queen beds, bathroom, and vanity. The couch is a sleeper sofa. Other amenities include: Complimentary Coffee, Complimentary bottle of wine, Free Verbin Villa Koozies, Washer & Dryer, Fireplace with wood, Board Games & Deck of Cards, Wi-Fi / Internet, Cable TV, Heated Pool , Gas Grille, Patio Heater. You will have access to the entire main floor, the upstairs loft, and the entire wrap-around deck. I am available to answer any and all of your questions. You can reach me by cell phone, or email.
We have skiing, golfing, biking, swimming, and hiking -- to name a few. We are located in the LeVilla condominium association at the foot of Schuss Mountain, part of Shanty Creek resorts. The resort does offer shuttle bus services. There are many miles of hiking and biking trails. Check-in time is 3PM. Check-out time is 10AM. Amenities of the Verbin Villa: Complimentary Coffee Complimentary bottle of wine Free Verbin Villa Koozies Washer & Dryer Fireplace with wood Board Games & Deck of Cards Wi-Fi / Internet Cable TV Heated Pool Gas Grille Patio Heater
The detailed welcome book, at home decorating and cozy furnishings invited us both in and out to the deck to relax. The condo was situated among others in a small cluster, but was private enough to have morning coffee out on the deck without feeling intruded upon. While a short 40 mile drive from Traverse City, we found the time perfect to discuss and plan our adventurous day exploring both downtown and various wineries on Mission Point. The pictures and description of the property were accurate; and Jeff was very quick to respond and easy to work with.
Nathan
August 2015
Had a fantastic holiday weekend at the Verbin Villa. Great location for a golf-filled getaway. Absolutely loved the deck as it provided a great outdoor space for grilling, playing cards, and taking in the sun. Would definitely book again!
Connor
July 2016
Mancelona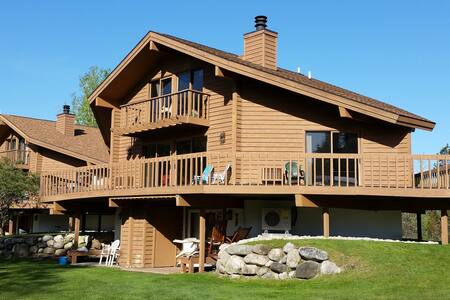 1.5 acres of peace and functionality. During all the 4 seasons you can enjoy your weekend with friends and family due to the 3 bedrooms, 2 living room, and 2 bathrooms. Strategically positioned between Birmingham and Royal Oak and the major highways.
All house will be yours Available by phone or email at any time
One bathroom will be under renovation till second week of December (discount is applied)
We enjoyed the spacious house and grounds. The living room was very inviting with high ceilings, skylights and floor to ceiling glass doors. The artwork throughout the house made the atmosphere bright and cheerful. The kitchen was equipped and the dining table was a pleasant area for our family to gather. The children in our group had fun with the toy box and the riding car in the garage. They also enjoyed the large front and back yards. . The listing stated 2 bathrooms and we assumed they were full bathrooms. More accurately, it is one and a half baths with one shower. This was an inconvenience considering the fact that we were attending wedding celebrations over a few days. However, this was the only negative during our stay. Overall, we were happy to be in a good location to our family events in a comfortable environment. We recommend this house to others.
rudy
November 2016
A stylish house, great for a large party! We had a group of 7 and were quite comfortable in the space. Nicolò was very flexible and accommodating.
Stephanie
June 2016
We had a nice stay at this home. We were in the area for my sister's wedding and the home was in a very safe neighborhood which was my "primary" concern since we were mostly women plus my young son. The house was perfectly sized; and, nicer and larger than the photos show). There was plenty of space for 5 people to sprawl out. The yard was green and well-maintained. The kitchen was well-equipped for breakfasts, snacks, and lunches. We didn't make any dinners because we were out and about most of the time. Nicolo was generous with food left in fridge. We had a couple of guests (the bride to be and her daughter) one night, which Nicolo allowed with no extra charge. Thank you so much! There was even a small extra bathroom between the sofa bedroom and laundry room. That was a nice surprise since we thought we would have only one bathroom. The steam bath was a nice plus, too. And best of all --since the weather was very humid during our stay, the AC was set at the PERFECT temperature. I was afraid we might be too cold or hot, but no .... it was perfect for each of us and that was not an issue at all. Washer and dryer work well. The only miscommunication was that the 4th bed is a mattress on the floor. But Nicolo's warm, welcoming, and generous personality made up for that :-) and we will seek this place out again next time we visit.
Grace
August 2016
Very nice spacious and comfortable house ! Safe and beautiful neighborhood!
Luca
October 2016
The house itself was adorable and in a great, quiet, safe neighborhood. The decorations inside were artsy and quirky with plenty of seating and social space. The listing was slightly exaggerated from the actual house in terms of beds and bathrooms but we made due without any major impacts to our experience. I should also call out that this is definitely someone's full time home, with a very lived in feel, so if you're looking for more of a "rental" experience this is not the place for your getaway.
Lori
September 2016
Ahmad
April 2016
Nicolo is a great host. His property is nice, well maintained and in a quiet and pleasant neighbourhood. Definitely enjoyed our stay there.
Anda
May 2016
Nice place to stay and served us well. Only downside is the host was difficult to reach on check in and check out. Ended up having to stay an extra night in town due to work, and tried to reach the host to clarify the arrangements. Didn't hear back from him until late that evening and I had to book a hotel room.
JC
August 2016
ビバリー·ヒルズ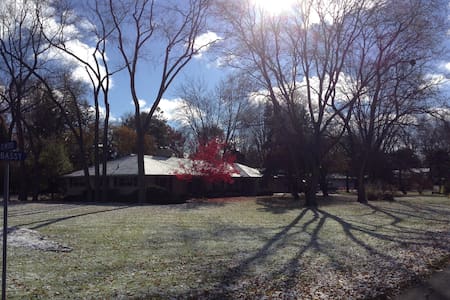 Gorgeous 4,300 sq. ft. country villa is the perfect family or retreat location. With water nearby, property overlooks 150 acres of serene farmland and 8 acre "woods" for paintball and ATV's for the adventurous. A fully renovated interior features new appliances, granite counters and beautiful master suite. The 1,200 sq. ft. finished basement is great for play including ping pong and foosball. Direct TV and streaming Apple TV. Heated barn includes full sized basketball and tennis court.
Amazing Destination Wedding opportunity with spacious unique barn or tent opportunities. Has accommodated as many as 45 sleeping at one time. Works as outstanding retreat option for churches, greek houses, and sports teams. All buildings are accessible. Great winter get-away spring and fall are beautiful. Summer makes for amazing family reunions, wedding celebrations and multiple family vacations. Caretaker lives down the street. Private use of the premises while you are there. Towels, sheets, and fully equipped kitchen with appliances and utensils all provided.
Lake Odessa has great lake for watersports and fishing. For those desiring peaceful and restful country environment, this is unbeatable.
This house was AMAZING! We stayed there with our team and it was perfect! There were 45 (!) of us and we had plenty of room. We had 24 girls in the big room, and I think only 2 ended up in sleeping bags on the floor. There were extra mattresses in addition to all the double bunk beds. The boys ended up on some of the couches and in sleeping bags in the finished basement. There were 4 double/queen bedrooms for all the adults. The kitchen had all the amenities you would need - we did bring disposable flatware, cups, and plates. The team asked if we could come back JUST for the house and stay for days instead of just the one night. We had a wonderful time, wish we stayed longer - we'll certainly be back!
Abby
October 2016
部屋タイプ
まるまる貸切
---
建物タイプ
---
収容人数
16
---
寝室
5
Lake Odessa