Enjoy indoor/outdoor living with floor to ceiling louvered doors and an ocean view from every room... Very private -- monkeys and parrots will be your closest neighbors. This is a nature-lover's PARADISE!! Explore or just chill in the hammocks!
Pelican House is on the Osa Peninsula, one of the last wild places in the world. Ocean views from every room. Private and romantic. Great swimming on a deserted beach. Scarlet macaws and squirrel monkeys are your only neighbors. A nature lover's paradise! Floor to ceiling louvered doors let in the ocean breeze. Ceiling fans in every room. Full kitchen. Hammocks galore. Our wonderful caretaker will make your stay complete. This is a perfect place for a honeymoon or a small family vacation. Two private bedrooms with queen beds. We also have two inflatable mattresses and a very comfortable couch. On the best beach in the Osa - Pelican House is great for kids (and great without them!)... Wake to the calls of howler monkeys. Zip lines are nearby and good surfing just up the coast (waterfalls, too). The Osa is a bird watcher's paradise. Yipes -- what more can we say?! It is incredible! Some info: Costa Rica is home to a rich variety of plants and animals. While the country has only about 0.25% of the world's landmass, it contains 5% of the world's biodiversity. Around 25% of the country's land area is in protected national parks and protected areas, the largest percentage of protected areas in the world (developing world average 13%, developed world average 8%). Costa Rica has successfully managed to diminish deforestation from some of the worst rates in the world from 1973 to 1989, to almost zero by 2005.
This was a beautiful house. We really enjoyed our four nights stay. The beach is a leap, jump and step from the home. The ocean water is warm and relaxing. We saw Scarlett Macaws everyday from the porch. We decided last minute to ditch our car rental, since we shifted our plans to see more of the country, we ended up taking small planes. Something's to prepare for, if you don't have a car... The taxi rides are about $20 one way into town and back to the house. I suggest loading up on food, water, and drink at the local BM in town. There are a couple of restaurants down the beach, but you need to know when the tide is low to go and come back. This is a 25 minute walk on a sloped black sand beach. You'll want to take your time, so make sure your not competing with the tide for the beach. There is a pizza delivery service that will bring pizza, salad, and pasta. Allison, the owner, has a great reputation in the community and as a result, we were received with open arms. Everyone we met was very kind. We did a day tour to Corcadova Park, which is about 50 minutes away, with Ifi of Osa Wild. We loved it. It is a full day of hiking/walking. The house is a lovely setup, facing the ocean. There are bugs, so bring you're mosquito repellent, if this a problem for you. The roads going towards the park do require a 4 wheel drive vehicle. We loved our stay at the Pelican House and highly recommend it. The grounds keeper and his family were lovely and respectful of our solitude. We had a very nice experience here.
Lila
2017-01-18T00:00:00Z
We stayed for 4 nights and enjoyed everything about the house and the area. The location is perfect, as it's close to town, however when at the home it's nothing but tranquility and peace. The views and wildlife seen from the enormous back deck will make you lose track of time and sink you into deep relaxation. The house had everything for a great stay - well stocked kitchen, refrigerator, beach chairs, hammocks, and more. Rafa made us feel very welcome and pointed out wildlife on the property as well as taking us on an adventurous waterfall hike. Thanks Allison for letting us stay at your wonderful property. Cheers!
Neil
2016-05-25T00:00:00Z
We had a great, nine-night stay at the Pelican House. I would echo many of the positive reviews below. It's an amazing place to be able to connect to the many amazing and unique experiences to be had on the Osa Peninsula, and also to connect with the people who live there. My daughter really loved the hammock and the monkeys, my wife loved the beach, and my son loved the birding - something for everyone. We were learning Costa Rican birds, but still saw 70 species in ten days just at the house, between the beach and the stream, as well as three kinds of monkeys, and other wildlife right on the property. Could not imagine a better place for us to have stayed near Puerto Jimenez.
Ben
2017-04-02T00:00:00Z
A nice and spacious house that is completely secluded near a lovely beach. In the garden grows among other things, pineapple, mango and lime. Abundant wildlife right outside the house. The housekeeper Raffa and his family were very helpful and considerate. Our daughters played a lot with their daughter, and they had a lovely time together. We highly recomend this place.
Anna
2015-03-30T00:00:00Z
Die Unterkunft hat die versprochene Ruhe und Naturverbundenheit gehalten. Wunderbare Tiererlebnisse, ein beinahe menschenleerer Strand und aber wiederum die Nähe zu Restaurants und Einkaufsgelegenheiten ergänzten sich gut. Rafael hat uns gut betreut und uns alle Wünsche von den Augen abgelesen.
Ueli
2015-05-29T00:00:00Z
As we assimilated into the pace of Costa Rica, we realized what a treasure Rafa is and how beautiful and modern this home is. The experience was perfect for my two sisters and me. We were taken care of as if we had a guardian angel following us on the beach, in the forest, even into town as we sat outside at the bakery. He pointed out macaws and monkeys in the treetops. Jim and Allyson have such a gorgeous house and the grounds are magnificent. The plantings afford such welcome privacy and it's as if someone sprinkled hundreds of zinnia seeds over the acre field between the veranda and the sea. Rafa picked a pineapple from the few rows of them and we at it immediately. He showed us how to harvest the fruit from a coconut and made pancakes for us on two mornings. He is a treasure. Wanted to bring him and his family home with us. From our home base we found a place recommended by Jim and Allyson to reserve a boat for an afternoon of snorkeling and spotted dolphins surrounding us as we floated along. Also we booked a zip-line canopy tour which we enjoyed on my birthday. What a gas, on the seventh line, cruising 55 mph on a 1/3 mile line from 250 up in the canopy to the restaurant on the top of the hill. OMG This is the place to stay while in Costa Rica. My favorite place to read was in the hammock on the veranda. Go ahead and rent a four-wheel drive. You'll be so glad you did and it is necessary! There is a small river to cross on the road to the house. On our last night, there was a thunderous rain all night and the next morning we couldn't cross. Rafa took his machete and cut away brush through an acre or more so we could drive another way to the main road. He's amazing. We so loved the macaws and parrots that flew over the house and the sounds of the howler monkeys that woke us each morning. It is true that this is the last true frontier on earth. I hope it never succumbs to development. Loved it! Barbara Schlott, Council Bluffs, IA
Barbara
2013-11-10T00:00:00Z
Wow - that's just the best word to explain this place. We've been to Allison & Jim's place just for a few days and it was so hard to leave. Peninsula de Osa is a wonderful landscape, the house is fantastic and so peaceful, the beach almost empty or we meet very nice locals there. On top of all the caretaker, Rafael, is such a wonderful person. We did not meet Allison and Jim personally but had all the time a so easy-going and nice email- and telephone conversation which helped us a lot. And on top - for parents with crawlers - the house is so perfect done that you finally can just put your eyes about them for a couple of minutes - how wonderful :-) Thank's a lot Allison and Jim for opening that wonderful place!
Corinna & Kai
2013-01-27T00:00:00Z
very quiet place,Rafa was so nice,gave us some fisch he took in the afternoon. sound of nature is present,real holidays
Isabelle
2013-12-25T00:00:00Z
Osa Peninsula, プンタレナス, コスタリカ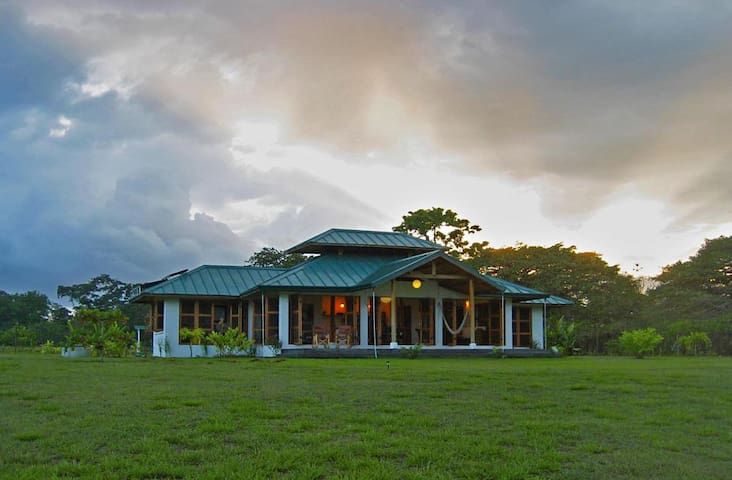 Enjoy a piece of beachfront paradise in the magical Osa Peninsula. Wake up to sunrise over the Gulf, surf one of Costa Rica's most renowned breaks, Backwash, steps from your door, admire the wildlife, or relax in a hammock on the rooftop deck.
Puntarenas Province, Puntarenas Province, コスタリカ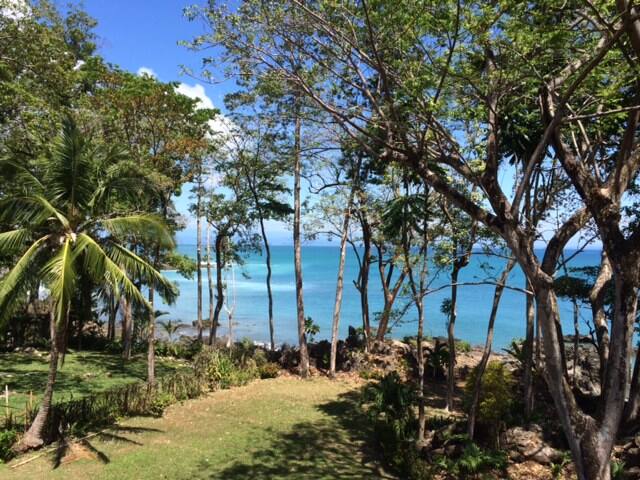 Spectacular 180 degree Ocean Views over "Backwash Bay" at Matapalo on the Osa. Surfers can paddle out! Mediterranian Villa offers 3 stories of jungle luxury. Plunge pool & Tropical Gardens. An absolute paradise retreat with everything you need. One of the best views at Matapalo.
2 private master suites plus a bunk room make this a perfect family or friends retreat home. Fully furnished kitchen and living room. Giant covered third floor deck offers a grand view area for recreation, yoga or to simply hang hammoks PLUS a large wetbar for entertaining or facilitating a wonderful group dining option.
A remote and pristine jungle along the Pacific Coast, the Cabo Matapalo area on the Osa Peninsula is one of the most exclusive and incredible eco-retreats on earth. Enjoy more species of exotic critters including multiple monkeys and tropical birds than any other Costa Rican region - most passing through your property on a daily basis. 3 beautiful beaches within walking distance of your villa plus hiking trails, waterfalls, horseback riding and boat excursions - all originating in the surrounding jungle "neighborhood".
プンタレナス, プンタレナス, コスタリカ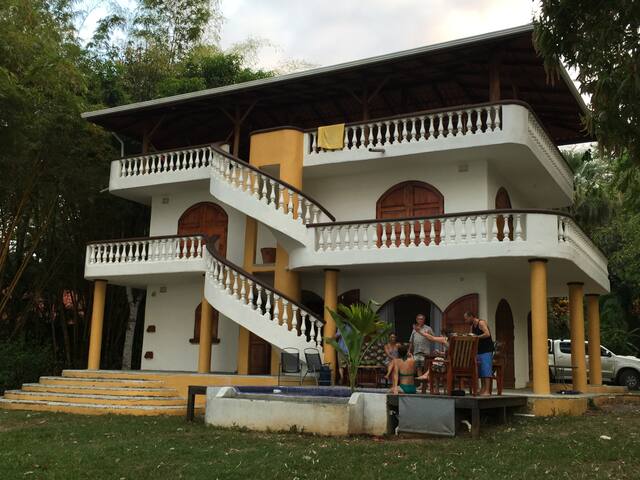 日付を入力すると合計金額が表示されます(税・サービス料別)。