日付を入力すると合計金額が表示されます(税・サービス料別)。
この7月と8月は、あらゆる価格帯の高評価物件100件の中から物件をお試しいただき、ソノマのローカル目線を体験いただけます。24時間対応チェックイン、今すぐ予約、ローカルワインとおつまみでくつろいでご旅行をお楽しみください。
This villa, located in Perlleces, Asturias, is ideal for 4 vacationers. It offers 2 bedrooms, a furnished garden and a balcony.
This villa, located in Perlleces, Asturias, is ideal for 4 vacationers. It offers 2 bedrooms, a furnished garden and a balcony. The lounge is perfect for unwinding after a day of exploration. Curl up on the comfortable sofa and enjoy a good book in front of the fireplace or take advantage of the amenities on offer, including a flat-screen TV, a CD player and a DVD player. The kitchen is well-equipped for cooking up your favorite meals. Enjoy your feast around the dining table which seats 4 or outside, on the balcony or in the garden enjoying views of the garden and the mountains. The villa has 2 comfortable bedrooms, 1 including a double bed and 1 including 2 single beds. Several bathrooms are available, one with a bathtubs and toilets and one with a shower and toilets. The villa features a central heating, ironing equipment, cleaning products, a fan and a washing-machine. Notice that the cleaning, towels, bed linen and tourist tax are included in the rental fee. Parking is available onsite and is private. Smoking inside is not allowed. Pets are not allowed. Parties are not allowed.
This villa, enjoys a privileged location that will allow you to enjoy your stay in the area. Many activities await you in the surroundings such as Caving, Hiking, Rafting, Swimming, Cycling, Horse riding, Mountain biking, Rock climbing, Hunting, Fishing, Mountaineering, Paragliding and Water sports. How to get there : • Air: Santander airport is 100 km away. • Road: A8 motorway junction is within 25 km. WE LOVE • The magnificient view of the mountain • The large furnished balcony • The proximity to the beach
Perlleces, Asturias
Elena es un encanto. Siempre está disponible para todo. Tiene una casa preciosa que da mucha paz y armonía. Considero que el precio está por debajo de la calidad ofrecida. Gracias Elena, nos has ganado.
Fernando
August 2016
We felt like home! Elena was always available and taking care of us, location was great (nearby Potes center), and room is a real suite
Javier
July 2016
Elena was fantastic. She was so welcoming and warm, and took great care to be a thoughtful hostess. She brought us cold water daily and placed fresh cut flowers in the room each day. She also provides a delicious and copious breakfast that is not to be missed. Her house is located right outside town with amazing views. It's a very quick and easy walk to Potes at any time of day. Our stay with her was the best part of our whole European vacation. She made us feel like honored guests in her luxurious home.
Katie
August 2016
A Elena recebeu-nos muito bem e fez com que nos sentíssemos verdadeiramente em casa. A sua casa é muito bonita e encontra-se decorada de uma forma clássica e com um extremo bom gosto. Escolhemos tomar o pequeno-almoço nos dois dias em que estivemos alojados, mediante um pagamento suplementar, e não podíamos ter tomado melhor decisão. A Elena preparou-nos um excelente pequeno-almoço que tomámos num espaço ao ar livre, nas traseiras da casa.
Paulo
August 2016
The room of Elena is as beautiful as the photo, and additional breakfast is recommended; we enjoyed it at the terras with freshly made marmelade and pancakes as a surprise. Elena is a great host.
Roelant
August 2016
Great location and peaceful property although on Main Street. Just 5 mins. walk to town. Elena is a warm and very helpful host. Breakfast was delicious and generous with homemade jam. My favourite is plucking figs from the orchard and put them straight into our mouths. House Decor is tasteful and clean. We loved it here and definitely recommend a stay for anyone who enjoys an affordable treat. Value for money. We had a fanatic time.
Suan Lee
October 2016
Muy bien, Elena es muy agradable y todo estaba muy limpio.
Ame
August 2016
Potes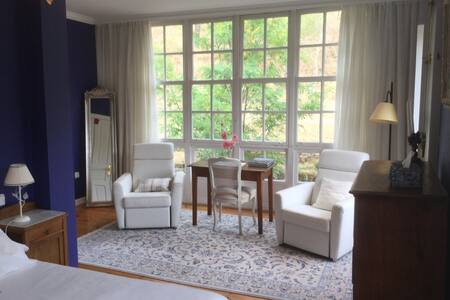 Villa rural del siglo XVIII con un carácter propio construida en piedra y madera, materiales de construcción característicos de la comarca de Liébana, donde se sitúa la Villa. La capacidad es para 10 personas, con posibilidad de hasta 14. En cuanto a los precios, si se reserva una única noche es 300 €. Si se reservan más noches, las dos primeras se cobran a 220 € cada una y a partir de la tercera noche 132 € en TA (Puentes, S. Santa, Navidades, Julio y Agosto) y 88 € en TB.
The location is just fantastic. Even within the inimitable Liébana, it occupies a special position: just before the mountains start and in the unspoilt Camaleño valley where tiny villages are interconnected by pathways. Potes, the capital of the region is 5 km away. It is replete with restaurants, shops selling walking guides, equipment and souvenirs, banks and all major facilities.
La zona ofrece una amplia oferta gastronómica, cultural y de ocio., de la que pueden disfrutar ampliamente ya que el turismo está muy desarrollado desde hace décadas. Pueden disfrutar de actividades en la naturaleza y también de otras como el Balneario de la Hermida, conocido por sus aguas termales. El Mar Cantábrico está a 40 km. de la Villa pasando a través del espectacular Desfiladero de La Hermida. Se recomienda disponer de coche. Liébana es la regíon donde se sitúa la Villa, concretamente se encuentra en San Pelayo, que está a 5 km. de la capital de la comarca, que es Potes. La villa está situada en el Parque Nacional Picos de Europa, por lo tanto desde ella y en sus alrededores se puede disfrutar de sus vistas así como también se pueden realizar todo tipo de actividades en contacto con la naturaleza como senderismo, rutas a caballo, rutas en quad, descenso de barrancos...Para acceder a las cumbres de los Picos está el Teleférico de Fuente Dé a 18 km. de la VIlla y hay múltiples caminos a través de los cuales también se puede llegar a las zonas mas altas de los Picos. La región cuenta con el Monasterio de Santo Toribio a 3 km. de la Villa, así como otros monumentos de interés civiles y religiosos, como la Torre del Infantado y el casco antiguo de Potes o la Iglesia Prerrománica de Lebeña en el desfiladero de La Hermida.
部屋タイプ
まるまる貸切
---
建物タイプ
---
収容人数
10
---
寝室
5
San Pelayo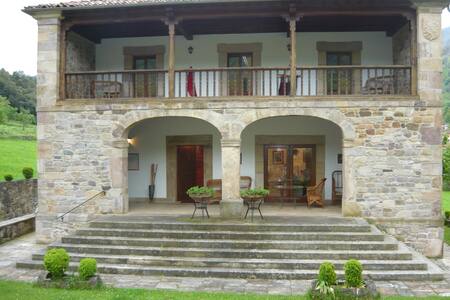 Wild House is a perfect location for people who love active holiday,adrenalin and adventure. It is located in Asturias, in Luces, surrounded by clear Atlantic waters and mountains Picos de Europa. It is perfect not just for surfing, but also biking.
Welcome buddy, you can check out our pricelist at >> http://wildhouse.cz/?page_id=177&lang=en << We can offer double bedroom with wc/shower, double bedroom, 4-6 person bedroom. Don´t hesitate to ask about anything! >> wildhouse.cz@gmail.com <<
What they say is correct: the Wild House is a unique place. I really enjoyed my night in the calm, serene pastures of Luces with the company of the Wild House. The group is a young, responsible clan of Czech Republic nationals who have, despite their collective foreign origin, become experts on the art of enjoying the Asturian landscape. I certainly had my doubts before I came, owing to a website that is clearly in development, but after meeting the bunch and being shown the living space, I eased into what would become one of the warmest living situations futon my month in Spain. The only warning to give potential visitors concerns the distance to Lastres, which, being walkable in the span of 20 min, was made trivial by the gorgeous views of Luces. Just something to plan for. All in all, I loved the Wild House.
Nicolas
July 2015
muy amable muy buena estancia nos sentimos a gusto como en casa con total libertad
Maria Lujan
November 2016
Habe mich bestens aufgehoben gefühlt. War leider nur einen Tag da. Komme wieder.
Klaus
October 2016
Great bunch of people running their surf hostel with an open and welcoming spirit. Really nice to meet the other guests there too. Lovely property with character, countryside and coast around it. Very much appreciated sharing a wonderful meal with them in the evening. Thanks especially to Sandra for her amazing cooking (bylo to skvělé!)
Dale
June 2016
La estancia en Wild House fue divertida. Ambos nos esperaron a llegar y nos ofrecieron bebidas y café todos los días,también puedes cenar con ellos por un módico precio. La habitación estaba limpia, tuvimos que compartir baño,aunque pensamos que la habitacion tenia baño privado. Vistas preciosas y buen ambiente. Recuerda que estas en el campo rodeado de naturaleza viva, en todos sus variantes... Sino te gustan los bichitos mejor elije otro sitio. Paraíso para los surferos, en general buen rollo y amabilidad.
Irene
July 2015
Not only is the house in a dream location but the people running the house combine professionalism with sincerity and genuine friendliness. If it were not for wanting to see the rest of Spain, we would stay until the end of our vacation. Like others that come here, we have extended our stay by a few more days. There is something for everyone, single, family, couples, to surf the waves, climb the mountains or just relax in the beautiful authentic country side while sipping on something refreshing from the bar. All of the cast of this amazing(!!!!) place can cook better than your mother or grandmother (whoever is best). The family style dinners are almost better than family dinners because everyone is interesting in their own way and acccepts you for who you are. I not only want to come back, but I will miss this place. I hope that when they (the whole crew, too many to name) are in my neighborhood they will find time to stay with us, gratis.
krystyn
July 2015
Accueil très sympathique dans une grande maison très bien organisée au plus grand bonheur des surfeurs du monde entier !! Belle découverte , j'y repasserais un jour ....avec plaisir !!
Anne-Marie
October 2016
Stayed there JUST for two nights - and this was to short. I really enjoyed the international and relaxed atmosphere. There are a lot possibilities for activities, offers and nice people. Good place to be!
Sonja
July 2016
部屋タイプ
シェアルーム
---
建物タイプ
---
収容人数
16
---
寝室
1
Luces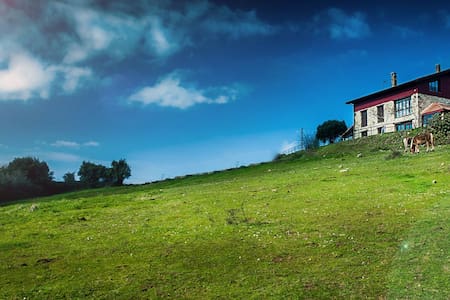 It has 75sq meter surface and it is independent . Distributed in two floors, there are two bedrooms (one with queen size bed 180 cm) and the other one with twin beds (90cm wide each), a full equipped bathroom, and another toilet with a shower , a living and dining room with an open kitchen. a veranda, a private garden, and a shared garden as well as 2 parking spaces. The Villa offer a luxurious equipment and furnishings. Full equipped kitchens(dish washer.washing and drying machine), television in all the bedrooms as well as living room, electric shutters, adsl connection, deposit safe,... Our excellent location will allow you to fully enjoy anything you wish to do during your holidays. At only 350m away from Antilles beach or Cué, 1 Km from Llanes Town Council Golf Club, surrounded by nature and culture in a pretty privileged area, it is ideal to practice any open doors activities.
Jose is a charming, friendly, helpful host. We were so impressed with this villa. Lots of good design and quality. It has been very well thought out. It was a pleasure to be in and pretty good outside in the garden too! It was so nice to be able to walk to the beach and into the village where there are a few bars/places to eat. Highly recommended.
Sharon
September 2015
We were lucky enough to spend three days in Jose's apartment. It is a stylish, very well organised and well thought-out place. Its blissfully quite too. All that can be heard is the sound of distant cow bells, waves and bird song. Jose is a perfect host, very warm and welcoming. Oozing with useful and interesting information about the area, possible activities and places for good food. A five star place and a five star host! We highly recommend.
Julia
October 2014
La casa perfecta. Muy bonita, quien tuviera un asi... El anfitrion genial, muy atento. Y la localizacion muy buena para visitar todos los puntos de interes de la zona. Volveriamos sin duda.
Iago
October 2016
Un lugar perfecto para el descanso en un entorno muy agradable y tranquilo. Como reza en el título, es una villa exclusiva en la que uno se encuentra como en casa. Muy bien equipada con todo muy nuevo y no le falta detalle (se aprecia bien en las fotos disponibles). Además, la decoración es de un gusto exquisito. Destacaría la calidad y el confort de las camas, por poner un ejemplo. El jardín de los alojamientos es precioso. La playa más cercana está a cinco minutos andando. Por otro lado quisiéramos agradecer a Pepe, nuestro anfitrión, su gran hospitalidad y simpatía, facilitándonos todo tipo de información sobre la zona, actividades y servicios disponibles (como tener una barra de pan en la puerta cada mañana). Sin duda él es parte del encanto que se respira en las villas de Cué. Lo recomendamos y volveremos.
Carlos
March 2016
La estancia ha sido genial, las villas perfectas, amplias, bonitas, cómodas, completísimas y acogedoras, no les falta detalle. Para repetir sin dudar
Jose Luis
June 2016
Pepe was an enthusiastic and cheerful host. He gave us great recommendations for local restaurants, organised bread to be delivered for breakfast and went out of his way to make our stay enjoyable. The weather wasn't great, but the beach close to the apartment was gorgeous, and we would have loved to swim there. The coast along here is spectacular, and the mountains are pretty amazing too. Our apartment was quite luxurious with nice linen and towels, and having two bathrooms was good. We cooked one night and had everything we needed. I would highly recommend this place. Thanks again Pepe for your hospitality!
Liz
June 2016
Alojamiento perfecto, localización perfecta y host perfecto. no puedo decir mas.
Lucia
December 2016
Jose was truly a Super Host. From the moment he greeted us at 9pm on a Saturday evening he took his time to explain everything about the apartment, our location, where we should go to eat, what we should make sure to see etc. He was always on hand to answer any queries we had within minutes. The apartment was super cool, spotlessly clean and comfortable. Ideally located in a quaint old village called Cue, just a couple of kilometres from the main town of Llanes, and a few minutes walk to the nearest beach. Fantastic holiday. We would definitely go back.
Claire
September 2016
Cué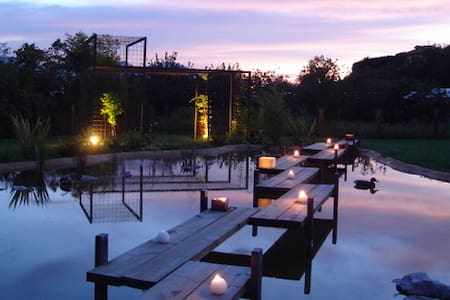 Jose empfing uns ausgesprochen herzlich und informierte uns sofort über alles, was man zum Haus und zur Umgebung wissen musste. Seine Empfehlungen für Restaurants, Badebuchten oder Ausflugsziele waren alle super und sehr hilfreich. Das Haus ist sehr geräumig, modern und geschmackvoll eingerichtet und bietet alles, was man für einen erholsamen und schönen Aufenthalt benötigt. Wir haben uns sehr wohl gefühlt und würden jederzeit wieder kommen. Danke Jose und viele Grüße aus Deutschland
Bernd
June 2016
リャネス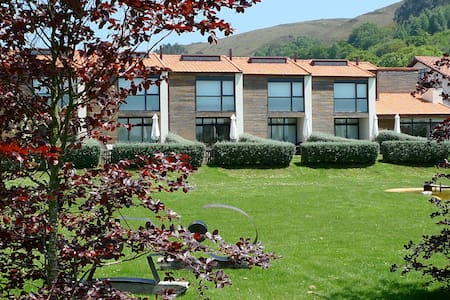 COLOMBRES Vivienda de 5 habitaciones, tres cuartos de baño y un aseo, cuarto de estar y cocina equipada. Dispone DE PISCINA toda vallada, bodega con cocina independiente y barbacoa de leña. Parcela ajardinada de 2000 m.
Bodega con cocina y barbacoa de leña. Piscina de 10x5 m2 totalmente vallada, mesa de ping pong, tabla de surf, bicicletas de montaña y carretera. La casa está ubicada en un sitio privilegiado en Villanueva de Colombres (Asturias), a tres minutos de Colombres, Elegido PUEBLO EJEMPLAR DE ASTURIAS 2015. Bien de interés Cultural con la categoría de Conjunto histórico. Aquí se puede contemplar, como en ninguna otra entidad asturiana de igual rango, los efectos paisajísticos de la emigración a américa, posiblemente el fenómeno de mayor constancia y relieve en la historia de Asturias desde 1880 a 1936. las iniciativas llevadas a cabo por los indianos (hijos del pueblo enriquecidos, en este caso, mayoritariamente en México) entre 1885 y 1925 aspiraban a "colocar al pueblo de Colombres a la altura de pocos de su clase", dotando a la aldea preexistente de una moderna imagen urbana. ELEGIDO " Pueblo Ejemplar de Asturias 2015" siempre que se necesite
Vecindario en villas cercanas con residencia permanente. Poblaciones cercanas: Llanes, Ribadesella, Potes, San Vicente de la Barquera, Comillas, Santillana del Mar. Visita Cuevas Altamira. La casa está a 60 kms. de Santander. En coche o avisando a taxi La Playa de La Franca, en la que desemboca el río Cabra, es un amplio arenal que sirve de límite natural con el vecino Concejo de Llanes. Tiene acceso rodado desde la carretera N-634 y cuenta con toda clase de servicios, parking e instalaciones hosteleras. Frente a ella se encuentra el islote de El Castrón, refugio de gaviotas. En marea baja la playa se conecta con recogidas calas que junto a ella forman una ensenada: Mendía. Estas calas se encuentran en un precioso entorno paisajístico formado por roquedos y acantilados que acentúan su belleza agreste; sus nombres son: Playa de El Oso, Playa de El Vivero y Playa Regorgueru. La zona es puerta para visitar los Picos de Europa (Potes, Naranjo Bulnes etc....).
Lugar totalmente recomendable!! Casa espectacular (incluso mejor de lo que aparece en las imágenes) con todo lo necesario para pasar unas agradables vacaciones, perfecta para grupos. Además Elena y su marido dan todo tipo de facilidades y están pendientes de las necesidades que puedas tener. La verdad que nos sentimos muy a gusto los 8 que estuvimos en la casa.
Aitor
June 2015
Nos recibieron en la casa como si nos conocieramos de toda la vida, la sensación fue, que unos amigos te dejan "SU" casa a tu disposición para pasar unos días. Ni que decir, que estaba compeletamente equipada no solo con lo necesario sino de todo lo que a uno se le pueda ocurrir, bicicletas, ping-pong, palos de golf, piscina estupenda, hamacas, barbacoas, el jardín perfectamente cuidado. La casa está situada en un entorno muy bonito, aunque un poco aislado por lo que hace falta cocge para dsplazarse, pero eso no le quita ningun mérito a la casa. La playa está cerca, unos 7 KM pero no es problema y es muy bonita y familiar Por supuesto volvería
Mª jose
August 2014
Elena and her family were so helpful, very friendly and the house was amazing. Beautiful views, lovely pool, great cooking facilities, barbecue and comfortable rooms. Our family had a great time and would come back. Loved it! It is a great place to stay to explore Asturias with lots of beautiful scenery and coastline nearby.
Antoinette
August 2016
La villa y sus dueños corresponden a la presentación de la casa 100 % "magnífico". Tanto la casa, el ambiento, la recepción personal por los dueños Elena y Jesús como la estancia en ese lugar tan lujoso, tranquilo y limpio superaba mucho nuestras esperanzas. Pasamos una semana con 8 personas en esa casa ( cabrían también 10 sin problemas) sin que nos sintiéramos apretados – al contrario. La piscina, el patio, el gran salón y la terraza nos permitieron relajar y disfrutar de la estancia al máximo. Gracias otra vez a la buena atención e indicación de Jesús y Elena – Esperamos poder volver pronto!
Ute
July 2014
Estuvimos en agosto unos días en familia y reconocemos que es un sitio ideal para pasar tiempo de relax. La casa es preciosa, grande, muy iluminada, con todo tipo de comodidades. La piscina y el jardín muy bien cuidados. Recomendamos su utilización para pasar unos días tranquilos en familia. El paisaje precioso y su entorno muy apropiado para visitar.
Jimmy
August 2015
部屋タイプ
まるまる貸切
---
建物タイプ
---
収容人数
10
---
寝室
5
Villanueva de Colombres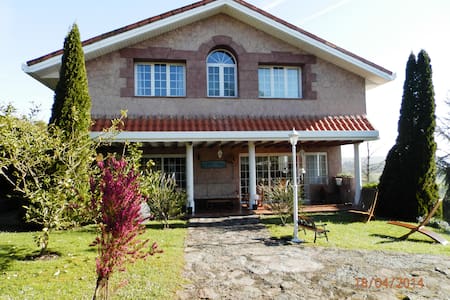 merci beaucoup Manuel pour votre gîte ! C'était propre, on a pas attendu ni pour récupérer les clefs, ni pour les rendre et vous avez été plus que disponible et patient avec mon espagnol pas terrible... On reviendra avec plaisir !
julie
November 2016
部屋タイプ
まるまる貸切
---
建物タイプ
---
収容人数
11
---
寝室
5