日付を入力すると合計金額が表示されます(税・サービス料別)。
This stately Colonial "Auberge" has 7 bedrooms with ensuite bathrooms, a Chef's delight kitchen, and living & family rooms with wood-burning fireplaces. This estate has all the charm with updated amenities plus spacious grounds & gardens for entertaining. We are located in the charming community of Pomfret, CT known for farm stands, wineries, antiques shops, art galleries & state parks. Contact us for rates - indoor & outdoor space available for retreats, weddings, and special events.
This stately fully furnished New England Colonial "Auberge" offers 7 spacious, comfortable bedrooms with private en-suite bathrooms, a formal dining room, and living and family rooms with cozy wood-burning fireplaces. Great location for friends and family gatherings! The historic "Auberge" (French word for Inn) was formerly a bed & breakfast and is situated on over 2 acres of land with large entertainment decks and paver stone patios, charming New England rock walls, shady trees, lush green lawns, and lovely gardens. Ask about renting space for special events - ideal for birthdays, graduations, intimate weddings, friends & family-gatherings, and corporate, artist and wellness retreats. The indoor 520 square foot event room is available to rent by the day or during your stay for special dinners, business classes, yoga, meditation, and fitness. The outdoor space has 3000 square feet of decks and patio space plus 1.3 acres of grassy space. We can coordinate event planners, caterers, salon treatments, photographers, music, rentals & transportation. The guests will have access to the Auberge for overnight stays. Contact us to coordinate for events. We are always available if our guests have questions about the home or area.
Location & New England Attractions: Auberge at Feather Hill is located in the northeastern corner of Connecticut, called the "Quiet Corner" of New England, in Pomfret, Connecticut. Within a short drive, you'll find fresh fruit and vegetable stands, orchards, vineyards, historic towns, art galleries, renowned antique markets and shops, and several state parks. The State of Connecticut "Airline Trail" offers 50 miles of hiking, biking and horse riding trails and is accessible from the backyard of the estate and the Mashamoquet State Park and the Audubon Sanctuary are 1.5 miles away. New England is famous for its glorious foliage as billions of leaves change from green to a kaleidoscope of colors. The air is crisp and cool — perfect for hiking, biking or a classic drive along back roads, where farm stands are piled high with crunchy apples and orange pumpkins. Pomfret, CT and the region is also recognized for their excellent, prestigious private schools, including the Rectory School, Marianapolis Prep School, Pomfret School, Hyde School, Putnam Science Academy, and Woodstock Academy. The University of Connecticut is just 20 miles distance. Restaurants, banks, salons, shopping centers, and casinos are also close by and the estate is easily accessible from a main roadway 101/44 and is 6 miles distance from Interstate 395. You will need a car to get around the area. There are lots of fun things to discover! For History Buffs: The Indian name for Pomfret was "Mashamoquet" meaning "great fishing place". The land was purchased from the Indians in 1686. Pomfret was incorporated in 1713. The Town was named after Governor Saltonstall's estate Pontefract (meaning broken bridge) in Yorkshire, England and celebrated its 300th anniversary throughout 2013! The Abington Congregational Church built in 1751 is the oldest church in continuous use in Connecticut. The Brayton Mill at the entrance to Mashamoquet Brook State Park is an early mill site. The Old Town House built in 1841 has served for town meetings, elections, and social affairs. The Pomfret School was founded in 1894 as a boarding school for young men. The Rectory School opened in 1920. Both still serve as private schools. A ride down Pomfret Street presents an impressive display of the historical buildings. The Abington Social Library (1813) is the oldest active library in America formed by women. Famous residents have included Israel Putnam (Major General in the Revolutionary War), James A. MacNeill Whistler (artist), Louise Chandler Moulton (poet), and Robert Hillyer (poet). Pomfret is served by two post offices and a number of important local businesses. The Town continues to maintain its agricultural heritage with many "green" initiatives, well over 1,000 acres of preserved open space, and many miles of accessible trail networks.
Christine is so kind and welcoming, and the Auberge at Feather Hill could not be lovelier. We stayed at the Auberge for our inaugural writers' retreat, and the house was perfect for our group. There are lots of spaces for people to curl up on their own, for small groups to meet throughout the day, and for our entire group to gather in the evenings. The bedrooms are all lovely, spacious, and beautifully decorated. And the kitchen is large, comfortable, and well-equipped. The Auberge is a terrific spot for group retreats, family gatherings, or corporate getaways. Christine was an absolute pleasure to work with, always so thoughtful and easy to communicate with. What a positive experience! We could not be happier.
Melissa
October 2016
We really enjoyed our 4-day stay at the Auberge. The house, more like a bed and breakfast setup, was very clean and well organized. It had all the essentials a party would need for a stay. There is a hiking trail right behind the house and the house is 10-15 mins away from Walmart and restaurants. The internet could be a bit slow if there are a lot of people in the house. It didn't bother us too much as our party enjoyed our time together.
Cecilia
July 2016
We were 10 in our group and had a great time. The house was spacious enough to accommodate everyone without feeling cramped . The beds were comfortable and the adjoining bathrooms were a key in our decision to book. The house is immaculate and furniture was clean and comfortable. Christine made us feel very welcome. She walked us through the whole house and explained everything upon arrival. She was very gracious and engaging. The photos were pretty accurate. There were some unfinished repairs that should be addressed like painting the patched in a couple of the bathrooms. Nothing major but with the property as beautiful and well kept as it is these items should not exist. We liked to cook and we're attracted by the kitchen however it could been a little better stocked. It lacked serving platters and serving utensils as well as sharp knives. The access to the Airline trail is right off the back yard and provides one with miles of wooded well groomed walking and biking opportunities.
Peter
October 2016
Christine was a fantastic host! She was easy to contact and quick to reply to any questions prior to our arrival. The home is exactly as pictured and very well equipped for any group. The kitchen had everything we needed for our weekend work retreat. Christine was incredibly welcoming upon arrival and showed us all around the property. I would highly recommend this home for any group looking for a work retreat, family reunion, girls weekend, etc!
Kendra
January 2017
Christine was amazing! She worked with our busy schedule and always responded quickly to a message. All our questions were answered in full before arriving... The house was beautiful! All the pictures are accurate and the rooms are lovely. The kitchen is wonderful! Overall it's one of the best Airbnbs we've ever stayed at.
Bekah
April 2017
This is lovely spot. Upon arrival it was very clean. Great space for a large group because of the B&B set up - lots of bedrooms with bathrooms en suite. Good location near walking and hiking trails. Plenty of parking. Hosts were responsive about check in and check out. Kitchen as well stocked as you can expect from an AirBnb, but bring any tool you can't live without.
Stefanie
January 2017
The home was amazing for the retreat my friends and I had. We had 7 couples for a retreat and we all fit comfortably in the house with space to do workshops but also to hang out. I think this house would have been even better in the summer because of the style of the deck and the plot of land. The parking fit 4 SUVs and still a bit of space left. Christine is awesome and answered all of my questions ahead of time and promptly. The only thing I would change is to list the event space at the cost to rent which ended up being a separate cost than the booking fee. Other than that this place was an amazing cozy house that could fit 14 full adults with extra room in each bedroom for kids if needed.
Michelle
March 2017
Rented this place for friends get together, Christine took care of us pretty good and the place was perfect with Walmart, beer store near by. Will definitely try this place again.
Chandrakanth
July 2016
部屋タイプ
まるまる貸切
---
建物タイプ
別荘
---
定員
14
---
寝室
7
Pomfret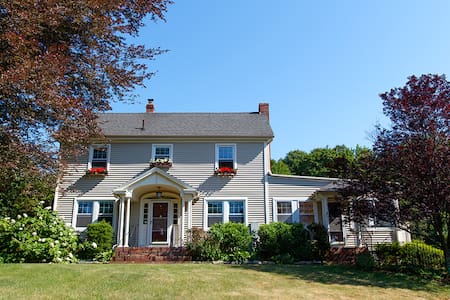 Unique luxury getaway in the beautiful Litchfield Hills of Connecticut, and Southern Berkshires. Elegant 23-acre estate and year-round getaway. Room includes gourmet breakfast, wi-fi, free parking, TV. Onsite Amenities: spa services, fitness room, billiard room, library, media room; seasonal pool, jacuzzi & tennis court; bicycles, hiking path. Located just 3 miles from historic Norfolk, CT town center, Infinity Hall Norfolk Chamber Music Festival and Yale Summer School of Music; just 30 miles from Tanglewood, Jacob's Pillow and Hartford, CT. Area has great vineyards, art, dance, music, theater and shopping. The estate has gardens, large collection of specimen trees, apple orchard & berry patch where you you are welcome to pick from. Our breakfast features fresh fruits, juices, Greek yogurt, local granola, artisan breads & cheeses, house-cured gravlax, and a vegetarian friendly frittata. Spa, massage and wellness services are available with prior reservations, including Swedish massage, couple's massage and reflexology. We are located in the heart of New England country villages with nearby State Parks, hiking, biking, skiing, ropes course / zip line, antiquing, fall foliage, and Mark Twain House. A great destination year-round!
Colebrook