日付を入力すると合計金額が表示されます(税・サービス料別)。
1.5 acres of peace and functionality. During all the 4 seasons you can enjoy your weekend with friends and family due to the 3 bedrooms, 2 living room, and 2 bathrooms. Strategically positioned between Birmingham and Royal Oak and the major highways.
All house will be yours Available by phone or email at any time
One bathroom will be under renovation till second week of December (discount is applied)
The house itself was adorable and in a great, quiet, safe neighborhood. The decorations inside were artsy and quirky with plenty of seating and social space. The listing was slightly exaggerated from the actual house in terms of beds and bathrooms but we made due without any major impacts to our experience. I should also call out that this is definitely someone's full time home, with a very lived in feel, so if you're looking for more of a "rental" experience this is not the place for your getaway.
Lori
September 2016
Very nice spacious and comfortable house ! Safe and beautiful neighborhood!
Luca
October 2016
Had a fantastic stay in Michigan. Very safe feeling neighborhood, steam room was a fantastic bonus. Can't beat this place, especially for the price, would stay again for sure.
Brandon
July 2016
Place was great. Excellent location, safe and secure.
Brian
August 2016
The house was fantastic .and highly recommended for future stays
Gangareddy
January 2017
Nice place to stay and served us well. Only downside is the host was difficult to reach on check in and check out. Ended up having to stay an extra night in town due to work, and tried to reach the host to clarify the arrangements. Didn't hear back from him until late that evening and I had to book a hotel room.
JC
August 2016
Nicolo is a great host. His property is nice, well maintained and in a quiet and pleasant neighbourhood. Definitely enjoyed our stay there.
Anda
May 2016
My wife and I traveled to Detroit to visit family and needed a home to host guests and this proved to be the perfect home. The home is located on a huge acre lot and was well furnished, spacious, clean and had all of the amenities you could ask for in a home. The host is very open and friendly, and was very responsive to all questions and requests. Our whole experience was definitely 5 stars, Thank you very much Nicolo for your hospitality.
M
May 2016
部屋タイプ
まるまる貸切
---
建物タイプ
別荘
---
収容人数
8
---
寝室
3
ビバリー·ヒルズ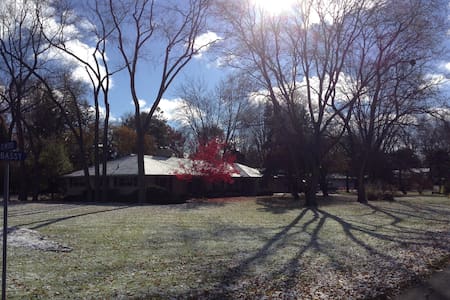 The oldest stone house on Pelee Island, this home was built in the early 1840's and is furnished with Canadian antiques from the same era. The front porch overlooks a large lawn and Lake Erie. A deck on the water is shared with another rental cottage next door. A screened in gazebo views a forest in the back , 2 bedrooms with queen beds .Fully equipped kitchen, a/c, great location within walking distance of the bakery, store and restos. We go under the name Pelee Places and have a website.
The host canceled this reservation 19 days before arrival. This is an automated posting.
Brianna
部屋タイプ
まるまる貸切
---
建物タイプ
別荘
---
収容人数
4
---
寝室
2
Pelee Island