日付を入力すると合計金額が表示されます(税・サービス料別)。
Lovely, private mountain villa close to West Asheville, River Arts District, Downtown Asheville, Biltmore Estate, New Belgium Brewing and more. ART Bus stop right down the hill. Full use of the front bedroom, bathroom and kitchen, great room and front and back porch. Smoking on porches. MUST be cat friendly. No pets. For rafting and kayaking put ins- close to Carrier Park & Hominy Creek. Extra space in dug out basement for kayaks or bikes.
Shady and like the Hobbit on the inside. Back porch area is filled with trees and birds and plenty of blossoms in season. The bedrooms are quite spacious and wireless works throughout the house. Front Bedroom, kitchen, living room, front deck, back deck in person if home, text or telephone if away
If you are traveling to Asheville and want a sweet place to stay close to all the fun (including rafting the River Arts District and pulling ashore to sample local breweries), this rental is for you! If you have 2 good legs you can walk into West Asheville or Downtown in 20 mins. If not, cab it downtown for only $7 each way. There are now more than 50 restaurants and bars on Haywood Road, in Downtown West Asheville. Don't miss the vintage thrift stores, coffee houses and watching hippies. It's been said that W. Asheville is the Haight Ashbury of the South. When you get a look at West Asheville you will understand local flavor and color. Walk ride a bike cab it or drive. Nice neighbors. Respect privacy. If you park in their spot they get really onry so please only park in #6!
I stayed with Elizabeth for a night and had a great experience. The place is in a great location that is accessible to most places in Asheville with ease - not to mention on a beautiful hill with views that are spectacular. There are major trail heads within a 10-15 min drive and downtown is a quick 5 minute drive (great for Uber!). I didn't spend much time at her place other than to sleep, but if you're in Asheville, that's truly all you need since there is so much to do and see!
Erin
November 2016
The host canceled this reservation the day before arrival. This is an automated posting.
Andrea
This was my very first AirBNB stay. Elizabeth herself was very kind and quick to respond. We booked on the same day using instant book due to another host canceling last minute on us while in route. The bed was comfortable with the exception of flat pillows. However, upon waking in the morning I heard Elizabeth coughing profusely. While she told me this was from the recent wildfire smoke, I now write this review sick in bed with the same horrid sounding cough (I interacted with no one else who appeared sick during my trip). I should have left that first day and asked for a refund. I do wish she had been honest with me and told me she was unable to host due to being unwell. The location of Elizabeth's residence is convenient to downtown, about a 20-25 minute walk. There is one parking space available. The bathroom was relatively clean around the sink, but I did not feel comfortable taking a shower there. The bed is squishy, but the pillows are very flat, and pretty much unusable without the 2 additional decorative square sofa pillows.
Erin
December 2016
Elizabeth is a very kind, considerate host. I felt comfortable and calm during my entire stay. I would happily come back for my next trip to Asheville!
Lauren
November 2016
Just as advertised! A nice spot, close to the River Arts breweries and restaurants. And a nice walk or a short drive to West Asheville and Downtown
Steve
January 2017
Staying with elizabeth was great! She's well versed in the area and was able to help us in our house search. There is never a dull moment, she has lots of funny stories. Everything was easy and clean. She even has a friendly cat named Finn for additional company. I'd stay with her anytime.
Morgan
February 2017
Elizabeth is awesome. If you feel at home with a cozy fire, art lined walls, a bookshelf full of poetry, a sweet cat, and crystals... This is your stay!
Matt
November 2016
Elizabeth was a great host- relaxed, responsive, and accommodating. Her space was just what we needed for our night in West Asheville.
Jessica
December 2016
アシュビル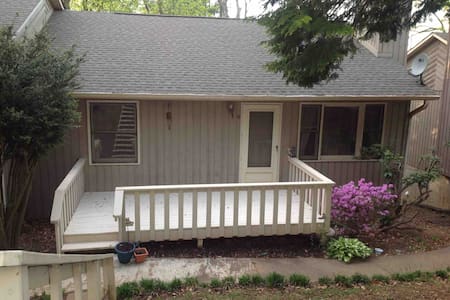 Our condo is in Mountain Air Country Club; it is 40 minutes north of Asheville and 45 minutes to Johnson City, TN. It is beautifully furnished with modern amenities. At 4000 feet, you will enjoy endless mountain views and breathtaking sunsets.
Kristi's communication was great and the home and view was great.
David
September 2016
部屋タイプ
まるまる貸切
---
建物タイプ
---
収容人数
10
---
寝室
4
バーンズビル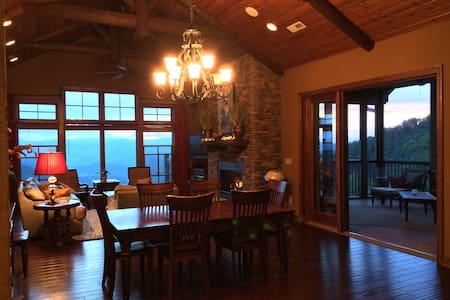 Spacious 7 Bedroom, 5 Bath home near ski and elk preserve. Beautiful views and spacious rooms. Well appointed kitchen and lots of deck. There is a small creek on property and nice walking.
Great access in all seasons, beautiful views and friendly neighborhood! Very large spacious home that is just minutes off of I-40. We have a very large home on 2 acres of land with a small creek behind it. Guest will have access to main floor and 2 nd floor levels. Basement apartment is not included in access (this is our personal space when we are in town)Bedroom 1(master) is a king with private luxury bathroom. Bedroom 2 is a king and a twin and has a large private bathroom. Bedroom 3 is a firm king bed with own bathroom. Bedroom 4 is a firm memory foam king bed and shares large bath with bedroom 5 which is set up with a king and has a small kitchenette. Bedroom 6 is king room private bath. There is an additional twin over full bunkbed as well as laundry facility. The kitchen has granite countertops, gas cooktop and double convection ovens.K cup and regular coffeemaker. Fire pit outside ...and plenty of wood. Any other questions about the house or what's in the house, feel free to ask! Although this is our personal home, we have been traveling quite a bit. This allows us the opportunity to rent it out! We have private space in the basement apartment that is totally separate from the rented space of the house. The main and upper floors of the house offer guest 4100 sq ft of living space and lots of deck to enjoy the view.
Very convenient to ski area and elk preserve. 10 minutes to grocery. 5 minutes to gas station and Maggie Valley. 2 places to play golf within 15 minutes. Horseback rides and of course all the wonderful outdoor life adventures that mountains naturally provide. Asheville,Cherokee and Gatlinburg are only a short drive away and easily makes nice day trips. Plenty of parking and paved access. Even room to park cycle trailer or Rv. Please no smoking or pets.
Wonderful home! Beautiful view and lovely amenities. Elvie was available but never intrusive and the stay was made extra special by finding this gem! Would highly recommend!!
Stephanie
July 2016
We had a wonderful time at Elvie's place! The house was perfect for our group and the location was quiet with beautiful views of the mountains. Elvie was very responsive and left detailed information about the area. One thing we realized after we got settled was that there are no TVs in the house, but this wasn't an issue for us since we aren't TV watchers. We would definitely stay here again!
Jennifer
November 2016
This location and entire home was perfect for our group of 4 couples with each bedroom having it's own adjacent bath. It was exactly as advertised. Our only regret was not spending more time there since our days were filled with sightseeing in the area. Thanks for sharing your home with us - we'd love to come back!
Terri
August 2016
Highly recommended stay--Hosts were fantastic--welcomed us w/basket of garden-fresh veggies. Beautiful clean house, perfect for our group of 3 families. Completely well stocked for cooking at home /grilling out. Wonderful views from every angle of the house; every rm has a terrace! Historic Waynesville is a short drive away w/friendly folks and local shops. Short distance from Smokey Mountains hiking as well as from Asheville.
Eleazar
August 2015
Our host left us notes and directions for all the closest attractions and places to go sight seeing. All the basic necessities were provided from a coffee pot to a washer & dryer. She also left two homemade apple pies for us, all we had to do is bake them and enjoy!
April
September 2016
More amenities than listed, very roomy, beautiful setting, every bedroom opened to a porch with a view. It was wonderful but also very basic. No TV, couldn't find a radio station on the little stereo, but the wifi worked great so the football fans among us were not left completely in the dark. The bedroom my husband and I were in had no bedside lamp, only an overhead fan/light. Though the overhead was conveniently remote-controlled, reading in bed (my habit) by the overhead was a bummer. (I think all the other bedrooms had bedside lamps. We just ended up in that room, a lovely room otherwise. And huge!) Throughout the house there are so many multiple light switches and remote controls, it was sometimes a lengthy process to figure out how to get the lights and/or fans on. If we had booked a longer stay, the time spent figuring those things out would have averaged out fine. The upstairs bedrooms have skylights but the bathrooms have no natural light so finding your way in the dark was difficult. BYO night lights and book lights if these are factors for you. Mine are the pickiest of criticisms. The property was more than we hoped for and our brief family reunion/celebration was great.
Leigh
September 2016
Great communication.
Charles North
October 2016
A wonderful house--just what was described. Plenty of space for all with large bedrooms and private baths. Nice exercise room which we used. Best of all was the kitchen--perfect for cooking and sharing meals with family which is what we did. Nice views of mountains from the many decks. Great hosts (though we only met through notes and email.)
Chuck
October 2014
部屋タイプ
まるまる貸切
---
建物タイプ
---
収容人数
16
---
寝室
7
ウェインズヴィル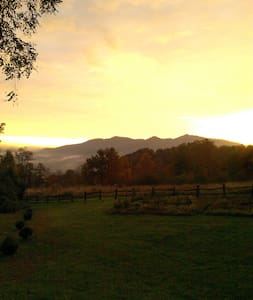 Beautiful villa with 3 BRs, bunk room (4 beds), two 1/2 baths, 2 showers, kitchen, dining area and great room. 32 acres for hiking, fishing and relaxing. Beautiful mountain views bordering the Cherokee National Forest. Appalachian Trail nearby.
There are 2 queen bed rooms, 1 full bed room and 2 bunk beds in one large room (with a TV). There is also a large sectional couch that can sleep two comfortably. All of the bedding, great room furniture and rugs are less than 3 years old. There are 2 half baths a large tiled shower room with 2 shower heads and an outside (enclosed) shower. Full kitchen includes side by side refrigerator / freezer with ice maker and chilled water, full size stove / oven, coffee maker, toaster, blender, crock pot, griddle, microwave and breakfast bar with 4 stools. There is plenty of cookware, utensils, dishes and glassware. There is access to a washer and dryer, the fish pond, 28 acres of woodland, fire pit and wood, gas grill, 55" plasma TV (satellite), blue ray player, extra towels, blankets and pillows and more (just ask if you need something). We may or not be on site. We live in a separate cabin on the property about 200 feet from the Bunkhouse. On occasion we may need to enter The Bunkhouse to get food out of freezers located in the laundry room. Please don't hesitate to call, text or message thru Airbnb if you need something or have a question.
12 miles from Greeneville on a 1 mile private lane with only 2 other residents. Surrounded by mountains only minutes away from the Cherokee National Forest (check out the Paint Creek Corridor on the web). Many historical sites including Jonesborough (Tennessee's oldest town) and the birthplaces of Davy Crockett and Andrew Johnson (17th US president). Mountain view golf course in 15 minutes. Also Bristol Motor Speedway (Spring and Fall Nascar Racing) is about 40 miles away. Tri - Cities Regional Airport is about an hour away. Also airports in Knoxville and Asheville area are about 1.5 hour drive. There is a convenience store with gas, beverages, groceries, carry out sandwiches and pizza 4 miles away. No public transportation. Children under 3 are not considered additional guests. No added nightly charge. Gatlinburg, Pigeon Forge and Asheville, NC are a little over an hour away. There is quick access to the French Broad River for rafting, canoeing and fishing. 25 minutes from Living at Peace Farm you can hop on the Appalachian Trail near Hot Springs, NC. Go to the website VisitGreenevilleTn and click on "What to Do" to see other activities and events in Greene County and the surrounding area. Note, you can view and download a brochure listing 40 available day trips.
I really enjoyed staying here! The house was very nice and clean. The setting is very peaceful. And Scott was very kind and nice. :)
Jonathan
March 2016
Mr. Scott is informative and nice. The house is spacious and the area is scenic. We enjoyed every second we stayed here. Thank you!
Zelong
July 2016
The hosts were very friendly and accompanying. The area was very secluded and we loved that. Mountains were beautiful and lots of areas to explore. Got lots of great family pictures. Would book this again.
Wanda
December 2015
My husband and I loved staying at the Bunk House for our 2 year anniversary!! We had such a wonderful time and felt so welcomed!! We even had a cake that said happy anniversary written on it when we arrived!! The mountains are breathtaking and we had a great time hiking around the property as well as several of the trails nearby! Scott gave us a map and shared several great suggestions of the best places to go! We also enjoyed fishing in the pond in the morning and evening! We would love to come back here again!!
Kelley
October 2015
This property was beautiful; a great escape from the city! We were able to get in a short hike, fish in the pond and had a large play area for our 8 year old and two dogs, all without leaving. The bunkhouse was perfect for our family of 4 and would have accommodated 2 more very comfortably. The accommodations were clean, modern and nicely decorated. The hosts were helpful with directions, area attractions and recommendations for local restaurants. We were able to get in hikes on The Appalachian trail, horse back riding at a local farm, and visit Dollywood. We would definitely visit again.
Benji
April 2016
Nice place to stay. Scott is very nice person and really helped us lot during our vacation. one night we planned to have campfire and told Scott in the morning that tonight we are planning to have campfire. On that day due to traffic delays in smoky mountains we reached home by around 10 pm, by the time we reached there Scott set everything for us and also gave us wood for our campfire… clean and good maintained home. Calm and pleasant neighborhood. Very good place for vacation
Sreenath
October 2015
We really enjoyed our visit - Scott and Pam made us feel quite welcome and showed us the place and informed us of great things nearby. The place is well-furnished, clean, and cozy. The shower room is really cool and it was nice to have access to two bathrooms. We enjoyed being out in the country and appreciated how quiet and peaceful it seemed. While we were in the area for a few days we checked out Margarette Falls, Painted Creek Corridor, and some trails near the Horse Creek Campground. We'd definitely return!
Sarah
July 2016
The bunkhouse is fabulous - very spacious and neatly decorated. The furniture is comfortable and inviting. The location is so peaceful. We wanted a place to relax and get away from everything while we were on Fall Break and we got it. Scott made sure we knew where to go - Painted Creek, Cherokee National Forest, etc. We very highly recommend The Living at Peace Farm Bunkhouse.
Constance
October 2016
部屋タイプ
まるまる貸切
---
建物タイプ
---
収容人数
10
---
寝室
4
Greeneville
This is a nicely appointed and newly renovated walk-in, with spectacular mountain views of the Black Mountains in an exclusive gated community. Complete club amenities include golf, tennis, pool, hot tub, fitness and spa. Club access fees may apply.
Guests will be given clearance to enter the front gate. Keys will be provided by the gate attendant, available 24-hours.
This is a unique and exclusive club community. Please access the Mountain Air Country Club (email hidden) to view details about the community. Please indicated if you wish to use the club amenities in advance of your stay. Applicable club access fees will be passed along to our guests.
バーンズビル