遠州鉄道西鹿島駅からバスで約15分。なたづきバス停から徒歩3分。築100年以上の古民家の8畳間。余裕で2人収容できます。広い庭でバーベキューができます。季節のお花を楽しむことができます。時期によっては栽培している野菜やシイタケを差し上げます。早めに連絡をいただければJR浜松駅まで迎えに行きます。
年によって波はありますが、3月下旬から4月中旬にかけてタケノコ堀りを体験できます。
今回は実家から近いということで、アクセスは最適でした。 真夏の素晴らしい自然に囲まれて、しかし夜はとても涼しく、200年の歴史あるお宅で、とても快適に過ごさせていただきました! 同郷のおさむさんとも知り合うことができ嬉しいかぎりです! The house is about 200 years old. You can experience the old style living here. We stayed a few days in middle of summer, but nice breeze comes in in the night so that we could rest very well. We enjoyed the conversation with Osamu-san and his mother and his daughter. I highly recommend this spot!!!
Hiroyoshi
2016-08-16T00:00:00Z
到着時刻が遅くなってしまったにも関わらず、とても親切に出迎えてくださいました。 大自然の中に囲まれており、とても素晴らしいお家でした。
みのり
2016-09-12T00:00:00Z
Osamuさんはとてもいいホストです。 宿泊の当日、到着時間が遅くなったのですが、連絡すると快く家までの詳細な道順を案内していただけました。到着後は家の設備をご紹介いただき、とても親切にもてなしていただきました。 翌朝は朝食サービス、家庭菜園を見せていただき、とてもリラックスして過ごすことができました。 また、機会があれば、収穫ができる時期に利用したいと思います。
tomo
2015-06-23T00:00:00Z
I'm really happy to stay at Osamu house. He is a 5 stars host, he pick up me to the station and bring me back, he offert to me the breakfast and i really enjoy the japonese style house , it´s beautifull.Also he talk really good english and i really appreciate to share with him.I didn ´ t have time to visit around his house but it seem´s beautifull too.. Anyway Osamu make everything to make me feel confortable and i m gratefull about it.. Thank you Osamu for this expérience.
Romain
2015-05-05T00:00:00Z
We were very enjoying the time in Osamu san's house. Here was a wonderful environment for relaxing and exploring the Japan culture. Osamu san is very friendly and easy-going. He picked us up in Nishikajima station and welcome us with a big smile. This place is surrounded by mountain. The air was very fresh and clear. Osamu san also introduced us about the Hamamatsu sightseeing place and we also did farm activity. Osamu san have a huge farm around the traditional old house. So in the day two morning, we dig farm for sweet potato. We also got sweet potato as gift. Therefore, if you are considering where to stay in Hamamatsu, here will be the good choice for you to experience the Japanese traditional culture.
Queena
2015-09-28T00:00:00Z
I had a very good stay at Osamu-san's listing. Before arrival I asked him about the possible agricultural experience and he examined what to offer then kindly attended my attempt on having harvest from the farm (very, very delicious potatoes and he kindly let me have them as souvenir!). He has taught me on agri-based life that he is leading, very interesting and widened my view a lot. The large farm is within the premises of Osamu, various numbers of fruits & vegetables are growing. Also he has his forest located nearby, I learned what the maintenance of the forest is like in place. The towns and villages in Tenryu area is peaceful, beautiful and interesting, everybody should be impressed to see how beautiful Keta river water is, 20 minutes of access, good for camping! Heard that originally built more than 150 years ago, the house is purely Japanese traditional style, no doubt that it has a lot of cultural value. For those who like to explore what the traditional Japanese agri-based life is, and who like to experience it under rich nature, Osamu-san's house is strongly recommended!!
Satoshi
2015-05-28T00:00:00Z
A very nice trip countryside in the north of Hamamatsu. There are plenty of beautiful tea and rice plantations around to discover by car. The wooden house is 200 years old and you can have the chance to sleep in an authentic japanese room from the tatami floor to the thin paper walls! Osamu san talks a perfect english and is very friendly. He invited us to participate to the village festival (matsuri) which was really unforgettable and something you can't discover in big cities! A strongly recommended stop during your trip in Japan.
Julien
2015-08-17T00:00:00Z
WOULD RECOMMEND TO FRIENDS AND FAMILY! Osamu's is the true Japanese Experience. We had a wonderful time staying in his beautiful home. Osamu also helped us research some of the local activities to do and treated us to breakfast. He was very hospitable. The room was affordable and I would choose this location again. Be aware that the best way to get to Osamu's is by car, public transportation may be difficult. The city of Hamamatsu is about an hour away.
Christopher
2016-01-06T00:00:00Z
部屋タイプ
個室
---
建物タイプ
B&B/民宿/ペンション
---
収容人数
2
---
寝室
Hamamatsu, 静岡県 431-3303, 日本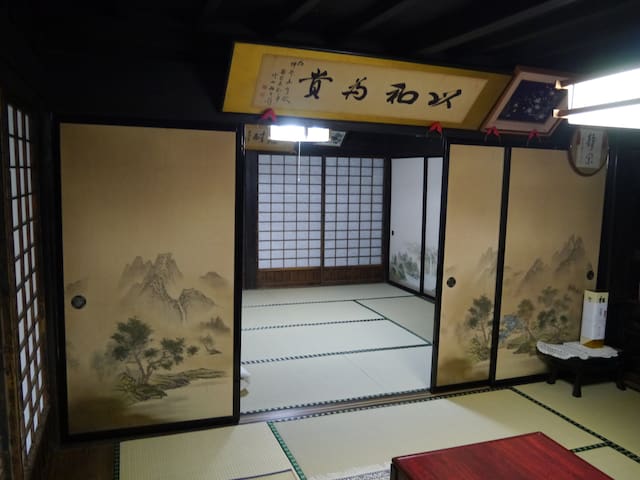 日付を入力すると合計金額が表示されます(税・サービス料別)。