Mittersill Vacation Ownership Resort is located in the White Mountains of New Hampshire. Enjoy skiing 800 yards away at Peabody Slopes on Cannon Mountain. This ski area has a vertical rise of 2,146 feet and is covered with 21 miles of trails and slop
Review We did not expect too much based on the reviews we'd seen. But since it was right next door to Canon Mt we decided to give it a try. What a Great decision!!! Excellent and challenging skiing right next door. The main building is walking distance to the Mittersill double chair lift. This is expert terrain so be a good skier if you go from there. The family / beginners area is a bit of a further walk or short drive. Also great hiking, cross country and snow shoeing nearby. Many nice little charming towns in the area. Go to Littleton for dinner one night! The resort buildings are old, the original was built in 1945 I think by a Baron from Austria to resemble a castle he had there. He fled to the US during the war. Later the "main" building was added in 1965. The furniture was of good quality and the rooms were more than acceptable. The place was probably the cleanest timeshare / hotel room I've ever been in, so yes it is a bit dated but very well maintained. The kitchen was well stocked and everything was in excellent shape. Bathroom was small but extremely clean!!! Nice TV in living room and smaller one in the bedroom, both had vcr / dvd players and movies could be rented in the lobby for a small fee. The KING bed was very comfortable and there was decent storage space. All in all a pretty good sized 1 BR unit. There were not many activities here, but the staff was great and welcoming. There are many large common areas. The game room has a HUGE life sized chess board - the pieces are as big as people! And there are also several large table games for 2 or 4 people. There is another game room with pinball and electronic games near the pool and spa. There is an indoor pool, spa and large hot tub. There is also a sauna in this area and a decent fitness center. The staff was great and the bar / lounge area was always fun. The menu is limited and there is not a full service restaurant but the food they did offer was great. People were extremely friendly and we had an awesome time here! Take some time to look at the pictures and memorabilia around the resort, many interesting things to see. Queen Elizabeth stayed here in 1951! Taking a walk at night and coming back to the Mittersill reminded me of some of the great and quaint places that I've stayed in Bavaria. This is NOT a Marriott, but should be rated based on it's interesting and unique features, that unfortunately many people miss. Relax and enjoy this gem!!
For spectacular scenery, don't miss the Aerial Tramway on Cannon Mountain
Franconia, ニューハンプシャー州, アメリカ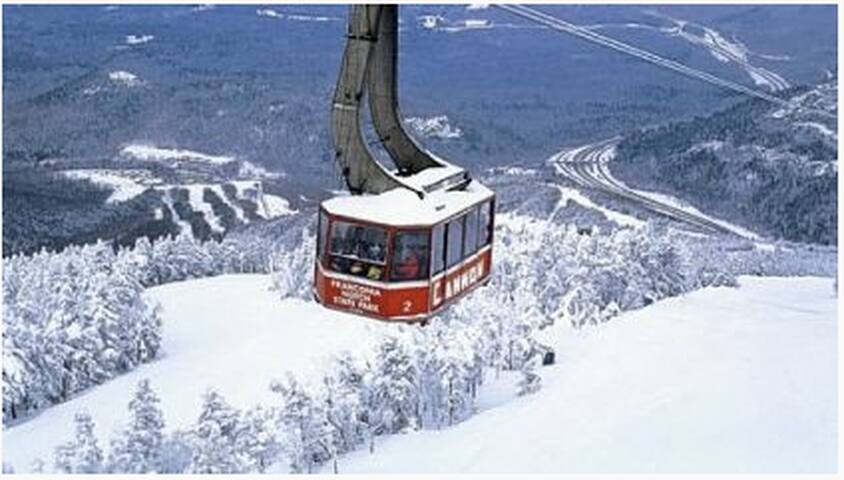 Be our guest! Yoga retreat style villa located right on lake Winnipesaukee, nestled overlooking the water. Stunning waterfront views soon to be surrounded with amazing foliage, magnificent sunsets, huge outdoor area for BBQ's and games! Close to many ski mountains and Weirs Beach! This unit offers 1 bedroom and a large family room with a pullout couch. Wake up to the sunrise over the lake and go to bed to the sound of crickets!
We had a great trip. The property was in a great location and the host was very responsive to questions. Would rent here again.
Jon
2016-08-22T00:00:00Z
Our stay was fantastic! It was the perfect accommodations for a young family of 4. The host was available via phone/text for any issues during the entire wknd. She even checked in everyday to ensure our needs are still being met. I will definitely be coming back soon!
Frank
2016-08-09T00:00:00Z
Everything was perfect! The host met us at the house and showed us everything! The house is beautifully furnished! In addition to a full kitchen, they also provided some extras, like foil, paper towels, dish detergent, toilet paper, etc so we did not need to run to the store for things. The view is wonderful. The host even gave us various options to dock our boat, and she gave us lots of info about the lake. The host kept in touch to answer questions, and asked if there was anything further we needed. We were 100% pleased with every aspect of this wonderful home on the water.
Lynnell
2016-06-24T00:00:00Z
Shallows is a lovely quiet spot with super comfortable accommodations and beautiful outdoor lounge area. It was a perfect place for me to stay between very long business trips. Thanks for sharing your perfect cottage with me.
Mark
2016-09-22T00:00:00Z
Shallow Shores was exactly as described, they have a ton of Lake frontage. It was so peaceful, a perfect place to relax. This is not a party section of the lake, peaceful like I said. My family and I rented paddleboards just up the street, not a ton of boat traffic which was great. Monica's parents were so welcoming, they provided us everything we needed. In addition anything you could nedd is within a 2 minute drive , literally. If you need to relax this is the place to go. We will be back. Thank you Monica!
George
2016-07-10T00:00:00Z
Had a wonderful time staying at Shallow Shores. Everything we needed was there, and the listing was as described and more! Would recommend this listing to anyone looking for a quiet lakefront vacation.
Alexis
2016-08-15T00:00:00Z
Quaint and cozy spot and perfect for our "stop and go" trip for a family wedding nearby. We were sorry we didn't have time to enjoy more of this nestled waterfront property and wish to and will return again!! Owner was super accommodating for a same day request for our stay and went above and beyond to arrange our visit as last minute as it was. Very clean accommodations albeit small quarters for 4 (full sized bed and pullout- worked for 2 adults and 2 close kiddos) and views far exceeded expectations. Full kitchen and well stocked dishes and cookware. Be sure to bring your own TP, paper towels, kitchen towels/sponge napkins. Otherwise, it is all there! Oh-- and wifi too! This property is a winner!
lynn
2016-09-18T00:00:00Z
Shallow was a great host. She was communicative before and during our stay, making sure to check in daily to see we had everything we needed. You could not ask for a more perfect getaway. The place is cozy, about a 30 second walk to the lake and all of the neighbors were pleasant and friendly. With the town steps away, you can walk to every amenity you could need, or you can explore all that the lakes region has to offer. My partner and I could have easily stayed for a month in Shallow's lovely villa. We will definitely be back.
Nora
2016-08-06T00:00:00Z
Moultonborough, ニューハンプシャー州, アメリカ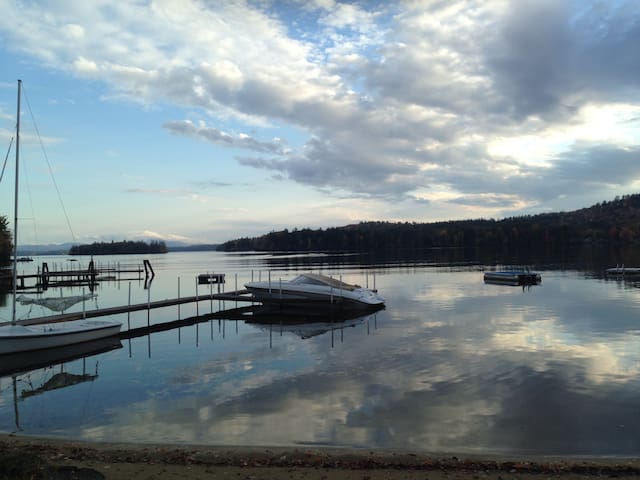 Condo is only 10 Min away from Sunday River Ski and Resort.
3 Bedroom Condo 2 full bathrooms with 2 showers, Sleeps 10 all in beds Fireplace Garage 10 Minute drive to Sunday River Ski Resort and Golf 1/2 mile to downtown Bethel Shops, Apres Ski Bars and Restaurants 1 Mile away from Bethel Inn and Golf Great views of Mountain range Wifi Cable TV with DVD Washer & Dryer Available Sunday night through Friday Afternoon all winter.
Our host was very friendly and communicative. This condo is very spacious. Everything in the unit was exactly as described. A this unit is in a good condition and excellent location with a mountain view. I would recommend this unit to my friends.
Stella
2015-12-29T00:00:00Z
The condo was a lovely place and in nice area. Although I didn't have the chance to meet Keith, but he had organized everything in an excellent way so we could check-in and enjoy our stay without any problem. The condo is well equipped and totally as described in the website. There is a nice ski style decoration in the condo that I liked and a lovely fireplace. I totally recommend this place to the others.
Mazdak
2016-04-18T00:00:00Z
This was the ideal place for us to stay while we were in Bethel for the Maine Mountain Jeep Jamboree. It was plenty of room for my husband, me & our two dogs. We will def be booking this again for next year's Jamboree. :)
Stacey
2016-10-03T00:00:00Z
The reservation was canceled 20 days before arrival. This is an automated posting.
Washington
2014-01-17T00:00:00Z
Great place with great views, & Keith was very helpful in terms of directions. We had a short but sweet stay.
Garrett
2016-06-18T00:00:00Z
Place was as described, close to village, restaurants and shops. Thank you for sharing with us. We will be back again.
Jan
2017-02-17T00:00:00Z
Pretty good experience!
Estelle
2016-08-23T00:00:00Z
Keith's condo was a perfect fit for us as we traveled between Bretton Woods and Sunday River over February vacation. The condo was as described and had everything we needed. Keith was very responsive to our needs before, during and after our stay at his place. Thanks!
Robin
2016-02-20T00:00:00Z
ベスル, メイン州, アメリカ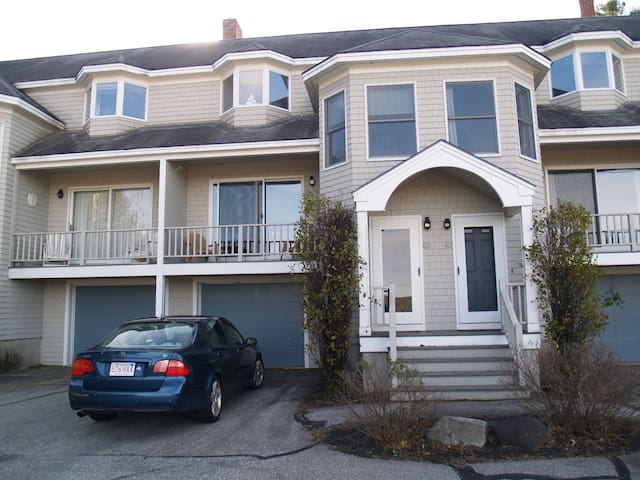 Burke View Villa is directly on the Kingdom Trails and only minutes to Burke Mountain. You'll love the views of Burke Mountain and the ability to ride to the Kingdom Trails directly from the property and connect to the entire trail system and Mike's Tiki Bar. Prefect for couples, solo adventurers, and business travelers.
The Burke View Villa is above the garage at the Burke View Vacation Rental. It is a private space with private backyard complete with fire pit, picnic table and charcoal grill. Burke View Villa has a King Master Bedroom, walk in closet, bathroom with stand up shower, full kitchen and living room with memory foam queen sofa bed. Sleeps 4 comfortably. The private fenced in back yards has a picnic table, fire pit and charcoal Weber grill.
The Burke View Villa is directly on the Kingdom Trails and offers a stunning view of Burke Mountain. An amazing one-mile downhill trail leads to Mike's TIki Bar, Burke Publick House and Foggy Goggle Osteria.
This was our first stay in an Airbnb and I think we are now very spoiled! The villa was tidy, spacious, and very comfortable. The views are spectacular and its lovely to watch the sun rise over the mountains and trees from your bed. Karl is a wonderful host and it is evident that he loves Burke, Vermont, and Kingdom trails. If you are a cyclist, there are racks for your bikes, tools in the garage, and trails in the back yard. If you ski or are just visiting the area, I highly recommend staying here as it is close to town. It was a great experience and we really enjoyed our stay.
Lisa
2016-08-11T00:00:00Z
This was our second stay at Burke Villa and once again, we loved it. The 1-bedroom Villa is very comfortable, extremely clean and has both an amazing view and a perfect location. The kitchen is fully equipped, the living room and dining area are a very pleasant space to hang around in (and comfy!), the bed is incredibly comfortable and the bathroom has a large shower and plenty of space and towels. Karl is a very responsive host, check-in, check-out, questions...everything went so smoothly. We can't wait to return!
Shelly
2017-03-05T00:00:00Z
The place is great. Everything is very new. The kitchen is well equipped, and the beds are comfortable. The bike related accommodations are an added value and quite handy. The location is perfect and the view is stunning!. Access to trails and town couldn't be better. Karl and Sam were awesome to communicate with before and after our trip. It's the perfect base of operations for a couple or small group.
Rob
2016-07-05T00:00:00Z
The Villa had a beautiful view of Burke Mountain and only a couple minutes from Downtown. We loved it!
Ricardo
2016-08-17T00:00:00Z
This area is incredible and the villa is centrally located with spectacular views. I will be back!
nick
2017-02-19T00:00:00Z
Karl made us feel immediately welcome. Prior to arrival he sent a very informative email with additional details about the property. All of this made our arrival stress-free. The Villa is absolutely the perfect property for mountain bikers, road bikers or skiers, etc. There is access to the Kingdom Trails from the property (we rode our bikes directly from the property to the Tiki bar, all on an awesome downhill trail (Bottoms Up!)) and Burke Mountain is minutes away. The kitchen is very well equipped (even has a dishwasher!), the living room/dining room is comfortable and perfect for gathering friends (pull out couch, nice dining room table, TV). The bed is so comfortable I asked Karl for the mattress information (which he provided) because I plan to buy one. The bedroom is large and has a legit walkin closet. Bathroom is large with a really large shower, plenty of towels, toiletries, etc. The view of Burke Mtn from the Villa is amazing. There are also so many things about this property that make it stand out: Karl provides a bike stand and some tools in the garage for storing bikes and working on them. There's also a private backyard for the Villa (separate from the House), with a firepit, picnic area and grill. There's a mud room to hang jackets and leave boots and dirty shoes before climbing the stairs to the Villa. I'd say the set up is just about perfect for anyone planning a weekend in the Northeast Kingdom! Karl is also a really interesting, friendly and cool guy. We enjoyed meeting and taking about the area with him.
Shelly
2016-10-02T00:00:00Z
We were looking for a quiet getaway from busy city life and definitely got what we were looking for here! The villa was extremely clean, cozy and the view was gorgeous. We would stay again for sure!
Katja
2016-10-10T00:00:00Z
バーク, バーモント州, アメリカ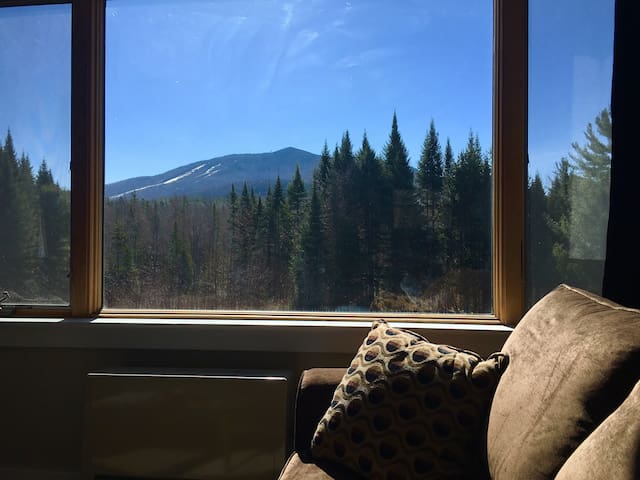 Luxuriate in this spectacular condo w/fireplace and all the amenities the resort has to offer. Only 10 minutes from North Conway, there is an abundance of activities, restaurants and nature trails to enjoy during your stay at Nordic Village.
This is an exceptional property and has been issued the certificate of excellence. It has everything a 5 star resort offers.
It is very beautiful and quiet with spectacular views.
ジャクソン, ニューハンプシャー州, アメリカ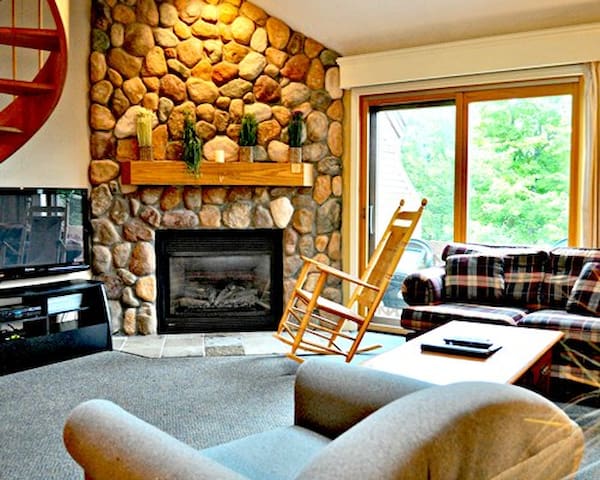 Franconia - Airbnb
:
平均星

4.7

つ/

5

つ星・ゲストレビュー

45

件
日付を入力すると合計金額が表示されます(税・サービス料別)。