Palauet del s.XVI d'interès artístic i arquitectònic en zona fantàstica de la Rioja alta totalment equipat i reformat amb jardí i horta privada. És de lloguer privat per a grups en ruta del vi i davant de Paternina.
El palau dels Comtes de Rodezno, és un edifici de tres plantes d'interès arquitectònic i artístic de la (Renaixement) S. XVI per complet i amb bon gust reformat. Situat a Ollauri, al cor de la Rioja terres altes i en plena ruta del vi, on bells paisatges i una àmplia gamma d'interessos d'oci i culturals es poden trobar. La casa es troba en el seu propi terreny privat de 1200 m2 mirant per sobre dels cellers Paternina-Berberana i vista sobre la muntanya. La seva decoració rústica de bon gust es filtrava en la tradició espanyola alhora que proporciona tots els serveis moderns qualsevol visitant podria esperar. El palau dels Comtes de Rodezno ofereix al visitant una sensació única del seu benestar; les pedres naturals sòlids transmeten la bellesa i la seguretat que es respira en un lloc per a no fumadors.
LA ZONA La casa està en Ollauri, (poble amb cellers més conegudes de vi, parcs, riu, restaurants, biblioteca, zona esportiva, botiga d'alimentació ...). Tenim molts festivals típics (la collita del raïm, dies de vi ...) i està situada a: • 2 km Haro (ciutat amb un parc aquàtic, centre d'equitació, museu d'art, a l'aire lliure centre esportiu - piscina, mercats a l'aire lliure, gimnàs-spa, pel·lícules, tren, grans superfícies, atenció mèdica ...) • 15 km de Sant Diumenge de la Calçada (Camí de Sant Jaume) • 20 km del Cec de Frank Gehry • 40 km de Logronyo • 42 km de Vitòria • 50 km de Valdezcaray (pistes d'esquí) • 100 km de Bilbao, (aeroport, ferri, la Guggenheim, platges, museus. ..), de Sant Sebastià i Burgos (jaciments d'Atapuerca).
The host canceled this reservation 3 days before arrival. This is an automated posting.
Merce
2017-04-10T00:00:00Z
The host canceled this reservation 93 days before arrival. This is an automated posting.
Natalia
2016-09-22T00:00:00Z
Estuvimos muy a gusto , tanto en la casa como en el pueblo que es encantador. La anfitriona estuvo en todo momento pendiente de que nos faltará de nada
juan ignacio
2016-05-09T00:00:00Z
en mi opinión la casa no corresponde al precio que tiene
SARA
2016-12-04T00:00:00Z
The space is nice, big and with enough beds and baths. The location is very charming in a small town. It wasn't very clean, with a very overgrown garden, and the breakfast included was just milk and bread. overall we had a nice experience. Magda was attentive and replied promptly.
Marina
2016-07-09T00:00:00Z
Es un viaje muy bien, muy acogida. Los vecinos son muy amables. Por la noche, el pueblo es muy tranquilo. Disfrutamos el cielo y estrellas. El jardín usamos para hacer barbacoa, nos ofrecieron la leña y carbón vegetal. Muy bien. Pero el jardín no es muy organizado, hace falta mejorar. El último, hay que revisar los cables. Salta unas veces el interruptor general.
OUHUA
2017-03-19T00:00:00Z
Très belle maison avec grande capacité d'accueil. On est très bien accueilli et on se sent vite comme à la maison!
Aurelien
2016-06-13T00:00:00Z
Ollauri, La Rioja, スペイン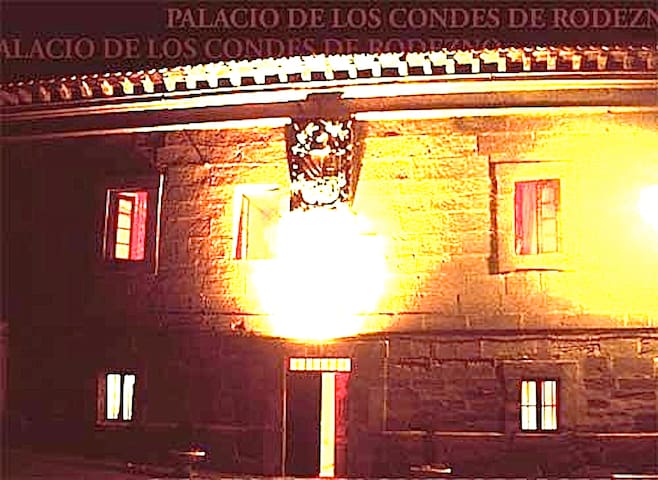 Surrounded by nature in a typical charming Spanish village. 7 acres private, 10000 ft² of garden, pool, WiFi, chillOut, BBQ, greenhouse, fruits, wood stove. Wildlife and hiking. Delicious "Duero" wine and beautiful cellars. 2 hours away from Madrid.
La casa esta en plena naturaleza ,junto al pueblo de Ciruelos de Cervera, tiene una gran piscina y una pista de padel. 5000 metros cuadrados de jardín privado aunque la finca tiene 30.000 m vallada en su totalidad. 9 dormitorios, salón con 3 ambientes y comedor, office, cocina con todos los electrodomésticos, cuarto de lavado con secadora, merendero con barra de bar y horno de leña.
El pueblo tiene un centro deportivo con frontón, ping pong , cancha de baloncesto y columpios. Los lugareños son muy amables. Mis huéspedes disfrutaran del cambio en el paisaje según las estaciones, de la privacidad , relax, tranquilidad y confort.
What a fantastic place. Huge! Everything is top class. We were only a party of 5 so we rattled about a little, but that was incredible to have the masses outside space to eat, relax and play with the children. They loved the pool and the trampoline. The hosts came down to the village to meet us as navigating the narrow streets can be difficult. It would have been a breeze if I had read their documentation - but I hadn't. They were very accommodating around our arrival and departure times. The house was spotless! The towels fluffy, the sheets smooth and the beds comfortable. We will be back! Dom, Geri and family.
Dominic
2016-09-03T00:00:00Z
Virginia and German were great hosts, and they were very helpful in setting up this amazing weekend at their beautiful house, for us. I highly recommend this as an option and would go again in a heartbeat. Thanks!
Jeremy
2015-10-12T00:00:00Z
I'm not sure I want to write a review as when you find somewhere so nice you don't really want others to know about it! However, the villa is lovely and the gardens are great. The photos don't really do it justice. There is lots of room (we had 19) for everyone to relax, cook (there are two pizza ovens) and play. The owners are really nice and helpful. They offered to organise the delivery of local bread and meat. They also invited us to a local village festival. The village is lovely with a couple of great little friendly bars. We ended up playing a game of football against the locals at 12 at night in the local sports centre! We plan to book again.
Sunil
2016-08-07T00:00:00Z
Ciruelos de Cervera, Castile and León, スペイン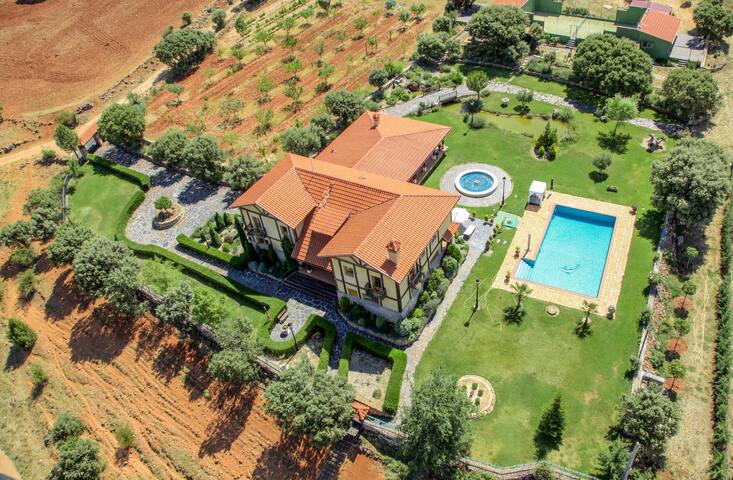 Country House 2500 m. proprietary, HOUSE WITH GARDEN AND PRIVATE POOL -Living room. Kitchen, porch, cellar with kitchen. Outdoor toilet and bathroom 6 BEDROOMS beds: 12 4 marriage 7 single 1 sofa bed 2 bathrooms 2nd FLOOR FLOOR 1 WC 1 Bathroom complete exterior PARKING Free housing 2p / public free
Villa with two floors, cellar and large garden with swimming pool, both private and available to customers. It has 6 rooms 2 bathrooms 1 toilet No. floor 2 No. 1 plant and 1 bathroom outside ramp for the disabled in the garden. Hall, Bodega and Bodega hinvierno spout dining kitchen and a large conservatory. Free parking. private parking 2 cars
Located in the wine region of Rioja Alavesa. Very well located: 10 minutes from the city center of Logroño, surrounded by vineyards and olive trees on the banks of the Ebro, and less than 7 km from Laguardia, El Ciego, Briones, Haro, Oyon, San Vicente ... river towns where are located the best Bodegas La Rioja and the Wine Museum. Yuso and Suso Monasteries, World Heritage Site.
Ana was fantastic! We had a very warm welcome. She was very attentive to our every need and she made sure we were very well taken care of. She even gave us a wonderful bottle of wine to welcome us. The location of the villa is perfect for exploring both the beautiful towns nearby and the best wineries in Rioja. The pool was amazing. We wished we stayed longer! The house was actually MUCH nicer than the photos showed.
Brian
2016-08-20T00:00:00Z
La casa es una gozada, todo limpio y bien equipado! Aunque he de deicr que las fotos no le hacen justicia, es mejor en persona. Hubo una pequeña incidenciabcon la piscina pero la anfitriona lo solucionó enseguida, está siempre pendiente de que no falte nada y dispuesta a ayudar en cualquier momento. Muy recomendable.
Katalin
2016-05-30T00:00:00Z
Ana es un anfitriona excepcional, atenta y siempre pendiente de que esté todo en perfectas condiciones para tu disfrute. La casa es una belleza, cuidada, limpia y con un jardín precioso. A parte, te deja tarjetas para todos los servicios que necesites, taxis, restaurantes, visitas por las proximidades, un 10.
Héctor
2015-09-13T00:00:00Z
La casa es genial. La cocina totalmente equipada. Muy limpia, habitaciones perfectas. Zona de barbacoa muy bien equipada. Nos falló la piscina pero Ana solucionó el problema al momento. Ana siempre muy atenta y disponible. Ubicación buena para ir a Logroño o Laguardia.
Roberto
2016-05-23T00:00:00Z
La estancia en esta casa fue maravillosa. La anfitriona estuvo en contacto con nosotros en el tiempo previo a la estancia,con la intención de informarnos y ayudarnos en todo lo necesario para la preparación de nuestro viaje. También fue totalmente flexible y comprensiva con los horarios de llegada y salida. Una vez en la casa quedó a nuestra disposición para cualquier necesidad que nos pudiera surgir. En cuanto a la casa, no podríamos imaginarnos nada mejor, un interior precioso y espacioso donde no faltaba de nada, donde estuvimos muy a gusto, así como un espacio exterior con jardín, piscina y terrazas de ensueño. Realmente las fotos no hacen justicia para lo perfecta que es la casa. Un 10 para la anfitriona, que hace que parezca que te deja la casa un familiar allegado y un 10 para la magnifica casa. 100% recomendable y muy buen precio.
Hector
2015-09-21T00:00:00Z
Ana and her house are fantastic. Ana's house had everything that out 3 families could have needed. Ana as a host made our stay even more enjoyable. She assisted us with arranging catering for a birthday dinner and winery tours. Thank you from all of us.
Lander
2015-08-16T00:00:00Z
La experiencia en la casa de Ana, ha sido fabulosa. Todo tipo de comodidades nos hemos encontrado. Ideal para pasar unos buenos dias donde no va a faltar de nada.
Manu
2016-06-27T00:00:00Z
La casa estupenda y el trato de Ana inmejorable.A pesar del mal tiempo hemos pasado un finde genial. Si duda una opcion muy recomendable
Ainhoa
2016-02-28T00:00:00Z
ASSA, ALAVA Basque Country, スペイン
Ezcaray - Airbnb
:
平均星

4.79

つ/

5

つ星・ゲストレビュー

28

件