日付を入力すると合計金額が表示されます(税・サービス料別)。
Lovely, private mountain villa close to West Asheville, River Arts District, Downtown Asheville, Biltmore Estate, New Belgium Brewing and more. ART Bus stop right down the hill. Full use of the front bedroom, bathroom and kitchen, great room and front and back porch. Smoking on porches. MUST be cat friendly. No pets. For rafting and kayaking put ins- close to Carrier Park & Hominy Creek. Extra space in dug out basement for kayaks or bikes.
Shady and like the Hobbit on the inside. Back porch area is filled with trees and birds and plenty of blossoms in season. The bedrooms are quite spacious and wireless works throughout the house. Front Bedroom, kitchen, living room, front deck, back deck in person if home, text or telephone if away
If you are traveling to Asheville and want a sweet place to stay close to all the fun (including rafting the River Arts District and pulling ashore to sample local breweries), this rental is for you! If you have 2 good legs you can walk into West Asheville or Downtown in 20 mins. If not, cab it downtown for only $7 each way. There are now more than 50 restaurants and bars on Haywood Road, in Downtown West Asheville. Don't miss the vintage thrift stores, coffee houses and watching hippies. It's been said that W. Asheville is the Haight Ashbury of the South. When you get a look at West Asheville you will understand local flavor and color. Walk ride a bike cab it or drive. Nice neighbors. Respect privacy. If you park in their spot they get really onry so please only park in #6!
Elizabeth was a great host. We came in for a quick night so we barely saw each other in passing but she had everything where it needed to be and easy access so we didn't have to ask very many questions. She was very friendly and has a very friendly small cat also. We had a great stay.
Hillary
November 2016
I stayed with Elizabeth for a night and had a great experience. The place is in a great location that is accessible to most places in Asheville with ease - not to mention on a beautiful hill with views that are spectacular. There are major trail heads within a 10-15 min drive and downtown is a quick 5 minute drive (great for Uber!). I didn't spend much time at her place other than to sleep, but if you're in Asheville, that's truly all you need since there is so much to do and see!
Erin
November 2016
Great location. Great value. Right next to River Arts district which is a must see for any Asheville traveler.
Robbie
March 2017
Awesome lady with a cute cat. Very polite and helpful. Would stay at her place again!
John
January 2017
Great stay, great location!
Kate
February 2017
Quiet room in resdiential area.
Declan
March 2017
Great place to stay! Elizabeth is super laid back and friendly! We booked very last minute, but Elizabeth made check in very easy and everything was ready for us when we arrived. The accommodations are basic but nice. What really sells it is the location! Right across the street is a beautiful view of the mountains. There's a great bar and bakery right around the corner, and Downtown Asheville is super accessible! It's just over a 30minute walk to downtown and Uber only cost us about $6. I would definitely recommend for anyone looking to explore downtown! You couldn't find a better location for the price or a more easy going host. Thanks Elizabeth!
Rebecca
March 2017
Great place to stay. Elizabeth was very friendly and easy to reach. The guest bedroom was great- the bed was super comfy and there's lots of books to browse.
Jessica
March 2017
アシュビル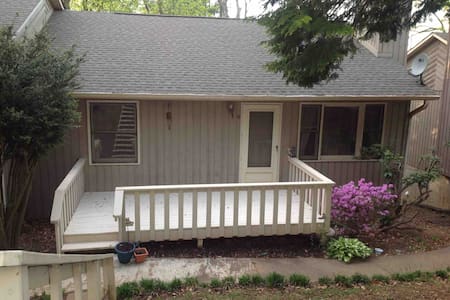 アシュビル - Airbnb
:
平均星

4.5

つ/

5

つ星・ゲストレビュー

35

件