My place is just a 15 minute walk/2 minute drive from an NJ Transit Station to NYC. Plenty of local stores and parks. The bedroom being decently sized, you will have a private bathroom, and can freely use the kitchen and laundry. If you need to be driven to station or picked up, feel free to tell me! Very quiet at night. Good for any type of person + pets. If you are a large group and have sleeping bags, that is fine.
Modern, clean, and new, space.
Middlesex, ニュージャージー州, アメリカ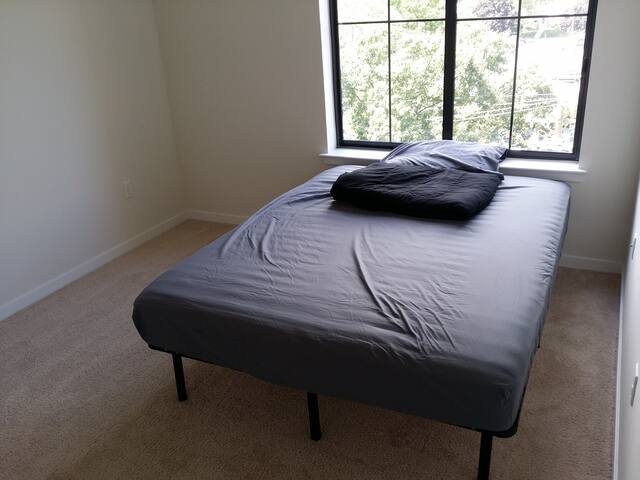 A private suite of rooms with outside entrance in a quiet, residential neighborhood. Located within minutes of stores, banks, and restaurants; train stations to NYC within 2.5 miles; interstate highway I 78 within 6 miles and I 287 within 4 miles. Rutgers University is just nine miles away. We offer the suite for one or two persons, and include full breakfast every day. Owners are usually on-site to assist you during your stay, as needed.
This is a beautiful, private suite of rooms with direct entrance from the outside. When you arrive, you will be given a key which must be returned on check-out. These are large rooms for your enjoyment. The living room has a large screen television with cable service and premium channels. Wi-Fi and ethernet available. There is a kitchenette in the living room with refrigerator, sink, microwave, and coffee maker. The bedroom has a full closet and two dressers for your use. The bathroom is private to the suite, has radiant heat floors and a walk-in shower.
We are in a quiet, residential neighborhood. Terrain is flat, making walks a pleasure. Commercial area is one mile away, with bakery, CVS drug store, bagel shop, Wells Fargo bank, convenience stores and more. Spring Lake Park is just a little farther and is a pleasant setting for walks or just relaxing.
South Plainfield, ニュージャージー州, アメリカ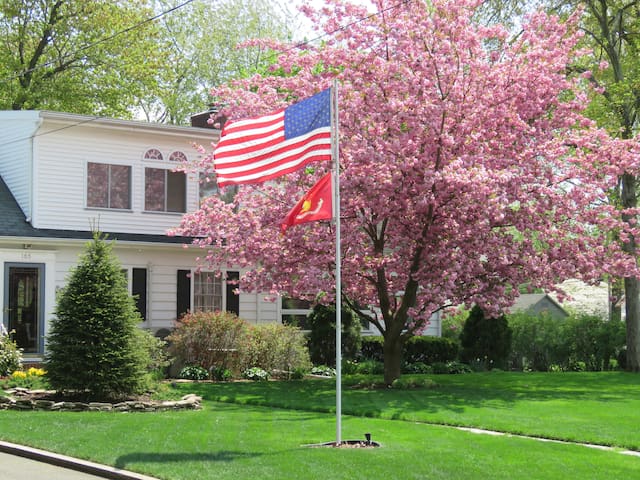 A 2 bedroom 2nd floor unit in a beautiful and quiet neighborhood. It is short distance to Rutgers U., New Brunswick, and in the center of NJ.
Welcome to BlueWavePlace - Central New Jersey in Piscataway, a two bedroom unit on a 2nd floor of a comfortable, modern, bright, and recently renovated house in Piscataway, NJ with its own private entrance. It is minutes away from Rutgers University and all New Brunswick has to offer, including super easy transport to and from Manhattan/ NYC. Quiet neighborhood with lots of trees, beautiful landscapes, and easy access to shops, dining, and highways. The unit features 2 separate bedrooms with queen size beds, large closets, beautiful living room with a pull out sofa, and a modern full bathroom. Free Wi-Fi available throughout the unit and a smart TV with access to Netflix movies free of charge. Feel free to access and use the unit as you wish. It is yours while you're staying with us. Thank you! We are here to help you enjoy your stay so just reach out if you need anything. Best way would be to come by car. You can also travel to New Brunswick by train and then get an Uber, Lyft, or Taxi to the house. We're here to help you enjoy your stay so please let us know if you have any questions!
Great place for an overnight stay. The bedrooms were large enough to accommodate our daughter's pack n' play. Easy drive to Rutgers and restaurants.
Katie
2017-04-02T00:00:00Z
Some travel hiccups made getting in a bit hard, but we were able to work out the trouble. Overall, great stay and good time for 5 people
Tok
2017-04-01T00:00:00Z
Neat, good option for a two bedroom place to stay. Bathroom is tiny. Good value, delivers on what the host claims it offers
Sunny
2017-03-17T00:00:00Z
ピスカタウェイ・タウンシップ, ニュージャージー州, アメリカ
Big Room with Plenty of closet spaces. This is a beautiful that welcomes to a lovely Middlesex Town
Middlesex, ニュージャージー州, アメリカ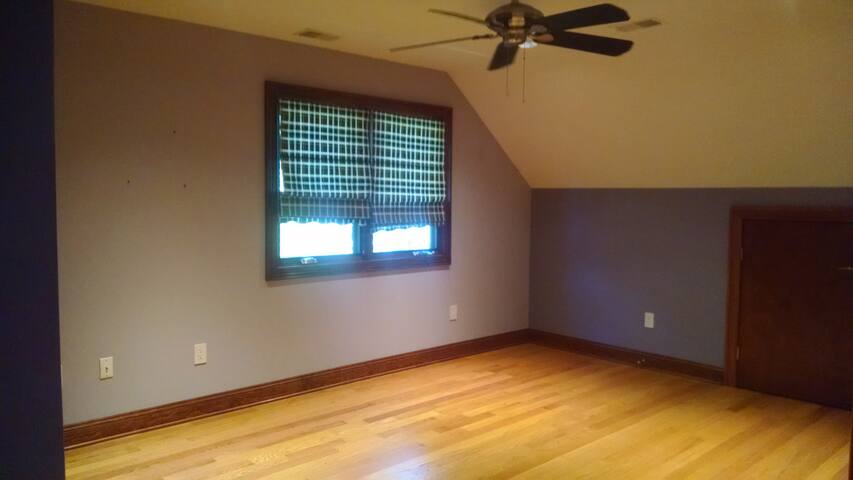 You will stay at one of the bedrooms inside a Luxury Apartment with unbeatable amenities. You will also have access to the common spaces with a luxury kitchen with all the utensils and pots, pans, plates, etc. (all shared with others). Certain Bedrooms are available by special request.
Elite Ammenities include: -Huge, state-of-the-art fitness center -Sparkling swimming pool + sundeck -Free Parking -Gazebos and courtyards with BBQ areas + free gas grills -Huge clubhouse w/ sports lounge & game room (pool table + shuffleboard) -Elevators -Free High-Speed Wifi and Cable -Two bathrooms -Easy access to Manhattan (NB Train Station) and close to 287 (both few miles away) -Free washer/dryer -Private balcony -Gourmet kitchen w/ pots, pans, utensils, glasses, dishwasher, etc. -Hairdryer (please request) -Iron
Minutes away from huge shopping complexes and lots of restaurants
Very good, thank you.
Anastasiya
2017-03-27T00:00:00Z
We really liked staying here. It's well furnished and comfortable. Great place overall!
Shalin
2016-12-28T00:00:00Z
Excellent host was very accommodating. Very nice apartment had a great stay!
Shaughnessey
2017-02-13T00:00:00Z
Awesome host, very clean room and big kitchen with all the equipments.
钧译
2017-01-28T00:00:00Z
He is very flexible with checking in and out. I got there in the middle of the night and he was awake and waiting. The bed is also extremely comfortable. It was also in a good location and not secluded.
Lydia
2017-03-24T00:00:00Z
Flexible check-in/check-out Friendly Hosts- replied within 24 hour period Quick introduction of space and left to own privacy for majority of stay. Clean, fast wifi, all amenities as listed, overall a great time. 5 minute drive to most other places you might need for your stay(groceries, liquor, fast-food, etc.).
Patrick
2017-01-02T00:00:00Z
We had a good stay! our hosts were genuinely good people, would highly recommend anyone interested on staying at David's place.
Suraj
2017-01-20T00:00:00Z
We met Jeffrey upon check in. He was a very good communicator and gracious host. The apartment was spacious and right near Rutgers University. We used the train station near by to take a train to NYC. I would definitely stay here again!
Matthew
2016-12-30T00:00:00Z
Franklin Township, ニュージャージー州, アメリカ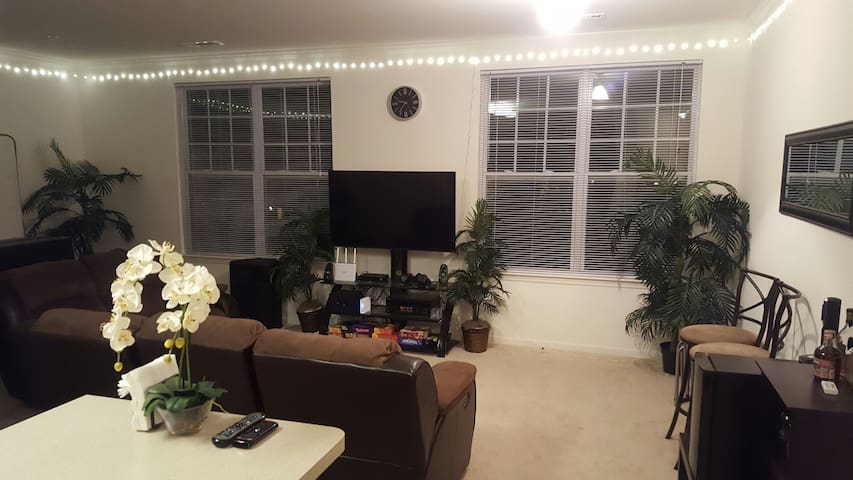 Walmart, Shoprite, restaurants, movie theater... near 3 miles radius. The house is very close to the Rutger University college in about 20 minutes drive and 40 minutes to New York city. Train station is nearby!!!
Come and stay at my spacious modern bright and comfortable one bedroom with private bathroom in Piscataway, New Jersey, where it is 45 mins from NYC and 20 mins from Rutgers university. Free wi-fi available upon arrival with a TV in a room. Queens size bed, large closet, study desk with chair.
Quiet neighborhood with lots of trees, park nearby, and easy access to shops, dining, and highways.
ピスカタウェイ・タウンシップ, ニュージャージー州, アメリカ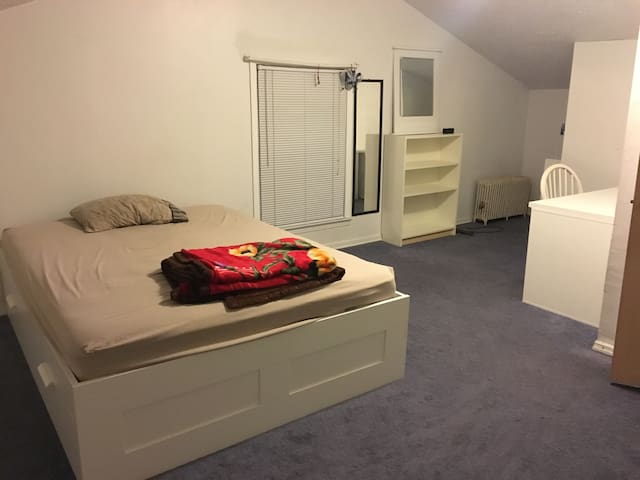 We were taken by this homes almost fairytale like charm when we purchased it 3 years ago and are confident that you will be as well. A new kitchen, upgraded baths and overall grooming make this a warm, comfortable place to "come home to".
The room is a private suite in the rear of the house overlooking a fully fenced in back yard with high hedges. There is a double bed with foam mattress topper, two night stands with lights a lamp, large closet with storage cabinet, chair, full private bath, linen closet. Bedding, towels provided. Wireless internet is in the house. There are TV's in the living room and kitchen. We are planning to ad a TV to the room but most people just watch movies on their laptops or pads so we haven't felt pressed to do it. The room is cozy and very comfortable.
Plainfield in the late 1800's early 1900's was the playground of the rich and famous which is why there are 8 historic districts. Our house is situated in a particularly pleasant and safe area. If you haven't been to Plainfield you should come to and see it for yourself. It's a charming town packed with history some of the most beautiful architecture that you will ever see. In fact a former Mayor lives just around the corner from us. Its a great place to ride a bike or take a long walk and just enjoy the scenery. As a realtor its my job to show the best of plainfield to clients daily. I've even convinced two of our NYC friends to move here and they are equally as happy as we are living here.
Charles & Paul were gracious hosts who made me feel very welcome, and accommodated my crazy schedule! Definitely would stay here again!
Karen
2016-09-23T00:00:00Z
Paul was out of town when we visited so Charles was our host. He was very welcoming and took the time to explain the rules and show us the house. Our bedroom was very clean and the bed was exceptionally comfortable. The private bathroom was well stocked. The two dogs are very friendly. It was a very pleasant stay!
Noah
2016-06-20T00:00:00Z
Great place and warm allowing me to be! Great bed! Very very nice! Will stay again if I'm back there!
Steven
2016-09-25T00:00:00Z
Very clean house, perfect location, easy to come/go as I needed to! This was a great stay and would definitely stay again.
Kyt
2016-09-16T00:00:00Z
Was very lovely. They let me in. I found everything as described as shown. Thanks guys :)
Jonathan
2016-09-28T00:00:00Z
Charles and Paul are just lovely! The perfect home and perfect hosts. Rooms are very very very private for a shared home. I absolutely love my stays here.
Sena
2016-08-12T00:00:00Z
I greatly appreciated my stay at Charles and Paul's. They were very accommodating to my needing to push back my arrival time late in the evening which I was very grateful for given my long and stressful day. The keypad entry allowed me to arrive late the following evenings from the nearby workshop I was attending. The room and bath are lovely, private, and very comfortable. Congrats to them on creating such a beautiful home.
Michelle
2016-08-29T00:00:00Z
Sadly, Charles and Paul did not make an appearance during my stay this time. However, the room with attached bathroom was clean as ever. The bed was comfy and I slept well. I am grateful that I could stay with Charles and Paul. I highly recommend their Airbnb!
Karen
2016-10-21T00:00:00Z
プレーンフィールド, ニュージャージー州, アメリカ
Tranquility and serenity await you at this stunning 14-room, 7,538 sqft Colonial nestled on 2.5 private acres. Six enormous bedrooms each contain their own private full bathroom and walk-in closet. The gourmet kitchen boasts custom cherry cabinetry, a breakfast bar with a gorgeous poolside view, granite countertops and stainless steel appliances. The lower level includes a recreation room with a pool table, hockey game, poker table, dart board, massage chair, wine cellar and a sauna.
You'll get a glimpse of the home's grandeur from the circular driveway. Once inside, you'll appreciate the fine attention to detail from top to bottom. Built in 1954 and renovated to perfection, the spacious rooms offer gleaming hardwood floors, crown and decorative moldings, arched doorways, and six-panel interior doors. The elegant formal living room with its gas fireplace offers a set of French doors that lead to the large Family Room, surrounded by windows that bring the beauty of the outside in. A second fireplace is found in the handsome library, which also features built-in bookcases. A floor-to-ceiling bow window in the formal dining room looks out on the magical backyard. This home is built for entertaining. Each room flows gracefully into the next. Your family and friends can enjoy hours of excitement playing a variety of available board games. The house also contains a pool table, an air hockey game, a foosball table, a poker/card table, a high performance stereo system, and even a strobe light to get the party started! When party time is over, there are plenty of options for relaxation including: near any of the 3 fireplaces, sitting on the back patio, getting a massage in the massage chair, or having a steam in the 2-person sauna. There is also an in-ground pool with a built-in hot tub and waterfall in the backyard. These are available for rentals on May 1st and later.
Set at the end of a quiet cul-de-sac, the house is barely visible from the street, offering the seclusion you desire; yet the neighborhood provides easy access to major thoroughfares and public transportation. The closest NJ Transit train stations (with services to NYC, Newark Airport, etc.) are within 2-5 miles (Fanwood Station, Netherwood Station, Westfield Station - which are all on the NJ Transit Raritan Line).
Great place for a big family gathering. You can enjoy the family time and also get back to your private rooms. The entire family was motivated to pick a place like this for annual vacations.
Vamsi
2017-03-30T00:00:00Z
Words cant begin to describe how amazing the stay was with Frank. His home was extremely clean and he was very thorough. A real professional. The value was well worth it!! Anyone who has the honor to stay with Frank will be nothing but extremely happy!! We asked a simple question of whether or not he has a tea kettle, Frank replied with a sorry and then we thought that was the end of it. No big deal at all right? Well to Frank this was unacceptable. He literally went out while we were gone and bought a teapot and a variety of excellent teas to go with it. If that's not true dedication I don't know what is. To make it better, we went through a blizzard and he actually came over and shoveled the whole driveway and sidewalk for us. He would respond to texts with incredible speed. Always answered his phone. He even took the time to actually type up a list of all the popular restaurants nearby that he frequents with his family. He even suggested places to buy really affordable second hand sleds and great sledding hills in the area when an unexpected blizzard threatened to ruin our vacation. To be honest i had a bad experience my first time using airbnb but after incredible customer service from the great folks at airbnb and with amazing people like Frank who really do care our trip was once in a lifetime. It was the first real family vacation ever. I'm pretty sure this will be hard to top. Thank you especially Frank!!!!!!!
Kevin
2017-03-15T00:00:00Z
It's very big house and nice place to hangout with your family.
Uday
2017-03-26T00:00:00Z
部屋タイプ
まるまる貸切
---
建物タイプ
一軒家
---
定員
15
---
寝室
Scotch Plains, ニュージャージー州, アメリカ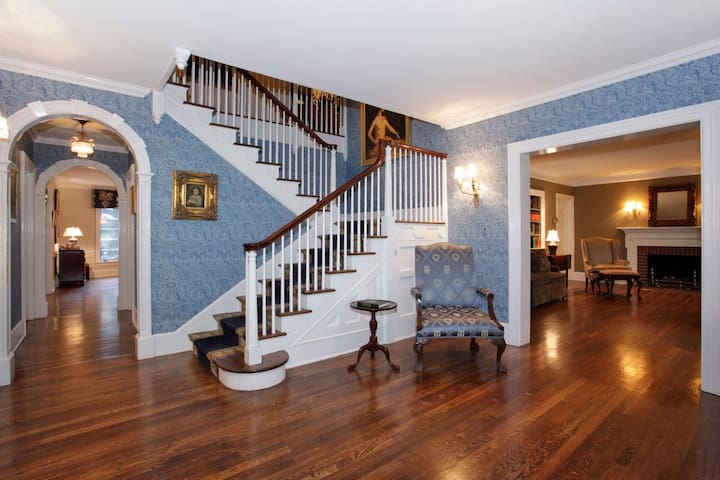 The house is close to parks, art and culture, Rutgers University, restaurants and dining. You'll love my place because of the people, the ambiance and its central location. The space is good for couples, solo adventurers, and business travelers.
Guest will be staying in a 110 year old mansion. House is unique and has amazing and unique architectural details. With that being said, please realize that the stairs are squeaky when going up to the room. House has pets. Three dogs and three parrots. Dogs are friendly, but we understand that some guests may not feel comfortable around dogs, so they will NOT be lose when guest is around.
Great and quiet Van Wyck Brooks Historical District. Guests can literally take a walking tour of the neighborhood. Architectural details galore. 5 minutes walking distance from county park with famous Shakespeare Garden.
Good place
Long
2016-08-04T00:00:00Z
We were happily greeted. It was the end of a long day and we felt welcomed, the room was spacious and the bed soft and comfortable. Thanks would gladly stay again. Also this was my first AirBnB experience!
Reginald
2016-10-09T00:00:00Z
A good place to stay
Julio
2017-01-03T00:00:00Z
Welcomed us at the front door
B Terhune
2016-11-01T00:00:00Z
Beautiful Victorian home. Clean comfortable stay
Andrew
2016-09-04T00:00:00Z
My stay was very pleasant. My hosts were gracious and made me feel at home. An excellent experience. I'd recommend this location to anyone.
Kevin
2016-10-31T00:00:00Z
Nice house, very helpful hosts. I would like to come back.
viktoria
2017-03-13T00:00:00Z
Great place to stay, nice house and friendly hosts
Jamie
2017-03-06T00:00:00Z
プレーンフィールド, ニュージャージー州, アメリカ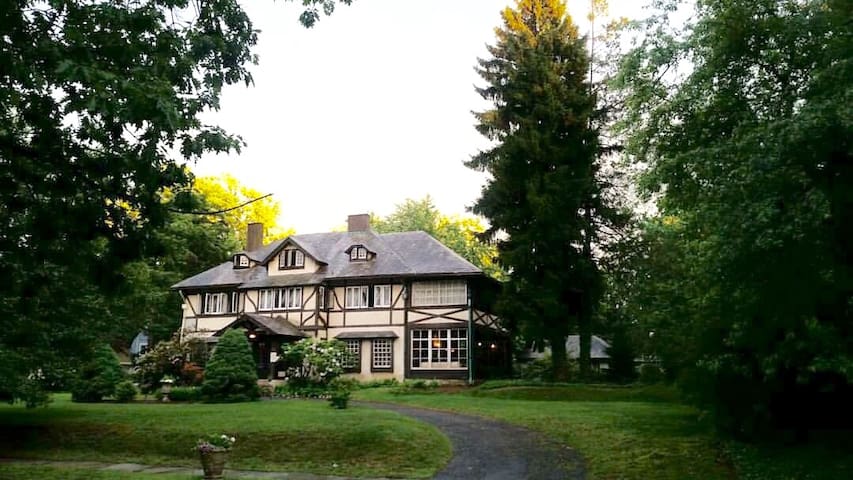 Room located in amazing period historic mansion. It is walking distance to the train station to NYC. Located in Crescent area historic district also the oldest historic district in town. Home was built for the Goddard family and daughter married the first Spanish Opera singer. Period details abound.
Step back in time to this grand Victorian. This is an apartment on the first floor which boost two private porches and a shared patio in the back yard. This two bedroom one bathroom apartment has been restored with colors of the time period and furnishings to complement it. Walking distance to the train to NYC. Additional bedroom available if needed for additional price.
The architecture is one of its own and comprised of many different styles such as italianates, second empires, mansard and many more. A majority of the homes were designed and built by the first mayor of Plainfield, Job Male. This is a very diverse area and gay friendly area as well.
This is an amazing house that is being brought back to its full glory. It has a bit to go before it is done. The location is great and provides a quiet eacape from the rush of the area. The hosts were very flexible with our arrival and provided what we needed.
Stephen
2017-04-08T00:00:00Z
Great stay. Very friendly and accommodating host. Lovely home in a nice quiet location.
Christian
2017-01-01T00:00:00Z
Great stay for a business trip. The host Brian is beyond fabulous. Anything you need for your stay, he will provide.
Sena
2017-01-12T00:00:00Z
The most charming home! Beautiful two bedroom flat with one large bathroom and fully furnished. The hosts are fabulous. One block to transit. Easy on street parking. Quiet yet close to stores and restaurants.
Sena
2017-01-19T00:00:00Z
Brian was a very accommodating host. He was available to us at all hours. He was very warm and welcoming when we first met and gave us great summary of the area. Rich was also great with showing us how to use the fireplace. The house was beautiful. We definitely would recommend this place to other travelers and would stay again.
Ronald
2017-02-13T00:00:00Z
The host canceled this reservation the day before arrival. This is an automated posting.
Kelley
2016-09-23T00:00:00Z
The host canceled this reservation 10 days before arrival. This is an automated posting.
Frances
2016-09-20T00:00:00Z
プレーンフィールド, ニュージャージー州, アメリカ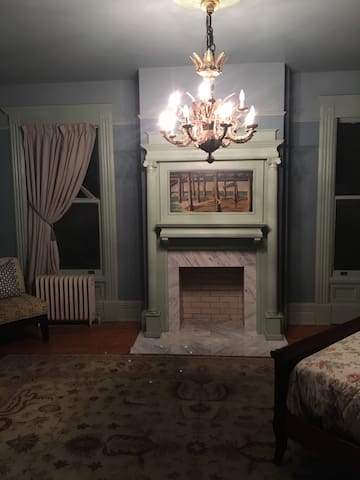 Walk to Rutgers Busch,Livingston, UMDNJ, Ericsson, Rutgers football or basketball arenas. NYC is one hour by train, close all major highways Tourists, foreigners, students , post-docs welcome. Bicycle available. Room has desk and suitable for studying. Laundry detergent provided. Kitchen available. TV in room.
One bedroom with attached full bathroom. One twin size bed with another pullout bed underneath it. Dresser. TV. Lots of closet space. Building is a two bedroom townhouse built in 1984. The bedrooms are on the second floor. Kitchen is available for guests as is laundry and living/dining room.
walk rutgers,quiet, nice biking to raritan river,safe
It was a great stay. it was very nice to talk and have a beer with him.
Alex
2017-03-02T00:00:00Z
Michael is a perfect host. The location is so good and no problem to walk to the Bisch campus, and Michael rents you a bicycle if you want.
Hanhim
2017-02-02T00:00:00Z
I had a great stay at Michael's place. The place is very quiet with ample of parking. It is convenient to shopping, nightlife and restaurants. The room is good size with a comfy bed.
Waqar
2016-10-31T00:00:00Z
great host.
Yunbo
2016-09-29T00:00:00Z
Clean and peaceful neighborhood, the host is kind and frendly. Facilites of the bedroom is well equipped with its own private bathroom, air conditioning, king size bed, enough wardrobe, desk and big screen TV. The location is in the shortest way to Bush campus of Rutgers university, it takes about 10 minutes by walking. This room is highly recommended.
Hyosoo
2016-07-16T00:00:00Z
Bargin, get what you pay for.
Steven
2016-08-26T00:00:00Z
Michael is a great host. He is pretty chilled out and even went out of his way to help me with getting some stuff on the first day. I wish I could've extended if not for a prior booking.
Nanda
2016-07-22T00:00:00Z
Really good Michael is a very kind and nice hoster. room is big and clean and has own bathroom
JiaLin
2016-11-09T00:00:00Z
ピスカタウェイ・タウンシップ, ニュージャージー州, アメリカ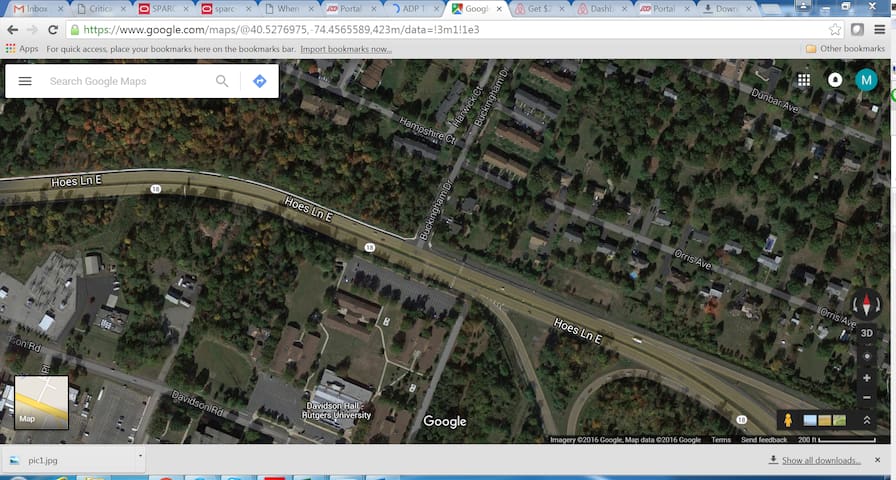 Our home is nestled on a wooded lot located near a golf course and lake. It's conveniently situated 5 minutes from super markets, shops, a 20 minutes drive to three different malls; only an hour from New York by train, and within 3 miles from Edison train station. Home offers three bedrooms; a private queen suite with bathroom, a master bedroom with queen and attached bath, and bedroom + full sized bed The common spaces: living room with a wood burning fireplace and large kitchen for your use.
This is a great space that is private, quiet and conveniently located to restaurants, theater, and transit. It is also close to colleges and a great home that feels like a retreat.
Quiet forested neighborhood, very conveniently located.
Nice home. Comfortable rooms. We easily slept our family in the rooms provided with ample space for our suitcases and hanging clothes. A sweet note was left welcoming our children to their room that immediately won my daughter's heart.
Debbie
2016-08-06T00:00:00Z
A lovely large home to accommodate families. We never met our host and was looking forward to that. It was close to where we needed to be. Elyana confirmed with us the distance which was helpful. Please read house rules carefully before booking. If the house rules change I would definitely stay again.
Candy and Freddie
2017-02-07T00:00:00Z
A nice home with comfortable rooms, Elayna's place is a great place to stay near Rutgers University/Robert Wood Johnson Medical School.
Manav
2016-12-02T00:00:00Z
Nice host and nice rooms. Elayna gives us more convenience,we still want to stay longer~
王
2016-08-31T00:00:00Z
Elayna is a great host! Spacious, comfortable room in a safe, convenient location, her home is a welcoming place to stay.
Manav
2016-09-10T00:00:00Z
Elayna's house was more than we could even ask for. I've stayed in quite a few airbnb's now and this one takes the cake! Not only is the house absolutely gorgeous, comfortable and spacious it is also in a great location (nice, quiet suburban neighborhood). 5 friends and I stayed here to attend a Rutgers football game. The house was only an 8 minute drive from the Campus as well as the train stations, bars and restaurants. This house is very clean and organized. Elayna left a packet for us by the door letting us know where everything was and everything we needed to know. My only regret is that we did not have a chance to meet her. I recommend this listing to anyone looking to stay in this area. 5 stars!
Shanel
2016-11-06T00:00:00Z
Had a wonderful time at Elayna's. Her home was clean, lovely and relaxing with plenty of space for my family of 4. Though the owners live in the house as well, they remained in a separate wing and we were afforded maximum privacy. Would absolutely recommended to my family and friends.
Katelyn
2017-01-02T00:00:00Z
ピスカタウェイ・タウンシップ, ニュージャージー州, アメリカ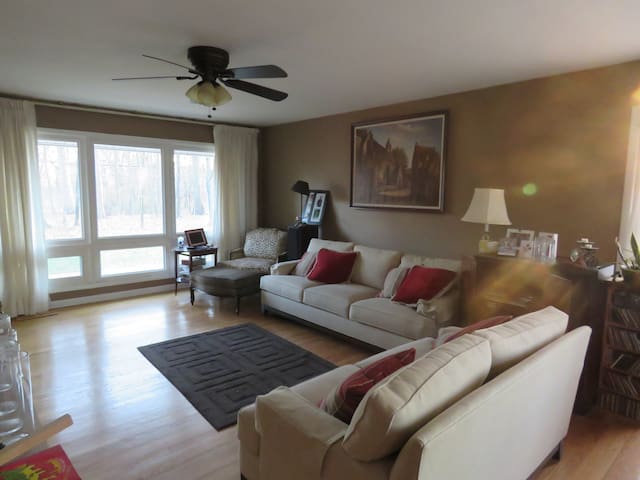 Near Busch and livingston campus, suitable for people looking for rent nearby. Share a bathroom and kitchen with me and share washing machine and dryer with other roommates. 1.5miles from Walmart and Shop rite, Asian market and Lowes. 10 minutes drive to Edison station,H mart.
ピスカタウェイ・タウンシップ, ニュージャージー州, アメリカ
Nestled in the heart of New Jersey, 30 miles away from NYC...
"Convenient location and very clean, comfortable bedroom and house. Soft carpeting throughout and big modern kitchen. The size of the place is huge really nice to walk in and feel that space. With fresh hot coffee every morning. Massive bedroom with a lounge as well as comfy queen bed, nice and dark with the shades drawn but bright an airy with them open or the lights on. Fresh towels provided and bathroom is ideal - very refreshing. The temperature of the house is perfect with AC throughout. Nice street with big established trees and yards. Parking is a breeze and access to the main roads and train station is easy. One train into the city is fast and easy from Netherwood station - less than 5 min drive away." Credit to Joel for nice description
Ralph was a great host during our stay. The place is big and spacious, also very quiet yielding a great nights sleep. Not to mention the comfy bed and pillow. He was also very accommodating by providing some beverages in the morning and opened his clean kitchen to us. 6 stars for Ralph
Andre
2015-09-12T00:00:00Z
Es un excelente lugar, muy bien ubicado, espacioso y limpio, Ralph es un excelente anfitrión, y muy amable. Recomiendo esta opción a todas las personas que quieran visitar NJ, a tan solo 19 min del aeropuerto internacional Newark!
Jersson
2016-12-16T00:00:00Z
Great place in a great location. Clean, comfortable and quiet
Mark
2017-02-24T00:00:00Z
Ralph's place was very comfortable and accommodating. I appreciated the fresh coffee every morning!
Micah
2017-02-05T00:00:00Z
Great! Comfortable and very clean. August app for entry is excellent. Friendly, but still allowed me to choose to keep to myself. Would definitely recommend.
Rebecca
2017-01-16T00:00:00Z
Good people. Did not have any issues. Mattress is good but not something I am used to. I would definitely go back. In fact I was planning to make another reservation next week but the place was not available.
Praveen
2017-01-13T00:00:00Z
Best Airbnb house in New Jersey, great host, definitely recommend!
Jamie
2016-12-21T00:00:00Z
It's a quiet neighbourhood. Ralph is very kind and the room is pretty comfortable. We enjoy the stay very much.
Chuyi
2015-05-29T00:00:00Z
North Plainfield, ニュージャージー州, アメリカ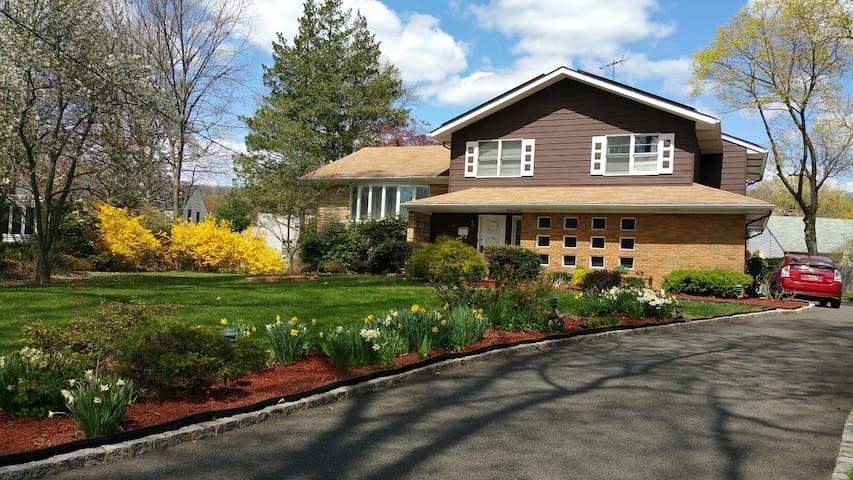 I am renting out a bright sunny cozy bedroom in my 2BR townhome in Somerset, NJ. It is less than 5 miles from New Brunswick train station where you can catch a direct train to NYC. My home isclosetoto shops and restaurants and very close to the I-287 exit
Very very safe neighborhood at an unbeatable price. Private sunny bedroom with a queen bed and a cupboard space. The bathroom is mostly private except if I have my private guests( which is very rare) Feel free to use the kitchen if you would like to cook but please clean up after you are done. Quick note: I am happy to host during the weekdays but please check with me before you book the weekend as I am sometimes not in town.
Very safe and central location. Close to both the quaint neighborhood of Metuchen full of bars and restaurants and coffee shops and also Edison with a lot of Ethnic restaurants/shopping. It is also close to the New Brunswick night life.
Sowmya was a great host. She was very helpful right from the start with good communication and some great suggestions for places to eat and things to do in the local area. The apartment was very quiet and spacious and the location is great. Would definitely recommend Sowmya's place to stay.
Stefan
2015-04-16T00:00:00Z
Sowmya is a very accepting and wonderful host. Her accommodations are simple and reflect the cost of the stay. Exactly what I expected and wanted.
Dane
2015-06-17T00:00:00Z
Sowmya was a good host. The neighborhood was safe and easy to find parking in the community late at night.
Rohin
2015-06-26T00:00:00Z
Nice and clean room
Ahtshamullah
2016-12-03T00:00:00Z
Sowmya was a great host. Had a nice and pleasant stay. The room was clean, quiet and cozy. Would definitely prefer to stay in future.
Srikiran
2016-09-09T00:00:00Z
Very quiet and comfortable place to stay! Sowmya is very accommodating and friendly. Great value!
Ted
2017-01-13T00:00:00Z
Sowmya was gracious and delightful, I felt at home and very welcomed. Her place was quiet and very comfortable - a definite home away from home, thank you so much Sowmya!
Solomon
2016-06-30T00:00:00Z
The host canceled this reservation the day before arrival. This is an automated posting.
malachy
2015-06-07T00:00:00Z
サマセット, ニュージャージー州, アメリカ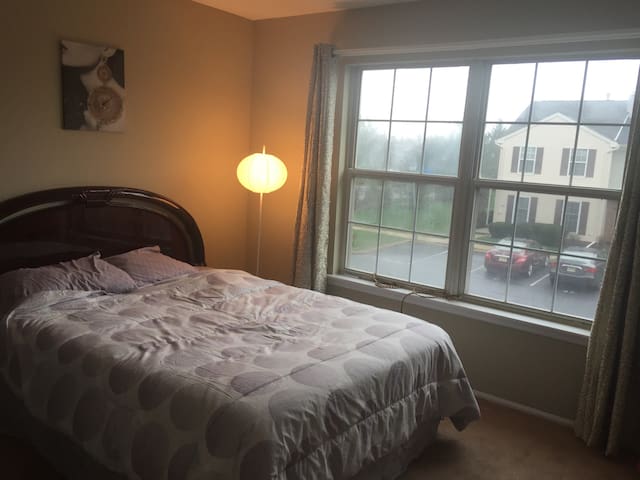 My place is close to family-friendly activities and nightlife. You'll love my place because of the neighborhood and the ambiance. My place is good for couples, solo adventurers, business travelers, families (with kids), and furry friends (pets).
Bound Brook, ニュージャージー州, アメリカ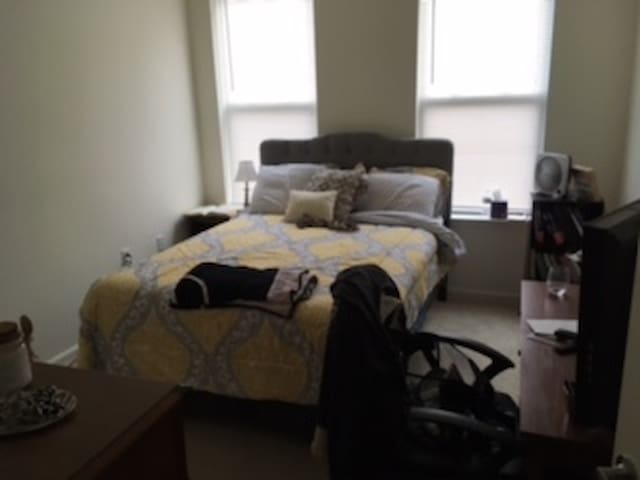 Fully furnished luxurious condo in gated community. Sofa, dining table, TV, kitchen with utensils, laundry in unit. Live in comfort of home instead of hotel/motel. A perfect place for some one on short term project at Citi corp or Verizon in Warren.
Hemant was there to great me and show me around when I arrived. The place was clean and well laid out. I felt at home. Thank you for that! The outdoor parking could not be any closer. For most people, the bed is probably perfect. It's memory foam. For me, the floor was a little cold, even with sock, but it's probably fine for most people as I get cold easily. The only big downside for me was completely out of Hemants hands. My AT&T phone service ranged from 1-3 bars and there was currently no wifi at the house. But if that's not a problem for you, you will be very happy at this place.
Adam
2016-01-11T00:00:00Z
The place was very, very nice and clean. Hemant took the time to show us around when we got there and answered all questions. It's a good place and a nice neighborhood. Would stay again.
Jen and Vic
2016-01-04T00:00:00Z
部屋タイプ
まるまる貸切
---
建物タイプ
コンドミニアム
---
定員
2
---
寝室
ウォレン, ニュージャージー州, アメリカ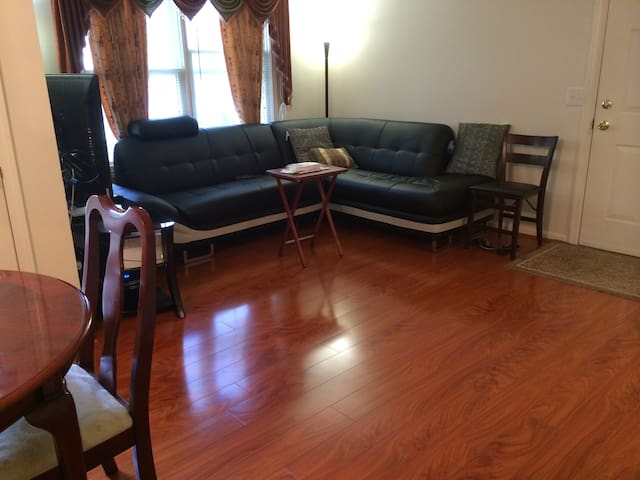 Provide wifi and other stuffs. Environment is good.
Feel very comfortable to live in this house. Ping is very hospitable.
Siyu
2016-04-24T00:00:00Z
部屋タイプ
シェアルーム
---
建物タイプ
アパート
---
定員
1
---
寝室
ピスカタウェイ・タウンシップ, ニュージャージー州, アメリカ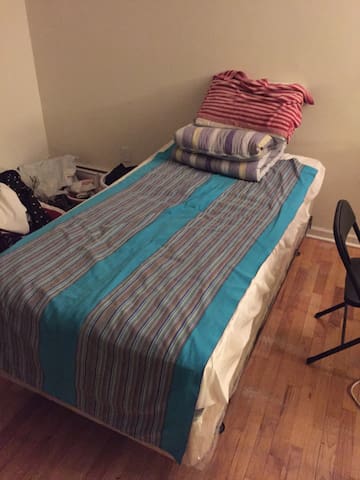 Dunellen - Airbnb
:
平均星

4.76

つ/

5

つ星・ゲストレビュー

281

件