A beautiful place to unwind and relax...... (please note that during the summer months, we prefer to rent by the week)
私たちの素敵な古典的な1930年代のビーチコテージは美しく、光と清潔でリラックスするのに素晴らしい場所です。ロングアイランド湾へのビューが素晴らしいです。砂とサーフィンは、フロントドアから出て右です! コテージは快適なヴィンテージでシンプルな家具と一緒に取り付け、全体の木の床を有しています。キッチンにはサブゼロ冷蔵庫、Gaggenauのクックトップ、およびミーレオーブン、食器洗浄機などの最高級の電化製品を持っています。コテージは2ベッドルームとオープンキッチンと広いダイニングとリビングルームで構成される広々としたリビングエリアがあります。 2ベッドルームはフルサイズのベッドを持っています。リビングエリアの静かな一角にあるエクストラロングツインデイベッド、夜は余分な宿泊でもあります。バスルームはタイル張りのシャワー室、爪フィートの浴槽、石灰岩の床を持っています。右フロントドアの外のデッキには、太陽と美しい景色をリラックスして楽しむために追加のスペースを提供します。 ウォーキングやサイクリングが好きな過去の時間です。セーリング、ウィンドサーフィン、ゴルフ、釣り、バードウォッチングは、他の人気のアクティビティです。アイスクリームや家族の食事のために、ちょうど道の下Marnickの、由緒ある海辺の食堂への旅行をお見逃しないようにしてください。 アメニティには、無線インターネット、ケーブルテレビ、洗濯機/乾燥機、食器洗い機、およびガスのグリルを含みます。 One百パーセントの綿のリネンとタオルが含まれています。 コテージは、州間のI-95のオフわずか数分の場所に位置し、スタンフォードからニューヘイブンへ素早くアクセスできます。ストラトフォード、ニューヨーク、スタンフォードにブリッジポート、ニューヘイブンからローカル列車のサービスは簡単にアクセス可能です。 注1:夏の間、私たちは週によって借りすることを好みます。 注2:コテージで提供する上で何があるか確認するために、設備のセクションをよくお読みください。あなたは夏の間は予約に興味がある場合は特に、私たちはエアコンを持っていないことに注意してください。
Nancys beach cottage is beautiful; the interior is light and tastefully decorated. The neighborhood is nice, quiet and safe with only a few tourists. The location of the house is nothing less than fantastic directly on the beach with a panoramic view to the sea. You need a car to get around and from here there is easy acces to New Haven (Yale) and the beautiful "back yard" of Connecticut. The beach is private and only few people used it which was nice, but it is not too well kept and there are lots of pebbles and the water is not clear. Our two youngest children enjoyed swimming every day (with shoes on), but our oldest daugher didn't want to use the sea because of the conditions of the beach and water. Nancy was very nice and responsive and we all enjoyed our week in her beautiful house :-)
Karin
2014-08-03T00:00:00Z
Nancy was really very helpful and extremely prompt in answering questions. The check-in/out instructions were very detailed and helpful. The house and the beach are amazing. We did arrive in the middle of a heat-wave and the lack of AC was a challenge with two young kids, but that was out of the ordinary, any other week and it would have not been an issue at all. We would definitely come back since the beach is perfect for our family with young children right now.
Vishal
2016-07-31T00:00:00Z
Nancy made my family feel very much at home. Her house was as described. Beautifully designed in a rustic industrial style. The house was clean and free of clutter. The views over the Long Island sound were magnificent. Her home is so convenient to get to for a relaxing weekend as it is a 10 minute drive after getting off the Port Jeff -Bridgeport ferry. So for any long Islander--forget the NYC traffic and go to Nancy's - you will not be disappointed.
Darryl & Alice
2015-05-27T00:00:00Z
Beautiful experience as always.
Nastassia
2014-10-28T00:00:00Z
We had a great (EMAIL HIDDEN)munication with Nancy was very easy and checking in and out was perfect. The cottage is right on the beach which is absolutely (URL HIDDEN) is comfortable, beautifully decorated and it has a lot of kitchen basics ( olive oil, sugar etc ) and cookware . We also really enjoyed finding board games, books and great lego box for our 5 years old boys !
Leslie&Marion
2016-07-20T00:00:00Z
We loved our stay here! It was everything we were looking for and expecting from the listing. The location is amazing, truly walk out to the water. The lack of air-conditioning was fine for our breezy weekend, and the rest of the amenities were great. There is a wonderful bathroom with a standing shower and separate very large tub (A+) and washer/dryer. The kitchen has everything you need and there is a grill. The the rest of the cottage is well decorated and comfy, which was fantastic for our planned lazy, stay-in weekend. Our host was very communicative and flexible!
Corrina
2016-09-06T00:00:00Z
This place is absolutely charming! We loved to be on the beach, in this very open space, full of light and of the noises of the birds. The place is also very well decorated, full of taste. We cannot wait to be able to come back!
karine
2016-04-04T00:00:00Z
The cottage is as beautiful as the photos! The views were spectacular. This was a really cozy place to get away from the city—plenty of room for a small family.
Daniel
2016-10-16T00:00:00Z
ストラトフォード, コネチカット州, アメリカ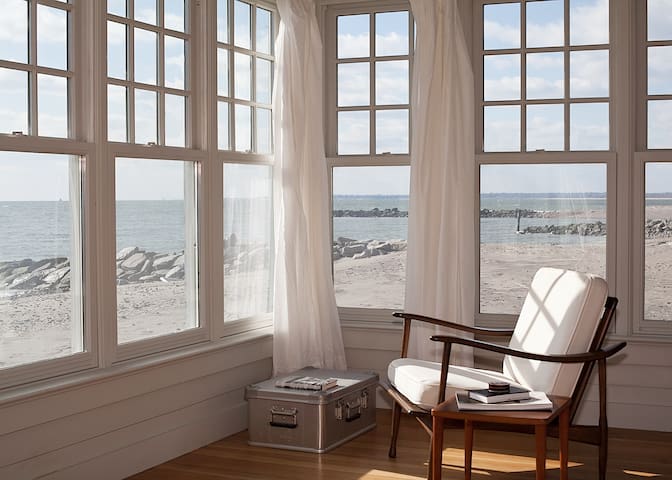 普通のステップ、およびスタンフォードハーバーの美しいヨットに滞在!当社の1966ピアソンは薪暖炉、熱と交流を持つ魅力的な旧ヨット、およびスタンフォードのウォーターフロントのレストランの2の右隣にあります!メトロノース鉄道駅から1/2マイル、アクセス可能なタクシー。
**As featured in CT News: Unique Places to Stay in CT** Featured on Boston's Biggest News Page (Airbnb unfortunately won't allow me to post links) Step out of the ordinary, and stay on a lovely sailboat in Stamford Harbor! Our 1966 Pearson is a charming old yacht, with a wood burning fireplace, cherry interior, and a slip right next to two of Stamford's waterfront restaurants and walking distance to Stamford's own Half Full Brewery! Walk down the gangway and step aboard the Extra Dry: a 1966 Pearson Alberg 35 (a 35 foot sailboat!). Accommodations for two in the forward vee-berth, or two in the main cabin, make for a cozy and charming stay! She is well-appointed, with a wood-burning stove, galley and grill, and A/C unit for use in the summer, and heating unit for the fall/winter. Enjoy board games around the cabin table, relax in our hammock, and enjoy the harbor night life! As summer ends and fall is in the air, stay cozy and warm on board using our electric heating system, or relax around the wood-burning stove with a good book and a glass of wine. The marina has showers and bathrooms, which you will also have access to. There are two great restaurants at the marina: The Crab Shell, and Prime Steakhouse. Taxi service to downtown Stamford is readily available. Across the harbor (accessible via the free water taxi on summer weekends) are three great restaurant/bars: Paloma, World Of Beer, and Sign of the Whale. Guests have full, private access to the boat (on the slip nonly...guests are not allowed to take the boat out on the water, as per AirBNB terms of service. Note: "captained charters" are available to guests upon request. We will take you sailing around Long Island Sound, show you the ropes, anchor near the lighthouse for some swimming, and grill up delicious food! Please mention any interest in a charter when making your booking and we will discuss options. Drew is a USCG Certified Master Captain. Charters are an additional fee and are subject to the owners' availability and discretion) The small galley inside has a toaster,a coffee maker, and hot water kettle. The outdoor gas grill is available year-round. Our "neighborhood" is the harbor! Lovely waterfront walks, a fishing pier, restaurants and nightlife. Walking distance to the Half Full Brewery, which offers tours and tastings. Live music on the weekends at the Crab Shell...only steps from the dock! There is taxi service to downtown Stamford readily available. Within Stamford there is a free trolley that will take you to various parts of town. There is free parking at the marina if you are driving. We are five minutes from the Stamford train station on the Metro-North line, which is a 45-minute express train from Grand Central. On weekends in the summer there is a free water taxi that will bring you across the harbor to the new Harbor Point development. There is a takeout breakfast/lunch spot called "Henri's" in the park by the fountain, as well as "World Of Beer", which has 500 craft beers and pub fare. "Paloma" offers upscale Mexican waterfront dining, and "Sign of the Whale" is Stamford's only roof-top bar! All are easily accessible by kayak or water taxi from the boat. We've had two photo shoots and two music videos shot on board! AirBNB will not let me post the link to the video: (URL HIDDEN) (SENSITIVE CONTENTS HIDDEN) but if you search for "Rose Gold Dirty Sushi" on You tube you will see their video and a bit of the boat!
素敵なウォーターフロントは、釣り桟橋、レストラン、ナイトライフを歩きます。カニ殻で週末にライブ音楽が...唯一のドックからのステップ! (注:夏の週末に音楽が夜中まで行くことができます)。
Drew is an incredibly accommodating guy and his boat is charming and romantic. The harbor is lovely, the people friendly and the experience is unique. I look forward to returning. Thank you for a wonderful weekend.
Cara
2014-10-14T00:00:00Z
Everything was organized and very nice! Drew was super welcoming.
Leslie
2015-06-25T00:00:00Z
Great experience and awesome food across the way!
Adrian
2015-05-26T00:00:00Z
Drew was very quick to respond when contacting him about the listing/questions, etc. and very accommodating. He made us feel welcomed and the stay on the boat was a great experience! We also paid to charter the sailboat the next day which was a great adventure to our trip :-)
Natasha
2015-03-30T00:00:00Z
Drew was so helpful and made sure he was available for any questions. The boat was awesome and such a fun experience. I would definitely recommend staying here! We had an awesome time!
Katie
2015-05-20T00:00:00Z
The boat was a lot of fun to stay in! A great way to relax. We enjoyed spending the day in the hammock and playing board games. Restaurants on the dock are nice and across the water and further into town had some more options. Drew was really helpful and easy to contact throughout the trip. Highly recommended!
Camilla
2016-09-02T00:00:00Z
It was a great experience. Drew gave thorough instructions on getting to the boat and how everything worked on the boat. Although I didn't need to reach out because the instructions were so clear he made me feel very comfortable to reach out if I needed to. I loved my stay on the boat. By no means was it "five star hotel" but that was not my expectation. It was extremely relaxing. I wish I could've stayed longer but I def am hoping to make another visit sometime soon. Thanks Drew!
Elizabeth
2016-10-14T00:00:00Z
This was the most amazing BnB experience! Drew was out of town so unfortunately we did not get to meet, but he was available to answer any questions we had. This was also my first time sleeping on a boat, and it was all worth it just for that experience. Highly recommended.
Paras
2015-11-17T00:00:00Z
Stamford, コネチカット州, アメリカ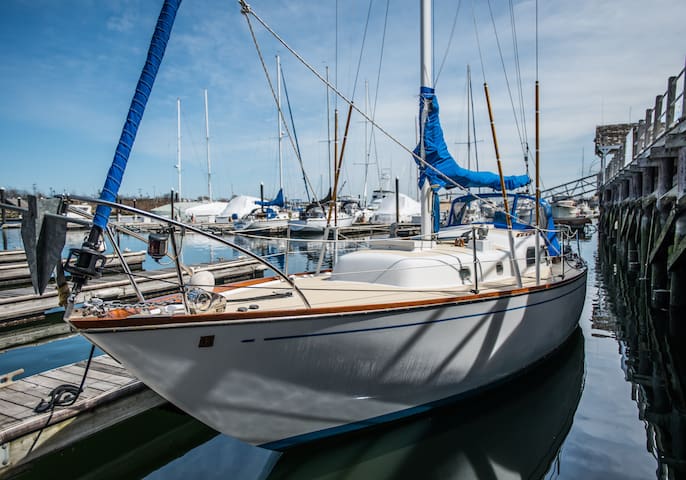 Quaint three bedroom New England castle with expansive grounds and charming views. Please note: as of January 2016, no children under 5 years of age allowed. Thank you!
Our castle was built in 1917 on seven acres by a prosperous Ellington family whose trip to England had inspired the fulfillment of a childhood dream to own a castle. In early 2000, a brilliant artist purchased the castle and dedicated five years to refurbishing and beautifying it. The kitchen is modern with new appliances, the dishwasher having been replaced last year. Downstairs there is a large dining room, a living room with a fireplace, and an inside porch guarded by a medieval knight. Upstairs, each spacious bedroom announces a theme: the jungle room, the Romeo-Juliet room, and an elegant burgundy room with a balcony and bistro set for morning coffee. The grounds offer gardens, a fountain, a gazebo by a pond, and a pergola overlooking another garden with a gargoyle hunched on its pedestal. There is also a trail for leisurely walks up and behind the woods. Points of interest: Bradley Airport, Mark Twain Museum in Hartford, The Bushnell, and The Atheneum Museum are all 20 minutes away by car. Crystal Lake and Shenipsit Lake are less than ten minutes away. Also, 1.5 hours from Boston and 2.5 hours from New York. City.
Great stay! Maria was a fabulous host!
Amanda
2016-12-21T00:00:00Z
Cute place, easy to access - hostess left the key in a lockbox on the back door which made things easy when we arrived. The bedrooms were comfortable. No access to the main tower (both doors were locked), which was disappointing. The old-fashioned claw-foot bath tub was great though! The interior is a mix of styles and is more like an old-fashioned house than a castle, but overall it's a fun place to stay. There's a nice stone-walled parlor in the very front by the stairs which was fun for pictures.
Ross
2014-11-30T00:00:00Z
We absolutely LOVED staying at this adorable castle! I was in town for work, and found the space very inspirational. Maria was a splendid host, and the accommodations are so cozy. The castle is spacious, has three gorgeous bedrooms, and two bathrooms (one with a tub for bubble baths). The castle is in slightly remote area, so that is something to consider. This would be the ideal place for a romantic getaway or an escape from the bustling day to day activities.
Danielle
2016-04-18T00:00:00Z
Such a cute and cozy castle! Six of us came up to Ellington for a relaxing weekend away, and we had a great time! From the comfy couches and the great decor, this place is one of a kind. Maria was great to deal with and answered all our questions. Definitely recommend.
Brett
2015-01-18T00:00:00Z
Maria made our stay magical.
Kaylee
2016-11-07T00:00:00Z
This was an amazingly cool castle but also a cozy living space with great spaces both indoors and outdoors.
Ted
2015-08-16T00:00:00Z
Maria met us at the castle upon our arrival, lovely lovely women. She showed us around her beautiful castle, we enjoyed meeting her! Our stay was wonderful, we enjoyed every nook and cranny of the castle inside and out. The weather was nice so we had a chance to wander around the property which was absolutely beautiful. Would highly recommend the castle to anyone who would like a unique place for a getaway. Fondly, Fred and janet
Janet
2016-09-26T00:00:00Z
Marias' Aborn castle is even more majestic and beautiful than the pictures leave you to believe. I surprised my girlfriend with a Birthday weekend away here, and the reaction from her as we pulled up to the castle made everything worth it. Maria has organized the castle beautifully, we had no trouble finding what we needed. But when we did need help, Maria arranged for someone to be available ASAP. The location is also extremely convenient, we had a lot of fun going to the grocery store less than 10 minutes away and cooking up a storm. and driving out to Ender's State Forest to hike along the waterfalls only 30 minutes away. Maria has a true gem on her hands, I would gladly recommend it to anyone.
Dexter
2015-05-03T00:00:00Z
Ellington, コネチカット州, アメリカ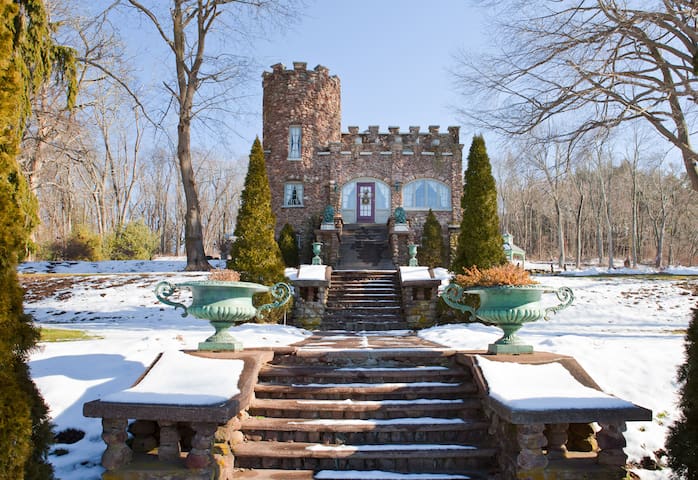 HAPPY SPRING The birds are back; the peepers are peeping; and Spring is in the air. It is a beautiful time of year to visit and we look forward to having you as our guests. This guest house is one of a kind. Beautifully designed and sited at the back of a 3 acre property, the view is spacious and well kept. Stone walls, plantings, and other features make this a truly great place to spend some days and relax.
The guest house is in a private setting surrounded by stunning stone walls and next to a vernal pond. Birds sing; and the owls hoot. Walking distance to a beautiful shell beach, and the beautiful CT coastline. Very close to picturesque Stony Creek and Guilford--historic towns in Connecticut. Great restaurants; Gorgeous oceanside Hammonasset State Park in neighboring Madison, CT--and nature preserve. This guest house is just a few years old and beautifully sited and designed by STUDIOATE; an architectural firm formed by two Yale Architecture graduates. Perfect for a couple or up to 4 people. The guest house has a private bedroom with a King size tempeurpedic bed; high ceilings; Modern Bath with beautiful fixtures and shower; large glass windows and doors. We also provide a pull out sofa with full bedding in the front room that overlooks the pond that will accommodate 2 adults or children for an additional $25 per person. A gorgeous Front Deck overlooks a pond. NOTE: There is no additional fee if you have young children that do not require an extra bed setup. The guest house is equipped with AC/Heat; full bedding; towels; a kitchenette that includes a refrigerator; sink, french press with delicious coffee; hot water pot; microwave; cups, glasses, plates and bowls, and flatware. (There are no cooking facilities in the guest house.) Also Wifi is provided. Short distance to Westwood hiking trails (Land Conservation Trust), shell beach; historic coastline of ct; great restaurants, great shops, antique stores, and museums. Neighborhood is friendly and quiet at night. Easy access from I95. Parking is included.
The neighborhood is beautifully layed out with houses typically on 1-4 acre lots. Very quiet at night and directly off a scenic road that winds through the shores of Connecticut. 1/2 mile from the coastline and beautiful bird watching. Egrets; osprey; blue herons; kingfishers, etc.
Christine's guest house was beautiful, clean, and quiet! She is a very responsive host, and suggested a wonderful morning walk to the beach.
Virginia
2016-12-10T00:00:00Z
The Guest House was just as presented in the photos. Lovely setting, even though in cold December days. Interior was just as pictured, but warmer than the photos make it seem. The bath was particularly well done and I appreciated the simplicity of the interior; and the use of the native landscape to enhance its setting. The use of natural materials on the land was very tastefully done. Driving to the Guest House a little before midnight on Christmas Eve a barn owl flew along side my car, and the sky was filled with stars, it was magical. I need to return in warmer months to experience a different season.
Roberta
2016-12-26T00:00:00Z
Our hosts were great, Greg and Christine were very helpful and had many great suggestions on what to do in the area. The place was modern and the setting serene. Everything we needed was there. I would highly recommend visiting.
Jason
2014-07-14T00:00:00Z
I stayed at Christine's guest house with my husband and our 8-months old son. The surrounding was serene and very quiet, but short drive to restaurants. Greg met to welcome us, and his restaurant suggestions were awesome. Christine checked in with us though the Airbnb app during our stay to make sure if there was anything we needed. The house is beautifully decorated and the amenities were well-thought-out (beach towels, tea pots, snacks, dishes, file with restaurant recommendations & house rules, etc.). Descriptions were accurate. We were comfortable and really enjoyed our stay.
Makiko
2016-07-10T00:00:00Z
The guest house was a lovely place to stay. The setting was gorgeous and private and the house itself was very thoughtfully designed and appointed. The fall foliage was incredible during our short stay and the huge picture windows provided a great view. The coffee, tea and snacks were nice touches as well.
Bryan
2015-10-26T00:00:00Z
We had a wonderful time at Christine and Greg's guest house. It was immaculate and in a gorgeous setting. We'll definitely want to return.
Jenny
2014-06-23T00:00:00Z
We had a lovely weekend in the guest house. Christine is a great host and provided many thoughtful touches. The tranquility, singing frogs, and beautiful stars added to the experience!
Melissa
2015-05-20T00:00:00Z
The guest house was comfortable and well decorated and the surroundings were peaceful and rustic. The nearby town was quaint and Christine was helpful and responsive. We enjoyed going down to the seashore. We hadn't realized that there was no TV but we appreciated the chance to get away and could still use the WiFi.
Joshua
2016-04-20T00:00:00Z
部屋タイプ
まるまる貸切
---
建物タイプ
キャビン
---
定員
4
---
寝室
Guilford, コネチカット州, アメリカ
"Vinola" is charming cabin built in the early 1930's. It underwent a total interior renovation in 2016 and we can't wait to share it with you.
Vinola has one bedroom with a queen bed. The main room has one single bed, a single cot and a queen pull out sofa. The loft has 2 single cots. Full kitchen with stove, oven, refrigerator, and microwave. The bathroom has a toilet and shower. There is no TV. (you won't miss it, we promise!) Vinola has a lovely porch on the front and a fire pit and swing set in the back. There are trails in Pachaug and Arcadia management areas that start at the end of the driveway. The Top 3 questions we get: 1. Do we need to bring firewood? You are welcome to collect deadwood from the forest surrounding the cabin for free. We also provide firewood bundles for $3/bundle. 2. Does the cabin have pots and pans? Yes, the cabin is equipped with everything you need for basic cooking. 3. Does the sauna work? Yes! The sauna is available year round.
This is a small, rural, lakeside community. There is far more activity on the lake in the summer months and it is very quiet in the winter. We have one neighbor on either side of our 7 acre property and both are rarely occupied summer homes.
Great stay! Wish we stayed for more than one night. The cabin was very clean and everything we needed was easy to find. Thanks Angela!
Danielle
2016-10-10T00:00:00Z
Perfect in every way. Highly recommended.
Megan
2016-11-04T00:00:00Z
Our stay at Vinola was amazing! We loved the cabin which had all the basic amenities and easy access to a beautiful lake. Angela, Chris and the entire family were very friendly and inviting and provided us with all the advice and resources needed to have a wonderful vacation. Canoe, paddle board, kayaks, fishing rods, campfire, access to sauna and recommendations for local restaurants and sites were all made available to us. The property is very peaceful and beautiful and truly is a little piece of heaven. We spent ten relaxing days there and are looking forward to returning in the future.
Mukta
2015-09-21T00:00:00Z
We had a great stay! Sauna was awesome, and nice trails nearby. Definitely want to come back!
Jeff
2017-02-26T00:00:00Z
AMAZING! We were blown away by how great the place is!
Yáng
2016-12-11T00:00:00Z
Perfect place for a nature getaway! Angela was very welcoming and we felt like we could have came to her for anything (though we didn't need to because we had everything we needed). Would rebook in an instant.
Kasey
2017-02-12T00:00:00Z
My husband and I (and our little dog) stayed at Angela's cabin this past weekend. Our stay was great. The cabin was clean & comfy and Angela's directions and descriptions were accurate and helpful. She had the sauna ready for us on our first night and it was great. Beach access was pretty, too bad it was too cold to think about going out on the water. Would love to come back and enjoy the cabin in the warm months.
Helena
2017-03-21T00:00:00Z
A beautiful place, just what I was looking for, and so close to the beautiful hiking trails of eerie Pachaug! I would love to return in other seasons.
Marissa
2016-12-13T00:00:00Z
部屋タイプ
まるまる貸切
---
建物タイプ
キャビン
---
定員
8
---
寝室
Voluntown, コネチカット州, アメリカ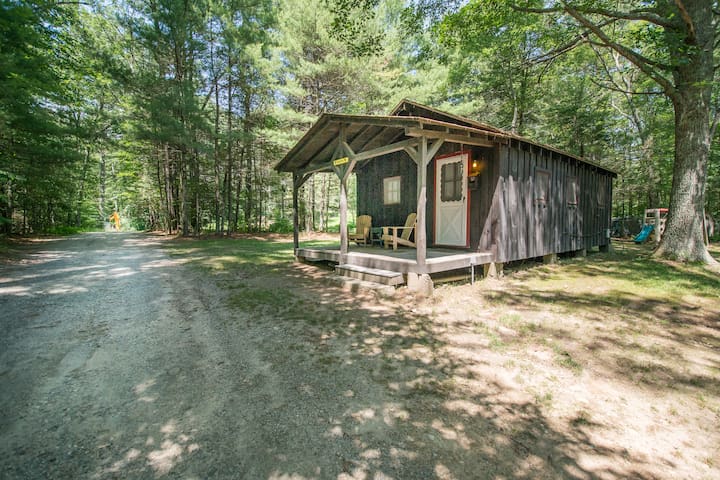 You will be in a two room suite, with private entrance, on a magnificent property with 40 acres of open space and a trout stream. Hike or just relax around the seasonal pool. Close to I84, about 75 minutes from NYC.
Room with private entrance and full bath. The mill, surrounded by 30 acres of open space is only 1.25 hours from NYC. It's a great place for a relaxing getaway. Enjoy the seasonal swimming pool, patio, cable, WiFi internet and close proximity to Fairfield/Litchfield County attractions. As we are in the country, you will need a car. Some guests from NYC take Metro North to Danbury on the New Haven Line or Southeast on the Harlem Line and have Enterprise Car Rental meet them. The mill is well situated for day trips to state parks, museums in Hartford and New Haven and several wineries on the CT Wine Trail. Sorry, no smoking or pets.
A wonderfull two day stay at Dons lovely place. He is a kind and generous man, sincerely interested in making the stay perfect. Great area, beautiful nature. Nice pool og great rooms. Highly recommended!
Janne
2016-07-11T00:00:00Z
My husband and I had a blissful stay at Don's home. The entire place was beautiful, inside and out, with touches of artistry everywhere. Our room was perfect, the bed truly comfortable, the breakfast coffee & cake delicious, and the views gorgeous. Why would anyone stay at a hotel when you can be here? Don is a warm and gracious host, and his cat Chyna will melt your heart. Nature enthusiasts will love the rambling stream, amazing landscape, rock walls and little patios around Don's property, as well as "Shakespeare's Garden" up the road just a bit. A bit of heaven...!
Patrice
2013-10-28T00:00:00Z
This place is SO magical and Don is so welcoming. He has put in so much work to the place, it was amazing to hear his story and the story behind the mill. So much to explore, my girlfriend and I's only downfall was that we didn't stay longer! Don is a great guy, very down to earth and professional yet friendly. I highly recommend staying here, I also recommend making the trip JUST to stay here (which we might do again!).
Chris
2012-07-29T00:00:00Z
Beautiful property and a beautiful room! Wish we had more time to explore all the property. Our only complaint is that we came too late in the year to be able to sleep with the windows open to enjoy the fresh air.
Michael
2012-11-24T00:00:00Z
We absolutely loved our long weekend at The Mill. Don is a gracious host. Beautiful home and grounds that felt remote yet are close to the interstate. The trail behind The Mill is wonderful, a treat to explore. The area is full of great restaurants and shops too. We would love to return for another relaxing visit.
Laura
2014-07-29T00:00:00Z
Don was a perfect host and set the bar pretty high on our first experience with airbnb. The grounds were absolutely beautiful! In the mornings we would sit and enjoy coffee, scones and banana nut bread, provided by Don, while enjoying the view of the grounds, pool, and could listen to the sounds of the trout stream. Lovely time, would love to go back!
Christal
2015-09-03T00:00:00Z
We stayed for 2 nights in the 200 year old mill. Don was a great host and we enjoyed a relaxing time with very restful nights. Don had thought of everything. From a corkscrew to muffins and fruit were all there. The beautiful surroundings are relaxing completely.
Laura
2013-09-11T00:00:00Z
Perfect spot! Really gorgeous grounds and lovely, private rooms. Dan was a wonderful and welcoming host. It was a terrific week. Thank you so much!
Daisy
2016-07-31T00:00:00Z
ニュータウン, コネチカット州, アメリカ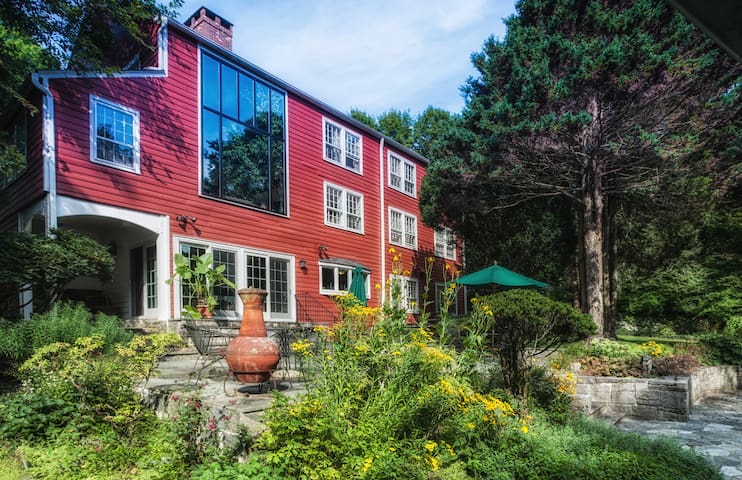 木ですばらしいビクトリア朝の家。覆われた橋の下で運転し、趣のある町を見下ろす丘の上に家を参照してください。苦労して保存され、フランスの鏡、モロッコのランプ、シェーカー家具、ペルシャ絨毯と3階建ての家を飾りました。
ニューヨーク・マガジンで紹介したよう!木の真ん中に小さな丘の上に3階の上にたたずむ右カバードブリッジ過去の歴史西コーンウォールのすばらしい歴史的なビクトリア朝のストリームの前で(約1870)、、、。すべての歴史的な特徴を保持します。チャーム&スタイルの漂わせます。冬の右モホークマウンテン町で夏スキーで右通りの向こう側ファーマーズマーケットと。 家は魅力とスタイルの多くを追加しながら素晴らしい歴史的な感触を保持する素晴らしい家具を持っています。ロマンチックを希望するアーティストやカップルが街から離れて得るためにそれは完璧です。家は右覆わ橋を渡って、ストリームと町を見下ろす3階にあり、レストラン、コーヒーショップ、骨董品、およびフーサトニック川に近接しています。素晴らしい庭園と巨大な石段を持ちます。二階の玄関から、パティオから小川の景色をお楽しみください。 右Housantic川NYCから約2時間に覆われた橋を過ぎ、歴史的西コーンウォールに位置しています。 3階以上のスペースの1400平方フィートで2ベッドルームで快適に2-4人を収容します。 - 2ベッドルーム - ゲストベッドルームがリビングスペースではなく、ドアのためにそれを分離重いリネンカーテンを持って注意してください。 - 1古い爪足のバスタブと独立したトイレ。いいえシャワーません。浴槽は、リネンのカーテンとベッドルームから分離されているのでご注意ください。再びドアなし。また、それは、ベッドルームを介してアクセスされます。 - 巨大な大聖堂の天井の1メインのリビングルーム - 1歴史的なキッチン - 1930年代のストーブが作動していません。キッチンが見つかりました。木製の棚やオリジナルの1890年代、オープン棚と素朴です。私たちは、調理用オーブントースターと誘導ホットプレートを持っています。フルサイズの冷蔵庫。 - 1 - ダイニングルーム、素晴らしいデイベッド - 二階の1大型フロントポーチ、パティオ ペットは保証金とみなされます。喫煙禁止。リネン/タオルが含まれています。洗濯乾燥機。 月20日2013年ニューヨーク・マガジンの記事から 「この3階建ての1870年代リッチフィールド郡ビクトリア朝にでもドライブは絵が完璧です:覆われた橋を通過して、あなたはオーク材の点線の丘の上に腰掛け、葉を通して覗くことを発見します2ベッドルーム、1-銭湯。上から下へのインテリア復元し、モダンな便利さの容易さの前述なしの期間の魅力(出窓、爪フィートの浴槽、露出した梁の天井)に浴することができることを意味システムのオーバーホール、(信頼性の高い配管や電気を受けています)。な装飾が豪華なベルベットの椅子のみすぼらしいシックなミックスで、シェーカーの家具は、完全に東洋の敷物を風化、そしてマイケル・トラップのアンティークショップ(7川Rdの.;隠された(電話番号))のような地元の見物から、ちょうど道路までknickknacks 。フーサトニック川の近くのストリームへの散歩、クリームヒル湖で午後のディップ、カヤックツアーであなたの日を記入してください。」 家は小川の前にある小さな丘の上に、1エーカーに設定されています。約3/5プロパティは、丘の上に樹木が茂っています。森林と水の縁と合わせ、土地の傾斜性質は、プロパティに夏にはプライベート感を与えるが、歩きやすい国の集落のアメニティ(郵便局、レストラン、カフェ、アンティークショップ - 覆われた橋のビュー内のすべて)と。 近所のケント、レイクヴィル、リッチフィールド、グレートバリントン、およびMillertonの歴史的な町です。
西コーンウォールは、屋根付きの橋の上の権利です。そこの農民市場では、朝食、ランチ、またはディナーにムースカフェをさまよう、通りの向こう側で、あなたは、少なくとも5素晴らしい町から車ですぐです。ロトの偉大なスキーの右側町でもキャタマウントとバターで!
This house is as full of character and history as the charming town that surrounds it. Both Larry and Mary were very quick to answer any questions we had. It was the perfect setting to a bucolic weekend getaway. I can't wait to go back!
Rosemary
2012-10-15T00:00:00Z
We had another wonderful stay at Larry's unique home. Restful, beautiful and comfortable, this amazing house is a great place to unwind and entertain as well as we had friends over for a glass of wine one evening. The Ghost House (as locals refer to it) is gorgeous and spare in its decoration, within an easy drive of many locations and an ideal place for a romantic getaway.
Merle
2014-06-09T00:00:00Z
Larry and Mary were great hosts. They answered several questions before our arrival and left some handy information sheets in the house once we were there. The house was as described - vintage chic. We loved hearing the creek run all day and night - very relaxing. The house was very nicely decorated and it really felt like a getaway. Even without AC, in the middle of summer, we did not find it to be hot. I will say that the bathtub is literally just a bathtub, there is no shower. Although that is listed and it does show it in the pics, just a fair warning in case that is not your thing. But we found it to be nice and relaxing. Lots of small towns, hiking, rafting, etc nearby. We enjoyed our stay! A very unique experience!
Tai
2015-07-05T00:00:00Z
Larry's home is even more beautiful in person than in pictures. Every corner of the house was so interesting we were genuinely torn between exploring the beautiful scenery in the town, and spending time inside lapping up our surroundings! We loved the attention to detail and interesting bits and pieces that pop up all over the house.. from a book, to random note or song lyrics, to postcards on the wall, antique pieces, wonderfully placed modern touches, and stunning wooden beams.. every room is a gem. The house, while updated with modern facilities, has been left in its original condition to pristine effect. The house is beautifully located in a picturesque town within walking distance of a great cafe which became our morning staple. For those who love hiking and the outdoors while appreciating art and culture - this home is a perfect find. Larry and Mary also made the airbnb experience so easy and were wonderful hosts! We were left in privacy to enjoy our weekend but both Mary and Larry were easy to contact in case of questions. Lastly, the house was spotlessly clean with thoughtfully placed touches of home! We would love to go back again. Thank you Larry and Mary!
Lucie
2015-10-26T00:00:00Z
The house is everything the other reviewers have said: rustic, charming, and quirky, but it is not for everyone. The most fabulous feature of the house is the living room which is situated on the third floor. When it is not so hot, one could easily spend time curled up on the "almost too comfortable" shabby chic white sofa with a good book and music playing softly in the background. It is a beautifully appointed room and compliments the unique character of the house. The bedroom, situated on the second floor, is terrific once you get used to its odd layout. You can hear the creek babbling, birds chirping and there is a nice cross breeze. It truly feels as though you are camping out in a treehouse with a great bed. The one drawback is it is right next to the train tracks and we were awoken in the middle of night by the loud freight train whistle. Given norther reviewers have mentioned this, however, we assume trains probably do not pass that often and we just got unlucky. On the "not for everyone" side, the clawfoot bathtub hidden behind a curtain off the bedroom lacks even a hand shower. This is challenging since it is the only bathing option in the house. Also the kitchen is basically unusable. The historic oven is rusted so you cannot safely use the oven which means you only have access to the stove top (there was no coffee maker or toaster either). In addition, there is no dining area (inside or out). All of this is fine if you intend to eat out. For us, however, part of the fun of being out of New York City is the ability to grill outside or, at minimum, have a comfortable place to sit outdoors (or even indoors) listening to the creek while reading the paper and having a cup of coffee. As far as the area goes, we LOVE it. We have been here many times because of the incredible state parks, hiking, and kayaking.
Kate
2016-07-04T00:00:00Z
We had such a lovely experience at the Victorian in the trees! I would definitely recommend it to anyone interested in staying in a unique and incredibly charming place. The town is pretty quiet, but we had a great time just cooking and dancing around the house. There are also several state parks around with excellent hiking trails. The fall landscape surrounding the house and the rushing creek in the front yard was gorgeous - an added bonus. My friends and I are already planning our trip back to see what it's like in the spring!
Emily
2012-11-05T00:00:00Z
The house is truly a gem. My partner and I wanted to escape for a few days and get some work done in a quiet, beautiful setting and we picked the perfect place. The house is very unique and decorated with beautiful antiques and shaker furniture. It is rustic yet cozy and is an ideal getaway for a couple (but there is room for others as well!) Mary, the house care taker, is very friendly and available to help with anything. The Wandering Moose Cafe down the street has delicious sandwiches and there are plenty of other awesome restaurants in the area. With a big comfy bed, a stand alone bath tub, plenty of places to lounge and work, the river nearby, hiking trails, and the covered bridge, this house is ideal for unwinding and clearing your head. Would definitely visit again!
Devon
2016-03-24T00:00:00Z
Stayed here over New Year's. The house was incredible; warm and cozy. Beautifully decorated. We hope to make it back again!
Kate
2015-01-03T00:00:00Z
West Cornwall, コネチカット州, アメリカ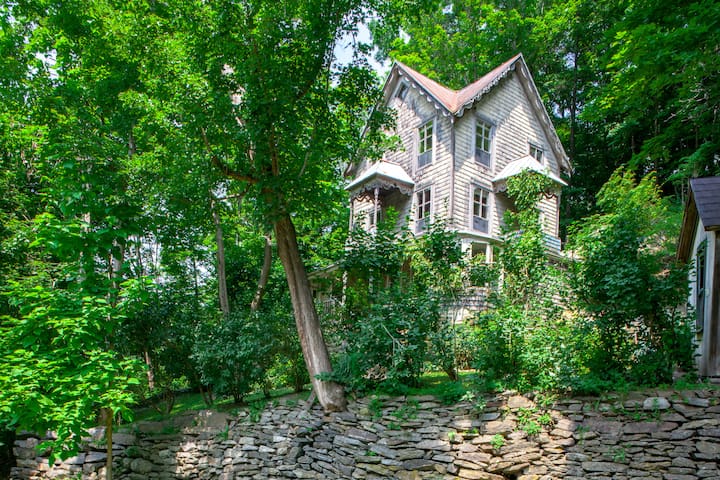 Beautiful, historic home in Westport, CT. Bright and sunny with 9 ft ceilings and screened in porch with lovely sitting area. Sits on 1 acre in a convenient location. Walk to downtown Main Street. Great restaurants, shopping, cultural arts and access to our beaches.
ウェストポート, コネチカット州, アメリカ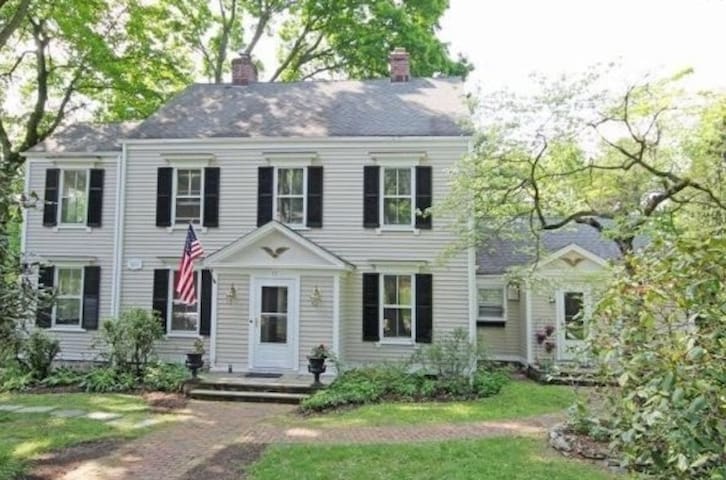 Frank Lloyd Wright inspired cottage sits perched on top of a hill overlooking a seasonal pond, creek, and a field of ferns. A wall of windows brings the sense of being one with nature .Keep cozy with the giant size fireplace!
Seven acres of pristine forest and fern groves, overlooking a seasonal pond and creek. Old logging road provides for nice walking trails. Frank Lloyd Wright inspired architecture brings the outdoors in with a wall of windows, an oversized stone fireplace and stone accents throughout. Rustic and cozy, the prefect getaway or retreat.
The house is surrounded by seemingly endless open space and nature preserve, all yours to enjoy! You enter through a residential neighborhood, but while you are there, you have the feeling of an abundance of privacy!
Jennifer was awesome, welcoming, helpful, and nice to communicate with from the beginning. The house was a perfect retreat for us- total respite, and the place is really beautiful. We hope to return.
Avi
2016-02-29T00:00:00Z
Do not miss out on this wonderful unique home, in a quiet and natural setting! Jennifer was very accommodating and the home is beautifully appointed!
Maureen
2017-03-06T00:00:00Z
I wish I could keep Jennifer's property a secret...but it would be such a shame not to share this with other people craving some quality time surrounded by nature! This property is amazing - if you are looking for a comfortable, sunlit house with an ENORMOUS fireplace and a gracious, caring host, look no further! The house has everything you need for cooking, nature watching, lighting an amazing, cozy fire, etc. The town of Woodbury is lovely and larger than I expected - plenty of access to a variety of cafes and restaurants, great quality groceries and shopping within a couple of miles. Jennifer has thought of everything and even thought to include a selection of board games, books, and new house socks for guests - sounds weird but I loved this touch as it was quite cold the weekend my husband and I were there and I forgot my slippers :) We would happily stay again - if only to check up on our favorite chipmunk we saw foraging in the autumn leaves all weekend!. For those who find it hard to switch off completely (I am right with you) - the WiFi is surprisingly great. You won't be disappointed by choosing this property!
Simone
2015-10-25T00:00:00Z
A really great place to get away and relax in the woods for the weekend. Jennifer was fantastic, very responsive and accommodating.
Jonathon
2017-04-02T00:00:00Z
We had a wonderful time at the "Retreat in the Woods". It was a welcome respite to our chaotic and cacaphonic NYC world. With its fully two-sided floor-to-ceiling windows and a stone fireplace as its centerpiece, the great room felt to us intimate and cozy, being fixated on the fire, while also being at one with nature with the surroundings of natural light. Jennifer was the consummate host, and everything was as she said it would be. The house was clean and the wood was stacked. All we had to do was to show up. David Zale
David
2016-04-20T00:00:00Z
Jennifer's home is located on a beautiful property. Although it is not a far drive from the adorable town of Woodbury, it's location next to the nature preserve and open space make it feel remote. We admired the fall colors through the wall of windows, and had a great evening fire in the giant stone fireplace. The bed was very comfortable, and Jennifer included thoughtful touches like organic hand soap and lotion. Arrival and departure were very smooth, thanks to easy communication with Cathie. We were grateful for the fact that it was only a two hour drive from our home in Brooklyn. I would recommend this place to others looking for a convenient weekend escape in a beautiful natural setting.
Allison
2015-11-01T00:00:00Z
I had a great weekend with friends at Jennifer's retreat by the woods. The experience was fantastic! Pros: - The fireplace is amazing! No other fireplace will ever compare :-) - Communication with Jennifer and Cathie (house manager) was prompt and seamless - The three beds are very comfortable - There are plenty of blankets and additional linens if needed for the winter - The location- right in the middle of the woods as pictured, but also 10 minutes away from restaurants and markets - Well-equipped kitchen in terms of appliances, pots/pans, which we used a lot - Such unique and interesting architecture, we all loved the enormous windows and the open feel of the place Cons: - The place definitely feels like it has been closed up/not lived in for a while, so my allergies acted up a bit - We had arranged to pay for an additional person to stay with us and Jennifer kindly provided an air mattress, which was slightly deflated and we couldn't find a pump for it. In all fairness, we did not reach out to Cathie about it, so I'm sure it could have been easily fixed. Overall, great experience. Thank you Jennifer and Cathie!
Amanda
2015-12-06T00:00:00Z
We had a great experience. The house is amazing. You really feel the outside inside the house. Jennifer was welcoming and accommodating. Thank you!
Joseph
2016-01-18T00:00:00Z
ウッドベリー, コネチカット州, アメリカ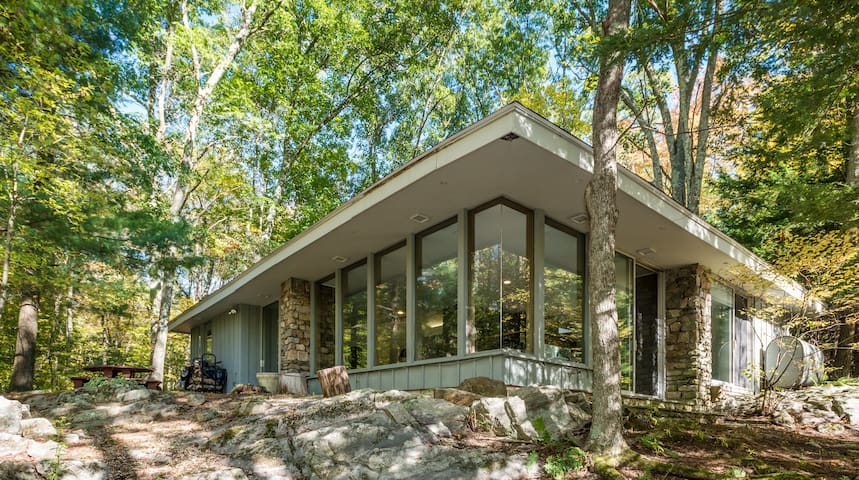 1865年の歴史的なビクトリア朝の伝説!以前は排他的Shippanポイントウォーターフロントのコミュニティで有名なイン。プライベートビーチへのアクセス、リラックスして面白いのための贅沢なラップアラウンドポーチでレンタル。それぞれ専用のフルバスルーム付きの8ベッドルーム。ジム;完全に配線され、近代化。家族の集まりやイベントのための卓越した。
エレガンスとカジュアルな生活を通して。新たに芸術家電や設備の状態でキッチンを改装。最大8カップルのための個室スペース。 12+人々のためのゴージャスなダイニングルーム。 Apple TVは、Sonosのファミリーダイニングルーム、ファミリールーム。
海辺スタンフォード、コネチカット州の独占Shippanポイントウォーターフロントのコミュニティ。
Derek's home is beautiful and perfect for large groups. Beach is a walk down the street. Energy in the home is amazing.
Nora
2017-01-27T00:00:00Z
This is a unique property and one that fit our large family perfectly for a holiday get together. It's like a mini boutique hotel that's all yours. A lovely neighborhood in a remote corner of Stamford, there's plenty of good places for walks and water views.
Andy
2016-12-27T00:00:00Z
We had a great time staying at this gorgeous, historic home that has been beautifully renovated. We were a group of 10+ friends and we had more than enough room, with most people/couples getting their own rooms with en suite bathrooms. The location was outstanding for us -- coming from NYC, we just hopped onto the Metro North for 40 mins then uber-ed from the station to the house, 5-10 mins away. We had an unseasonably warm February weekend and took advantage of it by walking the 5 minutes to the private beach, which was beautiful. Sweet, friendly residential neighborhood. Afterwards, we enjoyed playing the board games in the house and working out in the in-home gym in the basement. The modern amenities like Sonos speakers in a bunch of rooms, good quality Wifi and DirecTV, made it an especially seamless experience. My main sadness with the house was how un-livable some of the main "living room" areas are set up; the first floor rooms are still very formally set up, kind of like it's still a bed and breakfast, so they aren't conducive to hanging out in a big group of people, which is obviously who this house is best for. I wish there was a room with several comfortable couches all together or something for accommodating more than 5-6 people. And perhaps some more chairs for the beautiful dining table, as it only seats 8 now. We enjoyed cooking in the modern kitchen, though it isn't as large as you might expect in a house of this size and there aren't any real essentials included (no coffee, pepper, spices, etc.). Communication with Derek was easy and prompt, via message or text.
Francesca
2017-02-19T00:00:00Z
Fabulous, very spacious home in a town that has easy access to trains to NYC. Beautifully decorated home that has tastefully kept the details of when it was once the "Chesterfield Inn." A very special home.
Beth
2016-11-26T00:00:00Z
The host canceled this reservation 28 days before arrival. This is an automated posting.
Katie
2017-02-14T00:00:00Z
I, with a small crew, held a photo shoot at Derek's beautiful, historic home in Shippan. From inquiry to leaving his home, Derek communicated effectively and was extremely accommodating. If you are in need of a gorgeous shoot location or gathering place outside of NYC, look no further! Thanks, Derek.
Evan
2016-11-11T00:00:00Z
部屋タイプ
まるまる貸切
---
建物タイプ
一軒家
---
定員
16
---
寝室
Stamford, コネチカット州, アメリカ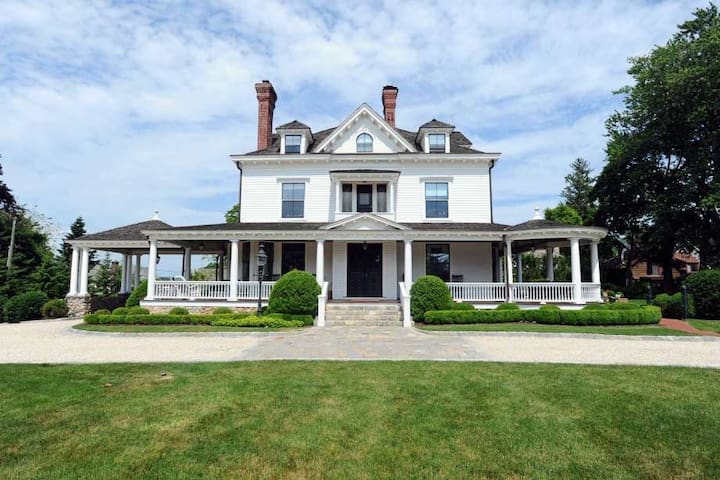 Our guesthouse is a serene space above our yoga studio "Open Sky Yoga Barn." Bordered by 100 acres of open land beyond the deck, a sacred, tranquil energy abounds ... peace, calm, magic. Best for a couple yet 2 kids can use the single day bed with a pull out single mattress.
The guesthouse is secluded and private, a true retreat from our fast paced society - a great getaway from NYC only 1.5 hours away. It is located over our yoga studio -- so when classes are in session we ask for you to be respectful and very quiet. You are welcome to join regular classes for free if you choose. The regular weekly schedule includes morning classes on Mondays, Thursdays & Saturdays. Please inquire about additional class times & events prior to your booking as we host monthly Guided Meditations, JourneyDance and seasonal concerts, films and workshops. For these extra (non weekly) events regular fees or donations apply.
Rustic, quiet, beautiful natural wooded environment.
This place is magical. I felt the serenity as soon as I stepped in the door. There were flowers and candles and snacks waiting. It's in a beautiful forest with hiking trails and a large deck. I slept better here than in my own bed, even on the first night, which is unusual. Cathy is a great hostess, checking in to make sure things were OK, without hovering. I'm really glad there is such a lovely place to retreat to here in CT. It's a great place to meditate and read and relax.
Christina
2015-06-11T00:00:00Z
Cathy's space was lovely - the perfect restful retreat for my wife and I. My wife particularly enjoyed the Saturday morning yoga class in the studio under the apartment.
Samuel
2016-03-22T00:00:00Z
Lovely spot. The listing description and photos were accurate and the yoga studio and apartment/deck were just what we expected and hoped for for our ladies' weekend away. Cathy left a yummy carrot bread and some basics in the kitchen, and it was easy to cook/eat at the island. The yoga studio was breathtaking and the river trail walk you can take from the property just delightful. It was very quiet on the deck and felt private even though Cathy's home is just 50 feet away. We had a wonderful stay - thanks for opening your home to us!
Jen
2016-05-16T00:00:00Z
What an epic find! We highly recommend this spot for a rejuvenating get away!
Brittany
2017-02-26T00:00:00Z
Cathy is a fantastic host and this is a lovely, comfortable and peaceful spot. Highly recommend it!
Peter
2016-06-21T00:00:00Z
Beautiful location. Quiet, clean and welcoming. Golden Chai, too!
Glen
2017-03-22T00:00:00Z
My crew and I were working like crazy on a film shoot in the area, and I reached out to Cathy very last minute about staying at her place with to avoid driving long hours before dawn the next day. She was immediately responsive, very patient when I accidentally requested the wrong date, and her place was absolutely incredible. It's like a magic treehouse, with such comfortable cozy beds... and she even left homemade banana bread for us to have for breakfast! I will 100% be bookmarking her spot for future retreats where I can really relax and enjoy the surroundings, but we were all so grateful to have such a lovely home to spend the night in after a long day's labor.
Charlotte
2016-11-15T00:00:00Z
Beautiful setting in the Connecticut woods. Husband and I loved star gazing on the deck off the back of the barn. The building itself was so cool - really unique space. Everything was quaint and cozy. We can't wait to go back.
Patricia
2016-08-07T00:00:00Z
部屋タイプ
まるまる貸切
---
建物タイプ
アパート
---
定員
4
---
寝室
レディング, コネチカット州, アメリカ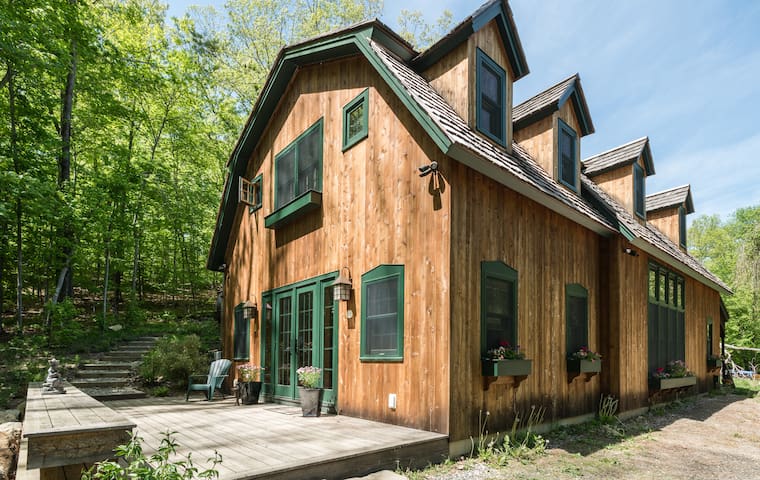 Our rustic River Houseboat is on the edge of the Pootatuck River on our lower pond.
Our rustic River Houseboat is on the edge of the Pootatuck River on our lower pond. The Houseboat has a comfy queen bed and a screened porch complete with two antique rocking chairs. The River Houseboat is often preferred because it is located close to the main Stone Barn and parking lot. The Stone Barn is open 24 hours and has a hot shower, toilet, and common room with internet and books. Keep in mind that because this cabin is located at the base of the mountain it is not as secluded as the other cabins. At this time there is only a fully equipped communal Rustic kitchen located at the top of the mountain. PLEASE keep in mind that this kitchen is located a 10-20 minute walk from your cabin, pace depending. If we are available we are happy to give a lift with groceries but we don't allow private cars to drive up and down the mountain. The Stone Barn has a grill outside that guests are welcome to use and we are happy to provide a cooler with ice but cooking requiring prep space and such needs to be carried out in the Rustic Kitchen. There is no kitchen available in the Stone Barn. PLEASE NOTE -The bathroom is not located in the cabin. Both the bathroom and showers are located a one minute walk away in the Stone Barn -There is a small bonfire pit located near the cabin. Five log bundles are available for $5. -DOGS are not allowed in this cabin -Candles are not allowed in the cabins -We do have wi-fi in the stone barn that reaches this cabin but it can be a little undependable
Though there is lots to do in the towns of Newtown, Monroe, Easton and Fairfield, surrounding Sticks and Stones Farm, most guests prefer to kick back, stay put and enjoy the quiet energy of the farm setting.
Celine and Sam are wonderful hosts and the property is incredible!!! Most of the cabins are secluded but the houseboat is NOT, it's right next to the main building (with flush toilets and a real kitchen) and during the week was pretty loud but depending on what you are looking for it may be fine. The grounds are stunning, rich moss and rocky mountains, a sweet little stream and lots of places to explore. There's an enormous 20ft high rope hammock/loft thing, we spent hours one day just hanging out among the trees. During our stay we also spent a night in the pagoda cabin which we loved, there is a fire pit, it's pretty secluded from other cabins, and it's close to the "rustic kitchen." We came for our 6 year anniversary and we can't wait to come back with our kids! The breakfast add on for $10pp was really nice for some of the days, good coffee, eggs from their own chickens, and they even made my partner gluten free muffins both days!! It's a family farm and Celine and her mom, Sam, just took it over a few months ago. I can't wait to come back next year and see what they've done with the place!!
Melissa
2015-07-26T00:00:00Z
Very friendly host very helpful and accomodating. A nice community feeling. We enjoyed the farm and surroundings and it exceeded our expectations. It was very peaceful and I would strongly recommend to anyone looking for a quiet time in nature, in a setting remote, yet close to the city and surrounded by rustic beautifully crafted cabins. The cabins were wonderful, clean and comfortable. They had regular very interesting activities that we were encouraged to participate in, which was a nice touch. We loved the staff and exploring the property.
savitri
2015-06-29T00:00:00Z
Loved it! Beautiful place. Beautiful people!
Luke
2015-08-01T00:00:00Z
The farm was very beautiful and the everyone very welcoming. The houseboat was particularly charming. And of course there were two adorable kittens roaming around.
JN
2015-08-20T00:00:00Z
We had great weekend at the river houseboat on Sticks and Stones farm. Desre was a friendly and helpful host, happy to give tips about the area and help us get anything we needed. The houseboat was charming and relaxing, and we enjoyed reading or admiring the wildlife from the deck. We definitely plan to come back!
Matthew
2014-08-11T00:00:00Z
Super quiet, rustic and beautiful. Totally recommend.
Tj
2014-08-13T00:00:00Z
Celine and her family are so incredibly welcoming and Sticks and Stones is absolutely magical. We did a photoshoot at the River Houseboat (it was a dream!) and then my fiancé and I stayed the night. The kittens came in and out of the cabin and even snuggled with us a bit before bed. Kitten therapy for the win! You DEFINITELY need to give Sticks and Stones a visit. So unique and so peaceful - I'm embarrassed to say I've lived 25 minutes from here all my life and never knew it existed.
Cassandra
2015-10-13T00:00:00Z
Beautiful grounds/setting!
Christine
2015-10-26T00:00:00Z
部屋タイプ
まるまる貸切
---
建物タイプ
キャビン
---
定員
2
---
寝室
ニュータウン, コネチカット州, アメリカ
Sun Filled Glass House Overlooking River: fast Internet, glamping in style. Perfect for 1-2 people visiting NYC. Easy 40 ft walk to waterfront kayaks/paddle board. Easy off street parking. 2 miles to train, ocean view, & Greenwich restaurants. Airbnb earnings support Burleson Inst. research & you may be able to deduct taxes for contrib. to our 501(c)3 nonprofit.
This great river front glass house lives on our nearly one acre organic maple grove forest and fledgling chutney orchard. We enjoy kayaking and swimming in the river. We cross country ski and skate the river (chatting with ice fishermen) and surrounding woods in the winter and into the spring. Daily hiking and swimming at base camp inspire us to do extensive outreach in our areas of humanitarian and climate coordination globally. We find Cos Cob a wonderful place from which to mix all of these experiences together. We have been known to muck out to the far reaches of the beach for shell fish then dash home to put on suits to attend heads of state negotiations at the United Nations. Feel free to meditate along the riverbank or day trip up and down the coast. A companion Riverview listing is occasionally available when the Cozy Glass House is closed for the cooler season. The plants migrate into our greenhouse/glass house attached to our 250 year old house. Both listings offer sunset paddling as well as hilltop views over the top of an evolving organic veg/fruit/herb garden to the 52 acre river beyond. Airbnb earnings provide support for the ongoing water-energy research underway at the Burleson Institute. As a result, guests may engage with the river at the same time as be able to deduct taxes for contributing to our 501(c)3 educational nonprofit. Checkin is at 3 pm. Please coordinate arrival well ahead of time. We do not have the capacity to wait onsite for hours given our many responsibilities. This is a smoke/alcohol free property -- both inside and outside. Come to this gracious home on a peaceful, spacious property that is convenient to a wide range of ways to spend your time. In addition to easy access to NCY by train, we are a 25 minute drive from tours of the famous Philip Johnson Glass House. Ours differs in style and prestige being a Junior Victorian, actively used, greenhouse. We love sharing our waterfront access to a very special river. The nearby Mianus River Gorge is the first piece of land ever set aside by the Nature Conservancy. The next stretch of water is owned by the water company and well preserved from regional development. We benefit from being able to wander out the backdoor and walk down a 2-minute path to our dock where we spend many afternoons kayaking down to where the river opens into Cos Cob's harbor on the Long Island Sound. The wildlife benefits from an aquatic habitat that qualifies as backup drinking water and that features a fish ladder at the edge of the small hydro dam that helped power train transport to and from NYC. Herons and other shore birds often sit on the dam to fish for dinner. The glass house is perched atop a glacial erratic rock garden that marks the end of the last ice age. We love these stone outcroppings of standing stones and all the literarily lore that comes with ancient rock. While the house is a 250-year-old barn used to bring potatoes by boat to New Amsterdam, the glass house is a cosmopolitan newly renovated retreat that is wonderful for one or two people. We offer a contemporary solar powered 8 x 10 glass green house with sliding glass door and rainfed/heirloom gardens. We tap our maple trees and can offer solar maple scones on some weekends. Guests have access to a full bed, camp chairs, extra light weight screens tucked under shelf if privacy is preferable to a clear view, solar powered space heater, Internet, fridge access, and French press coffee maker that can also be used for tea. Water is from the river (via the water companies state of the art purification process). We bring this water up to the glass house from the main house. The hilltop pebble patio area features patio chairs and an outdoor historic stone fireplace suited to making pizza. Feel free to use a few of our heirloom garden herbs. Please bring your own picnic supplies. The neighboring houses are well within view and there are one or two renovations underway in the neighborhood. If coming from city life it is very rustic. If coming from wilderness it may seem urban. We find that kayaking within 35 miles from all that NYC has to offer a real treat that mixes cultural and environmental interests. We have a wide array of books if you would like to relax on the hilltop. We can offer a days worth of coffee, tea, honey, and very occasionally a few staples if you arrive late and have not had an opportunity to buy food. We are easy going, kind people who would like to make sure you feel welcome and cared for in what has been for us a wonderful place to feel peaceful. We write and curate rotating water, energy, climate Institute expos on behalf of our nonprofit Burleson Institute. We also gather information on watershed wildlife and contribute to Cornell's northeast bird count. Feel free to get involved. By volunteering with the wildlife citizens science service learning and staying in the glass house as guests, you can help advance our institute's energy-climate-water network of evolving best practices. Our neighborhood is not free from lawn services using mowers but it often is a tranquil get-away while also offering a trampoline from which to explore foodie and cultural options galore with substantial boating, hiking, fishing, etc. Our front step is a historic mill stone and our rooms within offer an eclectic array of artwork, instruments, and much loved multi-media research library encompassing: naturalist, international law, and innovative ways to respond effectively and equitably to the pressing issues of our era. We consider one or two members of our wildlife community semi-wild pets given their peaceful presence in our backyard. Peter and Ben Bunny can often be spotted chomping on grass out back. Wild turkeys, Blue Herons and Egrets take refuge at our dock as do migrating families of ducks. Baby ducklings and swan signets are common in the late spring and summer. Turtles can be seen sunning themselves on rocks and logs until the river freezes and makes way for cross country skiers, skaters, and ice fishermen. Enjoy our solar loft library including great artwork, books, instruments from around the world, and music recordings. David is fluent in Spanish and Betsy creatively conversant. Shopping for groceries ranges from a Shop and Stop 2 miles away to Trader Joe's, Fairway, and Whole Foods within 10 miles. The town excels at offering foodies an exquisite range of culinary opportunities. We would be happy to share our favorites (a seafood restaurant around the corner from the Norwalk Maritime Center where we like to see the latest Imax film). We also like picking up famous CT pizza from Pizza Post (better than Mystic Pizza) and having picnics at the beach. Folks have been enjoying the Little Pub, Mumbai Times, Louie's, Thai Basil Restaurant, Meli-Melo, and Versailles. Crossing over to the NY Historic Hudson Valley or hop a train into NYC changes the flavor of the culinary and cultural offerings. We often prefer to experiment with our CSA organic veg box by making stews, chilies, chowders, gazpacho and the like. Our maple syrup cookbook is expanding into a solar cookbook and international cookbook... all still evolving. The glass house features a solar cooker for you to have fun with if the weather permits. Given our latitude, solar power is unlikely to be a main course option. Alternatively, you can bring back goodies and store them in the solar powered fridge. Backup house power is also available for the boat batteries that run the hilltop amenities. For anyone who lived through Superstorm Sandy, Katrina or their siblings, we seek to offer hands on innovation opportunities with resilience resources. Solar power has cut our electric bill in halve and a separate off grid array allows solar glass house guests a unique glamping experience. Enjoy the Greenwich downtown pedestrian marketplace with outside eateries, interesting shops, and a small farmer's market on Saturdays until 1 pm (other towns in the area have farmer's market days throughout the week). There are many fine restaurants to choose from, and enjoy NYC's vibrant arts scene, with museums, galleries, and dozens of music and performances daily. There are very few places to stay in the area that have the rare combination of kayaking / paddle boarding off a waterfront dock in the backyard as well as easy train access into NYC and a cozy comfy bed at a reasonable cost. Plush bedding and fluffy spa towels allow guests to have a soft energy footprint in style.
Relax and unwind in this back bank river hideaway. Quiet, family-friendly neighborhood, where folks walk dogs, jog, etc. I love the neighborhood as it is walking distance to wooded parks with extensive trails for hiking, cycling, and cross country skiing. The river is stocked with trout and many wading fly fishermen brave the chilly Feb. waters in late winter/early spring. This extensive forested trail system encompasses over 300 acres of woods. You would not know that you are 30 miles from the heart of NYC. Coastal views can be enjoyed at the Cos Cob Park year round and with open access to Greenwich beach in the winter and access with purchased day passes in the summer. We often have some of these passes available at the house for the town for $7. Greenwich does require a car sticker ($35) for Todd's Point (we have not purchased any of these but sometimes can offer a one way ride and a taxi can shuttle the other direction). Alternatively, the ferry to Island Beach is roughly $15 in addition to the $7 guest day pass. Other than the peak summer months the Todd's Point Beach is open to the general public for free. Stunning sunsets over Long Island Sound can be enjoyed while picnicking out at the beach or from the free Cos Cob Harbor Park (behind the Cos Cob Train Station). Many folks dock boats in Cos Cob Harbor, both seasonally and as they rock hop up and down the Atlantic Coast. Cos Cob's artisan: fish shop, cheese shop, smoothie shop, tea house, farmers market and quiet historic neighborhood streets allow for a peaceful yet cosmopolitan get away without a substantial trek from regional hubs. The town celebrated its 375th year in 2015 and has several revolutionary era museums including the Bush-Holly House and Putnam Cottage. Science and art exhibits can be viewed at our Bruce Museum and National Audubon Center as well as in NYC (my favorite is the Frick collection of Dutch art for its use of light and contrast). Visitors often alternate days in the big apple with relaxing seafood forays up the Connecticut coast, stopping at the Norwalk Maritime Center (URL HIDDEN) to see marine life of Long Island Sound, including loggerhead turtles, sea horses, tiger sharks, and harbor seals (smaller but better than Mystic!) A ferry ride can take visitors to tour a historic lighthouse. In addition to Native American, naturalist, maritime, and revolutionary / colonial cultural opportunities, this area has become a diverse cosmopolitan community (despite still calling itself a town). The students at Greenwich High School speak over 35 languages. Lonely Planet notes that the "southwestern corner of Connecticut, otherwise known as the Gold Coast, was once home to potato farmers and fishermen until 19th-century railroads brought New Yorkers north. With their blue-chip companies they transformed Fairfield County into one of the wealthiest regions in America with the affluent town of Greenwich at its heart." One of our favorite summer activities is to take a ferry out to Great Captains Island and/or Island Beach to enjoy Long Island Sound then return and kayak/swim on the Mianus River. We cross country ski and skate the river (chatting with ice fishermen) and surrounding woods in the winter and into the spring. Daily hiking and swimming at base camp inspire us to do extensive outreach in our areas of humanitarian and climate coordination globally. We find Cos Cob a wonderful place from which to mix all of these experiences together. We have been known to muck out to the far reaches of the beach for shell fish then dash home to put on suits to attend heads of state negotiations at the United Nations. Feel free to fold into our sustainability initiatives at our institute headquarters, meditate along the riverbank, or day trip up and down the coast.
Betsy was very helpful and friendly and her place was such a beautiful retreat!
Fiona
2016-07-24T00:00:00Z
We had a wonderful experience staying in the glass house!! The property is absolutely gorgeous and Elizabeth was so kind and helpful. The main house (bathroom & kitchen) were just a few steps away and very easily accessible. The glass house was beautiful to stay in - there was a thunderstorm the second night we were there and we got to watch the rain fall on the glass roof which was absolutely magical. Elizabeth offered to have us sleep in the main house if the storm got too bad which was so kind. We spent lots of time in the kayaks and swimming in the surprisingly warm river... and the property is full of the cutest chipmunks, squirrels, and birds! I'll definitely be back there as soon as I can!
Jordana
2016-06-07T00:00:00Z
Great stay! Elizabeth was lovely and we will definitely come back!
Ale
2015-09-28T00:00:00Z
Elizabeth was a flexible and accommodating host who generously opened her home for me and made sure I had everything I needed during my stay. The property is exactly as described – located in a suburban neighborhood in Connecticut with a spacious backyard and private pond. And each morning you wake up seeing the sky through your roof. It's convenient and close to a park for hiking, and the town isn't far for when you need to get a bite. I would definitely recommend staying here if you're looking for a unique camping experience without lugging all the gear!
Natalee
2016-10-23T00:00:00Z
We fell in the love with the Burleson's home in Cos Cob - right on the pond. Elizabeth greeted us briskly and encouraged us to catch a quick swim and kayak before the sun set. The family home, a renovated vegetable barn, is a one of a kind place, chock full of books, memories and years of history. Her father, who also lives there, is a fascinating man with a lifetime of stories to share if your breakfast time allows. The glass house was a unique experience to say the least. We grabbed a pizza from a local eatery (Elizabeth's recommendation) and enjoyed a quiet dinner outside by the fire pit. The water was a perfect temperature in late July and we were sad to not have more time here. Definitely a unique place - an environmentalist's heaven!
Meredith
2015-07-27T00:00:00Z
We had a fantastic time at the glass house, and Elizabeth and her family were incredibly warm, helpful and hospitable. We spent most of our time kayaking on the river, hiking the nearby Montgomery Park & Pinetum, and chatting by the fire (don't forget s'mores supplies)! The property is incredibly relaxing, and we were so interested to learn more about the nonprofit. It was the perfect weekend escape from NYC, and we can't wait to return to see the autumn foliage.
Samantha
2015-09-21T00:00:00Z
This place is such a gem!!!! My boyfriend and I got the recommendation from one of my girlfriends who went with her boyfriend in June, and we had to try it out. It's almost exactly like the photos; a perfect little haven tucked away near the beautiful Mianus Pond. Elizabeth was a fantastic host. She was very responsive and helped us out with any and all inquiries we had. She lives with her parents and her dad read his poetry to us in the morning. I recommend doing the Mianus River Park hike, then swimming and the Pinetum trail the next morning. It's a must go for NYC dwellers and anyone looking to get some peace and quiet.
Paige
2016-09-24T00:00:00Z
I planned this 2-night trip as part of a birthday surprise for my boyfriend, and it was everything I'd hoped for and beyond. Elizabeth was a very friendly and down-to-earth hostess, and welcomed us into her house and home with warmth and generosity. The property is easy to access from a well-maintained road, and the glass house itself is nestled atop a verdant hillside, partly shaded under a tree at high noon. There's a small fireplace right beside the glass house (perfect for roasting marshmallows at night), and a second, bigger fireplace closer to the river on a patio (perfect for cooking lunch). Elizabeth had both fireplaces stocked with ample kindling and firewood nearby. The dock was great as well- one part of the dock is stationary, and the other part can be hauled out to the middle of the river, perfect for sunbathing on the water with a book and vittles. Kayaks were light and easy to access, and the river holds great boating and swimming opportunities. Mosquitos were nowhere to be seen, even at dusk, but a mosquito net for the bed in the glass house calmed even the most skittish of campers (aka me). All the modern comforts (refrigerator/freezer, shower, bathroom stocked with toiletries) were found in the main house as well- just a few steps away from the glass house. The neighborhood has some great dining, hiking, and park options too, just a few minutes from the house! Overall, it was a lovely experience for a relaxing weekend.
Claire
2016-06-27T00:00:00Z
グリニッチ, コネチカット州, アメリカ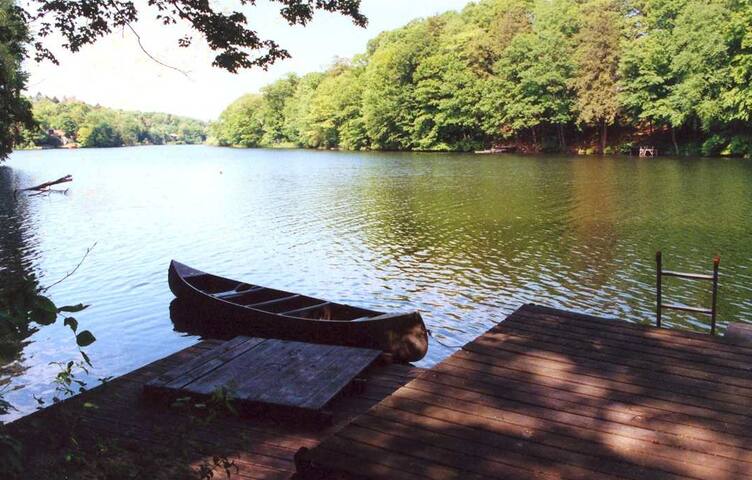 Perfect getaway from the city for couples wanting peace and tranquility and stunning views. A beautiful waterfront one bedroom guesthouse, one and one-half miles from downtown Mystic CT. Beautifully decorated with art and antiques. Kitchenette, full bath and loft bedroom. Queen bed. Air conditioning and heated. New floors. Belgian linen bedding! Private patio. Dock. Kayak. Internet.
Water view and short distance (one and one-half miles) to downtown Mystic. Safe environment. Great security. Free parking, wifi, kitchen, beautiful views. I live in the main house so I am on the property across the walkway from the guest house. My street is runs along the Mystic River. One can view marinas and boat traffic from the street and certainly my home. I live at the end of my street so the water view is 180 degrees. Amtrak is a couple miles away but a car is necessary.
My street is runs along the Mystic River. One can view marinas and boat traffic from the street and certainly my home. I live at the end of my street so the water view is 180 degrees.
Jill was an amazing host. She has a beautiful property with breathtaking views of Mystic. You can tell she loves hosting and welcoming people to enjoy the guest cottage, which is completely private and perfect for a couple getaway or for a solo trip. The cottage is located very close to all of Mystic. I can't wait to go back again.
Eleanor
2016-12-18T00:00:00Z
Top notch in all regards. Felt so welcomed upon arrival and was above and beyond expectations. I would recommend a this as a place to stay to anyone and plan on booking a future visit with Jill again.
Blaine
2017-04-02T00:00:00Z
This was truly a gem of a find! The pictures simply don't do enough justice to the beauty and charm of this place and it's surrounding scenery. We thoroughly enjoyed our morning coffee while watching the sunrise over the Mystic River! The location was absolutely perfect for our needs (close to Downtown Mystic, New London, and a charming local market/cafe). Jill was a lovely and gracious hostess! She made sure we had everything we needed to stay warm and toasty during a bitterly cold CT weekend (a huge deal coming from the South Carolina warmth) and was just simply a delight to work with. We'll be returning to CT and when we do we will most certainly be staying here again! Our many thanks Jill!!
Nicole
2017-03-06T00:00:00Z
Jill greeted us warmly when we arrived Sunday evening. The guesthouse is so lovely and beautiful with lots of privacy. A really pretty area to sit outside on Adirondack chairs and enjoy the view and the silence/stillness. Jill showed us the amenities, recommended great restaurants and then left us alone - this was our best AIRBNB experience to date. Totally recommend staying at this lovely cottage.
Melinda
2016-10-25T00:00:00Z
Jill was an incredible host. She was here to welcome us, had tons of recommendations for places to eat and visit. The cottage is very very nice, great location in quiet cul de sac, views are fabulous, the whole experience deserves an A+
Sylvie
2015-05-17T00:00:00Z
Jill's place is a wonderful hideaway at the waterfront which I can highly recommend to everybody. Jill is a very nice person. We felt at home from the first moment. Thank you so much! Sabine and David
Sabine
2017-03-24T00:00:00Z
This was a cute guest house. Very clean, comfy, light and airy with a beautiful view of the water. Jill was a great host and we can't wait to return.
Kimberly
2017-03-12T00:00:00Z
Our stay at Jill's guest house was amazing! The little getaway was perfect and Jill was so friendly and accommodating. We can't wait to come back again!
Eliza
2015-12-20T00:00:00Z
部屋タイプ
まるまる貸切
---
建物タイプ
キャビン
---
定員
2
---
寝室
Mystic, コネチカット州, アメリカ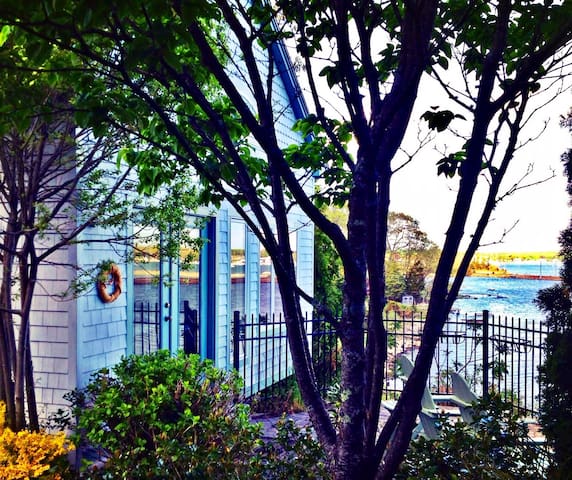 Private BR in renovated, cool, cozy and tastefully decorated home. Located on quiet street in historic West End. Steps from bus stop. About 1.5 miles from Downtown Hartford and West Hartford Center. Hardwood floors and granite countertops.
The pictures say it all! Newly renovated! Hardwood floors. Granite countertops. High ceilings! Spacious! Bright! Private bedroom in third floor apartment of owner occupied three family house. Please note: There is an apartment with bedrooms right below the guest room and back stairs. Please be kind and courteous to my awesome long-term tenants. : ) -Free WiFi -Central Air Conditioning In bedroom: -40" flatscreen tv, AppleTV, Netflix , HBO Go -desk -closet to hang clothes -iron/ironing board available upon request -stereo -alarm clock radio Full kitchen access. (food/beverage policy: take some, leave some!) Kitchen: Granite countertops. Stainless steel appliances. Keurig, Dishwasher, French Door refrigerator, gas stove, garbage disposal. Peninsula bar-height setting for four. Full living room and additional office space access. Living room: 55" flatscreen TV, premium cable, AppleTV, Netflix, HBO Go. Large sectional that seats 6 comfortably. *There is a full size futon in office that can sleep two additional guests for $20 additional per guest per night. I am a 26 year old single male. Full time employed and part time student. Born and raised in the West End Of Hartford. Graduated from Boston University with Biomedical Engineering Bachelors Degree. I work for Apple, help manage the best Chinese restaurant in Greater Hartford, work in community outreach/development and I am a real estate agent. I love Hartford and my neighborhood. I have lived here since birth (other than college). I bought a three family home, three years ago and have renovated this awesome apartment for your enjoyment. AirBnB allows my dreams of being a host at a bed and breakfast and a tour guide in the city of Hartford to merge and come true. I know of great places to eat and play! If you are balling on a budget or have deep pockets, I have just the suggestion for you. If you love fine dining or the great outdoors, we can find something for you. If you prefer a stay in solitude I will sleep at another location down the block to give you your space. If you do not mind a housemate, I promise, I am decent company. The historic West End of Hartford. Great dining, great bars, shopping, just steps away. Young professionals, young families, retired couples, students...the neighborhood has it all! Just over a mile from Downtown Hartford and West Hartford Center. Two minutes from the highway (I-84). Steps from public bus stop with direct access to Downtown Hartford or West Hartford Center. Also direct access to Union Station with Train and Bus access. If I'm not working, I'd love to drive/show you around! Free parking on street in front of house. Can arrange for one parking spot in driveway if necessary. There is an additional full size futon in office area to sleep up to two more guests for $20 additional per night per person. Perfect for guests visiting Hartford or West Hartford for all/any of the following: Work, Conference, Conventions, UConn Law School, UConn Health Center, University of Hartford, Trinity, Marathons, Concerts, Theatre, Sporting Events, Rentschler Stadium, XL Center, Xfinity Theater, the list goes on and on...
The historic West End of Hartford. Great dining, great bars, shopping, just steps away. Young professionals, young families, retired couples, students...the neighborhood has it all! Just over a mile from Downtown Hartford and West Hartford Center. Two minutes from the highway (I-84).
Very good
ivan
2016-05-23T00:00:00Z
It was my first experience with Airbnb. Fortunately, I chose Max" house. The neighborhood is convinent and quite. It close to anywhere you wang to go. And most important the rooms are comfortable and clean. I love the paintings on the wall. Max's house will be my first option when I come back to Hartford again
维骃
2015-09-09T00:00:00Z
Great space! Loved the apartment. Love the kitchen.
Erin
2015-05-25T00:00:00Z
Max provided helpful directions to the apartment and it was easy to find our keys and get in. The apartment was just as described. Very neat and well-decorated with plenty of space and amenities. We liked the comfortable AC, the great kitchen, and cozy bedroom. This is a nice location with easy access to Hartford and West Hartford. Overall, a great value and fun experience. We would definitely stay here again!
Andrew
2016-09-11T00:00:00Z
Max is very helpful and considerate. He communicates with you at just the proper frequency so that you feel your privacy is well respected. We had a very nice stay in his place.
Ayer
2014-12-28T00:00:00Z
My go to place when I need to be in Hartford.
Craig
2017-03-15T00:00:00Z
Fabulous place. Quality through and through. From the meet'n'greet to last texts, it couldn't've been smoother.
Maxim
2015-08-24T00:00:00Z
Max was prompt and attentive in every communication. His directions were very clear. He was at work when we arrived, but he arranged for his girlfriend to be at the apartment when we arrived. As the photo shows, this is a well appointed and recently renovated apartment. It is a third floor walk up. Off street parking was convenient. Electronics totally up to date. We never actually met Max. We were asleep when he came home (and never heard him). I was out early and the apartment is big enough that I don't think my rummaging around disturbed him. (I hope). We were visiting relatives who live nearby, but this is an excellent location. There are a lot of good restaurants. Excellent jogging routes on the beautiful streets (try Prospect Ave)and Elizabeth park, which also has wonderful gardens.
Michael
2015-06-14T00:00:00Z
ハートフォード, コネチカット州, アメリカ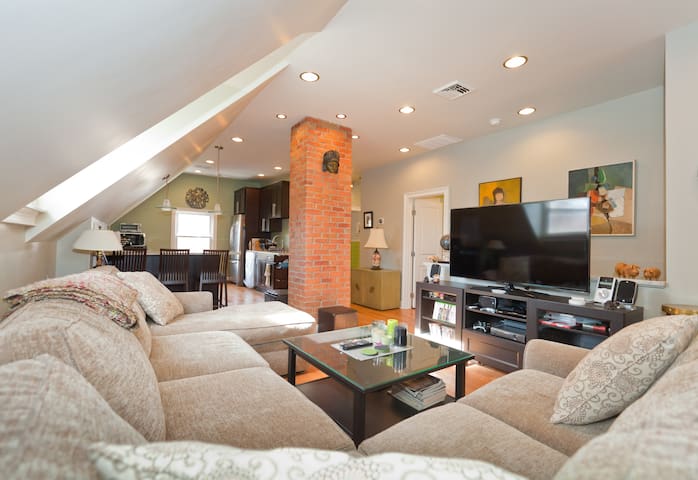 Sunny & spacious 1-bedroom condo! Close to I-84 & RT-9, CCSU & UCONN Health Center. Brand new kitchen, large living room, flat screen TV, cable & wifi. Convenient to universities, parks, highways & shopping - plus free parking!
Welcome to our home away from home! Our condo is located on the 3rd floor of a 40-unit building, accessible by stairs or elevator. The building was built in 1968, and is a no-frills, basic, clean building. The condo is very sunny and has a spacious living room with large windows to let in maximum light. We also just updated the kitchen and its stocked with a keurig coffee machine, dishwasher, microwave, toaster, and pots & pans for guest use. There is a queen bed in the bedroom, a queen pull out sofa in the living room, and a queen air mattress. The condo comes complete with wifi internet, a 40-inch flat screen cable TV, free parking and a common laundry area in the building.
Our condo is centrally located in New Britain, CT on a quiet street across from AW Stanley Park and Stanley Golf Course. You'll have entertainment, fine dining, and shopping centers at your doorstep, as well as easy access to major highways - I-84, I-91, Rt 9. We are located only minutes from Target, Costco, Trader Joe's, Bed Bath & Beyond, Westfarms Mall and West Hartford Center, and only 10-15 minutes to downtown Hartford. The park across the street features a large outdoor pool, picnic tables, basketball courts, and a children's playground. Try a zip line canopy tour with Go Ape Treetop Adventures at the park or enjoy a day golfing at Stanley Golf Course, a beautiful 27 hole public course and driving range. Nearby Attractions: - AW Stanley Park (across the street) - Stanley Golf Course (across the street) - Westfarms Mall - West Hartford (1.5 miles) - West Hartford Center & Blue Back Square (5.5 miles) - Downtown Hartford (8 miles) - Central Connecticut State University (0.8 miles) - University of Connecticut Health Center (2 miles) - University of Hartford (8.5 miles) - New Britain Rock Cats (AA) Baseball Stadium - New Britain Museum of American Art - Wadsworth Atheneum Museum of Art - Mark Twain House - Hartford - Connecticut Science Center - West Hartford
Lisa has a really nice condo located near the university. The room was as advertised and made everything possible for us to check in an out.
Marina
2015-08-10T00:00:00Z
Lisa's apartment was great, very clean and just as depicted in the photographs. She was very flexible with check in and check out times. Lisa communicated with me throughout our stay, and provided clear instructions without being intrusive. I would recommend this condo and host without hesitation!
Vi
2015-05-19T00:00:00Z
The place was immaculately clean and organized. Snacks and coffee as well as basic toiletries were left in the apartment. It was a smooth and serene stay and I would love to stay here again! Thank you Lisa!
Saleen
2015-11-25T00:00:00Z
The apartment is very cozy and clean. everything was as described. Got the keys at the entrance to the condo. The kitchen had plenty of food, the bathroom had everything we needed and more. A little creaky floors. Lisa is a great hostess. We have only the best impressions from staying in this condo
Nadya
2016-09-06T00:00:00Z
Lisa's place was very clean and well furnished, she went out of her way to explain everything I needed to know. Very comfortable stay, would highly recommend!
Andrew
2016-12-01T00:00:00Z
Lisa really is a "super host"! She thought of every possible need. The condo was immaculate, comfortable, and roomy, with a brand new kitchen, which was a pleasure to use. We enjoyed the very large living room featuring an HDTV with ROKU, that offers thousands of shows and movies. The bed was comfy and there were room darkening shades, which gave us a nice, restful sleep. Lisa was always available to us, by email, phone, or text, and she responded quickly to our contact. The private parking space was convenient. The condo was quiet, peaceful, and safe. There's also a great park right across the street for running, walking, or relaxing. The location was very close to the highway (Route 84). Also there's a mall just up the street -- plus a Trader Joe's ;-) We would recommend this condo to anyone looking for a great place to stay near Hartford at a very reasonable price! Thanks, Lisa!!! Nancy & Henry Boston, MA
Henry
2016-05-23T00:00:00Z
Lisa was a great host. Very attentive and incredible attention to detail. Her apartment was fully stocked and very comfortable. I would stay here over a hotel any day! Thank you Lisa!!
Alice
2015-05-27T00:00:00Z
Great experience. Lisa was very prompt in communicating. The place was clean with fresh linens, towels, and the fridge stocked with water. The roku/netflix was a nice plus. Definitely better than paying through the nose for a hotel.
Chelsea
2015-03-30T00:00:00Z
部屋タイプ
まるまる貸切
---
建物タイプ
アパート
---
定員
2
---
寝室
New Britain, コネチカット州, アメリカ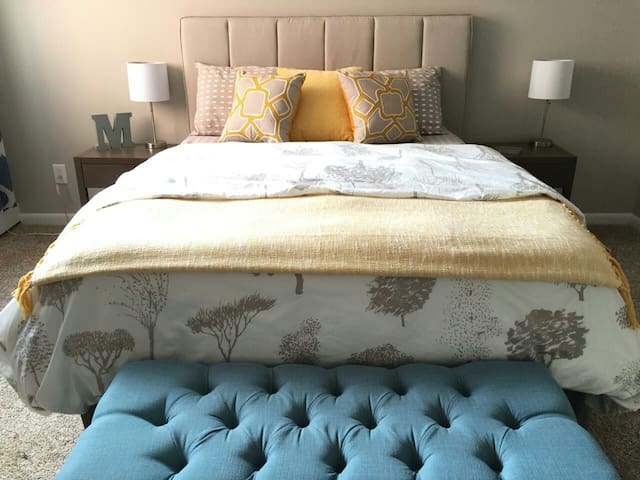 Studio apartment in historic brownstone. Private entrance. Walk from the train, walk to park and beach. Urban neighborhood. Perfect for a getaway, ideal location for exploring Fairfield County, CT. Hop on the bikes!
Room to relax and recharge. We've got books, records, bikes, a TV with lots of movies, a mini-fridge, private bathroom, closet, and a dresser. Mid-century modern furnishings, original brick, gorgeous afternoon sun.
So, there's this 376-acre park at the south end of the South End. A stone's throw from our place. It's called Seaside Park—think Long Island Sound beaches, shoreline walking and biking paths, fishing spots, soccer and baseball fields, skate parks, volleyball courts, a concert band shell, a lighthouse, a snack bar, roaming Italian ice vendors, and plenty of spots to play Frisbee (invented right here in Bridgeport), drop a blanket, cast a fishing pole, or make out. You can catch a baseball game around the corner at the Bluefish stadium, where Two Roads Brewery is tapping and vending their latest magical beers. Drink more beers and enjoy pizzas at the newly opened Brewport. Check the Webster Bank Arena's schedule too—the Sound Tigers hockey games are tons of fun. They also have big music acts. All within walking distance. There is also a multicultural mecca of food and booze happening in Bridgeport, including lots of great delivery. Peep our guidebook upon check-in for seasonal suggestions and hidden gems. Overall, our neighborhood has lots of history, oddities and charm, but it is urban and industrial. If that isn't your thing, we'd suggest you check out Greenwich, Westport, or the like for white picket fences and yacht clubs.
The place was very well organized and clean. The hosts were available at all times. It was a perfected place for my short stay in Bridgeport.
Gloria
2016-12-10T00:00:00Z
Very adorable sense of style, lots of cute details in this cozy space. Even on a cloudy weekend, the inside was warm and well-lit. Though we were there for just one overnight, it was a lovely stay and I'd definitely recommend the place to other travelers!
Liz
2017-03-26T00:00:00Z
Maid + Butler was the perfect place to stay during my visit to BPT. The funky decor, comfortable bed, record player (with fantastic music on vinyl!) and just the overall 'good vibe' was a perfect place to come home to and relax at the end of my days. I would definitely book Maid + Butlet during my next trip. The hostesses were quick to respond and available when I had a question. I felt that they really care about the satisfaction of their guests. Quick walk to Seaside Park too ! Thank you !
Sonya
2016-03-06T00:00:00Z
Luke was a fantastic host! The studio is lovely, a short bike ride to the beach. There are some nice spots to visit near the train station, or you can bike or uber to the fancier side of town for lots of great food and drink. A lovely spot to spend a long weekend, and so easy to access from the City!
Miriam
2015-07-05T00:00:00Z
Beautiful apt, good location and very gracious hosts! Luke and Marcella made sure wE felt at home , had bikes for us to use and were very helpful with any questions we had. We highly recommend staying here!
Heather
2015-08-02T00:00:00Z
We had such a wonderful weekend at this incredibly cozy and well-designed spot. The attention to detail is really incredible and made the experience so special. While there are bicycles to explore around the area, I definitely recommend bringing a car to get the most of it. There is so much exploring to be done in Bridgeport and this place was the perfect location to allow for that. I can't thank Luke and Marcella enough for sharing their beautiful home with us for a weekend!
Courtney
2016-05-31T00:00:00Z
Luke and Marcella's place was great. They were very accommodating, and their attention to detail in terms of making sure our stay was as stress free as possible was second to none. This was also apparent in their overall decor and cleanliness of their place. It was greatly appreciated. Recommended stay! (Bikes were also a great throw-in, and helped us get around very easily!)
Christopher
2016-08-13T00:00:00Z
I'd been searching for a place where we could visit the beach without needing a car and this was perfect! The room was private and had its own bathroom, along with tons of quirky touches like a record player. It was quite homey and had easy access to a park and a sandy beach. There were also bikes provided, and we were welcomed to drop off our bags even though we arrived before check-in time. Thanks so much for the hospitality! This was a lovely break from the city, very easy to get to, and very cozy.
Bhavya
2015-08-17T00:00:00Z
部屋タイプ
まるまる貸切
---
建物タイプ
アパート
---
定員
2
---
寝室
ブリッジポート, コネチカット州, アメリカ
For rent by the day: Sunny room with private entrance and deck. Pretty, walkable neighborhood near Yale, gourmet grocery stores and restaurants. Share bath and kitchen. Breakfast offered. Bring own toiletries. Come and go as you please.
Jeanne was very welcoming & was helpful with eating options. Her accommodation was comfortable & most welcome. Maybe a great idea to include the (SENSITIVE CONTENTS HIDDEN) directions on leaving the freeway.
Kathy
2016-08-24T00:00:00Z
Jeanne very good,take me to the station,thank you so much.
Jianying
2015-10-09T00:00:00Z
I felt very at home in Jeanne's place! The ambience of my room was lovely, lots and lots of natural light! I was grateful for the apples and dark chocolate hershey kisses provided in my room :). Jeanne is incredibly easy to talk to, we got along really well. Great neighbourhood with take-out markets and a neat coffee shop around the corner. I would highly highly recommend staying with Jeanne.
Alexandra
2016-05-17T00:00:00Z
Jeanne was super welcoming and kind. She keeps a beautiful clean home, and has prepared simple amenities (like great coffee in the morning) to make the stay comfortable. The neighborhood was convenient, charming and safe. Even for the short visit, I was really happy to meet her and be so well accommodated. Thanks Jeanne!
Danielle
2016-04-17T00:00:00Z
We saw it as our home in NH
hai
2016-08-30T00:00:00Z
Jeanne's place is a lovely apartment in East Rock adjacent to a kitchen and a bathroom. For a quick stay in New Haven, I would absolutely seek out this apartment again.
Daniel
2016-10-23T00:00:00Z
Terrific place to stay! Jeanne was very welcoming and made me so comfortable. Incredible value!
Holly
2016-07-15T00:00:00Z
Beautiful place. Conveniently located to Yale. Jeanne is a great host. Clean and comfortable room with some snacks and breakfast provided. Nice touch
Mike
2016-11-19T00:00:00Z
ニューヘイブン, コネチカット州, アメリカ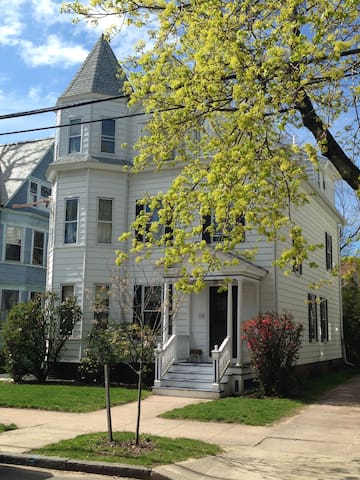 コネチカット州 - Airbnb
:
平均星

4.95

つ/

5

つ星・ゲストレビュー

1758

件