日付を入力すると合計金額が表示されます(税・サービス料別)。
Very spacious. In good decorative order. Comfortable and welcoming environment. Close to centre and beach. Many visitor attractions such as Giant's Causeway and Bushmills within 20 mile radius.
部屋タイプ
まるまる貸切
---
建物タイプ
別荘
---
収容人数
9
---
寝室
5
Portstewart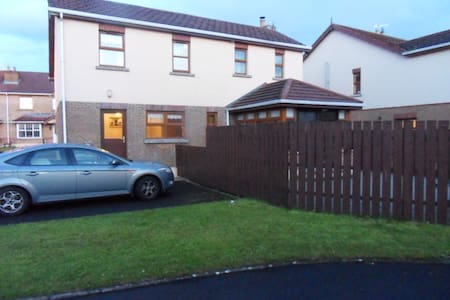 Downhill Beachhouse is a Victorian Villa on the Downhill Beach by the Mussenden Temple Estate. We are a self-catering guesthouse with 9 bedrooms + guest kitchen, living, dining rooms. 7 rooms share 5 bathrooms on landings + 2 rooms are en-suite.
The Beachhouse is a restored Victorian villa fronting onto Ireland's longest beach. The interior is casually elegant and artistic. Historical features such as original working fireplaces, polished wood floors, and sash windows give the house it's charming character. The kitchen is well equipped for self catering, the living room is full of toys, books and games for young guests, and there are always buckets, spades, & body boards to help you enjoy the beach. Our concept is to give our guests use of a full house's facilities for less than the average price of a B&B. Guests have full use of a well equipped kitchen, a comfortable lounge/living room, dining room, and reading nook overlooking the sea. Once checked in guests can come and go as they please. There is one private parking spot per room. The front garden and picnic area are for guest use. Wifi access is free and there is a computer for guest use. The laundry room may be used for a small charge. We live in a separate home next door to the Beachhouse. After checking guests in and helping with any travel plans or local information we will be available and contactable but will give guests as much privacy as they wish.
Northern Ireland's Causeway Coastal route is rightly renowned as a world famous coast line with stunning cliffs, beaches, and landmarks. We are 30 minutes from the Giant's Causeway, 25 minutes from Bushmills Distillery, & 20 minutes from Portrush. At the end of our beach the Wild Atlantic Way meets the Causeway Coast at the Magilligan Ferry. Downhill is ideally located as a base for exploring the Causeway Coast, Derry, and parts of Donegal. Additionally we front a long white sandy beach great for surfing, swimming, walking at sunset, and used as a film location by Game of Thrones. Behind the house is the Downhill Demense, a National Trust property home to the famous cliff hugging Mussenden Temple. The passenger train from Belfast to Derry stops in Castlerock village 2 mi / 3km from the Beachhouse. Service is currently every other hour in both directions. Busses from Belfast and Derry connect through Coleraine and Limavady stopping in Downhill roughly every 90 minutes in both directions. A local taxi from Castlerock to Downhill costs £3.50. We are 1:15 from Belfast City Airport and 35 min from City of Derry Airport by car.
The accomodation was great and very nice located. It was great to go on the beach. The house was nicely done up and well equipped. I recommand Downhill Beachhouse to everyone who travels through Irland.
Nathanael
October 2016
We enjoyed our stay very much. Irish music get together was amazing. We slept comfortable and enjoyed our walk on the beach an overall great experience.
Brenda
September 2016
McCall was an absolutely lovely host with lots of energy and enthusiasm! She was incredibly welcoming from the get-go, and recommended some great local places to see and eat at during our stay. The house is absolutely beautiful, with wonderful views of the beach, which is literally a one minute walk out the front door. The room was very spacious and comfortable, and we enjoyed hearing the ocean and feeling the fresh ocean breeze through our window the whole time we were there. The kitchen is well-equipped with lots of utensils, etc for if you want to cook, and the other facilities (sitting/dining room areas) were very welcoming and comfortable spaces. Very highly recommended, and we will definitely be stopping here again when we return to Ireland!
Ian
May 2016
Wonderful! It is an old sort of manor house and the location is amazing. We were lucky enough to be the only ones (we could see) when we were there and felt like the Lord and Lady of the manor. Mussendon temple is on a cliff above the house, there are some great restaurants nearby and a supermarket if you want to cook in the gigantic kitchen. Wonderful location, wonderful place and the host Maccall was lovely. Nothing was too much trouble and she was there when we needed her and not when we didn't. Highly recommend.
Cameron
October 2015
The beach house is a cute little house tucked away in Castlerock. McCall was a wonderful host who had great recommendations. The house was well kept and spacious. The bathrooms were clean and had warm water. McCall was a fantastic host. Due to drinking with the locals at a nearby pub, my boyfriend and I accidentally locked ourselves out of our room. After using the phone from the house, McCall came out of nowhere and saved the night!
Morgan
August 2016
We had the most wonderful time at Downhill Beachhouse! The views from the house are absolutely beautiful which made the house the best location for a stay near Coleraine. It's surely secluded but I would not have wanted to stay anywhere else. Downhill is a nice 3.5miles walk from Castlerock station and it's a little tricky to get a taxi from there unless you have a number. Luckily our host made sure that we'd been given one. William introduced us to the house which has everything you need in terms of amenities. We even had a lovely evening entertained by a fantastic young violinist who played Irish music. In short - do stay at Downhill Beachhouse if you're after a beautiful and relaxing experience on the Irish coast!
Dominique
August 2016
A wonderful place, beautifully located on the coast. We walked round from the station at Bellarena - a pleasant journey of several hours. The room was clean and spacious. We loved the set up - self-catering, large kitchen, communal areas. One thing to bear in mind is that there are no shops or restaurants nearby so if you are arriving on foot make sure you bring food with you. We simply took a cab to the nearby Spar and stocked up on pizza. (round trip 5 miles) which cost 10 quid. Would definitely visit again and hope to do so soon. Communication was at all times prompt and helpful. Bus next day to Portstewart (via change at Coleraine) then we continued on the Causeway Coast walk.
Charlie
August 2016
Thanks for everything, we had a very good time in the Beachhouse. Lovely place....Lovely people...
János
October 2016
Castlerock