L' appartamento è situato a Civitella Marittima, un piccolo borgo medioevale nel cuore della maremma che offre l'occasione per visitare splendidi paesaggi toscani. Il paese si trova a circa 15 minuti dalle Terme di Petriolo ed in circa 30 minuti si raggiunge sia la splendida città di Siena che il mare con le sue belle coste
L' appartamento, recentemente ristrutturato, dalla cui finestra del soggiorno si gode della vista sul Monte Amiata. si trova al secondo ed ultimo piano di una casa che risale agli inizi del '900 , in un contesto di assoluta tranquillità e di particolare interesse culturale e naturalistico
L'appartamento è nel paese di Civitella marittima, situato sulla sommità di un colle ricoperto di cipressi e olivi, da cui si può ammirare un bellissimo panorama sulla pianura Maremmana, sul Monte Amiata e sul litorale tirreno
部屋タイプ
まるまる貸切
---
建物タイプ
アパート
---
定員
4
---
寝室
Civitella Marittima, Toscana, イタリア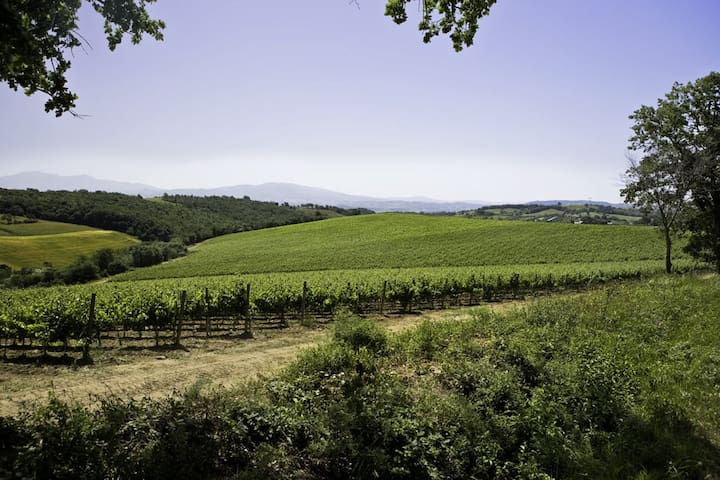 A wonderful off grid rustic experience in a unique setting away from it all.
Molino di Sotto is a large stone built water mill, full of character in a special setting. Recently renovated in a rustic style, the downstairs has a dining area and open plan kitchen, perfect for families or groups of up to ten people cooking and eating hearty breakfasts, ready to explore the Tuscan countryside. The upstairs has three adjoining bedrooms. Two with double beds, and one with bunk bed and two single beds. There is also a private double bedroom on the ground floor. The bedding is flexible and can moved around to suit your requirements. The main bathroom with toilet is upstairs, plus there a separate shower room with toilet downstairs. The Mill has an untouched, rural setting at the end of a rugged farm track, with a stream running alongside. The large outdoor dining area and BBQ is a very beautiful setting to enjoy al fresco evening meals surrounded by fireflies in candlelight. The river Lanzo provides a cool watery dip. Electricity is solar powered, providing simple lighting and a few charging points, which makes it the perfect place to leave the world (and mobile reception) behind. The nearby town of Paganico has a quaint square, coffee shop and one of the finest gelateria in Italy. The Mill is around 50 minutes drive to Siena, perfect to see the famous Palio di Siena. Other nearby attractions include the picturesque towns of Montepulciano and Pienza, cities of Pisa and Florence, natural springs, the beach and the mountains. Rob and Carole Hasbury live in a cottage near the Mill and can offer as much or as little help with your stay as suits your needs, suggest best local places to visit, help with your BBQing adventures in the evening, or simply hand you the keys on arrival.
The nearby town of Paganico has a quaint square, coffee shop and one of the finest gelateria in Italy. The Mill is around 50 minutes drive to Siena, perfect to see the famous Palio di Siena. Other nearby attractions include the picturesque towns of Montepulciano and Pienza, cities of Pisa and Florence, natural springs, the beach and the mountains.
Das war unser erster Aufenthalt mir Airbnb und es war ein wunderbarer Start. Die etwas abgelegene, auf einer wilden Schotterpiste zu erreichende Mühle ist ein wunderbares Refugium in der Natur. Die Mühle ist authentisch und bietet alles, was man braucht. In den ersten Stock führt die steilste und längste Haustreppe, die ich je gesehen habe. Der Hit allerdings (nicht nur für unsere Kinder, 9 und 10, ) war die Gumpe im Bach in der man sich toll baden kann - ein natürlicher kleiner Pool mit wunderbaren Hängematten daneben. Rob und seine Frau wohnen im Haus daneben und gaben uns das Gefühl uns ganz frei im großen Grundstück bewegen zu können und gaben uns gute Tips für Unternehmungen. Wir hatten nette Gespräche am nächtlichen Lagerfeuer und fühlten uns die 4 Tage rundherum wohl. Wir können die Mühle für naturverbundene Reisende nur wärmstens empfehlen. Rob, hope to see you again one day... Danke!
Axel
2014-09-02T00:00:00Z
Ein wunderschöner ruhiger Ort, bestens geeignet für Familienferien in der Natur. Rob & Carol waren sehr hilfsbereite und nette Gastgeber, welche uns auch mit Ausflugtipps in der Umgebung versorgten. Wir kommen gerne wieder.
Thomas
2016-10-04T00:00:00Z
Rob and Carol were the best hosts ever. Seriously. It will be SO difficult to top this experience. They should go down in the AirBandB Hall of Fame. From the moment we arrived down the long windy road to Il Molino, we were taken care of. Rob was availble to answer our mildly distressed call in the middle of the drive down to assure us to keep driving--we were indeed on the right path. The Mill House (Il Molino) is situated next door to Rob and Carol's cottage. The grounds are part english garden part Italian creekside, with rustic tables scattered about, a bocci course, grass tennis court and hammocks under a half dozen trees. The Mill House is absolutely beautiful, with super soft sheets on all the beds and lovely decorative details in all the rooms. We were in Tuscany to attend a friends wedding and Rob and Carol made sure we could get where we were going, knew the local customs, and ate delicious meals while we were their guests. Take them up on their offer to cook for you..they know what they are doing! The morning that we woke up to rain, Rob shoved us in his truck and drove us out to the hot springs! So thoughtful!! Our 17 month old son fell in love with them, and was sad to leave. We would recommend this to anyone who wants to get away from it all, live off the grid in the care of devoted hosts in the Italian countryside.
Hal
2015-06-16T00:00:00Z
Posto (URL HIDDEN) casa è bellissima ed arredata con gran gusto e la natura intorno regala proprio una sensazione di pace. I proprietari sono persone molto gentili e disponibili oltre che simpatiche e piacevoli!!
Clelia
2015-08-26T00:00:00Z
Rob and Carole were amazing hosts. Always on hand and super helpful. The mill was heaven, one of the most beautiful places I've ever visited. I'm sure I'll be back soon!
Carina
2014-10-24T00:00:00Z
We enjoyed staying at the mill with its great surrounding. Carol and Rob had been great hosts, very helpful (but not too much) and they could provide us with lots of tips what to do in the area.
Dorette
2013-07-27T00:00:00Z
È l'isola che non c'è trasformata in una villa di campagna. Una villa tra i fiori e accanto a un ruscello, separata dalla civiltà da una strada impervia. Alf il cane è fantastico, Rob e Carol gentili. Ci sono anche l'altalena, un campo di bocce e uno spazio per giocare a racchettoni, l'acqua dei rubinetti è di pozzo, e l'energia è solo verde, alimentata da pannelli solari. Insomma, un'esperienza sovrannaturale.
Francesco
2016-04-26T00:00:00Z
Well 2 nights was just not enough, this is a great place to stay, Rob Carol and Alf were great hosts for the 7 of us. On the afternoon we arrived it was my fathers 70th birthday and as we were behind in time getting to the Mill Rob offered to prepare a meal which we took him up on. We arrived to a table all laid out for a big family meal, while the food was being finishing cooking Rob brought out the Tennis set to play a game or 2 with us all. Dinner was just what we wanted to end an awesome day. The 2 boys loved playing with Alf the dog and didn't want to leave. The swimming hole in the river next to the Mill was also a great place for a refreshing dip. Thanks Rob and Carol for making it a special stay
Chad
2016-05-29T00:00:00Z
部屋タイプ
まるまる貸切
---
建物タイプ
一軒家
---
定員
10
---
寝室
Civitella Paganico, トスカーナ, イタリア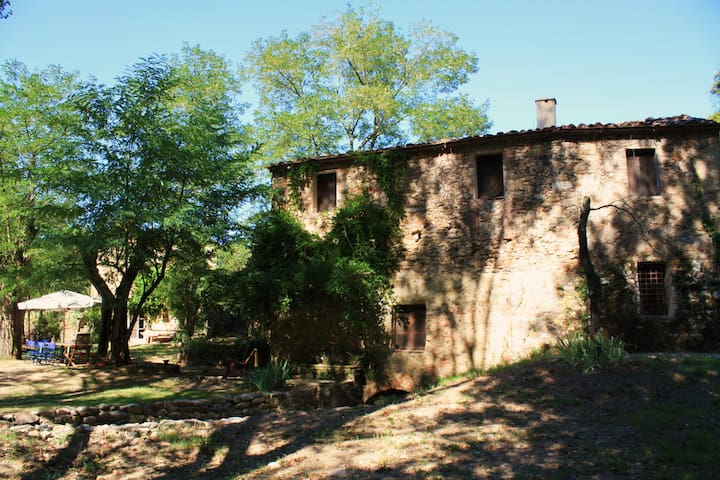 Room in apartment panoramic, near the train station and Piazza Garibaldi metro and bus. Also very close to the historical center and the Capodichino Airport. Double bed with wardrobe, TV. Wi-Fi, heating and air cond
Near the train station and Piazza Garibaldi metro and bus. (10 minute walk) Very close to the Capodichino airport. (By taxi 10 minutes) Very close to the old town (10 minute walk). Panoramic. The owner is friendly and the kitchen very well. Environment comfortable and very clean. The house has a large terrace from which you can see Vesuvius and the Capodimonte hill.
Central and popular, historic, with many shops, bars, supermarket, always open.
Napoli/san Lorenzo, Napoli, イタリア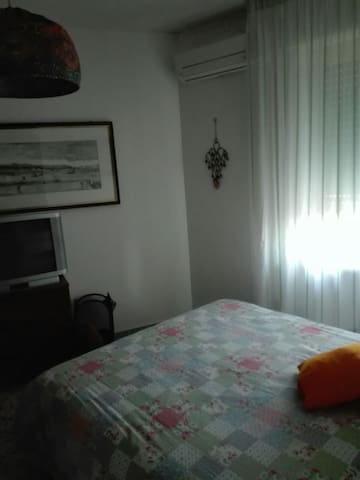 Located in the heart of Tuscany south of Siena. Within just 30mins you have great access to highlights such as: 1) the beach (Marina di Grosseto), 2) wonderful wine (Brunello di Montalcino), 3) ski resort (Monte Amiata), 4) etc, etc. Our 120year old farm house has been upgraded to a 6* standard in 2016. Located on a hill at the end of a farm road it offers a sensational 180 degress panoramic view which you can enjoy from the 60sq. metres terrace. This area is Tuscany at its best, LA DOLCE VITA!
Civitella, Toskana, イタリア
Per chi vuole visitare la Toscana, fare ogni giorno giornate diverse noi siamo a 50min dalle cita d'arte, 50km da Montalcino-Pienza-Montepulciano, 50km dalle meravigliose coste marine, 50 km dal famoso e unico Parco naturale della Maremma tanto altro
L'alloggio è in mezzo al verde e la tranquillità! Disponibile per due persone. La posizione per fare delle giornate diverse , escursioni, degustazioni, terme, o scegliere di rilassarsi stando nella piscina e respirando i profumi della natura e sentire solo il vento e l'uccellini che cantano!
Panorama, il verde, la pace e i colori!
Le site est enchanteur, isolé sur une colline, calme avec une vue imprenable sur les champs, l'église (office d'accueil d'Elida) à 50 m et la vallée. Le wifi n'est accessible que devant l'église, de façon partagée avec les autres résidents des appartements. Elida est chaleureuse et ne manque pas de nous demander dès que nous la croisons si tout va bien. Si on souhaite visiter les alentours, il faut absolument une voiture. La région est en basse montagne donc les distances sur les cartes sont trompeuses à causes des nombreux virages. Profiter du petit déjeuner et du dîner sur la terrasse, face à la nature et au soleil couchant était un ravissement quotidien.
Gwénaël
2015-07-26T00:00:00Z
部屋タイプ
まるまる貸切
---
建物タイプ
アパート
---
定員
2
---
寝室
Monte Antico Alto, トスカーナ, イタリア
Camera matrimoniale con mobili d'epoca e piccolo salottino. E possibile aggiungere un letto singolo. Bagno privato con doccia. Vista e libero accesso al parco e alla piscina.
部屋タイプ
個室
---
建物タイプ
B&B/民宿/ペンション
---
定員
3
---
寝室
Civitella Marittima, トスカーナ, イタリア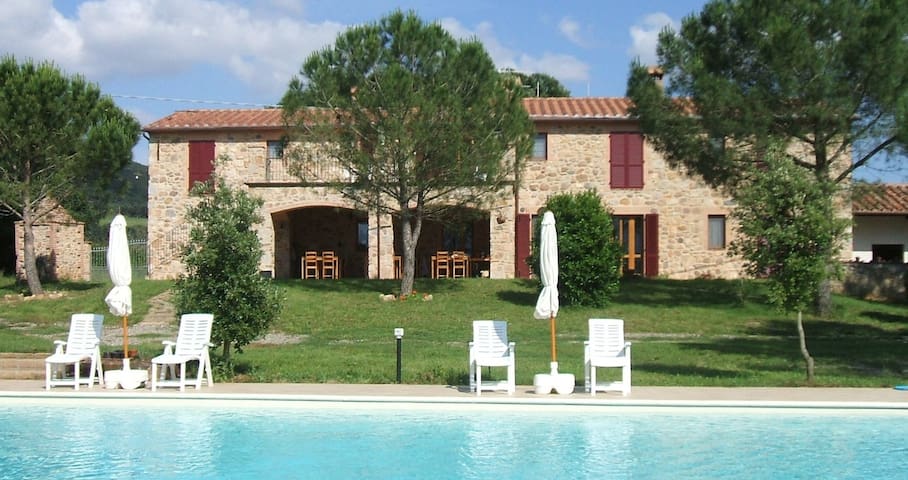 Offriamo camere con bagno in una casa in pietra della fine 600 nel centro di Civitella Marittima,un antico borgo su un colle tra Siena e Grosseto, nel sud della Toscana. Le camere sono arredate con mobili d'epoca.Nella bella stagione la colazione è offerta nel piccolo giardino sul filo delle case del borgo, con una splendida vista sulle colline e sulla Maremma.Passeggiate tra grandi boschi di querce e bagni alle Terme di Petriolo (6 km. da noi) eal fiume (URL HIDDEN) Mare è circa 30 km.
Ai nostri Ospiti offriamo la possibilità di fare Passeggiate a Cavallo, tour delle Cantine, Tour Gastronomico nei migliori ristoranti tipici, con le specialità della nostra terra, escursioni a piedi in grandi boschi di querce fin Val di Farma, selvaggia e solitaria, dove è possibile fare il bagno nel torrente Farma.
Civitella Marittima è un antico borgo di origine etrusco-romana adagiato su un poggio con una splendida vista sulle colline circostanti..Le vie e lepiccole piazze hanno l'impronta medioevale originale e un tempo l'accesso era consentito da tre porte che la notte venivano chiuse...
We stayed in a house(castle) from 1400. We liked very much the house and the host. Sara was very nice and communicative and she gave us details of how to go to a thermal bath, Bagni di Petriolo, which was amazing and very near. In the morning he offered us an Italian breakfast. We liked our staying, the landscape in front of the house was very beautiful.
Mihai
2016-08-17T00:00:00Z
Die Unterkunft ist toll gelegen - nur ein paar Minuten von der Schnellstrasse entfernt. Man kommt überall schnell hin. Siena 40 min, Massa Marittima 30 min, Strand von Follonica 45 min, Grosseto 30 min, Rom 2 1/2 h Fahrzeit mit dem Auto. Toller Ausblick von der Frühstücksterrasse. Die Vermieterin hat mit ihrem Mann gemeinsam einen tollen Pferdehof im Tal von dem aus Sie mehrtägige Geführte Trekkingtouren zu Pferd anbieten - ein sicherlich unvergessliches Erlebnis in der traumhaften Landschaft der Maremma. Als Pferdeallergiker mussten wir leider auf dieses tolle Abenteuer verzichten.
Hei
2016-08-13T00:00:00Z
部屋タイプ
個室
---
建物タイプ
B&B/民宿/ペンション
---
定員
2
---
寝室
Civitella Marittima, Toscana, イタリア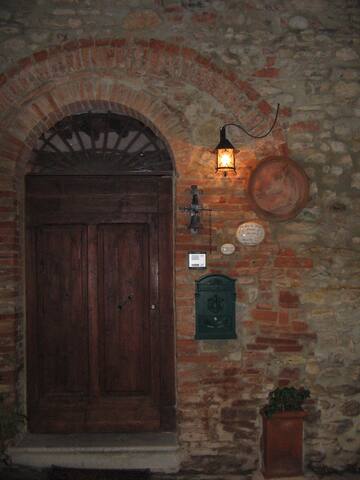 Romantic stone cottage in the heart of a medieval village halfway between Siena and the coast. WiFi, airconditioning.
Casina di Rosa is a stone house in a hilltop village in quintessential Tuscany, near Siena. It is made up of large bedroom with lounge area and en suite bathroom with shower and a well equipped kitchen with laundry facilities and a romantic open fireplace. The house is ideal for honeymooners and slow traveler. It has plenty of excellent reviews by previous guests and it has been chosen as a Slow Travel and Trip Advisor favorite. Heating, air conditioning, sat TV, internet access, library with guidebooks and maps for our guests to borrow, private parking space. It is an ideal base to explore the most popular sites in Southern Tuscany: from Siena to the Val d'Orcia, from the Chianti area to the Crete Senesi, from the Val d'Orcia to the Maremma and its beautiful coasts. Plenty of day trips are possible from here: you can easily fill two or more weeks.
The house is located in the heart of the village. The village is quaint and quiet, in a great position for daytrips to all the major areas of interest in southern Tuscany. The village has all major services: corner shop for food, two bakeries, two bars, two fabulous restaurants, flower store, newsagent, hairdressers and barber, post office, pharmacy, bank, bank machines.
Civitella Marittima, Toscana, イタリア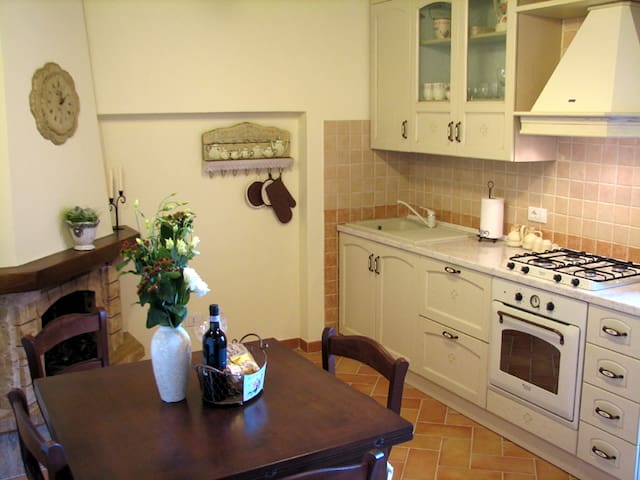 Unser kleines Idyll liegt zwischen Siena und Grosetto in der Toskana. Es bietet Platz für 2 Familien mit insgesamt ca. sechs Kindern. Das Haus steht frei auf einem Hügel mit über 100 Oliven- und Obstbäumen und hat eine wunderschöne Aussicht über die Alta Maremma - ein Spielplatz für groß und klein. Der kleine Ort Civitella Maritima ist in 10 Minuten zu Fuß zu erreichen. Zu den verschiedenen Stränden am Meer sind es zwischen 30 und 60 Autominuten. Zum Fluß Farma und den heißen Thermalquellen von Petriolo braucht man nur 10 Minuten. Alles Weitere erfahrt Ihre unter Te
Très belle maison très bien située. En même temps dans une nature calme, entourée de vieux oliviers mais aussi très proche des grands axes qui permettent de visiter facilement les belles villes toscannes. Belle décoration simple et authentique. Thomas est charmant et répond trés rapidement aux mails. A recommander absolument.
Catherine
2016-08-07T00:00:00Z
Ein sehr schönes, typisches, toskanisches Landhaus mit sehr viel Stil und Charisma restauriert. Sehr ruhig inmitten der Natur gelegen - viele Oliven- und Obstbäume befinden sich auf dem gepflegten Gut. Alles klappte perfekt - herzlichen Dank dem sympathischen Gastgeber!
Marlen
2015-07-12T00:00:00Z
Vi havde 14 dejlige dage i Thomas og Katarinas nedlagte landejendom i Toscana. Vi var 3 generationer - i alt 9 personer der gæstede Thomas og Katarinas "Podere" (landejendom). Huset er et ældre charmerende hus, som Thomas har sat nænsomt i stand. Huset fremstår med de faciliteter man har brug for. Her er rå klinker - pejse - højt til loftet og en fremragende UDSIGT til de smukke bjerge. Husets møblement er i tråd med huset - charmerende, råt og antikt. Huset ligger i en olivenlund med et rigt dyreliv - vi så blandt andet rådyr, egern og masser af andre dyr. Området er præget af landbrug - især oliven- og vinproduktion. Thomas er en yderst elskværdig vært og gjorde alt for at vores besøg skulle blive en succes. Thomas svarer hurtigt på mail og telefon og giver sig tid til at uddybe forslag til seværdigheder m.m. Vil man bo ugenert, autentisk og i pagt med naturen i det smukke sydlige Toscana, så kan vi varmt anbefale Thomas og Katarinas skønne rå idyl.
Mads
2015-07-26T00:00:00Z
部屋タイプ
まるまる貸切
---
建物タイプ
一軒家
---
定員
10
---
寝室
Civitella Marittima, トスカーナ, イタリア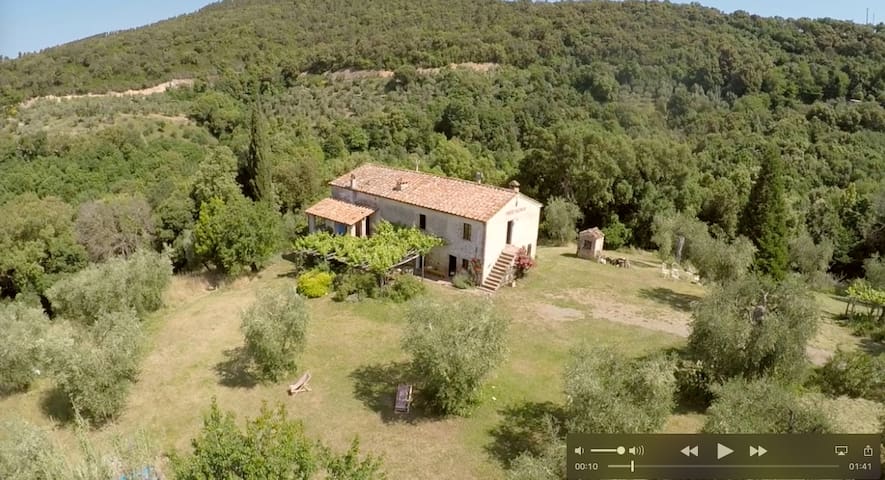 DUOBLE BED ROOM WITH BATHROOM An old double bed of the 19th century, an old writing desk, tribal carpets and paintings narrating the eath's depth by the use of the materials: wood, sands, earths, ash.
Our biological Holiday Farm is situated in Tuscany, in the Maremma near Grosseto with it's marvellous sea and it's unique tuscan countryside, in a still nearly untouched area of the Maremma. You'll find our Holyday Farm along the wine-road of the famous Montecucco, 30km from Grosseto and 50km from Siena away and at only 6 km from the country Paganico. It's ideal for those who want to spend a calm vacation, within the marvellous green of the surrounding typical tuscan hills. Our farm is perfect for holidays with children too: on our farm they have the possibility to know many kind of animals, spending a wonderful and amusing time among fields and oak forests or along the stream Lanzo where you can fish and take a bath too. In our Holiday Farm you'll find 2 rooms for 2 and 3 people, a single room apartment for 4 people with cooking angle which is suitable disabled people too, another apartment for 4 people composed by a big kitchen, a double bed room and a room with two single beds. In all rooms you'll find antique restored furniture. We have given to every room and apartment his own personality by the use of different delicate colours and pictures created by the artist, living and working on the farm. On our holiday farm you'll also find a permanent exhibition of the artist's creations. The farm near Grosseto is managed by the artist's family and has an extension of around 30ha with it's cultivations realized according to the principles of the biological agriculture. Here you'll find vineyards, olive-groves, pastures, fields for the mowing of the hay and cereals for the feeding of the farm's animals: buffalos, goats, horses, rabbits and many other courtyard animals. You may taste the famous tuscan olive oil, the local wine, sausages made of meat from buffalos and pigs and take part on the vintage and the harvest of the olives in November.
Agriturismo molto piacevole immerso nelle colline della maremma. Riccardo è sempre disponibile e ha reso la nostra permanenza molto gradevole.
Davide
2015-06-15T00:00:00Z
Ho avuto l'immenso piacere di pernottare all'agriturismo "Le sorgenti", un angolo immerso nella tranquillità della natura maremmana, che ospita bufale, cavalli, galline, capre e tre cagnoloni in cerca di coccole. Riccardo è stato sempre accogliente e tempestivo nelle comunicazioni, ma devo particolarmente ringraziare lui e sua mamma perché ci hanno quasi adottato nelle notti lì trascorse, per via di un guasto all'auto che ha reso gli spostamenti quasi impossibili. Mandela, il nome della camera assegnata, era spaziosa, comoda e finemente arredata. Credo che la disponibilità mostrata assieme alle qualità assolute dell'agriturismo siano il valore aggiunto di questo luogo che spero di tornare a visitare presto data anche la vicinanza con Grosseto e Siena. Grazie ancora Dennis
Dennis
2015-08-15T00:00:00Z
Civitella Paganico, トスカーナ, イタリア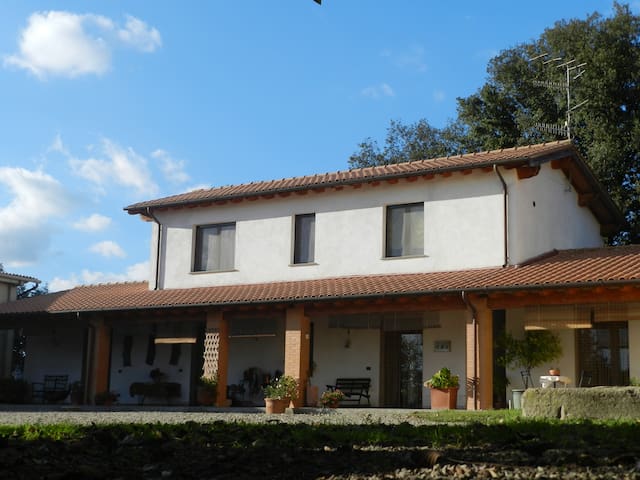 la camera oca è una graziosa stanza con bagno dotata di camino , aria condizionata,riscaldamento indipendente e grande balcone
部屋タイプ
まるまる貸切
---
建物タイプ
B&B/民宿/ペンション
---
定員
4
---
寝室
Civitella Paganico, Toscana, イタリア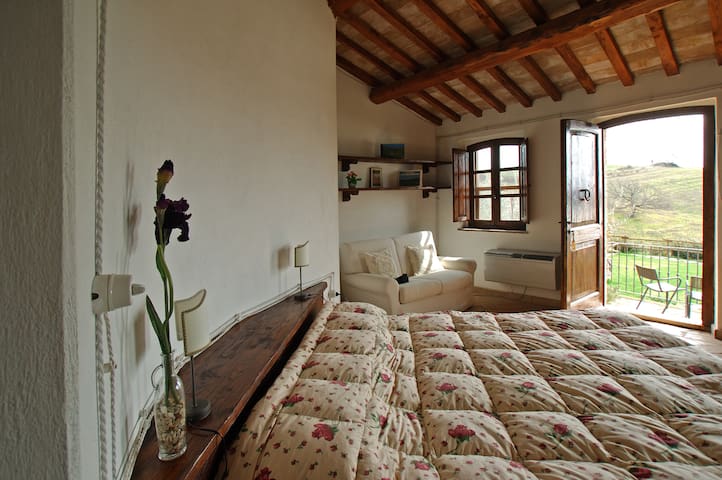 Il Cottage Violapo è una piccola costruzione country che si trova in TOSCANA nelle campagne di Civitella Marittima,in provincia di Grosseto, a pochi km da Montalcino, a 10 min dalle Terme di Petriolo e a 40 min dal mare. Nuovissima Piscina e gazebo
La tranquillità della location , la particolarità del cottage e la sua posizione strategica
Abbiamo soggiornato presso il cottage violapo la settimana di ferragosto. La struttura e' davvero carina! Un grazioso cottage immerso nella Maremma Toscana. Arredato bene, accessoriato e con un patio esterno che ci ha permesso di goderci il sole in tranquillata e riservatezza. Il paesaggio e' meraviglioso e la sera si vedono delle stellate senza pari!!! Si è' un po' distanti dal mare... Ma in 15 -20 minuti ci si arriva tranquillamente in auto. Vicino ci sono poi un sacco di località carine tra cui roccastrada, belle da visitare e su mangia davvero bene. Va benissimo se si cerca una vacanza relax, indipendente, senza orari... Essendo fuori dal centro non ci sono vicini o altre persone a cui render conto... Ottima vacanza.
Simone
2014-08-18T00:00:00Z
CIVITELLA MARITTIMA , Tuscany- GROSSETO, イタリア
It's a beautiful place in Tuscany where you can have a very interesting week. You could do a little sunbathing by the pool, swim there in the night(because there is not a soul around), drive in less than an hour to some of the most popular and ancient cities of Tuscany like Siena or Florence.
部屋タイプ
まるまる貸切
---
建物タイプ
アパート
---
定員
4
---
寝室
Civitella Paganico, Toscana, イタリア
Nel nostro podere, tra Siena e Maremma, troverete un'ospitalità familiare, piscina, ampi spazi comuni e buon cibo. Questo appartamento ha una cucina spaziosa con zona salotto, una grande terrazza con gazebo e due camere, ciascuna con bagno privato.
In their agriturismo, between Siena and the Maremma's sea, Ornella and Roberto offer you a friendly hospitality. You can enjoy the swimming pool, the spacious common areas, the good food, a shaded parking and the Tuscany surroundings. The house has six bedrooms, all with private bath; one can accommodate people with disabilities. The two apartments are equipped with spacious kitchens and large terraces. Discover what Casetta Francini offers you. Sea, mountains, natural reserves, gentle hills and hot springs. Our guests will have a special price at the Petriolo's thermal bath.
The house is located 3 km from Civitella Marittima, an ancient medieval village of the high Maremma, in the province of Grosseto. Siena, Montalcino and Pienza, the thermal baths of Saturnia, Mount Amiata, the sea of Castiglione della Pescaia and Punta Ala, the Natural Park of Maremma and Argentario, can be reached in less than an hour, Rome and Florence in about two hours by car or train. In few minutes you can reach the thermal baths of Petriolo the Mining Park of Gavorrano and Ribolla, the natural reserves of the Farma and Merse rivers, many wineries, castles and medieval villages, walking and bicycle trails. Possibility of horse trekking and walking tours in archaeological sites.
We enjoyed a very pleasant stay in a beautiful and clean apartment. The children enjoyed the swimming pool very much. Roberto and Ornella prepared a nice typical Tuscany dinner. They also know their way in the beautiful environment and you can ask them all questions about all the things you have to see or do in Tuscany.
Andy
2013-08-25T00:00:00Z
Roberto et Ornella sont des personnes accueillantes et attachantes. Roberto parle très bien français, il aime le pays où il habite, le connait très bien et vous prodiguera nombreux bons conseils si vous le lui demandez. L'endroit est un peu à l'écart de la route, au calme, en pleine nature. Vous pourrez avec un peu de chance voir en début ou en fin de journée, la biche se promener dans la prairie devant la maison, ou le hérisson venir croquer quelques croquettes des nombreux chats. Endroit idéal pour découvrir la Toscana Maritima, vous êtes à même distance de Sienne et de Grosetto. L'appartement spacieux est bien équipé (sèche-cheveux, essoreuse à salade, tire bouchon!, ...) et rien - qui pourrait vous empêcher de passer de bonnes vacances - ne manque.
Emmanuel
2013-08-18T00:00:00Z
Roberto and Ornella were very friendly. They were always happy to tell us where we should go to shop, to eat, to see the region. The apartment was very cosy and clean. The pool is amazing! We enjoyed our stay at Cassette Francini.
Deborah
2015-07-13T00:00:00Z
部屋タイプ
まるまる貸切
---
建物タイプ
アパート
---
定員
5
---
寝室
Civitella Marittima, トスカーナ, イタリア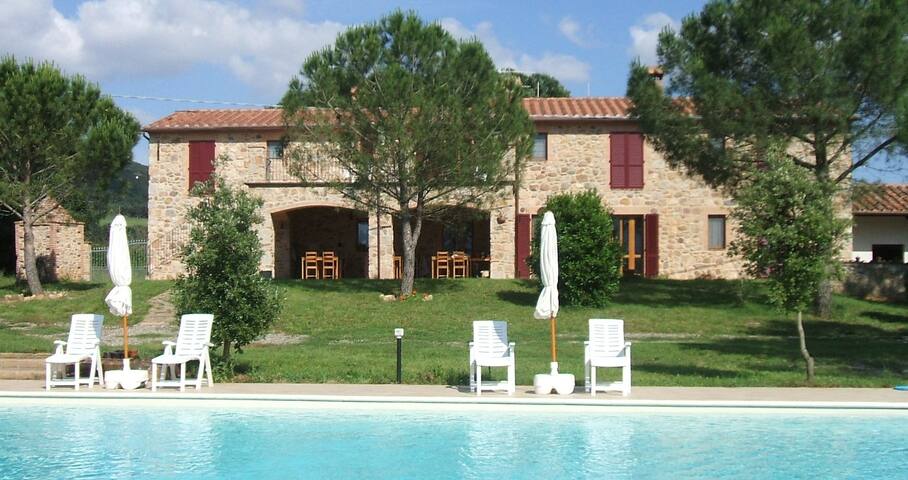 La nostra YURTA RELAX con ampio bagno interno con doccia, vi accoglierà nel suo meraviglioso spazio circolare regalandovi un'atmosfera unica dove gustare, una ROMANTICA CENA A LUME DI CANDELA con soli prodotti della nostra azienda agricola a km zero. Ed inoltre la possibilità di un MASSAGGIO privato nella Yurta, con tante tipologia diverse da poter scegliere. ..Shatsu, Ayurvedico, Tonificante, , Rilassante, Candle Massage, Stone Massage con la maestri e l'esperienza della nostra Silvia.
Troverai nella YURTA una serie di confort che ti aiuteranno a passare una indimenticabile serata, come l'illuminazione con cromoterapia, con la quale potrai scegliere il tono di colore della tua atmosfera, una scelta di incensi per profumare i tuoi momenti,oli profumati con bruciaessenze, selezione di the, tisane e infusi vari con bollitore, riviste e piccola libreria a disposizione, cuscini cervicali, lampade al sale dell'Himalaya, selezione di bagnoschiuma con tante fragranze diverse e molto speciali e molto altro da scoprire....i tuoi 5 sensi saranno senz'altro soddisfatti!
L'atmosfera che gusterai sarà la pace e la tranquillità della nostra azienda agricola immersa nelle colline della Maremma Toscana...
It was a deep intense and authentic expérience. The landscap was extremely recovering . Sweet welcoming, great and home made food, coming from their garden.
Simon
2016-07-28T00:00:00Z
Una piacevole sorpresa! non conoscevamo il tipo di alloggio "(URL HIDDEN) si cerca relax è l'ideale!
Alessia
2017-02-05T00:00:00Z
Civitella Paganico, Toscana, イタリア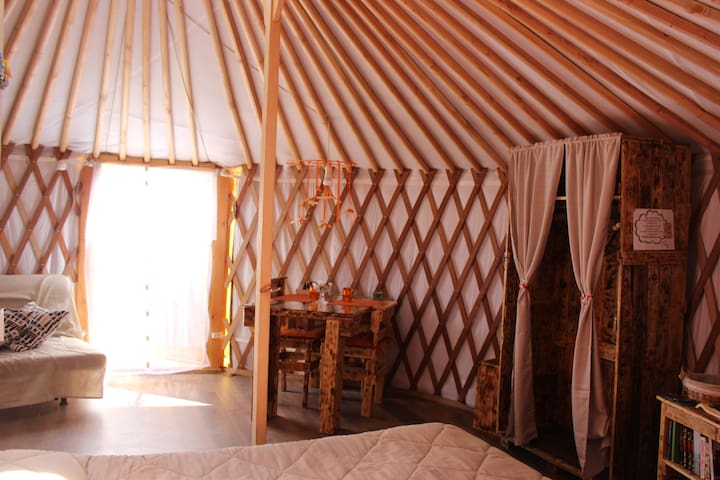 Un casale immerso nei vigneti, dotato di ogni comfort, con una vista unica su tramonti mozzafiato, calorosa ospitalità e grande tranquillità. E' il posto ideale per una fuga romantica, per ricaricarsi di energie, per visitare il sud della Toscana
Camera in un casale tradizionale, con tetto in legno e travi a vista, bagno privato, cassaforte, frigo, letto matrimoniale con possibilità di aggiungere letti singoli.
Simo in piena campagna, sulla cima di una collina, in una posizione che ti fa tirare dei respiri profondi e fa volare con la mente.
Posto molto bello immerso nella natura maremmana. Camere accoglienti, giardino silenzioso, colazione con prodotti tipici, ubicazione strategica. Da provare :)
marina
2016-05-30T00:00:00Z
部屋タイプ
個室
---
建物タイプ
B&B/民宿/ペンション
---
定員
2
---
寝室
Civitella Paganico, Toscana, イタリア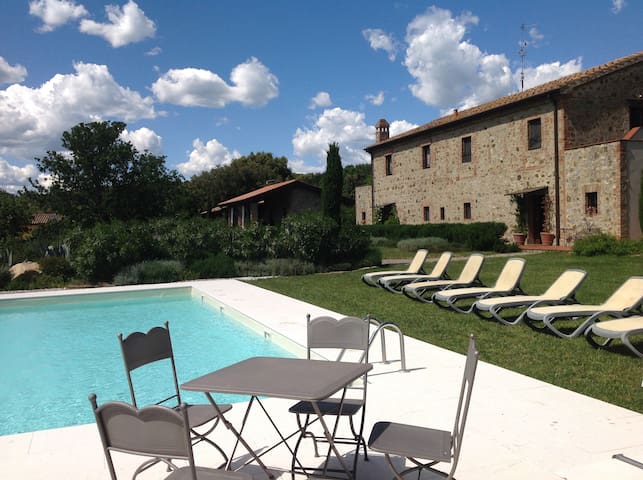 The ground floor large double room with private bathroom equipped that can also accommodate people in wheelchairs. Table and chairs available outside. View and free access to the park and swimming pool.
Price for two people with breakfast for a minimum stay 3 nights.
部屋タイプ
個室
---
建物タイプ
B&B/民宿/ペンション
---
定員
2
---
寝室
Civitella Marittima, トスカーナ, イタリア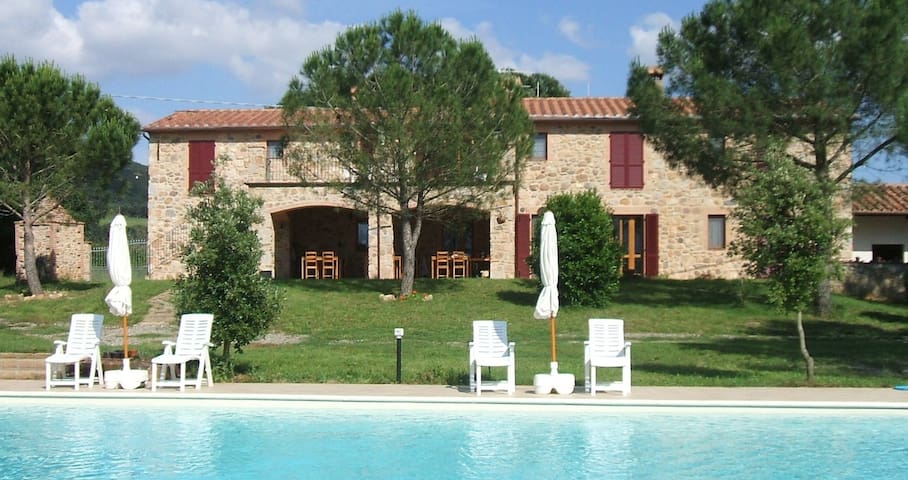 la camera civetta è una delle stanze più grandi del complesso con camino e corte esclusiva esterna dotata di tutti i confort compresa aria condizionata
部屋タイプ
まるまる貸切
---
建物タイプ
B&B/民宿/ペンション
---
定員
4
---
寝室
Dogana, トスカーナ, イタリア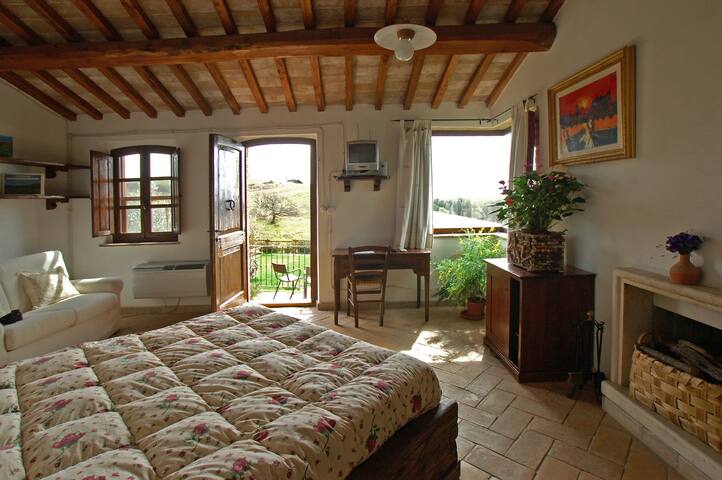 日付を入力すると合計金額が表示されます(税・サービス料別)。