Located on a beautiful 9-acre bushland property with in-ground pool, your elegant cottage has views, ambience, and comfort. The contemporary and fully self-contained cottage is 15 minutes from wonderful Castlemaine, and its restaurants and cafes, shops, galleries, family-friendly activities, etc. Free unlimited NBN wi-fi and Netflix. The cottage suits solo travelers and couples, and can accommodate a third guest on the luxurious sofa. (Extra $50 per night charged for third guest.)
Nestled in the Chewton Bushlands, Gondwanaland Cottage is a superior, stylish guest cottage surrounded by our 9-acres of Box-Ironbark Forest. Wildlife abounds - kangaroos, wallabies, our occasional koala visitor, over 50 species of native birds, high conservation status bushland with dams, walks, and peaceful ambience. The cottage is fully separate from the main house. Fully renovated to contemporary standards, you enter the living area and see the most comfortable couch ever, 4-seater dining area, and sleek, very well appointed kitchen. A 4-plate gas cooktop, Nespresso machine, good sized fridge, and top quality cookware, flatware, and utensils make self-catering a pleasure. There's also a large BBQ, and your own 6-seater outdoor dining setting, and of course, the signature Gondwanaland pool. The bedroom is at the rear of the cottage and has it's own gorgeous view and dappled eastern light. Rest yourselves well in the queen bed, read by the French door looking out to the bush. The living room couch is easily dressed up to make 2 single beds. Great bathroom with powerful, hot shower, and useful toiletry supplies. Gondwanaland Cottage will give you an 'aaaahh' feeling as you open the front door. A good choice.
The Chewton Bushlands is a special, much loved residential estate surrounded by natural ecosystem, with properties encompassing 5-10 acres, giving extra privacy. Located only 15 minutes from Castlemaine, 1 hour 30 minutes from the Bolte Bridge in Melbourne on the double-lane Calder Freeway, and 5 minutes from historic Chewton Village, our homestead has exceptional natural features, modern amenities, and proximity to the popular and diverse Mount Alexander Shire's many attractions and events. Plenty of flyers, maps, tourist booklets, etc. are on hand in the cottage. Coming up soon - The Castlemaine State Festival 17th to 26th March 2017.
Laura and Scott have put together a really great little apartment, next to their own home, in the middle of some lovely bushland near Castlemaine. Their communication before arrival was great and the whole process was nice and easy. The apartment had everything you could need, with plenty of space in both the bedroom and separate living area and some really nice touches like the port, fresh orange juice and all the basics you might want. Would definitely recommend.
Adam
2017-02-18T00:00:00Z
I have organised a birthday surprise for my wife at Laura's scenic accommodation and it was just great experience !! Scott and Laura are super amazing hosts and when you drive up to the place - feeling is - literally in the bush !! but wait till you reach to the property - its huge and they have made sure you have every little thing available for your best comfort !! it super tidy, clean and have a great feel !! Dinger and Molly are super friendly dogs waiting to welcome you ;) You can swim.. sit and relax midst of nature and walk around and njoy !! Superb experience and highly recommended . Regards Aurnie
Aurnob
2017-03-25T00:00:00Z
Laura's place is extremely comfortable with every amenity taken care of. Everything is fresh and new and beautifully put together I would highly recommend a stay here
Barbara
2017-02-04T00:00:00Z
Gondwanaland Cottage was impeccable, with everything you could imagine at your disposal. The setting was deep in bushland, and although close to the main residence, private. Laura communicated really well and has provided a clean and elegant accomodation. It was total R and R. Thank you Laura.
Renae
2017-01-04T00:00:00Z
Laura's place is a lovely cottage in the natural bush land near Chewton. It was very comfortable and had everything we needed!
Gail
2017-02-04T00:00:00Z
The property is in a superb location, giving peace quiet and tranquility. Inside it is very comfortable, with a very very comfortable bed and excellent shower. Laura and Scott provide lots of lovely treats. We would highly recommend this accommodation, to our family and friends and Laura & Scott as excellent hosts.
Jacqui
2016-11-21T00:00:00Z
The accommodation was comfortable, clean and tidy. We had everything we needed and more. We very much enjoyed our stay and would recommend a stay to anyone wanting a peaceful retreat.
Alana
2017-02-26T00:00:00Z
Gondwanaland has everything you could wish for-- wonderful, peaceful location in the bush; helpful and gracious hosts; well appointed and very comfortable accommodation
Peter
2017-04-05T00:00:00Z
Chewton , ビクトリア, オーストラリア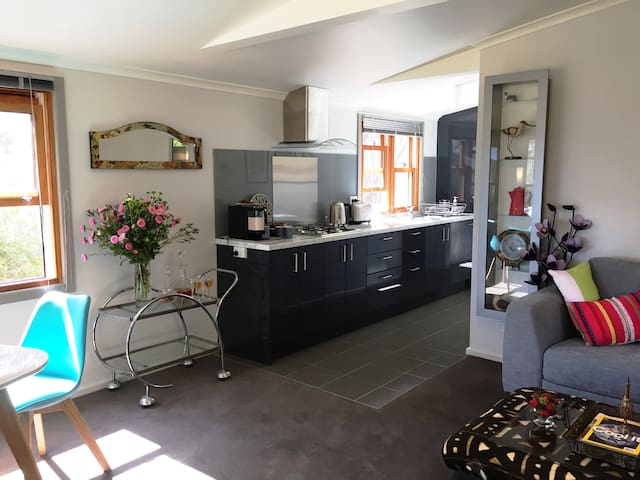 Charming self-contained stone cottage, 5 km from Castlemaine, in the picturesque historic village of Chewton. Ottery Cottage forms part of an 1850's historic property and includes a private garden with splendid views overlooking the National park. While the property has a main road address, the cottage is tucked away from the road next to the national park.
Within walking distance of local amenities and historic sites, 5 km from Castlemaine. Ottery Cottage is the perfect base from which to explore the diverse attractions of the Central Victorian Gold fields, whilst enjoying your own unique space within this delightful environment. The cottage is an ideal retreat for couples. Our guests describe the cottage as charming, cosy, and comfortable. Note: 2 night minimum booking The cottage has 1 queen-size bed. No additional bedding arrangements are possible.
Chewton was once the thriving heart of the Forest Creek diggings and is now a picturesque area surrounded by bushland and the Castlemaine Diggings National Heritage Park; Australia's first heritage park. One of the most extraordinary gold heritage landmarks in the region is nearby and within the heritage park -the remains of the Garfield Water Wheel are a lasting monument to the enormity of the gold rush. The town also retains a number of historic buildings on Main St (Pyrenees Highway). Located 5 km from Castlemaine, many artists call the area home. There's a wealth of arts activities in the area - live music, theatre, markets, visual art exhibitions.
We had really nice relaxing stay. Communicative and friendly hosts made for a very easy check in and we were provided with milk, bread, orange juice and some very nice coffee. The bed is comfortable and the kitchen is compact but has everything you'd need. We managed quite a nice roast lamb for Christmas!
Hugh
2016-12-26T00:00:00Z
Ottery cottage is very unique, we also love the interior and the spa :) Its just perfect for couple!
Maria
2016-02-03T00:00:00Z
Adorable little stone cottage, exactly as shown in images. Debbie and her husband were very welcoming and generous. Loved the small touches including fresh local bread, preserves and fruit. Spa was great, perfect for the cooler temperature in the cottage. Comfy bed! Definitely recommend!
Jasmine
2015-03-09T00:00:00Z
Great little cottage, everything was perfect. Beautiful little town with plenty to see, loved the reservoir and to come back and relax in the spa was great. Will definitely be back.
Josh
2014-12-14T00:00:00Z
The cottage was the perfect way to spend a weekend whilst attending the Bruce Springsteen concert at Hanging Rock. The ambiance and welcome from Phil and Deb made the weekend even more enjoyable. We would highly recommend any couple to stay there.
Phil
2017-02-11T00:00:00Z
We loved our stay at Ottery Cottage! It was so perfectly set up for a blissful couples getaway - they've thought of everything. The only negative part of the experience was having to pack up and leave. I'm sure we'll be back to visit again.
Thomas
2016-10-15T00:00:00Z
Very cute and cosy cottage. It was spotless with everything we needed for a relaxing romantic winter get away. The spa was bigger than it looked in the photos, plenty big enough for two. The cottage was private and quiet, with pretty views, just we needed.
Melissa
2016-08-21T00:00:00Z
The host Debbie and Phil were very warm, I felt like I had known them for a long time. Their cottage was so warm and cosy and had every thing one needed, they didn't take any shortcuts, only used excellent quality. The most important thing was the bed and pillows just perfect I would highly recommend Ottery Cottage. Thank you again Debbie and Phil :-)
kim
2016-02-23T00:00:00Z
部屋タイプ
まるまる貸切
---
建物タイプ
キャビン
---
定員
2
---
寝室
Chewton, ビクトリア, オーストラリア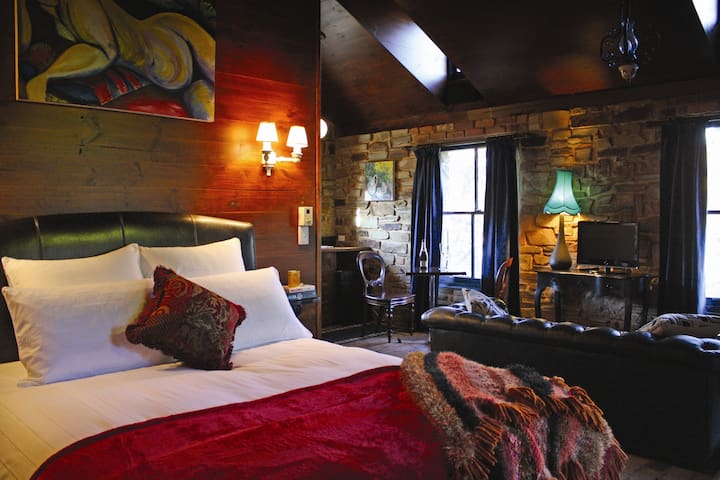 Maximilian's place was just fantastic, a true AirBnB experience. We loved reading in the conversation pit, the lovely crockery and yummy bread. Will definitely recommend to others.
Amy
2017-04-05T00:00:00Z
The place was amazing! Had the best time so will be definitely back again :) loved the conversation pit and the shower, such a relaxing lace to stay!
Jane
2016-05-30T00:00:00Z
Max was fantastic - the house was exactly as described and he was extremely helpful in explaining where everything was and provided everything and more than would be expected. I will be recommending his house to people I know as great place to get away for a weekend
Gabriel
2016-07-04T00:00:00Z
Loved this place. Designed in every detail from the crockery, cutlery, half opening door, massive walk-in shower, mezzanine bed, heated floors and relaxing sunken lounge. A fresh loaf of local bread, along with breakfast supplies, and a card for my mum's birthday was a lovely way to welcome us. It's peaceful and the big windows ensure the place is full of light and show off the garden. We strolled to the cafe and the local pool. Short drive to Castlemaine and on route to Bendigo. Thank you - we plan to be back.
Veronica and Colin
2016-04-09T00:00:00Z
Restrained yet sumptuous Thoughtfully considered from all aspects for high function and sensual delight. Tried once and seduced back. Gladly confirm the place has lost none of its lustre. I expect our family will be back again.
Sanjot
2016-09-28T00:00:00Z
Thanks Max! We had a great stay. Your instructions were easy to follow and the fresh bread, juice, chocolates, tea and coffee etc were much appreciated.
Penelope
2016-08-15T00:00:00Z
Booking was easy with prompt positive emails. The home was a pleasure for senses and functioned perfectly. Architecturally considered in all manner. Function, light, volume, vistas temperature, appliances, furnishings -all without compromise, delightfully tasteful and a pleasure to be ensconced within. A delight from moment one to end. Sanctuary. Splendid. Superb.
Sanjot
2016-04-26T00:00:00Z
A beautifully designed minimalist gem on the outskirts of Chewton. The conversation pit is great for lounging around in and the heated floors were a treat.
Nicky
2016-10-15T00:00:00Z
カッスルメーン, ビクトリア, オーストラリア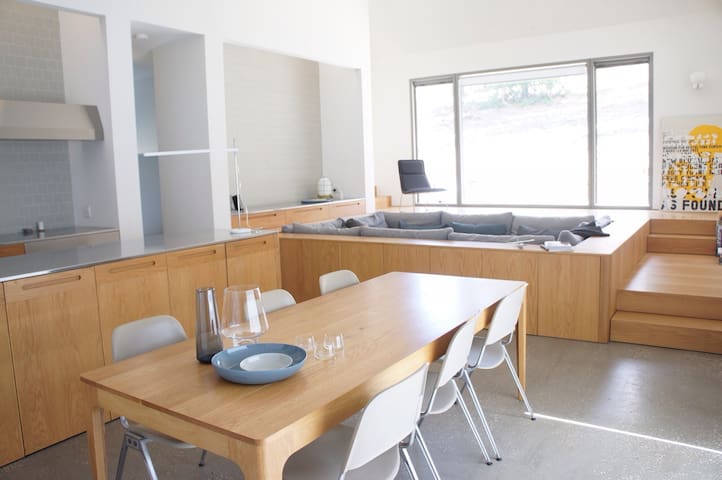 Our lovely stone cottage is set on 6 acres of native Australian bushland. The house is positioned on top of the hill in the heart of Chewton Bushlands and provides amazing views across to Mount Macedon and Mount Franklin. Enjoy your days and evenings looking out to the view and on those cold nights snug up in the front of fire.
Ukamirra is "off the grid" with solar power, tank water and gas hot-water (like most properties in Chewton Bushlands). The cottage is made of local stone and is set on a large platform featuring native Australian plants. There are two bedrooms, both with queen size beds. A comfy lounge and separate kitchen/dining area. We share our property with the local wildlife, so you can expect kangaroos and many native birds on the property. This is a gorgeous, private and quiet place to relax and unwind.
Castlemaine and Chewton are 10 minutes drive away with lots of coffee shops, restaurants, pubs and boutique stores with plenty to see and do. A great area for bushwalking and a bit of outdoor activities. There is always the Saturday market in Chewton and lots of markets on throughout the year in different areas.
Chewton Bushlands, ビクトリア, オーストラリア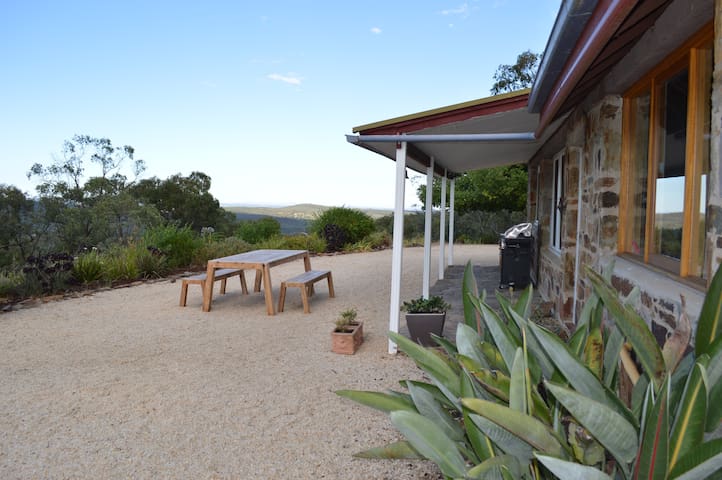 This charming, cosy two bedroom stone cottage will have you relaxing as soon as you arrive. Perfect as a weekend retreat or longer holiday. Lost Weekender is off grid and features a wood fire hot water service and solar electricity.
**PLEASE NOTE*** Due to the cathedral ceilings, there is no noise privacy between the two bedrooms. Sleeps 4* Delicious bedding, linens and towels. Extensive festoon lighting indoors and out. Combustion fireplace. Wood stove/oven for cooking (and hot water) 2 showers, one indoor, one outdoor. Outdoor wood BBQ. All cut firewood, kindling, firelighters etc are supplied for your convenience. Bonfire/camp area. Gas stove for cooking. Outdoor bath. 20 private acres to explore, walk, enjoy! Plenty of wildlife: kookaburras, kangaroos and more. 2 dams. National Broad Band (NBN) Pet friendly. Peace and quiet. 10 minutes from Castlemaine. *You are welcome to camp on the property. BYO Tent, swag and bedding. Please do not remove bedding from the house. Ideal for visitors who want to relax in absolute privacy. You can relax by the open fire. Enjoy the outdoor wood BBQ. Walk the 20 acres of private national park. Located just 90 minutes north of Melbourne, it's a 3 minute drive to the historic Red Hill Hotel and a 10 minutes drive to Castlemaine. Off grid solar power, rain water tanks and wood fired heating make this a zero carbon footprint destination. We also offer super fast wireless NBN! Enjoy the sounds: native frogs talk and birds sing! Kangaroos and wallabies roam freely right outside the door. This is a great place to decompress. We offer privacy and freedom without feeling isolated. This is an historic property, one of the first to be covenanted under Trust for Nature. This means the bushland is protected forever! Many made their fortunes on this land during the gold rush in the 1850 but the effect was devastating. You will find some interesting remnants nearby and on the property. The local monster meet was the precursor to the Eureka Stockade. Nature and history lovers welcome!
The cabin and property feels more removed than it is. Close by is the small town of Chewton. The local pub, the Red Hill hotel, is good for a beer and the Wesley Hill markets are every Saturday morning (7:30am – 1:00pm) There are plenty of wineries, art galleries and food destinations nearby. We recommend the local Chinese Restaurant, New China, and the local wood fire pizza restaurant, Bella Fresca, both a short drive away in Castlemaine. The Castlemaine Heritage Diggings Park is our next door neighbour so you really are in the bush! Bendigo is a 30 minute drive. In the hotter months, take a dip or canoe at the Major Mitchell Reservoir, a 5 minute drive away. Or enjoy the privacy of our outdoor tub (best enjoyed solo unless you are petite!) with enormous shade umbrella. For more details on the area, check out (URL HIDDEN)
What a fantastic little place to stay in! It's a marvelous little paradox! A beautifully situated bush block in a heritage region (Chewton/Castlemaine diggings) hides a stone cottage with a cathedral-ceilinged roof; a wood fired stove/hot water boiler... all seemingly low-tech. But there's also NBN wifi (no probs with Netflix), and an 'old-skool' record player/amp/massive speaker sound system (which you can play your iPhone/iPod tunes on, through airplay ). You have everything in you could possibly want; it's a lo-tech getaway with high tech comforts. Isolated and quiet as they come, yet a few minutes away from Castlemaine! (Oh, and such little light pollution... go outside on a clear night, let your eyes adjust past the usual stars, and you'll see the spine of the Milky Way!) Lissanne (Liss) is a fantastic host, very easy to communicate with and couldn't have done more to make sure we were looked after! Can't recommend it enough...
Alan (Blaise)
2017-03-25T00:00:00Z
Lissanne was wonderful host...she was willing to help us for many things and generous! Lost weekend...that was very cute and nice place to stay on the weekend..we enjoyed wood fire bbq...and sit out side night time.. The place has everything what we needed...more than what i expected... just perfect for getaway from the city...i would like to go back there sometimes:) I really loved this place..thank you to Lissanne ...
jungsun
2017-01-28T00:00:00Z
We had a such a wonderful time and cannot thank you enough. The home and location is magical and I feel so relaxed after being there. The simplicity and peacefulness was so needed. Being 5 minutes drive to the reservoir for swimming was an added bonus, especially with such hot weather. Lissanne is such a thoughtful and lovely host.
Kate
2017-02-12T00:00:00Z
We had an OK time with this stay - some of it which just came down to chance but some of it which could have been sorted by the owner prior to us arriving. Perhaps this property was a little too adventurous for us? Liss was a lovely host however and did work with us to get the issues we had sorted.
Dan
2017-03-18T00:00:00Z
Nice and quiet place to relax and unwind.
Ashley
2017-02-09T00:00:00Z
We had a lovely and relaxing time at The lost weekend with Lissanne. The house is out of town and fairly secluded. Lisannes details to access the house were very easy to follow and the house itself is georgous. I especially enjoyed using the wood heated stove for both cooking and heating the water. The bed was great, we drifted off in no time. We also enjoyed bbqing with the pretty setup around the barbeque and then watching the stars as night fell. My husband and I were big fans of the stereo setup and we enjoyed playing some old-school vinyl. Can't ask for a better little weekend break than this house. Just delightful.
Emma
2017-02-18T00:00:00Z
部屋タイプ
まるまる貸切
---
建物タイプ
キャビン
---
定員
4
---
寝室
Golden Point, ビクトリア, オーストラリア
The Potager is a 1870's sandstone house situated beside Forest Creek at Golden Point, where the biggest alluvial gold rush occurred. Thoughtfully restored this stone cottage can sleep up to 6 adults/ 2 families with an in ground pool and open fires
this is a heritage building with an eclectic mix of furniture with whitewashed walls, slate floors covered in rugs, open fires, a cosy kitchen and an extensive potager garden which is constantly' works in progress according to the climatic changes!
The Potager is secluded in a valley surrounded by natural bush. There is abundant birdlife, naughty wallabies, the odd echidna and eastern grey kangaroos that all share this space. There is a lovely walk up to the Expedition Pass reservoir through the bush.
We booked the Potager at short notice and loved everything about our 4 night stay. Jane was there to greet us and made us very welcome and was very helpful with any queries we had. The Potager was everything we hoped it would be and more. We did intend to explore more around the area but couldn't leave this amazing property for too long. Beautiful gardens and pool and amazing bird life.
Clare
2016-01-11T00:00:00Z
House is super lovely, pool and garden were great. Jane was an easy going and respectful host. The house is on the same property as her home, which wasn't entirely clear in description, but lots of privacy nonetheless.
caitlin
2016-01-07T00:00:00Z
What a perfect girls weekend away we had at the Potager. It was everything we wanted and more. The property is filled with gorgeous gardens and spots to sit down and relax. The pool was perfect for the hot weather and we enjoyed eating antipasto and drinking wine by the cottage. 10/10
Karli
2017-01-21T00:00:00Z
This was an excellent place for a holiday. The home is charming with many quirky elements. It is fully set up for entertaining which is becoming rare. Jane lives on the property but does nor intrude in any way. The accommodation is split between the house and a studio. The two bedrooms in the house have a partial wall separating them, but no door, so you will need to know your fellow holiday makers well. The pool was a godsend with the summer weather, and is wonderfully large and deep. The multiple living areas, inside and outside, provide some 'alone' time. We loved our stay.
Sharyn
2016-12-28T00:00:00Z
We had a great stay at The Potager! The house and surroundings are beautiful and relaxing. Will definitely be staying again.
Camilla
2014-03-24T00:00:00Z
What a beautiful little paradise this place is. We stayed two nights and as soon as we arrived we began to relax. Jane is a warm and inviting host and despite our late arrival she met us when we arrived. pool is spectacular and huge, the cottage is rustic and cozy and the property is fantastic to walk around. With a short trip in to Castlemaine for bottles of champagne and other supplies, this is a great escape and an easy drive from Melbourne. Out dogs loved it as much as we did.
Joel
2015-02-01T00:00:00Z
Jane was great host. She greeted us when we arrived and made sure we had everything we needed. In fact, we had asked if she had an extra HDMI cable laying around so that we could connect our laptop to the TV, and she went out and got it for us the very next day. The house is gorgeous with beautiful interior. Tons of fireplaces to heat up the house. It's surrounded by tons of nature, wild life, and perfect weather. Thanks so much for making your home our home Jane.
Addison
2014-11-15T00:00:00Z
Our stay at The Potager was magic. Jane has great style. The stone cottage and surrounds felt like a slice of provincial France in the the Victorian goldfields. We enjoyed the great collection of art, history and poetry books. Jane was very welcoming and left us to our devices. We mostly just ate cheese. Awesome.
Alexander
2016-06-14T00:00:00Z
Golden Point-Castlemaine, ビクトリア, オーストラリア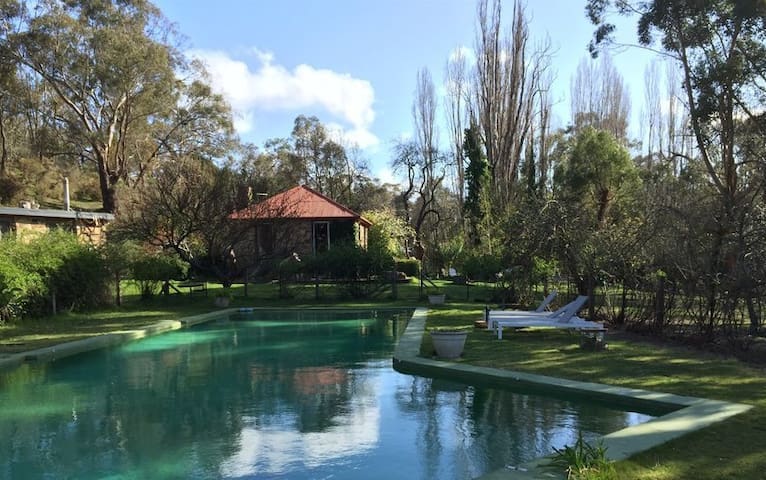 We are 8km out of town surrounded by bush, lovely walks along the creek. Bedroom and bathroom in a large country style house. Plenty of kangaroos around at dusk and lots of birds. Alpacas, goats and a friendly emu on the property. we have our Jazz Festival coming up on the June Long weekend. Some great variety to choose from. Ride on a steam train with 2 groups performing. A 2 night min would apply for the Jazz long weekend weekends. Come join the fun. ALso 2 nght min over the Easter weekend
There is a queen size room for 2 people with private entrance and private bathroom. Tea/coffee making and good continental breakfast. Lots of outdoor areas, so sit back and relax and enjoy the bush outlook.
Castlemaine and Maldon have a lot to offer, good resturants, Antiques, art gallery. 25min to Bendigo and (URL HIDDEN) much to see, or just take a bushwalk or a swim in the local res.. It is the Castlemaine Festival 13-22 March. Check out the full program online. Booking fast. Lots of live shows ans over 90 open Art studios.
Our short stay at Julie's was fantastic. Our room, the house and surrounding area are just beautiful. We were treated to a lovely breakfast in the morning, with great company too. I would highly recommend Julie's homely and comfortable bnb to anyone visiting Castlemaine, or the surrounding area.
Hannah
2017-03-18T00:00:00Z
Friendly host and beautiful farm house with alpacas, goat and emu. Great for family holiday.
Jane
2017-03-13T00:00:00Z
Thoroughly enjoyed my stay- lovely property in a beautiful setting. Julie and Paul were fantastic hosts- who even put on a quality spread for breakfast!
Matt
2017-01-08T00:00:00Z
We had a lovely time at Julie and Paul's. Julie made us feel at home as soon as we arrived. The bedroom was very comfy and we had our own bathroom and toilet. The surroundings are beautiful, with the animals and birds, and beautiful big trees. A very nice and quiet time just minutes away from Castlemaine. Julie is a very friendly host and she even came along to our gig for support!
Sonia
2015-06-07T00:00:00Z
Much more than we expected. Julie and Paul have a great country house amongst the gum trees and gardens. The guest room is sufficiently separate from the rest of the house with use of your own bathroom. Was great to sit back, rest and watch some of the many birds visit their garden. The water in the big reservoir just up the road was warm. Didn't expect that! Would definitely return. Many thanks for making our visit special. Would love to come back again. Kind regards, Steve & Beata
Steve
2015-01-26T00:00:00Z
Beautiful place, lovely surrounding and a great host. Couldn't really find anything to complain about really, happy to stay there again.
Kenny
2016-10-16T00:00:00Z
Charming room and property with lovely gardens. The animals were a treat for my daughter. May be the one and only time she will get hug an emu. She was thrilled with that. As with collecting eggs in the morning. The room was cosy. Breakfast enjoyable. Verandahs and places in the garden suit quiet reading and contemplation. Julie and Paul was great hosts. There were even some great children's books placed in the room for my daughter. Recommend this B&B for Castlemaine stay.
Blue Mountains
2015-01-17T00:00:00Z
Julie and Paul were amazing hosts, they made us feel most welcome from the moment we arrived. Their property was just what we needed, including a lovely garden amongst a bush setting with the sounds of the Australian bush providing relaxing back drop tot the weekend. There are a family of animals including Winston the Bull terror and 3 alpacas and a Angora goat. Paul was very kind to take us to an abandoned gold rush settlement that even the locals are unaware of. The property and room were perfect with plenty of options for walks and exploring the local Castlemaine Arts community which was a short 10 minute drive away.
Andrew
2015-03-09T00:00:00Z
部屋タイプ
個室
---
建物タイプ
B&B/民宿/ペンション
---
定員
2
---
寝室
Chewton, ビクトリア, オーストラリア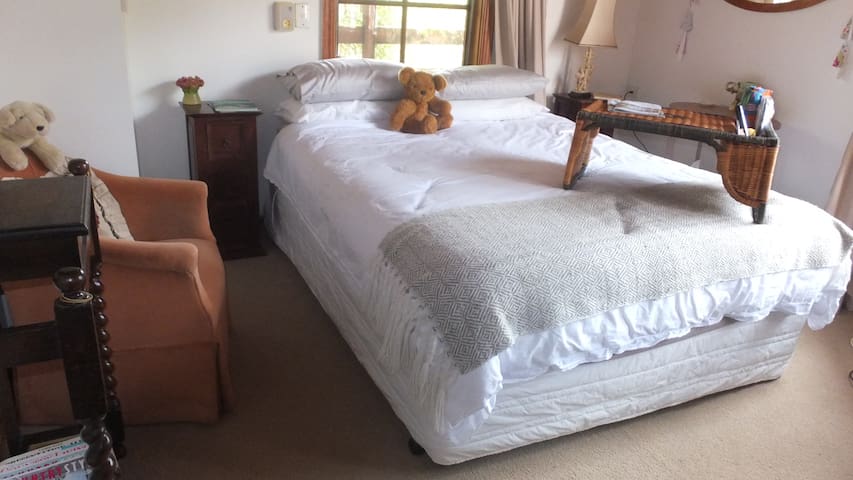 The house is a gorgeous new modern space for easy simple staying. It's a 3 bedroom house with 2 double beds, new kitchen with gas stove, great bathroom, separate toilet and open spacious living area with heaps of natural light. Easy walk to the shop.
The house is absolutely (recycled) brand new! It is large and full of light.
It a small country town with great people. It is a quiet place so not somewhere for people who want to play music past 11pm at full volume.
Nice place. Lovely town absolutely loved it!
Katie
2016-05-14T00:00:00Z
Sweet house and is how it appears in the pictures. A few basics were missing though, like a kettle, and there weren't curtains in the second bedroom, which was a bit of a hassle to work around as we booked it on the basis of using that one. Otherwise, great stay and lovely location.
Eleanor
2016-06-14T00:00:00Z
Chewton, ビクトリア, オーストラリア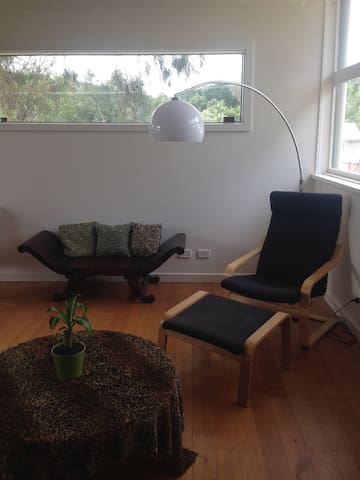 1910 restaurada casa de ladrillo Federación ubicado a las afueras de Castlemaine, en el camino a Chewton. El mercado Wesley Hill la mañana del sábado está a su alcance, junto con el Bold café de jardín y guardería y una pista para caminar a Castlemaine.
Recién pintado, ligero y aireado casa de 4 dormitorios, con un gran cuarto de baño recién reformado, amplia cocina, comedor y sala de estar. Maravillosamente fresco en verano (con ventiladores en cada habitación) y un montón de calefacción en invierno, con una estufa de leña Coonara, calentador de gas y de gas de registro de incendios. Hay 2 x camas dobles y 2 x camas individuales, así como una única cama nido. cocina con horno a gas, parrilla y cocinar, microondas + ollas, sartén y utensilios de cocina totalmente equipada. Además sal, pimienta, té, café y té de hierbas. La casa está en silla de ruedas bastante deteriorada y la movilidad de usar ya que sólo hay pasos individuales en la casa. No hay ningún paso hasta la ducha y es bastante grande.
mercado Wesley Hill, jardín café en negrilla y guardería, pista para caminar a Castlemaine todos muy cerca
Mulberry House was a real treat. A lovely long weekend was spent sitting in the sunshine in the beautiful garden. Lots of room to run around. The house was so tastefully presented and the fire kept us warm during the chilly evenings. A lovely morning was spent at Wesley Hill market (just a short walk away) and we picked up some delicious supplies for a yummy meal. Great communication from Kathryn who answered all my queries super quickly. Really enjoyed our time there - thanks so much!
Sally
2016-09-25T00:00:00Z
Great ease of communication with Kathryn. We had a wonderful stay at Mulberry House. Perfect base to take in as many highlights as possible in Caslemaine. Will need to revisit and more than happy to once again stay at Mulberry House.
Ann
2016-11-26T00:00:00Z
Our stay at Mulberry Cottage went perfectly from the first email. Kathryn was quick to respond and gave us very helpful information for our stay. The house itself was incredibly homely, clean and nicely presented. We especially loved the garden and the well-renovated bathroom! Kathryn was an excellent host and I wish we had have stayed longer! Thanks again
Bronwen
2017-01-05T00:00:00Z
We had an idyllic stay at Mulberry House. The house was charming and had everything we needed. Located conveniently close to a local monthly market, we spent hours lazing in the back garden and relaxing. The local winery area is beautiful to explore, if you can tear yourself away from the cottage.
fiona
2016-12-03T00:00:00Z
House was clean & tidy No microwave which in a fully equipped kitchen we expected it to have one with a baby & 3 other children . Was not kid friendly as stated gate in back yard did not lock & is a busy main rd . Step up and down for every room
Jonathan
2016-10-20T00:00:00Z
Kathryn was very helpful and friendly, house was really nice and cosy and very clean. Nice little country get away :)
Shabana
2016-10-01T00:00:00Z
Overhearing my husband and daughter say 'this place is perfect' says it all! It was all we hoped for and more: we needed a laid back getaway and the lovely garden and cozy house wooed us right in! The claw foot bath complete with salts and bubbles was heaven. Books and locally published magazines enticed us. It was terrific to step out the door to pick fresh lettuces and raspberries. The mulberry tree was full of fruit just beginning to ripen and there will be stone fruit aplenty in just a few weeks so do book in to this lovely spot if you too are needing to kick back!
Bev
2016-12-20T00:00:00Z
Beautiful home with so many fruit trees! Lovely walk to the market , just a great relaxing place!
C&D
2017-01-21T00:00:00Z
カッスルメーン, ビクトリア, オーストラリア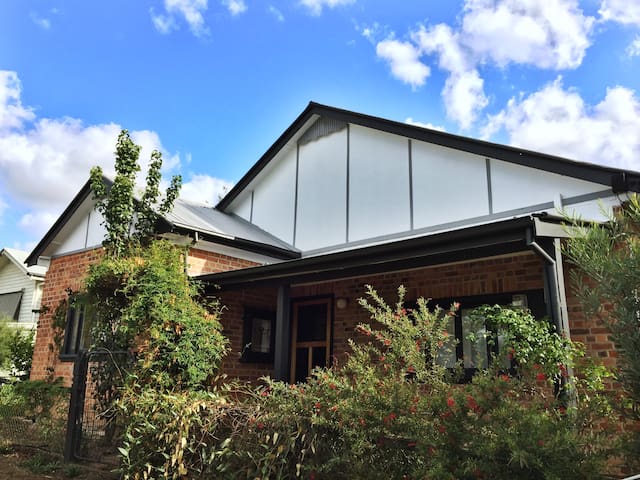 The Little Cottage at Faraday is located on a beautiful, historic property close to Castlemaine. The building is self-contained and includes a bedroom (with double bed), a combined kitchen and living area, an en-suite bathroom with shower, hand basin and toilet - and a shady verandah, where guests can overlook the beautiful park-like garden. Linen is supplied. Shampoo, conditioner and hand soap are not supplied - unless requested. A small charge applies should these usables be requested.
The Little Cottage at Faraday is part of the historic Faraday School-House property. From (PHONE NUMBER HIDDEN), the place was humming with school children. Since the 1990s, the property has been privately owned. The Little Cottage is one of three separate buildings on the property. It has a fully-equipped kitchen, living room, bedroom with double bed and an en-suite bathroom/WC. The garden is lovely in Spring. A 600-year-old Eucalypt (River Redgum) overhangs the meandering creek. Across the road, the old pine plantation is a reminder of a time when school children and their parents planted a forest for the future. In winter, it's a shady place with the smell of pine resin permeating the air. In Spring, the various bulbs are in flower... Guests are welcome to wander through the school-house garden and the pines, over the road. The cottage, whilst simple, contains almost everything for people who want to escape the hectic city lights. There is a DVD player but sorry, no television reception. Personal computers seem to work well. The kitchen requisites include a gas oven and hot plates, microwave oven, toaster/kettle, coffee plunger - and all the equipment you'll need to cook your own meals. There in an electric radiant heater in the building which provides effective and cosy warmth. Bring your books, your sewing, your food and wine - and your bicycle. There are lovely places to ride your bike. If you are a hiker, Mount Alexander is not far. The 180 degree view from the granite rocks at the summit is an unusual and lovely place to share a picnic. Morning coffee places are plentiful in Castlemaine. The old Theatre Royal is a great old cinema, showing interesting (and sometimes unusual) films. Castlemaine is a very 'arty' town with many galleries and exhibition locations. Bendigo is approximately 35 kilometres away. There are more attractions there than I have room to write about however I do recommend the art gallery. It's an exceptional place to wander.
Faraday is a small community (only 150 people) located 12kms from Castlemaine. The Faraday School-House, the Stone Building and the Little Cottage are overlooked by Mount Alexander - nine kilometres distant. Sitting on Mount Alexander on a huge rock, you can see a panorama of country-side. Cycling is extremely popular for both serious and occasional bike riders. The Castlemaine Botanical Gardens are a beautiful place to picnic with a lovely childrens' playground. Take a walk around the gardens. At the rear of the gardens is the Castlemaine pool - a lovely outdoors setting, very popular with the locals, so it must be good! There are more wineries than you can count - and the makers love people visiting - to taste wine - and take some bottles home! Walk and explore - the many walking tracks which wind through the native forests of Mount Alexander. If you enjoy a serious coffee, Castlemaine has heaps of small eateries, cafes and pubs. Food prices range from fairly low cost - to more expensive cuisine. Please ask the host for her recommendations. Approximately 2km from the property is the Expedition Pass reservoir, a popular swimming place in the summer. The Theatre Royal in Castlemaine shows avante films - and you can dine or wine, whilst you watch a film. MARKETS Wesley Hill Market (Every Saturday) Castlemaine Farmers Market (First Sunday of each month) Castlemaine Artists Market (First Sunday of most months) Maldon Community Market Second Sunday of each month. 2016 EVENTS and other Special Occations OCTOBER EVENTS Maldon Folk Festival - over three days. A wonderful music festival with an emphasis on folk, blues and alternative music. Mount Tarrengower Historic Hill Climb Maldon and Baringhup Annual Spring Show Castlemaine Show Run the Maine Mucklefest Bendigo Jazz Festival NOVEMBER EVENTS Maldon Folk Festival Castlemaine Truck Show Castlemaine and District Festival of Gardens Castlemaine Annual Show Sawpit Gully Food and Wine Festival Relay for Life DECEMBER EVENTS Carols by Candlelight Faraday - Christmas Gathering in the park New Year's Eve Party - Castlemaine - Camp Reserve, Castlemaine - Free family fun with fireworks to celebrate the New Year JANUARY EVENTS Maldon Twilight Food and Wine Festival - Main Street, Maldon Dine and wine under the stars in central Maldon Newstead Live Music Festival Friday-Monday (URL HIDDEN) Fryerstown Antique Fair Australia Day Celebrations - 26th January Castlemaine - Victory Park - 10.30am-1.30pm Maldon - Maldon Gardens - Free breakfast from 8.30am Faraday - Dunstans Flat - 10.30am-2.00pm Harcourt FEBRUARY EVENTS Maldon Camp draft Maldon Antique and Collectable Fair MARCH EVENTS Mia Mia 'Not Port Fairy' Folk Festival Harcourt Applefest Taradale Mineral Springs Festival Maldon Puppet Show Arts Open Rod Run Maldon Easter Fair Bendigo Winemakers' Festival (held in Castlemaine) APRIL EVENTS Castlemaine State Festival Castlemaine Swap Meet Mount Alexander Vintage Engine Club Annual Rally ANZAC Commemorations MAY EVENTS Beanie Affair RSPCA Million Paws Walk JUNE EVENTS Castlemaine Jazz Festival Castlemaine Rotary Art Show Maldon in Winter Maldon Swap Meet JULY EVENTS Maldon in Winter Steam Train for Kids Maldon Art Show AUGUST EVENTS Castlemaine Health and Wellbeing Expo SEPTEMBER EVENTS Metcalfe Vintage Tractor Pull
The Little Cottage suited us perfectly while visiting relatives nearby. The kitchen is well equipped, the bed is very comfortable and the shower is good. Jill is very friendly and helpful. We will stay there again.
Dawn
2015-11-16T00:00:00Z
The host canceled this reservation 38 days before arrival. This is an automated posting.
Charlotte
2016-05-11T00:00:00Z
We absolutely loved our stay. Jill welcomed us and showed us around. This little cottage is very private and has everything one needs in it. We were very comfortable and have been enjoying preparing meals in the kitchen. There was furniture available for my 2 year old, books, toys and pens. I myself have enjoyed finding very interesting books in the bookshelf, watched a few dvd's an enjoyed playing with the radio. The property is beautiful. The smell of pine trees, the birds. For my toddler there is a mud kitchen, a little mini slide and swings, it's magical. One does hear the cars in the distance, but that wasn't a bother. 2 minute drive away we discovered the gorgeous reservoir where we could swim everyday. Castlemaine is 15 mins away and has a lot of charm.
Mia
2014-11-20T00:00:00Z
The Little Cottage is actually in a very good spot: u can do hiking, fishing, swimming, and paddling in this area. We love this cute place so much. When we woke up in the morning, the first thing my partner and I said to each other is "this bed is so comfortable!". Jill is a very nice host. She helped us a lot and always replied my message promptly. It's a shame we didn't meet up. We were hoping to know more about this school house after reading your story :) We had such a wonderful long weekend here. Thank u Jill!
Caddy
2015-03-09T00:00:00Z
Jill is extremely welcoming and does her very best to help you with all your enquiries not only about the property but also the surrounding town. The cottage is a perfect place to come and relax and escape the city for a weekend. Thank jill for sharing your place with us.
Emily
2015-10-11T00:00:00Z
Jill was very kind and friendly leading up to and throughout our stay; we had two nights at the cottage and it was very well kept and had everything we needed! It's close to neighbouring Castlemaine and not far off the main road, with many sights to see only short distances away. Although the weather was hot the first night it cooled down quickly and we had a very pleasant stay. Thanks Jill!
Tomi
2015-01-04T00:00:00Z
The little cottage was pretty much what we expected it to be, it was clean and comfortable and everything worked well. We enjoyed our time in the area and made a few beautiful walks, and realised again how beautiful Castlemaine is especially at this time of year.
Manon
2015-04-07T00:00:00Z
We loved our weekend in the country, we could come and go as we pleased, the bed was really comfy and we felt at home straight away. I thought it was definitely value for money and Jill couldn't have been more help with any questions we had. I'd recommend it for anyone looking to get away from things for a weekend and re-fresh the batteries.
Robert
2015-03-01T00:00:00Z
部屋タイプ
まるまる貸切
---
建物タイプ
キャビン
---
定員
2
---
寝室
Faraday, ビクトリア, オーストラリア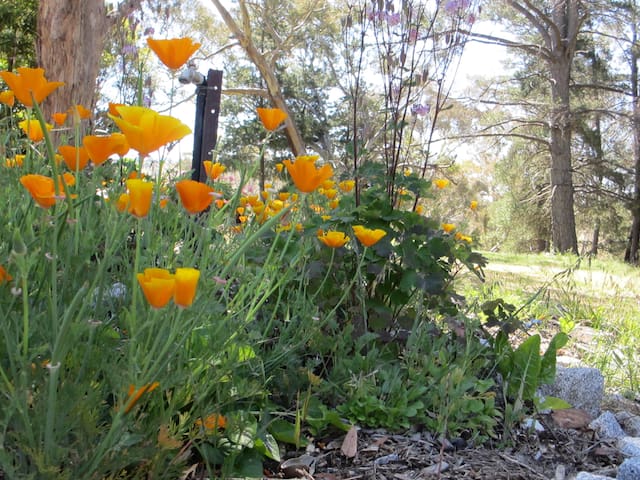 Surrounded by native crown bush land and set in a re-vegetated bush garden, Riversdale Retreat is an uncompromising country escape designed by award winners. Open-plan living area and a fully equipped kitchen ready for self-catering. Sleeps 3 adults.
Exquisite ultra-modern retreat. Open-plan living area and a fully equipped kitchen ready for self-catering. A tatami lounge area and a Japanese style bathroom provide a touch of the exotic. Paved outdoor areas include fireplace, preparation bench, sink and shower. In winter the wood fire heater efficiently heats entire house. Floating decks and indoor/outdoor day bed are the perfect way to catch and enjoy the winter sun. Sleeps 2 or 3 adults with 1 queen size and 1 single bed. The perfect private getaway for a couple!
Environmental Relationship and Location Compact, climate and occupant adaptable located in semi bush. Designed to sit off the land yet be immersed within, it can open and close to nature, views and sun. The building is designed with bushfire and ESD principles, solar hot water, rainwater tank and is super insulated. Riversdale is located just outside of the popular town of Castlemaine, in the small town of Chewton - approximately an hour and a half drive out of Melbourne. Daylesford, Maldon and Bendigo are all within a 30 minute drive. The property also directly borders State Crown Land, with acres of secluded walking and biking tracks.
We had a great time in this serene environment. The house is amazing, luxurious without being grandiose. Perfect for some quite R&R.
Tristan
2015-04-15T00:00:00Z
As previously posted!
Gavin
2017-03-12T00:00:00Z
Chewton, ビクトリア, オーストラリア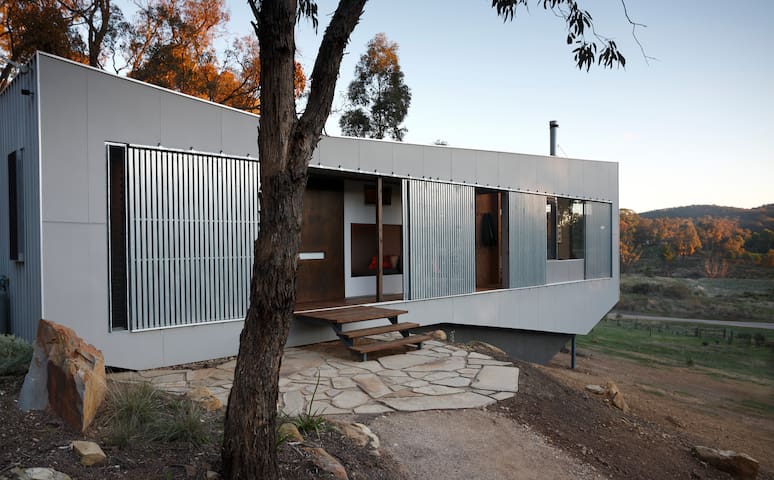 这是所有现代设施的新的联排别墅。无线网络,安全,靠近城镇(2分钟)。循环加热和反向循环空调。设备齐全的厨房里。洗衣房配有洗衣机和洗衣桶及服装启闭机外及内的晾衣绳。宽屏电视和DVD。音响系统。吹风机,熨斗及熨衣板。
该联排别墅是高效节能的双层玻璃窗,清洁的现代线条。连接到电网太阳能。太阳能热水气升压连续热水。韦斯利山市场只能走10分钟的路程。韦斯利山面包店只需2分钟步行路程。
很安全,友好的邻居。我们都知道对方,并欢迎新的面孔给我们的区域。
This is our second time we have stayed with Stephen & Helen, once again we had a great time, the unit is exactly as we remembered immaculately presented warm and welcoming, Saturday night we dined the unit is well set up including a well equipped kitchen. The extra's in the bathroom are really nice. Thank you so much, we hope to return in 2018. - Kieran
Kieran & Wendy
2017-03-12T00:00:00Z
the best place I have stayed for ages. much better than a Motel room, a very thoughtful host
Kerryn
2017-01-29T00:00:00Z
Lovely house, close to shop and resturants.
Mei
2017-03-04T00:00:00Z
Wow! What a wonderful place. Modern, well appointed and so comfortable. I wanted to take the bed home with me and the Rainmaker Shower was heavenly. Definitely recommend.
Ashley
2017-02-15T00:00:00Z
We loved Stephens Luxury Townhouse. Everything was perfect and the townhouse was probably better than it looked in photos. Communication was fast and easy. Nothing to complain about. My Mum was ready to move in permanently!
Debra
2016-09-14T00:00:00Z
Always wonderful staying here. Host has also updated the Internet connection to nbn.
Ashley
2017-03-24T00:00:00Z
It was a nice, modern, clean home.
Ola
2016-04-26T00:00:00Z
Stephen's place was fantastic value and lovely to stay in. The house was spotlessly clean and very comfortable. The facilities were modern and the wifi was very good. Stephen was a great host - always replied very promptly, left a lot of helpful info in the house in a welcome book and brochures from local attractions. There was also a lot of great little extras - nice toiletries in the bathroom, plenty of bedding and towels, and good quality tea, biscuits, milk and cooking supplies in the well-stocked kitchen - lovely touches! We also bought our two dogs who loved the nice enclosed back yard. Highly recommend as a great base for exploring the area.
Nicole
2017-01-12T00:00:00Z
カッスルメーン, ビクトリア, オーストラリア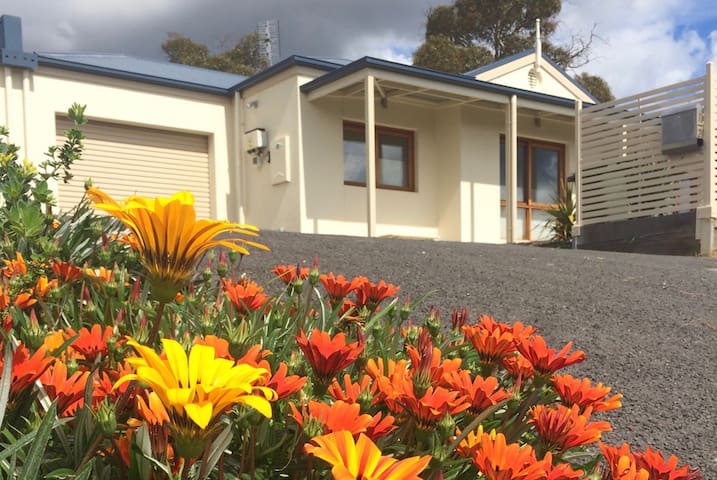 Grey gardens
Grey Gardens is a newly built property with a mix of new and old, designed to fit into the landscape and its surrounding heritage areas, The property is furnished with a eclectic mix of retro furniture, industrial antiques, salvaged pieces and plush textiles, to give a warm homely nostalgic feel.
Located in the historic Wattle Gully, Grey Gardens looks out over the old goldfields and the national heritage park, set in a quiet picturesque part of Chewton surrounded by national parks and walking tracks. Relax locally in Chewton or head into Castlemaine and explore the many antique stores, cafe's & a vibrant arts scene. A short drive will take you to the Wesley Hill Market on every Saturday, with a great selection of local produce, crafts & plants & bric-a-brac. Packed with things to do Chewton and Castlemaine is the perfect spot for a weekend getaway.
Chewton, ビクトリア, オーストラリア
Great little place in walking distance of all the good buts Castlemaine has to offer! Beautiful spacious living room, cute little back deck and comfortable beds - highly recommend this little place for two - four people.
Emily
2017-03-12T00:00:00Z
Fiona's place was amazing, I would definitely recommend it. Such a nice space, with a beautiful vintage feel. Breakfast was also v nice! Thanks Fiona
Monica
2017-04-08T00:00:00Z
Simple, stylish, calm and cool - words that could equally describe both Castlemaine and Fiona's home a very short drive (or easy amble) out of the centre of town. We had a wonderful weekend using the space as a base - perfect for wandering up to the Wesley Hill market on Saturday morning, before spending the afternoon in town. Fiona was a gracious host, quick with communication and making check in a breeze. Highly recommend!
Dan
2017-03-06T00:00:00Z
Fiona and Sandy were great to deal with. Very generous with bread, fresh coffee, fruit, juice and much more. Such comfortable beds, lovely decorations and well presented house. And pet friendly! We felt very at home thank you! Highly recommend
Penelope
2017-03-26T00:00:00Z
カッスルメーン, ビクトリア, オーストラリア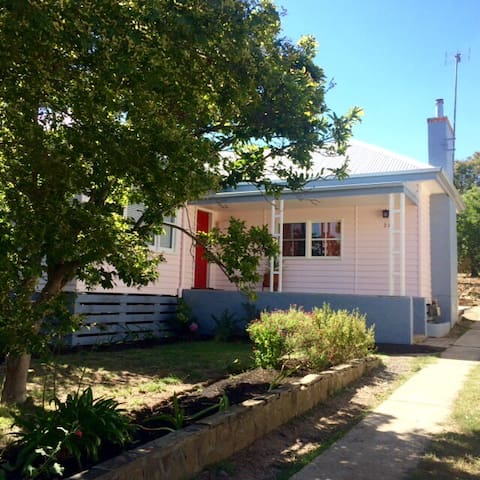 My boyfriend and I loved our stay, the house was just outside the centre of town so it was nice and quiet, however it was also close enough that we were able to walk everywhere with no troubles at all. The house itself was gorgeous and had everything we needed. Brigid was also really good at replying quickly to our questions. Would recommend
Kate
2017-01-15T00:00:00Z
This place was perfect for a last minute trip to Castlemaine. It's been newly renovated and so was a real pleasure to stay in. It was peaceful and quiet. Brigid's communication was excellent too. Would soundly recommend staying here.
Louise
2017-01-08T00:00:00Z
Great spot, close walking distance to two towns. Quaint and clean historic cottage but would be very hot in hot weather and drafts in cold weather. We had perfect weather so the cottage was very comfy It is situated in a lovely spot the whole area is badly effected by lack of rain. We booked whole house which is the only option as it's small thanks Brigid
Jennifer
2017-03-18T00:00:00Z
Yes a cute cottage , yes close to town and cafe . Very unclean , bathroom , beds , linen , fridge ,all filthy . Mould on Matresses, stains on Sheets and towels . No aircon and unable to open windows ,painted shut. No screens for bugs even if you could .
Michael
2017-03-08T00:00:00Z
Lovely renovated historic miners cottage with lots of character and charm in a quiet area. Great new kitchen and bathroom and a fabulous paved courtyard area too. Easy 20 minute walk to the town and a 5 minute walk to a really good Saturday farmers market. A most enjoyable weekend.
Louise
2017-02-18T00:00:00Z
Wonderful cottage and beautifully appointed. Close to the markets and to town. Very private and peaceful.
Lisa
2016-12-05T00:00:00Z
Well equipped cottage, was a lovely place to stay.
Bridget
2016-12-26T00:00:00Z
My partner and I thoroughly enjoyed our stay at Brigid's cute cottage. It was very comfortable, clean and flooded with natural light. The cottage is also home to a pretty amazing library if you are a bit of a bibliophile. Our bed was very comfortable and coupled with a quiet neighborhood, we slept like logs. The hub of Castlemaine is a 15-20 minute stroll away past the Wesley Hill market space. Brigid's communication was always prompt and she was very accommodating to our needs. We hope we can stay in this gem again sometime soon.
Paolo
2017-03-12T00:00:00Z
カッスルメーン, ビクトリア, オーストラリア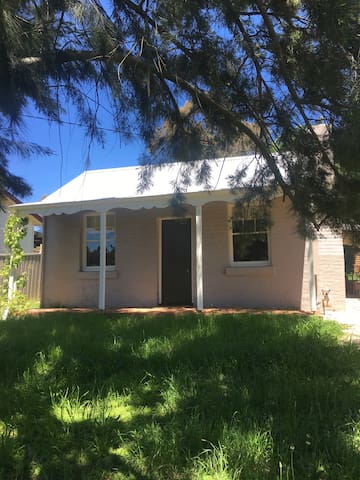 You will have no problems staying with Fran, a very friendly host and a lovely atmosphere.
Carl
2017-03-21T00:00:00Z
Fran makes u feel very welcomed and comfortable. Her dog is also adorable!
Bruno
2017-03-14T00:00:00Z
Highly recommend Frans beautiful place. If you like peace, quiet, nature and gorgeous decor- look no further. Although Fran could not be there to meet me on this stay, she was extremely kind and communicative and the perfect host from afar.
Ella
2017-03-01T00:00:00Z
The host canceled this reservation 2 days before arrival. This is an automated posting.
angus
2017-04-03T00:00:00Z
カッスルメーン, ビクトリア, オーストラリア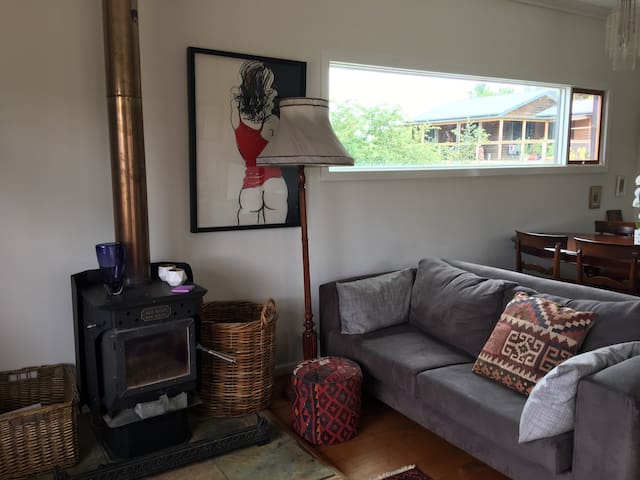 从韦斯利山市场和金矿布什轨道的时刻,这是来自小镇的最佳距离为完整的安宁,但只有一个20分钟的步行路程到卡斯尔梅恩中心。房子四周美丽的树木和一个安静的和友好的邻居,配有两张大床,一张特大单人沙发床,单人床垫,厨房和洗衣房,前廊和后方堆场。这是一个周末以上的大跳板探索与朋友,家人,或浪漫之旅的中心金矿。
我们的家充满了绘画,古董家具和精品等,攻克卡斯尔梅恩的精髓。
韦斯利山是一个安静的郊区著名的周六市场,仅2分钟从家里走。您可以乘坐轨道金矿进城或向Chewton的其他方式。红山酒店(Chewton酒馆)往往在周末现场音乐表演。 卡斯尔梅恩有精彩的酒吧,咖啡厅,古玩店,以及服装店,著名的书店,美术馆,电影院,和大量的现场音乐。该Bontanical花园对面的工厂有一个巨大的老式的衣服和家具的复杂,一个酿酒厂,酒厂,和咖啡厅。很短的车将带你到夏,吉尔福德,特姆和长一点戴尔斯福特(30分钟)。 如果你在寻找自然的是,开车到远征山口水库散步和游泳。山地自行车道和布什的大量走动。
Lovely old house with all the required amenities and a host with a wealth of information on the area
Geeta
2016-12-17T00:00:00Z
Fantastic accommodation. Close to everything. Host very accommodating and welcoming Thank you
Sally
2016-12-10T00:00:00Z
Very comfortable house in quiet street. Good value for 2 beds.
Lucy
2017-01-27T00:00:00Z
Lexi provide excellent detail on house rules and checkout. Responded promptly prior to our stay. Castlemaine is a neat area to base your explorations from. We went to nearby markets which was nice too. Quiet location.
Tony and Barb
2016-12-24T00:00:00Z
Good quiet location. Our host's communications were fab and everything was there for a carefree stay
Matthew
2017-02-12T00:00:00Z
Great Place Thanks
Garth
2017-02-19T00:00:00Z
Comfortable place to stay and handy to town centre. We were there when it was really hot and unfortunately the air conditioning wasn't working so was a bit uncomfortable - but then house did cool down at night. Would have been excellent if air was working and no doubt great in cold weather. Kitchen fully equipped with everything you need. We would stay again.
Bridget
2017-01-08T00:00:00Z
Fantastic!
iliria
2017-03-31T00:00:00Z
カッスルメーン, ビクトリア, オーストラリア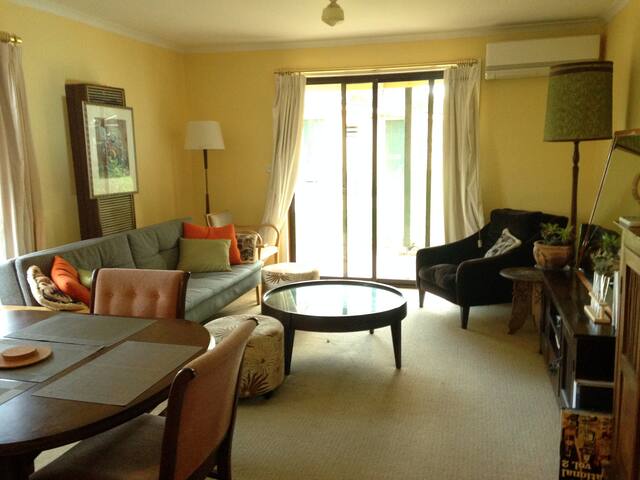 What a great find! Twin Palms is so comfortable and stylish, as well as being clean, tidy and having everything we needed including bikes. The location was perfect; close to Castlemaine shops and weekend markets. Henri was a perfect host, assisting us with check-in and going above & beyond to provide everything we needed. Thank you for a wonderful stay!
Jarrah
2017-01-28T00:00:00Z
Had a wonderful stay at Henri's House. Very clean, charming and within walking distance of town and local markets. Henri was very accessible and accommodating during our stay.
marty
2017-02-26T00:00:00Z
We loved 'Twin Palms'! Such a cute and modern fit-out perfect for a weekend getaway. Everything was provided for and Henri was a great help, giving us lots of tips to enjoy the area. I would highly recommend Twin Palms!
Maxine
2017-01-28T00:00:00Z
Highly recommend this cute place to stay. It has all you need for a comfortable stay and is a in good location and a friendly neighbourhood. Everything was clean and well presented. Henri was a terrific host, having met us on arrival, explained how everything worked and provided some suggestions for what to do around town. Will go back again!
Magdallene
2017-03-18T00:00:00Z
Twin Palms is a very homely and comfortable place which is perfect for a getaway in Castlemaine. The best part is it's proximity to town whilst also looking back onto bushland, and the bikes provided were great for getting around. We'd definitely come back next time we're in town!
Claudia
2017-02-22T00:00:00Z
Cute little cottage that was very well presented and had everything we needed for our stay. Henri was a great host, easy to communicate with, met us on arrival providing an explanation of the property and sightseeing suggestions for the region.
Janice
2017-03-12T00:00:00Z
Beautiful quiet two bedroom cottage with all the added extras needed for a lovely stay. Would highly recommend a stay at Twin Palms.
Jarrad
2017-04-09T00:00:00Z
カッスルメーン, ビクトリア, オーストラリア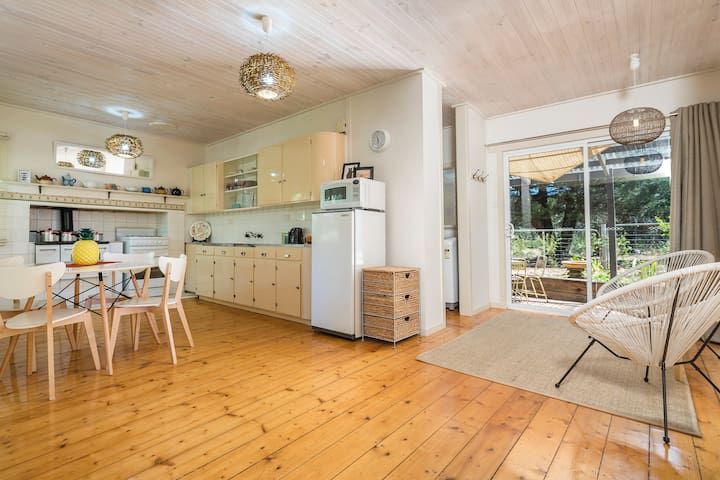 日付を入力すると合計金額が表示されます(税・サービス料別)。