The well-known youthful villa is located in the center of Chur. Inspired by Amsterdam, the famous artist Piroska Szönye opens the first art gallery with a private guest room. The artist lives and works in the gallery, which she calls Villa Fairytale. The trained interior designer has created an exciting combination of art and design and an exclusive living atmosphere. The accommodation is located 5 minutes from the railway station, the center and the old town.
The guest room is a mixture of art / design and history. Through a private entrance you have a personal atmosphere with your own bathroom and small private entrance to the room. The apartment is newly renovated and belongs to the artist herself. It has an exciting furnishing and high standard. It has a touch of international flair. Very suitable also for businessmen who are looking for an appropriate ambience. You can also book additional rooms for seminars or meetings. Shared use of kitchen you can inquire. Parking in underground garage available on request.
Very cosy and fabulous room + private bathroom. Piroska was very nice and helpful, we feeled like home. Thank you for everything :-)
Léna
2017-01-01T00:00:00Z
Great stay, really special apartment, you never will forget. Everthing you need is there, and Piroska is nice and easygoing. Thank you so much for everthing.
Margot
2017-03-19T00:00:00Z
Prima verblijf maar bed is te smal en badkamer heeft geen gordijnen.
Kees
2017-02-18T00:00:00Z
La casa di Piroska è bellissima, nuova, arredata con grande gusto in ogni dettaglio, molto confortevole, a pochi metri dal centro storico. Piroska ci ha dato tutte le indicazioni per avere il migliore soggiorno a Chur e ci ha ospitato offrendoci il meglio; è stata molto premurosa, ci ha preparato un'ottima colazione, ha reso la nostra vacanza a Chur davvero speciale. Torneremo a trovarla per conoscere meglio anche i tesori della sua casa (una biblioteca di arte e design, e le sue opere d'arte). Assolutamente consigliato!
monica
2016-12-26T00:00:00Z
This apartment is restful, clean, creative and inspiring. We were spoiled with great conversation and a wonderful breakfast waiting for us this morning. Staying here was an absolute treat!
Matthew
2017-02-26T00:00:00Z
Chur, Graubünden, スイス
Geniesst einen Wintertraum oder unvergessliche Sommertage in unserem Casa Gerry. Das Haus ist perfekt fuer kleine Gruppen oder Familien und bietet viel Platz. Hinter dem Haus startet der kostenfreie Shuttle zu den Pisten und zahlreiche Wanderwege.
***Bitte Zusatzkosten zu Touristentaxe / Bettwäsche am Ende der Beschreibung beachten*** Herzlich Willkommen ! Das Casa Gerry befindet sich mitten in der Skiregion Flims Laax Falera etwa 20km von Chur. Das gesamte Grundstück umfasst eine Größe von 1633m². Rings um das Haus herum sind verschiedene Terrassen und ein großer Garten, sodass man zu jeder Tageszeit ein Sonnenplätzchen findet wo man die tolle Sicht genießen kann. Das Casa Gerry wurde im Stil eines Engadinerhauses gebaut und ursprünglich nur privat genutzt. Deshalb ist es immer noch sehr heimelig und persönlich eingerichtet und bietet allen Komfort für Sommer- sowie auch Wintertouristen. Alle Schlafzimmer befinden sich im oberen Stockwerk. Insgesamt gibt es 7 Schlafzimmer. Drei der Zimmer sind sehr große Doppelzimmer mit jeweils zwei Betten. Zwei weitere kleinere Zimmer sind als Doppelzimmer nutzbar. Eines davon ist nur über ein großes Doppelzimmer erreichbar (besonders gut für Kinder). Das andere Zimmer verfügt über ein Ausziehbett und ist so als Einzel oder Doppelzimmer nutzbar. Es gibt weiterhin zwei Einzelzimmer, wobei wieder eines davon nur über eines der großen Doppelzimmer zu erreichen ist. Im oberen Stockwerk sind ebenso zwei große Badezimmer. Eine Gästetoilette sowie ein weiteres großes Bad befindet sich im Erdgeschoß und ein Duschbad im Keller neben der Sauna. Die Küche ist sehr groß, sodass auch, problemlos mehrer Personen kochen können. Sie verfügt über 4 Herdplatten, eine Mikrowelle, eine Spülmaschine und sehr viele Arbeitsflächen. Ebenso ist ein Vorratsraum in der Küche zu finden. Das Wohnzimmer hat eine Fernsehecke mit Kamin und mehrern Sesseln. Auf der anderen Seite des Wohnzimmers sind zwei große Couches und ein Wohnzimmertisch. Das Esszimmer ist komplett in Buchholz und hat Platz für etwa 8 Leute. Weiterer Platz zum essen ist an der Bar in der Küche. Wlan ist im Obergeschoß und Erdgeschoß nutzbar. Im Untergeschoß verfügt das Haus über eine Doppelgarage sowie einen sehr großen Keller mit eigenem Skikeller und Waschmaschine sowie Trockner. Für den Sommer haben wir mehrere Tische und Gartenstühle sodass ein Frühstück auch im freien genossen werden kann. Direkt hinter dem Haus fährt ein Bus Skifahrer und Snowboarder in der Wintersaison direkt zur Talstation Flims. Dieser Service kann kostenlos genutzt werden. Im Sommer laden die Wanderwege, die direkt hinter dem Haus starten, zu wundervollen Spaziergängen oder auch Mountainbiketouren ein. Einkaufsmöglichkeiten, Restaurants und Cafes gibt es in 1M5inuten zu Fuß oder nur wenigen Minuten mit dem Auto. Vor Ort befindet sich sehr nette Nachbarn, welche sich um die Anreise, Schlüsselübergabe und eine kurze Hausführung bei Anreise kümmern und für Notfälle zu erreichen ist. Für Infos zum Wintertourismus: (URL HIDDEN) Infos zum Sommertourismus: (URL HIDDEN) Gerne können Sie mich jeder Zeit für weitere Fragen kontaktieren.
Das Haus liegt in einem sehr ruhigen Ortsteil von Flims (Flims - Unterwaldhaus) und man ist völlig ungestört. Dennoch sind Supermärkte und Restaurants auch fußläufig erreichbar.
If you are a bigger group of friends and you want to spend your day on the slopes, this house is perfect for it. The bus stop is literally behind the house (goes every hour). The house has many bedrooms and almost as many bathrooms so you won't get in each other's way. It's interior is truly unique which is fun:-). The caretaker is also really nice and makes you feel welcome upon arrival. Irina has been a great host and super responsive to any of my many questions. Thanks for that. We were a group of 8 (in our 30ies) and had a really great, fun and cosy long weekend with lots and lots of skiing.
natascha
2015-02-02T00:00:00Z
The house was amazing and huge!! Perfect place for ski holidays. Bus station is just behind the house, its 5min ride to get to the first lift. Irina was very helpfull for everything and for all my questions. Thank you!!
cedric
2013-02-10T00:00:00Z
Very spacious Chalet with all the equipment needed. We really enjoyed our stay! All the details are well described by the host on the Airbnb page. We really recommend this place!
Jan-Torben
2017-03-19T00:00:00Z
Ein sehr schönes, grosses, charmantes Haus. Wir waren 8 Personen und haben hier ein paar schöne Tage über Silvester verbracht. Das Haus und die Ausstattung sind zwar teilweise etwas alt, aber es war sauber, es hat viel Platz und es hat wirklich alles, was man braucht - und sogar noch mehr. :) Der Bus zu den Bergbahnen fährt gleich um die Ecke und auch zu Fuss ist man schnell im Dorf (10-15min). Irina ist eine super Gastgeberin, hat stets schnell geantwortet und war sehr hilfsbereit und freundlich. Auch vor Ort war alles unkompliziert und wir fühlten uns sofort sehr Willkommen. Vielen Dank!
Anina
2016-01-05T00:00:00Z
We had a really lovely time! The house is wonderful and Flims is a cute little town. The house is really big. We stayed with 7 adults and 4 children and there was room to spare.There are 3 double bedrooms, one extra double bedroom connected to one of them and 3 rooms ideal for children (with single beds). Three large bathrooms, all with bath and shower. A lovely large well equiped kitchen, straight from the seventies but with modern equipment. A cosy diningroom and a large livingroom with lots of couches and a fire place. It is so nice to stay in a house that is lived in. There are lots of books, photos of the family and in de kitchen with many spices we could use. The sauna was used almost every day, really nice after a whole day of skiing. There are two bus stops, one behind the house and one 5 minute walk away. In total you can take the bus 3 times per hour. If you have to wait after a day skiing, you can apres ski at a wonderful terras next to the lifts. The slopes are wonderful! We had great snow, but even if not you can go up to the gletcher for great skiing. The snowboards were also very happy because there were a lot of unprepared slopes for save off piste boarding. It wasn't busy at all even though we went during school vacation time. Flims is a lovely town, with some nice shops, restaurants and bakeries. There is probably much more to see, but we were on the slopes almost daily so didin't spent a lot of time in town. The restaurants on the slopes are very nice. Smalll cute places but also large restaurants with good food that can serve a lot of people during rush hour. THe skiing area is big enough to enjoy for a week, a lot of the time we had the slopes almost to ourselves.
Bianca
2014-03-02T00:00:00Z
Das Haus ist sehr gross und schön, hat eine grosse Küche und mehrere Badezimmer und eignet sich somit gut für grössere Gruppen. Die Lage ist perfekt, die Talstation ist sehr einfach und schnell mit dem Skibus zu erreichen. Die Ausstattung ist leider etwas alt und bspw. Handtücher/Betten könnten zum Teil erneuert werden. Irina ist sehr freundlich und die Kommunikation hat immer super funktioniert. Wir hatten einen tollen Aufenthalt!
Nadine
2017-01-05T00:00:00Z
Ausreichend Platz für zwei Familien. Unkomplizierte und freundliche Gastgeberin. Skibus direkt hinter dem Haus.
Michael
2017-03-04T00:00:00Z
Wir waren 10 Personen und hatten richtig viel Platz. Auch unsere 4 Autos konnten locker beim Haus parkiert werden. Genau die gemütliche Atmosphäre, die man sich in einem Bergurlaub wünscht! Bus hält fast vor der Tür und sonst ist auch der Fussweg ins Dorf kurzweilig und schön. Auch ein längerer Spaziergang Richtung Caumasee lohnt sich und ist ab Haustür möglich. Check-in/Check-out war super freundlich sowie pünktlich. Das Haus bietet alles, was man sich wünscht (Küchengeräte, Gartensitzplatz, Sauberkeit, grosse Räume, gemütlich, Sauna!). Die vorbestellte/n Bettwäsche/Duschtücher riechten richtig frisch. Wir würden immer wieder ins Casa Gerry - vielen herzlichen Dank!
Ashley
2017-02-20T00:00:00Z
Flims, Grisons, スイス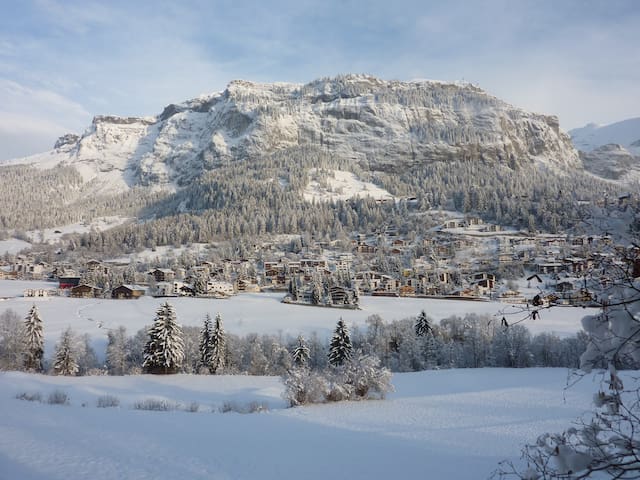 Das schönste an dem Haus ist die uneingeschränkte, spektakuläre Aussicht auf die phantastische Bergwelt, sowie die traumhafte, stets klimatisch bevorzugte Südhanglage. The best part about our house is the unobstructed, spectacular view on the fantastic mountain area and its south side location which guarantees an ultimate amount of sun hours..
Neues, luxuriöses Einfamilienhaus in traumhafter Berglandschaft (Ski, Wandern, Golf, Mountainbike, Seen, Riverrafting, älteste Stadt der Schweiz) Unser Traumhaus hat 4 Schlafzimmer, 3 Bäder mit Duschen, einen sehr grosszügigen Wohnraum mit offener Küche (inkl. Vorratskammer) und ein Essbereich der über zwei Stufen die Aussenterrasse erschliesst. Auf der Terrasse befindet sich ein Esstisch, eine bequeme Lounge sowie ein ganzjährig geheizter Whirlpool. Im Erdgeschoss hat es zwei Kinderzimmer mit separater Dusche und WC sowie das Elternschlafzimmer, welches zusammen mit der Infrarotsauna, der Badewanne/Dusche und dem Aussenbereich mit Teich und Sitzgelegenheit als Wellnessoase dient. Im Untergeschoss befindet sich eine sehr grosse Garage, eine Garderobe sowie ein Technik-/Hobbyraum mit Billiard-Tisch. Das Haus wurde im 2011 erstellt, hat mehr als 200m2 Wohnfläche sowie einen sehr hohen Ausbaustandard . Es wurde als Passivhaus gebaut und wird nur mittels Sonnenenergie geheizt. Zusätzlich verfügt es über einen Ofen, welcher eine gemütliche Atmosphäre herbeizaubert. Zum sehr angenehmen Raumklima trägt eine kontrollierte Wohnraumlüftung mit Wärmerückgewinnung bei.
Trin, Graubünden, スイス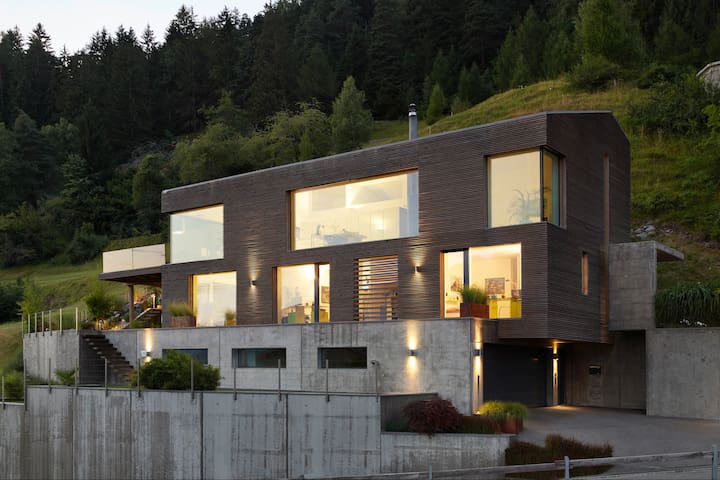 Уютная ухоженная вилла бизнес класса сдается полностью для6ти человек принимаем все национальности без разницы и очень ждем вас персонал у нас русскоязычный и приветливый и всегда с улыбкой решит все проблемы.ЖДЕМ.
Вилла бизнес класса сдается полностью цена выставлена для 6ти человек 400м от моря с бассейном 240м кв участок1118м кв три большие спальни с большими лоджиями с видом на море гостинная совмещенная с кухней 50м кв две ванные комнаты прихожая с большим шкафом гардеробная с тремя шкафами смотровая площадка 25м кв цены на 1-15мая900ев с (PHONE NUMBER HIDDEN)ев июнь 1100ев июль-август 1200ев сентябрь1100ев октябрь 950ев в неделю для 6ти человек за каждого последующего гостя 30ев в сутки но не более 8ми человек.Минимальный срок аренды две недели.Предоплата при бронировании 50проц остальные по приезду. Возвращаемый депозит 500ев.Заезд в 15.00 выезд до 12.00.Входит в стоимость проживание ток вода интернет бильярд бассейн с гидромассажем раз в неделю замена постельного белья и полотенец , стирка,уборка на вилле раз в неделю работа менеджеров по уборке территории и бассейна.Сауна рент-кар гид русскоязычная няня повар доп. стирка за доп.плату.Менеджеры русскоязычные проживают на вилле с отдельным входом и всегда готовы прийти к Вам на помощь в любое время.т.(PHONE NUMBER HIDDEN) скайп andora8811 эл.поч. (EMAIL HIDDEN) .Ждем Вас. Пишите звоните фото и более подробное описание вышлем на эл. почту.Все периоды хороши но хочу отметить сентябрь-октябрь уже не жарко 27-28гр море 25-27гр овощи и фрукты очень дешево и арендная плата на порядок ниже и конечно отличная рыбалка настоящий бархатный сезон и еще у нас очень хорошо приезжать тем у кто болеет бронхиальной астмой у нас каждый день утром идет легкий бриз с моря с йодом и дышать легко и комфортно /в море много йодовых водорослей/ года два три и вы здоровы море лечит.Ждем Вас.Улыбка и фрукты с дерева бесплатно.
Наш район всего 1200м от курорта Золотые пески но у нас очень тихо поют соловьи и белочки ходят в гости и каждое утро легкий бриз с моря просто очаровательно лес всего в 300м рестораны 300м магазины200м тенисный корт 300м пляж 400м есть еще в 800м и 1200м аквапарк 2000м.
Chur, Grisons, スイス
Brand new contemporary independent apartment ideally located in the center of Madesimo spread over 2 levels. Spacious dining/living room with annexed full kitchen and bathroom in the lower floor and 2 bedrooms and anther bathroom in the upper floor.
The apartment was really nice and clean. We arrived at 10pm and there was no trouble with getting in touch with Stefano. It was bit tricky to find the place since Madesimo has all those small roads that not all are in (SENSITIVE CONTENTS HIDDEN) Maps, but we called him and he came for us to show us the way to get to the apartment. I can recommend this place, it is very close to the lifts, market and city center. We really liked it. Thanks!
Vladimir
2016-03-27T00:00:00Z
Abbiamo passato una bella settimana nella casa di Stefano che si è rivelato un perfetto host, molto gentile e disponibile. L' appartamento è situato in pieno centro di madesimo quindi supermercati, ristoranti ed impianti sono raggiungibili in pochi minuti a piedi. Benché sia centrale, la casa è immersa nella quiete. L'appartamento e nuovo, pulitissimo e fornito di tutto. Consiglio questa casa a famiglie di 3/4 persone .
muriel
2016-01-06T00:00:00Z
Madesimo, SO, イタリア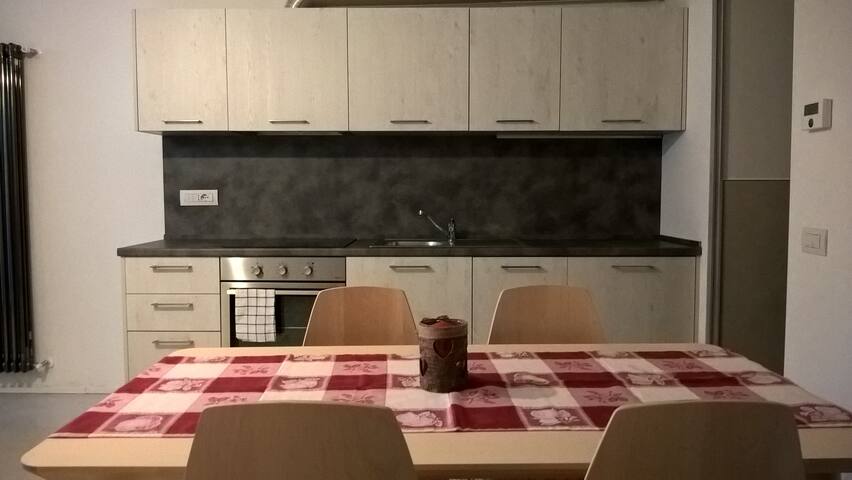 "Marianne Plus", 3-room house on 2 levels, south facing position.
Partly with sloping ceilings, partly renovated in 2017, comfortable and cosy furnishings: open living/dining room with 1 sofabed (140 cm, length 190 cm), open-hearth fireplace, satellite TV, flat screen and radio. Exit to the patio. Open kitchen (oven, dishwasher, 4 ceramic glass hob hotplates, electric coffee machine, raclette grill fondue Set (cheese)). Exit to the garden. Upper floor: (steep stair), 1 double bedroom with sloping ceilings with 2 beds (90 cm, length 200 cm). 1 room with sloping ceilings with 3 beds (90 cm, length 200 cm). Shower/WC. Electric heating. Natural stone floors. Small patio 10 m², partly roofed. Barbecue, sitting area. Partial view of the mountains and the countryside. Facilities: children's high chair, baby cot for up to 3 year olds (extra), logs (extra). Internet (WiFi, free). Please note: non-smoking house. 3 pets/ dogs allowed. Free cot on request.
Pinadee 6 km from Aquila: Cosy, simple house "Marianne", 1'010 m a.s.l., 2 storeys. Above Aquila with 10 houses, in a quiet position, in the countryside. 65 m footpath to the house. Parking at the house at 65 m. Shop 6 km, grocery 6 km, supermarket 6 km, lake Lago di Luzzone. Walking paths from the house 5 m. Nearby attractions: Museo Cà da Rivöi 4 km, Chiesa S. Ambrogio, Negrentino 9 km, Ruina/Castello, Semione 12 km. Well-known ski regions can easily be reached: Nara 7 km. Well-known lakes can easily be reached: Lago di Luzzone 14 km. Please note: car recommended.
Valle di Blenio, スイス
Diese wunderschöne Stilvilla ist eine der beindruckendsten Anwesen in ganz St. Moritz ! Ein absolutes gediegenes Wohlfühlobjekt mit traumhaften See- und Bergblick. Nur ein paar Schritte ins Zentrum zum Eispalast, zum Cresta Run und zum Golfplatz verschönern den Aufenthalt maßgebend. Zusätzlich Sicht vom Haus auf White Turf, die Pferderennen und Polo. Auf Anfrage stehen 3 zusätzliche Übernachtungsmöglichkeiten in eigenen Bereichen für Personal zur Verfügung.
Sankt Moritz, Graubünden, スイス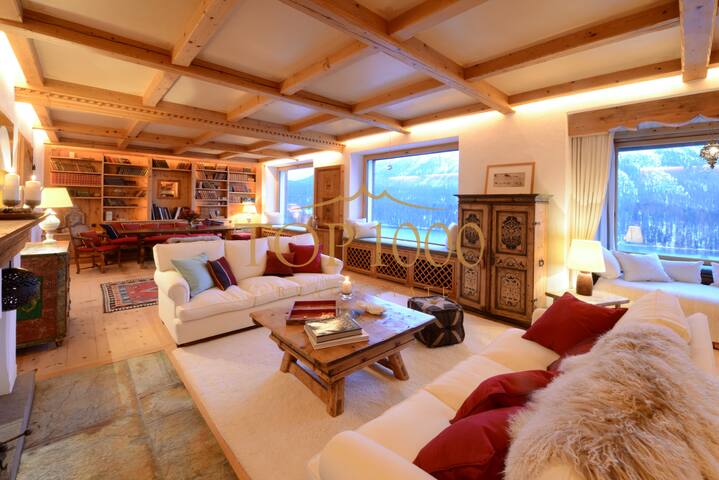 DAS nennt man Chalet ! Traumhaft schöne Berg-Villa in bester exponierter Lage mit herrlichem Panoramablick. Extravagante Luxusausstattung in allen Bereichen. Wunderbarer Garten, mehrere uneinsehbare Mega-Terrassen. Nobel bettet sich das Luxus-Chalet in die umliegende Umgebung ein. Es thront förmlich in dieser sehr exponierten Traum-Lage. Zudem befindet sich das Anwesen in einer absolut ruhigen Anliegerstraße. Bequem geht man zu Fuß in das naheliegende historische Ortszentrum
Samedan, Graubünden, スイス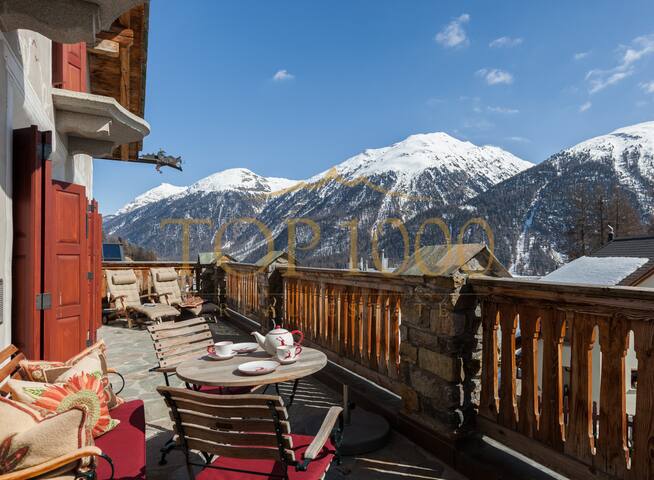 This Chalet is a truly modern and luxurious chalet sleeping up to 8 guests and ideal for a family. It is perfectly located at the Lake of St. Moritz and in front of the Badrutt's Palace Hotel. The chalet has 320 square meters and is divided over 3 floors.
On the top floor there is a TV-room with a modern Bang & Olufsen system In the middle floor is the living room with stunning views on the Lake of St. Moritz and with a big terrace. The living room is equipped with a fireplace, a cozy sofa area and a dining table. Next to it you will find the modern and fully equipped kitchen. On the middle floor you will as well find a bedroom (double bed) with private bathroom (large bathtub and shower). An other highlight is a gemes room with pool table and another bathroom ans as well a laundry. On the lower floor there are three bedrooms (all with double bed), each with its own bathroom. The MAster bedroom has a very large bathroom with shower and Jacuzzi. Furthermore there is a Spa and fitness area, which is shared with the other two houses. In the garage are three parking spaces which you can use throughout your stay.
Perfect location, directly at the lake and just a few walking minutes from the escalator which leads to the center.
The host was quick and everything went smooth. I will use Sven again. He was available on (SENSITIVE CONTENTS HIDDEN) all the time in case we needed help. I am 100% satisfied.
Alessandra
2016-01-04T00:00:00Z
Great place that we got. Sven was extremely responsive and very helpful in changing our reservation as we needed as well as finding us a second apartment in the same day requested. The apartment was great and located in the lake and next to the lift that takes you up to the stores next to Badrutt Palace
Ahmed
2016-07-16T00:00:00Z
Sankt Moritz, Graubünden, スイス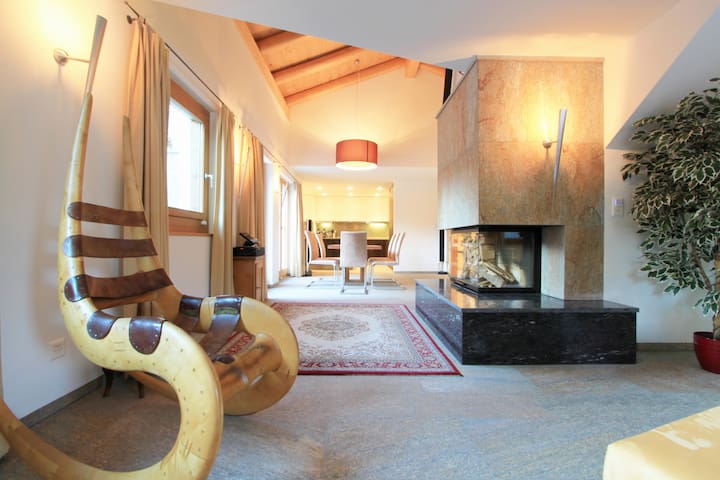 Die Chesa Filadé ist ein wunderschönes und freistehendes Chalet in La Punt mit fantastischer Aussicht Richtung Madulain und Zuoz. Das Chalet wurde im Jahre 2008 mit Altholz und einheimischem Stein gebaut und mit handverlesenen Materialien und viel Liebe zum Detail ausgestattet.
Das Chalet verteilt sich auf mehrere Etagen und wurde sehr intelligent konzipiert. Das Objekt verfügt über 4 Schlafzimmer mit en-suite Badezimmer sowie im obersten Stock über ein sehr grosses Wohnzimmer mit fantastischer Aussicht. Die komplett ausgestattete Küche sowie ein Esszimmer mit grossem Tisch befinden sich im Erdgeschoss. Das Haus verfügt zudem über ein Wellnessbereich; Pool mit Jet Stream, Sauna, Dampfbad und Duschen. Ebenfalls hat es ein Fitnessraum mit Technogym-Geräten. Ein weiteres Highlight sind ein Partyraum mit einem grossen Holztisch und ein Heimkino.
La Punt-Chamues-ch, Graubünden, スイス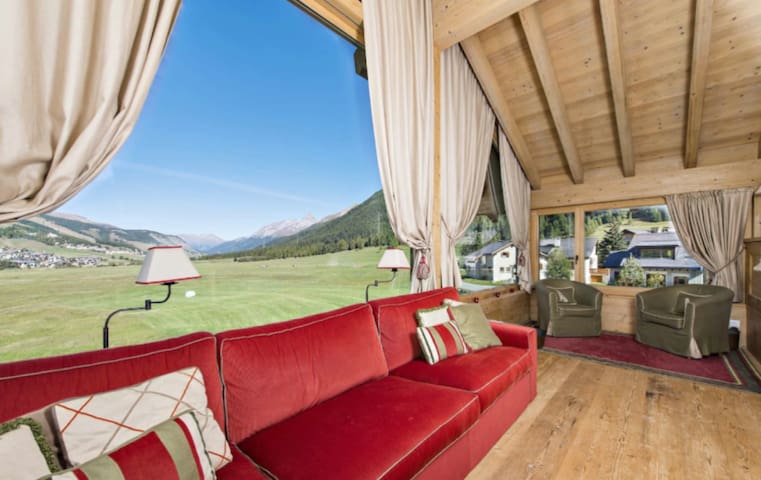 represent Better is not! Extravagant Villa superlative in an ideal location with stunning mountain views in the famous Val Roseg. Former farmhouse from the 16th century. Dreamlike exceptionally beautiful interior and exterior architecture. Rare good winning combination Ancient monument protected with the modern ambience to connect. Gigantic private spa and fitness area and underground link to one of the finest luxury hotels in Switzerland.
Pontresina, Graubünden, スイス