日付を入力すると合計金額が表示されます(税・サービス料別)。
この7月と8月は、あらゆる価格帯の高評価物件100件の中から物件をお試しいただき、ソノマのローカル目線を体験いただけます。24時間対応チェックイン、今すぐ予約、ローカルワインとおつまみでくつろいでご旅行をお楽しみください。
My place is inside Mill Creek Golf Club - family-friendly activities. You'll love my place because of the ambiance, the outdoors space, the neighborhood, the light, and the comfy bed. My place is good for couples, solo adventurers, and business travelers.
The host canceled this reservation 8 days before arrival. This is an automated posting.
Jon
フランクリン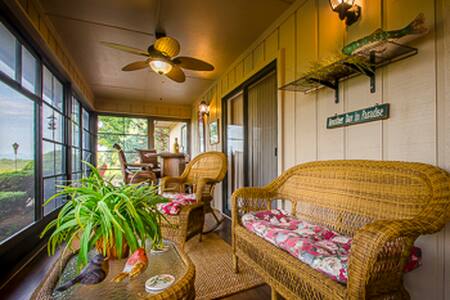 A WOW factor from the very beginning! A 3 story dream home with an open floor plan! VERY Inviting! If the amenities inside don't get you the Waterfall Garden on the front step will!! For more info check us out forestcovegetaways on the web.
Bedroom 1 - 1 King Size Bed Bedroom 2 - 1 King Size Bed Bedroom 3 - 1 Queen Size Bed Bedroom 4 - 1 Queen Size Bed
Jerry was an excellent host. He met us late at night and showed us how to get to the house--we arrived with a nice fire burning and a sweet bottle of wine! Perfect! Jerry quickly responded to any needs that we had. the hottub was awesome, as was the jacuzzi tub. Furnishing are all new, so all very comfortable and relaxing! Many thanks for such great hospitality!
Elizabeth
February 2016
We had a really lovely time staying at the Cedar Chalet. It's a beautiful house and grounds and Jerry and Annalise we extremely welcoming and helpful hosts. The house was extremely comfortable (the beds were a dream) and clean and the hot tub was fantastic! The roads leading to the house need a little work but we were informed that they are next on the list of improvements! All in all a wonderful stay was had by all in the lovely house in the beautiful mountains. Thank you for having us!
Katy
August 2015
This was my first time to rent a place to stay through AirBNB and it was a positive experience. I appreciated Ashley meeting us at the home and showing us the amenities, like how to use the remotes for TV and Direct TV, etc. We had plenty of towels, toilet paper, paper towels, etc. which was a new experience. We've had to bring our own when we rented in the past. When we needed more trash bags and firewood, the owners provided them quickly. The best thing about the home is the ground floor area. The kitchen and living area are open, and there was plenty of room for all of us. The space promotes interaction. However, when we wanted to find a quiet corner to read or work, the two bedrooms on the top floor and the two bedrooms on the bottom floor were available, as well as the wrap-around porch and waterfall area. The hot tub was already at the perfect temperature and was a nice way to relax on a cool morning. We especially enjoyed hiking down the road to the gazebo and following the path around. We appreciated some exercise and seeing nature, although the hike back up the road will require some physical exertion. In a nutshell, I would definitely recommend Cedar Chalet for a weekend stay or longer.
Jef
November 2016
This is a really nice place !!! We enjoyed staying there, everything was beautifully done. Our hosts were very friendly and pleasant. We also had one day complimentary stay, which was much appreciated. I would definitely recommend this house.
mariana
October 2016
Our stay was very pleasant and peaceful.. Jerry was an amazing host and was very good at communicating if we had any questions or if we wanted to know what to do in town. Overall their home is very beautiful, clean and very comfortable to stay at. They had everything we needed including firewood which saved us a trip to town. We will visit again soon :-)
Meghan
November 2016
Great property to vacation, amazing views, lots of activities and the host was the best.
Odalys
December 2016
フランクリン
My place is close to Cashiers, art and culture, great views, restaurants and dining, family-friendly activities. My place is good for couples and solo adventurers.
South-Western theme, fully equipped kitchen &King Bedrm Suite Summer-time Fun! Stay any or all nights of Tues, Wed, Thursday for just $88 per night for Double occupancy, excluding all holiday periods. Nights of Fri-Mon @$108 have a 2 night minimum. Holidays have a 3 night minimum. Comfort and Relaxation at your Cedar rental with southwestern theme showcase displays and points of interest to help you plan fun activities in the area. Soak in your own personal Luxury Hot Spa, yours Exclusively just outside your door at gated patio entrance area. Parking directly next to your entry! This cedar rental is the largest of a 3 unit villa with your own personal entry into you own private 1,200 sq ft space. Inquire about a 'last minute reservation'. 'Southwestern' theme has saddle and Colorado aspen wood seating,.. This rental includes Hot Spa, hammock, fire-pit, wifi and much more. The Cedar Duplex, is a first floor rental with Easy Access (not stairs to deal with) just 1 mile from Lake Glenville being the highest lake East of the Mississippi. Just 5 miles is the center downtown Cashiers, then 10 miles to famous Highlands, this villa has everything you need for your fun mountain vacation. Beautiful Lake Glenville offers boat rentals 'on the water for fun and memorable water activities. Master Bedroom Suite' is spacious offering 300 sq ft with King-size Tempru-Pedic Bed, snack bar, and large desk. Enjoy leisurely time with a 'hot toddy' by your glowing fireplace (gas) in your Den, TV with DVD player and Satellite with 'total-choice plus' pkg with H-D DVR so you never miss a show you can record and watch when done exploring the beautiful mountains and trails in the area. The Master Bedroom Suite' with large HD flat screen TV (with DVD only). Relax your weary muscles in your own Personal Luxury Hot Spa with changing 'mood lights' all within your gated courtyard. Read a book in your hammock by the creek where you can build a 'crackling camp-fire in your Fire-pit on those chilly mountains nights ... Newly remodeled kitchen with portable dishwasher and ice maker, all you need for your home away from home. Book soon for Best Rates to enjoy this Cedar Duplex, also called 'The Crickets Den', so named as 'hubby Jim's nick-name is 'Cricket'. Care-takers on premises for 24/7 questions and help. Please pay one time pet fee of $30 upon arrival. Entry check in provides all info upon arrival.
Short range mountain and pastoral views on a 3 mile country road with old barns and valley breezes. Hot Spa, towels and instructions are provided.
Chris's husband let us in, early, when we arrived, in deference to our having driven 9 hours to get there & having an antsy cat in the car. So right off the bat, they're very accommodating and thoughtful. The location is lovely, out in the country, low light pollution, so you can really see some stars out there. Lovely views all around, little stream on the bottom of the very well kept property. The unit has a hot tub, which we didn't use, and a hammock, which we did! Read while laying in the hammock next to the stream - so peaceful. There's also a fire pit. We stayed in Crickets Den. It was cozy and very comfortable. There's a dining room, bar area, living area with tv. Good wifi connectivity, and lots of cable channels. Bedroom is big, with a large, comfy, king sized bed, exercise bike, desk, and DVD player. Nice bathroom with tub & shower combo. GOOD water pressure, which is unusual up here. The kitchen is small, but quite well equipped and user friendly. Everything was very clean and organized. We enjoyed meeting Chris. She was a thoughtful hostess, and we really liked the property and Crickets Den. We'd happily stay again.
Karen
August 2016
Chris was very attentive to all of our needs and very sweet and friendly! She let us know she was available but respected our privacy. We accidentally turned off the pilot light in the fireplace and she offered to send her husband immediately to relight it. The decor of the cabin - the southwestern theme - was very quaint and very well decorated and furnished with the attention to detail that only comes from personal touch and passion. The hot tub was a great bonus too! The location was perfect for those who want to be out of the way but not far from the Highlands and other touristy areas. A wonderful experience, would definitely recommend!
Cat
November 2016
Chrissy was so helpful and welcoming. The space was exactly as described and perfectly met our needs. Very nice experience.
Ben
October 2016
I cant say enough about how wonderful Chris was to interact with before our trip and how helpful she was during our stay. She made us and our dog feel very welcome and we loved the Cricket's Nest!
David
January 2017
We had a wonderful time. The unit was very clean and comfortable. We have found a new favorite place to get away in North Carolina!
Alan
December 2016
Chris and Jim were great Hosts. Too notch and we plan to stay here several times in the near future as we plan our wedding. Thank you again guys for being so understanding when it pertained to our evacuation away from Hurricane Matthew!
Brett
October 2016
Glenville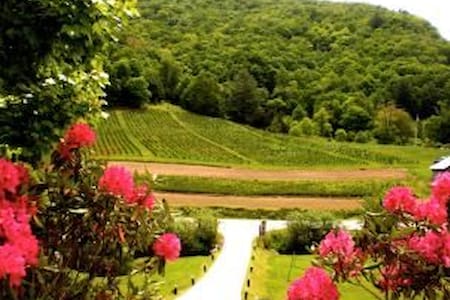 Spacious 7 Bedroom, 5 Bath home near ski and elk preserve. Beautiful views and spacious rooms. Well appointed kitchen and lots of deck. There is a small creek on property and nice walking.
Great access in all seasons, beautiful views and friendly neighborhood! Very large spacious home that is just minutes off of I-40. We have a very large home on 2 acres of land with a small creek behind it. Guest will have access to main floor and 2 nd floor levels. Basement apartment is not included in access (this is our personal space when we are in town)Bedroom 1(master) is a king with private luxury bathroom. Bedroom 2 is a king and a twin and has a large private bathroom. Bedroom 3 is a firm king bed with own bathroom. Bedroom 4 is a firm memory foam king bed and shares large bath with bedroom 5 which is set up with a king and has a small kitchenette. Bedroom 6 is king room private bath. There is an additional twin over full bunkbed as well as laundry facility. The kitchen has granite countertops, gas cooktop and double convection ovens.K cup and regular coffeemaker. Fire pit outside ...and plenty of wood. Any other questions about the house or what's in the house, feel free to ask! Although this is our personal home, we have been traveling quite a bit. This allows us the opportunity to rent it out! We have private space in the basement apartment that is totally separate from the rented space of the house. The main and upper floors of the house offer guest 4100 sq ft of living space and lots of deck to enjoy the view.
Very convenient to ski area and elk preserve. 10 minutes to grocery. 5 minutes to gas station and Maggie Valley. 2 places to play golf within 15 minutes. Horseback rides and of course all the wonderful outdoor life adventures that mountains naturally provide. Asheville,Cherokee and Gatlinburg are only a short drive away and easily makes nice day trips. Plenty of parking and paved access. Even room to park cycle trailer or Rv. Please no smoking or pets.
Our host left us notes and directions for all the closest attractions and places to go sight seeing. All the basic necessities were provided from a coffee pot to a washer & dryer. She also left two homemade apple pies for us, all we had to do is bake them and enjoy!
April
September 2016
More amenities than listed, very roomy, beautiful setting, every bedroom opened to a porch with a view. It was wonderful but also very basic. No TV, couldn't find a radio station on the little stereo, but the wifi worked great so the football fans among us were not left completely in the dark. The bedroom my husband and I were in had no bedside lamp, only an overhead fan/light. Though the overhead was conveniently remote-controlled, reading in bed (my habit) by the overhead was a bummer. (I think all the other bedrooms had bedside lamps. We just ended up in that room, a lovely room otherwise. And huge!) Throughout the house there are so many multiple light switches and remote controls, it was sometimes a lengthy process to figure out how to get the lights and/or fans on. If we had booked a longer stay, the time spent figuring those things out would have averaged out fine. The upstairs bedrooms have skylights but the bathrooms have no natural light so finding your way in the dark was difficult. BYO night lights and book lights if these are factors for you. Mine are the pickiest of criticisms. The property was more than we hoped for and our brief family reunion/celebration was great.
Leigh
September 2016
Great communication.
Charles North
October 2016
My large family stayed here over Thanksgiving at it was just perfect! Gorgeous home, large kitchen and plenty of bedroom and bathroom space for all of us. The views from the front porches were perfect for drinking coffee and watching the sunrise. Large yard area which was great for playing flag football with the family and just for the kids to be out and playing. Highly recommend this to anyone. We would definitely stay here again!!
Susanna
November 2015
What a great time we had at this Waynesville area home! Firstly, Elvie was very patient with us when we were finalizing plans and figuring out the particulars. Very great communication and even clarified things for us so we could understand better when we got in late at night for check-in. The home is an ideal place for a family get together from all over the country. We were able to meet up and have a home base where we could then explore the rich, lovely area. As close as Maggie Valley or farther away to Asheville or Gatlinberg... there are tons of things to do here in the winter and the summer. (We hope to come back for both in the future and we know where to stay when we do!) House was clean and very nicely appointed. Appliances in working order and instructions for nearly every scenario were left for us and were clear in communication. We felt very much at home here and will be back. The area is very serene, but very near to just about any type of store or need we had - and it doesn't take very long to get to anywhere. It was warm for the winter so the ski area was closed, but that honestly was a blessing because we had fun sight seeing in town (take your pick of a few...), hiking in the Blue Ridge Mountains, or staying at the home playing games with family.
Travis
January 2016
The home was amazing and more than we thought it would be. It had ALL the amenities that anyone would want and more. It was spacious so the 5 couples had their own private spaces but we also had great areas for us to gather as a group. The home is located in a area where you can relax on the porch and take in Gods beauty around you! Elvie was a gracious host and was also quick to communicate back when we reached out to her. We will ALWAYS stay here after this visit!
Tracy
August 2015
We were very happy with our stay at Elvie's property. The location was perfect for a big family as there is so much space. We especially liked all the cosy sitting spaces created inside and outside the property. The weather was nice so we were able to sip our coffee outside with the serene mountain view. Everything was clean and stocked. the fire pit was even stocked and ready for a great fire to roast marshmallows. We would highly recommend the property and will look forward to staying again in the future. Thank you Elvie.
Tiffiny
January 2017
Elvie was a wonderful host. Really appreciated little touches like leaving cookies, chips and water. She provided very clear instructions and very helpful hints regarding the local. This is a beautiful place in great location. Lovely wrap around porch, lots of space and plenty of bathrooms to accommodate everyone. Great coffee was a bonus too.
Sanjay
June 2016
部屋タイプ
まるまる貸切
---
建物タイプ
---
収容人数
16
---
寝室
7
ウェインズヴィル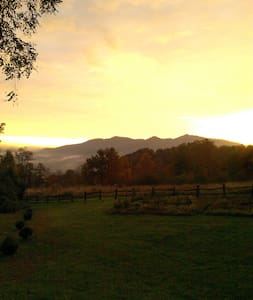 Cantrell Cottage; Nestled atop of Cantrell Mountain, Hendersonville, Breathtaking Views! Newly Remodeled, cozy, affordable, perfect for couples, solo adventurers, golfers, hikers, bikers, wedding guests, honeymooners...Make your reservations today.
An easy entrance in to your cottage, from the front deck, on ground level, you will enter in to the airy, open concept cottage. Recently updated and remodeled, clean and fresh, tastefully decorated by the owners, its warm and welcoming. The Cantrell Cottage sleeps 4. Imagine sleeping peacefully on the King size bed, on the new luxurious pillow top mattress, supplied with fresh new bedding, a flat screen tv for viewing, with bedside remote. Also included is a comfortable sleep sofa for a guest or two. Your kitchen table is situated in front of the large picture window overlooking the rolling hills and Blue Ridge mountains. The well equipped kitchen is just the right size to prepare easy meals and your favorite coffee. It boasts granite counter tops, electric stove, large mini refrigerator, microwave, toaster, setting for 4, coffee maker and a Keurig for fresh brewed coffee. The bathroom also has granite vanity, a walk-in shower, large closet for fresh, clean towels provided, and another closet and drawers for your belongings to make you feel right at home. Open up the lovely French Doors to your private, spacious back deck with chairs and small cocktail tables, and a gas grill to cook up one of your favorites. Sip a glass of wine at Sunset or star gaze on a clear night on your front porch. Enjoy your fresh cup of coffee in the morning looking out over the Blue Ridge Mountains. You will enjoy incredible views of the Blue Ridge Mountains, nature at it`s best surrounded by woods and trails. A stone`s throw away is the Champion Hills Golf Course and other golf courses nearby. Enjoy both decks, one large private one overlooking the wooded glen, and the front deck overlooking the hills and mountains. The house next to your cottage is privately owned, please respect their privacy, and be sure to park only at The Cantrell Cottage, thank you. We are just a phone call, text, or email away for you to have a seamless and memorable getaway. If you would like suggestions on things to do in this premier vacation area, we can give suggestions according to what you like to do!
Part of the charm of this cottage is it`s Nature at it`s best surroundings! As you drive up the hills into your vacation villa, enjoy the sights and sounds, and be sure to drive slowly down the gravel drive, a flat driveway in, the entrance in to it all is magical. There is no public transportation. Parking is in front of the cottage only, do not park to the right, to the other house on the hill. Approximately 35 minutes to the airport and only 5 miles to downtown Historic Hendersonville and 30 minutes to Asheville or the Biltmore Estate. There is a Welcome Letter at the cottage, includes your WIFI code and other details to make your stay enjoyable. Also a book with lots of brochures on local vacation/attractions. No need to bring linens, they are supplied. Note, There is no washer and dryer at the Cantrell Cottage.
ヘンダーソンビル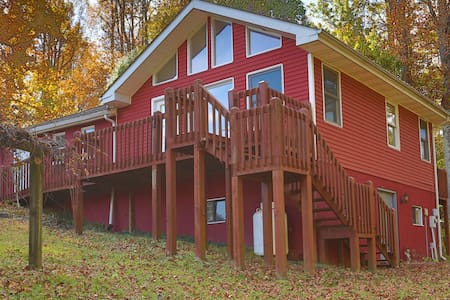 The Retreat has easy access with parking directly by your covered entrance area, just 1 step up and into your rental with short range mountain views, patio deck, BBQ Grill, WiFi, new queen bed, TV w Direct Sat service,
Fully furnished 500 sq ft apt has kitchen, front and back entry, charcoal BBQ grill, patio set, Firepit, WiFi, Hammock, view and easy access within 5 miles to downtown Cashiers.. Fun is just 1 mile away at Lake Glenville where Captain Jim offers lake cruise on pontoon boat viewing waterfalls and views for small fee. Kayaks available with life-jackets too. Privacy rule honors 'no disturbance of guests' and 'on call host 24/7 for questions or needs.
Great host. Chris goes above and beyond to accommodate
Holly
October 2015
Wonderful host and place. I would highly recommend staying there and would stay there again .
Beth
September 2015
The host, Christine, made us feel very welcome. The neighborhood is a quiet area in the mountains -- perfect getaway! It is very cozy with gorgeous mountain views, as well as close to Lake Glenville, Panthertown Valley, Cashiers, and a lot of waterfalls, hiking, and various activities in the area. The accommodations were as described, and better -- including a hot, delicious breakfast delivered to our door! Everything was very clean and comfortable, and we hope to return, that's how great everything was! I highly recommend Christine and her rentals.
Mike
October 2015
Christine is an amazing host. The room is exactly as described with a great view. It was so good that we decided to extend our vacation and stay an extra day. Looking forward to visiting again already :)
Rahul
October 2015
We were only there for a night and didn't get to experience all the place had to offer but it was perfect for what we needed. Chris was on time to meet us and very helpful with random questions that I had.
Melissa
July 2016
Me and my wife went to Chris's retreat for our anniversary for 1 night and we loved the place. Chris was very welcoming and made us feel like home. The place was very quiet and has a very beautiful from the deck. We would love to back come back soon.
Ankit
April 2015
The host canceled this reservation 19 days before arrival. This is an automated posting.
Nancy
Glenville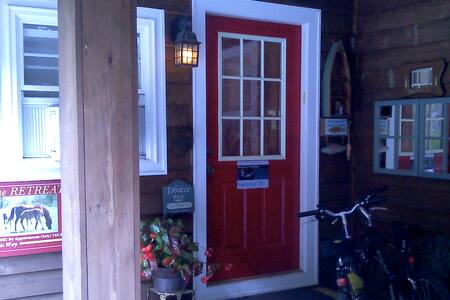 families love holiday inn club vacations. they will have a photo booth for portrait with Santa. The golf courses are awesome, in door pools and wait until you see your villa. make this a Christmas you wont forget.
Clarkesville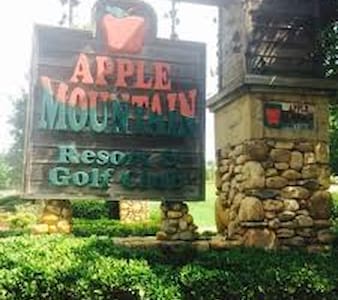 My place is close to Mountains, ski resort, casino, atv and horse back riding, hiking trails, hunting. You'll love my place because of Cozy atmosphere with wood and stone nestled in the most photographed place in the Smokey Mountains. Kitchen and a outdoor cooking area with three types of grills. All beds have new premium mattresses. 65 " tvs. Screened in porch & porch swing.. My place is good for couples, solo adventurers, business travelers, and furry friends (pets).
Rick's brother Bob was in town and he was extremely helpful in guiding us around the town. He is very well versed with the area, has grown up there and you can feel the warmth when he talks about Maggie valley. He has many memories from the town and you can have great conversations with him. The location of the place is extremely breathtaking, gorgeous views from outside the window. We went in the fall and those mountains are just so amazing to look at. The starts in the sky at night are bright and plentiful, just a great location. The rooms too are clean, and everything is the way one would expect while booking. It was one of their recent experiences hosting through airbnb and I hope it went as well for them as it went on for us. Great place for a short stay.
Pulkit
October 2016
マギーバレー
Bright & cheerful 1 bedroom condo w/ 1 1/2 bath, large kitchen and den. Private wooded setting, close proximity to 5 state parks. 30 minutes from Greenville, S.C. or Hendersonville, N.C
It's like your home away from home. Guests have access to outside porches, den area, kitchen, dining, bedroom, and 1 1/2 bathrooms We live on the property and will assist with guests if they need us but otherwise we let them have their privacy.
We love nearby parks, waterfalls and trails nearby. Greenville is close by if you need some serious retail therapy. We live in a rural area so a car is essential to get around. There is no public transportation.
Beautiful rural location. Host was readily available and Pumpkintown Opry was charming and convenient. Space could have used a few basic additions for convenience and comfort but otherwise beautiful and quiet.
Margaret
October 2016
Pickens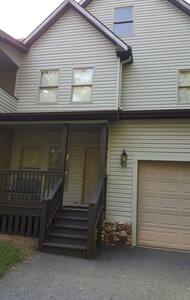 My place is close to Lake Keowee, Lake Hartwell, Clemson University and great mountain views. You'll love my place because of Across the street from Lake Keowee, A dock for your boat, Pool Access, Short drive to Clemson University, Mountain Views. My place is good for couples, solo adventurers, business travelers, families (with kids), and furry friends (pets).
Six Mile