Great farmhouse s. XVI, restored with historical criteria, 80 km from Barcelona, surrounded by fields, herbs sustainable energy and an incredible indoor pool and a football field. It has a barbecue.
Cozy kitchen with old fireplace; fabulous porch with barbecue (wood and ping pong table) for al fresco, air comfortable and exclusive rooms with private bathrooms.
The farmhouse is situated in a beautiful rural paved road, 3 km of 3 villages with all services available. Environment forest and orchards. Ideal for touring by bike, on foot or horseback.
La casa es de un estilo y diseño excepcionalmente confortable, lindo y cómodo, la zona es bien de campo muy para descansar, Pepa es excelente anfitriona. Les va a encantar el lugar y especialmente la casa... 100% recomendable
Ezequiel
2016-12-04T00:00:00Z
Un fin de semana genial,,mucha tranquilidad y rodeados de aromas de la naturaleza,ideal para desconectar, el casero David muy atento
Rita
2016-07-11T00:00:00Z
La casa és preciosa i disposa de tot lo necessari per allotjar-s'hi. Hem estat molt a gust i ens han atès molt amablement de seguida per a qualsevol necessitat. Entorn immillorable i prestacions de luxe. Tornarem!
Carlos
2016-11-06T00:00:00Z
La casa es aún más bonita al natural, muy tranquila, todo muy limpio y cuidado. Muchas mesitas en el jardin donde poder comer. Y además tienen dos perritos super simpáticos, para los amantes de los animales como nosotros. Muy buen sitio al que ir!
Nuria
2016-06-26T00:00:00Z
Hemos pasado un fin de semana genial, en una casa preciosa, con unas instalaciones muy buenas y en una zona de mucha tranquilidad.
Marc
2017-02-19T00:00:00Z
Només puc deixar comentaris positius de la casa i tant del David, l'encarregat, com de la Pepa. Ens van fer molt agradable l'estada a la casa i hi vam estar molt i molt bé. La casa està molt equipada i amb el plus de molts petits detalls que et fan molt còmoda l'estada. I qué dir del camp de futbol, la porxada amb la barbacoa o, sobretot, la piscina, que van fer les delicies dels petits (i dels grans!!!). Molt recomenable.
Marc
2017-02-26T00:00:00Z
The hosts were very welcoming and friendly. They had a welcome packet in different languages which had information for hiking and places to see and eat near by. The house is beautiful and was ready for us to stay. The pool was also wonderful and warm enough for swimming in the winter. The area around the house is open and free to walk around. This was one of my top picks for AirBnB.
Andrew
2016-12-29T00:00:00Z
Una casa molt complerta amb detalls, en un espai espectacular junt amb la seva piscina inolvidable.
Marta
2017-04-02T00:00:00Z
Sant Pere de Torelló, Catalunya, スペイン
Casa con 4 habitaciones dobles (dos matrimoniales), cocina, comedor, amplia sala, 4 baños y un aseo, amplio jardín, barbacoa, piscina y dos patios interiores.
Situado en un encantador pueblo de la comarca de la Garrotxa, a una hora de las playas de la Costa Brava y a una hora y media de las pistas de esquí del Pirineo gerundense. Ubicado a 200 metros del bici-carril "VIES VERDES", que recorre el trayecto desde Olot hasta Sant Feliu de Guíxols.
Les Planes d'Hostoles, Catalunya, スペイン
Special offers available! Please contact for the prices. We have a separate events hall which is suitable for company workshops, gathering and parties.
Masia Can Vi Can Vidal is a stunningly beautiful restored 12th century Masia (Catalan Farrmhouse) located on a hill with unspoiled views of the Montserrat mountains, nearby castles and the surrounding vineyards. Located in the heart of the Penedes region and just half an hour away from Barcelona, half an hour away from Sitges and 50 minutes from the airport, Can Vidal will captivate you from the moment you arrive with its spectacular views and wonderful sunsets. It is a perfect getaway for a quiet, relaxing holiday as well as the perfect location for Celebrations, Weddings and Corporate events. There is a separate building which can accommodate up to 80 to 100 people. There is a special honeymoon suite for weddings. As this gorgeous 'masia'(farmhouse) is close to Sant Sandurni D'Anoia, the capital of Cava (Spanish sparkling wine), we can also arrange wine and gourmet tours for our guests. The area offers attractive bodegas, vineyards, organic restaurants and farms with fresh produce. On arrival, your hosts will greet you and ensure you are comfortably settled. Can Vidal is a home-from-home never to be forgotten!
It is in the heart of the cava region. Walking distance to some bodegas of best cava producers .I have a panoramic view of vineyards and the mountain of Montserrat. There are walking trails to the forest and cave of Ordal.
We had a fantastic time staying here. Its rustic and very beautiful and nothing was too much trouble......
Ed
2016-08-05T00:00:00Z
Rustico, tranquilo, sin vecinos, cuidado y buen trato.
Roger
2017-01-03T00:00:00Z
バルセロナ, カタロニア (Catalonia), スペイン
All for babies and children. 9 Bedrooms with 7 (URL HIDDEN),blankets,sheets,towels,BBQ,Bicycles,sunny Garden with goal post,swings,volley. 2 billiard,3 tables tennis,basket.Breathtaking views.salt water pool
FROM YOUR HOME TO YOUR OTHER HOME BUT ON HOLIDAYS. Want a peaceful quiet holiday away from the usual tourist traps but still close enough for day trips to Barcelona, Girona and the Costa Brava coastline? Want to experience traditional Catalonian hospitality and culture? Then this house is for you. Situated on the side of a mountain, this beautiful 300 years old house provides breathtaking views from almost every point on the property. There are three full sized and equipped kitchens with dishwashers in all, one kitchen is right next to the pool and includes an air-conditioner for hot sunny days. In the level floor, there are four large bedrooms in each with its own bathroom, besides a great living room with fireplace, at the same level of the swimming pool and leisure area. In the main floor, that is the second level, there is a suite room with bathroom where there are a hydro massage bathtub and shower, and two more bedrooms that share a bathroom, and spectacular living room with fireplace that would lead you to a suggestive gallery where to admire the Brugent Valley. Finally, in the upper floor, third level there will be one bedroom but with a bathroom with hydro massage shower as well; in this floor there is an indoor leisure room where to enjoy a football table and a pool, while you can taste any drink. All the beds are European size, and in most of the rooms It is perfectly possible to place supplementary beds or even cradles.There is a laundry with cloth washer and dryer. The house is fully equipped with blankets, sheets, bedspreads, pillows, and bath and beach towels. The house is ideal for winter thanks to a fireplace, as well as in the other three seasons; spring, summer and autumn, for long walks and strolls in the surrounding mountains. There is a traditional covered terrace with arches, where you may play table tennis, football table or billiard, something that young and older people will enjoy. On this terrace there is also a chat table and chairs for enjoying the scenery. A large south facing salt water pool is yours to enjoy for your entire holiday. No need to deal with the harsh after-effects of chlorinated water. In the pool, there are water polo goals and whirlpool jets, so that you can have even more fun. There's an outdoor shower and change room which includes a full bathroom, another shower and another clothes dryer. After all these, just a brief break: let us suggest you to discover a surprisingly different not only view, or vision but even a picture of the house and the surrounding area: that it is a musical promotional film that was recorded in the Manor at the end of September 2.012. You only have to find it in "You-Tube" "No season Love" by Capri Elle. Just watch it, close your eyes and imagine where you can enjoy what are to be one of your best holidays. Children of all ages will love the house as there are endless activities for them, including two electric cars, skateboard, scooters, video games, pool table, ping pong table, football table, darts, bowling, basketball, soccer net and much more. A twenty minute hike from the back of the property takes you to a 1000 year old church perched on a cliff overlooking the entire valley. A similar 5 minute walk through the forest will take you to a lovely restaurant. Patrons are invited to use the restaurants pool if they wish. A five minute drive takes you to Amer, an active , picturesque town with narrow cobbled streets and a traditional square. Though village of Amer is rather small with about 2500 inhabitants, there are all the service that you would eventually need, such as Health Centre, pharmacy, two bank offices, Fire Station, Theatre, Museum, Petrol Station, Football field, Sport Pavilion... In the main and monumental square there are two bars where you can comfortably chill out and drink some beer, wines or any other spirits. Next to the Central Square (Plaça de la Vila), there are also two fish shop, two local greengrocers, three supermarkets, four traditional bakeries, tobacconist, and two local hallmark butchers. There is a wide range of restaurants, from Pizzeria, to Mediterranean food, local cuisine, snack bar, and even take-away; what means that you can always find at least one affordable to every economy. Finally it is also to be mentioned some traditional craftsmanship as wickerwork and espadrilles I'm sure you will enjoy yourselves and want come back to Amer, where you can relax and enjoy the many activities offered, such as trekking, para-glide, climbing, motocross, golf, horse riding, and a possible flight on balloon over the Garrotxa. You can also enjoy bicycling, regardless of age, thanks to the Greenway (bike-lane) passing next to the house going from Olot to Girona. That is why you can count not only on all sort of bicycles, with baby saddles if needed that we have in the house, but that we would arrange that, and even the transfers as well, as a free contribution for your holidays. Cities nearby include Figueres, Olot, Girona, Vic, Lake of Banyoles, Ripoll, Camprodon, etc and even Barcelona in one hour driving. On the old dining table you will find many ideas for what you can do during your holidays, and the house has games and table-games for children and all ages. Finally, we can promise you that we will make the greatest effort to ensure that you will have a wonderful and memorable holiday and you will like to repeat.
FROM YOUR HOME TO YOUR OTHER HOME BUT ON HOLIDAYS. Want a peaceful quiet holiday away from the usual tourist traps but still close enough for day trips to Barcelona, Girona and the Costa Brava coastline? Want to experience traditional Catalonian hospitality and culture? Then this house is for you.
Nous avons passé un excellent séjour chez Alvaro et Montse. TOUT était à notre disposition pour passer de merveilleuse vacances!!! Notre petit de 1 an et demi s'est bien amusé avec tous les jeux qu'il y avait dans la maison et Montse et Alvaro ont très bien sécurisé la maison et la grande terrasse pour les enfants. Il y a pleins de randonnées à faire (en partant de la maison). C'est près de Girona pour une balade en ville, d'une région volcanique pour ces balades découvertes (volcans, chutes d'eau, villages et nature). Nous avons eu le plaisir de faire une balade à vélo sur une voie ferrée détournée en piste cyclable (de Olot à Amer) et ce fut une expérience fantastique. Encore merci a Montse et Alvaro pour les précieux conseils et votre accueil. Nous nous sommes senti chez vous comme chez nous !
Lucine
2016-09-26T00:00:00Z
Nog niet eerder zo'n gastvrije ontvangst meegemaakt. Geweldig genoten van de faciliteiten en de rust. Komen zeker nog eens terug!
Arthur
2015-04-26T00:00:00Z
First of all, this house is a paradise for children: there is everything you can imagine and even more for all ages. Secondly, this is an ideal place to stay for almost all types of travelers: you can do sunbathing all day long or make your day as active as possible (biking, tracking, horse-riding, paragliding etc), visit some beautiful cities around or go to the nearest beach. `Also you will never be tired from the view you have from the hill when this house is situated. And the last but not least is that Montse and Alvaro, the owners of this house, are just incredible welcoming, flexible and attentive people, actually the best hosts I've ever met. We were a company of 8 adults and 3 children and we found our rooms completely adopted to the needs of each family, up to the selection of toys and plays for concrete child in each room and size/combination of beds. Everything you need is there and I bet you will not have enough time to use or try everything that you have in your disposal. And please note that this property is situated in the mountains where it is theoretically impossible to organize the Internet with a speed of the rocket, but it is there, several wifi networks throughout the area and it will be enough for almost all requirements. Finalizing this review, I want to say that each of us would like to come back there some day and we definitely recommend our friends to spend there a great time, taking back home unforgettable impressions. Special thanks once again to Montse and Alvaro for this wonderful experience and all the best to you and your sons.
Natalia
2014-09-20T00:00:00Z
WOW is the first response as we arrived at the villa in Amer. we were looking for a rural experience for our girls and were not disappointed. Montse and her family were amazing hosts which started from the minute we booked. They really have thought of the traveling family and so much of the usual stuff we travel with (cot, high chair, push chair toys, bottle sterilizer, potty etc) were already at the house - a lot were brand new. For the other half of our group the pool, fuss-ball table and terrace with its amazing view were just what we needed - relaxation. Our girls enjoyed visiting the animals on this working farmlet and Montse and her family were very generous with their time and yummy things from their garden and orchard. The apartment (four bedroom self contained) on the terrace level felt like home, beautifully furnished with everything we needed including kitchen and laundry. The house is perfectly located to explore the area of Girona. Visiting Girona city and Besalu were highlights for us but in one week we managed a day trip each day. - nothing is very far at all. Thank you Montse and family for making our week in Spain unforgettable.
Leanne
2014-06-21T00:00:00Z
Het huis Can Xera ligt in een prachtige omgeving in de bergen . Het heeft een prachtig goed onderhouden zwembad en er zijn genoeg faciliteiten voor kinderen om zich te amuseren. Kortom een prima omgeving om van je vakantie te genieten.
hENK
2016-07-30T00:00:00Z
Very friendly welcoming and great communication. Very lovely people. The house was amazing, we were expecting it to be good but it exceeded all our expectations. The area of catalonia and amer area in particular was beautiful and we loved our visit to Santa Pau and would recommend it to anyone. We all had a fantastic time and no one wanted to return home, i only wish we had stayed longer.
Phil
2016-09-14T00:00:00Z
This was an important holiday, and Montse and Alvar stopped at nothing to make it a perfect trip. Our family of four (4 yo and 1 yo girls) met my brother and his wife and daughter (5 yo) for five days at this private, spectacular location. Communication (they offerred email, phone and text as we preferred) was a pleasure and Montse and Alvar gave easy to follow directions with a couple options depending on our interest (we took the more scenic C-17 route from Barcelona). We arrived to a lovely welcome, with a delicious spread of charcuterie and chilled pasta salad awaiting us in the glassed-in kitchen by the pool. The pool really is as great as it looks. I was skeptical about the "salt" part, but it is lovely, with wide steps leading to a shallow end for juniors and a proper deep end for diving. Unforgettably, our 4 yo learned to trust her floaties and go it alone in the deeps for the first time. The kids loved it. The pool furniture is great for eating, playing and relaxing in the endless sun. (The sunsets were beautiful.) There is an apparently unlimited supply of supply of playthings that Montse and Alvar roll out as guests require: there were bikes, trikes, scooters and even 2 battery powered kid's ride-ons...all of which we saw getting put away as we were departing--I'm guessing the next guests were adult. There is a voluminous garage/cellar below the main floor where these all come from, and we observed probably 10 cycles for grown-ups. Lots of books, board and video games (playstation) and movies. The house is well stocked and good for sleeping (we only needed 3 of the 4 bedrooms). A highlight for us was enabled by the owners procuring a 3rd bike seat. The loaded up four bikes with 3 seats into a trailer and transported us up into the mountains. The 7 of us (four parents and our 3 kids) then rode this spectacular 18-km railroad bed (stopping for lunch in a town to the north) back down into Amer, where Montse and Alvar picked us up and trailered the bikes back up to the house. They put a lot of effort into making this happen. A highly recommended adventure if you can swing it! We hardly needed to leave the grounds (Car, the horse provided a lot of entertainment for our daughters), but the surrounding area has lots to offer, and day trips are easy. The markets in Amer (fantastic butcher) are a lot of fun, and the nearby towns offered a festival or two. Besides the great fun grilling out by the pool, other memorable activities include our hike from the house up to Santa Brigida--amazing views--and the dinner (accessed by wooded footpath from the house) at Masia de Amer. We LOVED this trip, and felt exceptionally lucky to gave gotten such great owners to look after us. Highly recommended! - Nick
Nick
2016-07-04T00:00:00Z
Festejamos un cumpleaños de 40! Estuvimos genial, éramos 30 adultos y muchos niños. La casa tiene de todo y para todos. Después de un gran día pudimos descansar fantásticamente. Muchas gracias Montse.
Cecilia
2015-03-08T00:00:00Z
Amer, カタロニア (Catalonia), スペイン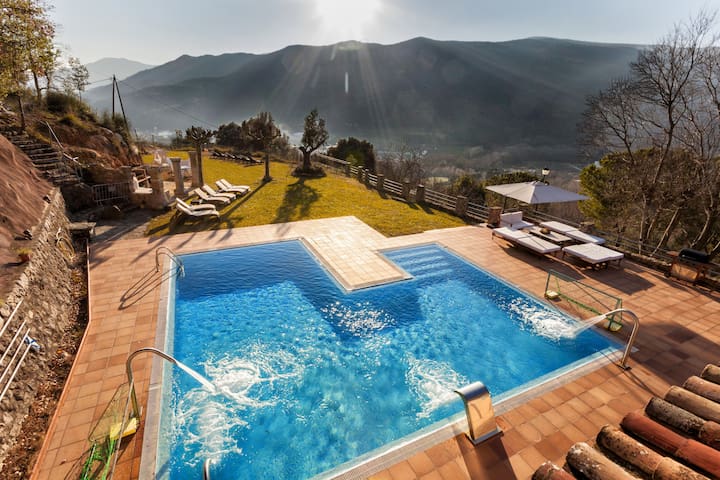 Mas Casamitjana es una casa agrorural del 1344 con 5 habitaciones, 4 baños grandes, una sala grande, una cocina completa y unos exteriores con unas vistas impresionantes. Estamos en Batet de la Serra, Olot, en medio de de la zona volcànica
La casa es del 1344, està muy bien conservada y decorada, intentamos tenerla muy limpia y cuidamos mucho los detalles. Las habitaciones son grandes y en todas hay una cama de matrimonio, pero también podemos montar individuales , dependiendo del grupo familiar o de amigos que venga, nos adaptamos. Para el invierno hay calefacción en toda la casa además de una chimenea. En las habitaciones hay sábanas y toallas y encima hay nórdicos para el invierno todo muy limpio de tintorería.
Estamos en Batet de la Serra, Olot, en medio del parque natural de la zona volcánica de la Garrotxa. Un lugar muy tranquilo y con muy buenas vistas.
Eva and Jaume were fantastic hosts...probably one of the best Airbnb experiences we have ever had. Everything was beyond clean, and the facilities are fantastic. If you have kids this place is a 10. The animals, the space, the views...such a perfect getaway, we will be back very soon!
Andy
2017-03-19T00:00:00Z
Ens vam sentir molt a gust i còmodes a la casa. L'Eva ens va acollir amb molta dedicació i amabilitat. La casa ho té tot per anar-hi en família: animals de granja per als petits, joguines per jugar a l'exterior, trones i cunes; barbacoa i taules grans a l'exterior i a l'interior; habitacions decorades amb molt de gust - i molta dedicació. Tot en un entorn preciós i a un salt d'Olot. Ho recomanem molt!!
Marc
2017-01-15T00:00:00Z
Lovely host and family very kind and responsive to all our needs including sweet tomatoes from their allotment. Great place to stay, the area is really beautiful with loads to do, including swimming in rivers, walks in the volcanoes and trips to the beach. We really enjoyed ur 10 days stay.
Paul
2016-08-15T00:00:00Z
Batet de la Serra, Catalunya, スペイン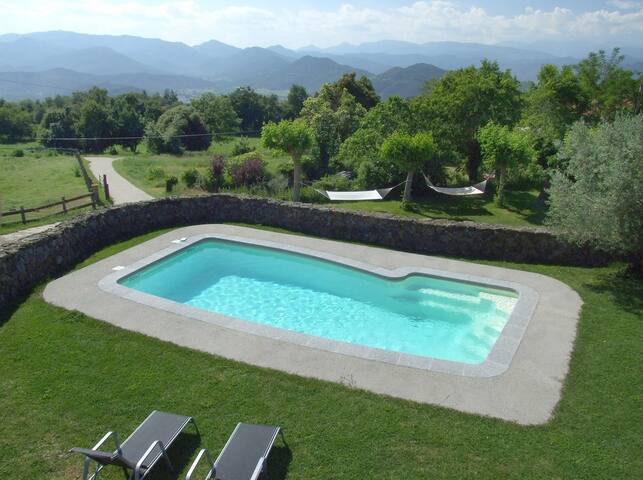 'Fontarnau' liegt auf dem Land, nur 10 Minuten mit dem Auto vom alten Markt Stadt Vic (eine Stunde von Barcelona und einen Besuch wert). Diese Villa ist gut für große Familien und Gruppen, die Entspannung und Erholung suchen, um. Es gibt viel Platz im Haus und viele in dieser schönen ländlichen Gegend von Katalonien zu sehen.
'Fontarnau' ist in einer einzigartigen Lage, direkt im Herzen von Katalonien. Vom Esszimmer, die Küche und der Terrasse können Sie einen herrlichen Blick auf den Naturpark 'El Montseny' betrachten. Die Gastgeber sind Künstler selbst und haben das Haus mit großer Sorgfalt eingerichtet.
Der charismatische Stadt Vic (mit seinem schönen Platz, Cafés, Geschäfte und Museen) ist nur bei 1: 30min bis zu den Pyrenäen, 1h zur Meerseite und 1 Stunde nach Barcelona. Vic ist die Hauptstadt von "Osona" einer ländlichen Gegend mit viel zu sehen: von den alten Dörfern zu Seen, Klippen, ländliche Wege, Berge und Wiesen.
Nuestra estancia en Sentfores fue muy agradable. Cabe decir que la casa es muy grande, tiene unas vistas muy bonitas y el anfitrion esta siempre pendiente de cualquier cosa. Os recomiendo que vayaís a la casa!!
Victòria
2017-01-02T00:00:00Z
Un destino IDEAL si lo que necesitas es disfrutar de la tranquilidad y compartir en familia/amigos, una estancia donde la naturaleza sea la protagonista. Marian es una anfitriona 10, en todo momento nos ha ayudado con todo lo que hemos necesitado, es una casa con mucho encanto la recomiendo 100%, el volver esta muy presente en nosotros!!!
Saray
2017-03-12T00:00:00Z
Casa rustica especial, con vistas magnificas.
Mikel
2016-12-06T00:00:00Z
Sentfores, Catalunya, スペイン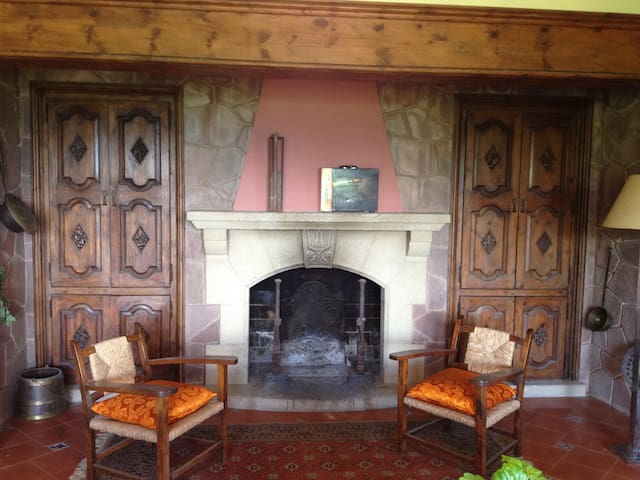 la masia esta a 20 km d Girona 34 de Olot y 40 de la costa brava. El rio Ter a 500 mts y carril bici Olot-girona-st.feliu a 300 mts
1 hab. 2 per. Lugar ideal para conocer girona montaña y mar.
masia a 500 mts del pueblo con todos los servicios incluido bus a bcn.
La Cellera de Ter, Catalunya, スペイン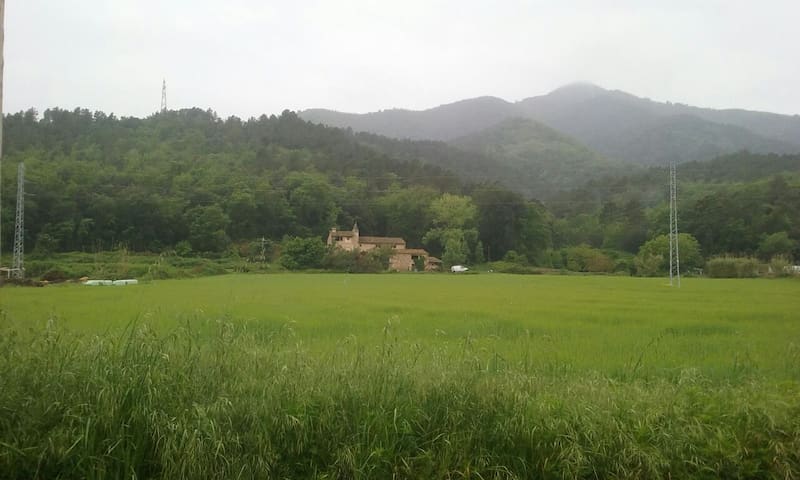 Beautifully restored large Catalan farmhouse set in an exceptionally stunning natural scenery just 11 miles from Girona and a 45 min drive from the beach.
This gem of Catalan architecture is set in a prominent location at the top of a small hill surrounded by impressive cliffs, forests, fields and rivers. Once an important farmhouse, the property compromises various adjacent buildings which were originally stables, barns and staff quarters. These have now been restored into four beautiful homes, each with it's own separate entrance, two or three bedrooms, bathrooms, kitchens and living areas. Outside there are communal gardens, a large porch ideal for big group meals, large barbecues, swimming pool and stunning views in all directions! We think it is ideal for large family gatherings or groups of friends, where everyone can appreciate their bit of independence when needed whilst staying under the same roof! In total the property compromises 4 double bedrooms, 5 triple bedrooms and a sofa bed which can accommodate 2 more people. There are 8 bathrooms (some are en-suite) 4 sitting rooms and 4 kitchen diners. Please contact us with any questions you may have, we'll be more than happy help you!
The Llemena Valley is often called "Girona's lungs" or "one of nature's best kept secrets". This relatively unknown area has managed to escape mass tourism, modern urbanization and large roads. From the big glass windows you can see original farmhouses dotted around the fields below, white cliffs and dense forests soaring up behind the house and the beautiful little village of Sant Marti de Llemena with its Romanesque bell tower just a 5 min walk away. There are numerous walks and hikes available in the area which can be started from the house itself. Either peaceful strolls along the river or active hikes up the mountain, whatever you prefer, we will be happy to guide you. The area is a cyclist's heaven, in fact teams from all over the world come to train in this area, due to the terrain, quiet roads and good weather. At your request, we can arrange for bicycles of any size and type to be at the property on your arrival (at an extra cost). There is a horse riding school just 10 mins away that offers everything from pony rides for children to 6 hour routes through the mountains (for the more experienced rider!) an excellent way to discover the area! The beautiful historic city of Girona is a 20 min drive away, sandy beaches on the Costa Brava are at just 45 min drive and the famous city of Barcelona is 1hr 15min drive away or just 30 mins from Girona by train. Girona Airport is 18 miles away and Ryanair have various European flights running throughout April-October. If not, Bacelona Airport is the next best option 80 miles away.
Las casas son muy bonitas con algunas habitaciones con cristalera espectaculares ,duchas de piedra y muy bien equipadas, con juegos para niños lo cual es perfecto para varias familias. En verano con la piscina aun tiene que ser mejor. Una de las casas tenia un comedor perfecto para los 18 que eramos, y otra una zona de sofas estupenda. Lo unico negativo fue que la wifi no funcionaba, algo puntual imagino, y que en una habitacion habia ruido de carcoma pero ya nos han dicho que lo estan tratando para solucionarlo.
Xavier
2015-11-09T00:00:00Z
Marisa was at the home to welcome us upon our arrival and was extremely helpful with not only orientating us to the property and home but with locally based restaurants and areas of interest. She is a lovely, approachable and friendly host!
Kendra
2015-06-10T00:00:00Z
Can Talado est un paradis. Nous y avons passé un merveilleux Noel en grande famille, sous un soleil inouï . La nature y est une splendeur , la maison et ses multiples petits coins permet du calme malgré le nombre et de grandes pièces des retrouvailles . Les repas inespérés sur la terrasse ensoleillée. Et la gentillesse de Marissa. Bref, on a tous adoré!!!!!
Caroline
2015-12-27T00:00:00Z
This house was absolutely awesome. We were 18 people and all had very comfortable accommodation and tons of hang-out spaces to choose from. The surroundings are stunning, and Marisa was really attentive. Paella from the local restaurant was amazing and €128 + tip for 18 of us! And no take away dishes. They just lent us their own dishes! Finally, local chef, Freek, came in one night and for a very reasonable price prepared an amazing 4-course meal with lovely wine...and cleaned up after! Can't recommend the whole package enough. Already thinking about coming back for more!
Linda
2016-04-06T00:00:00Z
What a great place this is! Nestled among amazingly beautiful scenery, the farmhouse is spacious and very well appointed to a high quality throughout. Really nice area with roads and tracks for running and cycling, and some lovely local restaurants around here too. Marisa is a perfect host and helped out with all sorts, from restaurant and activity recommendations, to answering my hundreds of questions before and during our stay there. Highly recommended!
Chris and Annika
2016-06-18T00:00:00Z
Fuimos a celebrar un cumpleaños y alquilamos toda la propiedad. La casa es muy bonita y con muchos detalles . Marisa se adaptó muy Bien A todo lo que le pedimos y fue muy amable . Estuvimos encantados y el sitio s precioso . Si te gusta caminar desde la misma casa tienes muchos caminos con preciosos paisajes
isa
2015-12-07T00:00:00Z
La finca es genial y Marisa un encanto!!! Repitiremos seguro!!!!
Sofia
2016-11-20T00:00:00Z
Great place for a large group or family visit, really well equipped and Marisa the host was really flexible and helpful! Beautiful setting and relaxing surroundings, great airbnb experience!
Laurence
2016-03-30T00:00:00Z
ジローナ, カタロニア (Catalonia), スペイン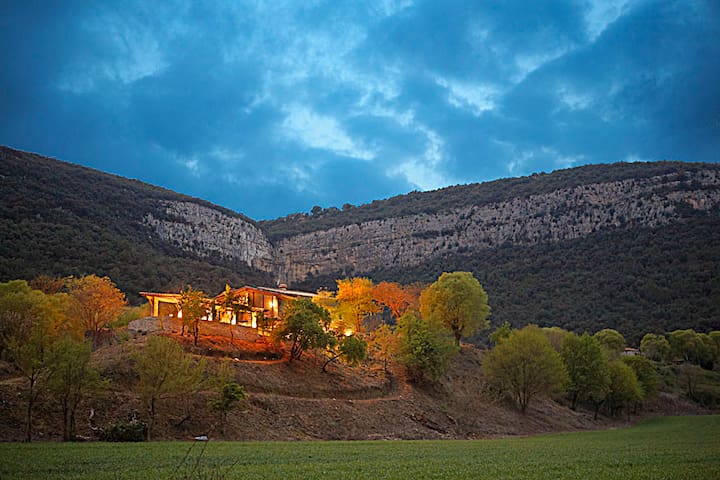 Allotjament rural independent ideal per a parelles i famílies amb un nen en un entorn familiar i agradable. Gaudi assegurat! PG-000852
Independent rural apartment ideal for couples and families with one child in a familiar and pleasant environment. La Pallissa is a cosy apartment with all the conveniences provided including a balcony and a terrace with a BBQ. There is also a fireplace and biomass heating for the winter period and swimming pool (which is shared with the other apartments) during the summer. The kitchen is fully kitted out with all the necessities; ceramic hob, fridge, electric oven, microwave, coffee maker, toaster etc. There is a communal washing machine and all towels, kitchen cloths and bed sheets are provided.
La casa està situada a 4km del poble de la Vall de Bianya, passant per una bonic camí rural amb algunes masies i esglésies romàniques. A 12km tenim Olot, nucli urbà que disposa de museus, teatre, cinema i altres activitats d'oci. També disposa de botigues i supermercats així com d'un mercat setmanal els dilluns. La zona volcànica de la Garrotxa ofereix també nombrosos atractius per a fer turisme com poblets medievals (Besalú, Santa Pau, Hostalets d'en Bas), volcans (Croscat, Montsacopa) i rius (Sadernes, Sant Privat).
The host canceled this reservation 25 days before arrival. This is an automated posting.
Raül
2016-12-02T00:00:00Z
Hemos pasado cuatro noches en la casa pequeña de Can Solà, perfecta para una pareja. El entorno es fantástico: un valle muy bonito en el que se puede hacer alguna ruta a pie o corriendo. La casa estaba limpísima, impecable, y es muy acogedora. Hemos estado muy a gusto con la calefacción y la chimenea y Elisabet te deja una botella de Ratafía como detalle de bienvenida. Muy recomendable para pasar unos días tranquilos, en un entorno privilegiado. Recordad traer cosas básicas para la cocina (aceite, azúcar, servilletas) porque no había.
Caty
2016-01-03T00:00:00Z
Alojamiento muy acogedor, fuimos con nuestro bebé de 16 meses y disfrutó mucho en el entorno de la casa, con los animales y los juguetes. Los anfitriones estuvieron disponibles para lo que necesitáramos y muy atentos
Eva
2016-12-10T00:00:00Z
Nos ha encantado estar en Can Solà, es una casa dividida en diferentes viviendas muy acogedoras. Mi marido que lleva muletas no ha tenido problemas para el acceso. Nos ha gustado pasar unos días rodeados de naturaleza. El acceso es muy fácil y esta bien indicado. Elisabet la propietaria es encantadora.
Eva
2015-10-04T00:00:00Z
Increïble, tenim intenció de tornar perquè vam estar molt i molt bé i el lloc es preciós i la casa era genial
Laura
2016-04-11T00:00:00Z
Lloc preciós! Tranquil, ben comunicat, perfecte per fer excursions fàcils. Casa calentona, molt neta i amb vistes de somni. Estufa de llenya estupenda per fer castanyes. L'Elisabet i l'Àngela molt amables i properes. Animals ben cuidats i per gaudir amb les criatures. Ganes de tornar a l'estiu per disfrutar del riu i la piscina.
Helena
2015-11-01T00:00:00Z
Si necessiteu descansar i allunyar-vos de la ciutat per a recarregar piles, és el lloc perfecte. En ple gener és ja un lloc molt bonic, a la primavera deu ser espectacular. L'Àngela i l'Eli han estat molt amables i ens han fet sentir molt a gust. Totalment recomenable.
Isaac
2017-01-29T00:00:00Z
Nuestra estancia ha sido muy buena, casa acogedora y limpia, comunicación con la anfitriona excelente, ubicación apartado y tranquilo. En general todo muy bien.
vicente
2017-02-05T00:00:00Z
Province of Girona, カタロニア (Catalonia), スペイン
Et encantarà aquest lloc a causa de la bella ubicació i els amplis espais oberts al voltant d'ella. 'Fontarnau' es troba al camp, a 10 minuts amb cotxe de l'antiga ciutat de mercat de Vic (una hora de Barcelona i val la pena una visita). Aquesta vila és bo per a famílies i grups que busquin relaxar-se grans. Hi ha un munt d'espai a la casa i hi ha molt a veure en aquesta bonica zona rural.
'Fontarnau' es troba en una ubicació única, just al cor de Catalunya. Des del saló, la cuina i les terrasses es pot contemplar les impressionants vistes del parc natural de "Montseny". Els amfitrions són els mateixos artistes i s'han decorat la casa amb gran cura.
El carismàtic poble de Vic (amb la seva bella plaça, cafeteries, botigues i museus) és només 1 hora de Barcelona, 1 hora dels Pirineus i 1h des del costat del mar. Vic és la capital d'una zona rural amb molt a veure "Osona": des dels pobles antics, esglésies romàniques, penya-segats, camins rurals, prats i muntanyes.
Una fantàstica casa amb impresionants vistes a la plana de Vic i al Montseny. Ideal per a grups i tranquilitat. Tot fantàstic!!
Judit
2017-03-26T00:00:00Z
Una estancia increible. Genial para grandes grupos que buscan naturaleza, tranquilidad e intimidad. Los anfitriones muy atentos y discretos. La casa muy limpia, equipada y con mucho encanto. Repitiremos!
Ester
2017-03-19T00:00:00Z
La casa y el entorno es fantástico! El sitio ideal, equipado con todo lo que podáis imaginar, y los dueños un encanto.
alba
2017-04-09T00:00:00Z
The host canceled this reservation 24 days before arrival. This is an automated posting.
MONTSE
2017-03-21T00:00:00Z
Sentfores, Catalunya, スペイン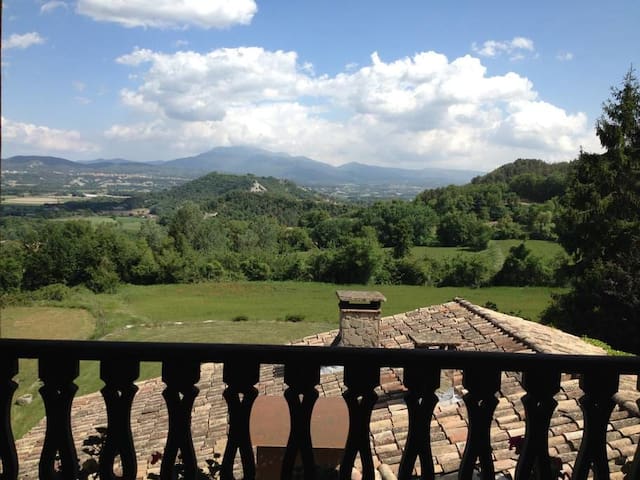 Nous avons reçu un accueil très chaleureux dès notre arrivée et nous avons apprécié partager du temps avec nos hôtes très attachants, c'était vraiment une belle rencontre. Nous avons découvert une belle région qui est délaissée par les touristes. Merci à Alba , Aida , Emma , Marco et Tom
Benoit
2016-08-14T00:00:00Z
Lugar perfecto para desconectar y descansar, tanto por el sitio como por sus anfitriones. Tanto Alba como su familia nos trataron genial y nos hicieron sentir como en casa. La casa para ir en familia es genial, hay muchos animales de granja que a mi hija le encantaron. Nos gustó tanto que al final nos quedamos un día más. Sin duda volveremos.
Javi
2016-08-24T00:00:00Z
Una magnífica forma de despedir las vacaciones! Estuvimos con nuestro hijo de 6 años en la habitación triple, que tiene puerta directa al jardín, lo cual es genial. Naturaleza a tope! Nuestra llegada a la casa fue excelente. Alba nos explicó todo lo relativo al funcionamiento de las zonas comunes y enseguida se entendió con el peque, llevando comida a las gallinas, recogiendo los huevos, presentándole a los caballos y enseñándonos el huerto. Además nos recomendó algunas salidas cercanas, como les Coves del Toll, e incluso pudimos bañarnos en el río, descubriendo un paraje tranquilo y exhuberante en la Riera de Merlès. La madre de Alba también estuvo genial con su atención y sus recomendaciones de lugares en Vic donde poder comprar buena carne, leche fresca, yogures artesanos y embutidos. Al volver de la compra fue obligado hacer una buena barbacoa en la terraza. De la casa no tenemos ninguna queja, al contrario. Está llena de detalles y equipamiento, incluso unos juegos para pasar el rato, aunque en nuestro caso lo mejor fue pasear por la montaña e ir oliendo el tomillo y el romero mientras recogíamos algunas dulces moras, viendo a los caballos comer por los prados. Todo perfecto. Para repetir en invierno y disfrutar entonces del frío!
Montse
2015-08-31T00:00:00Z
Hemos pasado un puente de mayo estupendo en 'l'habitació de l'hort'. La cocina está separada de la habitación pero no lo vimos un problema, además coincidió que estuvo libre esos días. Alba y su familia, por cierto todos encantadores, viven en la casa contigua. Mi hijo de 3 años ha disfrutado mucho de la naturaleza por los caminos de alrededor de la casa y Pere, el padre de Alba, nos ha enseñado a todos un poco del día a día en el campo: el huerto, las flores (algunas comestibles como la caputxina), el canto del ruiseñor y les acompañamos varios días a dar de comer a las gallinas, los caballos y hasta a subir al tractor. Además nos dijeron que hay una piscina municipal cerca, a tener en cuenta para el verano. Vic está muy cerca y los sábados x la mañana hay mercado, así que pudimos pasear y comprar productos de la zona.
Montse
2015-05-04T00:00:00Z
Muntanyola, カタロニア (Catalonia), スペイン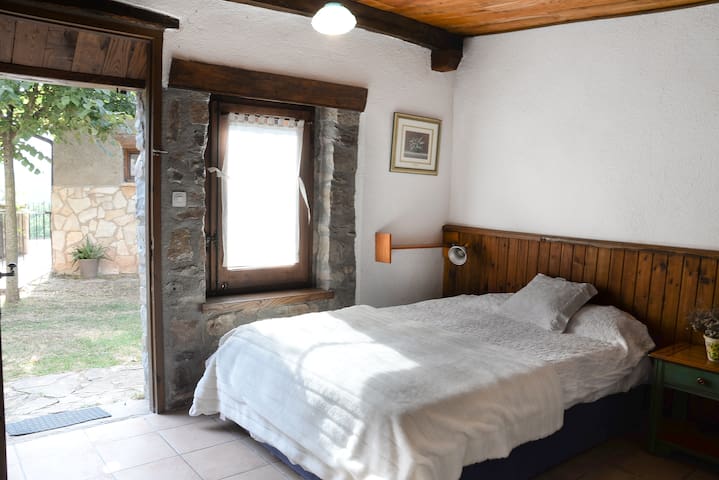 Casa de Pedra Salera és una casa rural construïda el 1973 pels nostres avis, els forners de Forn Franquesa, rehabilitada per a l'allotjament turístic en 2010. Una experiència inoblidable en un ambient que convida a deixar enrere l'enrenou i el soroll.
Casa de Pedra Salera és una casa rural construïda el 1973 pels nostres besavis, fundador de Forn Franquesa fleca en 1953, i restaurat per a fins d'allotjament d'hostes a 2010. Hem mantingut encants antics com ara la pedra salada de la qual la casa pren el seu nom Pedra Salera i adaptat a totes les comoditats i la introducció d'elements ecològics: un compostador orgànic, aïllament tèrmic, un estany natural i una piscina amb tractament salí.
Perafita es troba en un poble d'uns 350 habitants, situat a la zona del Lluçanès, a la comarca d'Osona, Catalunya Regió. A una alçada de 754M sobre el nivell del mar, és un lloc molt tranquil, lluny de l'abast de la industrialització i realitats urbanes. El topònim Perafita prové del llatí Pedra Ficta, que literalment significa "pedra fix" - en referència a una pedra que es fixa en un lloc per indicar els límits d'un territori o propietat donada. El nom del poble es refereix així a l'existència, en el passat, d'una roca o pedra erigit a la propietat separada. El poble de Perafita es troba a prop de petits pobles animats amb un sabor del passat; Alpens, Olost, Sant Feliu Sasserra, Santa Eulàlia de Puigoriol, Sant Boi, o Lluçà, d'aquí el nom de la regió deriva. El patrimoni cultural de Lluçanès ofereix retaules, ceràmica, bancs de pedra i curiositats intangibles encantador per descobrir. Camp, artesania i gastronomia es donen cita en aquesta altiplà, un dels millors miradors de Catalunya, la porta a les muntanyes Pirineus, Pedraforca, Montseny i Montserrat. Informació de la zona ofereixen rutes màgiques utilitzades pels bandits, els agricultors i les bruixes igualment, antics molins i esglésies, estanys i rierols, paisatges infinits que conviden a relaxar-se, practicar esports o recollir bolets a la tardor. Casa de Pedra Salera recomana les visites guiades de Ausetania que ofereixen excursions al matí als llocs seleccionats per la seva bellesa i història. La seva experiència guia local el portarà a través d'aquestes rutes i compartir amb vostès llegendes, supersticions i fets històrics. Alguns trobades i festes tradicionals inclouen, Candelera de Perafita (2dóna de febrer) El Mercat del Ram de Vic (11a - 13a abril) Festa Major de Sant Pere Perafita (29ª de juny) Aplec de Santa Margarida Perafita (3a setmana de juliol). El Mercat de Música Viva de Vic (18º - 21 de setembre) Festa del Remei Perafita (segon diumenge d'octubre) El Mercat Medieval de Vic (6è - 8th desembre) La Fira d'Espinelves - Fira de l'Avet (6è al 15 de desembre) Tot el que necessites saber sobre el turisme, la gastronomia, la cultura i l'esport en aquesta zona es poden trobar en els següents llocs web: Informació Ajuntament de Perafita informació Lluçanès Informació Consell Comarcal d'Osona
We have passed a weekend at this marvellous place with my family and friends and we are totally in love! It was the best time we've spent in ages! To be honest, we didnt expect SO good place to stay and so lovely owners. Rosa Maria and Josep Maria are so cordially nice and we felt like we were at our home since the first seconds. The house is enormous! It has everything (we certainly didnt have to bring our own tableware, towels, etc., because all of it was at the house. Even games for the pool and tablegames!). Each room is so cozy, comfortable and lighty, the garden, pool and barbeque was at our disposal and it actually made our days! the place is quiet and amazing, but Josep M. gave us a tip, that nearby there's a store, where we could buy whatever we needed (thanks god!). And if we had any questions, owners were all the time up to answer, advice and support. We had the most amazing weekend ever. Endless thanks to them both! And to the lovely kitty Tintin (i hope i didnt make a mistake in spelling of its name)
Daria
2015-08-24T00:00:00Z
Una casa de 10. Tenia de tot i ens van donar totes les facilitats. Un plaer anar a cases així. Gràcies
ThaisiDani
2016-07-10T00:00:00Z
Perafita, カタロニア (Catalonia), スペイン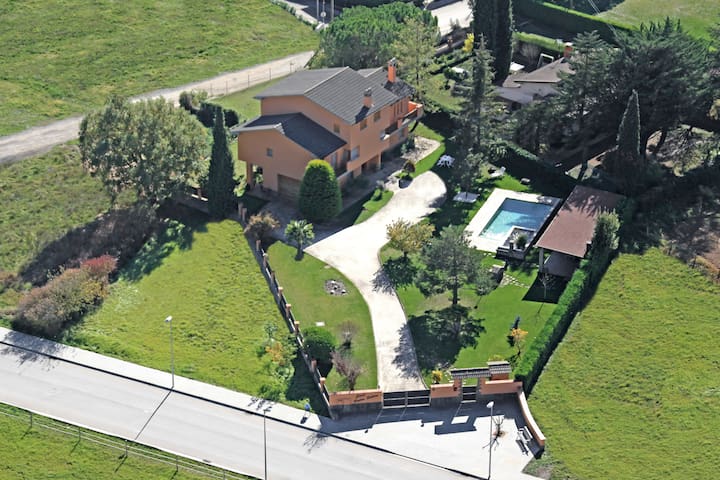 Jasny i przestronny dom 5-pokojowe mieszkanie w centrum Girony, zaledwie 30 km od morza!
Costa Brava, カタロニア (Catalonia), スペイン
Casa de turisme rural independent en una vall verge al Lluçanès. Es pot llogar sencera, 23 palces, o és pot dividir en dos apartaments, un de 10 i un de 13 places.Té piscina, zona infantil,camp futbol,voley, pingpong,billar,barbacoa.. Casa equipada
Feu una ullada a (URL HIDDEN)
Sant Agustí de Lluçanès, Catalunya, スペイン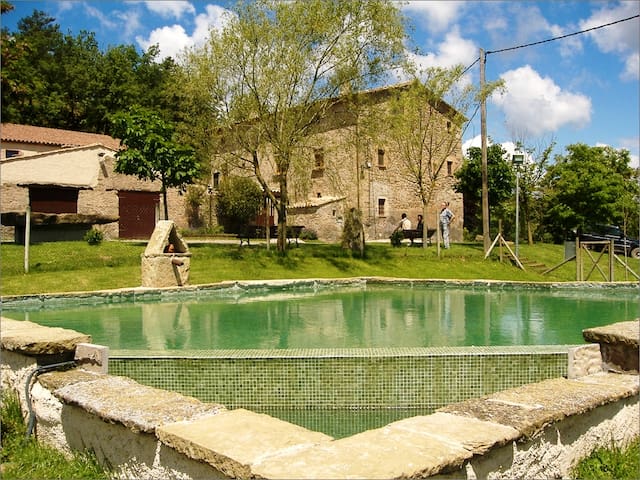 Habitació dins d'una casa rural situada en un entorn privilegiat.
Hemos estado genial! La casa y el entorno mejor imposible!un sitio con mucha paz y encanto! Ideal para desconnectar del ritmo de la ciudad i connectarte contigo! Maria es un amor y super atenta, dejándote tu espacio, pero estando para lo que necesites. El desayuno al sol ha sido increible!Superrrrr recomendable!!
Alba
2017-03-16T00:00:00Z
Las Llosas, カタルーニャ, スペイン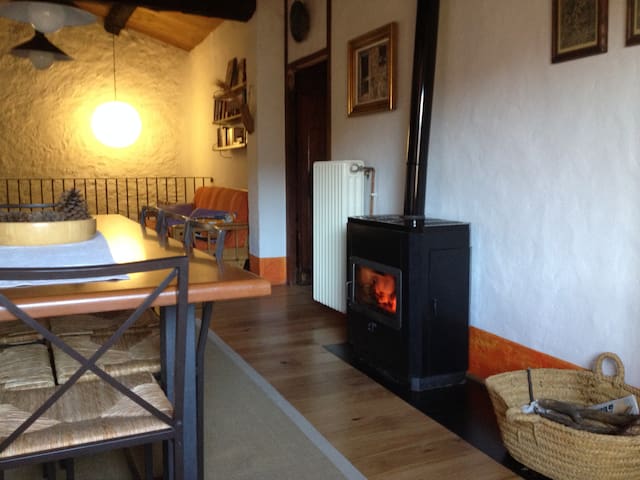 Situado en un lugar privilegiado de la Alta Garrotxa, con unas vistas increíbles, acceso con el coche, privacidad, silencio infinito. Pensado para familias o grupos de amigos, ideal para excursiones, senderismo, BTT, trekking. Zona de arte románico.
Laia and her family were very helpful and kind hosts. The farm and surrounding landscape is beautiful and a perfect location to relax and explore the surrounding mountain towns. The apartment is very private and spacious. My husband and I were traveling with another couple and the 2 bedrooms worked well for us. The double beds are comfortable and the bathroom is modern and clean. The entire place is well designed and the view from the deck is stunning. I highly recommend staying here.
Tana
2016-08-21T00:00:00Z
Un lugar perfecto e idílico para desconectar!! Parece que estés colgado del cielo. Excepcionales vistas y todo cuidado hasta el último detalle. Genial!!
Javier
2016-10-31T00:00:00Z
Very welcome and friendly. Beautiful place!
Gregory
2016-08-30T00:00:00Z
Laia es muy servicial, muy simpatica y muy profesional. Hemos estado genial, volveremos!
Alvaro
2017-01-01T00:00:00Z
Le Mas, dont l'existence a été documentée dès le 13ème siècle, et dont nous avons eu la chance de visiter l'ensemble des bâtis, a été restauré avec beaucoup de bon sens, de goût, de soin porté à toute chose, et est d'une modernité aboutie, aussi bien dans son exploitation agricole que touristique. Le confort est total, le repos également. La vue magnifique à 360°. On peut y apercevoir les lapins traverser le jardin lors du petit déjeuner, nourrir les volailles avec les hôtes (y gagnant quelques oeufs au passage), suivre les moutons lors du retour quotidien sur le plateau au dessus de la propriété, y surprendre une famille de sangliers... Les enfants adorent, les adultes aussi.
Vedad
2016-08-07T00:00:00Z
Oix, Catalunya, スペイン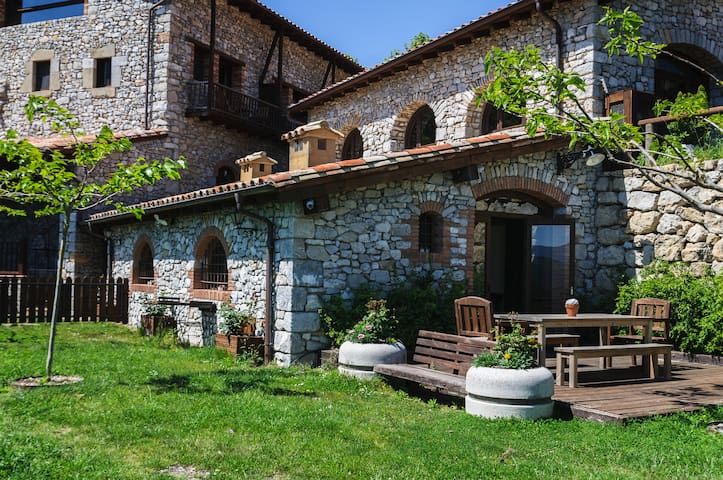 This 7-bedroom villa is ideal for 14 guests wanting to get away from it all and relax in charming rural Catalunya!
This 7-bedroom villa is ideal for 14 guests wanting to get away from it all and relax in charming rural Catalunya! Situated in the heart of Perafita, you can enjoy stunning views of views of the Pyrenees and the plateau of the Lluçanès, creating an atmosphere of peace and tranquillity for you and your loved ones. Built in 1973 and restored in 2010, this villa has all of the modern comforts yet retains some of its enchanting rustic feature, such as the salty stone from which the house takes its name 'Pedra Salera'. Outside you will find a massive well-kept garden (3000m2) perfect for hosting barbeques on a warm summer's evening as the sun sets on the glorious Pyrenees mountain tops. Refresh and revive yourself by taking a dip in your own private outdoor swimming pool with massage fountain, or stop to feed the goldfish in your delightful petite pond filled with water lilies. This magnificent villa has 3 floors and includes 2 dining/living rooms with board-games, satellite TV and functional fireplace, and a fully-equipped kitchen (microwave, electric stove, oven, kettle, coffee maker, etc). On the 2nd floor there are 6 double bedrooms (4 single beds and 3 double beds) with views of the Pyrenees and the plateau of the Lluçanès. There are also 3 family bathrooms and one en suite. On the 3rd floor you will find a spacious attic converted into a 7th bedroom with a double bed. The villa is well-connected with the rest of Catalunya with the C-62/C-17 motorway which will have you in Barcelona within an hour's time. Local amenities are literally at your doorstep with bakeries, restaurants and shops all just 300 m away from Casa Pedra Salera! Please note that we offer a variety of optional services for your convenience and vacation enjoyment. Below are just a few options that can be booked after your reservation is confirmed: In-villa catering (paella, tapas, Spanish BBQ) Flamenco lesson(URL HIDDEN) In-villa taste testings of locals cheeses, wines, cavas, chocolate, deli meats. Airport transfer Car rental Towels and linens (these are not included in your reservation fee) Excursions/tours Massage Horse riding Airconditioning/Heating (if available(URL HIDDEN) Please feel free to ask for more information on any of the above! Departure cleaning & pool/garden maintenance charge 180 EUR Department of tourism registration number: HUTCC-000023 *Pets are allowed with prior authorisation and for an additional fee per pet. Please inquire for more information. *This property does not allow groups under 25 years of age.
Barcelona Region, カタロニア (Catalonia), スペイン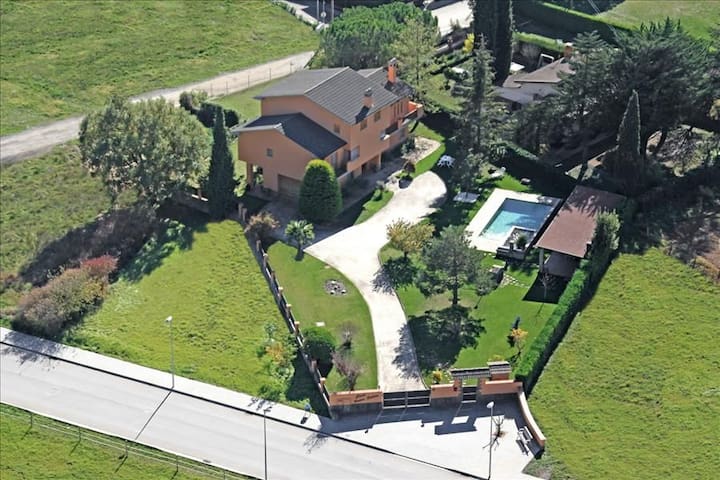 More Pinoses is a typical Catalan farmhouse where you can enjoy tranquility in the middle of nature, in a privileged environment, easily accessible and well connected. It has an independent rural accommodation in the old barn, completely restored, with capacity for 6 people.
More Pinoses is a typical Catalan farmhouse where you can enjoy tranquility in the middle of nature, in a privileged environment, easily accessible and well connected. It has an independent rural accommodation in the old barn, completely restored, can accommodate up to 6 people, and equipped with everything necessary to provide maximum comfort and well-being: • 3 double bedrooms (two with option of cot or extra bed) • 2 bathrooms • Eat-In Kitchen • Living room with fireplace The exteriors are spacious, with green areas, garden with tables and chairs, porch with barbecue and covered parking. SERVICES FEATURES • Sheets and towels • Fireplace and firewood • Barbecue • Table games KITCHEN • fridge • microwave oven • hob • dishwasher • Nespresso machine (including capsules) • toaster • mixer • juicer • homewares But Pinoses is a house in the woods. We have no interaction with customers, but are available all the time. We give our mobile phone for any need or problem they may have. More Pinoses is in the term of Les Llosses, extensive and mountainous municipality located on both sides of the road from Ripoll to Berga. Its thick forests of pines and oaks have great scenic value, and are well known by lovers of mushrooms. There is no public transport, but that provide this service to our customers for free. Our guests can park comfortably in Mas Pinoses. Best way to get more Pinoses is following GPS coordinates: (PHONE NUMBER HIDDEN) "N 2 ° 8'32.58" E
More Pinoses is in the term of Les Llosses, extensive and mountainous municipality located on both sides of the road from Ripoll to Berga. Its thick forests of pines and oaks have great scenic value, and are well known by lovers of mushrooms.
Georgina i el seu marit ens van "rescatar" d'un camí de cabres espantós i van tenir molta paciència amb nosaltres. L'arribada a la casa va ser genial i ells són uns amfitrions (URL HIDDEN) diu la Georgina, el rural està fora de la casa, la modernitat, dintre. Hi tornaria sense dubtes. Georgina and her husband rescued us from an awful path full of rocks and mud and had so much patience with us. Once at the place, they were superb and the house is very nice. As Georgina says, "the cottage is in a rural area, but the house is super modern". I would go back there with no doubt :)
Rafa
2015-10-05T00:00:00Z
Les llosses, カタロニア (Catalonia), スペイン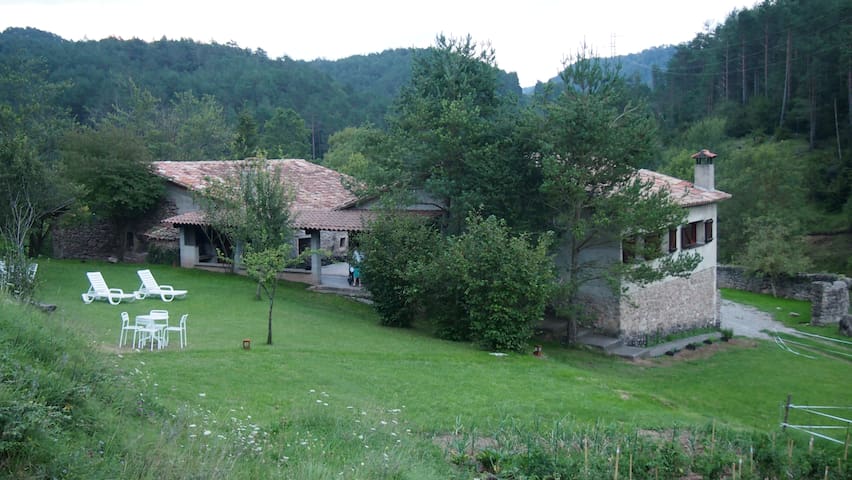 日付を入力すると合計金額が表示されます(税・サービス料別)。