Cottage in the vall of Llémena, rural and quiet environment, but at 7 km. city of Girona. Catalan farmhouse XVII century completely renovated offers 7 bedrooms, 4 bathrooms, barbecue, pool, WIFI, bicibletas, private garden and fenced. Registration number Masoveria Rural Tourism: PG-000656
Typical Catalan Masia seventeenth century occupied by farmers until 8 years ago when it was renovated with central heating retaining the charm of the building. Garden fenced and private, rural and quiet area with spectacular place to enjoy nature and sun landscapes. Pool, deck chairs, barbecue, bicycles
Rural house located in the town of 200 inhabitants of Cartellà in a rural area in the beginning of the charming Vall del Llémena, the small Garrotxa as has 6 volcanic and spectacular scenery cones as they Gorgues of the Font de la Torre Canet d 'Adri, Rocacorba ... And a few km. Girona city and the AP 7 that connects you to the main tourist attractions of Girona and the Costa Brava.
Bonjour Carme Toute la famille a adoré la maison . Elle est très bien conçue et très agréable près de tout . Vraiment pour une famille nombreuse c'est le Top
Hubert
2015-06-23T00:00:00Z
Todo cumplió con la descripción del alojamiento. Lugar muy ameno, cuartos limpios y cómodos y Carme una anfitriona encantadora
Paolo
2015-12-08T00:00:00Z
Ha estat un plaer. Masia preciosa per desconnectar i gaudir del paisatge i la companyia. La Carme ha estat molt atenta i amable, ens ha posat el màxim de facilitats possibles i la casa estava molt neta i en perfectes condicions!
Robert
2015-07-20T00:00:00Z
Casa muy cómoda y totalmente equipada. Recomendable 100%.
Jordi
2016-10-30T00:00:00Z
Sant Gregori, カタロニア (Catalonia), スペイン
Nestle into this comfortable 6-bedroom villa with gorgeous views of the Catalonia mountains, only 13km from the city of Girona, offering both a scenic retreat and the excitement of city life.
Nestle into this comfortable 6-bedroom villa with gorgeous views of the Catalonia mountains, only 13km from the city of Girona, offering both a scenic retreat and the excitement of city life. This rural villa provides plenty of stunning views of the surrounding mountains from a private outdoor patio with a pool (2m x 6m) and lounge chairs. There is also an outdoor barbecue on which you can cook local delicacies and dine under the stars. On the ground floor of this two-story villa, rest in two cozy living rooms and prepare your own home-cooked meals in a kitchen complete with all the amenities you would find at home (refrigerator, freezer, stove, oven, microwave, coffeemaker, dishwasher, toaster). Enjoy meals in a rustic dining room with wooden beams and a glowing chandelier. The second floor features the six bedrooms and two bathrooms. This cozy mountain villa welcomes guests in the following bedroom arrangements: (1) two single beds (2) three single beds (3) one double bed (4) one double bed (5) two single beds (6) two single beds Additional beds can be added for a maximum capacity of 15 guests. Enjoy this pastoral property set in the middle of the Catalonia mountains, but just a short drive from the thrilling city of Girona. Girona-Costa Brava Airport is 23km from the villa. Local amenities such as bakeries, shops, supermarkets, restaurants and a pharmacy are 3km away. The nearest Costa Brava beaches (Sant Feliu de Guixols) can be accessed in 25km. To travel around the region, a bus stop is just 2km away and the nearest train station is 5km from the villa. Please note that we offer a variety of optional services for your convenience and vacation enjoyment. Below are just a few options that can be booked after your reservation is confirmed: In-villa catering (paella, tapas, Spanish BBQ) Flamenco lessons In-villa taste testings of locals cheeses, wines, cavas, chocolate, deli meats. Airport transfer Car rental Towels and linens (these are not included in your reservation fee) Excursions/tours Massage Horse riding Airconditioning/Heating (if available) Please feel free to ask for more information on any of the above! Departure cleaning and maintenance fee: 180 EUR Department of Tourism registration number: HUTG 017516 *Pets are allowed with prior authorisation and for an additional fee per pet. Please inquire for more information. *This property does allow groups under 25 years of age.
ジローナ, カタロニア (Catalonia), スペイン
Set on the verge of a pretty quiet town, the stone facades of this delightful former farmhouse give it the look of a traditional country estate.
Set on the verge of a pretty quiet town, the stone facades of this delightful former farmhouse give it the look of a traditional country estate. Inside, a contemporary renovation delivers elegance, style and uncompromising comfort. It's an idyllic base from which to explore the Costa Brava. The vast open living room floods with light from the numerous windows. This enormous space features high ceilings and cool parquet floors and is extremely airy. It is even large enough to hold a grand piano. Modern conveniences include satellite TV, DVD and CD player, iPod dock, computer and Wi-Fi, telephone and fax. Mas Simon is also wheelchair accessible and has an elevator. The well equipped gourmet kitchen is a cook's dream and you have a choice of dining options. On hand your staff include gardener and maid service, there's also the option of additional staff should you prefer or require it, including a cook and butler service. As a delightful alternative evening entertainment, let us organize a classic music concert with a soprano singer. Outside amenities are substantial and include a fabulous pool area set in a serene location with manicured gardens. Mature trees frame the setting and there are many charming vistas and secluded spots where you can enjoy quiet time and a good book. The generous swimming pool and luxurious outdoor furniture is picture perfect and will quickly get you into vacation mode. There's also a gorgeous al fresco dining area here with an outdoor kitchen for informal and relaxed outdoor dining. You can also feel secure, as this is a gated property. Your seven restful and luxurious bedrooms include five sumptuous en-suite bathrooms. For extended families, the guest wing offers flexibility and additional privacy. Across the courtyard, an artist studio can be used as an eighth bedroom and features a double bed, superb en-suite bathroom, air conditioning, TV, CD player, kitchen and private living area. While one side of the property is near to the village and convenient services the main views from the house extend across private gardens and open countryside. Best of all is Mas Simon's close proximity to Catalunya's star attractions Girona, the Costa Brava, Figueras, and the Pyrénées. Barcelona is only an hour south. Copyright © Luxury Retreats. All Rights Reserved.
Location 2 minute walk to St. Gregory tennis court 10 minute walk to: Church Restaurant Grocery store 10 minute drive to: Hospital Clinic Fitness facilities Golf course 20 minute drive train station in Girona 30 minute drive to Costa Brava beach and Girona airport
ジローナ, カタロニア (Catalonia), スペイン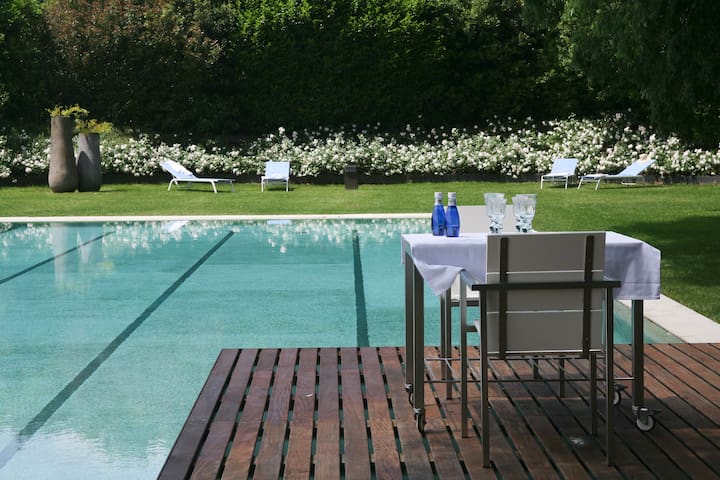 Fully restored farmhouse located on a farm of 3.5 hectares with garden and forest itself, fully fenced offering privacy with magnificent views of Girona and its surroundings. Very well connected to 200 meters from the town. The house has 10 double rooms all with bathroom (en suite). Dining rooms, lounges, terraces, solarium, pool, gym, tennis. Large fully equipped kitchen. The Kings of Spain, have stayed at the Masia
Sant Gregori, Catalunya, スペイン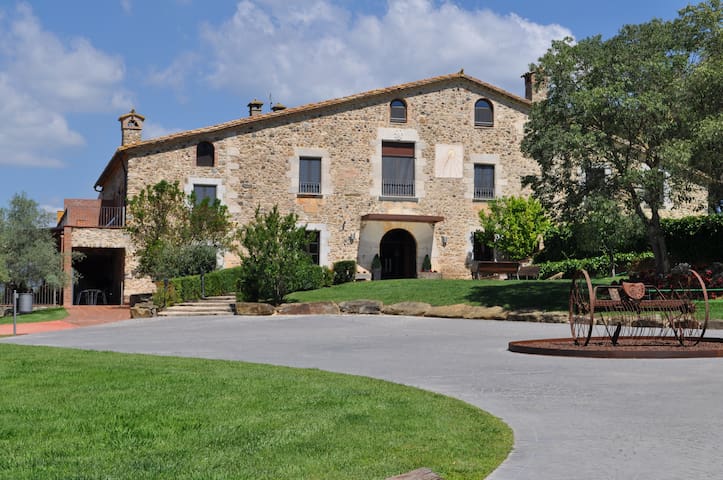 A stunning, new detached villa with large private pool and garden with outstanding views of the Pyrenees and set amidst the beauty and tranquility of the Golf Girona exclusive urbanization.
Spacious, well-equipped, comfortable villa with large rooms and ample exterior terraces
The villa is in an extremely peaceful setting amidst the foothills of the Pyrenees. It is surrounded by beautiful forest and mountain scenery with hundreds of paths and trails that can be followed on foot or by bike. It is very quiet, there are no main roads nearby, and it backs onto the golf course which is a plus for keen golfers
Sant Julià de Ramis, Catalunya, スペイン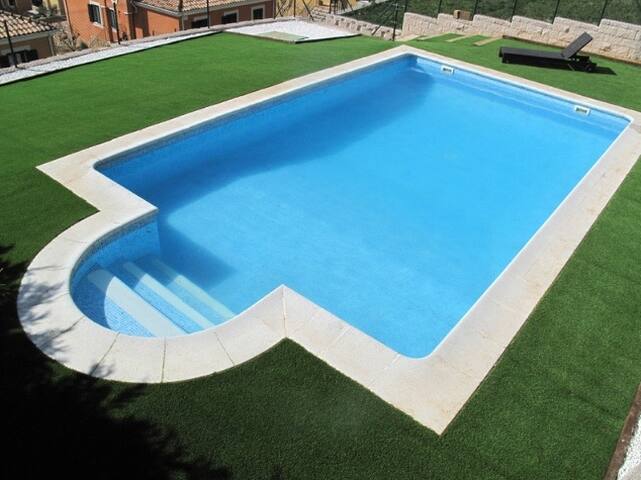 Mas Simon is an attractive restored farmhouse located in the charming town of Sant Gregori. The villa boasts a convenient setting, within five minutes of Girona, where guests can find dining venues, shopping and entertainment.
The villa is also within driving distance of Figueras and the Dali Museum. Barcelona is only one hour away. The lovely beaches and towns of Costa Brava are also within an hour's drive. The villa is a wonderful and very private base for those who plan to hike, snorkel, or experience the culinary delights and culture of Catalonia. Large, spacious gardens overlook the graceful countryside, providing a relaxing atmosphere. Lush, flat lawns lead to the duck pond to one side of the villa. The newly constructed pool is nearby. The large private pool is surrounded by lounge chairs and umbrellas and invites guests to while away the hours in the warm Spanish sun. There are a changing area and kitchenette poolside. The al fresco dining area is an ideal place for a romantic candle light dinner. The original stone facades of the villa are still present in the main and outer buildings. One side of the property adjoins the small town. Splendid views of the garden and countryside greet guests upon entrance. The contemporary kitchen offers everything you need to create that perfect meal. The dining room with unique arched Catalonian ceilings is nearby. Large windows make the open plan living room on the second floor light and airy. This room provides an additional dining area and a grand piano. The spacious terrace allows guests to sip their favorite drink while watching the light change over the countryside. There are eight bedrooms in the villa. The master bedroom has a queen sized bed, a dressing area and an en-suite bathroom. The second bedroom has a double bed with a private bathroom. The third bedroom has a queen sized bed. The fourth bedroom has two twin beds that can be converted to a king bed. The fifth bedroom has one single bed and shares a bathroom with the sixth bedroom which has two twin beds. Two of the bedrooms in the guest wing are small and suitable for children. The seventh bedroom has a private balcony and en-suite bathroom. The remaining bedroom can be found in the studio annex across the courtyard which features a queen sized bed, kitchenette, sitting area and en-suite bathroom.
ジローナ, Catalunya, スペイン