日付を入力すると合計金額が表示されます(税・サービス料別)。
この7月と8月は、あらゆる価格帯の高評価物件100件の中から物件をお試しいただき、ソノマのローカル目線を体験いただけます。24時間対応チェックイン、今すぐ予約、ローカルワインとおつまみでくつろいでご旅行をお楽しみください。
Commune of the Champagne vineyards, 15 km from Sezanne, 30 km south of Epernay, 120 km from Paris, in the high Valley of Petit Morin, the former Cistercian Abbey classified historical monument is waiting for you. Cottage on the first floor of the building of the 12th-13th monks. The set is atypical: large corridor with former appointed monastic cells. Direct access by terrace. Building independant. Garden enclosed.
The set is atypical with a large corridor with former appointed monastic cells. Direct access by terrace. The building is independant with an enclosed Garden. Entrance, wide corridor, living room, sitting room, kitchen, spacious bathroom, 2 showers in the Italian style and 2 basins, 2 wc independant 5 bedrooms: - 1 room (bed: 1 x 140) - 4 bedrooms (beds: 2 x 90) Our visitors have access to the entire buiding. Didier Poupinel will welcome you at your arrival and will be available should you need any advice and/or assistance. He will also offer you a commented visit of the Abbey if you want to know more about the history of this unique heritage building.
Forest (on the spot) Fishing (on the spot) Stretch of water (on the spot) Hiking (on the spot) Horse riding (20.km) Tennis (15.km) Swimming-pool (15.km) Golf (40.km) Train station (30.km) Shops (15.km) Access by road. Parking available in the gîte's garden. Closest train stations: Château Thierry (40 minutes) and Epernay (30 minutes) Dishwasher Bedding provided and beds done Electric heating included Visit of the Abbey included WIFI connection
Un excellent weekend entres amis, dans un endroit unique, au calme à la campagne. Logement propre. A environ 1h de Reims et 10min de Sézanne. L'abbaye est magnifique, en plein cœur de notre belle région de Champagne. Notre hôte Didier, très discret mais toujours disponible, est un vrai passionné des monuments historiques et nous a fait partager l'histoire de son Abbaye pendant une 1h de visite. Un vrai plaisir!
Clement
July 2016
The house is old, large, beautiful and contains everything you need for a stay in Champagne. The pictures shows the house in a fair way. Didier was a great host and can absolutely recommend it.
Fredrik
July 2016
Definitely going back. The grounds and buildings themselves are stunning, hats off to Didier and his family for nurturing such a beautiful place. Accommodation - high quality and clean across the board, large rooms, very well-equipped kitchen. Great fun had with table tennis and a trampoline in one of the buildings. Host - Didier and his sons were excellent, giving a short tour of the grounds pointing out historical features, and providing local recommendations.
Giles
July 2016
Magnifique endroit et accueil adorable
Alex
July 2016
Nice place to go. Located in the country side the abbaye is good for a relaxing week-end
Pierrick
April 2016
Un gite très bien rénové dans un lieu plein de charme et d' histoire. Parfait pour 9 personnes.
Nathalie
November 2016
Disponibilités agréable avant le séjour et Réponses à mes questions au téléphone. Accueil sur place très sympathique avec un cadeau de bienvenu pour l'apéritif Cadre exceptionnel
François
November 2016
Nous avons été très bien accueillis par Didier qui a même pu nous faire visiter l'abbaye. A ne pas rater ! Le gîte est magnifique, spacieux et très fonctionnel. C'est parfait pour un week end en famille ou entre amis. Merci encore à Didier pour sa gentillesse, sa disponibilité et sa discrétion.
Océane
June 2016
部屋タイプ
まるまる貸切
---
建物タイプ
---
収容人数
12
---
寝室
6
Talus-Saint-Prix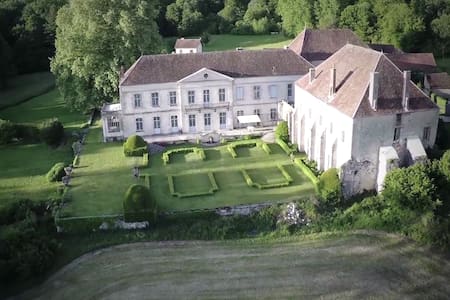 Gorgeous stylish spacious country villa in the heart of Champagne region...hosts also offer B and B and delicious evening meals served in the garden by the fire pit. Fabulous for friends and family for celebrating a special occasion or get together.
Coming from NZ and former film designers our French country house is decorated in an original stylish way and is warm welcoming whilst retaining the traditions of the typical farmhouse of this region.The old house is as below: The Green room is on the ground floor and also has the White room next door for 2 additional guests in a double bed. The Loft room is very spacious and covers the entire top floor and has a large double with a sofa, a twin room, the hall/library, dressing room and large family bathroom with shower over the bath. In addition to the old house we are able to offer additional rooms at an additional price for extra friends or family. The Garden room with seperate access off the garden is the renovated piggery and it is a modern conversion...very spacious 65 sq. metre room for a family of 4 or a couple in need of room to spread out and relax. Tea and coffee facilities, hairdryer, fridge, small dining table, iron and ironing board, modern open wetroom bathroom with a shower, toilet and 2 basins. The new Stables room is now complete and has seperate access off the garden with a small patio with an outdoor table and chairs. The Stables has very original wood lined interior, polished concrete floors and french doors It offers a double bed, seperate ensuite wetroom with a shower and room for a fold out bed or cot for a child. Tea and coffee facilities, fridge, hairdryer and high standard beds and bed linen and towels are provided in each room. Outdoor games, bikes, table tennis, swings, outdoor seating areas etc are all available for your use free of charge. We are happy to advise on local 'things to do' in Epernay, Provins, Reims, Troyes, Disneyland, Paris, and of course, Champagne cellar visits. Our popular evening meals, lunches or picnic meals are available upon request. There are also plenty of local restaurants in nearby Sezanne, Epernay and surrounding villages. Please note that the house is available for Bed and Breakfast OR Self Catering. Our house is flexible for different groups with different needs so please let me know what you require when you contact me about your holiday or stopover in Champagne. GUIDE PRICES...MAY VARY WITH SEASON... Bed and Breakfast for 2 is 100 euros Bed and Breakfast for a family of 2 adults and 2 children is 150 euros. Additional children on fold out bed is 20 euros. Self Catering for the main house only [excluding the Garden Room] is 400 euros a night for a short stay OR 1600 - 1800 euros for the week depending on the season. There is a 60 euros cleaning charge and a heating supplement in the winter of 50 euros for central heating and firewood. We offer access to our huge library, bikes, table tennis, BBQ, petanque, trampoline, swings, ample outdoor seating options and a serene stylish spacious house for you to enjoy...we can also offer local information, organise restaurant bookings, Champagne tours and evening meals with Champagne tastings at the house...no need to drive... We can offer you as little or as much interaction as you like...we are available for advice on local tourist information, Champagne tours, tastings, local villages, towns and brocantes...we are happy to offer to cook your breakfast, lunch or evening meals so you can relax and enjoy your stay...
Immerse yourself in the countryside the produces the worlds most prestigious wines...call into small producers and taste the Champagne crafted by local makers...over 3000 in the area so may take a few visits!! The countryside is perfect for walking, cycling and driving...Paris, Troyes, Provins, Reims and Epernay all an easy day out and come home to a home cooked meal in the garden as the sun sets, glass of Champagne in hand and warmth of the fire on your back...plenty of activity options for those with a bit more get up and go...horse riding, tree climbing, quad biking, canoeing etc Shopping...food, wine and clothing always available in some local market... Kids all enjoy the house and joyfully return to play safely...parents can then relax in the garden and sample the produce collected in the day...cook a simple supper from the market or BBQ into the night...simple old fashioned quiet country living with style... Paris is 1.5 hrs drive, Epernay is 30 mins drive, Troyes is 1 hrs drive...Eurostar trains come into Gare de Nord and the trains leave from Gare de L'est [a 10 mins walk away] to Epernay where many hire car companies are available...we are a short drive away...Flights into Paris coming into Aeroport Charles de Gualle...1.5 hrs drive from the house...
We were instantly impressed when we arrived, Glenis & Mike have created a beautiful & relaxing home away from home. We felt so welcome and pampered by their hospitality, and they are both great cooks too! Even before we arrived Glenis was going over and above expectations! We loved our stay so much that we stayed an extra night.
Amanda
March 2015
We had the most wonderful Easter staying in Oyes in this beautiful country home. The house is very warm, charming and spacious. The beds were super comfortable too! I would highly recommend staying here for a group of friends or families. The facilities are great and location awesome - being in the countryside was ideal! Glenis was really helpful & provided us with lots of local tips! Amazing time had by all of us. :)
Megan
March 2016
非常宁静的街区
Joanne
September 2016
Warmly greeted by Glenis who showed us to our beautiful room in serene location. Provided us with drinks and a tour of the beautiful villa in the village of Oyes. Most comfortable room with all amenities including mini bar,books, advice on where to tour and where to eat.
Anthony
July 2016
We were so happy to be able to be back to visit Oyes, at Aupres de l'eglise, if only for one night. Glenis and Mike are wonderful hosts, with amazing cooking talent, great recommendations and reservations of where to go; particularly the local small champagne houses you might never have heard of, where great, affordable champagne is made from start to finish. We also loved the beautiful, luxurious-bohemian (it's true, it can be done!) accommodations, with tons of books in every room. We highly recommend having dinner the hosts, and staying here!
Colleen
September 2014
The perfect hosts! Glenis and Mike were friendly, helpful and very welcoming. We stayed in the B&B Garden Room, which was gorgeous and complete with toys for our two small children. Dinner was amazing, highly recommended! We felt at home immediately and thoroughly enjoyed our stay. Thank you both for having us and looking after us so well.
Lauren
May 2014
Glenis and Mike were so welcoming and their country villa is just beautiful. We had the best weekend staying in Oyes, a perfect base to explore the Champagne region. We were made to feel very at home and the dinner and breakfasts were excellent. We would come back here for a weekend in a flash!
Mazz
June 2016
The stay was absolutely superb and the hosts exceptional. The house was stunning, the food out of this world and the experience one that will be remembered by us for a long time.
Daniel
October 2016
Oyes