私たちの休暇の家は、21世紀のライフスタイルの喧騒に囲まれた宝石です。優しく浜に対してはね波が、180度のオーシャンビューの何も、それはなだめるような冒険です。
私たちは、一流のハミルトンコーブラグジュアリーリゾートでカタリナ島の地中海スタイルの休暇ヴィラをご用意しております。それが真endunitあるようヴィラが最も望ましい場所にあり、それが他のユニットの間に挟まれたが、北側に自然があり、唯一の他のユニットとの南側を共有していません。あなたはそれがまた海を見渡せる居心地の良い夜になり暖炉を持って、海と自然景色を眺めることができます。新しくインストールされた竹のフローリングは非常に快適なクイーンサイズのベッドとオットマン付きデザイナーの革張りの椅子に出て折るデザイナーのソファと一緒に贅沢な島のタッチを追加します。ヴィラは、3つの二重扉との生活の非常に広々とした風通しの良い屋内屋外のスタイルを誇る素晴らしい景色と豪華なバルコニーへの開口部を(ほとんど1ベッドルームには、二重扉のaddtl。セットで余分なオフィス/書斎を持っていません)。 リゾートの特徴2テニスコート、プール、ジャグジー、サウナ、ジム、バレーボールコート、クロケットコート。また、島の周りを取得するために私たちのゴルフカートの使用を提供しています。
カタリナ島、特にハミルトンコーブリゾートは、カリフォルニア州南部で非常にユニークな場所、繁栄すると、あなたの魂が回復し、自然のための場所です。島と写真は自分自身のために話します。
The place was lovely! Everything was very clean and some toiletries provided. Jessica and Helmut were very communicative and responsive from start to end! The golf cart was a nice bonus! We enjoyed our time at the Big Blue and would definitely stay here again!!
Hamilton
2016-02-21T00:00:00Z
This is a great condo! We had a wonderful stay. The porch was fantastic! A nice getaway and unique experience. It would have been nice to be able to use the fireplace but otherwise just as described.
Shelly
2016-03-08T00:00:00Z
This place is so special! My wife and I went for 3-days after our wedding and had an amazing time. The resort and views are wonderful. The listing itself is very comfortable. Jennessa was so responsive and more than accommodating throughout our entire trip. We are already talking about going back next year for our anniversary.
David
2015-11-06T00:00:00Z
The location is so great and having a golf cart makes everything accessible. The terrace looking over the ocean with the lovely lounge chairs is perfect. We also really enjoyed the grill and kitchen so we could relax as a family and still feel like we are at the beach! Thanks so much!
jacqueline
2015-08-21T00:00:00Z
This apartment was perfect for us and our two small children. The view is stunning; the accommodations are clean, comfortable, and modern; and the golf cart was a major hit with our kids. We can't wait to come back!
Abigail
2015-05-18T00:00:00Z
We had a great time staying at The Big Blue Villa in Catalina. This villa has breath taking view from its deck, it's super quiet, and is perfectly situated within the Hamilton Cove community. Everything you see is what you get and much more. Helmut and Jennessa were very helpful after a confusion at the security gate. We will be coming back to this villa.
Adrian
2015-02-23T00:00:00Z
Beautiful home in a beautiful place.
Dave
2016-06-27T00:00:00Z
Jennessa and Helmut's Big Blue villa is incredible! The view surpasses the pictures and the resort community of the villa is so peaceful! My wife and I celebrated our third wedding anniversary here and have only positive things to say! We enjoyed having the golf cart to get around, the fireplace was fun to light up a log at night, and the entire villa was well stocked with kitchen appliances, utensils, grill tools, etc. there were plenty of shower and beach towels provided too; plus sample bottles of shampoo, conditioner, soap bars, etc! Jennessa and Helmut answered the few questions we had very promptly and ensured our stay was outstanding! I highly recommend staying here!
David
2015-11-25T00:00:00Z
アバロン, カリフォルニア州, アメリカ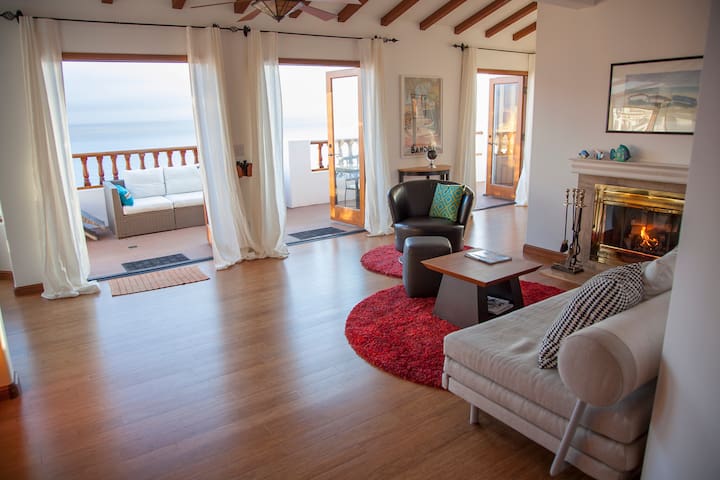 Spacious villa located just steps away from the ocean, with breathtaking ocean views in the Cove. This 941 sqft villa houses a master suite with a full bath, as well as a fully equipped kitchen. French doors open from the living room to a private balcony..
Enjoy the breath taking ocean views from the balcony. Take a quick walk to the beach and feel that sand between your toes! Take advantage of the free wireless internet. Lay back on the over-sized sofa in the spacious living room, select one of 10,000 movies on hand from Netflix and indulge on the TV.
Not bad.
Spencer
2017-03-13T00:00:00Z
Absolutely beautiful!
gina
2017-03-19T00:00:00Z
I can't say enough about this place and Lamont...our host!!! It was gorgeous from the interior design (catalina inspired) to how immaculate it was! The view is ridiculous!! It looks like Santorini. And of course Lamont, our host was very responsive and gracious. It had more than we expected. Can't wait to rent this unit again! ox
Cassandra
2017-03-26T00:00:00Z
アバロン, カリフォルニア州, アメリカ
Spacious villa located just steps away from the ocean, in a building that is the closest to the water, that one can be, in the Cove. The 1109 sq ft villa houses a master suite with a full bath, and a second bedroom right across the hall from the second bath with NEW SHOWER VALUES AND FIXTURES in both baths, as well as a fully equipped kitchen.
アバロン, カリフォルニア州, アメリカ
アバロン - Airbnb
:
平均星

4.99

つ/

5

つ星・ゲストレビュー

141

件