In the heart of the Texas Hill Country, you can park your Class A Motorhome at the top RV Resort in Texas. Note: You must have a Class A RV to stay at this listing. NOTE: The RV seen in the pictures is NOT included. You must have a Class A motorhome
The "Club" at Buckhorn Lake RV Resort is the location for the discriminating Class A Motorhome owner. Here is your chance to stay for awhile at this exclusive resort in your Class A motorcoach. Please NOTE: You must have a Class A Motorcoach to stay at this listing. The RV seen in the pictures is NOT included in this listing.
In the heart of the Texas Hill Country, Buckhorn Lake RV Resort is close to San Antonio, Fredericksburg, Bandera, Junction, Austin and Comfort. Please NOTE: You must have a class A Motorcoach to stay at this listing. The RV seen in the pictures is NOT included in this listing.
Enjoyed our stay and will definitely return! We stayed here in our motorhome for 3 nights. The casita was very nice and comfortable and the outdoor furniture was great. The Club section of Buckhorn Lake is very nice. The people there were all very friendly and the landscaping was beautiful. The location was great. We drove our car into Kerrville every day and explored the area.
Beth
2016-05-31T00:00:00Z
Kerrville, テキサス州, アメリカ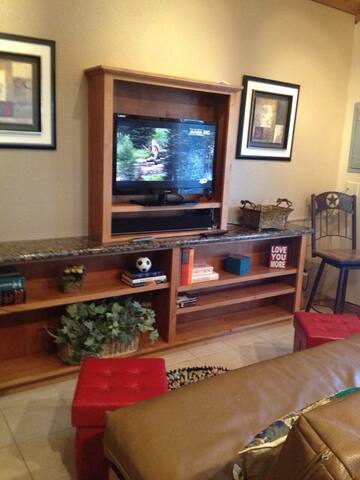 Private 7 acre ridge top estate, with the most breathtaking sunrises and sunsets off huge relaxing back deck or sit out front and enjoy the amazing koi pond. Furnished with your own personal golf cart to ride down to Guadalupe River or to Roddy Tree Ranch to listen to live music, have drinks and dance Friday and Saturday evenings and Sunday afternoons during peak season. Open floor plan with chefs dream kitchen. Large fenced yard for your four-legged friends.
Quite, peaceful with amazing views
Private and secluded
Wonderful location, spacious, great kitchen and living room. The view is wonderful and we really appreciated the comfort of someone's real home in a peaceful area. Great communication and the golf cart (despite not using it) was a cool feature. Would certainly recommend the space to anyone. Thanks, Erika.
Christian
2017-04-05T00:00:00Z
部屋タイプ
まるまる貸切
---
建物タイプ
一軒家
---
定員
10
---
寝室
イングラム, テキサス州, アメリカ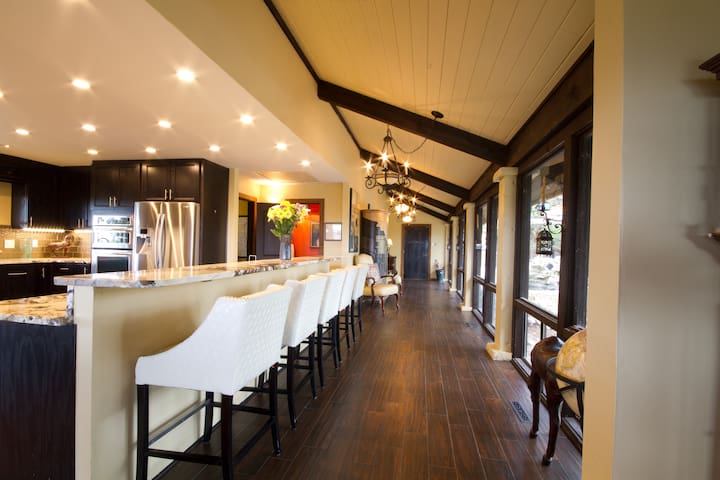 Casa Roca is an unusual round rock home sitting in the Hill Country of Texas. A comfortable and private weekend getaway or a central location to explore what a Texas vacation can be.
Welcome to Casa Roca – "The Rock House" with the soft touch. A perfect retreat to rest and revive, a romantic honeymoon getaway or a fun filled Texas vacation, Casa Roca can fit the bill. This unusual round rock house made from locally quarried limestone, is situated in the heart of the Hill Country, the "Front Door to the West" on a fenced 5 acres. The ambiance of Casa Roca is a blend of east and west with an eclectic mix of Bali decor and a touch of home grown Texas details. Private and comfortable for 2 guests, Casa Roca has a queen bed, spacious living room, bathroom with shower, fully equipped kitchen and a hill country view from the shade of the front porch. Amenities include WIFI, a dock station for your Ipod, DVD player with flatscreen TV, a BBQ grill, fire pit, and a stocked bookcase to keep you entertained should you decide to forego the tourist exploration and just sit on the porch and breath in the country air. Various species of birds and local wildlife regularly populate the many feeders on the property with a common streak of red as the resident cardinal birds flash by. The private courtyard has a garden of native plants with a path leading to the rocky hillsides. The historic town of Old Ingram is a short drive up the road in addition to local art galleries and performance theaters. Nearby Johnson Creek and the Guadalupe River have a number of summer camps and the drives along the rivers make incredible scenery. You will find many nearby activities to enjoy including golf, canoeing, swimming holes and antique hunting to name a few. There are many restaurants, from gourmet to the best BBQ in Texas. Easily navigated from Interstate I10, Casa Roca would be an ideal resting place for travelers heading east or west across the USA. The Hill Country is known for its numerous fairs and music festivals throughout the year, with the Kerrville Folk Festival and Wine and Music Festival a popular attraction. Conveniently close to many historic Hill Country destinations, Casa Roca is a perfect jumping off spot for exploring this area of Texas, with many popular destinations within an hour's drive. The interesting city of San Antonio with the famous river walk and the Alamo is an hour away. And the happening city of Austin, capitol of Texas and home of Texas music, is a beautiful two hour drive through the Texas wine country and fields of seasonal blue bonnets and wildflowers. Casa Roca is also less that 40 miles from Fredericksburg to do your Christmas shopping. A perfect retreat, honeymoon hideaway, or for the solitude of one, Casa Roca is a place which can be a comfortable home base for exploring the sights of Texas, or a private hideaway to rest and revive. Casa Roca is the perfect resting place for anyone finding a need to visit the Hill Country of Texas. Your comfort and peace of mind is high priority and the on -premises property managers are available to assist with any questions, or to assure that your privacy is respected.
Casa Roca is situated in the country. There is Johnson Creek and the Guadalupe River nearby for swimming, etc.
Everything was perfectly in order and we had all the necessary amenities for a great time! Fully stocked kitchen - yay. The fire pit was wonderful!
Jason
2016-12-28T00:00:00Z
We felt very welcome at Casa Roca. Our hosts had a snack basket and logs for a fire all set up. Even though the cabin was closer to the main house and highway than I was anticipating, it was very cozy and private, and we had a nice ce view of trees and nature from the back porch. The main room in the cabin is a wonderful circular room that is very comfortable. The kitchen is really nice and well stocked. The outside porch and fire pit is wonderful and is where my husband I spent our evenings. The property itself is conveniently off a main highway and about 5 minutes from shops in Ingram and 10-15 from downtown Kerrville. That was really nice. The only downside is that you can hear the traffic from the road. it does however die down and at night, and you can't hear it when you are inside. I would definitely stay here again and recommend it.
Elizabeth
2015-06-07T00:00:00Z
What a beautiful, quaint place to get away - without being "too far" away to visit family in Kerrville. My wife and I really enjoyed our stay at this little round gem. Listing is very accurate. There is a fully stocked kitchen, 4 burner stove, refrigerator, microwave, coffee maker, dishwasher, etc. There is a nice bathroom with shower (bring your own toiletries like shampoo and soap, though.) The main room is a quaint little cottage getaway. The unique round room was lovely. Very spacious inside. Queen sized bed, TV, dresser, wardrobe, couch, coffee table, table and chairs (for dining). Everything one needs. The location was only 10 minutes from Kerrville, but far enough away that you felt far from town. The location is ideal for a visit, or a relaxing weekend getaway. Be mindful of the location, however, because after dark, it can be a bit hard to find again.... the main road there is pitch black. But once you do it once, you will have no problems. Look for the mailboxes! I would highly recommend this place for a romantic weekend getaway.
Jason
2017-01-02T00:00:00Z
Loved Casa Roca! The property manager was very nice and helpful. The porch and fire pit were especially nice. We'll probably stay there again in the future.
Dan
2017-04-02T00:00:00Z
We arrived with early check in, which was not an issue at all, to a clean cabin and a nice gift basket with wine cheese and ripe nectarines. One of the space heaters was on so the place was warm, but once we figured that out the bedroom cooled right down. Full kitchen was a nice thing to have but the area outside the bedroom has no AC and gets a little warm during the day. The property was conveniently located 10 minutes from amazing Guadalupe river access. Stonehenge 2 is a must see 5minutes down the road. Downtown Kerrville is 10 minutes away with great eats. Speaking of which, there was a binder full of restaurants and menus which was really nice! Enchanted rock is less than an hour away as are great wineries in Fredericksburg. All this and you feel so far removed from it all. I would stay here again no problem! We really enjoyed it!
Austin
2015-07-26T00:00:00Z
This was my first time using Air B and B. I used a similar service previously and had a good experience, so I thought I would give Air B and B a try. We were here for the weekend attending a wedding at Mo Ranch. This location was about as close as we could get as Mo Ranch is pretty remote (about 30 minutes away). Also, this rental is closest to Ingram and maybe 15-20 minutes to Kerrville, and 45 minutes to Fredericksburg. Casa Roca is super cute! The main living area is spacious, yet cozy. When we had some downtime to hang out here in between the wedding events, I enjoyed curling up on the comfy sofa and crocheting while watching the very nice Dish Network package. The faux fireplace was a nice touch too and I want one for my home now. The weather was chilly while we were there, but there were ample space heaters provided for us. The bed slept well for me (I have chronic back pain). We didn't really cook while we were here, but the kitchen was well-stocked as was the bathroom. The soft towels were definitely appreciated. If you are looking for a cute and cozy place to stay in the Texas hill country, I would recommend this one.
Robyn
2016-12-11T00:00:00Z
It was our first time using Airbnb and we loved it!! The host was very accessible and answered all of our questions very quickly. The house was just as beautiful as in the pictures. It was very comfortable and cozy. We made a lot of use out of the firepit outside and got the best view of the stars at night. Loved the kitchen and its view. Not to mention the mattress it was great! We visited the river during the day and relaxed by the fire at night. It was a very enjoyable trip! We will definitely be back!
Brenda
2017-03-17T00:00:00Z
This adorable little round house, just outside Kerrville, is the perfect place to get away from it all! We came here after a very stressful 5 months of dealing with the illness of an elderly parent and just wanted to relax. We couldn't have chosen a better place! It's quiet and beautiful, but close enough to Kerrville and Fredericksburg to go shopping and eat out. I cooked our breakfast each morning in the well-sized kitchen, we walked our little dog around the grounds (added bonus that we were able to bring him along!), and we enjoyed the bedroom/living room combo that provided everything we needed and more! Such a great value and a wonderful place to stay in the beautiful Texas Hill Country.
Kathryn
2016-12-31T00:00:00Z
イングラム, テキサス州, アメリカ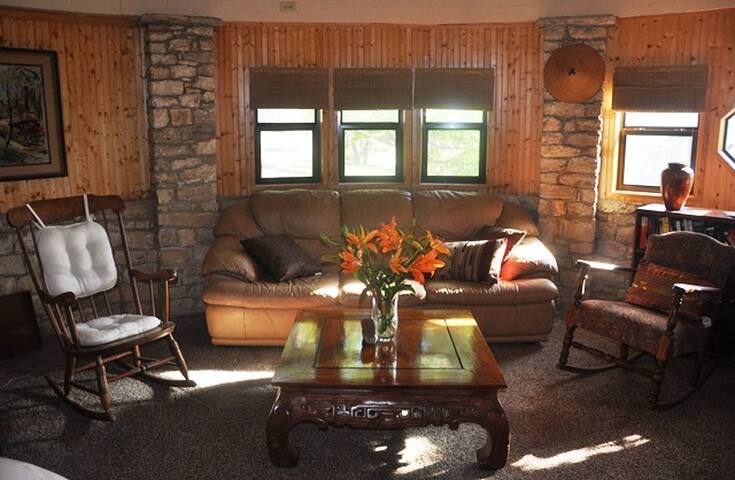 Kerrville - Airbnb
:
平均星

4.37

つ/

5

つ星・ゲストレビュー

23

件