日付を入力すると合計金額が表示されます(税・サービス料別)。
Located in the south of the Piemonte wine region. Overlooking gentle hills, close to historical 820 years old town of Mondovi' (6 km). A peaceful corner of Italy, made to relax, enjoy, discover art and mountain sport. Renovated with a touch of style
The location is unique and the villa was known to be housing the local general practitioner at the beginning of 1900. It has been fully restructured and renovated with works completed in 2007. The host is residing abroad and is using the villa during the main holiday season. All friends and family visiting the location feel that it is a shame that it is left close for most part of the year. Indeed, it is a location that many others should be allowed to enjoy and its dépendance is now available for guests (2) or families (2 adults + 2 children) for rent. Guests will be provided with a remote control to activate the access gate to the property. Guests can access all property grounds and reside in the dépendance that comprises a living room with a bathroom and kitchen on the ground floor and a double bedroom and bathroom on the first floor. As your host, I am most happy to share with you the joy that my family and friends have experienced in this renovated villa. Though I am residing abroad, I look forward to meet guests booked when my family and I return for our annual visit during one of the major holiday seasons. We will be in constant communication. Not to worry, while I am away, I have an extended family residing in Mondovi, and they are reachable for any eventuality you may need. Though the neighbours reside at a distance from the house, they are all within reach, and can be trusted to guide and assist.
Countryside, vineyards, apple, peach, apricot tree lines in a beautiful rural environment. Badgers, foxes, deers, hawks and wild boars are common wild life roaming aroud the property. You need a car to come and go but you would be driving in peaceful country roads waving at farmers busy attending their animals and fruit trees. Standards of cleanliness in and around our establishment is of priority interest to us, not only for keeping a healthy environment, but to ensure that every minute spent by the guests are for their own pleasure. We can guarantee that every room is thoroughly cleaned before and after every visit. This includes the provision of freshly, and hygienically, laundered towels and bed sheets, thorough dusting of all surfaces and inside cupboards. The drainage of water in the toilet, bathroom and kitchen areas are maintained regularly, so that no clogging will ever be experienced by our guests. To ensure that their stay is both healthy and satisfying, we do encourage our guests to assist us by maintaining the cleanliness and tidiness of the premises during their stay.
Accoglienza ottima, sempre a disposizione, zona tranquilla in mezzo alle campagne del cuneese a pochi minuti dalle langhe.
marco
May 2016
Posto tranquillo e bucolico con tutti i confort. Buona accoglienza e disponibilità. Il giardino è molto bello. Le immagini sono meno accattivanti della realtà. Tutto molto pulito e ordinato.
Archi
May 2016
Bellissimo alloggio e bellissima location, la casa è pulitissima e fornita di ogni comodità, siamo in campagna quindi si trova qualche insetto ma non è stato un problema
Dante
January 2017
La maison est située dans la campagne à 10 minutes de voiture de Mondovi, à 10 minutes de l'autoroute et de l'outlet local. Le logement est neuf et bien équipé. La literie est confortable, même le canapé lit. Il y a une grande armoire dressing très pratique. 2 salles de bains. Il n'y a pas de four ni de micro onde et le frigo est plutot petit. Par contre la cafetière fournie avec le café Lavazza est très appréciable.
cyril
November 2016
Mondovì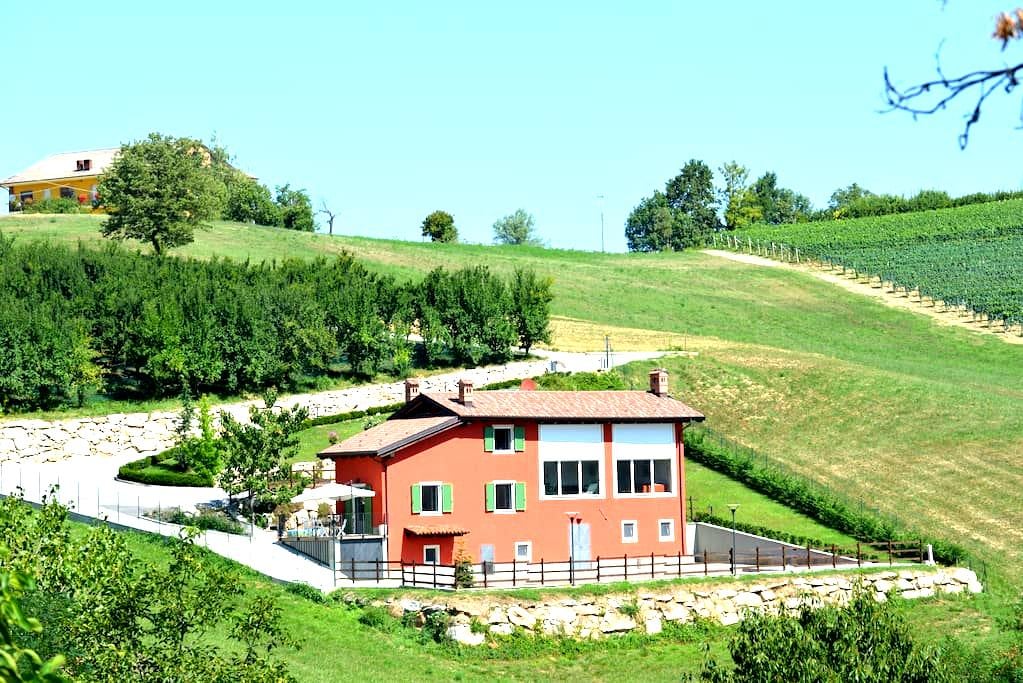 We were having dinner with friends on the house terrace. The sunset over Monviso, the plain and the city right in front of us. Around us only the sounds of nature. Local food and wine on the table, tied to our territory. Our habits. Then the idea struck us: Why not share these feelings with new guests? One evening, Ligarilli b&b became reality . We offer the possibility to rent the whole floor or a single private room. On request, a buffet breakfast with typical products. Welcome home
Ligarilli offers three rooms on the ground floor, with private bathroom, TV and Wi-Fi.
Mondovi over the years has been the most important city in Piemonte, certainly thanks to its strategic position: it's just 30 minutes away from the Ligurian Sea and 15 minutes from the mountains. 25 kms is the distance between Mondovì and the city of Cuneo, 70 kms to reach Turin. In less than two hours you can reach France and its Riviera. The closest airports are located in Levaldigi (CN), 30 minutes by car from Mondovì and in Caselle (TO) an hour away. Mondovi is also served by a convenient train station and reached by Autostrada Torino-Savona.
The host canceled this reservation the day before arrival. This is an automated posting.
Francesca
We book this b&b, as we thought it would suit the 5 of us, since it had enough rooms with private bathrooms and had easy wheelchair access. These house is a total heaven, for those who look to disconnect and relax is just perfect. Far from town to get groseries, but by car it was not a problem. Carlo Maria was an excellent host, he received us very warmly. The house look exactly like the pictures, maybe even better. It was quite spacious, well decorated, fully equipped, it felt just like home. Lovely details at our arrival, like drinks on a tray, chocolates on each bedroom and books on the bedside tables, giving us a welcome with a special touch. Carlo Maria was always available to answer our questions before we arrive and during our stay, was truly helpful. We book the 3 rooms for 4 nights and the whole first floor was entirely for us, which made our stay very quiet and pleasant. He and family live in the house above, which we never heard. All the rooms had a door/window and a comfortable double bed with tasteful bedding. Also every room had a set of keys, for all the doors needed, so everybody can be independent. Two of the bedrooms look to the garden, north facing, and one towards the terrace to the south. One bedroom had a bathroom with a jacuzzi. And the other two were smaller with walk in showers, easy access but narrow both of them. They provided everything one might need, towels, hair drier, shower cups, soap and biodegradable shampoo and shower gel. Even a sewing kit. The house had a nice kitchen that connected with the garden where the pool was. Kitchen was fully equipped, gas stove, good size fridge, pots and pans and plenty of china for a big family, electric kettle and most importantly a dishwasher. All of the basics were available like sugar, coffee, paper towels, cleaning products. I loved their eco friendly side, as we encounter recycling containers, where one could recycle food waste in the compost, glass, tin and plastic. Then it had a dining room that sit 6 people comfortably, a living room that also had enough couch space for all of us, and this connected to the terrace that had an amazing view over the green hills to the south, and is where they served us the breakfast. I recommended it, is an additional €7 per person, and you do nothing but settle a time for the next day, seat and eat. It consisted in tea, coffee, milk, yogurt, cereal, butter, jam, cake, cookies, different kinds of meats, cheeses and breads. The best feature for us was the outdoor pool. Lovely size, with some steps and a stair. Too deep for small kids, as water level arrives to ones chest. And is in this lovely garden that they have cared, with trees and flowers and garden furniture for 6 people, reclining chairs, tables and three umbrellas.
Rocio
August 2016
Fantastic holiday in Mondovi, in Ligarilli B&B. Firstly B&B - it was one of the best Italian B&B we've ever stayed in - nice rooms, garden, pool, location, views - everything. Secondly - hosts - very warm, hospitable, friendly, helpful. And thirdly, Mondovi. Its so nice, so Italian. Not many tourists, but thats what it makes different. Even though city is small, but there are plenty good restaurants. No, not good, but perfect restaurants with amazing food and coffee. And the best thing, this B&B is very close to Mondovi historical center, where all restaurants, osterias, gellaterias and etc are in Mondovi's TripAdvisor's TOP10. Definitely will be coming back to this place and will recommend anyone visiting Piedmont region
Audrius
July 2016
Meravigliosa. Casa molto accogliente e curata nei dettagli, camere confortevoli, ambienti esterni stupendi, posizione e vista spettacolare, pulizia perfetta. Abbiamo riservato l'intera casa e abbiamo trascorso un weekend piacevolissimo, la casa è adatta ai bambini e anche la piscina non eccessivamente alta. I cani possono godere sia del giardino che della terrazza. Colazione abbondante e deliziosa, servita in giardino o in terrazza. Host gentilissima.
Erika
July 2016
Mondovì