日付を入力すると合計金額が表示されます(税・サービス料別)。
Refined lodging, natural retreat, warm and cozy, mountain streams 8 miles Blacksburg Va Tech campus, Full featured cabin with a queen size bedroom main level, 1 bath, full size bed in spacious loft + sleep sofa full size, speedy WIFI, big screen HD TV, DirectTV, movie library Blu Ray player, Review- "What a delight this mountain spot was! There were surprises around every corner in impeccable detail and thoughtfulness. If you want an immaculate home away from home, this is it, inside and out.
We supply treats mostly from Panera Bread, fresh milk, sodas, a few beers, a few snacks, bottled water, sodas Access entire cabin and picnic shelter 25 yards down between the 2 mountain streams with charcoal grill, fire pit, southern type porch swing, picnic tables, benches, chairs, a very short hiking trail to Four Falls, spacious front porch overlooking the streams and for enjoying their voices as they travel along, spacious back porch for just relaxing and for conversation We are close by and on call to assistance in case of questions, problems, etc. We do not intrude!
In the heart of the Blue Ridge Mountains, mountain streams babbling as they meander to the New River that is close by. Abundance of wildlife. Peaceful and quiet yet close to the college of Va Tech located in Blacksburg with its many restaurants and unique shopping experiences. Numerous opportunities for hiking Appalachian Trail close by, nationally acclaimed Cascades waterfall nice short hike, stocked trout streams close by There is no public transportation since we are semi-secluded. There is park and ride in Blacksburg using their transit system. Our area has a well developed highway system for long distance or short trips to enjoys our scenic areas. Review- "What a wonderful cabin! We loved spending the weekend there with our 4 children. The highlight was playing in the creek Easter morning- such a beautiful setting. We also enjoyed hiking and touring the Virginia Tech campus. Everyone has been busy chatting about when we can return! Thanks for sharing your lovely home with us. "
Loved my stay here, likely one of the best AirBnB's I've stayed at. Will certainly return.
Michael
August 2016
Amazing. Perfect for visit with my daughter who is at VT. I will be back
Marci
April 2017
The cabin was perfect. It feels like you are in the middle of the country but you are actually very close to Blacksburg. This would be a perfect place to stay while visiting Blacksburg or surrounding area. Gerald and Ruth made us feel welcome. They left us various treats including freshly baked banana bread and milk from a local dairy. The kitchen was well equipped with all of the necessary items and more. In fact, the entire cabin was well equipped with games, DVDs, towels, toiletries, firewood, comfortable chairs inside and out. Even though it was gray and rainy the entire time we were there, it was comfortable and fun in the cabin. We enjoyed celebrating Christmas with our son and his new wife at the cabin. Thank you for a lovely time!
Deborah
December 2016
This house is the perfect mountain getaway. It is less than a mile from the highway, but feels like you are miles from civilization. They had stocked the fridge with milk, beer and breakfast. The house is very comfortable and quiet. Sitting on the porch with the sound of the stream flowing was as relaxing as anywhere I've ever been. Only a stones throw from Blacksburg, waterfalls, Appalachain Trail and more the location is second to none.
Harper
March 2017
An absolutely wonderful place to relax and unwind from the city life. This adorable cabin is nestled in the woods with a wood-burning stove that we could enjoy as we played cards, a well-stocked kitchen that included a thoughtful welcome note and snack upon our arrival. Hiking at the Cascades within 20 minutes; wineries, a cidery, and brewery are all relatively close as well. An overall great place and a great stay!
Lane
January 2017
Cozy place to stay. A must if you are in the area!
Ashasha
March 2017
部屋タイプ
まるまる貸切
---
建物タイプ
キャビン
---
定員
6
---
寝室
2
Newport Blacksburg
habitación de arriba con un baño privado completo. día y noche la iluminación preciosa. La habitación tiene una cama doble real y bonitas vistas de ambas ventanas.
Soleado, amplia habitación con baño privado arriba, en una casa de campo con comodidad restaurado a tan solo 15 minutos de Virginia Tech. Porches para leer o visitar la planta baja, amplia cocina y comedor con chimenea, horno de leña y rockeros. Amigables gatitos de interior y un cachorro feliz. Somos varios adultos y tres animales domésticos de interior (el caballo vive en el campo exterior y da la bienvenida a los visitantes que llevan las manzanas o zanahorias). Estamos abiertos a la posibilidad de alguna mascota (s) por el arreglo anterior. Una piscina está en la lista, pero está disponible sólo con reserva para las sesiones de trabajo corporal acuático (véase www.nrvmassage.com). Tenemos un estilo de vida relajado y tranquilo y están dispuestos a acomodar a los invitados para que la estancia agradable, cómoda y una delicia para recordar - ya sea un fin de semana, la estancia de Virginia Tech o Radford eventos como fines de semana o las graduaciones de los padres, visitas de negocios a la Blacksburg / zona, conferencias, eventos de ciclismo, o visitas a amigos y familiares en la zona para bodas u otros eventos de Virginia Tech. Este es un excelente lugar para disfrutar de un retiro - si escribir, participar en obras de arte, meditación, u otras actividades de retiro, como el masaje. Las estancias son evaluados sobre la base de nuestros horarios - somos flexibles con capacidad para sus necesidades. Un montón de recreación local está cerca - el sendero de los Apalaches, Pandapas estanque y cascadas del bosque del Estado de áreas para practicar senderismo; grandes carreteras del país de nuevo para el ciclismo. Se hace notar que no hay aire acondicionado, pero siendo como el que vivimos en la montaña, CA ha sido nunca realmente se necesita en esta casa, con árboles de sombra verano. Los huéspedes tienen acceso a sus áreas de sala, baños, sala de arriba, porche, chimenea y cocina, y el senderismo en la propiedad. Estaremos encantados de proporcionar información acerca de las mejores zonas de recreo, restaurantes, galerías de arte y museos, y otras cosas divertidas que hacer en esta área diversa y hermosa. Hay unas vistas impresionantes desde todas las ventanas de la casa, huertos, macizos de flores, frutas y árboles de frutos secos. Se necesita un coche para llegar aquí y tomar ventaja de las áreas de Blacksburg y New River Valley Los huéspedes tienen acceso a sus zonas de habitaciones, baños, sala de arriba, porche, chimenea y cocina, y el senderismo en la propiedad. Estaremos encantados de proporcionar información acerca de las mejores zonas de recreo, restaurantes, galerías de arte y museos, y otras cosas divertidas que hacer en esta área diversa y hermosa.
Hay unas vistas impresionantes desde todas las ventanas de la casa, huertos, macizos de flores, frutas y árboles de frutos secos. Se necesita un coche para llegar aquí y tomar ventaja de las áreas de Blacksburg y New River Valley
Rustic house with cozy accommodations. No cell phone service (Verizon), but wifi supplemented that just fine. Animals are friendly and fun to meet. Room and bathroom are private and pristine.
Chris
November 2016
Everything was just as described and exactly what we were looking for. Great proximity to Blacksburg, very friendly hosts (the two legged as well as the four legged!) and very clean, rustic home. Victoria and Jess made us feel like old friends stopping by for a visit. Thank you for your hospitality. We'll be back!
mike
October 2016
Victoria and Jess were amazing Hosts! Their home is lovely, very clean and in a beautiful setting! Everything was as stated and BETTER!
Melanie
May 2016
I have only good things to say about my stay with Victoria and Jess. Their house, their property, their pets: it all added up to a cozy, comfortable weekend in the Blacksburg area. Our room was spacious and had its own bathroom. The main floor has an open-concept living room/kitchen where we spent a good deal of time chatting with Jess and Victoria about their home and amazing life experiences. Before I left each day, I refilled my water bottle at the natural spring flowing in the front yard! If you're looking for a BEAUTIFUL retreat that skips the dreary sameness of a Blacksburg chain hotel, this is the place. I'd certainly stay with Victoria and Jess again!
Nick
May 2016
Victoria and her house companions were all very welcoming, especially Grace the dog! They were able to help me gather information about outings, were very interesting to talk with, but also gave me plenty of space to just relax and unwind on my own.
Susan
July 2016
Staying with Victoria and Jess is like staying with old friends. The experience is so much nicer than staying in a hotel. Their house and gardens are gorgeous and the kitties made me feel like I was at home. They are massage therapists and yogis so they emanate a very peaceful vibe. They were flexible about the check-out time which was wonderful because then my husband, who had just done Mountains of Misery was able to come back and shower afterward. Victoria gave us a tour of their gardens and we played with Grace, their pup. It was great. Just wish we had had more time. Thanks you guys!
Libby
May 2016
The host canceled this reservation 400 days before arrival. This is an automated posting.
Sherri
April 2017
We had a great stay at Victoria's- the place is magical- it is nested in a beautiful county side, only 15 minutes from VT- plenty of space and extremely clean- My seven year old daughter loved the horse and the animals- the house is in middle of a beautiful berg, with natural springs all around it- Victoria has a massage school and teaches massage- If I knew that earlier, I would have made time to get a massage as well as Water Shiatsu- We all had a great time- Breakfast, fresh coffee and a great tour of the house and the ground with Jesse made it very special- We will be going back for sure.
Anahita
August 2016
部屋タイプ
個室
---
建物タイプ
B&B/民宿/ペンション
---
定員
2
---
寝室
1
ニューポート
My stay was very nice. Met Alec upon arrival and had a friendly conversation. He showed me where everything was. It was as described in the advertisement. All spaces were very clean. The location was 10 miles from VT and access was extremely easy. On the first night we asked for a restaurant recommendation. The place Alec suggested hit the nail on the head. Will definitely be looking to stay there again in the future.
Richard
September 2016
The listing descriptions was very accurate, also, the back has a great overlook deck built for a view of the big creek below. Extremely convenient to Blacksburg via highway 460 in a quiet neighborhood. Alec recommended a restaurant in near by Eggleston and it was great. We will return!
Tim
October 2016
Nice quite neighborhood, comfortable bed. We were there for one night and this was a good place to spend the night.
Wai
November 2016
Alex's home is a great location to get away from it all, which is a comfortable distance from Blacksburg down town and a short distance from the national/state forest hike or to practice you firing skills at the State forest gun range. We stayed one night due to our travel plans and enjoyed a very comfortable bed and a great nights sleep.
Andrea
February 2017
Alec was a great host and responded quickly! The home was clean and very comfortable -- would highly recommend!!
Mason
October 2016
The place is extremely clean and very quiet. The house itself was gorgeous on the inside (as well as the outside) and spacious. The bed was very comfortable and the sheets and towels smelled fresh and clean. I was very impressed overall and would recommend to anyone who wants a great stay right outside of Blacksburg!
Andrew
September 2016
ニューポート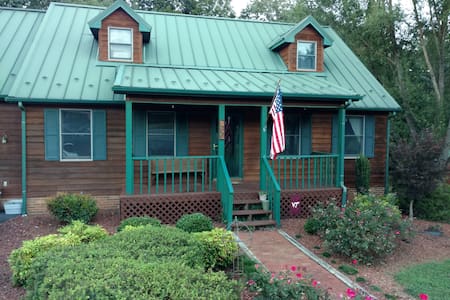 Decent home to stay in for any Virginia Tech games. Just 7 miles from stadium. View is awesome. Only space heaters in all rooms. No cable tv. There is a flat screen that we hooked our phone into to watch football games. David was a great host, good directions, easy accessibility. He does, however, need a new bed upstairs which he told me he would take care of. We would rent again for VT sport events.
Jeannine
November 2016
部屋タイプ
まるまる貸切
---
建物タイプ
一軒家
---
定員
6
---
寝室
2
ニューポート