600 metrelik denize bakan, şehir merkezini oluşturur. banyo, tv / video ve wi-fi tesisleri ile Tüm zemin zevk ve relax.You tüp Video kullanılabilir (Gelibolu airbnb aramak) için özel balkonlu yatak odası ve oturma odası dahil
Dört katlı lüks bir villada üst kat. özel banyo ve duş. Bir oturma odası ve bir yatak odası (çift kişilik yatak). Ana şehir merkezine ve dükkanlar bir km'den az. katta hiçbir mutfak veya yemek pişirme olanağı yoktur. konaklama Anzak anıtlar gerekli (60 Km) Araç yakın değildir. Konaklama yörede yetiştirilen ürünlerle hazırlanan geleneksel Türk kahvaltı, ev koruyan vb Özel TV ve Kablosuz İnternet connection.Your barındıran bu nedenle iki dili akıcı konuşmak İngiliz ve Türk olduğu yapılan içerir. varışta Ödeme nakit veya Paypal ödeme yöntemleri kabul eşdeğer Türk / Euro / Sterling para karşıladı. Şehir merkezi ile ana otobüs terminali Yerel otobüsler evine 2 km uzaklıktadır. gecelik ekstra £ 25.- için bir çocuk için geçerli İkinci tek kişilik yatak.
Bizim mahallede etrafında herkes bizi biliyor ve Avrupa'da yıllar önce varolduğunu koruma ve rahatlık var. örnek vermek gerekirse, bazen bir gecede bizim ön kapı anahtarı unutup komşularımız mektup kutusuna aracılığıyla koydu. Bazen sabah bizim ön kapıyı açmak ve kapı ile meyve sepeti bulabilirsiniz. Kaçınız bölgenizde olur diyebiliriz?
My friend and I had a lovely stay here. The hosts were fantastic and very friendly! Kursat came to meet us on his bike when we arrived into town and couldn't find our way. He was also very kind in suggesting restaurants in the local area. His wife prepared us a very nice traditional breakfast and even a take away for the morning we had to leave early. The rooms were clean and the real plus feature of this place is the view. Watching the sunrise in gallipoli was on my bucket list and this was the perfect place to do it from.
caitlin
2014-04-24T00:00:00Z
Amazing view from the very clean and well appointed third level terrace. The description and photos are completely accurate. Loved every part of the accommodation. We spent little time on our level however as the best part of the visit was meeting and enjoying the company of our hosts Paula and Kursat in their part of the terrace. They looked after us from start to leaving. Not only were they great hosts we now consider Paula and Kursat lifelong friends.
Duane
2015-04-26T00:00:00Z
We had a very comfortable stay here. Our hosts were very hospitable and the house was lovely. It was a bit difficult to find but Kursat came out on his bicycle to guide us when we got lost!
effric
2013-09-21T00:00:00Z
Kursat and Paula are a very hospitable couple with a lovely house. Whilst it's a lot of money to stay with them I think it is worth it. They welcomed me with open arms despite a very last minute arrangement and after traveling on my motorbike from Istanbul on a hot day, the beer they opened for me on their amazing terrace was a godsent. Kursat knows everyone & everything around town and was very helpful with restaurant recommendations and pointing out done interesting places to visit on the other side of the peninsula. The Turkish breakfast Paula served with freshly baked breads was fantastic and with a view on the Dardanelles it's unforgettable. I'll will go back with my girlfriend if I get a chance. They're selling their house but for my sake I hope that takes a bit longer :-) strongly recommended !
Michel
2014-08-18T00:00:00Z
Gelibolu, Çanakkale, トルコ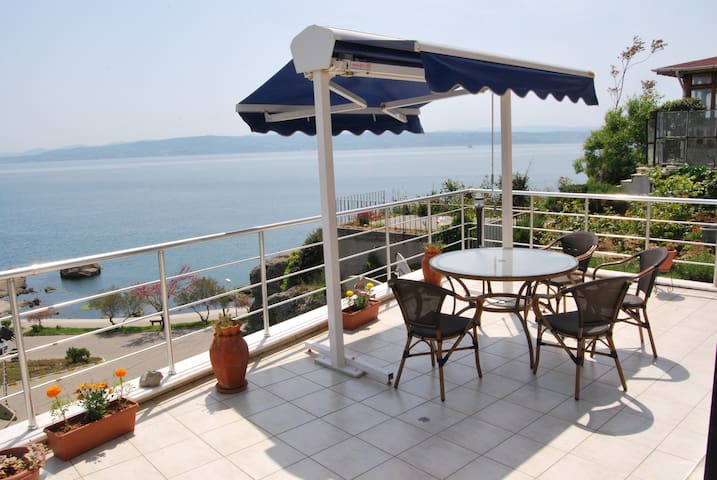 Η μοναδική θέα στη θάλασσα με μια ειρηνική και ήρεμη διακοπές για εσάς και τα αγαπημένα σας πρόσωπα το γραφικό χωριό διάσπαρτη με παλιά ελληνικά σπίτια Eriklice να παρακολουθήσετε την ανατολή του ηλίου στη βεράντα, όπου οι επισκέπτες μπορούν να επισκεφθούν βόλτα στα ελαιόδεντρα σας περιμένει
10 δωμάτια μας μπορούν να φιλοξενήσουν άνετα 20 άτομα. Αίθριο, κήπο και καθιστικό, μπορείτε επίσης να χρησιμοποιήσετε την κουζίνα για ειδικές ημέρες και γιορτές ...
Πλησιέστερα Αλεξίπτωτο πλαγιάς περιοχή της Κωνσταντινούπολης (Uçmakdere), μαθήματα κατάδυσης και surfing μπορείτε να κάνετε στην Τουρκία μεγαλύτερη ακτογραμμή με γαλάζια σημαία είναι μια γοητευτική βίλα μπορεί να φιλοξενήσει οποιαδήποτε στιγμή ή τα Σαββατοκύριακα περιοχή Şarköy ... Θάλασσα (6) ή ελαιόλαδο (4) προβολές συνολικά το οποίο μπορείτε να επιλέξετε από 10 δωμάτια.
Eriklice Köyü, Tekirdağ, トルコ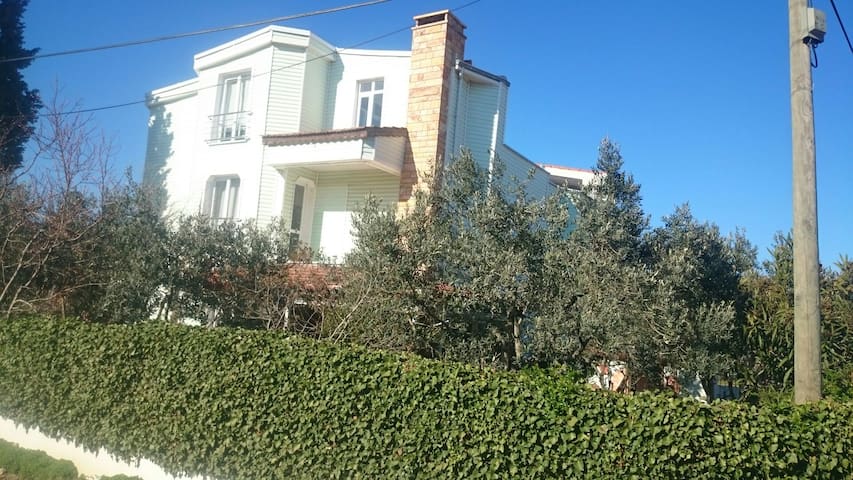 PROFITEZ DE VOS VACANCES EN Murefte, entouré de fleurs, OLIVIERS ... vous pouvez rester et regarder la vue depuis votre terrasse ou vous pouvez profiter ET LAY PAR NOTRE PIRIVATE PISCINE.
******* De loin YEUX AVEC DU PROCHE-ORIENT INTERNE INTERNE vos minimum 3 JOURS AVEC HÉBERGEMENT VILLA ******* * TEKİRDAĞ 96 km, 225 km DISTANCE * ISTANBUL Şarköy CENTRAL 12 KM * * BUS GARAGE CENTRAL 750 mètres à 600 mètres sur le PROXIMITÉ PROXIMITÉ * Migros, 101 ET ACHATS BAZAAR ET MARCHÉ POUR Mürefte l'PROXIMITE est de 750 mètres. * DELTA Villas sont dans TOUTES LES CHAMBRES AVEC POSITION EN MER ILE ET 100 METRES est la relation Marmara de Gelibolu Avşa ISLAND UP TO OPEN SEA VIEW. Notre villa est le Clairvoyant revanché, vignes et oliviers Tekir DAG ET JUPE. * VILLA notre ZONE 6 TOURNANT SUR oliviers et de pins ENTRE KURULUDUR.B SIDE Tekirdag MONTAGNES AIR l'autre partie SENTIR votre iode Marmara sentir l'air frais du foie, chirp qui peuvent se détendre dans les CONDITIONS tranquilles pacifiques INSIDE, POUR UN ECRIN votre FAMILY VACATION VOUS FAITES. Vous TERRAINS ENFANTS EN CONFIDENCE JEU à notre lecture de votre thé, café VOUS PAR LA MER ET CONTRE DWI SILENCE ET RESIDENTS profiter de la vie doivent être en mesure de. * Villla notre 140 m2 Notre PISCINE ET ENFANTS BEAN SCENE AU DEBUT Notre PISCINE POOL SNACK Notre BARIA AUSSI DISPONIBLE. * Un seul pot POUR ADULTES PLAYGROUND EST DISPONIBLE POUR LES ENFANTS ET A BASKETBALL MINI FOOTBALL MINI GOLF VOLLEYBALL COUR A est. . * Nos VILLA PROXIMITÉ PLAGE 100 MÈTRES DISPONIBLE. SABLE MER DANS CETTE ZONE EST SEULEMENT ICI. * VILLA vues nos HALL ET BALCON CHAMBRES mer DISPONIBLES et montagne .., * Rez de chaussée Terrasse: zone Sunbath, et un bahçedetay privé sont: (6 personnes table et chaises, 4 personne coin salon, 1 Piece Swing, Barbecue, 1 hamac * Cuisine:. Moderne cuisine américaine (rez de chaussée) Détails: Réfrigérateur, lave-vaisselle , four, le 4 Janvier (built-in), l'eau chaude dans la cuisine, 8 places à manger ensembles, casseroles, casseroles, couverts et ainsi de suite. * Salon: Vue sur Mer (6-porte grand-angle rez-de-chaussée) Détails:. Groupe Assis, télévision par satellite, 4 places table à manger, WC et lavabo, * Chambre 1er Chambre familiale, Vue sur Mer (1er étage) Détails: lit double, table de chevet, placard, salle de bains toilettes balcon donnant sur la mer. * Chambre 2.ème Chambre familiale, vue sur la mer (1er étage) Détails: 1 lit double, 1 lit simple, armoire, table de chevet, WC commun et salle de bains * 3ème Chambre familiale, Vue sur Mer (1er étage) Détails: 4 lits simples, armoire, commode, table de chevet, 2 pcs siège, WC commun et salle de bains, balcon avec vue sur la mer. * 4 Chambre chambre familiale. Vue sur le jardin (Ground Floor) Lit 1 2 kşilik * Villa sera livré propre, avec des draps propres et couette 11 personnes. FIABLE UNE ADRESSE DE VACANCES HEUREUX QUE SON MILIEU FAMILIAL 2 VILLAS JOINT KULLANDIGIM de notre villa à louer notre PISCINE PLEIN AIR SERA AU MOINS 3 NUITS figure. Notre villa est PROXIMITÉ DE LA MER 150 STEP. Notre maison est disponible NE PRENEZ AUCUN ARTICLES SEULEMENT votre valise est assez. VILLAS notre TAUX D'OCCUPATION LOCATION QUOTIDIENNE PAR HEURE ENTREE-OUT 14:00 10:00 Dr.
Capable de protéger ses beautés naturelles Murefte SITE EST UNE HISTOIRE DU VIN GEZEBİLİR.BAG VERY OLD à UZANIR.ŞARAP REVOIR L'USINE DE PRODUCTION DE VIN peut être corrompu TIME. OLIVE HARVEST HARVEST PENDANT L'HUILE D'OLIVE à se joindre à l'USINE AUTHENTIQUE LA OLIVE ET SABUNU dans votre huile, vous pouvez visiter le ALABİLİRSİNİZ.YÖRE DEUX MUSEE DU VIN. Vous devez le Restourant TAD insatiable POISSON FRAIS ET ENVIRONS ET. Il peut faire CROISSANTE fruits de saison et POTAGER dans le KÖYLÜLERMİZ. Pastèque Pastèque EN PARTICULIER de la CAN EAT PENDANT LE VILLAGE HOOK A DEGUSTER Le Tekirdag. CHERRY CHERRY SAISON Mürefte du répondeur n'OUBLIEZ Kirazlı du village.
ALLES WAR SUPER! KANN NUR EMPFEHLEN!
Vedat
2015-09-11T00:00:00Z
Mürefte, Tekirdağ, トルコ
denizi ve doğayı burdan baska iç içe nerde yaşayabilirsiniz?
Gökçetepe, Edirne Province, トルコ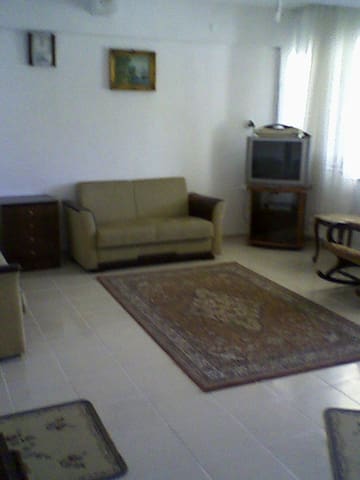 TEKİRDAĞ ŞARKÖY Mürefte you will ENJOY A PERFECT HOLIDAY ACCOMMODATION 2 BEGONYA VILLA by our villa, COMMON POOL OUR SITE VOICE AMONG BIRDS sun will find peace
******* From afar EYES WITH EAST NEAR INTERNAL INTERNAL your minimum 3 DAYS WITH ACCOMMODATION VILLA ******* * TEKİRDAĞ 96 km, 225 km DISTANCE * ISTANBUL ŞARKÖY CENTRAL 12 KM AWAY * * BUS GARAGE CENTRAL 750 meters to 600 meters on the PROXIMITY PROXIMITY * Migros, 101 AND SHOPPING BAZAAR AND MARKET FOR Mürefte the PROXIMITY is 750 meters. * DELTA Villas are in ALL ROOMS WITH POSITION AT SEA ISLAND AND 100 METERS IS the RELATIONSHIP Marmara from GELİBOLU AVŞA ISLAND UP TO OPEN SEA VIEW. Our villa is the SEEING THE OTHER HAND, vineyards and olive groves TEKİR DAG AND SKIRT. * VILLA our 6 TURNING AREA ON OLIVE AND PINE TREES BETWEEN KURULUDUR.B the SIDE TEKİRDAĞ MOUNTAINS AIR the OTHER PARTY will FEEL your Marmara Sea iodine smell the fresh air of the Liver, chirp that can relax in the peaceful tranquil CONDITIONS INSIDE, FOR A PEACEFUL your FAMILY VACATION YOU MAKE. You CHILDREN PLAYGROUNDS IN CONFIDENCE GAME to our playing your tea, coffee YOU BY THE SEA AND AGAINST DWI SILENCE AND RESIDENTS ENJOY LIFE HAVE to be able to. * VILLA our 140 m2 Our SWIMMING POOL AND CHILDREN BEAN SCENE AT THE BEGINNING Our POOL POOL POOL SNACK Our BARIA ALSO AVAILABLE. * A one-pot FOR ADULT PLAYGROUND IS AVAILABLE FOR A CHILDREN AND BASKETBALL MINI FOOTBALL MINI GOLF VOLLEYBALL COURT HAS is. . * Our VILLA PROXIMITY BEACH 100 METERS AVAILABLE. SEA SAND IN THIS AREA IS ONLY HERE. * VILLA our HALL AND BALCONY ROOMS AVAILABLE sea and mountain views .., * Ground Floor Terrace: Sunbath area, and a private bahçedetay are: (6 people table and chairs, 4 person sitting area, 1 Piece Swing, Barbecue, 1 hammock. * Cuisine: Modern American kitchen (ground floor) Details: Fridge, dishwasher , oven, 4 January (built-in), the hot water in the kitchen, 8 seater dining sets, pans, saucepans, cutlery and so on. * Living Room: Sea View (6-door wide-angle ground Floor) Details: Sitting group, Satellite TV, 4-seater dining table, WC & Bathroom Sink., * 1st Bedroom Family Bedroom, Sea View (1st Floor) Details: Double bed, nightstand, closet, bathroom toilet balcony overlooking the sea. * 2.nd Room Family Bedroom, Sea View (1st Floor) Details: 1 double bed, 1 single bed, closet, nightstand, common WC & Bathroom * 3rd Bedroom Family Bedroom, Sea View (1st Floor) Details: 4 single beds, closet, dresser, nightstand, 2 pcs seat, common WC & bathroom, balcony overlooking the sea. * 4 Bedroom Family bed room. Garden View (Ground Floor) 1 2 kşilik bed * Villa will be delivered clean, with clean sheets and duvet 11 people. RELIABLE A HAPPY HOLIDAY ADDRESS THAT HIS FAMILY ENVIRONMENT 2 VILLAS JOINT KULLANDIGIM of our villa we charter our OUTDOOR SWIMMING POOL WILL BE AT LEAST 3 NIGHTS FIG. Our villa is PROXIMITY TO THE SEA 150 STEP. Our HOUSE IS AVAILABLE DO NOT TAKE ANY ITEMS ONLY your suitcase is ENOUGH.
Able to protect its natural beauties Murefte SITE IS A VERY OLD WINE HISTORY GEZEBİLİR.BAG to UZANIR.ŞARAP REVIEW THE WINE PRODUCTION FACTORY can be corrupted TIME. OLIVE HARVEST DURING HARVEST OLIVE OIL to join the GENUINE FACTORY THE OLIVE AND SABUNU in your oil you can visit the ALABİLİRSİNİZ.YÖRE TWO WINE MUSEUM. You HAVE to the insatiable TAD RESTOURANT in FRESH FISH AND VICINITY ET. It CAN GET GROWING SEASONAL FRUITS AND VEGETABLE GARDEN in the KÖYLÜLERMİZ. WATERMELON WATERMELON IN PARTICULAR from the CAN EAT DURING THE HOOK VILLAGE HAS TASTE The Tekirdag. CHERRY CHERRY SEASON Mürefte of the TAD will not FORGET KİRAZLI of the VILLAGE.
Evry things was amazing the villa , pool , sea view, garden , .. also Mr. Muhlis. Only the way from istanbul to villa Longer than I imagined like 3:30 hours
Fahad
2015-06-14T00:00:00Z
Mürefte, Tekirdag / Tekirdağ / Şarköy / Mürefte, トルコ
日付を入力すると合計金額が表示されます(税・サービス料別)。