日付を入力すると合計金額が表示されます(税・サービス料別)。
この7月と8月は、あらゆる価格帯の高評価物件100件の中から物件をお試しいただき、ソノマのローカル目線を体験いただけます。24時間対応チェックイン、今すぐ予約、ローカルワインとおつまみでくつろいでご旅行をお楽しみください。
My place is located in the neighborhood north of Vaxjo, 1.8 km from centre. It is close to public transport with good connections to the city center. You will love the proximity to town, while the forest with lighted trails for walking or jogging is only about 500 m away. The glassed-in patio is cozy, and the parking lot is inside the grounds behind the house. My accommodation suitable for couples, solo adventurers, business travelers and families (with children).
Good stay in roger house house, we feel like at home, the kitchen is well equiped, we recomend roger house
Carla Lisette
November 2016
Everything perfect. Very close to the centrum, bus stop and also close to a supermarket!
Davide
November 2016
Sowohl die Kommunikation wie auch die Ankunft zu später Stunde hat reibungslos geklappt. Für Wünsche und Anregungen war Roger über Telefon ständig erreichbar. Auch war es schön, ihn während des Aufenthalts einmal persönlich kennen zu lernen. Die dann angesprochenen Mängel (z.B. defekte Kaffemaschine) wurden umgehend beseitigt. Das Haus liegt zentru(SENSITIVE CONTENTS HIDDEN)ah, aber in einer ruhigen Wohngegend. Die Inneneinrichtung der Wohnung war für uns eine Überraschung, da Roger bis jetzt nur eine Außenansicht des Hauses veröffentlicht hat. Da wir seine ersten airbnb - Gäste waren, wird das bestimmt noch geändert. Beim nächsten Besuch in Växjö werden wir sicherlich schauen, ob die Unterkunft frei ist. Herzlichen Dank, Roger! Liebe Grüße aus Deutschland!
Jörg
October 2016
The house was clean, it has everything you need, it was very comfortable to stay there:) thanks Roger
Maryna
November 2016
Växjö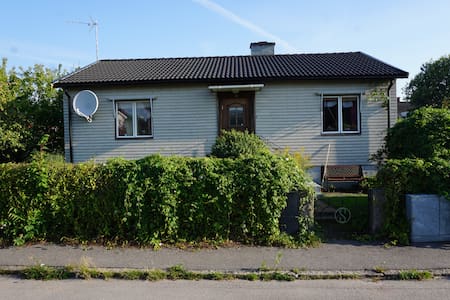 Mitt ställe ligger nära familjevänliga aktiviteter, kollektivtrafik och centrum. Du kommer att älska mitt ställe på grund av utsikten, läget och hemtrevligt. Mitt boende rymmer par, affärsresenärer, familjer (med barn) och stora grupper.
Östra Göinge N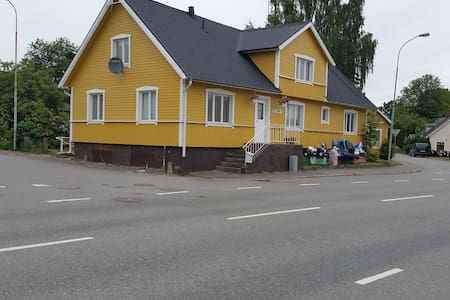 Our lovely Swedish Country House is newly renovated. It's located at the top of Hallandsås plateau between Skåne and Halland near Vallåsen, Båstad, Torekov, Arild etc. The farm is surrounded by rolling hills including our own 30 hectares of forest.
Our Swedish Country House is newly renovated and derives from the 1860's. The farm includes about 30 hectars of forest. It's located at the top of Hallandsås plateau between Skåne and Halland, only 45min from Helsingborg. There are both nice trails, proximity to spellbinding streams and several magnificent lakes as Rössjön and Västersjön. The diverse and beautiful landscape on the plateau contains many natural and cultural environments with very high and in many ways unique values. The thing that gives character to the area is still the big beech forests that contribute to the diversity of habitat types. During your stay at Kronoparkens Gård, you will be the only guests, whether you rent the main house and the west wing separately or together with the former stable. On our farm there are 12 beds including the new loft. The west wing gives access to the sauna (small fee) and in our new recreation room, you can play a game of pool, darts or just relax to some music. Kronoparkens Gård is located strategically at the top of Hallandsås close to Vallåsen, Bjärehalvön and Kullen. Torekov, Båstad, Arild, Hovs Hallar etc. are other interesting sights in the area. During your stay at Kronoparkens Gård, you will be the only guests, whether you rent the main house and the west wing separately or together with the former stable. We will meet up at your arrival and introduce you to a lovely stay at our Swedish Country House.
BEDROOMS LAYOUT - MAIN HOUSE 1 Kingsize bed with separate dunas. Located at 1st floor. 2 Bunkbed (90cm). 3 Queensize bed (140cm) with one duna. 4 Loft/Attic - Kingsize bed with separate dunas. BEDROOMS LAYOUT - FORMER STABLE 1 Two single beds (90cm) 2 Two single beds (90cm) DEPOSIT You pay 1000SEK/100EUR in deposit up on arrival which you get back after completion of cleaning and inspection. SMOKING AND PETS Smoking is not allowed indoors. Pets are not allowed. STAY OVERNIGHT You must not allow more people to stay overnight than what the house is designed for otherwise the owner has the right to evict you and you will not be compensated for this. CLEANING The farm house is fully equipped for self catering. LINEN AND TOWELS Linen and towels can be provided, 100SEK/adult. No charge for the children. Pay up on arrival. FIREWOOD We can provide you with dry firewood at a cost of 145SEK/weekend and 295SEK/week. Please book in advance and pay up on arrival. SAUNA We can provide you with a sauna (other building) including showers at a cost of 295SEK/weekend and 395SEK/week. Please book in advance and pay up on arrival. THE KEYS The keys must be returned on the day of departure, If not we need to change the locks and you will be charged the cost of that. NEARBY GARDEN & MEADOWS Unless otherwise arranged with the Landlords it is not permitted to set up caravans or tents. FORCE MAJEUR Events beyond our control, which is not reasonably foreseeable, shall by force majeure, meaning Kronoparkens Gård released from its obligations to fulfill contractual agreements.
Ein wunderschöner Ort, um zur Ruhe zu kommen. Die Einrichtung ist modern, hell und sehr liebevoll gestaltet. Im Innenhof lässt es sich laaaange frühstücken und man kann ewig den Abend geniesen. Wald, Wiesen und Ruhe - hier kann man Urlaub machen.
Torsten
July 2016
Vi blev fint kontaktet en uges tid inden ankomst og følte os meget velkomne. Huset var endnu bedre end beskrevet og havde en dejlig hjemlig stemning. Nabolaget var, hvad vi længe havde søgt efter i Sverige. Uendelig smukt, roligt og fredeligt.
Mette
May 2016
Hurtig respons på mails. Godt med mappe med forslag til ture og kort.
Liselotte
September 2016
The property was as described, located in a beautiful part of Southern Sweden. My only advice would be to use Latitude and Longitude in your GPS rather than the street address. Also, travel to Halmstad and other places can take a while, but that is to be expected.
Spencer
July 2016
The house is wonderful: spacious in a great location. It is fully equiped and the sauna and pool room are excellent. The beach towns are closeby (20 kms) and very nice, while the woods and lakes are amazing. We truly enjoyed our stay.
Karlien
July 2015
Det var skønt beliggende, med masser af muligheder for lange gå og løbe ture.
Rosa
July 2015
Mikael was an extremely flexible host, who welcomed all our questions and made our planning so much easier. We spent a prolonged weekend with three generations - 13 people - under Mikael's roof - quite a daunting task. However, the house and surroundings accommodated all our needs making the weekend a great succes: The surroundings are perfect for walks and playing. A separate room with darts and pool accommodates the teens. For fishermen and swimmers, there is beautiful lake just 10 mins drive away. Finally, the house has a floor plan which enables the whole group to be together in a common open kitchen/dining/living room area. On arrival day unfortunately the dishwasher had decided to go on strike but Mikael did his outmost to to compensate us which was very kind. We would definitively recommend Mikael's place for a multi-generation family holiday.
Elisabeth
June 2015
Vi fick klart och tydlig beskrivning av vår värd. Alltifrån vägbskrivning till vad nycklar och koder fanns. Allt fungerade bra. En detalj som behöver bli bättre var att det var dåligt tryck på vattnet i duscharna.
Carina
May 2016
部屋タイプ
まるまる貸切
---
建物タイプ
---
収容人数
12
---
寝室
5
Laholm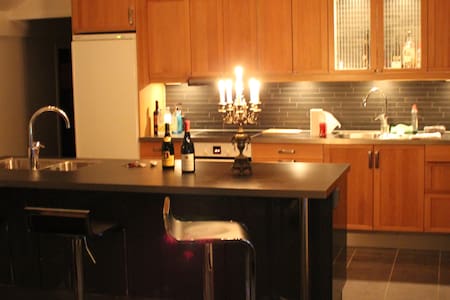 Great house built 2008 with all ameneties 50m from private beach and bridge, fishing boat , canoe and more.
Luxury sommer house 50 m from lake with private beach an Buddah lounge Grill area, Lavender fields, fishing boat, canoe, outside hottub for 8 pers, and more. If you are looking for a cheap red and white house with toilet outside, look elsewere. 2Km to restaurant and small shop 30 Km to city with Shops. Small fishing boat and Canoe.
Per has been a most considerate and thoughtful host and made extra effort to ensure that we did not lose our way to his summer house. He also bought groceries on our behalf as we were arriving rather late in the day and shops were already closed to ensure we had food for dinner/breakfast. He made us feel most welcome and explained the workings of the house. As we were interested in fishing on the lake, Per was also very generous with his time and gave us many tips on where and how to fish, although we weren't so lucky, probably as we were total amateurs. The house itself was beautiful, comfortable and very well furnished. The view was tranquil and picturesque and a couple of steps away from the lake. Other than fishing, one could go rowing or canoeing, or explore the nearby forests to go berry picking or forage for wild mushrooms. We had a most enjoyable time and we were most lucky with the wonderful weather we had during our stay.
Wing
August 2015
Ljungby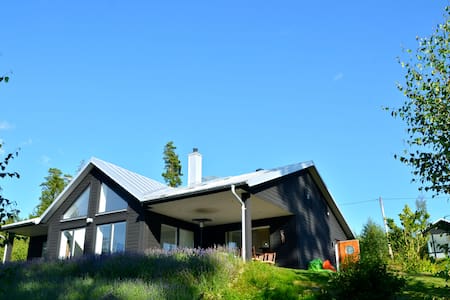 Flexibel in/utcheckning och väldigt tillmötesgående och serviceinriktad uthyrare. Stor och fräsch gård, mycket prisvärt och kanon för en större samling vänner att ha en trivsam helg på. Avskilt och utan risk att bli störd eller störa någon annan.
Andreas
August 2016
部屋タイプ
まるまる貸切
---
建物タイプ
---
収容人数
10
---
寝室
6
Kristianstad Ö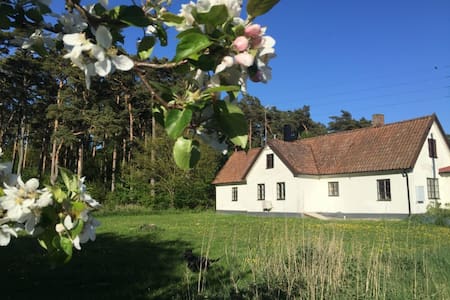 Our comfortable One bedroom plus living room is a Basement apartment . It sleeps 3 and located on a quiet road on the country side of Gärd Köpinge, 10 mins from Kristianstad City Centre and 10 mins from Åhus beach. It has own Kitchen and full bathroom.
Quiet neighborhood, Comfortable apartment, serene compound, green garden, effective living both for business & pleasure. Easy transportation to city centre for shopping and fine dining and close proximity to parks and beaches. Access limited to rented apartment, laundry room and garden. As often as they are available.
Quiet country side of 1000 population and only 10 minutes from city Centre by car. Yes. A public bus transport system only 2mins walk to bus station from the house.
Kristianstad Ö