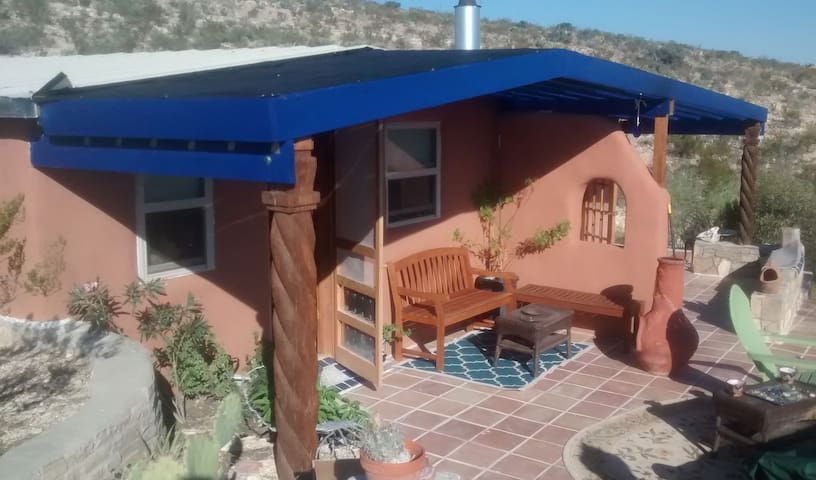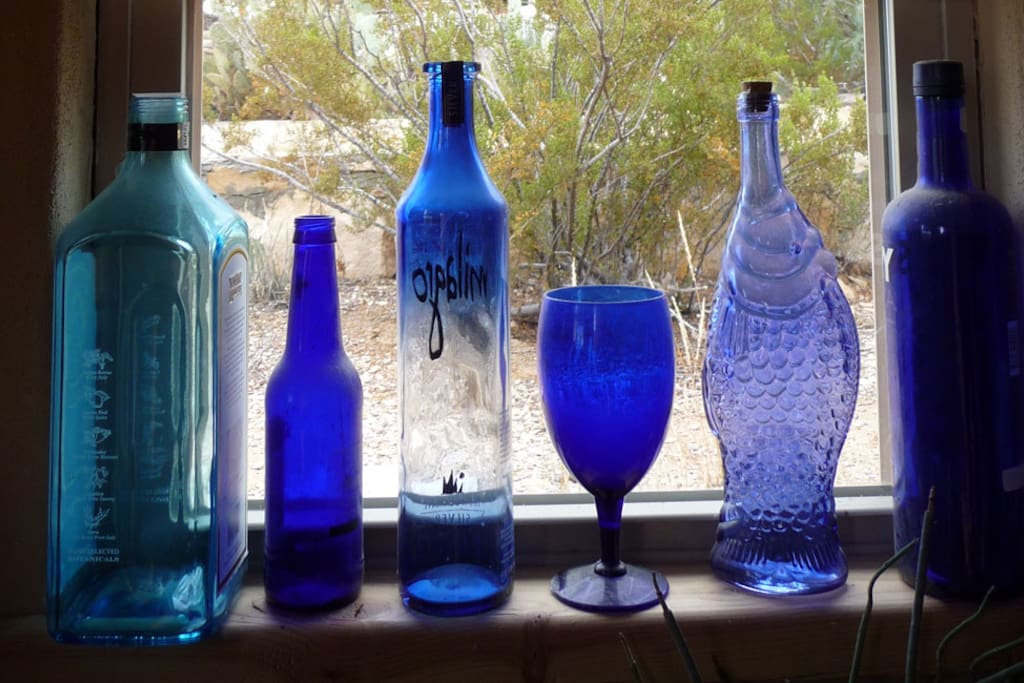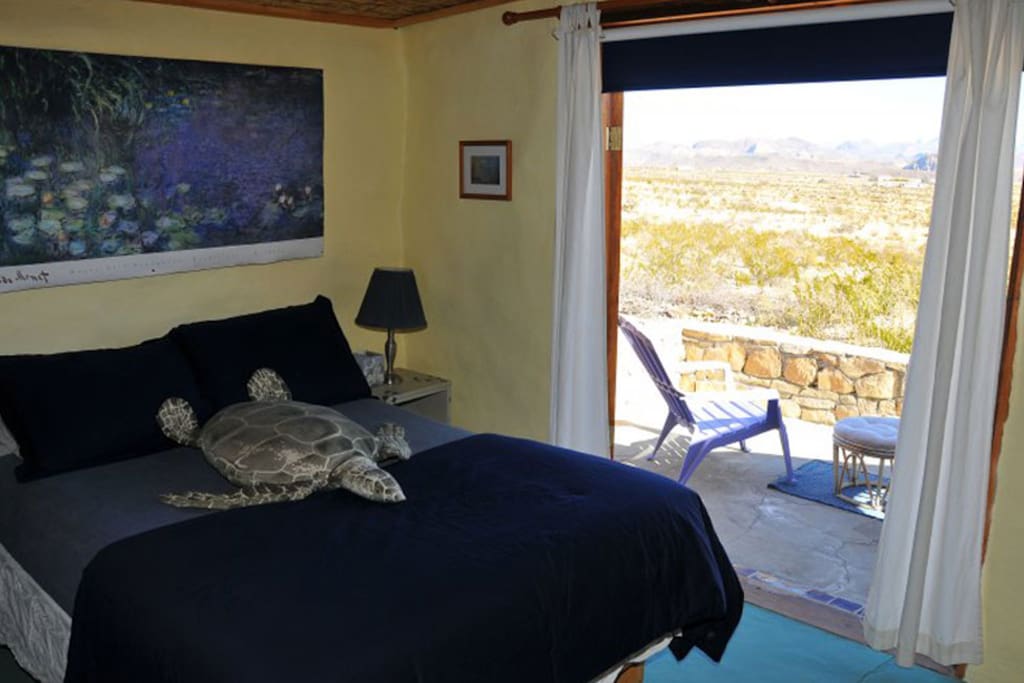 The Blue House sleeps 4 in a quiet papercrete abode. Complete with 2 full beds, solar power, full kitchen, interior bathroom with sink/toilet/shower, chiminea fireplace inside and outside. 500 square feet decorated in Monet style. Wonderful views!
スペース
The Blue House is made out of Papercrete (disaggregated telephone books, cement, sand and water), so it's wonderfully quiet and holds temperature well. It has been decorated in remembrance of Monet, so it's a rather blue house, and has birds everywhere, inside and out. This is a "sustainable" rental in that the lights are all solar powered, the water is rain catchment and, of course, the building is recycled telephone books. However, there is full electricity in every room so computers and cell phones can be charged.
With 500 square feet, it features a full sized bed in the bedroom (with French doors onto a patio and a wood burning chiminea) and a full sized futon in the main room. It has a complete kitchen (refrigerator, stove, toaster oven, dishes) and an indoor bathroom. While the lights are solar powered, the fridge and hot water heater are propane, so if community power shuts off, this house is still stylin'. There are also heaters and A/C galore. On the main porch outside there is another wood burning chiminea, a full sized futon for star-gazing or outdoor sleeping, a grill, and a sitting area so you can enjoy the view. There is a telephone line and WiFi (no TV).
The Blue House is $200 a night plus tax, with a 2 night minimum stay (3 night minimum during the busy season). We like kids and dogs, and 4 person maximum normally (call for special requests).
その他の特記事項
There is a two night minimum. Please ask about bringing your dog.
There are just a few rules:
No guns. No shrieking children. No loud partying.
There is no smoking inside. Have fun.
下記事項もご了承ください
階段を登らないとたどり着けません - Just a few to get down to the patio
ペットがいます - Baxter, the friendly and well-behaved healer/aussie
I am a confirmed desert rat. I became a rafting/hiking/sea kayak/naturalist guide in 1986 and have worked in as many places as I could, mostly in the Desert Southwest and Central America. I have a master's degree in 4 earth sciences (just one degree, not four) (archeology, geology, paleontology and climate) so I'm a nerd and love to check out every little thing. I love to cook. I walk my dogs 3 miles a day. I am half Cuban and live close to Mexico on purpose: I buy half my food there and make forays deep into the country whenever possible. I am the historian of the Terlingua Ghost Town: I can give tours of the mine and ruins here for a small donation. I have well worn hiking boots and 3 different kinds of boats and will take the day off to play in Big Bend National Park or on the Rio Grande River whenever possible. I love where I live and shared it for years as a Couchsurfing host. Come stay.
言語:
Español