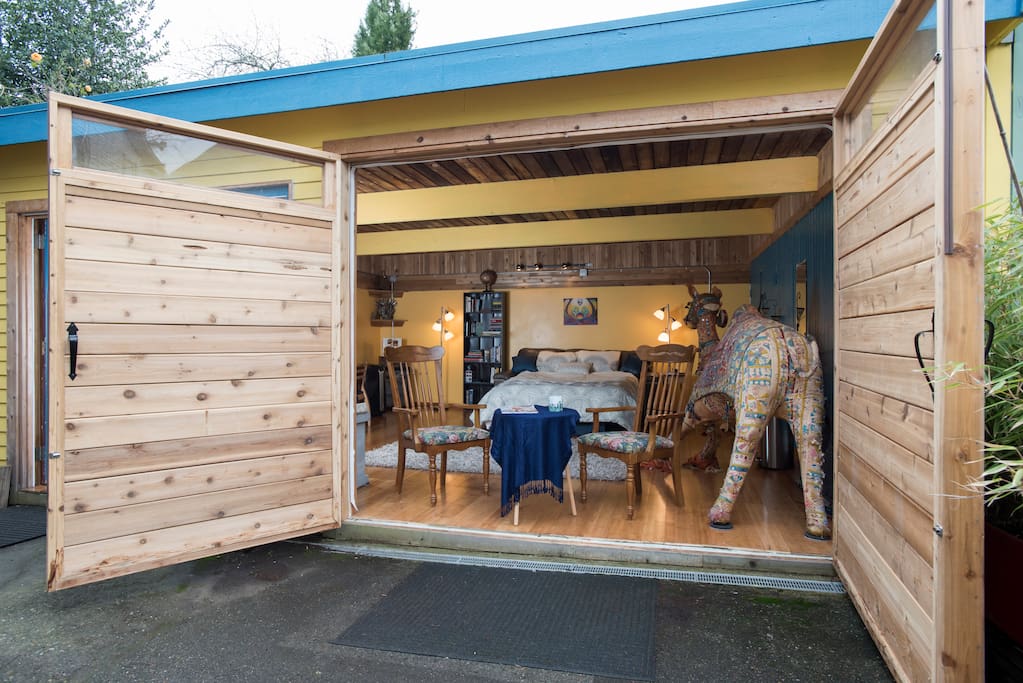 芸術的なスペース、ガスワークパーク、アイキャンディー近所の庭園、醸造所、レクリエーションmj、多様な飲食店、カヤックなどのカヤックなどに徒歩圏内。快適なNESTベッド(ハイエンドフォーム)、Wi Fi&プライベートエントランス。メインハウスの1階にある独立した瞑想スタジオのシャワー、コーヒー/紅茶/マイクロ/冷蔵庫付きの共有バスルームへのアクセス。荷物の保管は必要に応じて。無料のマインドフルネスやヨガnidraクラスに参加してください。
Artistic space,walking distance to gas works park, eye candy neighborhood gardens, breweries, recreational mj, diverse eateries, kayaking etc. Comfy NEST bed ( high end foam), Wi Fi & private entrance. Access to SHARED BATHROOM w/ shower, coffee/tea/micro/fridge in SEPARATE meditation studio on ground floor of main house. Storage for luggage as needed. Join a complimentary mindfulness or yoga nidra class here thurs or fri night...
スペース
静かで創造的な空間を探しているゲストは、賑やかな都市環境へのアクセスを希望するこの小さなスタジオを楽しむことができます。作家/ヨギ、旅行者、創造的なビジネスホテルの人々は、ソファー、竹の床、美しい素朴な杉の木の天井、瞑想スタジオとバックポーチ/ガーデンへのアクセスに加えて、本当に快適なNESTベッドを楽しむことができます。 拡張可能なオークパブのテーブルで書籍や仕事でベッドでくつろぐ。調整可能な照明は、プロジェクトを照らしたり、リラックスした気分を作り出すのに役立ちます。シアトルの中心部に位置し、クラシックな観光地やシアトルの音楽シーン、カフェ文化、様々な高級レストラン、水辺の森や山々へのアクセスが可能です。 バスルームはヨガスタジオのメインハウス内の階下にあります。 Keurigコーヒーメーカー、電子レンジ、ミニ冷蔵庫を備えたサイドバー、コーヒー、紅茶、ろ過水を用意しています。
Guests looking for a quiet creative space yet want access to a bustling urban environment will enjoy this little studio. Writers/Yogi's, traveler's and creative business people tired of hotels can enjoy a real comfy NEST bed in addition to a couch, bamboo floors, beautiful rustic cedar wood ceilings and access to meditation studio and back porch/garden.
Snuggle in bed with a book or work at the expandable oak pub table. Adjustable lighting helps to illuminate projects or create a relaxed mood. This is one of the most central neighborhoods in Seattle that provides easy access to classic tourist icons and off the beaten track very Seattle grunge music scene, cafe culture, diverse high quality restaurants, North Western nature access to water, forests and mountains minutes away.
The bathroom is located downstairs within the main house by the yoga studio. A side bar with a Keurig coffee maker, a microwave, mini fridge is also available, along with an assortment of coffees, teas and filtered water.
ゲストの立入り範囲
本館のヨガ/瞑想スタジオにアクセスして、プライベートまたはグループの練習をすることができます。あなたが予約するとクラスは無料です!可用性とスケジュールについては、ホストに確認してください。あなたはコテージが独自の入り口と別のスペースであるので、あなたが望むように多くのプライバシーまたは連絡先を持っています。レジーナにあなたの好みを知らせて、スケジュールや興味に応じてゲストと多かれ少なかれやりとりすることができるようにします。
Guests can access the yoga / meditation studio in main building for private or group practice. A class is complimentary when you book! Check with host for availability and schedule. You will have as much privacy or contact as you desire as the cottage is a separate space with its own entrance. Let Regina know your preference and she will do whatever possible to interact more or less with guests depending on schedules and interests.
ゲストとの交流
セグラースタジオには、週に一度のイベントがあり、マッサージセラピストとマインドフルネス、エニアグラム、自己指導、ヨガ、チャクラ、非暴力的なコミュニケーション、アートコンサルタントがご利用いただけます。相談にアクセスするようなことがわからない場合は、お気軽に相談してください。いずれの商品にも興味がありませんか?心配する必要はありません...もし我々がパスを通過すると、あなたの滞在は他の暖かい歓迎エアブンブの訪問のように感じるでしょう。これがあなたの主要言語である場合、またはスペイン語のスキルを練習したい場合は、スペイン語のバイリンガルです。ウル、ウル、どちらかといえば、会いたいと思ったら教えてください。いくつかのゲストは本当により多くの連絡に感謝していくつかは、より静かなプライベートタイムを探しています。いずれにしても(URL隠し)、到着した日と、チェックアウトしたいときの見積もりは非常に役立ち、入場者の出発時刻を柔軟に保ち、ゲスト間のスムーズな移行を容易にします。
Segura Studios has ongoing events available throughout the week and there are massage therapists and mindfulness, enneagram, self leadership, yoga, chakra, non violent communication and art consults available as desired just steps away. If you are not sure what it would be like to access a consult, don't hesitate to ask. Not interested in any of the offerings? No worries …if and when we cross paths your stay will feel like any other warm welcoming airbnb visit. We are Spanish bilingual if this is your primary language or you would like to practice your Spanish skills we are fluent and flow easily between English and Spanish. Let me know if u would like to meet while u r or u r fine either way. Some guests really appreciate more contact snd some are in and out are looking for more quiet private time. Either way (URL HIDDEN) Eta th day begore u arrive and an estimate in when u would like to check out is VERY helpful and makes it easier to keep arrivals snd departures flexible and for a smooth transition between guests.
その他の特記事項
フレンドリーな常駐猫であるBright Heart - ヨガのスペースを含む本館へのアクセスがあります。彼女は瞑想セッションに参加するのが大好きで、招待すると誰かの膝の中に座ることもありますが、そうでなければ彼女の猫のエネルギーをそんなに近づけないことを知らせるだけで簡単に阻止できます。バックポーチライトは、住民がメインハウスで寝るまで点灯する傾向がありますが、オンまたはオフにしたい場合は、メインハウスに入るドアの近くのホールのスイッチにアクセスできます階段。必要に応じて自由に調整してください。
There is one friendly resident cat, Bright Heart - who has access to the main house, including yoga space. She loves to participate in meditation sessions, and occasionally may sit in someone's lap if you invite her but otherwise she is easily deterred if you just let her know you would rather not have her cat energy so close. The back porch light tends to be on at night until residents have gone to sleep in main house but if you would like it on or off you do have access to the switch in the hall way close to the door that goes into the main house up the stairs. Feel free to adjust it as needed.
チェックイン時間: 14:00~01:00 (next day)
Inquire a head of booking your reservation if you are considering hosting an event or party. There is an additional fee, deposit and other guidelines to abide by when renting the meditation studio.--Treat the space with respect--be mindful that the studio is part of private residence in quiet neighborhood. Loud music/voices discouraged --there's plenty of space for louder sounds in nature and bustling urban life steps away in the park or bars. Please be mindful the door between studio and back porch on your way to and from the cottage slams easily so closing it gently is appreciated.
--Remember Seattle is a "green" city-- recycling & composting is a way of life. Plastic bags have been banned so bring reusable bags.
--Pets are welcome with a security deposit and for an extra cleaning fee. please let hosts know at time of booking if you plan on bringing furry friends.
--No tobacco smoking in the art or yoga studios please! Social relaxed cannabis smoking is permitted. There are a few smoking friendly spots around. Inquire and we would be happy to point them out.
--Kids are welcome--sleeping bags and thick comfy yoga mats are available to make their stay cozy.
No tobacco smoke allowed on property for health reasons but there is a cafe and park nearby for indoor or outdoor smoking comfort.
I'm a mindfulness and yoga practitioner with an LMFT private practice established as a small business 5 years ago. Integrated Healing has two small studios located on my property in an ideal Seattle neighborhood that is a nice blend of quiet, artsy and an urban feel within a 5-10 minute walk. We have 2 sons as well as pets. I'm Spanish bilingual& grew up with a very diverse, alternative background (originally from the mission in SF and spent time in rural northern California) before moving to Seattle 8 years ago. I'm easy going , friendly and enjoy people which is why I've decided to try hosting on air b n b. I'm super happy to have discovered this cool business idea and love the building community aspect of it. Coffee, wine, art, good food, reading, music Mackelmore, Billy Holiday & Michael Franti are a few favorites artists being active (especially dancing) and anything that has to do with learning how we can be our best selves (psychology, spirituality, health, relationships, community building, entrepreneurship etc.) bring joy and vibrancy to my life. My mottos are varied…make the most of every moment, be actively engaged in life while remembering we are human BEing's not human Doings and make a difference in the world even if your contribution is as simple as being kind to yourSelf, others and precious nature.
言語:
Español