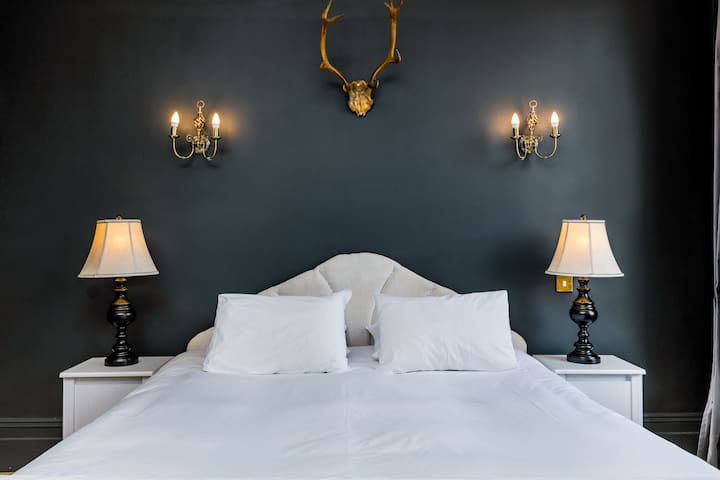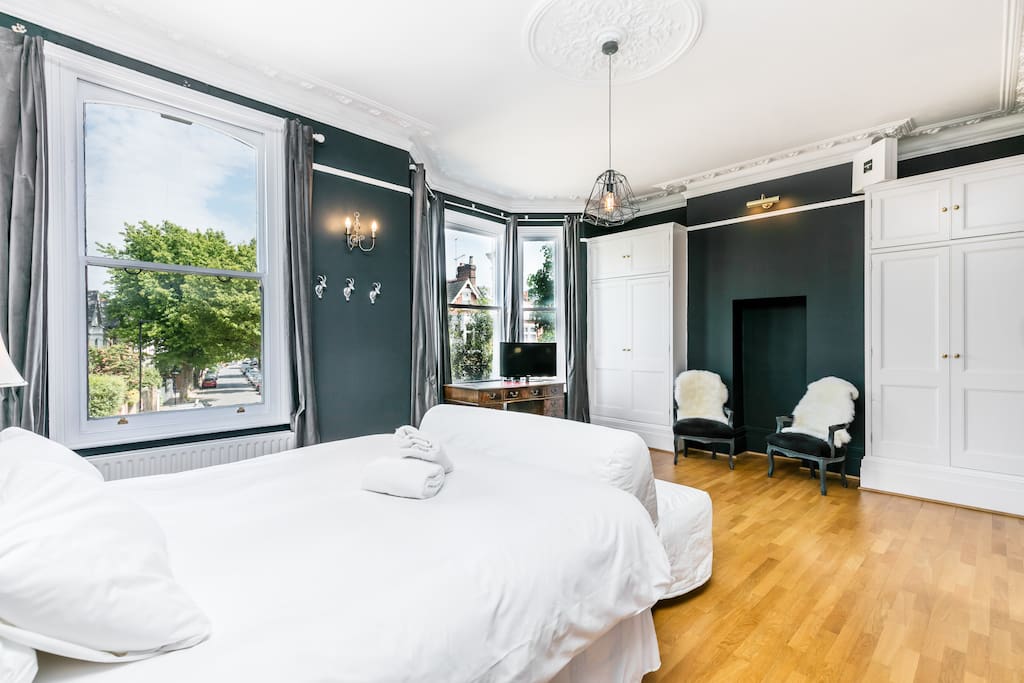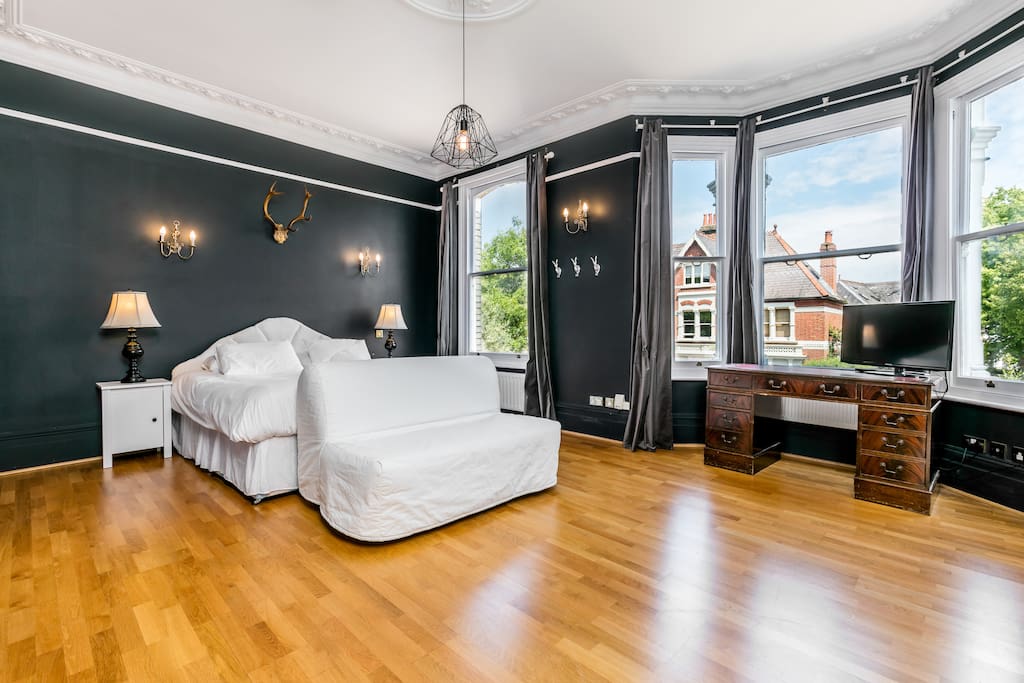 *セルフチェックイン:24/7 - >仮想ホスト *プライベート感覚&専用バスルーム、ドアロック *高速Wi-Fi *無料(基本)朝食(ネスプレッソ!) *毎日の清掃 *キッチン、独自のラベル付き冷蔵庫&キッチンユニット *騒音レベル:低(静かなフード、厚い壁) *西ロンドン - >市内中心部まで20-30分 *最寄の地下鉄:チスウィックパークまたはガナーズベリー - >徒歩5-7分 *エリア:美しい&緑;若い中上層階級の家族 *より多くの部屋:敏感でフレンドリーなミューズチームにメッセージ
*Self-check-in: 24/7 -> virtual host
*Private feel & ensuite bathroom, door locks
*High-speed Wifi
*Free (basic) breakfast (Nespresso!)
*Daily cleaning
*Kitchen, own labelled fridge & kitchen unit
*Noise level: low (quiet hood, thick walls)
*West London -> 20-30 minutes to city centre
*Closest underground: Chiswick Park or Gunnersbury -> 5-7 minutes walk away
*Area: beautiful & green; young mid to upper class families
*MORE ROOMS: message the responsive & friendly Muse Team
スペース
1.ザ・ルーム ベッド2台:スーパーキングサイズベッド1台(200cm x 180cm)+オプションのクイーンサイズソファベッド(リアルマットレス付き)(190cm x 140cm)。 大きな専用バスルーム付きの広々とした客室です。 部屋の大きさ:44平方メートル。 (専用バスルーム付) プライベートな感じ:すべての部屋は階段から直接出ます Apple TV 2.チェックイン/チェックアウト セルフチェックイン&セルフサービスコンセプト:メッセンジャー、電話、またはライブチャットで24時間利用可能な仮想ホスト 早期チェックインとレイトチェックアウトは荷物のみ可能 3.その他のゲスト 追加の大人または1歳以上のお子様は、追加ゲストとみなされます(追加ゲスト数をお選びください) 4.駐車場 家の前に駐車場がありません 平日:Marlborough Roadの無料駐車場(午後6時から午前9時まで) 週末と祝日:マールボロロードの無料駐車場 24時間年中無休の駐車場:1Falcon Close、W4 3XQ->車で5分、徒歩10分 5.コンセプト Muse Hausは24時間対応のセルフサービス、ウォークイン、ウォークアウトのコンセプトで、仮想の受付とコンシェルジュのみが利用できます。ゲストは家にいると感じて、企業の環境に閉じ込められるのではなく、インスピレーションを得ます。ロンドンの故郷です。 ミューズハウスは、近代的なインターネットとスマートフォン技術によって動員され、駆動される家庭的な快適さとサービスアパートメントのプライバシーとアクセシビリティとホテルの標準品質を融合させた、新しいユニークなホスピタリティコンセプトを開拓しています ミューズハウスは、家に入る瞬間に家に持ち帰り、食べ物や食べ物を保管したり、一般的なキッチンや居間を利用したりするように努めています。 Muse Hausの仲間と交流したり、仕事、休息、遊ぶことができます。
1. THE ROOM
Two beds: One super king-size (200cm x 180cm) + one optional queen-size sofa bed with real mattress (190cm x 140cm).
Spacious room with a large ensuite bathroom
Room size: 44 sq. m. (ensuite bathroom incl.)
Private feel: all rooms go directly off the staircase
Apple TV
2. CHECK-IN / CHECK-OUT
Self check-in & self-service concept: virtual host available 24/7 via messenger, phone or live-chat
Early check-in and late check-out possible for luggage only
3. ADDITIONAL GUESTS
Every additional adult OR child over 1 year is considered as an extra guest and does cost just a little extra (please select the correct number of guests)
4. PARKING
No parking in front of house
Weekdays: free parking on Marlborough Road from 6pm in the evening until 9am in the morning
Weekend & Holidays: free parking on Marlborough Road
24/7 free parking: 1 Falcon Close, W4 3XQ-> 5 minutes' drive, 10 minutes' walk back
5. THE CONCEPT
The Muse Haus is a 24/7 self-service, walk-in, walk-out concept with a virtual receptionist & concierge only. Guests shall feel at home and inspired rather than confined in a corporate setting – it is your home away from home in London, however long your stay may be
The Muse Haus is pioneering a new and unique concept of hospitality: it merges accessibility and hotel standard quality with homelike comfort and the privacy of serviced apartments, mobilised and driven by modern internet and smart phone technology
The Muse Haus endeavours to make guests feel at home the moment they enter the house, with the ability to store belongings and food, use of a common kitchen and living space. Mingle with Muse Haus mates or hang out on your own, work, rest or play.
---
---
チェックイン時間は、15:00から02:00 (next day)です。
You are renting a room in my private residential house in a very residential area; it is a house share, so please do not treat it as a B&B or hotel, because it is not. I cannot allow any gatherings in the house or in the rooms and therefore also please no alcohol in the rooms.
IMPORTANT: Sound travels well in these old Victorian townhouses and other guests and neighbours do hear everything, so after 9.30pm please keep noise and talking in the rooms to a minimum.
Please be respectful of the house and neighbourhood, it would be a shame if I get complaints and I needed to let Airbnb know about any incidents that occur.
For your safety, CCTV cameras and noise detection run 24/7 in the common areas.
Thank you very much, I am very much looking forward to hosting you!
---
THE HOST I live in London since 2007. I used to be Investment Banker, turned my back on that industry and founded Avenue 32, one of the earlier on-line fashion retailers. Currently, I am working on a few new projects, again within the fashion and the hospitality industry…
言語:
Deutsch、English