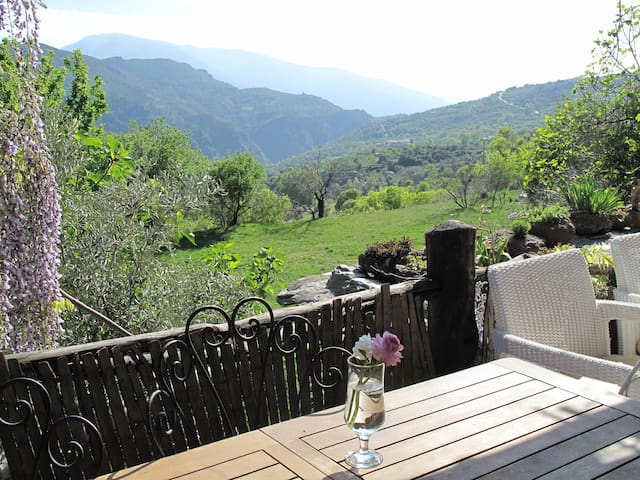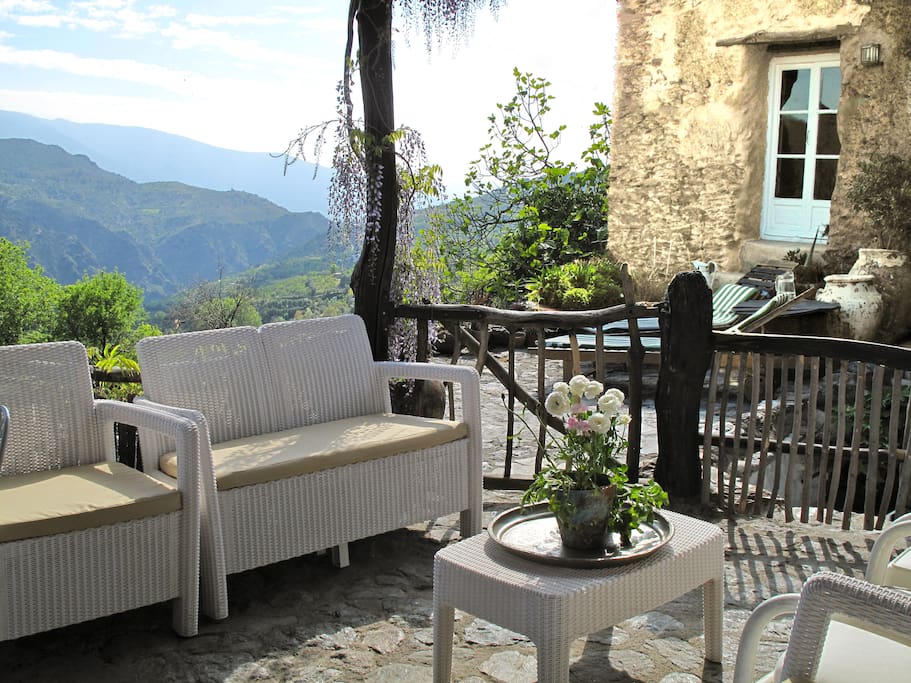 Casa Aloe is located minutes from the Sierra Nevada National Park.
Enjoy the cultural experience of an Andalusian village (the best preserved in the province), whilst having the peace of a rural retreat.
Ideal for lovers of beauty and nature, popular amongst artists and walkers, and with a whole range of outdoors activities in a stunning location.
There are great bars and restaurants in the area, 2 eccentric ones in Atalbeitar itself, one opens Thursday and Friday, the other randomly!
スペース
Casa Aloe is located on the edge of ancient Atalbeitar. Please find our website for a huge amount of activities and links in our area.
Atalbeitar is one of the 7 white, moorish villages that make up La Taha, a South-facing valley on the slopes of the highest mountain in Spain.
The village has ancient donkey lanes that make it a car-free village, peaceful and safe for children.
The house has been recently restored using traditional materials in original ways, with beauty and comfort in mind. Chestnut beams, bedrock corners and many unique touches give it a rustic charm.
We, Tom and Carmen ( the owners) are both artists, and have delighted in creating a space that is simple but harmonious, spending the last 12 winters restoring it with all our love and care, and so we are very happy when people come to enjoy our work.
We have built a swimming pool, at last! and it is heated in the colder months. The system we use to purify the water is sand and salt, so your skin and eyes will be kindly treated here. It has also a hydro-massage and swimming against the current system so that you can exercise and feel revitalised and restored. It has a big dressing room with a large walk in shower, and also a beautiful
STEAM ROOM, with Iranian tiles.
There is an interior patio in the house, shady and plant-filled to escape the heat of the midday summer sun, where there is a Barbecue available for your use.
As well as two large terraces with spectacular views and garden furniture. The main terrace is totally baby, toddler and child proof, safe, as we now have a toddler ourselves!
And speaking of children, we have toys for them too, like a delightful dolls house with sylvanians and a trycicle! and as the village is car free you can enjoy giving them rides through all the exciting labyrinth like streets...
Get cosy beside the open fire, eat out on the terrace under the pergola with the untouched valley beneath you, explore our selection of games, or just relax and read our books.
But we also have television and a home cinema system, with many channels. You can watch many programs and films in the original language.
A DVD player and films are available too.
There is WIFI if you need to catch up with your life from one of the terraces whilst enjoying the views.....
It makes an ideal holiday base for lovers of beauty and nature, popular amongst artists and walkers, and it´s proximity to the Sierra Nevada National park, offers a whole range of outdoors activities in a stunning location.
There are a number of horse-riding places either for novices or the fully-experienced (or both together), also there's a tennis court not far, and we can point you in the right direction for unforgettable walks with incredible views.
There are in the house as well as other suggestions a collection of maps with exciting detailed walks via the moorish paths.
In the evenings explore the variety of restaurants and bars in La Taha, where the tradition is to give a free Tapa with every drink, and where often you can catch an evening of local music.
Nearest beach: Salobreña, 57km
Notes: May take pets - please enquire
No smoking at this property
Self-catering Facilities
LUXURIES:
Private Pool (heated), Steam Room, Log fire, WIFI Internet, DVD player and films, Books, Games, Toys, Barbacue.
General: TV, CD player, Satellite TV
Standard: Kettle, Toaster, Juicer, Hair dryer
Utilities: Dishwasher, Cooker, Fridge, Freezer, Washing machine, Iron and Ironing board, the cooker has gas fires and the oven is electric (including fan power)
Rooms: 6 Bedrooms, 5 bathrooms of which 3 are family bathrooms and 1 en suite, Solarium / Roof terrace.
Furniture: Single beds (4), Double beds (4) one of which can split into two single beds also, Cots (2).
Other: Linen and towels provided, as well as cooking essentials like oil, herbs, spices...
Highchair available.
Further details indoors:
The swimming pool is semi-indoor, meaning that in the cold months we close it up so that it is indoor and heated. In the warmer months it is open to the leafy courtyard with access to the sunny terraces.
It always has a roof. We have done it this way because these days we believe the sun is harmful and the water takes away the protection creams, so this way you and your children can swim all day without getting sun damage and then go to the sun deck and put your protection cream.
Further details outdoors:
The village has narrow beautiful streets and a charming square with fountain water that comes from a spring. It is car free, and a haven for walks and children games.
ACTIVITIES:
There are local people that provide a number of interesting activities, like flamenco classes and specialized walks. Please let us know your interests and we will try to put you in touch with them.
For example, we are very near a family that does excursions on horse around the area, its a National Park and very beautiful. Also their horses are gorgeous and gentle.
If you wish to do this they are happy to pick you up from the house and return you after your adventures.
Any other interests please let us know.
Perfect for mountain biking also.
DESCRIPTION OF HOUSE:
The house is very versatile and you can have several let options, but please note YOUR GROUP WILL BE ALONE, there will not be anyone else letting the other options at the same time. Please see the photographs for further guidance, we have given names and numbers to the rooms so that you can identify them.
All options have access to the leafy interior patio, the swimming pool and all the terraces and pergola space.
THE LETTING OPTIONS ARE:
OPTION 1:
During Low Season: it is possible to let 1 bedroom or 2 bedrooms only.
This option sleeps up to 4 persons.
It is in the right wing of the house and it comprises of bedrooms 1 and 2 :
1-"La Azul"- Antique cast iron double bed and wooden floors.
2-"The hobbit"- twin antique chestnut beds, moroccan floor tiles & oval door.
Bathroom 1: antique basin, Moroccan floor tiles & bespoke WC, walk in Shower
Bathroom 2: All in Green stucco, huge triangular bath & shower,WC, bespoke bidet too!
Yellow kitchen: Well-fitted, opens out onto terrace to one side and dining room to other. Very comfortable with a table and chairs, wood burning stove, and good cooking facilities for groups. Has dishwasher.
Dining room: table and chairs for 12, featuring original balcony and antique indian furniture.
Red living room: with french doors which open onto the terrace. Wood burning stove and plenty of comfortable seating for 12 people.
OPTION 2:
During Low Season and mid season: it is possible to let 3 bedrooms only.
Sleeps up to 6 persons.
To OPTION 1 and all its available spaces please add the following bedroom and bathroom:
3- The "Andalusi" bedroom- It is a large room (can be prepared with either two single beds or with a kingsize bed). Has a fireplace and sitting area, coffee table, small library, TV and DVD player. Has french doors onto the terraces and an ensuite bathroom.
Bathroom 3- enamelled 4 legged cast iron bath, WC, bespoke bidet ( I made it!) and a bespoke sink.
OPTION 3:
Low season: £850
High season: £1090
Sleeps up to 12 persons.
Please add to options 1 and 2 the following rooms as we would open the left wing for you:
Entrance large Hall, where the secret door to one of the bedrooms is.
4-La Mama bedroom- Double bed, so cozy with wooden floors.
5-La Roca bedroom- Double Antique wrought iron bed, a rock with seat on it, small private balcony.
6-La Verde bedroom- Twin beds, washbasin, private terrace.
Bathroom 4- Loo room- with WC and sink.
Bathroom 5- Tadelack walls with Arabic WC and basin and walk in Shower.
La Rosa room- Auxiliary to the yellow kitchen, its a cross between a play room and a discreet utility room. French Doors onto terrace.
PLEASE NOTE :
During holidays like the Summer Season, Christmas, Easter week, half terms and Spanish bank holidays ( Puentes) we only provide OPTION 3.
UNLESS IT IS A LAST MINUTE BOOKING: in which case the other options are all available.
PLEASE FEEL VERY WELCOME!
ゲストの立入り範囲
In low season and mid season we let the house with less bedrooms too. Depending of the number of guests coming some areas might be closed, as to prepare the whole house, even bedrooms not needed would raise the cost of preparation for us, and the letting price to the one for 11 persons.
For example:
If only 3 bedrooms are required we will close the East wing of the house, making it possible to give a cheaper price.
You will have access in all cases to all the public areas, like living room, kitchen, utility room, dining room, terraces, inner courtyard, swimming pool and changing room, and steam room.
Please see description of the house for details of which bedrooms are opened when letting the house to a small group.
---
---
---
Security deposit is ¥ 34274
(English follows)
Hay gatos en el pueblo, son libres y simpáticos, a veces aparecen en nuestras terrazas, por favor si les dais de comer hacedlo solamente en la calle,
y nunca les dejéis entrar, gracias!
There are cats in the village, they are free spirits and very friendly and sometimes they come to our terraces, please if you feed them do so only in the street, and don't let them in, thank you!
---
We are not there when there are guests staying, but our house carer lives in the village and can help you if needed.
I am asked to describe ourselves....Well... I usually paint and my husband plays music...that's what we like to do when we can, but we have spent the last 10 winters restoring Casa Aloe (please see) with all our love and care, having delighted in creating a space that is simple but harmonious...which has taken every penny we ever earn! and so we are very happy when people come to enjoy our work there.
The other places we offer you are in Almuñecar and Edinburgh, two fantastic towns full of history and things to enjoy.
The Almuñecar home is my mum's! cozy and super central, great great location.
The Edinburgh home is very very central too and took us a full year of hard work to rescue it, my husband restored the wood and I restored the masonry...a good team! we also have a little one now and she helps too in her way.
I dont think we will expand anymore...(with houses), maybe another baby!


言語:
English、Español、Français、Italiano