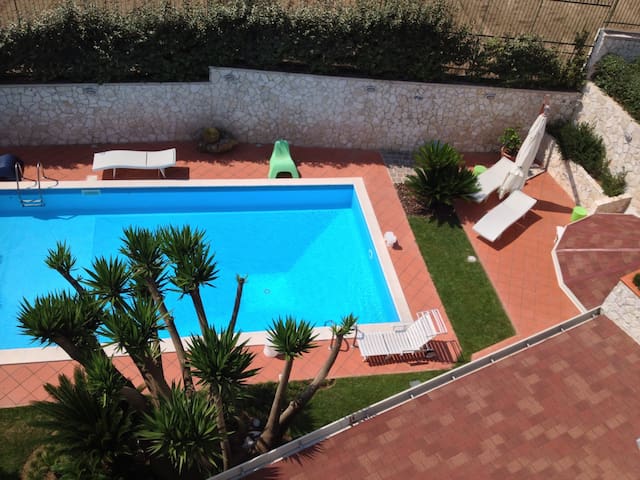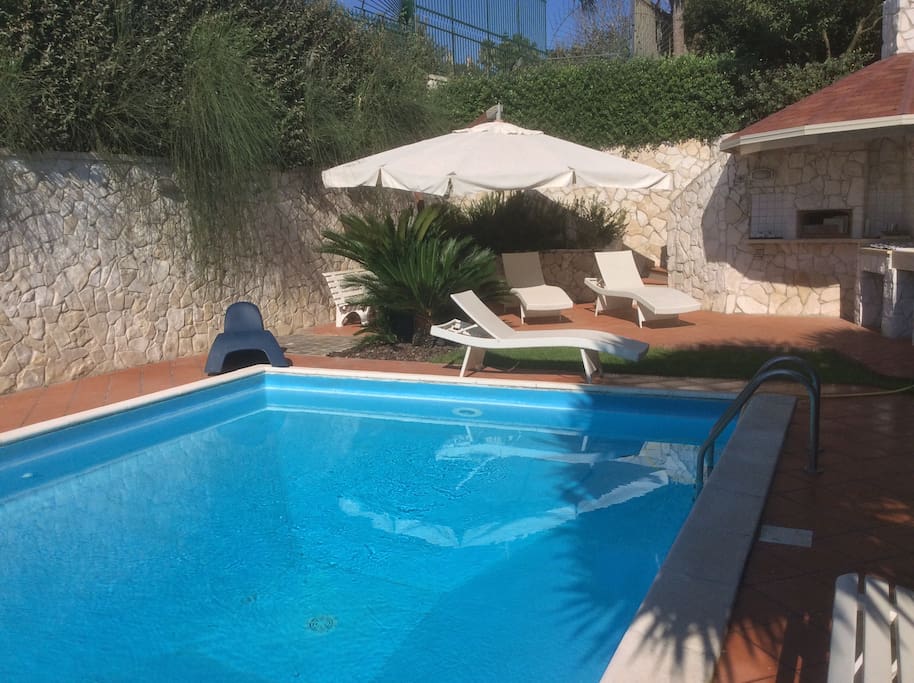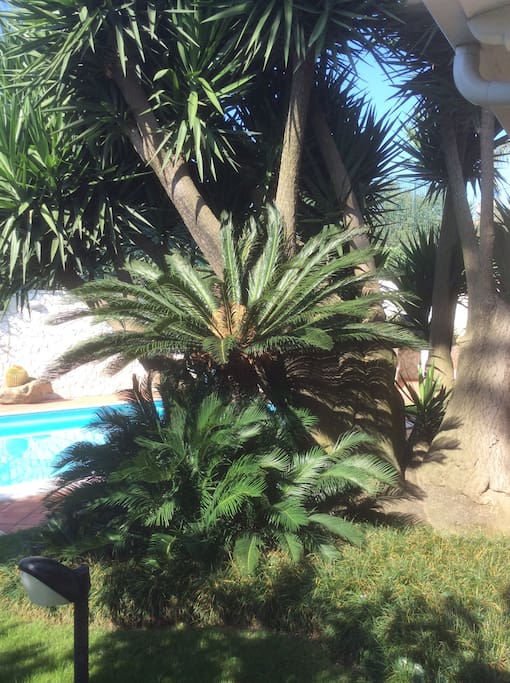 It will be my pleasure to host you in my charming house in Pozzuoli with a view of Ischia perfect for a pleasant stay, we shall delight you with my dishes prepared with organic products with all the facilities for a comfortable vacation .Casa Russo 52 is a villa divided into two (URL HIDDEN) apartment located downstairs has a large master bedroom with a bathroom a living in kitchen a large family room with a fireplace there are two beds in the living room there is a garden and the patio
スペース
A cool house, simply furnished, and with all the necessary comforts. You can breathe clean air with no smog, no noise or car, or anything else. In the morning, you only hear the birds singing. And the smell of citrus. and the good smell of coffee Neapolitan espresso. A breathtaking view of Ischia completes all in a sublime way.Una casa fresca, arredata in modo semplice, e con tutti i confort necessari. Si respira aria pulita senza smog, non ci sono rumori né di auto , né di altro. Al mattino si sente solo il canto degli uccellini. E l'odore degli agrumi. e il buon profumo del caffè espresso napoletano. Una veduta mozzafiato su Ischia che completa il tutto in modo sublime, da un terrazzo superiore .
ゲストの立入り範囲
Independent access, also for disabled. Private parking for overnight guests, just outside/ CasaRusso52
ゲストとの交流
I respect my guest privacy but on their request I am glad to help my guest so that can have an enjoyable stay at Casa Russo 52
その他の特記事項
Casa Russo 52 has an alarm system that will protect the house and the garden surrounding during the night. The pool situated in the garden can be used from 10:00 am to 7:00 pm at night.There is a park for jogging .We also have at your disposal two mountain bike .
---
---
寝室2
シングルベッド3、ソファ2個、ベビーベッド1
---
trattare CASARUSSO52
come fosse vostra ! È possibile fumare in giardino o sotto il patio , ma non in casa , per farvi respirare sempre aria fresca di campagna , e sentire solo il profumo degli agrumi ... e delle piante officinali ... o l'odore del ragù napoletano fatto dalla mia mamma ottantenne . E svegliarsi al mattino con il suono degli uccellini e l'odore del caffè espresso napotenano . I ragazzi possono giocare a pallone nello spazio condominiale , per non rovinare le molteplici piante situate in giardino .
---
We have had 5 days fantastic days in 'Casa Russo'. It was the perfect base for our 'too short stay' in the Naples region. We hired a small car which is a must if you want enough flexibility and to visit the region, but we also gladly used the 2 available bikes for getting some breakfast in the morning. The house and swimming pool were lovely and very comfortable. The view from the first floor over the bay was splendid. Carmen is a beautiful woman with passion for all virtues of life. She did everything she could to make our stay even more valuable. We loved and enjoyed her Italian temperament, her willingness to help, her fantastic cooking, her Neapolitan driving style, her quality to get everything fixed and settled,... She took Rafael to the very best hairdressers in town ;-), let us discover the most beautiful places near Pozzuoli, invited us for a swim in the sea and a nice pool and reserved a table for us in great typical Italian restaurants. Carmen has just a small notice of English, but we managed to communicate in our very best 'Italian English' with special thanks to Dalila and Pascuale (and (SENSITIVE CONTENTS HIDDEN) translate ;-)). And we both promised to have a better knowledge of each others language next time...
MAGNIFICAMENTE !! Mi mancano i loro sorrisi , il loro bel carattere .... socievoli e amichevoli e sempre sorridenti(URL HIDDEN)Sono felice di aver allargato le mie amicizie con delle persone splendide . Sarà un piacere ospitarli , ancora nella mia ( Casa Russo52(URL HIDDEN) Stavamo così bene insieme , come una famiglia , che hanno offerto a me e a mio marito una cena al ristorante , spero che hanno gradito il mio consiglio su cosa mangiare .( zuppa di cozze(URL HIDDEN) Ho fatto piacevolmente un bagno a mare con loro , aperitivi ed escursioni su Cala Moresca , un posto splendido a Bacoli , dove si guarda dall'alto un panorama incantevole , e la spiaggetta del Castello di Baia , dove si raggiunge solo via mare . Sono contentissima , quando , avevano un dubbio o Dovevano scegliere cosa fare , chiedevano un mio consiglio(URL HIDDEN)Katia, Franke , Louise e Raphael siete stati perfetti , anche se non parlavo bene la vostra lingua, con gli sguardi , i sorrisi e in italiano ci siamo intesi ugualment(URL HIDDEN)Ho promesso a Franke che con un link / video mostrerò tutti il procedimento per insegnare a fare l'impatto della PIZZA NAPOLETAN(URL HIDDEN) Hanno trattato CasaRusso 52 in modo perfetto. E consiglierei a tutti nel MONDO di ospitare Katia con la sua splendida famiglia. Spero di rivedervi quanto prima , semmai con le altre due splendide fanciull(URL HIDDEN) Luglio 2017
---
We had a lovely couple of days staying here - the house is lovely, comfortable and very clean. We found the house to be even better than the photos on the website. Carmen and her friend Laura were lovely hosts and even though we turned up towards 8 on a Sunday, they both got in a car to show us the way to the nearest supermarket and then another shop when it was closed and to show us where the nearest pizzeria was. My partner, 9 month old son and I really enjoyed ourselves here and I would like to say a big thank you to Carmen and her trusty sidekick Laura.
Recensione per Ross Ross con la sua fidanzata e il bimbo sono stati eccezionali , educati , sorridenti , silenziosi / e penso che , avere persone così , come ospiti, è un vero piacere . Hanno rispettato le regole di CasaRusso 52 , hanno lasciato l'appartamento in ordine . Penso che anch'io mi sono messa a disposizione ..... ad accompagnarli , appena arrivati , al supermercato per comprare le cose di prima necessità /( nonostante era più tardi dell'orario del check-in ) , spero che la loro breve permanenza sia stata gradita dalla tranquillità della nostra villa. . Sarà un vero piacere ospitarli di nuovo , magari con altri amici e con altri figli . E consiglio TUTTI DI OSPITARLI . ECCEZIONALI Giugno 2017
---
Nous venons de passer une semaine fantastique à la Casa Russo à Pozzuoli. Carmen et sa gentillesse ont fait que nous nous sommes sentis vraiment bienvenus, comme chez nous ! Lors de nos prochaines visites à Naples, nous resterons certainement chez Casa Russo! L'emplacement de la maison est très pratique car il est près de l'autoroute. A quelque minute est un CENTRE COMMERCIAL avec des magasins, supermarché et des restaurants. Carmen a d'excellents conseils pour les restaurants où l'on mange très bien de la viande, pizza ou du poisson. Le quartier est également très calme et sûr. L'appartement de l'étage supérieur est très frais et bien aérée, avec une vue imprenable depuis le balcon (ISCHIA). Les deux étages de la maison sont meublés avec goût et attention, avec des meubles et des services de qualité, chaque étage avec son propre style. La piscine et autour de la piscine sont toujours propres. La maison est propre et entretenue à la perfection. Si vous voyagez en famille nous recommandons de louer les deux étages pour s'assurer d'avoir la piscine et tous les services à usage exclusif. Point important est la cuisine de Carmen Russo. Si vous la demandez, Carmen vous gâtera avec ses spécialités napolitaines. Nos faits plats préférés des mains de Carmen sont: ragù napoletano , polpette, crocche', arancini di riso, pizza con verdure, il pane fatto in casa con olive, noci, e mirtillo, vera mozzarella di bufala con tanti contorni con la verdura di stagione, parmigiana di melanzane, peperoni. L'ensemble des légumes sont biologiques et cultivés sur place. Baba et sfogliatella sont les meilleurs que nous avons jamais goûtés! Ce fut une vraie chance d'avoir visité Carmen et d'avoir eu la possibilité de gouter tout! Aussi, pour ceux qui veulent, Carmen est disponible de vous laisser lui aider à la préparation et expliquer le processus, en vous donnant aussi une recette dans votre langue. C'est un vrai COURS DE CUISINE ! Je vous invite à regarder les photos et contacter Carmen pour plus d'informations. Carmen, Merci pour tout!
Katarina and her husband and sister were great guests!!!(URL HIDDEN)It was a real pleasure to meet them and becoming friends(URL HIDDEN)Communicating was easy because they all spoke Italian we exchanged many opinions on different Italian / Neapolitan recipes(URL HIDDEN)They have treated my home Casa Russo like their ow(URL HIDDEN)They are sociable fun and caring people(URL HIDDEN)really hope to go visit them in Leiden,near Amstredam their city in The country of Holland(URL HIDDEN) I also have cooked for them dinner and showed them step by step how to prepare some local dishes they really appreciated all I cooked for them(URL HIDDEN)truly reccomand this guests for other vacation places they are simply exquisite(URL HIDDEN) I have explained Katarina that next time she can also reserve the entire villa spending a little more and have the exclusive use of the pool and garden(URL HIDDEN) I have three different adds on my Airbnb link read them carefully before you reserve you can find the best formula for you and have a great vacation. Sincerely Carmen
---
Grand appartement joliment décoré et bien équipé. L''appartement au rez de chaussée donne sur un beau jardin et la piscine. L'équipement extérieur est très complet (chaises longues, table pour manger, cuisine extérieure, canapés). La literie est très confortable. Le salon a une cheminée dont nous avons profité car il faisait un peu frais dans l'appartement au mois d'avril (comme souvent dans les maisons/appartements du sud). Je conseille l'appartement au rez de chaussée pour un séjour en été, il doit être agréablement frais. Carmen est une hôte prévenante et aux petits soins pour ses hôtes.
Faye con suo marito e i suoi figli sono stati una famiglia esemplar(URL HIDDEN)Molto educati, silenziosi e hanno rispettato tutte le regole di casa mi(URL HIDDEN) Hanno lasciato il mio appartamento in ordine , e un complimento in più , ( rispetto agli altri host) ,va detto che sono stati tra i pochi a rispettare , anche , la raccolta differenziata . Spero vivamente , di poterli ospitare , ancora nella mia casa a Pozzuoli , e consiglio a tutti di ospitare famiglie come la loro . Appena arrivati mi hanno regalato anche dei cioccolatini , ( svizzera) buonissimi . A prest(PHONE NUMBER HIDDEN) !!!!
---
Casa Russo is a great villa to stay. It is a luxurious house with all equipments. The seaside view is also perfect. Carmen was so kind that we did not have any problem with travelling around Napoli. Her cooking was also awesome. We really enjoyed the Napoly-style food she made for us. This villa is highly recommended.
Jin -Han with his wife and a couple of friends were exceptional, always smiling and very friendly. Russo's house have treated as if it were their home / I cooked for them 4 a Neapolitan menu, and the thing that I was surprised that they were so friendly and nice, as to make us have dinner with them, for me and my friend interpreter. I advised them several restaurants that I know, and I hope that they really were happy with me and my advice. I hope in the future they can be back to have as my guests, and will be a real pleasure for me. They were given two sub / Koreans glasses that I will keep jealously as a reminder beautiful, their knowledge. fantastic and would recommend them to all of them have as guests.// thank you Jin-Han
---
We had a wonderful time in Carmen's villa. It is even more beautiful than on the fotos and Carmen is a very welcoming and caring host. It actually seems that she loves to have guests and does everything to make sure that they have a good time. And this we had, thank you, Carmen! The villa is situated in a secure, peaceful and clean neighbourhood, the atmosphere in the house and the garden is relaxing especcially after visiting Naples or other touristic magnets in the region. The pool is big enough not only to cool down but also to swim a bit. Everything is very clean and well maintained. There are supermarkets and shops nor far away, but you should have a car to go to the beach or Naples.
Stefanie and her husband are very nice guests . My Apartament was left very clean , almost as they had not been there! They took really good care of it and are very friendly . Great conversation with Stefanie despite the problems with the language. Highly recommended guests.thanks for everything
---
Carmen was very welcoming when we arrived and even had an interpreter there on hand. Everything was explained to us very clearly how to work everything, how to lock up and where all the lights were etc. Carmen's parents live in the middle apartment (we had the ground floor) and other BnB guests had the top floor apartment. Carmen was often visiting her parents and was always available to us at a moment's notice! She gave us lifts when we needed them which was very handy. She also brought us delightful home-made food sometimes, again much appreciated. The whole apartment was very clean and Carmen was often sweeping by the pool for us and being available she explained (after a night of windy weather) how to turn on and off the motor for the swimming pool to remove the debris. The grounds were watered everyday and gardeners attended once a week helping to keep it clean and tidy. Hedges were also clipped around the grounds whilst we were there. Carmen was very understanding when one of us couldn't sleep and at 4am set off all the burglar alarms (as she had gone outside and forgotten about the alarm!). Overall a lovely clean building with a good size pool. Thank you Carmen for your hospitality!
Accogliere Jennifer , Annette e Barbara è stato piacevole , sono state delle persone molto tranquille, ordinate e simpatiche . Con Jennifer è stato più semplice , parla abbastanza bene l'italiano , quindi le conversazioni tra noi sono state più scorrevoli . Consiglierei a tutti di ospitare Jennifer , e le sue amiche . Spero di ospitarla nuovamente. Welcome Jennifer, Annette and Barbara was pleasant, were very quiet people, tidy and nice. ospiterei again his group. and I advise everyone to be able to host in their homes people like Jennifer and her friends. Thanks Jennifer, the detailed description of everything. you are a wonderful person.
---
I love traveling, I love my Naples and the Campi Flegrei. I love walking barefoot by the sea and enjoy company. I love cooking and it relaxes me to cook for my guests. I love reading, I own a library with about 4000 volumes .. Along with the books I love collecting rare objec…
言語:
English、Español、Italiano