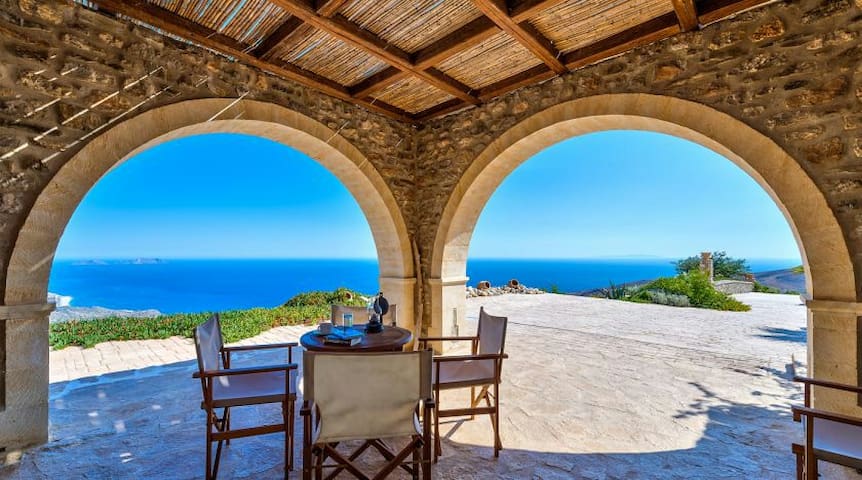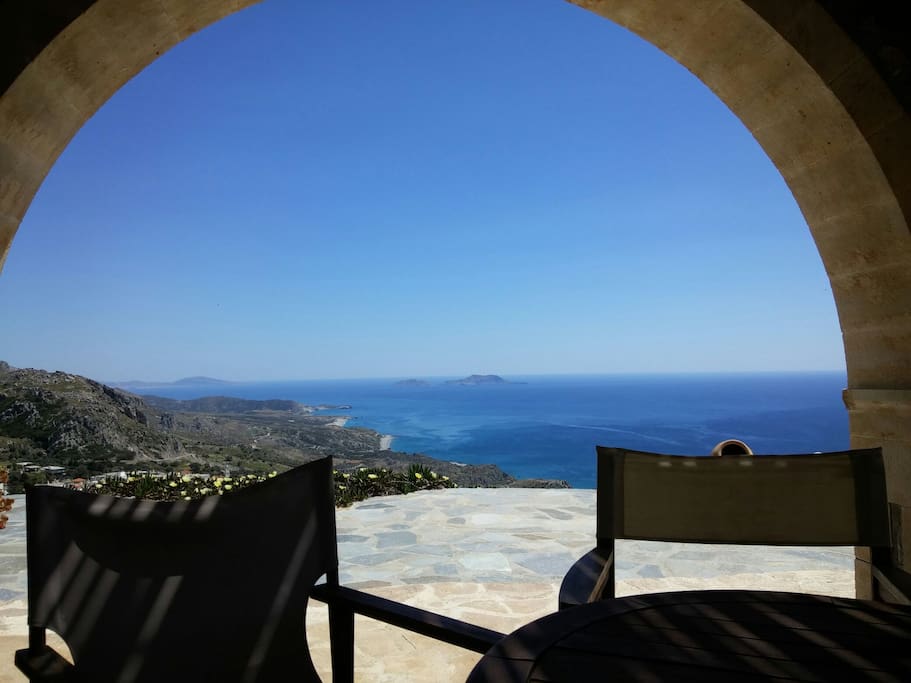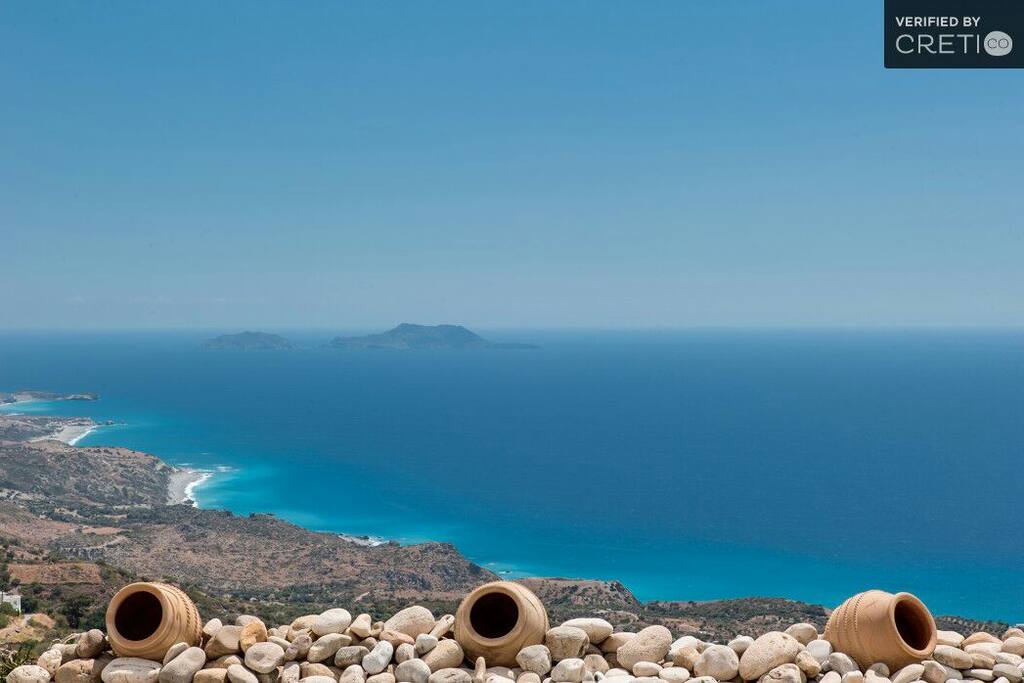 Traditional island villa 9 person placed on a land of 5000 square meters with private pool.panoramic view of south coast of Crete.
---
This villa is in the most beautiful setting you could imagine. 360 degree views of the sea and mountains. We arrived late at night up the windy road and when we woke up we were astounded by the beauty. There are many terraces and a lovely BBQ area, plus a nice sized pool on the lower level of the landscaped garden. Georgios was the perfect host and helped with every query instantly. Chrisoulla, the cleaner came every few days and was delightful. She even taught us how to cook the snails we had bought from Spili (mostly by miming and a few English words!). If you like a peaceful setting, beautiful views, nice beaches and tavernas within a short drive, 3 gorges nearby, and luxurious rooms and bathrooms, this is the place for you! We will return!
---
We had a good experience in the Kerames villa, during the winter holidays, even if we had some adventures on the roads going up, because of the snow fall. The villa is very nice, spacious, clean and comfortable, with patios and splendid terraces, it has indeed a breathtaking panoramic view over the sea, the surroundings are amazingly genuine and picturesque. We had all the facilities we needed in the house, including fireplace for warming up in the cold nights. Ursula, the housekeeper, was very helpful when needed, also our host George was helpful and friendly. We are sure the villa is a paradise during the summer. There are also beautiful beaches close to it and good home made food "tavernas" in the villages around. Only a precious advice: if you come during the winter, when sometimes it might snow a little bit, just hire a 4X4 car, as the villa is up in the mountains and the roads could become a little rough.
---
Wir haben eine wunderschöne Zeit auf Kreta verbracht. Die Aussicht ist wunderschön und das Haus ein Traum. Wir waren eine Gruppe von neun Personen und hatten sowohl im Haus als auch ausserhalb überall bestens Platz. Das Haus ist hervorragend eingerichtet und sehr sauber. Auch den Pool haben wir sehr genossen. Ursula het uns freundlich empfangen, uns das ganze Haus geziegt und uns nützliche Tipps für unseren Aufenthalt in Kreta gegeben. Gerne kommen wir wieder.
---
George's place is so much more than the photos. It was simply stunning. A spacious 4 bedroom villa, tastefully decorated with everything you need....with an exceptional outside space with lots of seating, a great stone bbq area, pool (URL HIDDEN) much space and the view was just amazing. So quiet and tranquil it really is away from the bustle of tourism. A very peaceful spot. Beaches are 15 mins drive away. A great taverna at Ligres beach which served delicious fresh local food. The local village is 5 mins away with a mini market which stocks most things you need but for anything more substantial you would have to drive to Spilli which is about 20 mins away. If you are looking at totally getting away from it all and having a very relaxing time, I can't recommend George's villa enough.
---