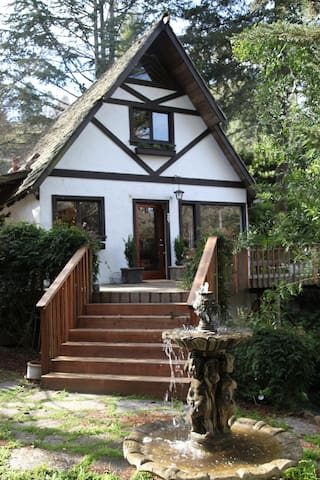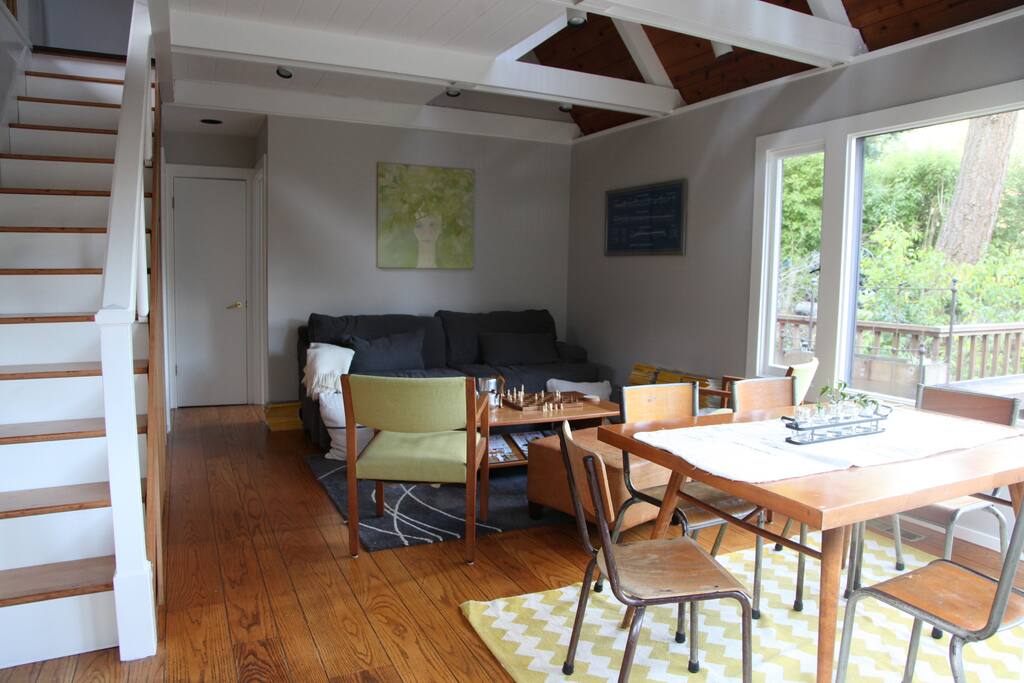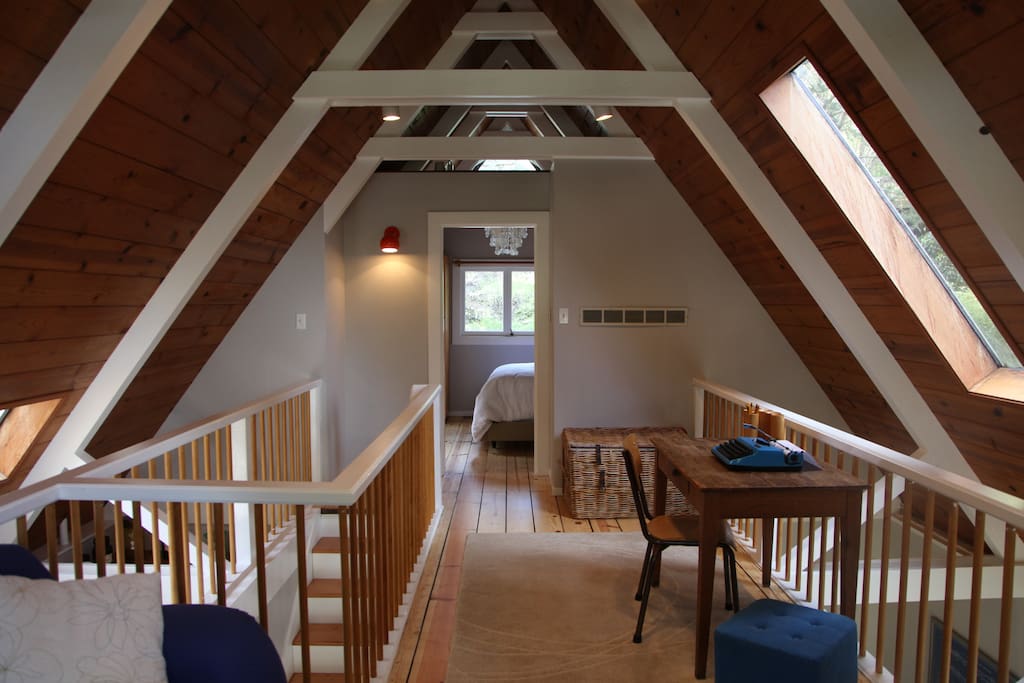 Relax and connect with nature at this local designer's 2 bedroom chalet in the heart of charming Mill Valley. Nestled among trees, you will rejuvenate with deer passing by, wrap around deck, designer bed linens and simple modern decor.
Note: We installed a new luxury central heating system in November 2016 as the last heating system stopped working during a guest stay (as noted in a review). We provided them with electric heaters and then replaced entire system that week. All new now!
スペース
Awaken your spirit to a one-of-a-kind retreat space for your vacation. This 2 story urban chalet nestled on a corner lot with a wrap around deck has been designed by Yasmine McGrane (founder of Maison Reve).
The home's intention is to provide a place that inspires guests to relax from the face pace of daily life, reconnect to the present moment, and enjoy the fresh, seasonal bounty of the Bay area.
HIGHLIGHTS.
* Home is perfect for long term guests because it doesn't feel like you are living in someone's personal home. It is tastefully decorated and was completely refurbished. Redesign included: freshly painted throughout in a soft dove grey and white trim, refurbished original large plank hardwood floors everywhere, new sofas in Belgian flax linen, organic cotton sheets from Coyuchi and linen duvet covers from Libeco, brand new Sealy posturepedic mattresses and much more!
* Located on a quiet corner lot among native trees and wandering deer
* 30 minute walk to charming downtown Mill Valley
* Stylishly decorated in mid century modern and Scandinavian decor
* Inspiring vintage treasures throughout from owner's vintage store (URL HIDDEN)
* Upstairs loft with peaked ceiling + skylights overlooks main floor
* Many windows with flower boxes provide lots of natural light
* Galley kitchen with full size fridge, 4 burner stove, wall oven, microwave, coffee maker, popcorn maker, cabinets stocked with inspiring dishware, appliances and cookbooks
* Living area with comfortable high quality belgian linen sofa that converts to full size mattress sleeper bed (note: large windows without curtains in living room looking out to trees and the deck so guest sleeping on sofa bed has to be OK with light and open feel)
* Over-sized designer pillows inspire lounging and reading books
* Double sink bathroom with separate shower and soaking bathtub
* Free wifi in all rooms and flat screen TV in loft with free Netflix access to unlimited adult and kid shows and movies
* Laundry room in basement with full size washer, dryer and folding area
* Wrap around deck leads to lighted flagstone patio and fountain and herb gardens
* 6 foot fence for privacy around entire property and parking for 2 cars
* Lighted front and backyard with relaxing fountain (note: fountain water is currently turned off due to California drought restrictions)
* Trunk with fun kids toys, family games and cozy blankets. Many more bins of kids toys and books in basement!
LAYOUT.
Upstairs: Open loft area (with relaxing chair for reading, desk for writing poems) and 1 master bedroom (with queen bed, lots of built in drawers and closet)
Main Entry Floor: kitchen (galley kitchen fully stocked with beautiful dishware and chef appliances), dining area, living area (with full bed sleeper sofa), 1 separate bedroom with full size bed (note includes a good size chest of drawers, shelves, side tables and hooks with wooden hangers behind bedroom door for hanging clothes but no closet), 1 bathroom (with double sinks, shower and separate tub), several windows (note: windows look out onto deck and trees but have no curtains so guest has to be OK with natural feel and morning light)
Basement Floor: the basement is accessible by walking outside the main house on exterior deck and down 12 exterior steps. There is a laundry room, unfinished storage room and an extra bedroom with queen size bed on this basement floor. If you need to use this basement bedroom for your stay, please make sure you are OK walking outside the main house with house key at night, to walk across deck and down stairs to unlock basement door and access bedroom. This bedroom has hardwood floors, double door closet, good size window, queen sleigh bed with brand new high quality mattress. While it's private, we want to ensure guests realize you have to walk outside during night time to get to basement and bathroom is on main floor (no bathroom on basement level next to this bedroom). This is why we treat it as a "bonus bedroom" in case you need an extra bed to sleep on and do not include it in our listing as a third bedroom.
ゲストの立入り範囲
Guests access the entire home and exterior property.
ゲストとの交流
When guests book their stay, I send them our check in details. I also live in town so am available to answer questions or needs, while still offering guests full privacy during their stay.
その他の特記事項
While many families stay at the house, the upstairs loft has vertical railings that are only a few inches apart. But we like to mention for families with children that it is a loft overlooking downstairs main floor so parents should provide supervision with small children or infants.
---
---
1. You must slow down and enjoy the moment during your stay! Relax, laugh and enjoy life and the beautiful nature around you!
2. We have a strict no smoking rule inside or outside the property. Thank you.
3. We require that all guests please remove shoes before entering home (adults and kids too). We have a boot tray at the door for shoes. This way we can keep all the furnishings and beautiful new rugs and restored wood floors fresh and allergy free for you and future guests.
4. The property is in a quiet, residential neighborhood. Please no loud music, parties or events.
5. We hand picked and decorated the home with love for our guests. We ask that you please treat it like it was your own getaway retreat space.
Enjoy!
---
Yasmine was a wonderful host and made efforts to provide things like extension cords and a reading lamp promptly. Her place is very conveniently located near Tam Junction and the freeway so it is easy to get to the city,Stinson Beach or downtown Mill Valley. The chalet was clean, simply but tastefully decorated and the bedrooms/linens very restful and comfortable. The main downside was the kitchen, which is tiny, dark and lacking counter space and cabinets. Perfectly OK if you're going to be eating most of your meals elsewhere, but not so good if you like to cook at home. Also the third bedroom in the basement is unusable because of mold. All in all, a great place if you need a clean, basic home base for a weekend visit to the Bay. Off-street parking, the beds are great, the living room cozy enough and relatively fairly priced.
I am very glad Ben had a great stay, especially considering all else he has going on in his life right now. I was a bit confused though to see his criticisms, especially given how many multiple special accommodations were made for him, including the opening of a third bedroom at his specific request. This third bedroom is not normally made available. My listing is two bedroom. The third bedroom is in the basement, so I do not make it available normally, only at a guest's special request. After he arrived, he did see the bedroom and asked if he could use it so his adult daughter could visit. I was happy to make it available for him (at no extra charge of course) so he could enjoy her company. So I am a bit disappointed to have him mention negative comments about it in a review. He emailed me while she was staying there saying how much his daughter was enjoying her stay, saying it pleasantly reminded her of her grandmother's basement, bringing back many happy memories, so I am confused. Basements often have musty smells, so as stated, it is not normally even made available. The basement is simply there for guests to access the laundry room. Perhaps he inadvertently used the word mold instead of musty, as there is zero evidence of anything like that, and any such usage is inaccurate and unfounded. Perhaps he was simply confused as to the difference is all. Likewise, with the kitchen, it is a galley kitchen, it is narrow (see pictures in listing as I try to include several angles), but it is certainly possible to cook and eat there. Dozens of guests have been able to do so, including a four person family who lived and cooked in the house for five years before we converted it to a vacation rental. Hopefully my multiple 5 stars reviews will help balance out this particular one in the minds of other potential guests. Please reach out to me with any questions at all, I am happy to send more photos or details.
---
We are a Family of 4 from Germany and had been travelling around the US West. We really loved Yasmines house very much. It is a house in a lovely quiet and safe area. Situated below trees and having a huge deck. The interior is absolutly beautiful. Yasmine was not arround but the check in was absolutely smooth and easy as all descriptions were perfect. It was so good to relax for a while at that place. We would absolutly recommend Yasmines house! Thanks Yasmine!
---
We stayed at this wonderful home for a weekend wedding and loved it! The location is safe and easy to get to. Plus there's parking for two cars. Yasmine did a great job decorating and making it feel like a real home, which made it very easy to relax in. The beds were comfortable and clean, the bathroom was fully stocked and the kitchen had everything you would need. Yasmine also responded very quickly to all my questions making it care-free. If only all rentals were this easy! I highly recommend this home and look forward to booking again!
---
My life is about celebrating ordinary moments everyday. I am a local designer who loves french vintage flea market finds. You can read more about my lifestyle and vintage products online at Maison Reve. I am half french (born in Montreal, mother from Switzerland) and my Austral…
言語:
Français